So you are thinking about applying for residency in Mexico, great decision. I love Mexico and the day I finally received my permanent residency was a really exciting day for me. But the process of getting my first temporary residency in Mexico was not so easy. I applied 3 times before being successful. This is why I wanted to write this blog post on how to apply for residency in Mexico to help you avoid the mistakes I made.
Disclaimer: I am not an immigration lawyer and therefore all I am offering in this blog post about getting my Mexican resident visa is my personal experience and some advice about the process. All of the links included in this post point to official immigration information where you can get the most up-to-date official rules and regulations. To skip the hassle of doing all of this research yourself you can speak directly with my immigration Lawer Alejandra who will be able to assist you with your Mexican residency visa and give you information on current Mexico residency requirements. Just drop your name and contact below and she will be in touch with you.
What are the Visa Requirements for Mexico
For most people visiting Mexico, you will not need to apply for a Mexican visa until you want to work in Mexico, or to stay for longer than 6 months. For people just visiting Mexico for less than 6 months, you can just get a visitor permit when you land in Mexico, the price of which is included in your airfare. If you are arriving by land from Guatemala, Belize, or the USA then you will need to pay for this at the land border. The tourist permit is called an FMM and is valid for 180 days.
However, in recent times airport immigration has been giving out different numbers of days, so do check how many days you are given at passport control and if you need longer than they write on your FMM then ask them for more there and then as these visiter permits CAN NOT be extended and you will be detained by immigration police if caught with an expired FMM.
Note: When crossing a land border be very clear about how long you will stay in Mexico. If they don't make you go to a cashier and pay for your FMM then you have only been given a 7-day transit permit. This can not be extended, the only way around it is to leave Mexico and come back in again.
Did You Get Travel Insurance Yet?

The Insurance companies I recommend are Hey Mondo, Safety Wing, and Travel Insurance Master

Hey Mondo is great if you are looking for a great value flexible policy. They offer single-trip cover, annual multi-trip cover, and long-term travel cover. Safety Wing is great value, with monthly coverage starting at $39. It's super easy to use, and it just renews each month. I currently use them as they offer me free cover for my son as part of my policy. I also use Travel Insurance Master for short trips.

Read my full travel insurance post here, where I go into detail about all companies.
What Visa Do You Need To Live In Mexico
If you want to stay longer than 6 months, then you need to apply for a temporary residency in Mexico.
In most cases, before you can apply for permanent residency in Mexico you will need to hold a temporary residency for 4 years. Normally you apply for a 1-year temporary residency and then renew for a further 3 years once it's expired. At the end of that 3-year period (after holding temporary residency in Mexico for 4 years), you can apply for permanent residency. The exception to this is if you marry a Mexican citizen. In this case, you only need to wait for 2 years before applying for permanent residency.
The main criteria for getting residency in Mexico is that you can financially support yourself. So they can be because you have received a job offer in Mexico, you have a large amount of savings, or you have regular income from a pension or remote work (like me). Whichever you apply for you will need to prove your income.
Who is eligible to apply for Temporary Mexican residency
According to the official Mexican Immigration website you can apply for a temporary residency in Mexico under one of the following categories:
Economic solvency
Scientific research in waters under Mexican jurisdiction
Invitation from an organization or a public or private institution
Under the auspices of an international legal instrument governing the mobility of people
Family Unity
Real Estate Property in Mexican territory
Investor
For digital nomads (like me) you are going to be applying for financial solvency and you will need to prove that you either have a lot of savings ($27000 USD) or prove your income is over a certain amount for 6 months prior to your application, and that you are in a good financial position.
If you are a retiree then you will also be looking at financial solvency.
Other options to get residency are through buying property or investing in Mexico. Or you could do what I did and marry a Mexican/ have a baby in Mexico haha.
Note: If you marry a Mexican you will apply under family unity and will need to apply for a 2-year temporary residency before you can apply for permanent residency. If you have a baby in Mexico, or with a Mexican then you can go straight for permanent residency, again through Family Unity. Both of with can be applied for within Mexico. All other residencies need to be applied for outside of Mexico.
Quick Tip: I highly recommend booking all of your Mexico transportation with GottoGo. You can search for buses, shuttles, ferries, and Flights on their website. What I love most about them is their customer service. I know these guys personally from living in Guatemala, and they look after their customers.

If anything happens and you get delayed and miss your bus, you can just call them, and they are always there to help. If you book through them, you will pay a little more than booking in person at the bus station. But it's worth it for the ease and security. Click here to search for transportation in Mexico.
How To Get Permanent Mexican Residency
There are several different ways you can get permanent Mexican residency, the quickest is family Unity as mentioned above but there are some other categories as listed below:
Family Unity
Pension or retirees
Have held a temporary residency for 4 years
You can find the official information on the Mexican immigration webpage here.
How do you apply for Mexican Residency?
You can find the application form for temporary residency in Mexico here and info for permanent residency here. The information is available in English, but the applications are in Spanish and all of the information you will need to provide to prove your eligibility for Mexican Residency must be in Spanish.
In most cases, you can start the application for temporary residency within Mexico but you will need to leave Mexico and apply at a Mexican consulate in another country and then enter Mexico to finish the process.
This is why, in my opinion, a good immigration lawyer is worth every penny. I personally tried and failed twice to apply for temporary residency through financial solvency on my own before finally giving up and hiring Alejandra. This obviously cost me a lot of money as you must apply outside of Mexico. So that was 2 wasted trips to Mexican consulates. More about my personal experience is below…
The good news is INM (Mexicos immigration body) has made a lot of changes over the years and this whole process is so much quicker and more efficient these days. When I first applied it was so complicated and took months and months to receive your ID card. Now you receive it on the day or at least within 7 days of your appointment in Mexico.
Mexico Digital Nomad Visa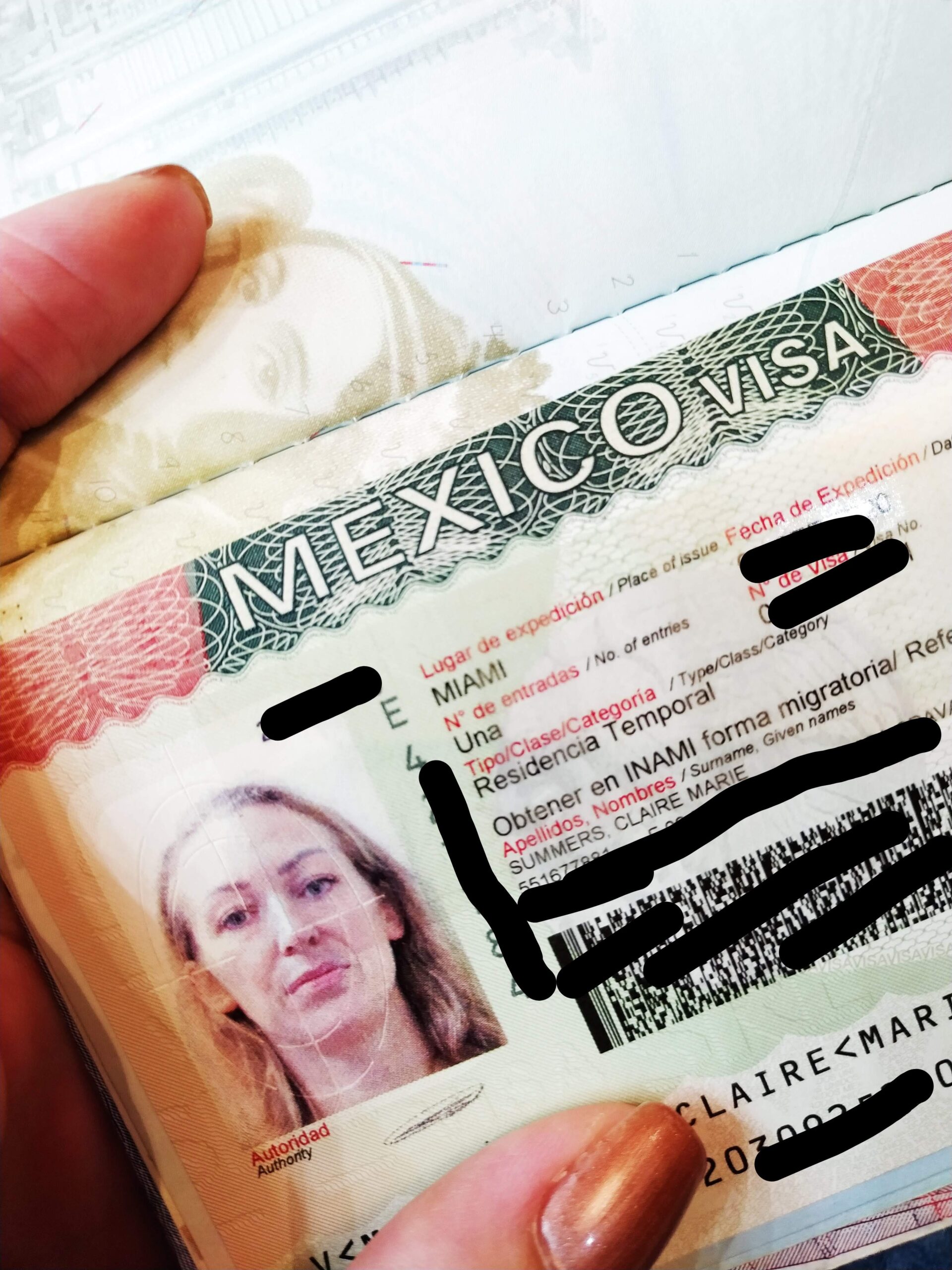 You may hear people in the digital nomad community referring to a Mexico Digital Nomad Visa. Well, it doesn't really exist. But if you are a digital nomad with a steady income of over $1500 USD per month then you have a good chance of being able to apply successfully for temporary residency through the Financial Solvency category. But it's not as easy as it sounds, take it from someone who had 2 failed attempts doing it on my own.
Here is the process for applying for financial solvency in Mexico:
You will need to complete this form
Make an appointment in a Mexican consulate outside of Mexico
Get together evidence proving you meet the criteria
The form is in Spanish so you may need to enlist a friend to help translate if you decide to do this on your own.
Making an appointment is very easy and you can do so using this link. The complicated thing is deciding where to go for your application/ interview. I made the mistake of just going to the closes place to where I was traveling at the time and went to 2 places where they asked a lot of questions and expected a lot more information than was listed on the official requirements.
In New York, I was rejected because I had income from multiple currencies, she wouldn't even look at my income in pounds, only wanted my income in USD. I was there less than 5 minutes before she dismissed me…
In London, she was very nice (unlike in New York) but in addition to my 6 months of bank statements and proof of pension income, she also wanted me to have had 10,000 pounds in a savings account for at least 6 months. Which is not an official requirement. Because here's the thing each consulate has its own requirements and interpretation of the criteria, which makes the whole application process for Digital Nomads super complicated (unless you have a healthy saving account).
So before you make any decision on where to book your appointment you need to do some investigating and possibly make some phone calls/ send some emails to individual consultants to find out their particular requirements. For example, some places want to see $1500 USD income monthly, others want $2000… they basically make up their own rules. This is one of the main reasons I gave up and hired an immigration lawyer. Alejandra made those inquiries on my behalf and was able to find me the best consulate to go to (with the most lenient rules haha).
Just a note on this, you DO NOT need to go to your home country. I'm British and I went to the USA without an issue. If you can't get a USA visa then Costa Rica is another good place to look.
Once you have your completed form and appointment triple-check here and with the consulate that you have your appointment at exactly what you need to bring with you to prove your income. TAKE EVERYTHING you could possibly be asked for. If you have one thing missing or not enough evidence you will need to go through the entire process again (as I did).
Here's what I needed to take as evidence:
6-12 months of bank statements proving I had an income of over $1500 per month. The statements must be original or certified copies. Of course, if like most nomads you get paperless statements this is your first issue… You will need to print your statements off and then take them into your bank and ask them to stamp each page, yup EACH PAGE. And then you will need a second copy of those stamped statements.
Some places only need 6 months, others need 12. So do yourself a favor and try and go somewhere where the requirement is only 6 months as it's a lot of paper.
In addition to this if you can get letters from your highest paying clients or companies who pay you a regular income to support your application or contracts proving you expect income from them for the next 12 months. If I'd had this then maybe my London application would have gone through without the savings. Basically, I proved I had the income over the previous year, but they then questioned where the guarantee was that I would continue to earn that over the following 12 months… I tried to argue that wasn't on the criteria, but they didn't seem to care.
Evidence of any savings you have.
Make sure you have the originals and copies of everything.
Here's the official info from the government's website, but remember you need to also check with the consulate as they d have their own rules.
I know that you may look at this and think it seems pretty easy, but honestly, if I had the chance again I'd hire a lawyer from the start. You aren't just paying for someone to help fill out the forms, you are also paying for their connections. They deal with this stuff day in and day out so they know the best (easiest) consulates to go to and can check over everything for you so you don't waste your time, money, and energy on failed applications as I did TWICE.
If you want to get a quote for Alejandra to help you with your Mexico Digital Nomad visa then fill out this form below and she will be in touch to discuss and give you a no-obligation quote. If you don't meet the requirements she will be able to talk you through other options available to you.
Mexico Family Unity Visa
This is probably one of the most straightforward visas you can apply for in Mexico, and this one you can actually apply for it in Mexico, you don't need to leave!
In my case, things were a little complicated as my temporary residency was up for renewal in September, but I was pregnant! Having a baby in Mexico (even if both parents are not Mexican citizens or residents) you are automatically eligible to apply for permanent residency. But only after the baby is born (obviously). My baby wasn't due until February after my visa expired. I did not want to go through the expense of renewing for a year and then having to wait until that visa expired the following September before applying for permanent residency through family unity. It's not possible to change visas.
So then we looked at doing it through our marriage. But that requires a 2-year temporary residency visa before applying for permanent, more expense, and a longer waiting time to get the permanent residency.
So after talking through my options with Alejandra my immigration lawyer I decided the best thing for me to do was to leave Mexico before my temporary residency expired and then re-enter as a tourist on an FMM and then after the baby was born apply for permanent residency before my FMM expired…PHEW. Sounds complicated right? Well, actually it was all super simple because I knew better than to try and do it myself this time and I just hired Alejandra to do it all for me!
The process for applying for permanent residency in Mexico after giving birth in Mexico
Once my son Charlie was born we needed to move quickly as my FMM was due to expire and you must have your appointment made with INM BEFORE that happens otherwise you need to pay a fine, which I did not want to pay!
Alejandra booked my appointment for me in Guadalajara (where I was living at the time) even though she is based in Playa del Carmen for many visas she can still help you to apply in the state you are living in. She then completed all of the forms for me, wrote the letter I needed and listed all of the other documents I needed, and wrote an email with full instructions about the process and what I needed. Trust me I needed this, I had enough to deal with looking after a newborn!
Anyway, the whole process of applying for Mexican permanent residency through family unity was a breeze. The most complicated part was getting together the documents for the baby.
Here's what is needed:
Mexican birth certificate for my baby
A letter from my baby's Doctor proving identity with a photo or Vaccine book (not available in the whole of Mexico right now). Alejandra sent an example of this letter which I took to the doctor.
My passport
My FMM
A bill (CFE or water) with your current address
Receipt for the application fee
Completed paper forms from INM
Copies of all documents
I also took my marriage certificate and a million other documents, just in case haha.
The process
Because Alejandra told me I would also need some forms only available from INM I went in 1 week before my appointment and asked for the forms and also asked where to make the application payment. You will need to make 2 payments, 1 before and once on the day of the appointment at a bank close by.
So on the day of my appointment, I went in with all of the documents and payment 1 receipt. The woman looked over all the documents and took what she needed and added me into the system. I was then told to go and make the second payment and given the account details. She told me to wait for an email telling me my application was approved. Once that email comes through I have 7 days to return to collect my card.
I went directly to the bank made a payment and then waited.
My appointment was on Friday and I got the email on Monday morning. I went directly back to INM with the receipt (and a copy) for my second payment. I had my photograph and fingerprints taken and was on my way home Permanent Residency ID card in hand within 30 minutes!
It was soooooo easy! It's totally possible to do it yourself, but I know people who did and had to go back and forth a few times as they either had missing documents or had completed the form incorrectly. So I didn't want to take the risk.
Final Thoughts
I'm proud to call Mexico home and having Mexican residency was important for me. I was able to get a decent bank account, apply for a credit card, and get a phone contract. Plus it just felt like the right thing to do after unofficially living in Mexico for almost 3 years.
My only regret is not hiring a lawyer sooner haha, I would have saved a lot of money and stress. That said if you are in a strong financial position and speak good Spanish, the process really isn't that complicated and everything is very clear on the official government website.
For more information about getting assistance with your residency application fill out the form below and Alejandra will be in touch with you soon. She is fluent in English so you will have no problems communicating in English or Spanish.
Good luck!