Looking for the best Costa Rica yoga retreats in 2023? Well, you are in the right place. In this post, I've rounded up the top yoga retreats in Costa Rica to help you decide the best one for you.
Why choose the best retreats in Costa Rica? Well, why not? Costa Rica is well known for attracting some of the top yoga teachers in the world. It's also got some of the best retreat centers set in what can only be described as a jungle paradise. When someone decides to do a yoga retreat, often the top places that pop into their heads are yoga retreats in Bali, India, or Costa Rica. And let's face it, of these three Costa Rica is the closest to the USA making flights much more affordable and manageable if you prefer a shorter travel time.
Once you have decided on Costa Rica as the destination for your yoga vacation, you need to decide where in Costa Rica to go. This is the really hard part as there are so many amazing yoga retreats in Costa Rica to choose from, like the beach town of Nosara. And it's not just yoga in Costa Rica, there is also an abundance of yoga and surf retreats Costa Rica to choose from. Many will specialize on one of the other, so be clear about if you want a yoga retreat in Costa Rica that also has some surf lessons. Or if you want a surf retreat in Costa Rica that also offers some yoga classes.
Did You Get Travel Insurance Yet?

The Insurance companies I recommend are Hey Mondo, Safety Wing, and Travel Insurance Master

Hey Mondo is great if you are looking for a great value flexible policy. They offer single-trip cover, annual multi-trip cover, and long-term travel cover. Safety Wing is great value, with monthly coverage starting at $39. It's super easy to use, and it just renews each month. I currently use them as they offer me free cover for my son as part of my policy. I also use Travel Insurance Master for short trips.

Read my full travel insurance post here, where I go into detail about all companies.
Best Costa Rica Yoga Retreats
Ok so now you are clear on why you want to do a yoga retreat in Costa Rica it's time to get one with the job of highlighting my top yoga retreats in Costa Rica for all budgets. I've also included in this list some recommendations of Costa Rica yoga teacher training courses and a few yoga and surf retreats in Costa Rica for you to look over.
Ps if you need a travel yoga mat for your Costa Rica retreat? Then read my review first.
Not sure about doing a yoga Costa Rica retreat? I also have guides to yoga teacher training and retreats in Bali, Guatemala, Mexico, India, Thailand, The UK, and Colombia. Plus I have this great guide to online yoga teacher training if you prefer not to travel right now.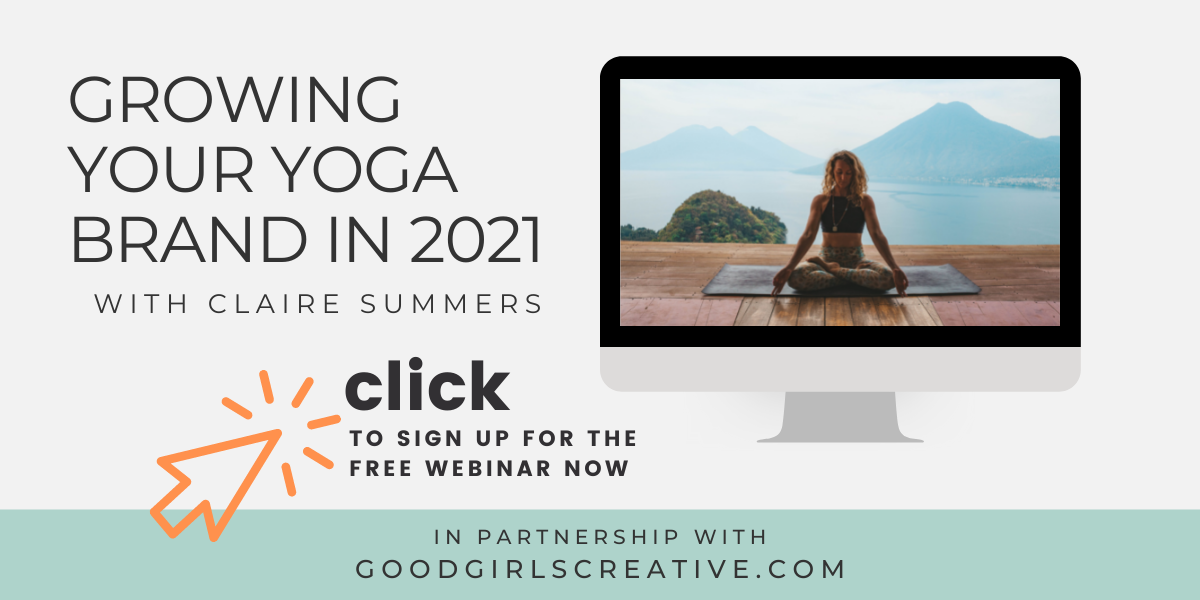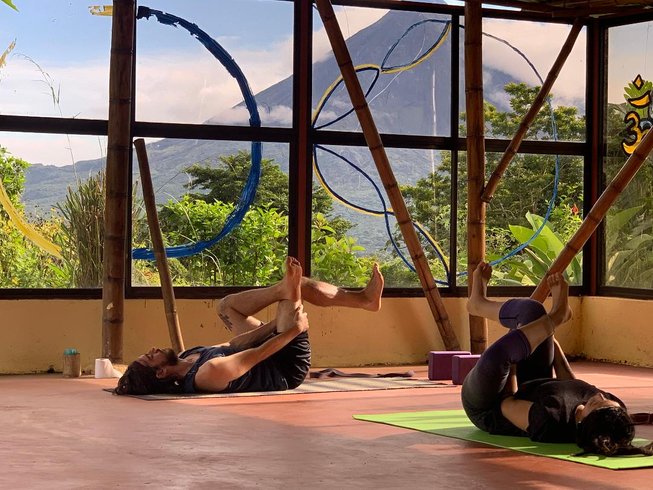 Price from: $1,844
Number of nights: 14 days/13 nights
Yoga Style: Vinyasa, Yin
Location: El Castillo, Alajuela
Relax, revitalize, and restore your inner balance with this 14-day restorative yoga retreat in Costa Rica. Located right on the lake in Arenal, this Rainforest Yoga retreat designed by the Essence Arenal Wellness Center welcomes all levels of yogis to enjoy this uniquely customized experience. Keep in mind, that this is not a group retreat. With a mix of daily yoga classes, adventure time, and time alone to relax in the beautiful surrounding nature, this retreat will nourish your mind, body, and soul and create space within for you to fully enjoy your life!
Each morning you have the opportunity to treat your body and mind to a mindful, balanced Hatha or Vinyasa practice designed by the instructor to awaken and revitalize. In the evenings, to wind down, you will have a restorative Yin practice designed to bring calmness to your body and mind. Accompanied by the peaceful sounds and backdrop of the jungle during your class, your evening Yin practice will end with Tibetan singing bowls. The yoga instructors at Essence Arenal are trained and certified in Vinyasa, Hatha, and Yin and also offer customized practices that fit your personal needs.
You will have private accommodations with your own bathroom in the Essence Arenal Boutique Hostel. In addition to the majestic views you will have of the Arenal Volcano and Lake, you'll sleep comfortably each night on an orthopedic mattress and anti-allergen pillows. Stay connected, or not, with the free wifi offered. There is also free parking available for you and laundry service available at an additional cost.
During your stay at this eco-hostel, you will have many opportunities for self-care with unlimited access to the jacuzzi, swimming pool, rainforest trails, volleyball court, and yoga deck. You can also treat yourself to a range of healing therapies from the on-site jungle spa, you can choose to sit in the Temazcal (sweat lodge) or even have a consultation with the naturopathic doctor.
Essence Arenal Boutique Hostel takes great pride in its farm-to-table kitchen that is open daily serving healthy, nourishing, organic, and locally sourced vegan and vegetarian meals. Thoughtful meals will be prepared by Chef Marvin in creative ways that use all of the tropical delights grown by local farmers and on their farm in Costa Rica. Nutritious meals that come from the earth are catered to support your dietary and detox needs. During your retreat, you will be served three delicious and balanced vegetarian meals per day. Natural drinks and naturopathic teas are also available to go along with these fantastic meals created with deep enthusiasm from Chef Marvin.
This retreat's location in El Castillo is in a small neighboring village to La Fortuna. You will have breathtaking views overlooking the Arenal Volcano while directly on Lake Arenal surrounded by pristine hilltop forested land spanning 22 hectares. Be sure to take in some walks along the forest trails down to a majestic waterfall hidden in the rainforest to enjoy the mystical free hot springs, go horseback riding, and enjoy canopy tours. There are so many activities in nature to experience at Essence Arenal to give you an experience of a lifetime.
What's included in this Costa Rica yoga retreat
Daily 75 minutes' yoga practice
Pamper your body with Essence Arenal's massage, ionic foot detox, full-body mud wrap
Unlimited access to pool, jacuzzi, permaculture farm and over 3 km trails
Naturopathic teas depending on your detox needs
3 daily deliciously healthy vegetarian meals
13 nights of private accommodation
Price from: $1030
Number of nights: 6 days/5 nights
Yoga Style: Kundalini
Location: Dominical, Puntarenas
Detoxing through juice cleansing is the most effective way to create a lifestyle change.
Treat your body and mind to this 8-day juice cleanse and yoga retreat in Costa Rica at Waterfall Villas where you will be surrounded by the most idyllic paradise setting and served fresh juices every two hours. Since juice fasting is a specialty at Waterfall Villas, this retreat will be tailored specifically for you in order to fit your cleansing needs. If losing weight is one of your goals, or you are desiring a cleanse of toxins from your system, this retreat is for you. The fresh ingredients used for the juice detox are grown right in Costa Rica.
Daily morning Kundalini yoga classes coupled with the juice detox will help with clearing out years of unhealthy choices, aid in emotional release, and help you fall back in love with yourself again! The 60-minute therapeutic massage with pure essential oils that is included with your retreat and the close proximity to the private waterfall will help to rejuvenate you during your retreat.
Prior to arriving at Waterfall Villas, a consultation session will be completed by phone that allows you to experience a personalized program created to help you reach your optimum lifestyle goals. If you do not wish to only have juice on this retreat, The Medical Medium cleanse and the Master Cleanse are also offered as options for this program. Keep in mind that juice cleansing for 6 days/5 nights gives the digestive track a jump start and you will be able to see transformation regarding weight loss on 8 days or more of a juice detox; 60 days on a juice cleanse can yield a 25 – 30 lb weight loss.
Your luxury rainforest accommodations while at Waterfall Villas will be in the Dragonfly Suite. Raised high in the canopy, you will be fully immersed in Costa Rican nature while relaxing to the soothing sounds of the waterfalls. The suites have been designed with the total rejuvenation of your mind, body, soul in mind, so this is a great space for you to detox and restore balance to yourself.
Balinese architecture, natural lava stone, naturally fallen red cedar, and an ecologically designed carbon-neutral building with vaulted ceilings keep you cool during your stay. Feng Shui throughout the villa creates a feeling of flow and there is a beautiful large covered terrace with cozy seating to take in the energy of the forest's canopy overlooking the top of the falls. This eco-resort is also just a few short minutes away from Dominical Beach.
Your juice cleanses retreat in Costa Rica is completely customizable to your needs. This retreat is designed for an 8-day juice detox and it is recommended you do at least 3 days during the 8 day/7 night program. When you begin your juice detox is up to you and vegan meals or raw vegan meals can be served during the time you are not juice fasting. You will be properly nourished based on your individual needs and goals.
Various types of green drinks with organic kale being the primary ingredient will be served to you every two hours. If you have a weight loss goal, the juicing recipe can be altered to help you get maximum results. If you are not trying to lose weight, additional proteins can be added to your juice mix. You will be checked every day to ensure the program is customized for your needs.
Optional excursions, at a cost to you, are available during the retreat. You can hike to the Giant Nauyaca Waterfall, zip line at Baru Reserve in Manuel Antonio, kayak in the mangroves, snorkel at Cano Island, or head to a nearby beach. If your retreat is from July to September, you'll be able to join a whale-watching tour.
What's included in this Costa Rica yoga retreat
Morning yoga classes (except Sunday)
Raw and vegan meals for those not wanting juice
Medical Medium cleanses for those not wanting juice
Juice cleanse every two hours for those wanting DR Natalie Rose effective green juicing
Meals after juice cleanse fast for refeeding
Master cleanse for the experienced
5 nights accommodation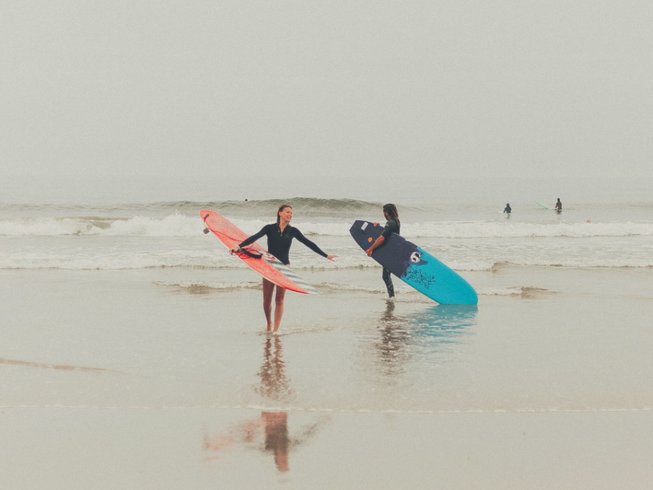 Price From: $5660
Number of nights: 7 Days/ 6 Nights
Yoga Style: Hatha
Location: Playa Marbella, Guanacaste
What I love about this yoga and surf retreat Costa Rica is that it offers a perfectly balanced retreat offering both daily surf and yoga classes. So whether you are a yogi wanting to try surfing for the first time, or a surfer wanting to establish a daily yoga practice, this retreat can cater to your needs perfectly. It's open to all levels from complete beginners to more advanced practitioners who just want to improve and immerse themselves.
As this is a personalized yoga and surf retreat in Costa Rica you can start on any day of the week making it a super flexible option. You also have several different villas to choose from depending on your budget and group size.
The retreat includes all 3 daily meals, and honestly, the food is a BIG selling point on this Costa Rica yoga retreat. They take the saying "you are what you eat" to a whole new level with the food they serve up here. So if you really want to focus on spending time in nature nurturing your whole body and mine, this is the yoga retreat in Costa Rica for you.
What's included in this yoga and surf retreat Costa Rica
60 minutes massage session
2 hours of focused surfing time with the coach (5 days)
1 yoga class, breath techniques, and meditation per day (5 days)
Technical tips and recommendations, body mechanics breakdown
Daily healthy and full of nutrients breakfast, lunch, and dinner
6 nights accommodation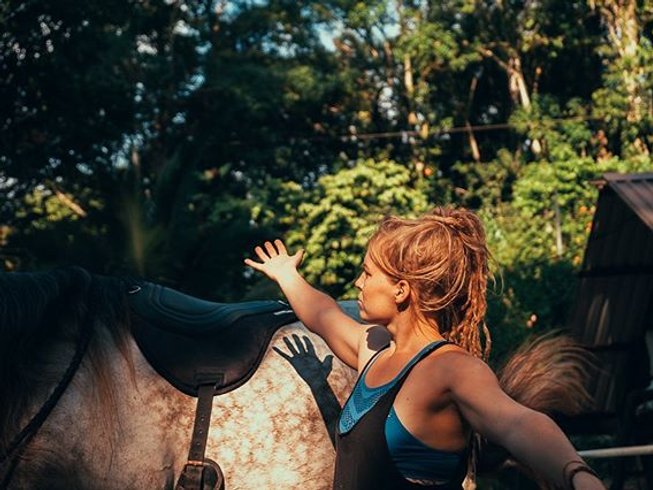 Price from: $1,644
Number of nights: 15 days/14 nights
Yoga Style: Hatha
Location: Cocles, Puerto Viejo, Talamanca
If you are seeking a unique way to expand and strengthen your mind, body, and soul, "Yoga in Harmony with Horses" is the transformational journey that you need. Find a new path for yourself as you reconnect with nature, practice yoga, and gain clarity and peace through the way of the horse. Now is the perfect time to take a leap and experience more from life!
This retreat is designed to not only teach you leadership skills but personal spiritual growth is promised as you also learn how the connection between human and horse leads to growth towards Self Realization. You will be experiencing a deep connection not only with your horse but with nature and through your daily yoga practice.
"Spiritual Horsemanship" is a practice based on trust in self and respect for the horse and nature itself. You will have the chance to build a deep bond with the horses which will greatly enhance your well-being and theirs too. Learning the language of the horses will help you to clearly communicate effectively through your body language, tone of your voice, your intent, and even though telepathic messages so that the horse becomes willing to follow as you lead. Boundaries will be created and respected between you and the horses.
Accommodations in the Kindred Spirits main lodge will be shared double or triple rooms. You'll be living in an open-air space that's conducive to social distancing. There are no crowded rooms and the tropical climate of the Caribbean makes for healthier living for your immune system from the daily vitamin D from the sun, the organic fresh fruits and vegetables and not to mention the oxytocin produced just from being around the horses! You'll share a big spacious kitchen with the other kindred spirits as well as the living room, dining & lecture areas. Wide-open verandas overlook the exotic tropical jungle allowing you to fully connect with the lush nature.
During the retreat, you will have a daily yoga practice along with meditation and Pranayama to restore a healing balance to your mind, body, and soul. As you are creating this harmony within yourself, you will also get to learn how to create this state of harmony and well-being for the horses, through a daily practice of "Sharing Sacred Space" with horses. Skills will be developed in order to ride, train, care for, and naturally heal the horses you connect with during your stay.
Spending your time observing the horses and how they behave will teach you how to connect to your horse to be accepted as one of them and not to be seen as a predator. Daily practices will help you become centered, present and more aware so you may discover new ways to communicate with your horse through your breath, your intention, and your body language. Allow the horses to be your guide and guru on your path to self-realization as you witness them be the masters they are at fully living in the moment.
The philosophy at the farm focuses on you incorporating the moral observances of the Yamas and Niyamas (code of conduct in your relationships and with yourselves) into your daily routine with your fellow students, the community, and with the horses. Your yoga practice serves to help you go deeper into a better understanding of self, the horses, and those around you. The goal is to develop more respect for everything around you on this Earth.
For two hours a day, you will have some responsibilities around the farm such as feeding and grooming the horses, garden work, horse training, and intentional connection time with the horses. You will discover this to be a very zen experience as you work daily with the horses and practice awareness through mindfulness meditation. Kindred Spirits recognizes horses as sentient beings and you being able to connect with them from a state of presence and freedom promotes true partnership and well-being.
The Kindred Spirits Well-Being Center is nestled in the jungle mountaintop surrounded by lush trees full of monkeys, parrots, macaws, and toucans. Butterflies and wild cats accompany the peaceful powerful energy of the jungle. Nearby is the permaculture farm called Finca de la Tierra, the Jaguar Rescue Center, the Macaw Release Center and other activities such as surfing, snorkeling, scuba diving, hikes, waterfalls and natural reserves.
At an additional cost to you, supplementary sessions for the Japanese Art of Healing, metaphysical energy healing, reiki attunement, and archery classes will be available.
What's included in this Costa Rica yoga retreat
8 1-hour yoga classes (Pranayama, meditation, and asanas)
6 1.5-hour classes with horses (Connection, Mindfulness meditation, "Liberty Connection", yoga with horses, riding, and holistic horse care)
4 practice assignments to practice with your designated horse
Horse riding on the beach. (Will depend on your level of experience)
Swimming with horses in the sea
14 nights accommodation
Access to the library selection of books to deepen your knowledge of horses and yoga
Your choice of one of Kindred Spirits' optional experiences
Use of the shared kitchen and bathroom
What To Wear On Yoga Retreats In Costa Rica
Click the image to buy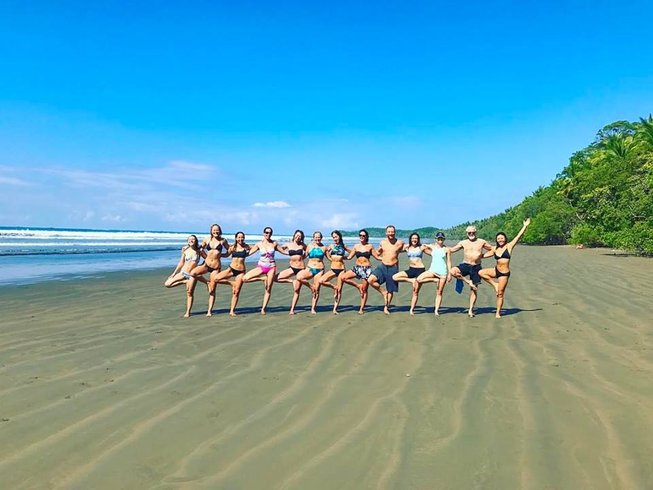 Price from: $3,195
Number of nights: 18 days/17 nights
Yoga Style: Hatha, Iyengar, Kundalini, Vinyasa, Yin, Acro, Nidra, Ashtanga, Chair
Location: Uvita, Puntarenas
As one of the most popular yoga retreats offered in Costa Rica, get ready to discover your highest self and true purpose as you embark on this inward journey through ancient yoga teachings, introspection and self-love. Connect to your inner light through this soul-rocking, life-changing opportunity and dig deep as you play, laugh, paint, cry and love! The Gypsea EcoYoga Teacher Training helps you to unveil your dharma and understand Samadhi (Universal Oneness) as you connect deeply with nature, learn about medicinal plants, local ecology, permaculture and conservation. You'll have the opportunity to go zip-lining, surfing, whale watching, frolic in the waves, hike a magical rainforest, paddle majestic mangrove tunnels and explore magnificent waterfalls on your days off!
Hatha Yoga Pradipika will be the foundation of the physical aspects of this course and then you will branch out into the variety of modern yoga styles. Successful completion of this Yoga Teacher Training will make you eligible to register with Yoga Alliance as Registered Yoga Teachers (RYT®).
*Please note, the prerequisite for this course is at least one year of consistent, steady yoga practice.
Accommodations during your training are designed to offer a serene and peaceful home away from home experience. You will have your own bed and all rooms are equipped with full bathrooms and windows that open to beautiful jungle scenery. The Campus, Hospedaje El Bosquecito, is located right beside a small creek and forest, giving you the pleasure of being up close to birds, toucans, monkeys, sloths, and iguanas. The tranquility awaits you as you can fall asleep to the sound of a babbling brook right outside your window!
Wi-Fi is accessible in the rooms and throughout the living space. A short walk away, restaurants, banks, and other services are nearby. Fresh young coconuts are available at your disposal.
You will be served 3 home-cooked plant-based meals per day. Locally sourced food and meals will be prepared by a private chef. You'll want to plan to purchase your own snacks between meals, as well as meals on your 1 day off.
What's included in this yoga teacher training in Costa Rica
3 home-cooked meals per day (excluding the 1 day off)
17 nights accommodation
Certificate of completion
Curriculum, including a comprehensive student workbook
Local trips to waterfall, river, bamboo forest, beach
Medicinal plant class and ceremonial planting
All yoga philosophy, posture, anatomy and teaching methodology classes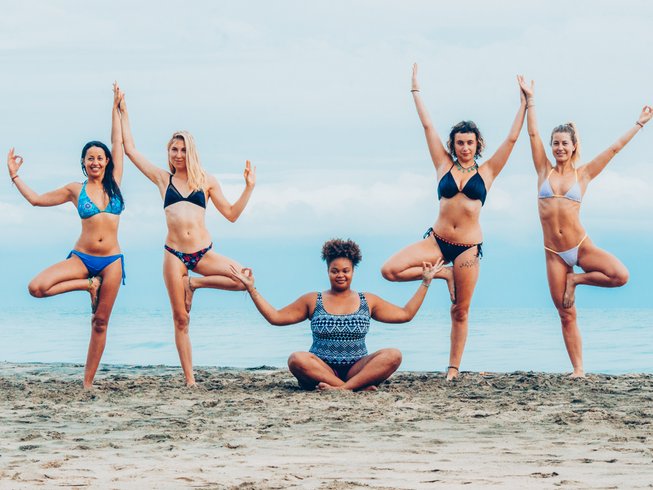 Price from: $4,016
Number of nights: 22 days/21 nights
Yoga Style: Hatha, Sivananda, Vinyasa, Ashtanga
Location: Cocles, Puerto Viejo de Talamanca
Begin your path of self-realization through this unique yoga teacher training in harmony with nature at the Kindred Spirits Holistic. In addition to your practice of yoga, you will be learning skills to help you heal and reconnect with your inner self. Discovering yourself and living the full experience as a yogi is easy at Kindred Spirits. You will be surrounded by the peaceful, lush jungle and have the opportunity to interact with their herd of horses who love to join in the meditations. Expand your awareness and reconnect with your authentic self by reconnecting to Mother Earth at the Holistic.
Your 200-hour course is registered with Yoga Alliance and follows their curriculum guidelines, meaning the course meets and exceeds any criteria set forth by the Yoga Alliance for a training course. Successful completion of this teacher training course gives you eligibility to register as 200-RYT with Yoga Alliance. Any students who choose to enroll in the Equine Yoga Teacher Program certification will receive the same diploma in addition to a certificate from EYTP. Throughout this course, you will deepen your own yoga practice to gain skills and confidence in teaching your own yoga classes.
This course has a limited enrollment of 6 to 10 students in order to offer more individualized support and create a more intimate experience for the students. Ashtanga, Vinyasa, Hatha, and Shivananda yoga styles will be taught in order to deepen your own understanding of Yoga and enhance your professional yoga career.
Each day there will be pranayama, mantra chanting, and asana practice. Yoga philosophy, ethics, anatomy, physiology, and teaching methods will be covered in lectures and practicums. You will leave this yoga teacher training well-prepared, knowing how to teach and guide your own yoga practice.
Accommodations at Kindred Spirits are large lodges with shared double or triple rooms. Magical treehouses are also available for private accommodation as well. A/C and high-speed Internet are included and each room type is suited to your personal needs, comfort, and happiness. You will be living in close proximity to the jungle but with all of the comforts, you need like hot water showers and quality orthopedic thick comfortable mattresses.
You will have one meal, lunch, included for the duration of your training. At Kindred Spirits, fresh, local, organic, and seasonal ingredients are used to create mainly vegan meals. They are also able to accommodate any food allergies you might have and/or a gluten-free diet.
What's included in this yoga teacher training Costa Rica
21 nights lodging
18 lunches
Yoga classes
Yoga mats and props
200-hour certification affiliated with Yoga Alliance
Pin For Later!