New York can be expensive. It can also be as bad as Disney World for queuing. So if you want to know the best ways to see New York City on a budget and save you time, then you need my 14 tips to see New York City on a budget. In this guide, I'm going to share with you the best ways to see NYC without spending a small fortune, and that includes recommending some of the best places to eat in New York.
1. Get some good footwear
Get some good walking shoes and skip the subway! It's a grid system so super easy to find your way around. Give the subway a miss and explore on foot. I always find exploring on foot is so much more interesting anyway and you can get a real feel for the city much quicker. Find a great pair, and save money on them with a DSW discount code.
2. Get a New York Pass
If you really want to do all the expensive tourist things then get a New York Pass… See my blog post on making the most of the pass here. It will save you some dollar and you can also skip queues a lot of the time.
The views are outstanding and if you go in spring/summer you can make the most of the gardens. The Highline starts up on 33rd Street not far from Part Authority Station and ends in the Chealsy right by the Whitney. The best time of year to go in during the Spring or Summer when it is in bloom.
Although it's pretty cool in winter too!
4. Skip the Statue of Liberty Tour
If you want to see the Statue of Liberty? Save yourself hours of queuing and $18 and take the Staten Island Ferry. It's free and you get this close…
You also get incredible views of Manhattan from here so you can take a few pics of that iconic skyline.
5. Or Take the Tour from New Jersey
If you want to visit Ellis Island and The Statue of Liberty on an official trip then I would strongly recommend skipping over to New Jersey and entering that side. There are never any queues and you can get the Light Rail to Liberty State Park and take a lovely stroll through the park.
6. See a Broadway Show for Cheap
Want to see a Broadway show? Download the TKTS app to check what is available. You can't book online only in person but you can skip the horrific queues at Time Square by heading downtown to their Seaport booth, which opens at about 11 am each day. You can also get matinée tickets from this office for the following day which you can't get from Time Square…You're welcome
7. Walk to Brooklyn
Take a walk across the Brooklyn Bridge. You won't regret it.
8. Be careful where you eat
Don't eat on 7th around Time Square. Eat on 8th or 9th. Businesses can mark up 30% on Time Square because of their rent. If you eat there you will pay for it!
9. Visit the Empire State Building in the day
If you want to go up the Empire State building do it during the day. Go up the Rockefeller at night so you can get a photo of the Empire State lit up. You will need to go early and book your time if you want to go after 7 pm. But the good news is you won't have to queue like you do at the Empire State Building.
10. Go to Bryant Park
Bryant Park is the place for free things. If you can't afford a Broadway Show then go there on a Thursday afternoon where they often do 45 min performances of the shows.
11. Go to the Met
The Met is donation based so pay what you can afford. You could easily spend all day in there so make the most of it!
12. Go to the Whitney on a Friday Night
The Whitney and a few others have times that are free entry so check online before you go (The Whitney is free on a Friday).
13. Take a cruise down the river
Fancy a river cruise but don't want to pay the prices? Then head downtown and take the East River Ferry for $4 you get a rather stunning view and a river cruise without paying the price. Nb if you go on a weekend it's $6.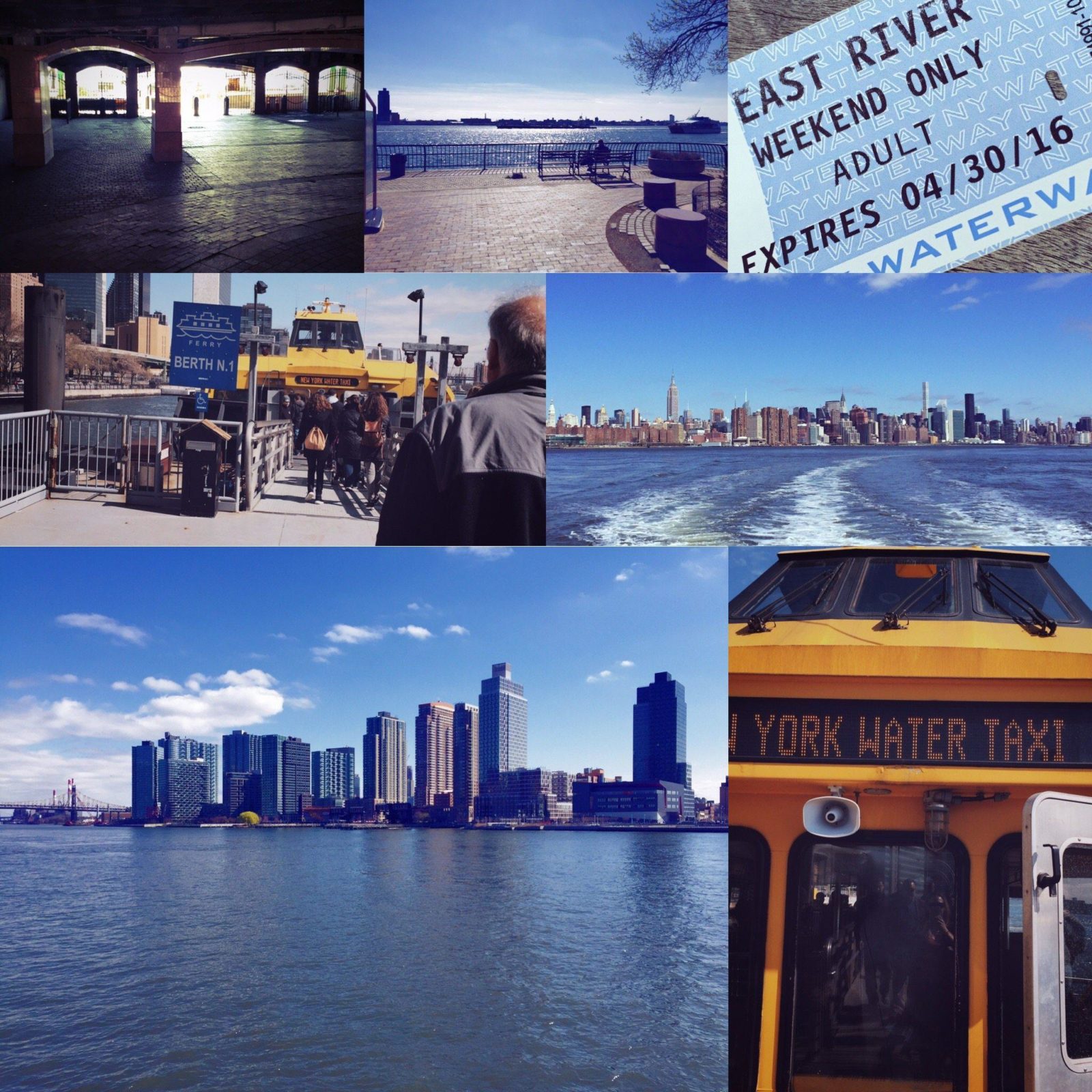 14. Eat Pizza!
You can get 2 slices and a soda for $3 at 99 cents Pizza.
If you are heading to the USA and looking for great advice on money-saving then check out this post 30 ways to save money traveling the USA
This post was proofread by Grammarly