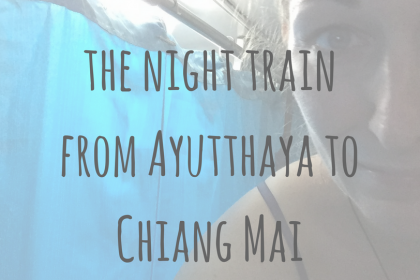 There are some experiences in Thailand that you know probably aren't going to be that much fun. But you can't go to Thailand without doing it. Well getting the night train to Chiang Mai is one of those experiences. Just don't expect much sleep!
Reasons to travel on a night train:
Saves money on accommodation
Makes the most of your time by traveling during the night
Cost
It's fun!
Reasons not to travel on a night train:
Sleeping is pretty impossible
Where do you get the train from:
We traveled from Ayutthaya to Chiang Mai but you can also get on the train at Bangkok if you decide to give Ayuttaya a miss. I really wouldn't though as it's well worth spending half a day there to explore the temples. Both stations are very easy to find. Bangkok just hop in a Tuk Tuk and you can't miss it in Ayutthaya as the town is so small.
Top Tip 

The station at Ayutthaya has a place you can pay a small amount to store your bag while you explore the temples. Then you just pick it up before you get your train.
Budget
Our train tickets cost 766tbt for the top bunk and 856tbt for the bottom. there is a price difference in the bottom bed is bigger. If you have a preference let them know when booking. Do Make sure you get your ticket early in the day as they do sell out.


The Journey
My travel buddy Laura was ill and so as soon as we got on the train she asked for them to convert the bed so she could sleep. Watching this was enough to make my journey. Take a look at how the seats convert on the night train here.
I wasn't ready to sleep just yet so I headed to the restaurant carriage to get some dinner and chill for a while. The food was great and they have a set menu (called a set) on offer until 11 pm. the price is pretty reasonable, about 120 tbt for soup, 2 meals, rice, fruit and a drink.
Then it was bedtime, I'm not going to lie it freaked me out a bit as it reminded me of being back on board a ship in my bunk, but it was comfy. I really struggled to sleep, I'm not sure if it was the noise or the movement but I didn't sleep. The next morning the porter came through and woke anyone up who was still sleeping 1 hour before we got to Chiang Mai. In each of the carriages, you will find a sink and two toilets where you can freshen up.
Top Tip
There are 2 toilets in each carriage, one is a traditional Thai hole in the floor toilet and one is a western sit down toilet. So if you don't fancy the hole in the floor on a moving train wait for the other one.
Arriving in Chiang Mai
It can be a little bit overwhelming when you arrive in Chaing Mai, as it is everywhere in Thailand! You will be greeted with lots of people shouting taxi and trying to take you to different accommodation. I would advise going straight to the information desk. Get a map of them and then if you haven't booked anywhere to stay grab a coffee at the little cafe look over the map and get your bearings.
There is so much to do in Chiang Mai and the food there is pretty amazing. Make sure you check out this post What to Eat in Chiang Mai so you don't miss out on some of the culinary delights the city has to offer. If you are looking for accommodation in Chiang Mai then you need to take a read of this great accommodation guide!
If you are planning your first trip to Thailand then be sure to check out my other posts:
How to see Thailand in 3 weeks
How to Eat in Thailand for under £5 a day
Top Tips for First Time Visitors to Thailand
If you need a cheap flight to Vienna check Skyscanner first! Or download their App here, and don't forget your insurance!