Coffee and Colombia go hand in hand. Many people backpacking Colombia will wait until they visit the Coffee Region to do a coffee farm tour – but you don't have to! I recommend doing a Medellin Coffee Tour. This tour was one of three tours I did with Toucan Cafe & Tours which supports small independent local businesses in the Antioquia region. They sadly no longer run tours but there are lots of other great options you can find.
Keep reading to find out more about how doing a coffee tour can support social change in Colombia and how you can show your support without stepping foot in Colombia.
Need a Colombia backpacking itinerary? Click here to read mine.
Did You Get Travel Insurance Yet?

If 2020 taught us anything, it's that you need to be prepared for anything!

The Insurance companies I personally recommend are Hey Mondo, Passport Nomads, Safety Wing, and Travel Insurance Master

Hey Mondo is great if you are looking for a great value flexible policy. They offer single-trip cover, annual multi-trip cover, and long-term travel cover.

Passport Nomads provides the most comprehensive cover for Digital Nomads. If you find yourself in need of medical care you just contact them and they will pre-load your card with the funds to cover your treatment, meaning you won't need to pay out of pocket and then put in a claim later.

Safety Wing is great value with monthly cover starting at $39. It's super easy to use and it just renews each month. I currently use them as they offer me free cover for my son as part of my policy.

I also use Travel Insurance Master for short trips.

Read my full travel insurance post here where I go into detail about all 4 companies.
You think you know about coffee?
A fully subscribed fan of coffee I have been a junky since 'adulting' started to steal my sleep at the age of 17. But in Colombia, my coffee obsession was taken to the next level.
In Bogota, I tasted a lot of coffee and learned how to brew the perfect cup (or bucket as I prefer). However, it was just outside of Medellín on a small family-run coffee Finca where I was really schooled about what it takes to make my favorite hot beverage.
Background to the Medellin Coffee Tour
During my time in Colombia, I have learned a lot about its politics and history. Without going into a full-blown history lesson (I'm saving that for another post), here is a little background information you need to put things into context. It's important to know this stuff, but it is very complicated.
Colombia is the home of Magical Realism for good reason!
The first word that normally comes to many people's minds when they think of Colombia is 'drugs', or if you're my parents 'kidnapping' (so 10 years ago!).
Having spent time in this beautiful country I have seen, and heard, firsthand accounts of its difficult past. And, more importantly, how the people in this country are trying to build a better future. Decades of civil war caused around seven-million people to be displaced. Many of those displaced families fled the war-torn cities for a new, more peaceful, life in the rural areas of the country.
Even though groups like FARC have now disarmed and are no longer forcing farmers to grow coca. It is still a very real issue as many farmers struggle to make enough profit to survive. For those unable to make enough money to survive on crops alone, the temptation to grow illegal crops continues to be a temptation.
Therefore, when you buy good quality 'Fair Trade' coffee or take a tour to an independent coffee farm you are directly helping that farmer and his/her family to continue to earn an honest living. It really is that simple!
Wondering why you should take a coffee tour Medellin?
Why not!
Colombia is number three in the chart of countries that export the most coffee in the world. It is also widely regarded as having the best coffee in the world.
It exports on average 11.5 million bags of coffee per year. I mean call me crazy, but if you are visiting a country with good, quality coffee it would be rude not to do a tour! It's like visiting France and not doing a wine tour.
Most people take a tour in the coffee region if they go there, Salento being the most popular destination. However, there are coffee farms all over the country so you can find a tour in most departments. Obviously, the best place to take a coffee farm tour is in the coffee region if you have time to visit, sadly I didn't. But here is a great Colombia coffee region guide to help you plan if you do have time to go.
These tours aren't just about learning about the coffee-making process. Granted some of them are, but choose the right one and you will also learn about life in rural Colombia. For me learning about the social and political issues farmers have faced was just as interesting (if not more interesting) than learning about the coffee-making process. Plus you get extra social warrior points for supporting that small business.
The Coffee Tour Medellin
The tour organized by Toucan Cafe & Tours was to Cafe de la Cima Coffee Farm in the La Toscana Fredonia area of Antioquia around 1.5 hours outside of Medellín.
On arrival in the village, we had to change into a 4X4 to reach the farm.
Be aware if you do this tour you are going to a real working farm ran by a family. It's not an overpriced tourist attraction with a fancy gift shop and AC. The family who owns and run the farm are incredible! It really is a whole family affair and the warmth and love of coffee exude throughout the day. I mean the (very cute) daughter of the family (who I met) is even in the marketing for the coffee.
After a delicious breakfast and of course a cup of coffee (or 3) it is time to learn a bit about the process.
Next up is a tour of the fields. Don't forget to wear footwear suitable for walking in the mountains. Oh, and remember you are in a cloud forest so it is liable to rain at any minute!
After a tour of the fields and some general information on the growing process, it is time to have a go at picking!
The tour was a real eye-opener! I don't think I ever appreciated just how much goes into each cup of coffee I drink. I will never again be able to drink another cup of coffee without giving a silent salute to the coffee pickers.
Once we picked a rather feeble amount of coffee it was time to see the next part of the process. Traditionally the coffee was carried down by mule for processing. The father of the current owner, however, created this water shoot! So they pour the coffee in, turn on the water and it goes down the shoot to the farm… very cool!
The coffee was waiting for us when we got back. From here the coffee is washed and goes through this channel. Any coffee that floats is defective coffee and gets separated. This bad quality bean is then used to make instant coffee! The other coffee is dried and the skin is removed.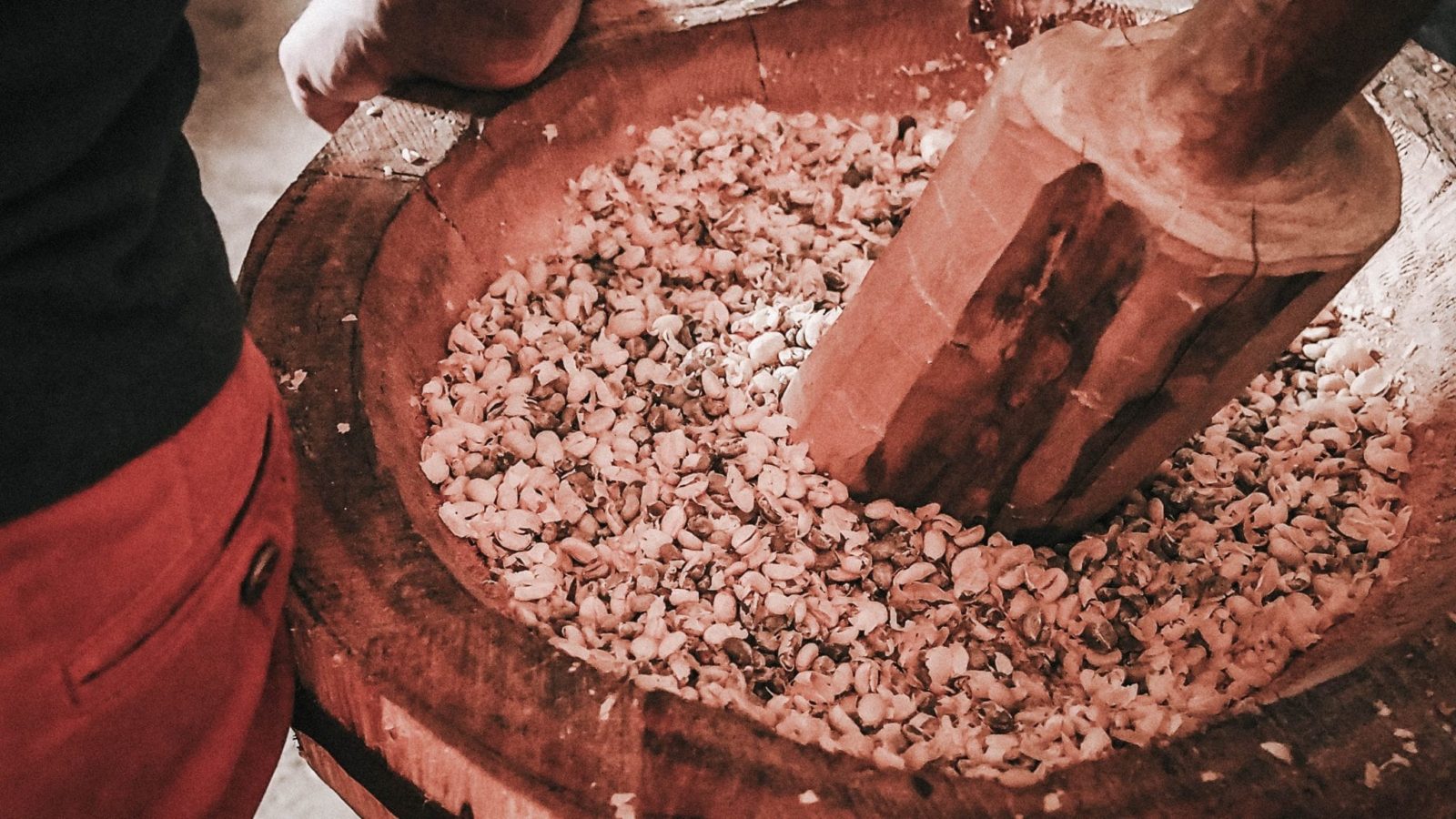 Once the coffee has been through the first part of the processing it is time for roasting!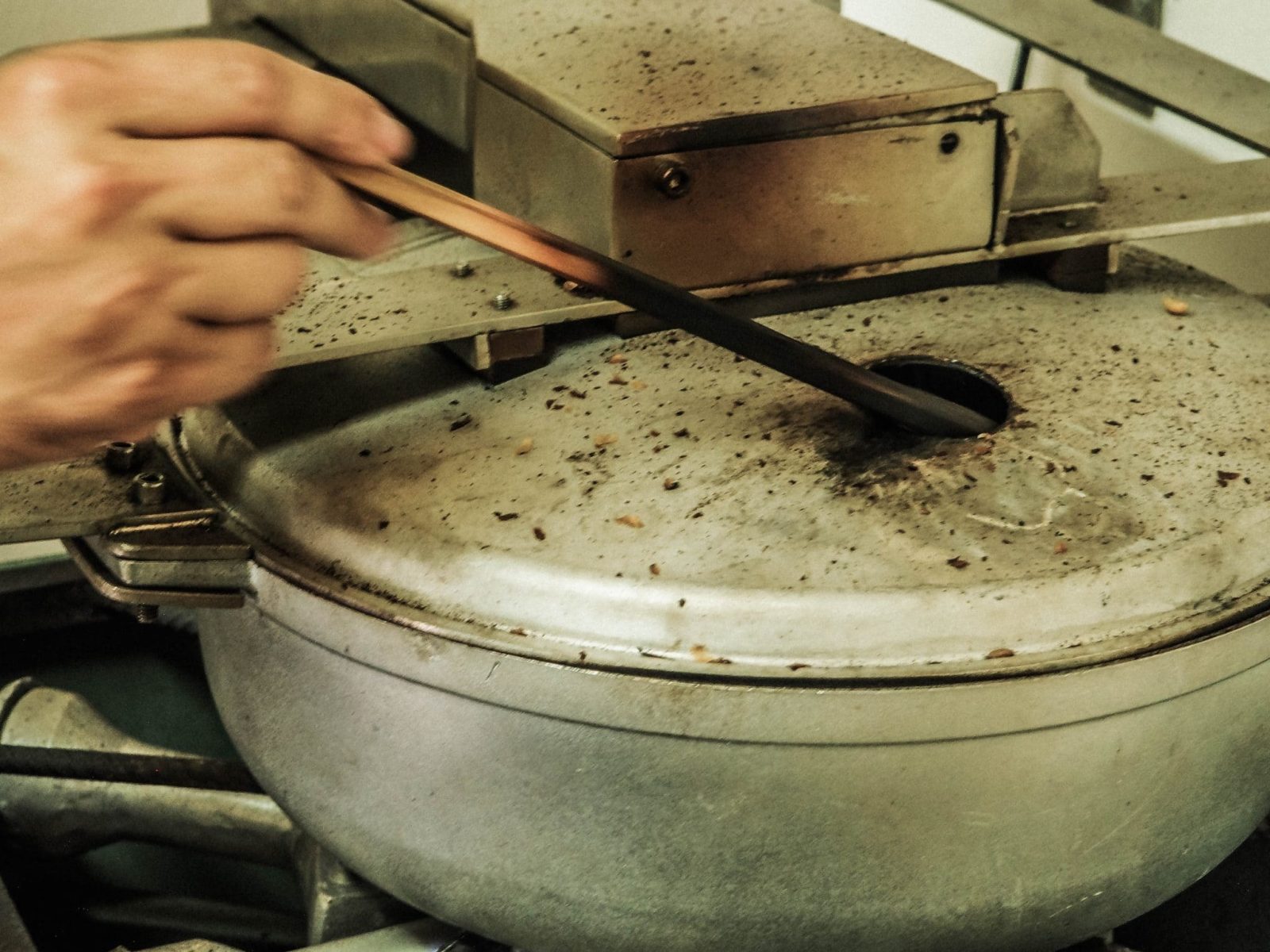 And then for the final part before you can drink it, grinding! That smell though…
Now, full disclosure, I've done a few coffee tours before. In Colombia, this is my fourth and I also did two in Guatemala. This tour wins hands down! All of the others we were given a quick tour, we talked through the process and were given a cup of coffee to drink.
None of them went into this much detail. And none of them made us actually do it! We even got to drink the coffee that we helped to roast. Living the dream right there, roasting the coffee and then getting to drink it!
The final part of the day was all about tasting the coffee! We were taught about the scoring and how to properly taste the coffee (not just chug it down).
We then had to decide which coffee we liked the best. The choices were the one we had roasted, a very expensive coffee and a very cheap coffee… Sadly I chose our one and the cheap one (whoops!).
The coffee process from bean to cup:
Take a watch of this short video to see the process for yourself.
How to choose a good Colombian coffee
When choosing a coffee there are a few things you need to look out for:
Roast – Light, medium or dark?
Lightly roasted beans are generally sourer.
Medium roasted beans have a more acidic taste.
Dark roasted beans are less acidic and have a more nutty taste.
Altitude
The altitude that the coffee was grown at is really important to the taste. The higher the altitude the more acidic and complex the flavor. So if you prefer a more alkaline and less complex flavor you should stick to coffee grown at lower elevations.
It is widely recognized that the higher the elevation the better the quality of the coffee. For a good quality, coffee look for an elevation of 1800 meters and above.
Area/ Blend/ Region
Be careful with this. A blend is often lower quality and a mix of beans from different regions. If a coffee is from a specific region it could be a blend of beans from anywhere in that region. This means the beans could be from different farms at different altitudes.
If you want the really good stuff you need to make sure it names the specific farm it came from. This will guarantee the coffee you are drinking is from one farm and not a blend.
Thoughts on instant coffee
I'm sorry (I'm not) but instant coffee is awful. Yes, I know, I'm a coffee snob. But in my defense, I've seen the beans that they use to make instant coffee circling the drain. These are the defective beans they have no flavor and are fit for nothing.
Please, I beg you to throw away the Nescafe and buy yourself an Aeropress! I may be a backpacker but I never travel without mine (and my coffee grinder, yes I know I'm next level obsessed).
Why Fair Trade Coffee is important
You may think the cup of coffee you are drinking doesn't have an impact. But it does. If you take one thing away from this article it is that you can help farmers struggling to support their families by choosing Fair Trade options if you are living in the USA, UK or any other country that supports Fair Trade.
If, like me, you are traveling and living in these countries that produce coffee, buy local, no exceptions. Don't just buy coffee from a supermarket buy it from the market, direct from one of the farms or go into an independent coffee shop and get a bag of their coffee. Many work directly with local farmers to support them.
Final thoughts
If you are in Medellín then do this tour, don't be put off by the price. It is one of the more expensive coffee tours I have done, but it is a full day tour from Medellin and you are fed breakfast and lunch. I've done tours for a fraction of the cost and they don't even come close to this one.
You do so much on the tour it is actually really good value and worth every penny in my humble opinion. This is a small family farm and they are able to subsidize their income from coffee with the tour.
They quite literally wouldn't survive without the income from the tour. So do yourself (and them) a favor and skip the tour in Salento and take one in Medellín.
Alternative tour options: I did not personally do any of the following tours, however here are a few alternatives to this sadly closed tour. They all have good reviews, however, I implore you to also do your own research to make sure it is the right fit for you!
Coffee Tour and Lunch in Medellin
Most complete Coffee Tour in Medellín: From the Seed to the Cup in just half day
EXPERIENCES COLOMBIA (coffee tour)
Wondering where to stay in Medellin? I recommend staying in either El Poblado or Laureles and here are a few of my favorite places to stay:
Parceros Med Hostel ( I stayed here for a month and loved it!)
Los Patios Hostel Boutique
Purple Monkey Hostel
Hostal Medellin -Laureles
El Jardín de la 10 – El Poblado
You can also read my full Where to Stay in Medellin Guide here.
This post was proofread by Grammarly