Thinking of visiting Semuc Champey Guatemala? Doing a Semuc Champey tour was one of the best decisions I made on my Guatemalan adventure. Sadly, getting here and away isn't so easy. You have to work hard to get to Semuc Champey, but boy is it worth it!
So here is my ultimate guide to visiting Semuc Champey Guatemala and some recommendations for booking a Semuc Champey tour.
In this post, I'm going to cover everything you need to know before visiting Semuc Champey
How to get from Lanquin to your hotel

The best hotels to stay in Semuc Champey and Lanquin

Other things to do in Lanquin

If you should take a

Semuc Champey

Tour

What to pack

for Semuc Champey Guatemala
If you want to know how to get here from Antigua, read this post. Or if you are traveling from Semuc to Flores/ Tikal read this here. I recommend booking transport to Semuc Champe with GuateGo. Or if you prefer to book on a Semuc Champe tour from Antigua then book with Heart of Travel, click to learn more.
Did You Get Travel Insurance Yet?

The Insurance companies I recommend are Hey Mondo, Safety Wing, and Travel Insurance Master

Hey Mondo is great if you are looking for a great value flexible policy. They offer single-trip cover, annual multi-trip cover, and long-term travel cover. Safety Wing is great value, with monthly coverage starting at $39. It's super easy to use, and it just renews each month. I currently use them as they offer me free cover for my son as part of my policy. I also use Travel Insurance Master for short trips.

Read my full travel insurance post here, where I go into detail about all companies.
What to expect when you arriving in Lanquin
You should arrive in Lanquin anywhere between 5-7pm depending on traffic and how crazy your bus driver is…
On arrival, you will likely be met by a wall of Guatemalan men shouting out hotel names to you. If you have booked your Semuc Champe hotel already, listen out for the name of the hotel and go towards that guy.
Not booked your Semuc Champey hotel, but know where you want to go?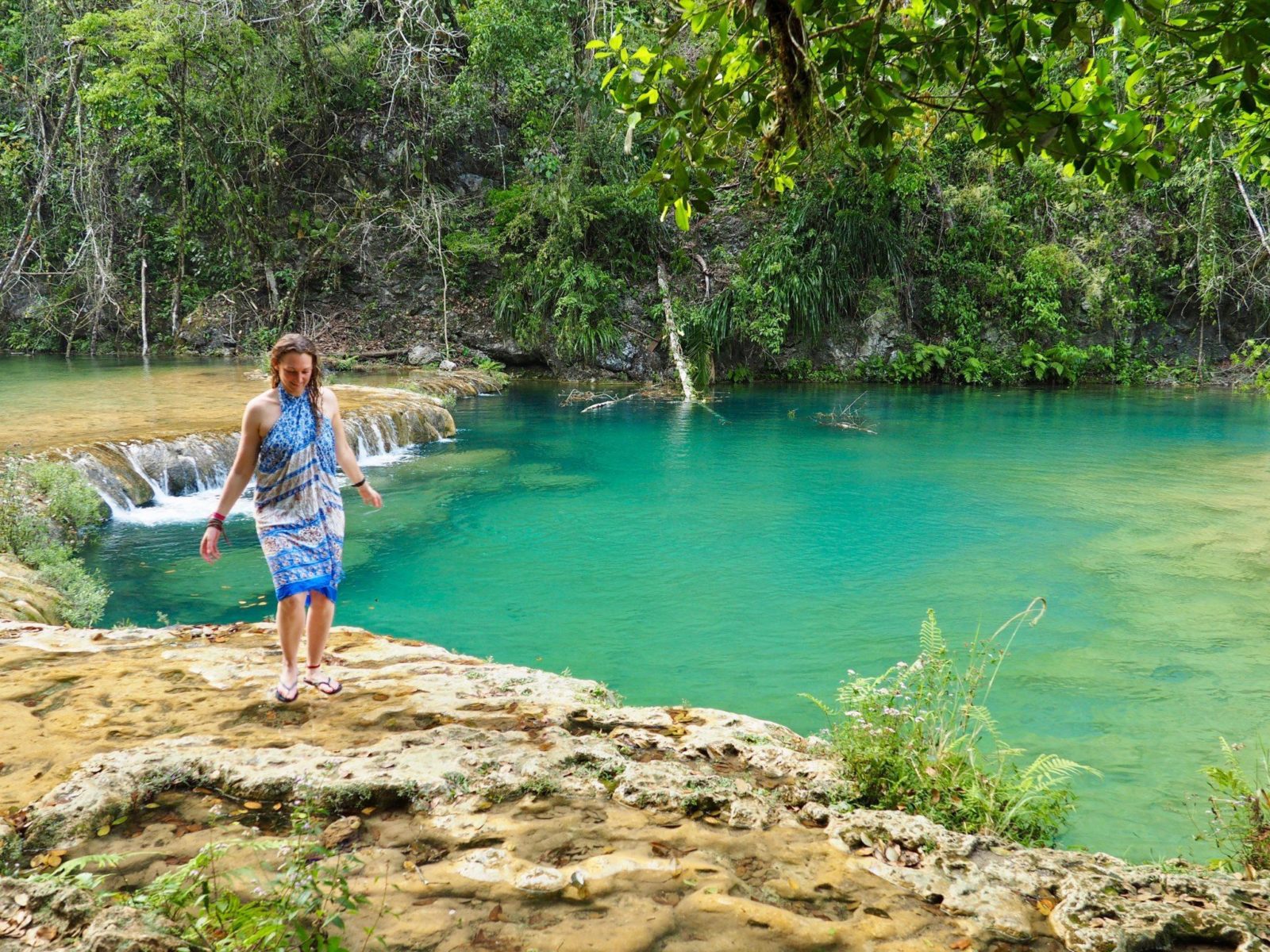 Do the same but ask the guy if there are rooms available. However, if you have no idea chat to someone and check out prices, they might be able to get you a deal. Either way, you will be ushered onto a pickup truck and dropped at your hotel, this is a free service.
Or my favorite option get your bag and get away from the madness and find somewhere you can get a beer until it calms down. Then go for a walk and find somewhere. Be warned though most of the accommodation is a bit of a walk so you might not want to turn down the free ride!
Where to stay in Semuc Champey

Guatemala

Here are my top pics of hotels in Semuc Champey. Almost all of the accommodation has a variety of budget options from 65Q dorm rooms with no AC to fancy riverside lodgings or tree houses in the jungle. One thing I would say though is to get AC if you can.

Honestly, you're in the jungle, it's hot, pay the extra 10Q and get a room with AC! I was so glad I did, although I think the heat and humidity affected me so much because I had been in Antigua for 2 months which is cool in the mornings and evenings.
Quiet and Relaxing hotels in Semuc Champey
If you want some peace and quiet and to enjoy relaxing by the river and great food then I would recommend El Retiro. This is where I stayed for 2 nights in a 6 bed AC dorm. It cost me 75Q per night and if you book a tour with them you get the 3rd night for free…do make sure you ask about this when you check in though.

The food there is really good:
Breakfast costs around 30-50Q my only complaint is that the coffee isn't on tap and its cost 10Q a cup.

If you are going on a tour you can order a lunch box for 25Q – It's just a sandwich, some cookies, and a banana but the alternative is all you can eat for 50Q a plate at Semuc.

Dinner is all you can eat buffet for 50Q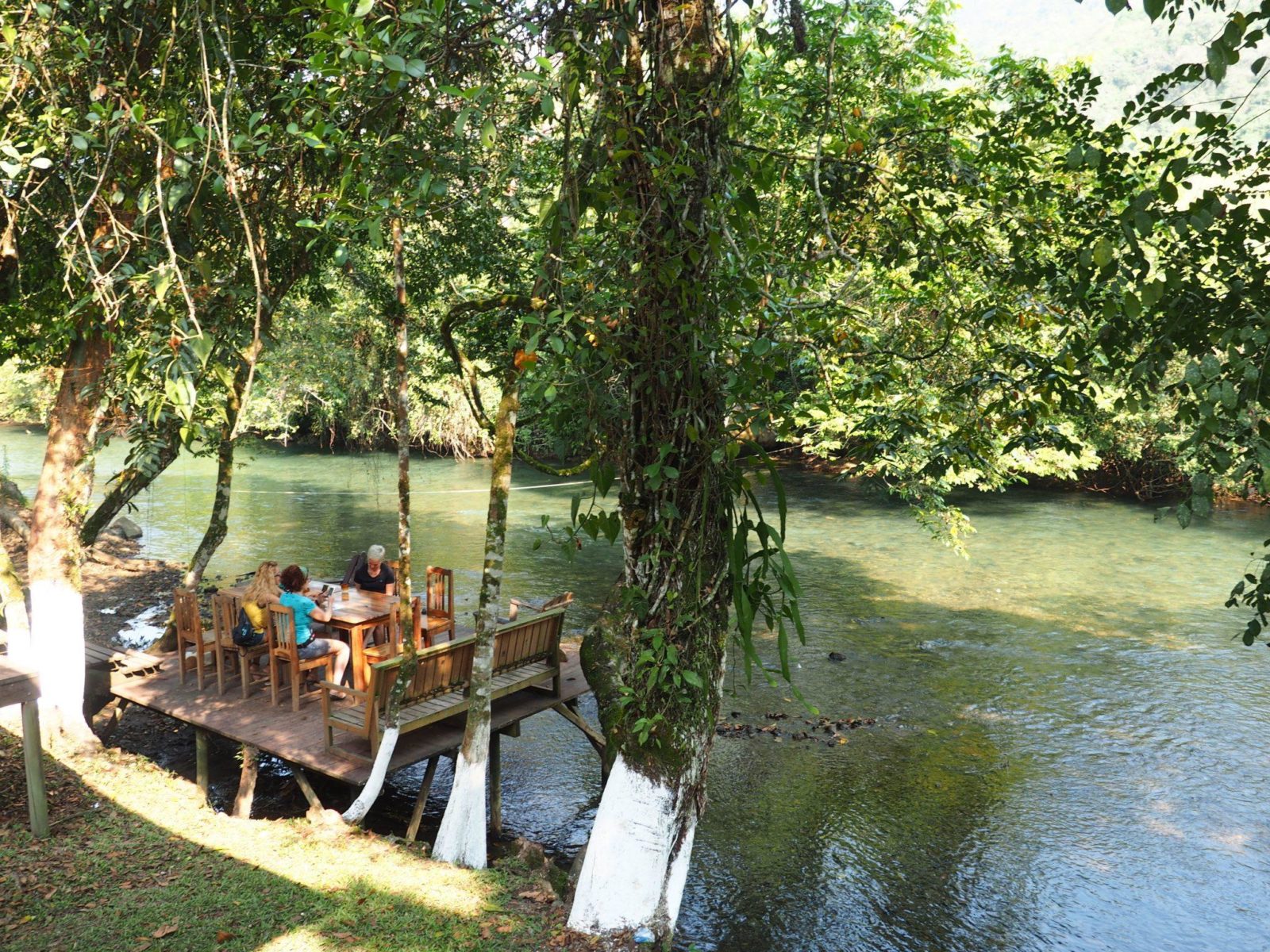 It's not easy to be on a budget here as there is no kitchen to prepare your own food but the food is very good so it's worth the splurge. If you can't afford to eat there El Retiro is only a short walk into town (it's closer than the other two places) so you can always walk into town and find a street food cart. For this reason, if you are on a budget stay here. Almost all of the other places are a lot further away from town so you don't have much choice but to eat at the hotel unless you pay for a tuk-tuk into town.
Party Hostels in Semuc Champey
If you want a lively party place with a bar and a pool then you need to book into Zephyr Lodge. I didn't stay there or even stop in for a visit but I met a lot of people who did stay there and they loved it. It's where most of the backpackers go and so it has a real backpackers chilled out vibe. Make sure you book though as it does tend to get full especially if you want a dorm room!
An added bonus is that Zephyr is halfway between Lanquin and Semuc Champey making it a bit closer to get to the pools.
Vegetarian Heaven when visiting Semuc Champey
If you want a hippy haven in Semuc Champey itself then you should book into Utopia Eco Hotel. Like El Retiro, Utopia is on a river so you can cool down in the river when the jungle gets too hot! It's also pretty close to the pools so you can save yourself a bumpy pickup ride and walk to the pools.
Rooms vary in price from a hammock outside to a Luxury tree house with AC. The food is all vegetarian and mid-price range. One of the downsides to Utopia is if you are on a budget you are pretty stuck as there is nowhere to get cheap eats.
Things to do in Lanquin (apart from a Semuc Champey

Tour)

Relax.

There really isn't very much to do in Lanquin other than paddle in the river, swim in the pool or read a book in a hammock. Most people stay 2-4 nights. I only stayed for 2 nights and I really wish I'd had time to stay for an extra night so I could have had a chilled out day. Sadly I was on a tight schedule! There are lots of other tours available in the area too apart from visiting Semuc Champey. So you could easily fill a week here if you have the budget.
Should you book a Semuc Champey

Tour

I would recommend 2 visits to Semuc Champey if you have the time. The first pay the money and do the tour. Yes, I know it's quite a chunk of money if you are on a budget, but it's worth it as it's a jam-packed day and you can access things on the tour that you can't on your own. Like visiting the caves in Semuc Champey and river tubing.

Then on your second visit to Semuc Champey go alone without the tour. You can spend the day chilling out in the pools and not being rushed around.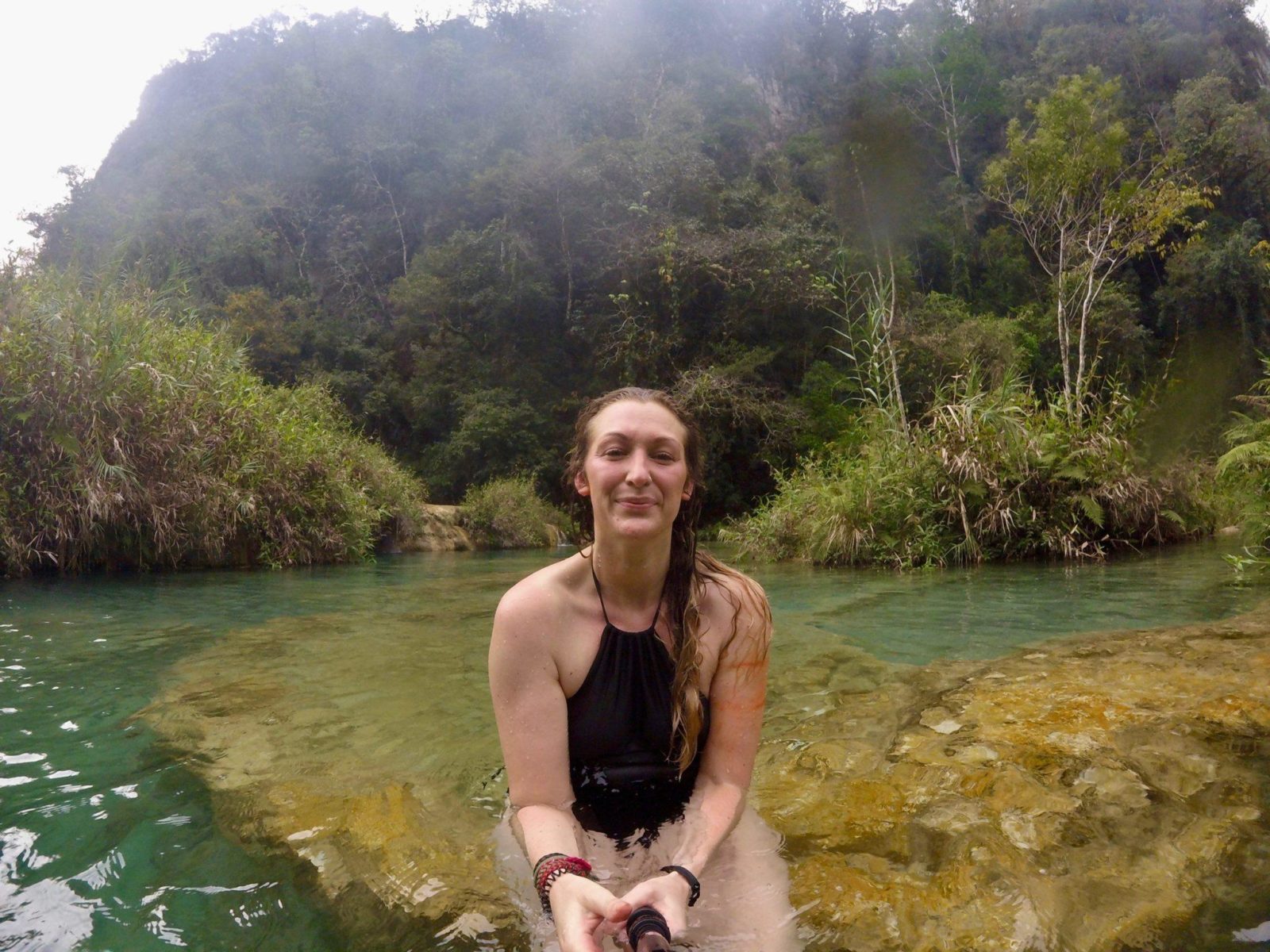 What happens on the Semuc Champey

Tour

You can book a tour of Semuc Champey at your hotel, or pre-book through GuateGo, they are all pretty much the same price. The groups are likely to be large and there will only be one guide, so don't expect much in the way of customer care but it's still the best way to get the full experience.

The pick up is 8:30 and it will take you about 45 minutes to get to Semuc Champey in a pickup truck. Make sure you put sunscreen on but don't forget to wash your hands, you will need the grip to hold on for dear life!

On arrival, you will pass all of your stuff to a guy in a hut to store while you explore the caves.
The Caves In The Semuc Champey

Tour

I was a little nervous about going into the Semuc Champey caves as I had no real idea what to expect. I wasn't even planning on doing a tour, as I'm normally a do-it-yourself kind of traveler.

But my friends who had been working there for a few weeks told me it was much better to do the tour. Anyway as I didn't bring a waterproof headlamp I was given a candle to hold! If you don't have shoes that can go in the water you will need to go barefoot. In the cave, you will walk, climb swim, jump into a deep pool from 2-3 meters height (optional), and slide down rocks. It's a pretty cool experience especially trying to navigate holding a candle whilst doing all of these things!

My main complaint about this part of the tour was we were a group of 18 and we only had one guide. As some of the sections were difficult and slightly risky to navigate the guide hung back to get everyone safely across. There were several times when we got a bit lost being at the front. If you can, try and find a smaller group to go with so you can avoid this.
The Big Swing in Semuc Champey
From the Semuc Champe caves, you will collect your bags and walk a short distance to a huge swing. If you are feeling brave you can swing and then jump into the water.
The Waterfall in Semuc Champey
Continuing to walk down the river stopping a few times to decorate each other in natural red dye…
Eventually, you will reach a stunning waterfall and a place you can swim.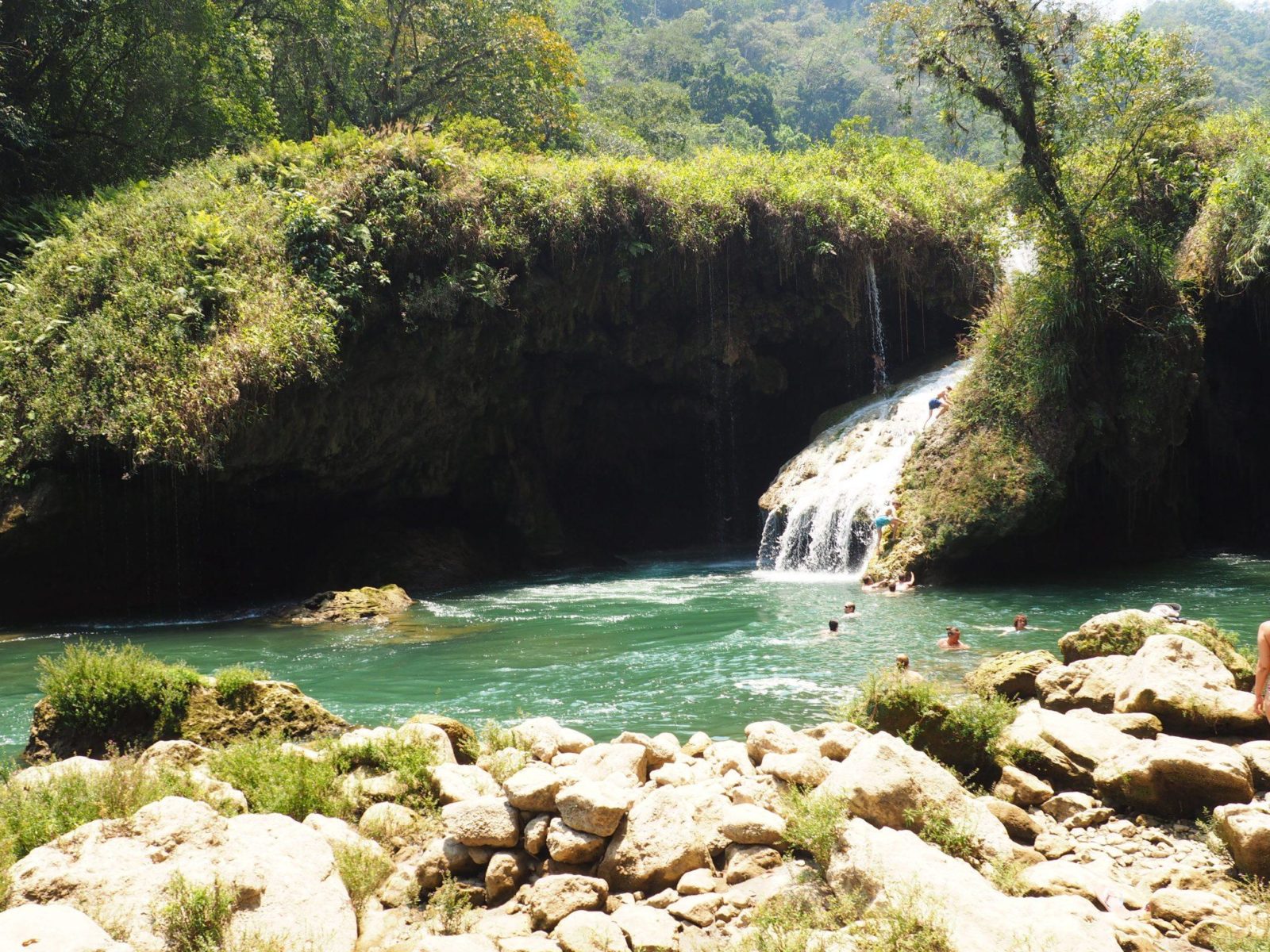 Here you can climb up and jump from a ledge at the top of the waterfall.
Be careful when swimming though as there is quite a strong current.
River Tubing in Semuc Champey

Guatemala

After the waterfall, you walk back to leave your bags locked up before grabbing a tub and floating down the river. Make sure you take some money with you for the beer (15Q) although if you don't have any cash don't worry they will come and find you later!
This was one of the best bits of the day for me. Although make sure you take your flip flops with you are the walk back on the red-hot ground was hell!
Where to eat lunch
You are taken to a place where you can eat the food you brought with you, or buy a plate for 50Q, expensive but it is all you can eat.
Hike to

El Mirador Semuc Champey

After lunch, you will walk down to the entrance of the pools. Here you can use the bathroom and buy some more water, you will need it! It's also a good idea to put on some clothes and your hiking shoes on! The next part of the day is a 30-45 minute hike up to a viewing platform. It's not an easy hike as it's, pretty much, steps all the way up…
Drink plenty of water and reapply sunscreen! The most difficult part of this hike is the heat! So do make sure you drink plenty of water. I actually saw someone stretchered down suffering from dehydration. This is not a place you want to be stretchered down from!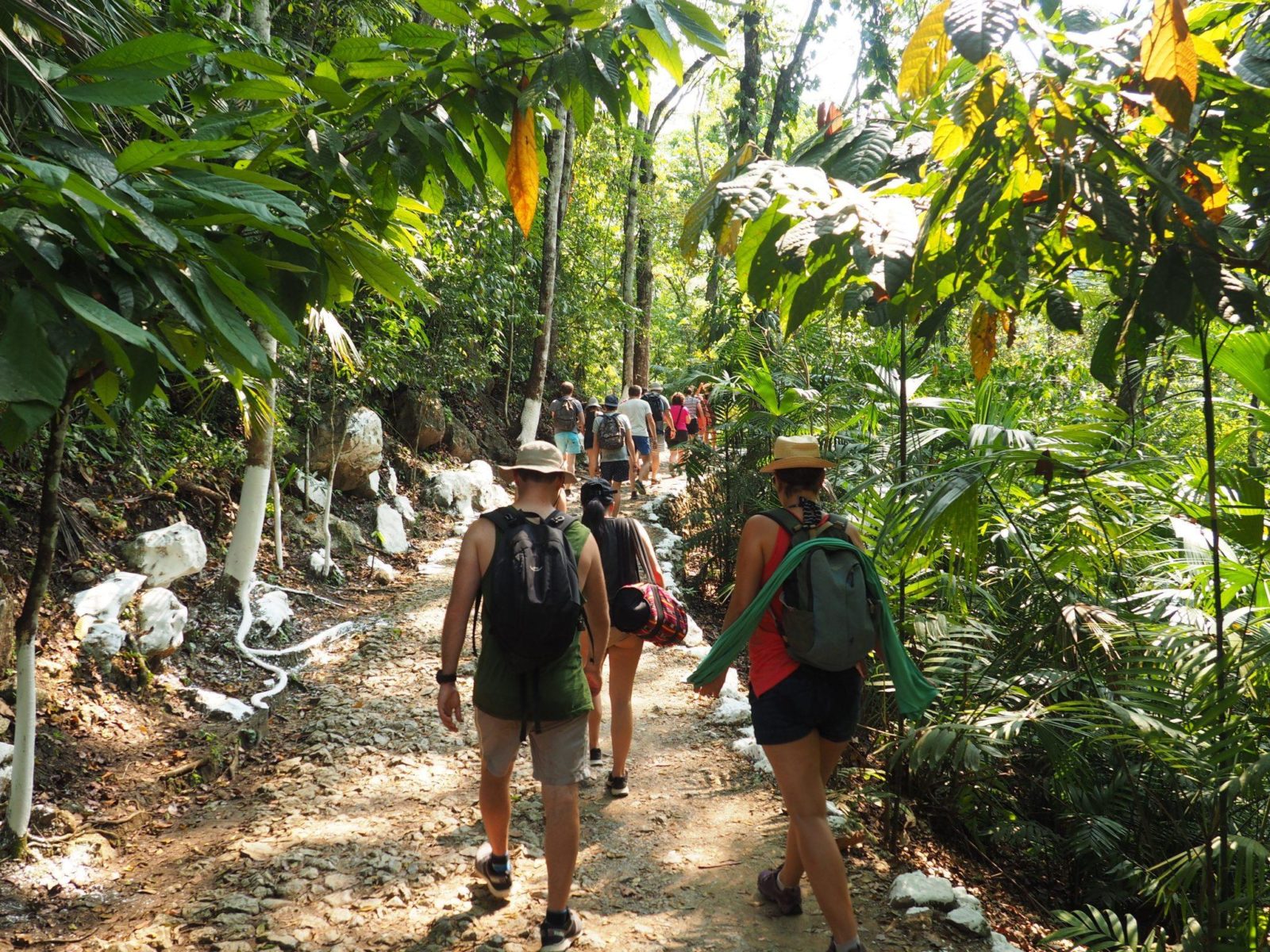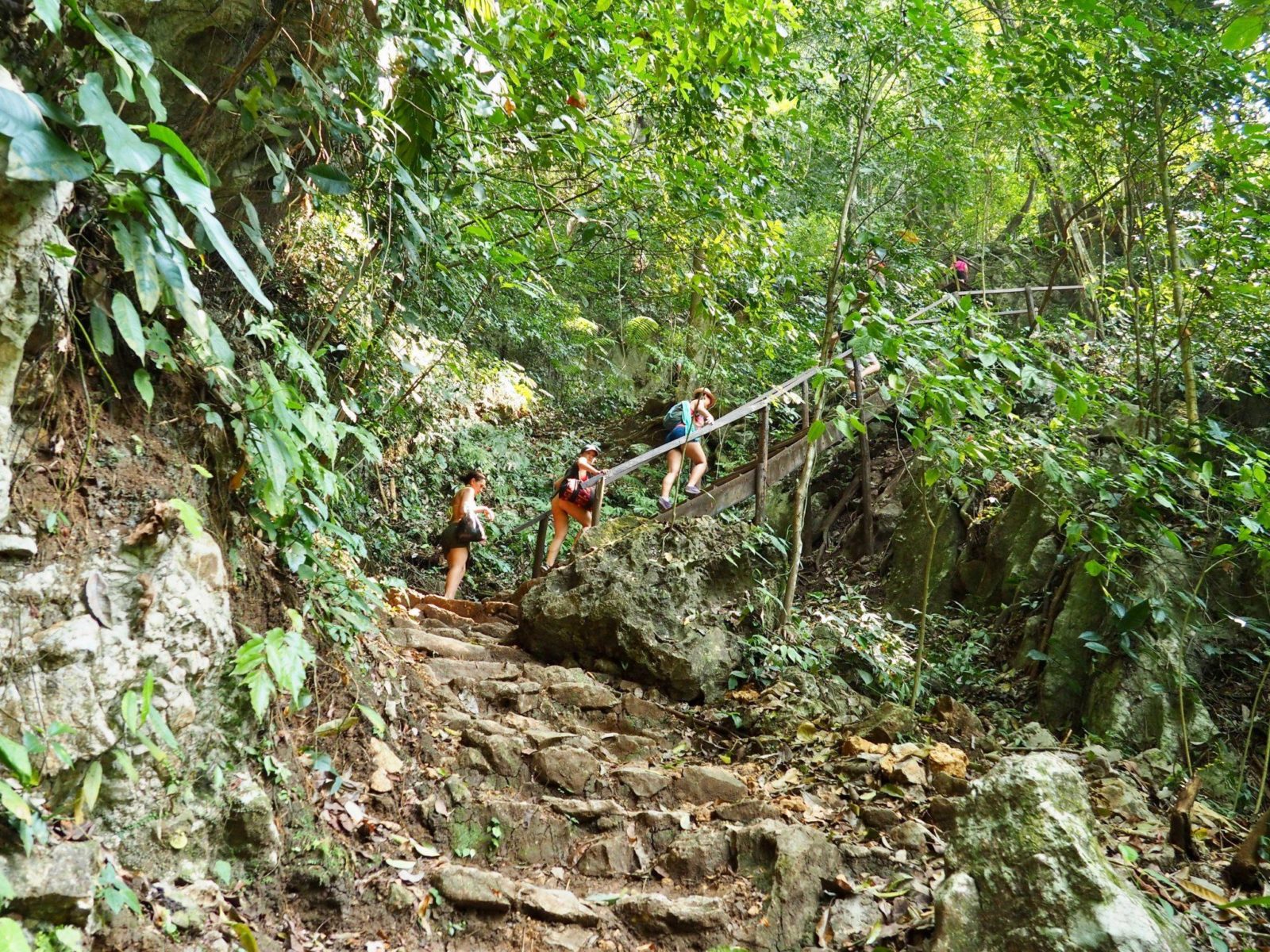 It is so worth the 30 minutes of effort though! This is the only place you can get this view.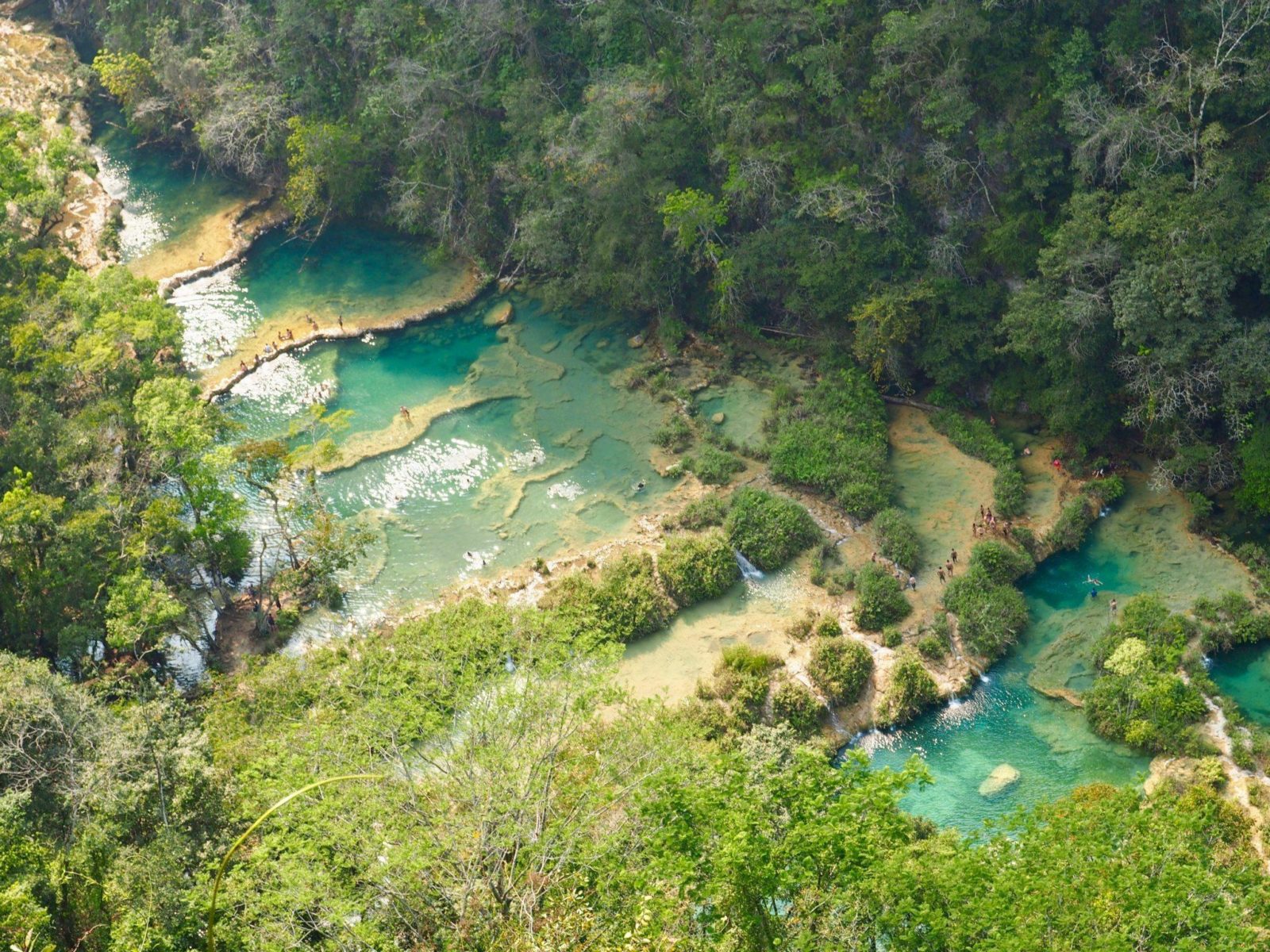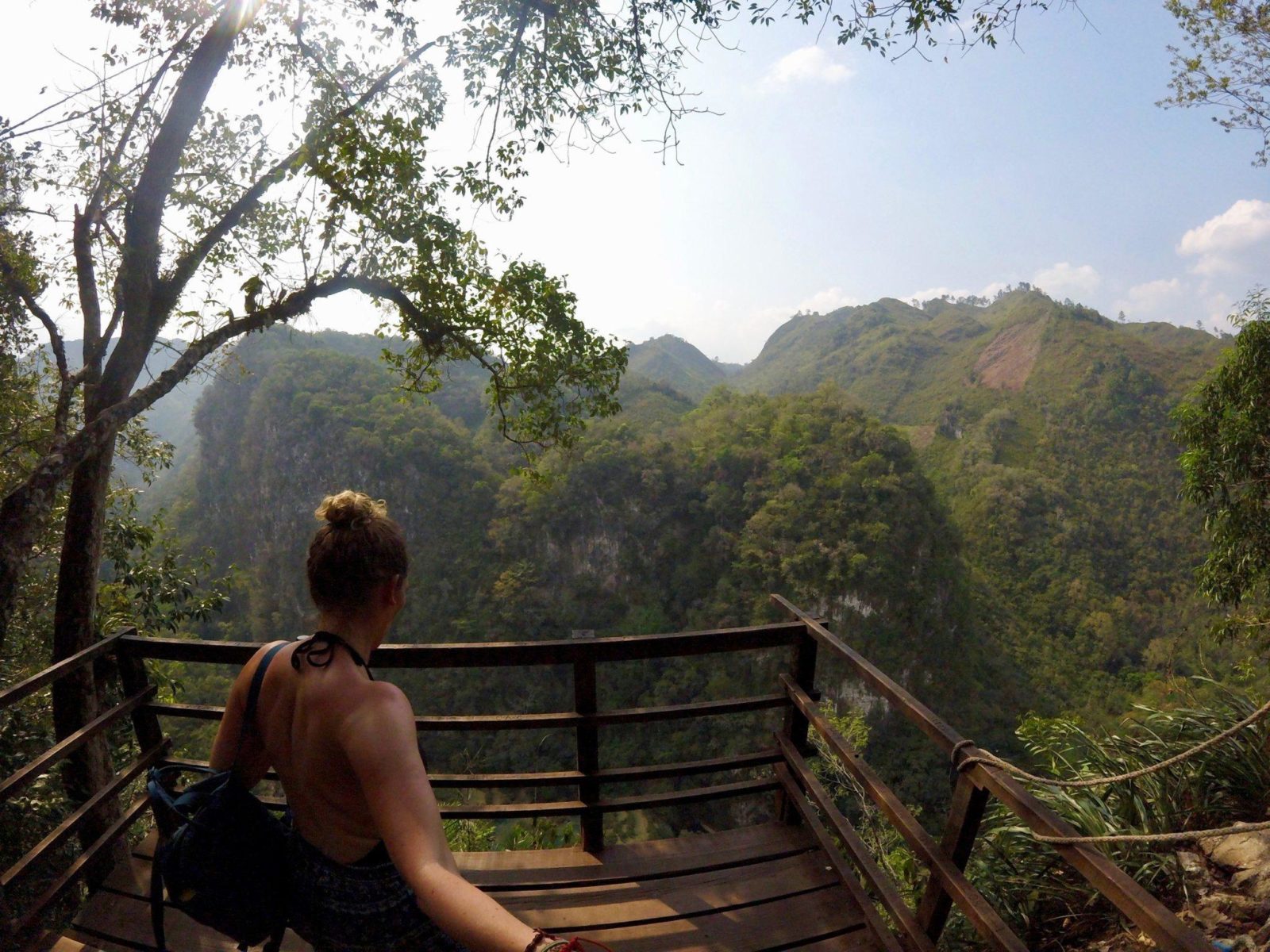 After 5 minutes at the viewing platform, I was keen to get moving, I just wanted to cool off in the pools! You go down a different way though so I had to wait for the rest of the group.
Finally… Visiting Semuc Champey Pools
You will leave your stuff in lockable seating and you have 1.5-2 hours to explore the pools.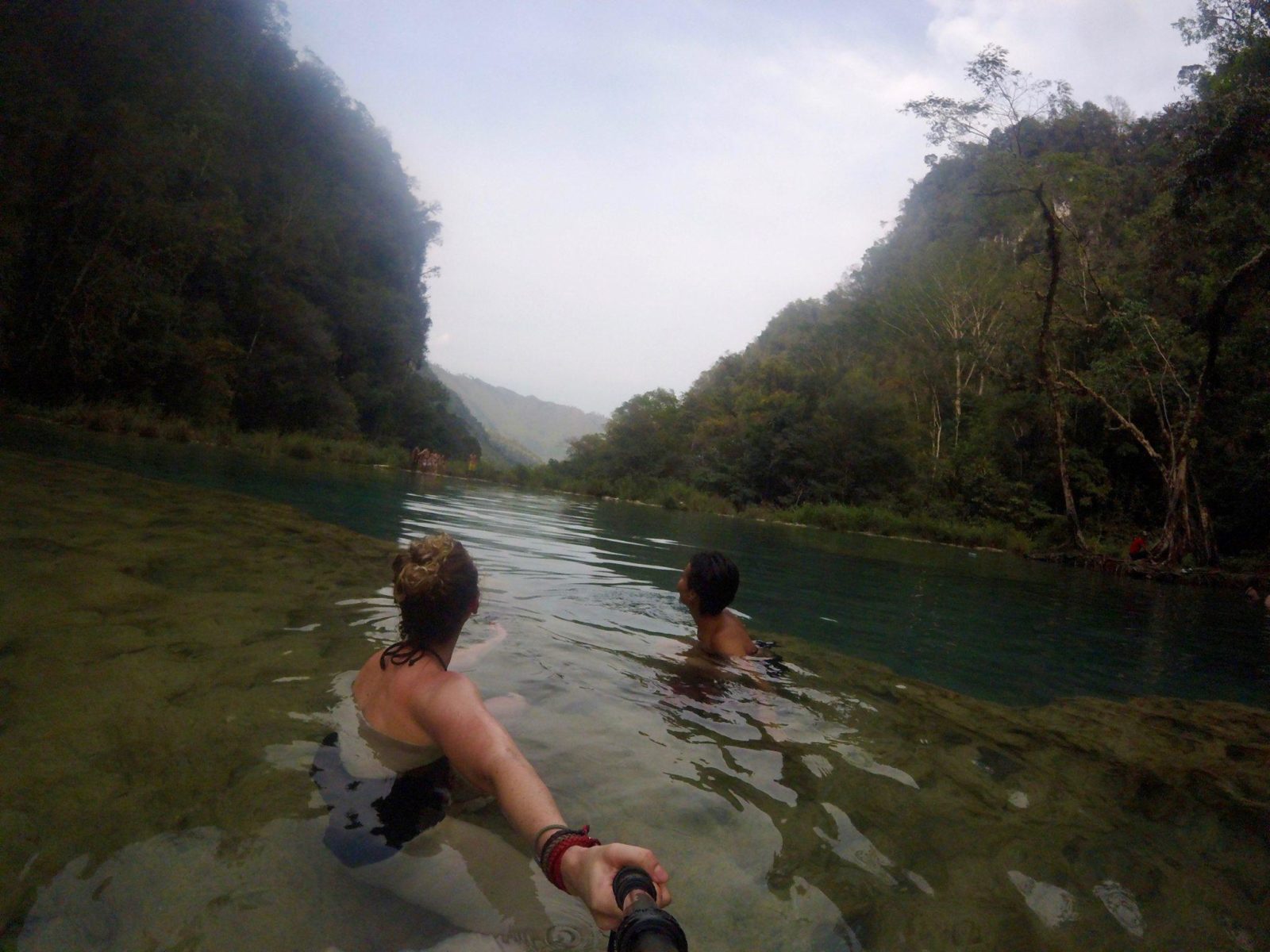 This is not enough time which and the tour is so jam-packed I really recommend returning on your own so you can explore properly in your own time.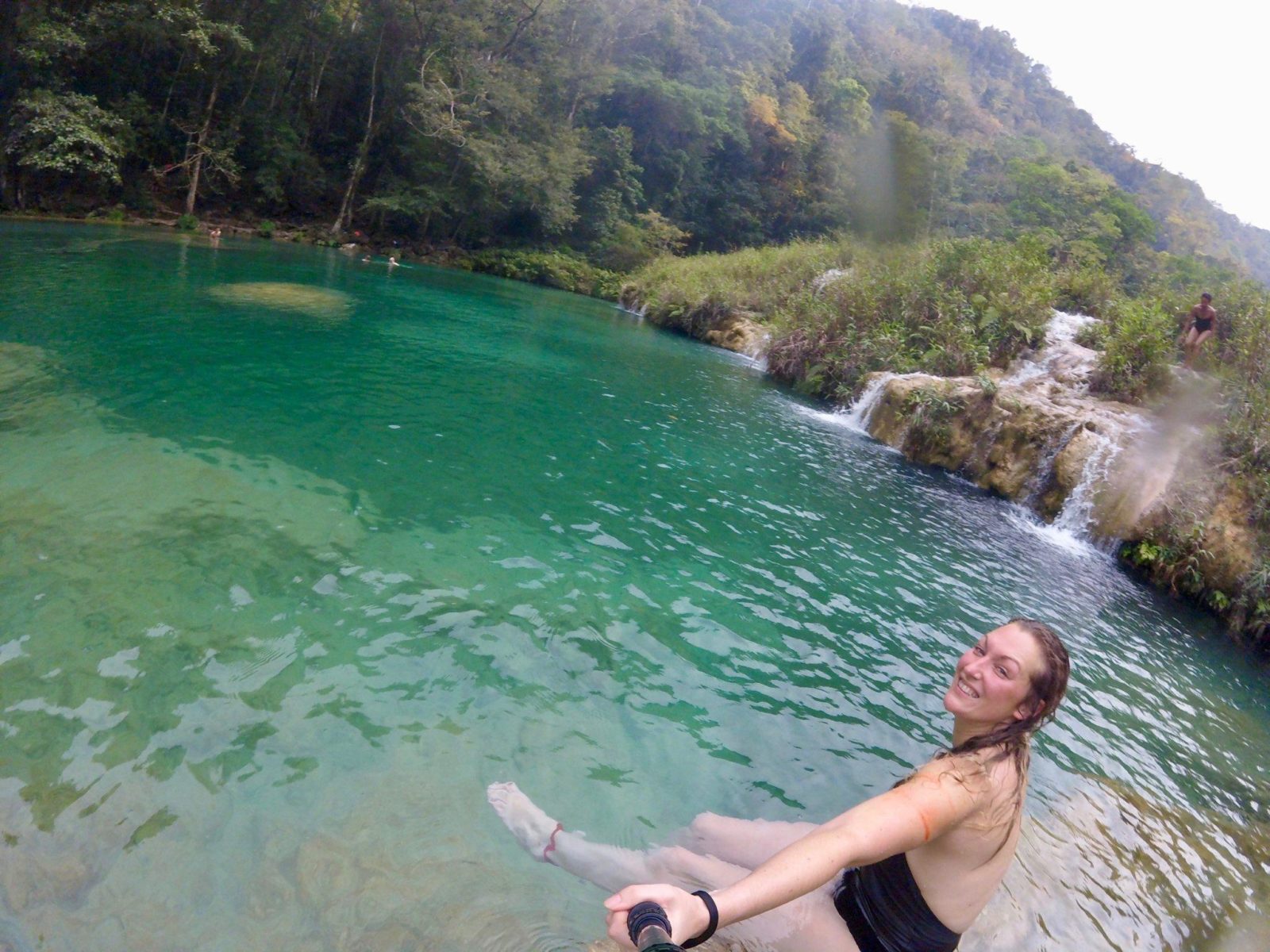 I can't put into words how amazing swimming in these pools was!
And I was also very happy to finally get to play with my GoPro
Although I think it's going to take a bit of practice to get the underwater shot down…
What to Pack for a visit to Semuc Champey
A waterproof headlamp – you will need this for the caves. If you don't have one they will give you a candle, which is fun to try and swim with!
Hiking Sandals – oh how I wished I'd packed mine. I can't stress enough how much these would have helped me. Not only would I have saved burning my feet on the hot ground on the long walk back from river tubing but I also would have saved myself so many slips and falls trying to get in and out of the pools and in the caves.
Flip flops and Sneakers – If you don't have hiking sandals then you will need both sneakers and flip-flops.

Money for a beer when river tubing 15Q per can

Money for lunch 50Q or bring lunch with you

Plenty of water (especially on the hike)
Final Thoughts on Visiting Semuc Champey
My only regret with visiting Semuc Champey Guatemala was that I didn't spend enough time there. I would strongly recommend a minimum of 3 nights, 4 if you can. You need it to be able to fully explore Semuc Champey as well as giving yourself time to recover from the bus ride and mentally prepare for the next one! I am already planning my return visit!

The only company I recommend for booking transport and tours in Guatemala (other than the individuals and companies I have named) is GuateGo. They are a Guatemala owned company that has painstakingly brought together all of the transport and tour options in one easy-to-use website. You can book transport in Guatemala with them here and Guatemalan tours with them here. The cost is slightly higher because you pay by card rather than cash and that incurred fees. But it's worth the extra cost for peace of mind that everything is taken care of and not having to carry around so much cash.