Need to get from Antigua to Semuc Champey? If you want to get to the natural wonder that is Semuc Champey you are going to have to work for it! Most people stop at Semuc on route to Tikal from Antigua, or vice versa.
So here's my guide to getting from Antigua to Semuc Champey in Guatemala.
The cheap way to get Antigua to Semuc Champey (like a local)
Head to the bus terminal by the market and take a chicken bus to Guatemala City
From Guatemala City, you will need to get a bus to Coba
From Coba, you will need to get a bus to Lanquin
Note: These are not easy changes, you will have to ask the locals for help finding the next bus you need and you may need to walk a few blocks to find the stop.
Cost: Around 100Q
Unless your Spanish is good and you don't mind being crammed on a chicken bus traveling through the Jungle in sweltering heat with some friendly Guatemalans practically sat on you I'd give this option a miss.
Did You Get Travel Insurance Yet?
If you are planning a trip right now then you NEED to thing seriously about insurance. If 2020 taught us anything, it's that you need to be prepared for anything!

Travel insurance has always been high on the list of things to get before you travel but now more than ever it should be at the top of your list! I'm pretty sure we have all had travel plans messed up because of COVID and not all insurers covered this. So you need to find an insurer that covers travel disruption due to COVID-19, World Nomads and Safety Wing are the ones to go for. World Nomads is great for incidents that happen prior to your trip, so if you get sick or are unable to travel due to travel restrictions some of their policies will cover that as cancellation cover. Safety Wing goes the extra mile and covers quarantine outside your home for up to 10 days, they also have a really handy map on their website showing requirements and restrictions for each country.

If you are doing shorter trips or a onger backpacking trip then WorldNomads is the best option. If you are a digital nomad or planning travel of at least 6 months then go for SafetyWing. Alternativly Travel Insurance Master is a great site to do a more general serch for vacation insurance. Just make sure whichever insurance plan you go with will cover you for COVID.
The "normal" way to get from Antigua to Semuc Champey
By far the quickest and easiest way to get to Semuc Champey for Antigua. There are daily shuttles that leave at 8 am (9 am by the time you have driven around picking everyone up!) and they cost around 150Q. Any of the travel agents in town can organize this for you or ask at the reception of your hotel/ hostel. If you prefer to be organized and book online then book your transport and tours through GuateGo. You can even book your tour to Semuc through them.
They will pick you up from your hotel or hostel and drop you in Lanquin. From there will be a free pickup waiting to take you to one of the hotels either in Lanquin or Semuc.
Travel Time: They will tell you 8 hours…expect 9-10 hours
Cost: 125-150Q
Top Tip: Another good option is to book a full package: 2 nights and 3 days in Semuc including transport, accommodation and the tour. They will pick you up in Antigua and drive you until Semuc Champey, the next day you will do Semuc and Kamba caves and on the third day you can choose to go to Flores or return to Antigua.

The luxury 5* way
Sorry, just kidding, there isn't a nice way to get here….like I said if you want to see Semuc Champey you are going to have to work for it!
P.S. Don't forget to read my guide to Semuc Champey here.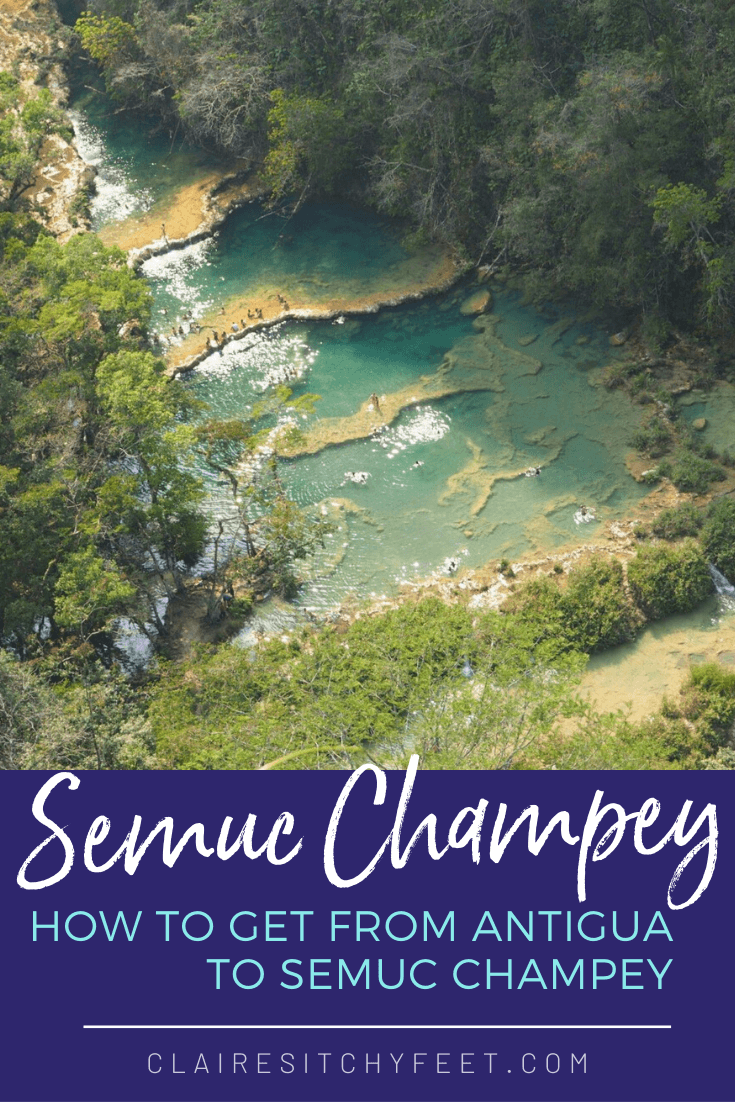 This post was proofread by Grammarly