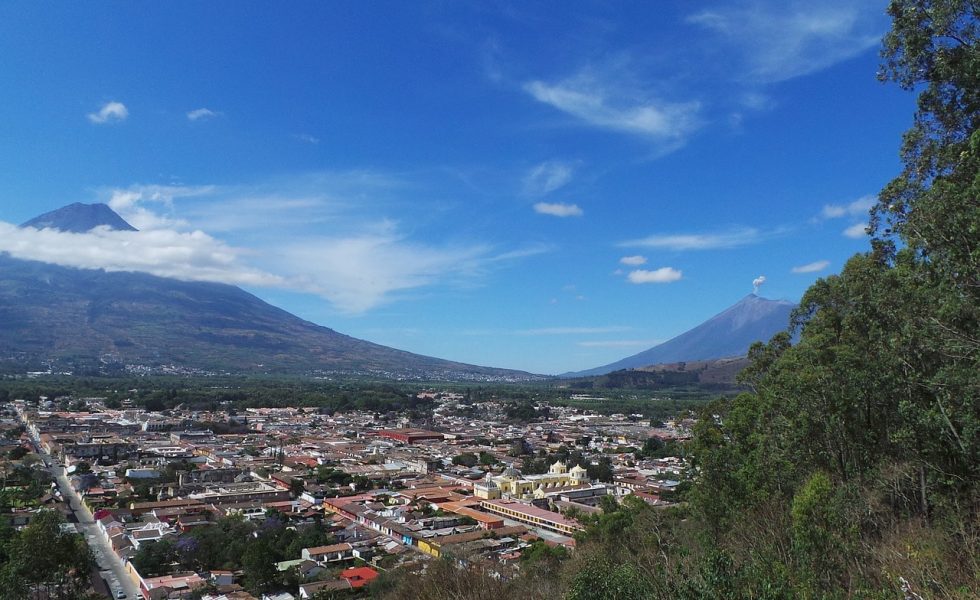 If you are thinking of visiting Antigua Guatemala good job! You are going to LOVE it. Antigua is one of the most visited places in Guatemala, and most people traveling through Central America will pass through Antigua at some point, even if it's just for a few days.
Whether your trip is for sightseeing, volcano hiking, or to learn Spanish at one of Antigua's many language schools there are some things to know before visiting Antigua Guatemala.
1. You will probably sprain your ankle when visiting Antigua Guatemala
I managed to sprain mine not once, but twice! It's a pretty common sight to see people on crutches or walking with a limp. Antigua has cobbled streets and they often have huge holes in the roads or pavements. These roads make cycling pretty uncomfortable and walking hazardous! So when visiting Antigua Guatemala avoid this nightmare wear decent shoes, tread carefully, and pay attention to where you are stepping.  I can't even tell you how many pairs of flip flops I went through while living there…
Looking for an Itinerary for Antigua?
2. There are processions all the time
As a predominantly Catholic country, there are a lot of religious festivals and they almost always include some kind of procession the biggest being Samana Santa in Antigua.
You can normally tell when it's a holiday as you will hear the fireworks going off through the night and then most of the day. If it's a big festival like Samana Santa in Antigua then you will notice them starting to 'dress up the city' and block off roads. If you are lucky (or unlucky) enough to be visiting Antigua Guatemala for Samana Santa you will be in for 5 weeks of processions. These processions get bigger and bigger as the weeks go on. Most of the parades are on Sundays but on the actual week of Semana Santa in Antigua there will be something happening each day.
A word of warning if you are visiting Antigua Guatemala around Samana Santa, book your accommodation well in advance and be aware if you plan on leaving Antigua during any of the parades you will likely have to make your way to outside the city walls for your bus/ shuttle.
3. You will need to choose your tour company wisely
You won't be able to move in Antigua for tour companies selling tours to Acatenango and Pacaya. Don't just go with the cheapest company. Take a read of my guide on choosing a tour company first. luckily a lot of the companies got together and set a fixed minimum price for the Acatenango tour. Some companies were charging insanely low prices and were running pretty shady tours. Hiking Acatenango is a serious challenge and shouldn't be taken lightly. Choose carefully!
Another company I recommend is GuateGo. They are a Guatemala run company that allows you to book tours within Guatemala. They have hand-picked the best companies to work with so you can trust you will get a professional and insured guide.
4.  Walk on the opposite side of the road if you need to find somewhere
I know this might sound strange but trust me on this, it's the best piece of advice I received when I arrived in Antigua. Because of Antigua's UNESCO status, it's very strict about signage on buildings and it can be impossible to find anywhere because of this. So if you are visiting Antigua Guatemala walk on the opposite side of the road so you can get a much better look at the building and its sign.
5. There are a lot of Fast Food Chains
I was really surprised at how many fast food chains there are! McDonald's, Wendy's, Dunkin Donuts – the only thing missing is Starbucks! I actually have my weekly Spanish classes in McDonald's in their garden. Do yourself a favor and choose a nice restaurant to eat in Antigua.
6. It's a UNESCO world heritage site
Antigua Guatemala is a UNESCO world heritage site and when you arrive and take a walk around its Spanish Baroque-influenced architecture it's not hard to see why. If you want to do a free walking tour of all of the ruins in Antigua you can download the walk I created on Walkli here.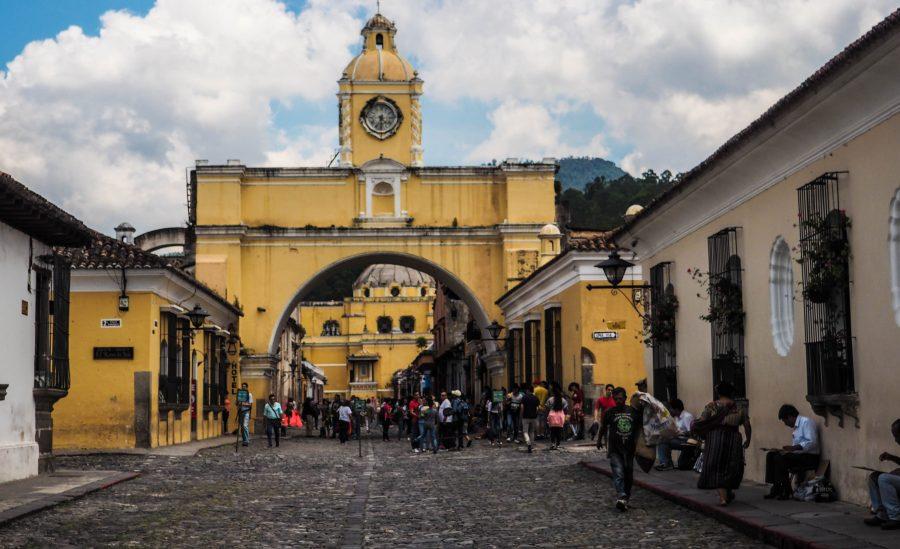 Looking for an Itinerary for Guatemala?
7. The Food and Drink is pretty good
One thing you will notice when visiting Antigua Guatemala is that it is full of places to eat and drink. You can find anything you want here! Missing bagels? English muffins? Domino's Pizza? Or maybe you have a craving for Sushi? You can not only find all of these things in Antigua but most of them also offer home delivery.
It's also a great place to have a night out. If you are around on a Monday then check out the bar crawl organized by the Terrace Hostel. Or if a bar crawl with a load of backpackers isn't your thing then download my bars of Antigua walking tour on Walkli. The free tour gives you information on each bar so you can decide if you want to go there or skip it.
8. Antigua Guatemala is surrounded by Volcanos
It's hard to miss the volcanoes surrounding Antigua on a clear day. To the South, You have Volcan Agua. Then to the west, you can see Acatenango and Fuego. Pacaya is also close but you can't normally see it.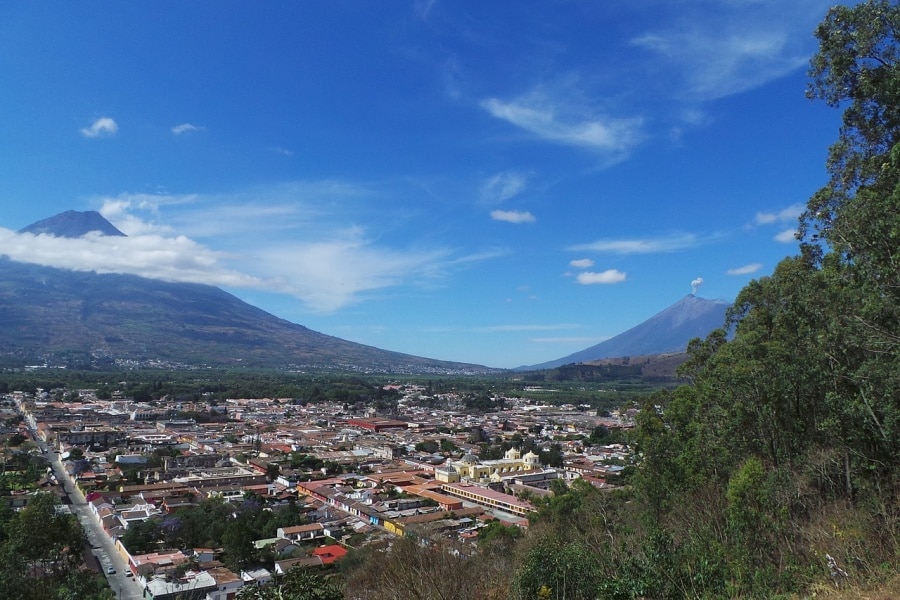 Thinking about hiking one of them? Don'teven consider Agua, it is very unsafe and since I've been here I've heard of at least 2 separate shootings. If you fancy a nice easy hike you want Volcan Pacaya or if you want a bigger challenge then Acatenango is the volcano for you. But if you are feeling really crazy you can do a Double Whammy like I did and do Acatenango and Fuego. Or do all three, otherwise known as the trident, this is only for the superhumans among us. 
9. If you don't want to eat in a restaurant in Antigua there is plenty of Street Food to choose from
You can find some pretty good street food here mostly around Iglesia La Merced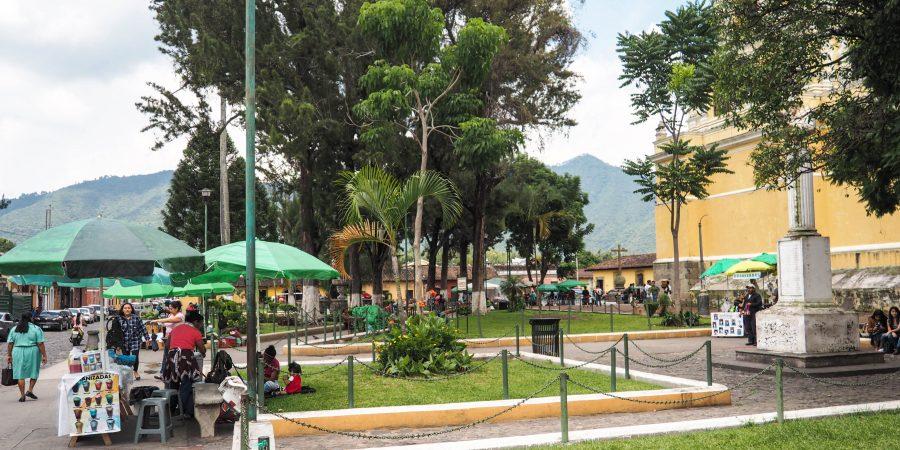 Or on Alameda de Santa Lucia close to the local market. It's not the best country in the world for street food, but it's not bad.
10. Yoga is huge here!
There is a big yoga community in Antigua. Most teachers are bilingual and will do their class in English or Spanish (or both) depending on who is the class. My favorite studio is Shakti Shala, the Shakti Tribe is headed up by Irene and Lauren and I really can't say enough good stuff about them. So if you are traveling and looking for a place to practice and connect with the local community it's a great place to do it. They also have an amazing juice and light bites bar! Make sure you follow them on Instagram and Facebook too.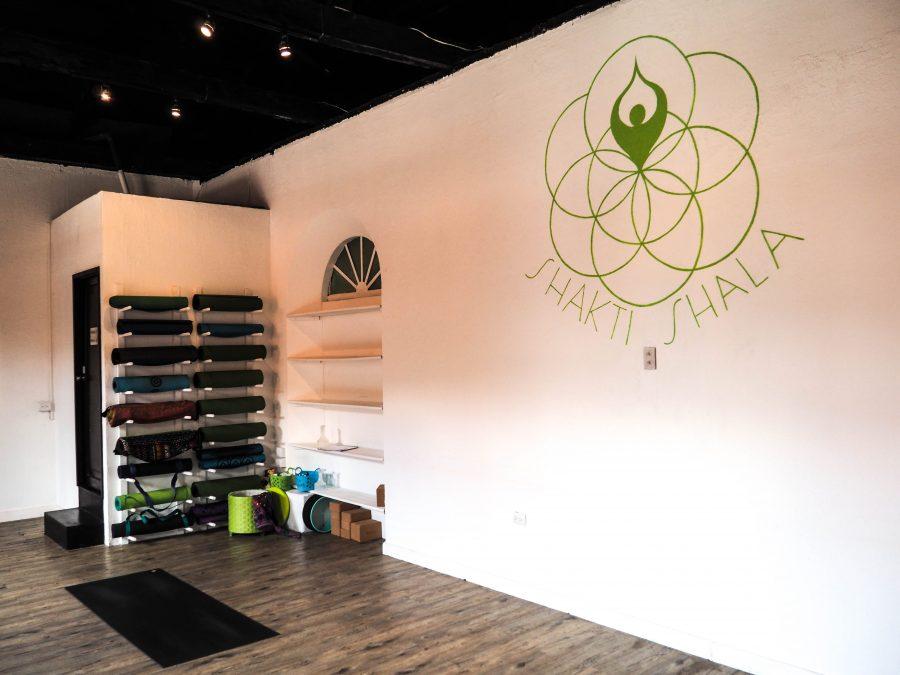 11. Antigua Guatemala has a lot of Spanish Schools
There are so many Spanish Schools in Antigua! I have written a lot on learning Spanish here so take a read of my posts for more information.
Learning Spanish in San Pedro Guatemala
Things to think about before learning a language abroad
Finding the Best Place to Learn Spanish in Latin America
If you don't want to learn in such an intense way then check notice boards in places like Cafe No Se or Rainbow Cafe for teachers offering private classes. I did both and after 3 weeks of intense classes I now just have one or two classes lasting ½ hours a week.

12. If you need to buy any clothing you will find what you need at The Paca
If you are in need of a particular item of clothing and you are on a budget. The best place to find things is in the Paca. Be warned this place is huge and crazy. But you can pretty much find anything in there! Need a good waterproof coat for hiking Acatenango, or maybe some hiking boots?
You are sure to find some in the Pace. To find it head to the local market, walk right the way to the top to where they sell fruit. As the path moves round to the left you will see a narrow opening to your right in between stalls. Go through the gap and be prepared to rummage!
13. You will need to pay for accommodation in cash
Most hotels and hostels are cash only. You can expect to pay around $6-12 for a bed in a dorm room and $20 for a private room. I always use booking.com or just take a walk around and go in and ask. If you use booking.com make sure you check for Booking.com promo codes first as you can save even more money.
If you need accommodation I highly recommend Wicho and Charlies or Lemon Tree if you are looking for a hostel. Alternatively, if you want a B&B I can't recommend Donde Rita enough. She is a good friend and has opened up the most stunning Moroccan style B&B. I spent my last weekend in Guatemala there drinking mint tea. If you go be sure to say hi from me!
Final Thoughts
If you are looking to do any tours or activities while in Antigua the only company I recommend for booking transport and tours with (other than the individuals and companies I have named) is GuateGo. They are a Guatemala owned company who have painstakingly brought together all of the transport and tour options in one easy to use website. You can book transport from and to Antigua with them here and tours and activities in Antigua with them here. If you need some more inspiration of the best things to do in Guatemala then check out this post.
Planning a Trip to Guatemala? You might be interested in these articles:
How to get from Guatemala City to Antigua
Is it safe to visit Guatemala? Safety Advice for Solo Female Travelers
The night I thought I was going to die in Guatemala
Things to know before visiting Antigua, Guatemala
11 things to know before visiting Guatemala
The Top 5 Tours in Guatemala | The Best Tours in Guatemala in Guatemala
Are You Traveling soon?
Be sure to check Skyscanner for the best flight deals.
I never travel anywhere without Travel Insurance. If you are looking for insurance be sure to check World Nomads first.
This post was proofread by Grammarly