Wondering what to pack for Central America? Geographically Central America is pretty large and the climate in Central America varies substantially across each country. Although it is generally warm you will also need some warm clothes and waterproofs. Especially, if you are planning on visiting any of the main cities as many of them are high up in the mountains. To help you decide what to put in your backpack here is my packing advice for Central America.
General Guidance on what to pack for Central America
Central America is a pretty dressed down part of the world. Although it's fine to wear shorts and vest tops, on the whole. Be aware though that most people living in Central America dress more conservatively outside of the beach towns.
So, when packing you might want to swap the booty shorts for some floaty pants. Because of the Backpacker vibe, you won't need to worry too much about what you look like, it's not like backpacking around Europe where you will be wanting to look a bit stylish and not quite so backpacker scruffy. The 9 months I spent backpacking in Central America I pretty much just wore the same 5 tops and bottoms the whole time. Picking up the odd thrift shop bargain when something caught my eye.
Here are a few rules to consider when packing for a backpacking trip in Central America
Mix and Match your clothes
This is rule number one and it's an important one. You need to make sure that you don't have any single wear items packed. Everything in your bag should be mix and match. I normally include only 1 patterned top and 1 patterned bottoms so that everything else will match. If you pack lots of patterned tops and bottoms you are going to be limited to what you can wear together. Before packing lay everything out and do a practice mix and match just to make sure everything goes well together.
Why you need to pack using Packing Cubes
Want to pack more but you don't have space? Don't worry just get yourself some packing cubes. I love using packing cubes as they save me so much space. These are the ones I use and love, I wrote a post on using them which you can read here. If you are backpacking the slim ones are better for fitting into a backpack.
Click here to check prices on Amazon
Pack easy to wash and quick-drying clothes
When choosing clothes I always try and choose things that wash easily (leave the dry clean only at home), don't need ironing, are lightweight and will dry quickly. I also try not to bring anything heavy as it will also take up more space. I prefer to pick thin light clothing so I can squeeze a few more things in rather than larger heavier material that takes up space.
What to Pack for Central America?
Right now I personally travel with a Mountaintop 70L because I was on a pretty tight budget and it was only $75. It is still going strong after a year and a half, although you can tell that it isn't great quality so if you can stretch your budget my next buy will be an Osprey Women's Aura. As well as my backpack I have also added a Chester Suitcase to my luggage… it's been a life saver for my back, and I love the builtin lock to keep all my gear safe!
.
Check prices on Amazon
Click here to check price on Amazon
Bottoms to pack for Central America
1 pair of Skinny Jeans
I'm obsessed with DSTLD jeans they are the best pair of jeans I have ever had. They have a high waist and are perfectly fitted. Although you might not want to wear these so much in the day they are perfect for dressing up with a nice top and jewelry if you are going out somewhere.
1 pair of black leggings
Love them or hate them, they are comfortable and perfect for traveling or going for a run. I can't get enough of Girlfriend Collective Leggings, they are so comfortable! They are also lined but breathable so perfect for summer and winter. They have a super high waistband and a hidden pocket at the back where I like to keep some money and my bank card. Oh, and as they are made from recycled water bottles they are also good for the environment! They are also perfect for hiking volcanos or exploring ancient Mayan Ruins in the jungle if you want to cover up from the mosquitoes.
Shorts – denim, hiking, and sports
I can't travel without my denim shorts, I don't care that they take up space and are heavy. If it's hot they are perfect for every occasion. I can dress them up with a nice top and some nice jewelry and sandals. Or during the day I can wear with a plain top and sneakers. As well as a pair of denim shorts you should pack some hiking shorts and a pair of comfy sports shorts.
The hiking shorts will come in useful if you do any adventurous activities (see here) and if you choose well you can also dress them up for evenings. The sports shorts can be worn to the beach or lounging around the hostel. You will especially need these if you are packing for Guatemala as there are a lot of hikes around there.
1 skirt
I like to pack 1 lightweight mid-length skirt suitable for wearing during the day but can be dressed up in case I go anywhere.

Tops to pack for Central America
4 or 5 tops
Normally I always have 5, 3 plane T-Shirts and 2 more dressy/ stylish tops. This gives me plenty of options. Although I always have 2 nicer tops I make sure they match with most if not all of my bottoms. Make sure you buy tops that will wash well and are good quality. You will be wearing and washing them a lot.
Jumper, cardigan, and shirt
I like to have one of each, and I normally wear all of them to travel haha. Make sure they are all lightweight and will go with (almost) everything you have. I travel with a black fleece jumper, a denim shirt, and a black wool cardigan and they all go with everything in my backpack. I also have one checked shirt which I alternate with my denim shirt. As I said it does get chilly if you are at elevation in the mornings and evenings so you will be grateful for bringing some warm things.
1 or 2 dresses
I like to make sure both dresses are lightweight and can be worn in the day and the evening. I personally have 2 short dresses just because longer dresses take up too much room. But if you can find a lightweight maxi dress grab it!
Specialist clothing you will need for Central America
If you are planning on taking advantage of some of Central America's amazing hikes make sure you have a quick try top (or 2) and some hiking pants. I know they aren't very cool, but I do love my Craghoppers zip off pants! Here are a few of the cool adventurous things I did in Central
frain
Underwear
Bras
If you wear them you will want 1 or 2 bras and a sports bra. I personally don't bother anymore. I prefer something a little boob friendlier than having metal jabbed into my ribcage!
8 pairs knickers/ panties
I know a lot of people say 5 but I like to just do laundry once a week so I always have enough for a week and a spare pair. They don't take up much room and it saves me washing my panties in the sink each night! Laundry is very cheap in most Central American Countries. My normal laundry bill is $3 a week for all of my clothes and towel to be washed, dried and folded up. So you won't need to worry about hand washing your clothes unless you are really on a tight budget!
Swimwear to pack for Central America
I like to have 4 tops and 2 pairs of black bottoms plus a swimsuit. In Guatemala, you might not get much use from your swimwear but in pretty much every other country in Central America they have incredible beaches that you are likely to spend a lot of time exploring. If you want to save space ditch the bras and just pack a few extra bikinis. I wore mine every day anyway because of the heat even if I wasn't at the beach.
Sleepwear
I sleep in old clothes most of the time to save space. But if you prefer to bring sleepwear you are going to need full-length PJ's for the mountainous areas and short and vest for everywhere else. My first night in Guatemala I was so cold I had to put on my jumper to get to sleep. The temperature often drops substantially in the evening in the mountains. But if you are in the jungle you will have the opposite problem.
Do you need to pack a coat for Central America?
Yes, you do. I have two coats my (fake) Down Jacket (I would NEVER wear a down jacket for ethical reasons) that goes into a little bag and a waterproof coat that also goes into a bag. If you will be there during rainy season make sure you have a waterproof jacket and an umbrella (it get's hot in the jungle and you will get overheated in a rain jacket). I got good use out of both jackets in rainy and dry season.
What shoes to pack for Central America?
The most important thing about footwear is that it is, comfortable! If you are backpacking in Central America you are going likely to be doing some walking. I always like to have one solid pair of closed toe shoes that are suitable for heavy-duty walking and then a pair of sturdy sandals for when it's too hot for shoes.
I would also strongly suggest investing in some hiking sandals suitable for wearing in the water. I wish I'd had mine in Guatemala when I went to Semuc Champey and If you want to do the ATM in Belize you will need them there too. If you are going to be hiking in Central America then think about investing in some good hiking boots I live in mine!
Optional footwear to pack for Central America:
Sneakers and Flip Flops. If you are more of a sneakers girl then ditch the shoes for a good pair of sneakers. I like to have a pair of flip-flops for the beach and showering in hostels. I normally don't travel with them though I just buy cheap ones when I arrive.
Socks
It's always with investing in at least 3 good pairs of socks that are quick drying and of good quality. I travel with 3 hiking socks and 2 normal pairs.
Accessories to pack for Central America
Hat
Depending on how stylish you are feeling pack something more in fashion or a simple baseball cap to keep the sun out of your eyes and your face. I have no room for a fancy hat so I just have a simple black baseball cap.
Sunglasses
Always check the UV protection even if you get a cheap pair. I travel with a nice (expensive) pair for walking around the city and a cheap pair for the beach.
Sarong
I have two and I use them all the time! They aren't just great to cover up at the beach they are also perfect to replace your towel. I don't have a microfiber towel anymore I just use my sarong. I also take them to the beach to lay on and I even use them to tuck under the top bunk bed to give myself some privacy while sleeping in dorm rooms.
Daypack/ handbag
I have both! I love my tan crossover bag but I can't travel without my Kanken backpack. It folds up small so it doesn't take up much space and it looks good with everything.
Towel
If you prefer a towel to a sarong then make sure it's a quick dry space saving microfiber towel. I LOVE this towel from MinxNY and it travels everywhere with me.
Lock
Make sure you have a lock for the lockers in the hostel. Most hostels with let you rent one or buy one but it's always better to get your own.
Headtorch
I'm an adventure girl, so I never travel without my head torch. If nothing else it's good for getting home at night and reading in bed! But if you do decide to go to any caves or hiking up any volcanos then you will be glad you have it.
Click to check prices on Amazon
Earplugs
If you are staying in hostels you need earplugs….that is all!
Waterbottle
You will find water filters in most places so make sure you take a good BPA free water bottle. Less plastic people, save the planet! I love this stainless steel one as it keeps my water nice and cool no matter how hot it is.
Swiss Army knife
I don't go anywhere without mine! You have no idea how many showers, plug sockets, and doors I've fixed using it! Plus you never know when you might need a knife (or a bottle opener). Be the kind of girl who carries a Swiss Army Knife.
Bamboo cutlery and copper straw
I'll say it again. Less plastic, save the planet! Single-use plastic is the devil and should be avoided at all costs haha. No, but really lots of places are now banning single-use plastic (hurray) so do yourself a favor and get ahead of the game by getting a bamboo set and a copper straw for your mojitos.
Shopping bag
See above. Always carry a foldaway shopping bag. Great for shopping and laundry.
Soap bar for washing clothes
A bar of laundry soap is less likely to leak and saves on your liquid allowance. I also like to pack a fingernail scrubbing brush for washing clothes. I use this for scrubbing the areas of my clothes more prone to soaking up smells.
Click to check prices on Amazon
Ziplock Bags
They come in handy for everything from storing food to protecting your toiletries from leakage. Make sure you wash and reuse though!
Travel Adapter
Depending on what country you are traveling from make sure you have a multipurpose travel plug adaptor.
Hanging Toiletry Bag
It's always good to have a hanging one so you don't have to put your bag down in communal bathrooms.
First Aid Kit
Make sure it's stocked up with bandages, mini scissors a small bandage, steri strips, paracetamol, ibuprofen, diarrhea tablets, constipation relief, and rehydration sachets. If you prefer more natural remedies then take a read of this post I wrote on essential oils. Also always carry Activated Charcoal with you, in case you want to know why read all about my scorpion sting incident here.
Click here to check price on Amazon
Carabiner Clip
I never travel without at least 2 carabiner clips – 1 big one and a few smaller ones. They come in so handy for everything from attaching my sandals to my backpack to clipping on my GoPro.
Click to check prices on Amazon
Blow up Pillow
If you are going camping then a blow-up pillow is a must and doesn't take up much room. If you're not then skip it.
Earplugs
I never travel without earplugs. I've had way too many bad nights sleep and there is nothing worse.
Poncho
I always have a plastic poncho, always!
Washing Line
This travel washing line is so handy and it doesn't take up much room so I always keep it in my backpack.
Insect Repellent
You can make your own or buy one with a decent amount of DEET in it. I personally only ever use DEET on my clothes. I prefer instead to use a natural repellent on my skin.
Wet wipes
I always like to keep a little pack in my bag, just in case.
Tissues
Again just in case!
Hand Sanitizer
Toiletries
I'm a total hippy and don't like to use anything with too many chemicals in. If you like going natural like me, here is a list of my favorite products you can find on Amazon.
Or if you are more into DIY then take a read of this post on Natural Products for travelers.
Other important things to pack for Central America
Sleeping Sheet
If you are staying in hostels it's worth bringing one of these with you just in case. I actually used mine quite a lot because I was cold at night rather than the bed being dirty.
Photocopies of passport
I am obsessed with this. I have photos on all of my devices and photocopies in each bag. You never know when you will be asked for this and if you lose your passport having a photocopy makes it much easier to get a replacement.
Fake wallet
I like to carry a fake wallet with some old bank cards and a small amount of money that I can hand over in case of an emergency. I always keep my cash and bank card separate. When possible I leave my bank card safely locked up.
Mobile wifi hotspot
I literally never leave home without my TEPPY. It's amazing for times on the road, sketchy hotel wifi issues, and as an emergency back up.
If you want to get your own then use CLAIRESITCHYFEET for a 10% discount on sales and rental, (only valid for 100 uses so be quick).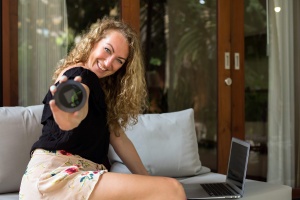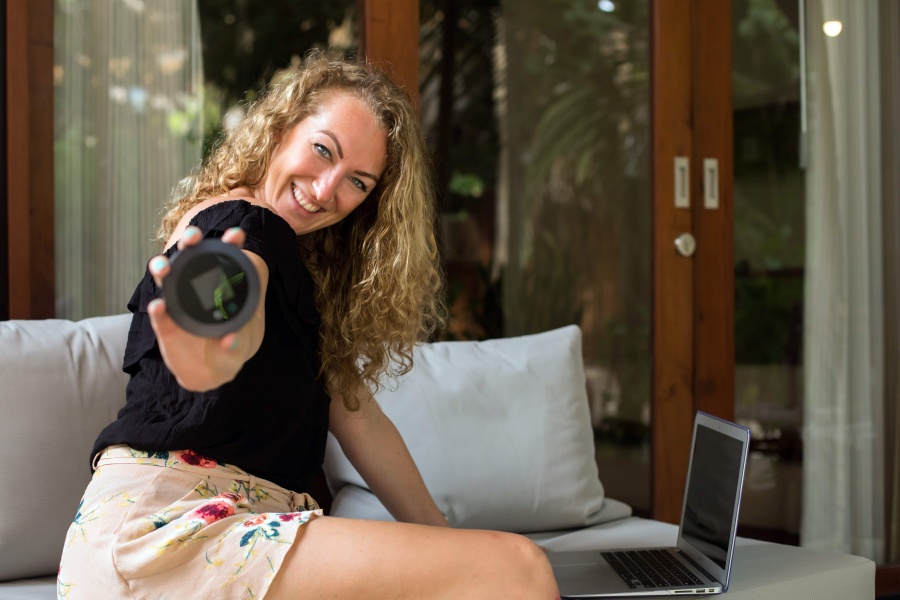 Do you need Travel Insurance when backpacking in Central America?
In short, yes! Whatever you do, don't forget to get insurance. I personally use Safetywing insurance for Digital Nomads. But that will only cover your medical expenses. So if you need something more comprehensive then it's World Nomads all the way!
Final Thoughts on Packing for Central America
I hope this post has been helpful in planning your trip to Central America. Make sure you check out my other posts to help you plan your trip!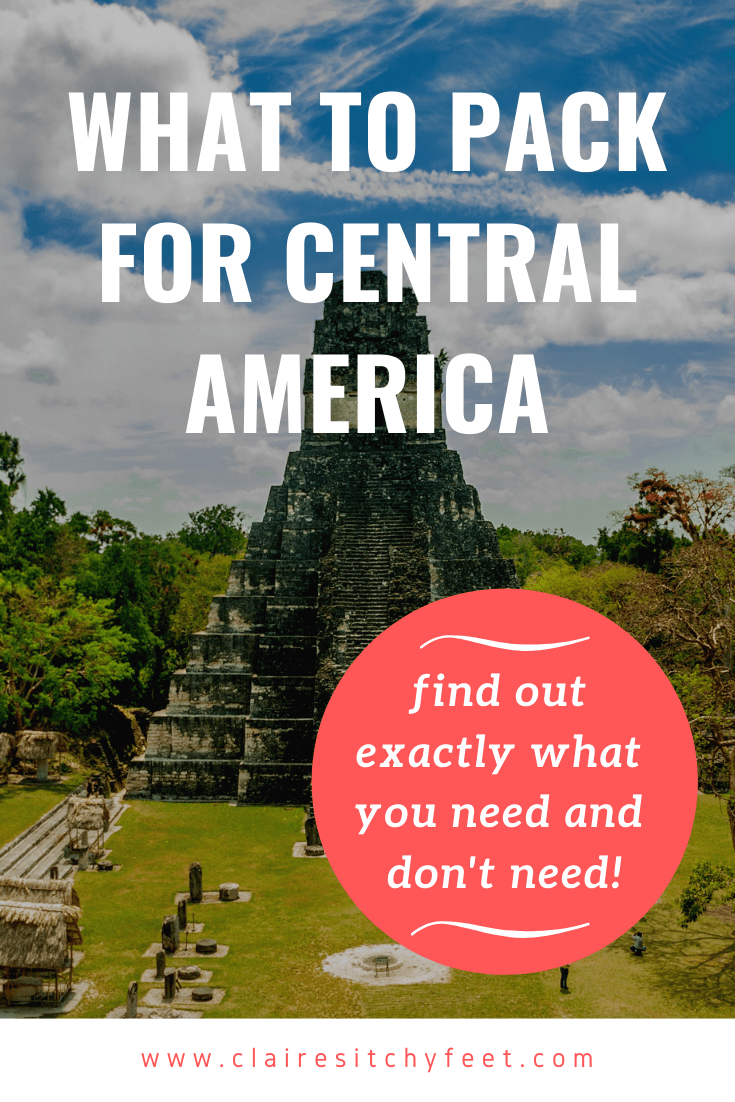 How to survive on long bus rides in Central America
Surviving The Rainy Season in Central America | What to pack
How to survive the rainy season in Central America | Should you hike Volcanoes?
Backpacking in Guatemala
How to get from Guatemala City to Antigua
Is it safe to visit Guatemala? Safety Advice for Solo Female Travelers
The night I thought I was going to die in Guatemala
Things to know before visiting Antigua, Guatemala
11 things to know before visiting Guatemala
The Top 5 Tours in Guatemala | The Best Tours in Guatemala in Guatemala
Backpacking in Costa Rica
Costa Rica Guides – How to get to La Fortuna from San Jose Airport
Things to do in Costa Rica | Mistico Park in La Fortuna
Where to stay in Costa Rica | Lost Iguana Resort
Backpacking in Honduras
Guide to Copán Ruins
Backpacking in Mexico ( I know Mexico is technically in North America but I have included it as many tag it on to a Central American trip)
Adventures in Mexico | The Complete Guide to Chichen Itza in Mexico
Why Coba Ruins in Mexico is my favorite Mayan Ruins so far
This post was proofread by Grammarly
Are you ready to book your trip?  To help you get the best deals and service here are the companies that I personally use to book all of my travel online. I always shop around before booking anything, but these are my tried and tested starting places.