Traveling in Guatemala and wondering how to get from Semuc Champe to Flores and Tikal? In this blog post you will learn about the different ways you can travel between Lanquin and Flores.
If you have made it as far as Semuc Champey you know probably know from the journey to Semuc Champey that traveling back out of Semuc Champey to Tikal is not going to be much fun!
I thought the bus ride from Antigua to Lanquin was bad, nothing could prepare me for the hell that was the bus from Lanquin to Flores. But If you want to see Semuc Champey (and believe me you want to see it) this is the price you will have to pay. So if I haven't already completely put you off read on for my guide on how to get from Semuc Champey to Tikal, or Lanquin to Flores.
Did You Get Travel Insurance Yet?
If 2020 taught us anything, it's that you need to be prepared for anything! Travel insurance has always been high my list of things to get before I travel but now more than ever its at the top of my list.

I'm pretty sure we have all had travel plans messed up because of COVID and not all insurers covered this. So when looking for travel insurance it's important to check it covers travel disruption due to COVID-19, Hey Mondo, Passport Nomads, Safety Wing, and Travel Insurance Master all provide cover for this.

Hey Mondo is great if you are looking for a great value flexible policy. They offer single trip cover, annual multi trip cover, and long term travel cover. You even have the option to start the cover when you are already on your trip, although you won't be covered for the first 72 hours. For me my favourite feature is their app which offers you a 24/7 Dr chat and the ability to file a claim direct in the app.

Passport Nomads provides the most comprehensive cover for Digital Nomads. The game changer with them is that you have a red card and if you find yourself in need of medical care you just contact them and they will pre load your card with the funds to cover your treatment, meaning you won't need to pay out of pocket and then put in a claim later.

Safety Wing is great value with monthly cover starting at $39. It's super easy to use and it just renews each month. They have an excess of $250 and it's simple to make a claim through their website. I currently use them as they offer me free cover for my son as part of my policy and I like that it renews on a monthly basis, so I don't have to pay out a big lump sum up front.

I also use Travel Insurance Master for some short vacation type trips.

If you are doing shorter trips or an extended backpacking trip then Hey Mondo or Travel Insurance Master are the best option. If you are a digital nomad or planning travel of at least 6 months then go for Passport Nomads or SafetyWing.
The journey from Semuc Champey to Flores goes a little something like this:
The day before you will need to book the bus, either through your hotel/ hostel or with GuateGo.
From your hotel, the minibus should pick you up at 8 am, it's Guatemala so expect them to be late!

After you have picked up all of the passengers you will head up to Coba, this should take 2 hours. And you probably won't leave Lanquin until around 9 am.

From there you may or may not change buses and/ or drivers – We didn't change bus but we did change drivers. Make sure you get some food here as it's another 2-3 hours before the next stop!

When you stop again you should have around 30 minutes to get some food.

The next part of the journey is a bit of a killer, especially if you don't have AC on your bus. Which of course we didn't. You will have to stop and wait for a raft/ boat thing to take you across the river. If you miss it takes 30 minutes for it to go and come back… we were stuck there for an hour and it was hell because of the heat!

From this point, you should have just over 3 hours left (should)
To get from Flores to Lanquin (Semuc Champey) you just reverse this. Again booking the bus at least the night before in your hostel, or with GuateGo.

A little warning about the journey from Semuc Champey to Flores
When entering Santa Elena someone will suddenly appear on the bus and start trying to give you "local information". He kindly informed us that to go into Tikal for sunrise the next day people needed to buy the tickets at the bank. A few people decided they wanted to do this and so the bus stopped to let them get tickets. 1 HOUR LATER hot tired and grumpy after 11 hours on this minibus ride from hell we were still there, so close but so far. If this happens to you, do yourself a favor get off the bus and take a tuk-tuk it will cost you 6Q to take you over the bridge. Don't buy anything from these people and ignore them if they tell you a hostel is full, they are just trying to get you to somewhere that they get a commission for bringing you.
Cost: 100-150Q
Time: Bus leaves Semuc Champey at 8 am (more like 9 am by the time you leave Lanquin) and takes 6-8 hours (it took us 11 hours)
What I'd do differently
If I could do all of this again I would book everything online with GuateGo, the tour to Tikal the transport, everything. Why? Because there are way too many cowboy shuttle drivers and rogue tour agents. I can't even tell you how many people I spoke to who paid extra for things like AC only to get on a minibus with none and a driver who doesn't even have insurance!
It happened to me several times. GuateGo vets all of the companies they work with and are an official seller of the Tikal tours. So save yourself a lot of stress and book before you get there. It will cost you more money to pre-book online, but it will save you a whole load of stress!

Are there any other options to get from Semuc Champey to Tikal?
I wish I could give you some options here that involved nice Air Conditioned buses that run on time along nice roads…But it's Guatemala and Lanquin is in the middle of the jungle down some pretty gnarly roads that you have to travel back up. Other than driving or taking a private transfer this is the only real option sadly. I've traveled all over Guatemala and this was by far the worst journey I have taken. But like I said above book with GuateGo and you should be fine!
Book A Semuc Champey Tour From Antigua
Of course, another option, if you have the budget, is to book a tour with Heart of Travel. They will organize everything for you including pickups from Antigua and you can even organize to do a more extensive tour that includes Semuc Champey, Tikal, and Rio Dulce. Click here to learn more.
Here are a few tips to help you make the journey from Semuc Champey to Flores a little bit more manageable
If you can make sure you get a window seat, even better get the front seat!
Wear synthetic clothes that will dry quickly, shorts and a vest top are ideal. You are going to get hot and sweaty!
If you have a hand fan keep it handy.
There will be people selling coconut water on the side of the road in bags, get some!
Make sure you have your headphones or earplugs handy to try and block out the world.
Take plenty of snacks, nothing that will melt through.
I wouldn't recommend buying a huge bottle of water unless you are going to drink it quickly. I could have made hot tea with my water! Even better get one of these water bottles to keep your water cool.
Download some Audiobooks and make sure you have something on your Kindle to pass the time, or load up some films on your tablet or smartphone.
Final Thoughts
I know this isn't the most positive post, the journey was hell. But would I do it again to see Semuc, Of course, I would!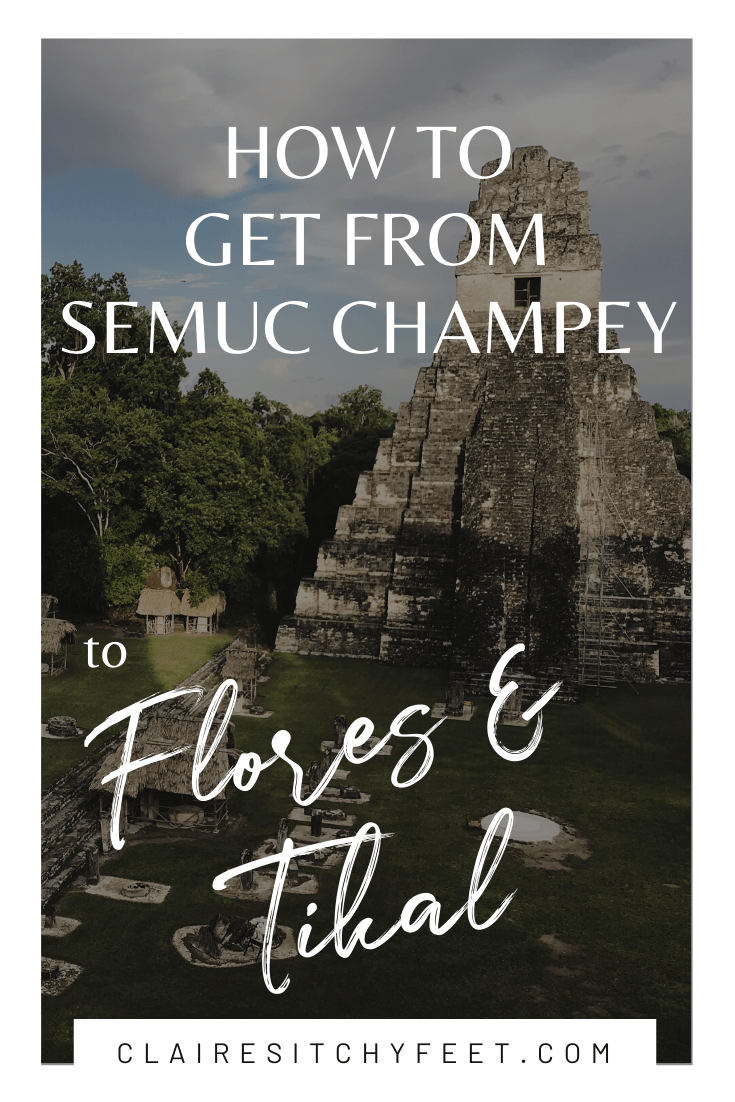 This post was proofread by Grammarly