Is Guatemala safe? That was my first question when deciding on a place to learn Spanish. I'm not going to lie, my family was not happy about my chosen destination constantly asking me: Is it safe to visit Guatemala? If I'm honest I had some serious reservations about my safety in Guatemala before going there. I knew very little about Guatemala like most people I have to do a search to find out where Guatemala even was. All I knew about Guatemala was it was a country in Central America with a long history of civil war. That and the fact my uncle once spent a few nights in a Guatemala jail back in the day (don't even ask).
Did You Get Travel Insurance Yet?
If 2020 taught us anything, it's that you need to be prepared for anything! Travel insurance has always been high my list of things to get before I travel but now more than ever its at the top of my list.

I'm pretty sure we have all had travel plans messed up because of COVID and not all insurers covered this. So when looking for travel insurance it's important to check it covers travel disruption due to COVID-19, Hey Mondo, Passport Nomads, Safety Wing, and Travel Insurance Master all provide cover for this.

Hey Mondo is great if you are looking for a great value flexible policy. They offer single trip cover, annual multi trip cover, and long term travel cover. You even have the option to start the cover when you are already on your trip, although you won't be covered for the first 72 hours. For me my favourite feature is their app which offers you a 24/7 Dr chat and the ability to file a claim direct in the app.

Passport Nomads provides the most comprehensive cover for Digital Nomads. The game changer with them is that you have a red card and if you find yourself in need of medical care you just contact them and they will pre load your card with the funds to cover your treatment, meaning you won't need to pay out of pocket and then put in a claim later.

Safety Wing is great value with monthly cover starting at $39. It's super easy to use and it just renews each month. They have an excess of $250 and it's simple to make a claim through their website. I currently use them as they offer me free cover for my son as part of my policy and I like that it renews on a monthly basis, so I don't have to pay out a big lump sum up front.

I also use Travel Insurance Master for some short vacation type trips.

If you are doing shorter trips or an extended backpacking trip then Hey Mondo or Travel Insurance Master are the best option. If you are a digital nomad or planning travel of at least 6 months then go for Passport Nomads or SafetyWing.
Is Guatemala Safe?
So chances are you are in the same position and wondering "Is Guatemala safe?" After living there for 9 months I can say with 100% security it is safe to visit Guatemala. In fact, it is one of the most welcoming and friendly places I have ever visited. I'm sure you will love Guatemala just as much as I did if you decide to travel there and enjoy all of the best things to do in Guatemala.
In this post, I am going to cover 7 key safety issues for solo female travelers visiting Guatemala, but really it's good general safety advice for anyone traveling anywhere. So, is Guatemala safe? If you do these things, yes.
Don't travel at night
Don't walk along in the early morning or in the evening
Avoid early morning buses
Don't travel between villages on the lake by road
Take care when getting a Tuk Tuk alone
Keep your belongings locked away
Always keep your Bankcard separate from your cash
Carry a copy of your passport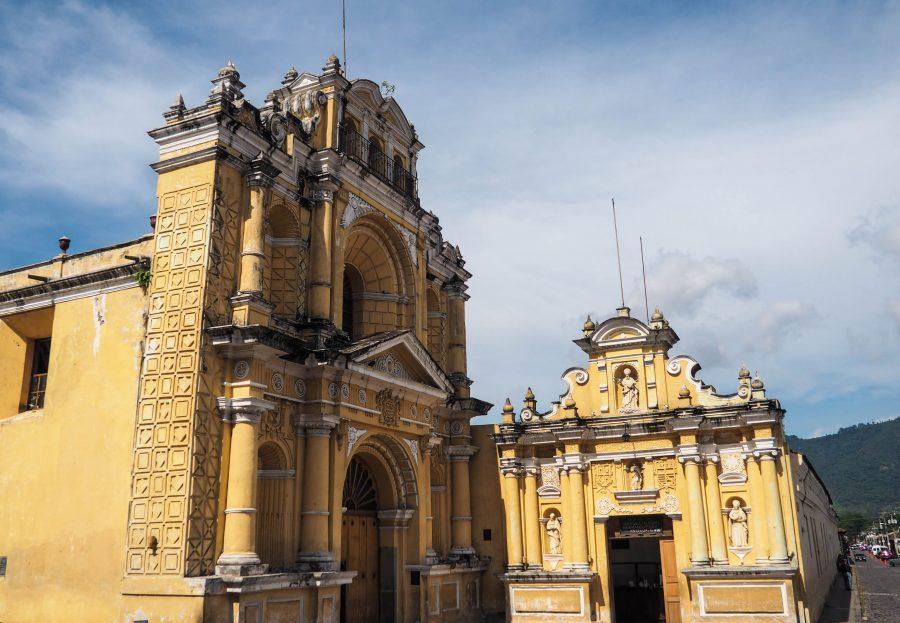 Is Guatemala safe for solo female travelers?
In a nutshell yes. I spent 9 months there and nothing bad happened to me. Granted I heard lots of stories and know people who did run into trouble, but no matter where you are in the world there are people looking to steal your stuff. So long as you keep your wits about you and follow the advice in this post you should be fine. Honestly watching the news of terror attacks across Europe and the USA I have felt far safer in Guatemala these past few months.
Like many Latin American countries, Guatemala has had a troubled past. With a long civil war and government corruption, for a long time, it was unsafe to travel here. But Since the Civil War ended the country has worked hard to repair and heal itself. On the whole, I have found Guatemalan people to be the kindest and most friendly people I have met.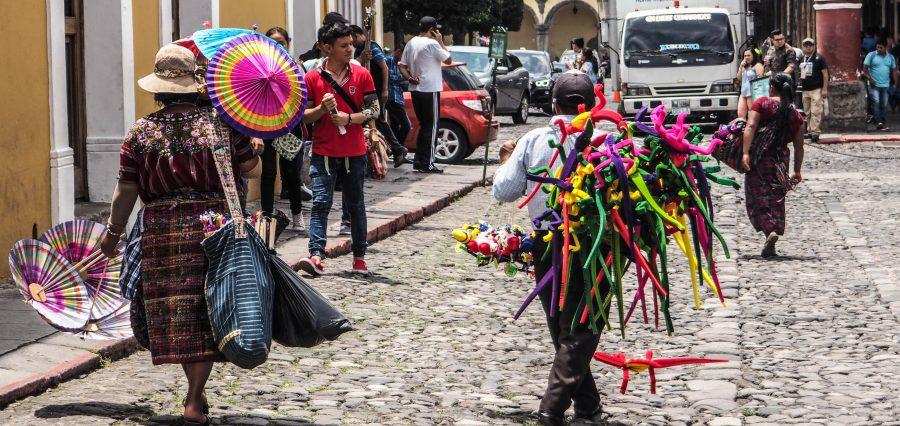 Seriously, ask anyone who has been to Guatemala "Is Guatemala safe?" and they will all tell you what they love most about Guatemala is how friendly the people are.
That said every country has its bad apples, Guatemala is no different. There are a lot of people living in poverty who feel they have no option but to turn to crime.
Just a side note, it's worth remembering that when you are haggling down prices on your gifts, it may be just a few dollars to you but that goes a long way in Guatemala. Take a read of my ethical travel in Guatemala guide for more tips.
Here are my top safety tips for solo female travelers in Guatemala
1. Try not to travel around Guatemala at night
If you are flying into the city at night book into this hostel and travel to your final destination in the morning. They offer a free shuttle to pick you up and then you can get dropped back on in the morning to get a shuttle to Antigua. You may be totally fine traveling at night. But it is a risk as most bus crime happens at night.
This doesn't just go for getting from the airport, it's a general rule. I have traveled at night with no problems and I know lots of people who have taken the night bus from Tikal for example. But it is more of a risk at night than during the day.
If you need to travel to Lake Atitlan make sure you plan so you are there before dark. It's always better to spend a night in Antigua and take the morning shuttle to the lake.
Transport and tours in Guatemala can come with risks. The only company I recommend for booking transport and tours in Guatemala (other than the individuals and companies I have named) is GuateGo. They are a Guatemala-owned company that has painstakingly brought together all of the transport and tour options in one easy-to-use website. You can book transport in Guatemala with them here and Guatemalan tours with them here.
If you are feeling nervous about traveling in Guatemala and would prefer to hire a tour guide then I work closely with Heart of Travel. Click here to learn more about them and how they can help you plan your Guatemalan adventure.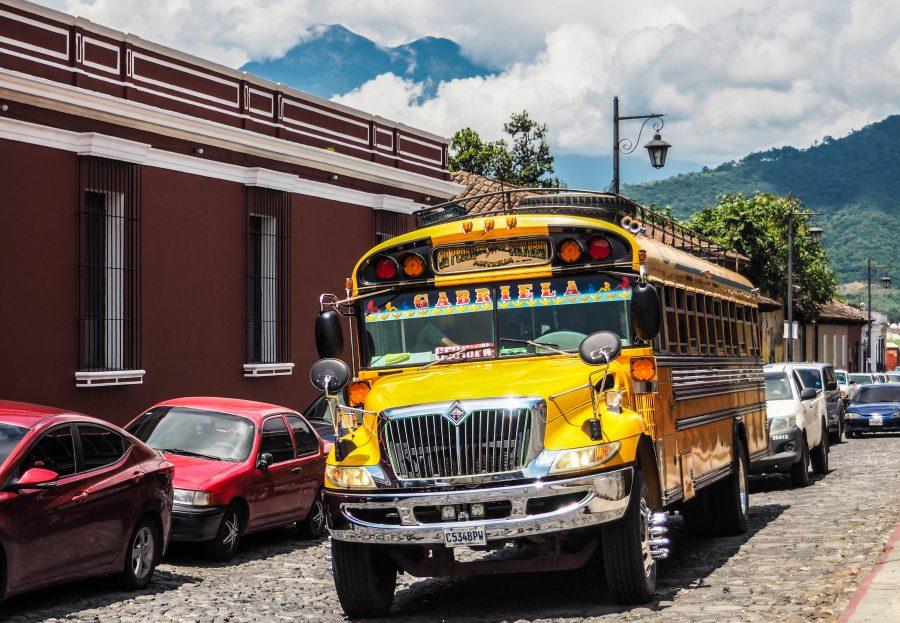 2. Don't walk alone early in the morning or after dark
Most crime (especially in Antigua) happens early morning or late at night. Weekends are always worse. The most common thing is that 2 guys on a moto (scooter) will come past you and snatch your bag. Be warned everyone I know who this happened to has said they were threatened with a knife. So give them the bag. It's not worth the risk. There aren't local people they come from the city just to steal from tourists. It's sad but true. As I said I never had any issues but I do know people to who this has happened to. I always walk close to buildings with my bag on the side away from the road. I also always avoided taking anything of value out with me whenever possible. Oh and try not to carry too much cash!
3. Avoid the early morning buses if you can
I have heard a few reports of crime on the 4 am bus to Nicaragua. To put it into context a bus goes every day and I've heard 1 or 2 stories. So it's not a big issue, but it does happen and the bandits were pretty brutal. If you want to be extra precautious then take the day bus or fly.
4. Don't travel between villages on the lake by road
As well as being unsafe, it's uncomfortable and often takes longer. If you want to play it safe get the shuttle to Panajachel and take the water taxi (launch) from Pana to your final destination. If you are visiting other villages do so during the day and take the boat rather than a tuk-tuk. With the exception of San Marcos and Tzunun and San Pedro and San Juan I have never had any issues with walking or taking a Tuk Tuk during the day. In the evening that's another matter, these routes are unsafe at night and you should not walk them. If you have to travel take a Tuk Tuk preferably with a friend.
5. Take care of getting Tuk Tuks alone
See my last point. If you need to get home and you are alone at night ask someone for the number of a trusted Tuk Tuk driver. If you have no choice then taking a Tuk Tuk is better than walking. This advice isn't just for traveling at night. Just before I left Antigua I heard about a girl who had a nasty experience traveling to her home outside of Antigua in a Tuk Tuk. Within the city, you should be fine but be careful if you are staying outside the city. Like I said I have never had any issues but I'm always very careful.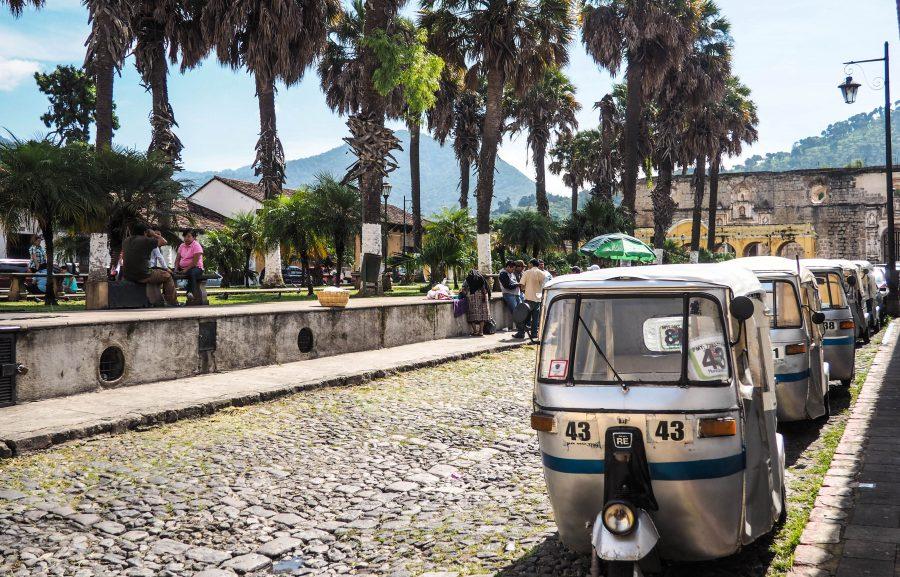 6. Keep your stuff locked away
I lived in a hostel for a few months and I never locked anything away including my expensive computer and camera. Nothing was ever taken. But not all hostels are the same, and not all of them take such care with security.
7. Keep your bank card separate
This is just standard travel safety advice. Guatemala has no postal service. So if you lose your card there it's going to be a whole drama getting it back. And don't even get me started on trying to get money from western unionid to you. I always kept mine in my locker unless I needed to get cash out.

8. Always carry a copy of your passport
This is useful for many reasons but the big one is if you have any issues you can show them to the police. But you will also need it to use your card in any shop.
Is Guatemala safe for solo travelers?

Final thoughts

I hope this post has been useful in answering the question "Is Guatemala safe" and in highlighting some of the dangers of traveling in Guatemala, but it hasn't put you off. I love Guatemala and I felt very safe there. However, like any country there is crime. So it's best to know what to look out for. I really hope you enjoy this beautiful country as much as I did. If you have any questions please let me know. If Guatemala is just one stop on your trip then I recommend taking a read of this to reassure you about solo travel in Central America.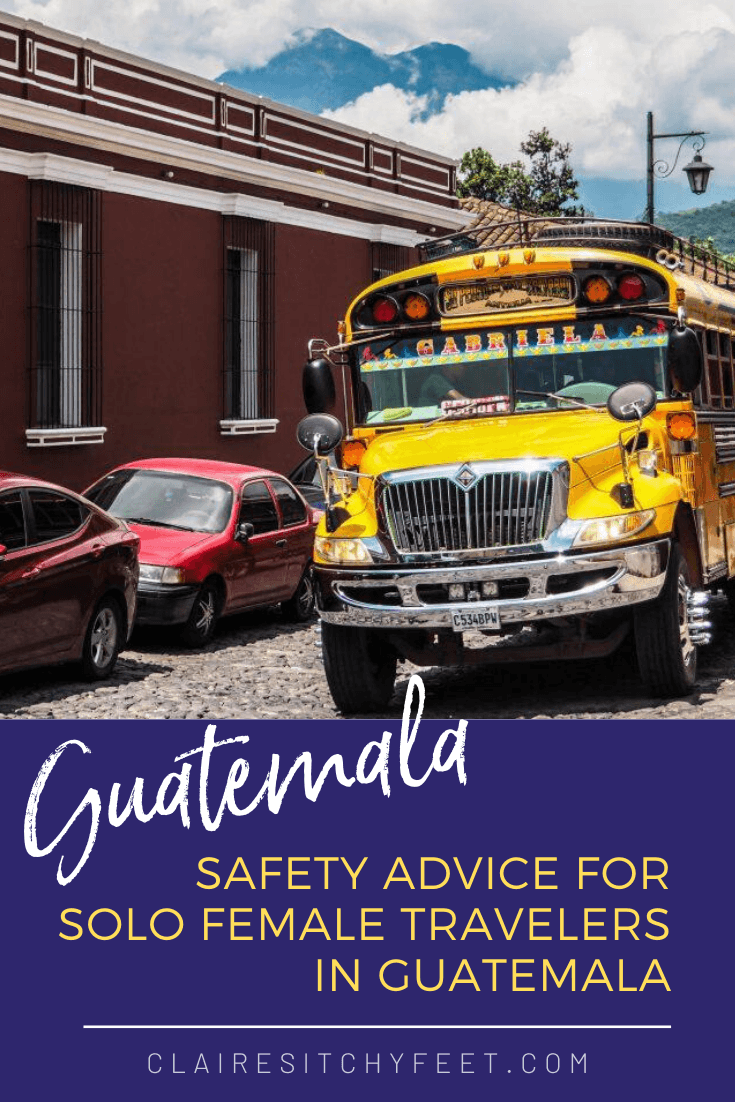 This post was proofread by Grammarly