In this post, I will go through my top choices for Best Hotels in Antigua Guatemala to help you reach a decision on where to stay. Antigua is a very touristy place and you are going to find an overwhelming amount of accommodation options but which is the best hotel in Antigua Guatemala, I'm going to try and answer that in this post.
To make things easier, I will first explain how the city is divided so you can get a better idea of the best area for you to stay in Antigua. Then I have separated the Antigua hotels and hostels into categories.
So whether you are on a tight budget or are ready to flash the cash and stay in a luxury hotel, you will find recommendations of hotels in Antigua for every budget.
Not sure if you want to travel to Guatemala right now? Then read my guide to traveling to Guatemala in 2021.
If you are planning a trip right now then you NEED to thing seriously about insurance. If 2020 taught us anything, it's that you need to be prepared for anything!

Travel insurance has always been high on the list of things to get before you travel but now more than ever it should be at the top of your list! I'm pretty sure we have all had travel plans messed up because of COVID and not all insurers covered this. So you need to find an insurer that covers travel disruption due to COVID-19, World Nomads and Safety Wing are the ones to go for. World Nomads is great for incidents that happen prior to your trip, so if you get sick or are unable to travel due to travel restrictions some of their policies will cover that as cancellation cover. Safety Wing goes the extra mile and covers quarantine outside your home for up to 10 days, they also have a really handy map on their website showing requirements and restrictions for each country.

If you are doing shorter trips or a onger backpacking trip then WorldNomads is the best option. If you are a digital nomad or planning travel of at least 6 months then go for SafetyWing. Alternativly Travel Insurance Master is a great site to do a more general serch for vacation insurance. Just make sure whichever insurance plan you go with will cover you for COVID.
Best Area to Stay in Antigua Guatemala
First, you need to know how Antigua is divided because yes, it is a small city, but in only a 30-minute walk, you can go from the chicken bus station with a lot of noise and people selling fresh fruits and veggies to the "chic" area with boutique hotels, cafes, and stores with an indie vibe.
It is easy to find your way around it as long as you remember that the north is where the hill of the cross is, the south is where Agua volcano is (you won't miss it), and in the middle, you will find the main square. Easy right?
There is no best or worse area or best or worst hotel to stay in Antigua Guatemala. It all depends on what your interests are. That is why I have divided the city into five areas that I think will describe it all:
1. West (You Will Find It As Poniente On The Maps)
There is the local market and chicken bus station. Close to the local market, you will find fresh fruits and veggies, handicraft stores, supermarkets, second-hand stores that are part of the local market but, they are a gem if you are looking for some cheap clothes in good conditions. Only a warning, you have to be VERY patient to dig in the piles of clothes.
Basically, in this area, you will find everything you need to survive in case you are staying in Antigua for a while.
Close to the local market, you can also find accommodation at very affordable prices, but I wouldn't recommend these places. Not because they are not nice, but because they are close to a lot of noise and if you are a person that likes to walk around and return to your place after dark, this is not the safest area for hotels in Antigua Guatemala. If you want some extra Safety Advice For Solo Female Travelers In Guatemala, here is something I prepared.
By the way, if you are wondering, what a chicken bus is, it's the unofficial name that tourists gave to the local transportation. Chicken buses are old school buses that have been renewed with vivid color painting, some very interesting neon lights inside, and sometimes the owners have added extra seats in them to fit more passengers. Oh, and let's not forget the loud music. You will hardly forget about them. If you are wondering How to get from Guatemala City airport to Antigua, check out my blog post for different transportation options.
2. East (you will find it as Oriente in the maps)
You'll find a couple of jewelry stores, those indie vibe stores I mentioned at the beginning, and yoga studios. I personally lived over in this area and found it quiet and safe. Plus I loved being so close to my favorite yoga in Guatemala.
3. northeast
There is not much to see. You will find regular houses with regular people living their lives but, this is the spot from where you begin your walk to the Hill of the Cross. My best advice if you are going up there is to go between 8 am and 5 pm. There are police around during the day so it's safer. Outside of these hours, there is no police present and therefore not as safe.
4. South
All the south is a pretty nice area with a lot of stores, hostels, ruins, and interesting things to see if you fancy exploring. This is where most backpackers in Guatemala will stay. It's lively (but not too noisy) lot's of accommodation options, places to eat and cute shops.
5. Center
You will find cafes, restaurants, bookstores, hotels, hostels, tour agencies, a few museums, and within a one-block ratio from the central square and 6th North Street, is where the nightlife happens. And, if you are looking for good street food, go to La Merced in the evenings.
Now that you know that, let's get to the good stuff, here are my choices for the best hotels in Antigua Guatemala.
Best Luxury Hotels in Antigua Guatemala
This is a very well-known hotel in Antigua that has been standing for years- I really mean that! It is located inside the ruins of an old convent, hence the name Santo Domingo. The building was beautifully renewed adding some modern touches and preserving the aesthetic of the ruins.
But, they are not only a hotel. If you are more into nature, they also offer their "Unit Cielo – Unit Types" which are beautifully decorated and very comfortable cabins and containers in the woods. These are outside of Antigua.
Oh, and they also have a spa and museum in their building!
Booking.com rating 9.0
Tripadvisor rating 4.5
This is the kind of hotel you want to go to if you want to be spoiled. They have a spa, gym, bar, and a restaurant with delicious food. They have an excellent location so you can walk anywhere in Antigua from there.
Booking.com rating 9.2
Tripadvisor rating 4.5
This hotel is located in the south part of Antigua, in a very tranquil area perfect for a family vacation. And, they are PET FRIENDLY!
The rooms are beautifuly decorated and either overlook the pool or the garden. Oh and it has a on site spa! This hotel is seriously nice, just take a look through the photos to see what I mean.
Booking.com rating 9.0
Tripadvisor rating 4.5
Boutique Hotels in Antigua Guatemala
The details put into this hotel are crazy! It is the definition of luxury and privacy with colonial decoration. It is perfect for honeymooners. Although it is not that close to the central square as other hotels, you can still walk your way around the city. It sets the standard for what every boutique hotel should be aiming for.
This is the hotel you want to stay at if you want to get some seriously instaworthy content.
Booking.com rating 9.1
Tripadvisor rating 4.5
If you want a fancy getaway with your gal pals or you want to celebrate an anniversary, this hotel offers everything you need. The facilities are beautiful with a small indoor garden and a terrace with panoramic views.
The restaurant offers delicious food with a great ambiance and live music open to non-guests as well. And, to top it all, they have a yoga studio and an art gallery with new exhibits every now and then.
Booking.com rating 9.2
Tripadvisor rating 4.5
This hotel is totally different from everything else you will see in Antigua. The architecture and decoration are very modern and sober, unlike all the baroque and colonial-style you will find all around the city. The name Good Hotel comes from their social business part. They work together with Niños de Guatemala, an ONG that works to provide education to underprivileged children in the towns around Antigua. They claim that 100% of their profits go to their alliance with Niños de Guatemala.
Booking.com rating 9.0
Tripadvisor rating 4.5
Other Nice Hotels in Antigua guatemala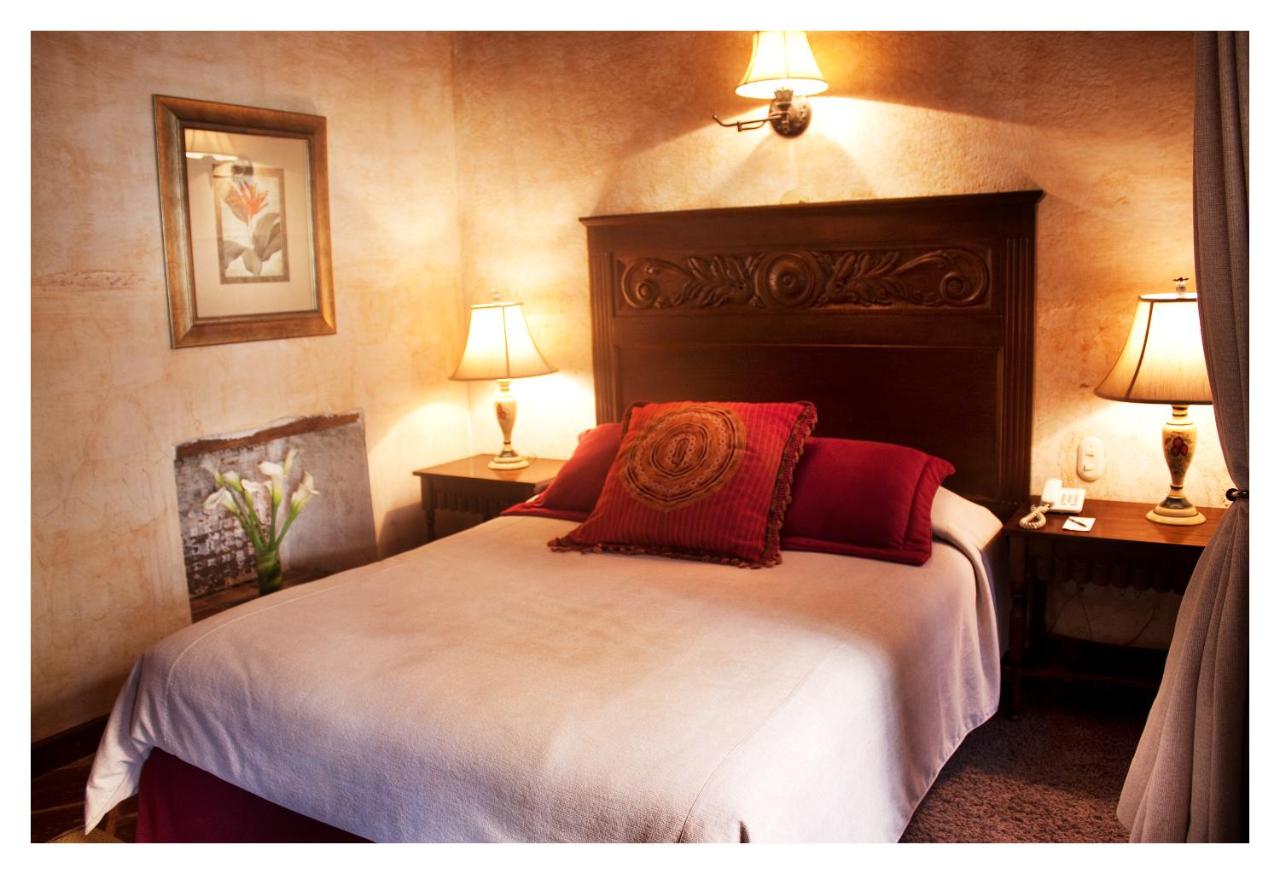 This hotel is not luxurious as the ones before but is really beautiful and is always adorned with fresh and colorful flowers which makes it very enchanting. It is VERY close to the center so for only a few steps you can go to a nice restaurant, sip to a cup of coffee, go to a bar or sit in the central square to enjoy a nice afternoon.
Booking.com rating 9.2
Tripadvisor rating 4.5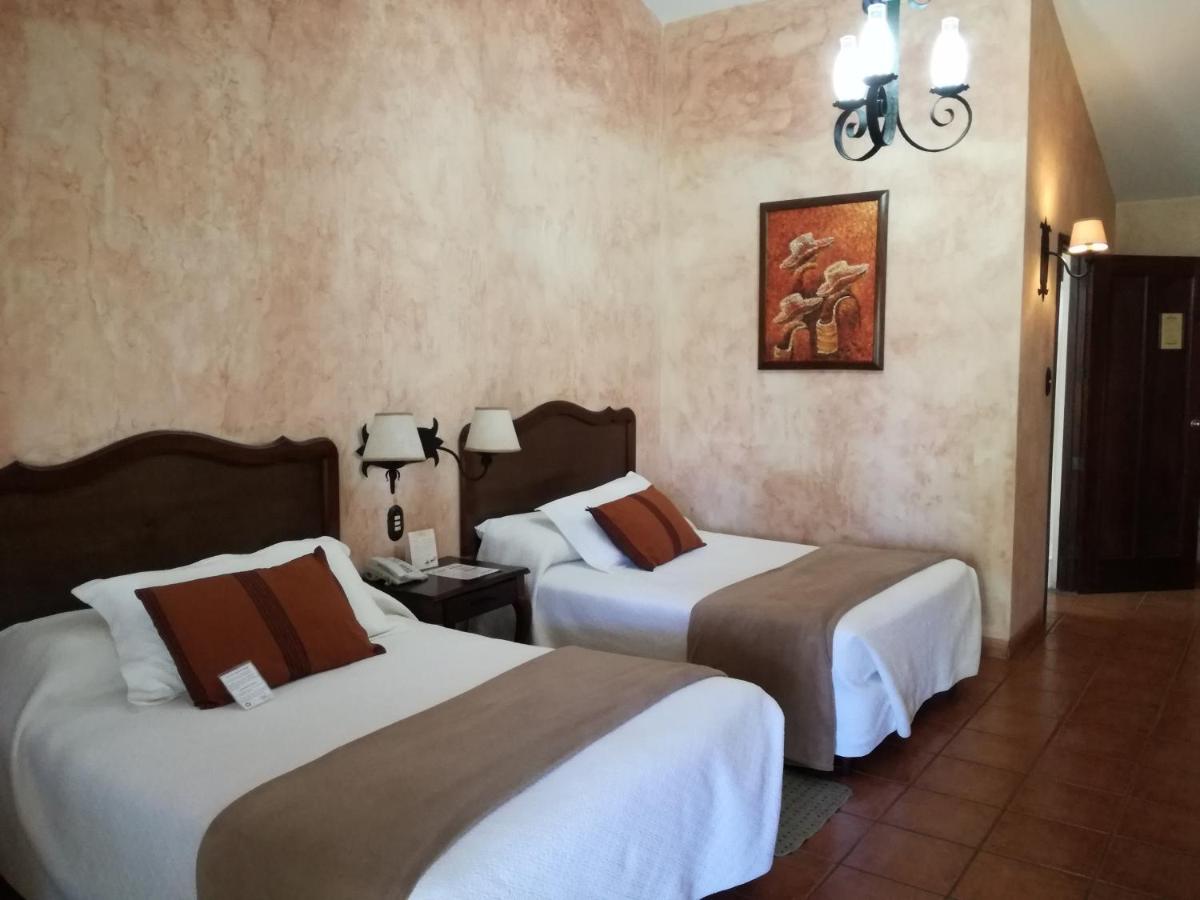 This hotel is not luxurious as the ones before but is really beautiful and is always adorned with fresh and colorful flowers, which makes it very enchanting. It is VERY close to the center, so for only a few steps you can go to a nice restaurant, sip at a cup of coffee, go to a bar or sit in the central square to enjoy a nice afternoon.
Booking.com rating 9.2
Tripadvisor rating 4.5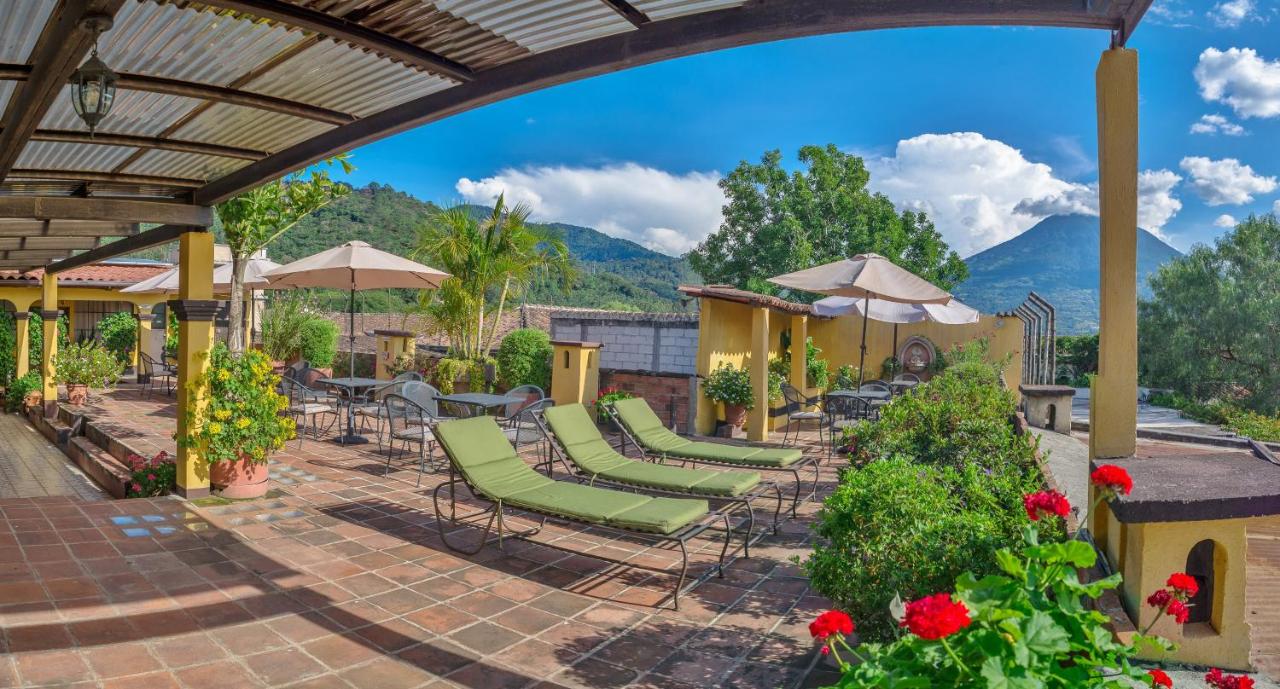 Ok, so the terrace is definitely one of the highlights in this place. It is a beautiful place to sunbathe or do some work on your computer. It is close to everything, clean and beautiful, and at an affordable price.
Booking.com rating 8.3
Tripadvisor rating 4.0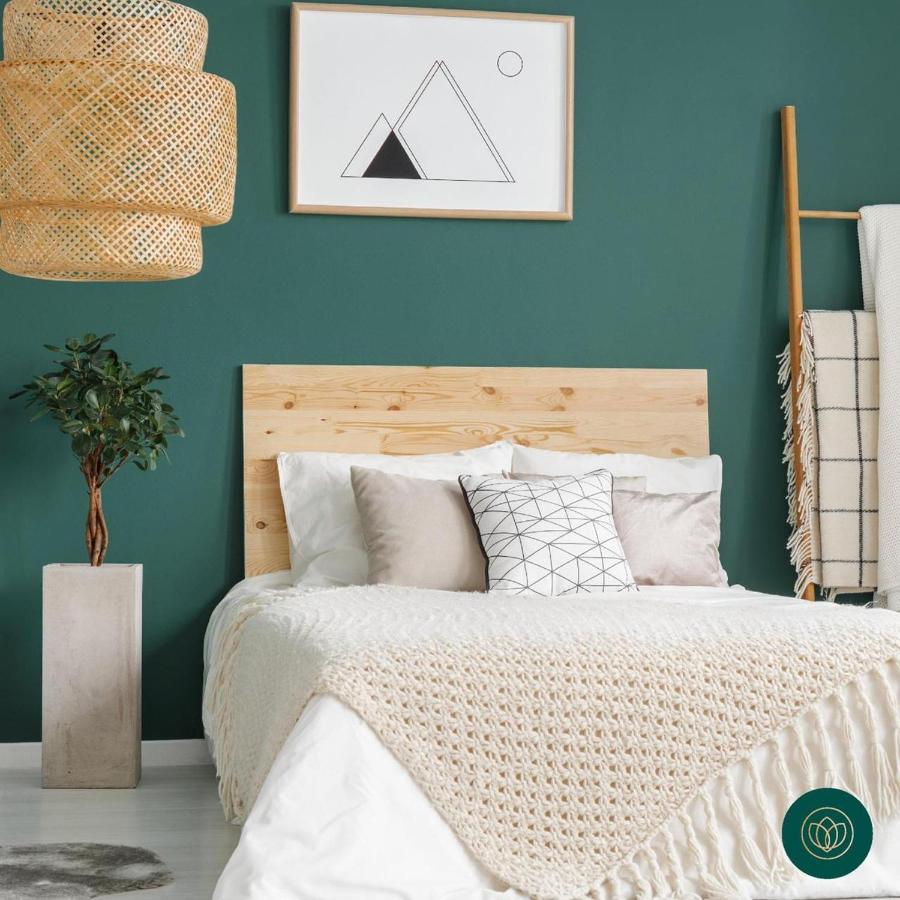 This hotel gives me the impression like if you were inside of a barbie dollhouse, but I mean it in a good way. The owners did a good job with the decoration by making it beautiful and non-colonial like most other places. Plus, if you have a sweet tooth, at the entrance of the hotel there is a small cafe with a delicious pastry and wifi. If you are a digital nomad like me, you will appreciate it.
And it is pet-friendly!
Booking.com rating 9.4
Hostels in Antigua Guatemala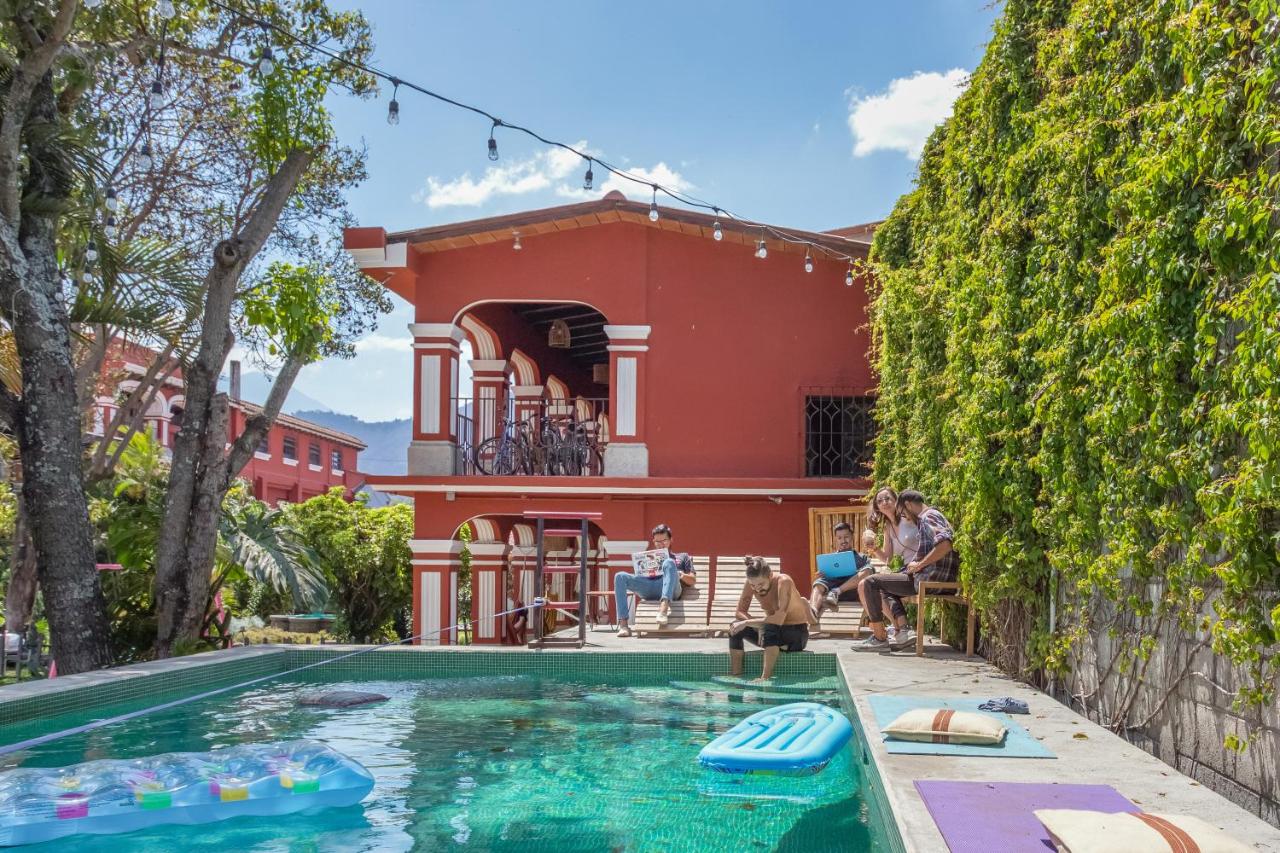 If you have traveled around Central America, you must know Selina hostels. Selina Hostel Antigua Guatemala definitely does not disappoint. These places are built for travelers looking for a fun, safe, and clean space whether you just want to take a few days off to relax, or if you are traveling around with your computer ready to take on work. They have a pool, eating area, a bar, coworking space, and at the terrace, you can jump into a yoga class.
Booking.com rating 8.4
Tripadvisor rating 4.0
Beautiful hostel with minimalist decoration, a bar, terrace, a game room, and wifi. It is very simple, but beautiful.
Booking.com rating 9.3
Tripadvisor rating 4.5
When you go to this place and see the facilities and beautiful decoration, you would think it is a hotel or a restaurant but it is actually a hostel for travelers with sustainable like-minded practices (and breakfast included). You have to try the cocktails and food at their restaurant.
Booking.com rating 9.4
Tripadvisor rating 4.5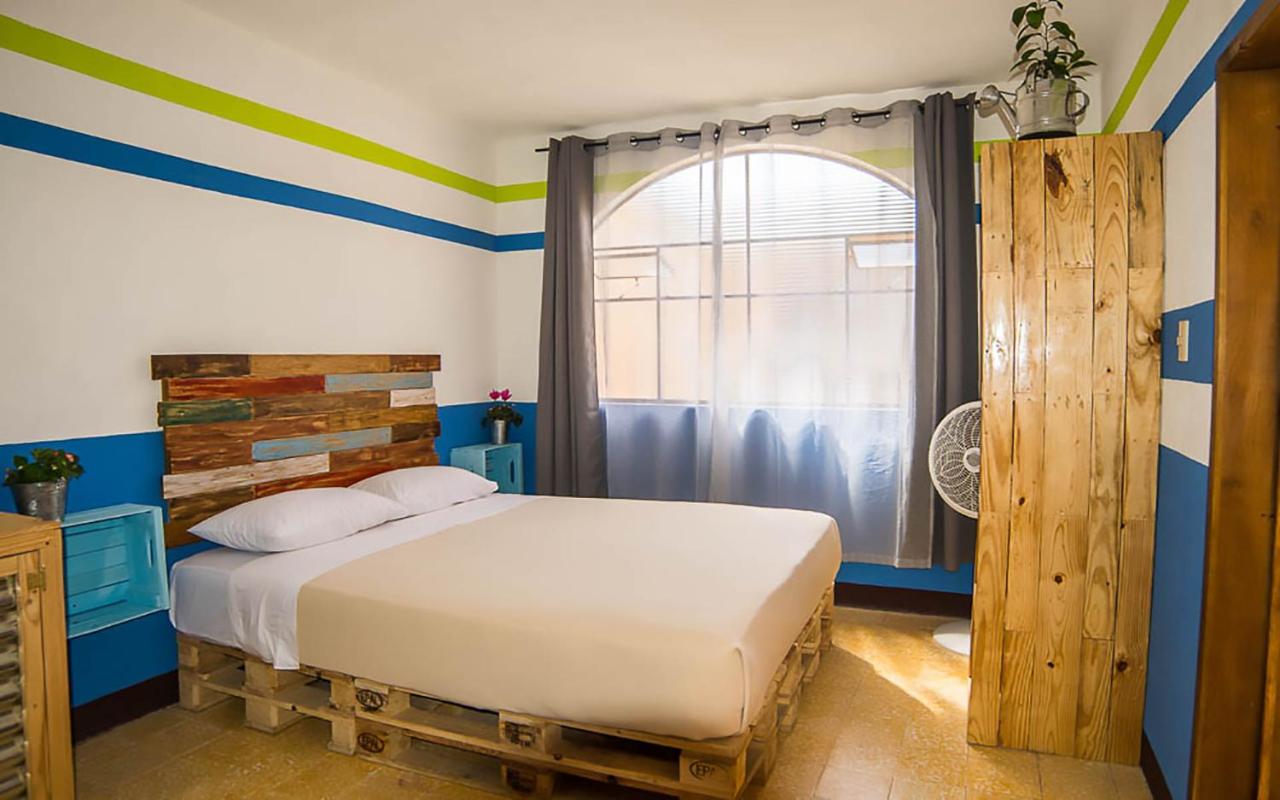 Last but not least, this beautiful hostel in the south of Antigua. They seek to accommodate people with different skills and mindsets and create an ambiance where everybody can feel free to share their knowledge. Don't ask me how, but they have managed to stay true to that mission, and this place is truly a place to bond and feel at home. Plus! Out of all the options I have included in this post, they have the best rating! And, they have a beautiful terrace, perfect for yoga and a game room.
Booking.com rating 9.6
Tripadvisor rating 5.0
Final Thoughts
Antigua Guatemala is a very beautiful place and it is definitely a must-see when you arrive in Guatemala. There are tons of activities, places to go, restaurants or street food, and new people to meet. When looking to where to stay in Antigua Guatemala, believe me when I tell you that there are hotels in Antigua Guatemala for everybody. Even if you are traveling with a furry friend!
Did I miss your favorite hotel?
Let me know in the comments below.