If you are into alternative health and planning on traveling then you need to know the best essential oils for travel. There are a few things that keep me sane while traveling. One of them is my collection of the best essential oils for travel! Whether you are taking a weekend break or are long-term backpacking. There are a few must-have oils to put into your essential oils travel kit you should make sure you pack.
I'm not a fan of using any chemical beauty products. I try to either buy locally made chemical-free products wherever I'm traveling, or I make my own. So essential oils are a must-have in my backpack.
However, even if you don't want to go to the trouble of making your own cosmetics, essential oils have some many uses and can particularly help travelers who are short on space and need products that are diverse and have multiple uses. I highly recommend putting together your own essential oils travel kit.
My Best Essential Oils for Travel – and their uses
I'm a bit obsessed with my lavender oil. If you only carry one oil, make sure it's lavender. It has so many uses, but here are a few of the top travel-related uses:
Helps you sleep – just a few drops on your pillow will help you to relax and fall into a peaceful sleep.

Helps repel bugs – I put a drop on each corner of my bed as well as a drop on my ankles, wrist and behind my ears. This doesn't just keep me smelling nice, it also helps to repel bugs. But if you do find yourself bitten, Lavender is great to put on your bites. It will take down the swelling and reduce the pain.

Anti-stress – If you find yourself feeling anxious and stressed. Or you have a stress-related headache. I like to put a few drops of lavender on my temples and on my jawline just under my ears. It's perfect for travel anxiety, just put a few drops on at the airport to keep you calm on your flight.

Helps reduce pain – If you find yourself suffering from physical aches and pains, mix a few drops of Lavender Oil with a carrier oil (I like coconut oil) and massage it into your skin.

Helps to treat respiratory issues – If you get a throat infection, the flu or a cold, a cough, asthma issues, sinus congestion, bronchitis, laryngitis, or tonsillitis. Fill a bowl with boiling water and add a few drops of Lavender. Placing a towel over your head to keep the vapor in place your head over the bowl and inhale the vapor. Lavender has antibacterial qualities so can help clear up infections.
This comes in a very close second. It's an oil that has so many uses! Tea Tree oil along with Lavender I use daily and always carry in my daypack. It is also one of the best acne treatment for adults. Due to climate change and other health problems, we often end up with mild acne while traveling. This oil can be a life-saver for you.
Tea tree oil is the ultimate first aid oil because it's a powerful antiseptic.
Here are my top travel-related uses for Tea Tree oil:
First Aid – Because of its antiseptic qualities if you have a cut, scratch or graze just pop a few drops of tea tree oil on it to fight off any infection.

Bug repellent – Tea Tree oil is great to ward off mosquitos. Just put some on your exposed skin. It's also good to treat bites if you do get bitten. I found out after a run-in with a scorpion recently it's also good to repel them. So whenever I'm staying somewhere I'm likely to encounter things that go sting in the night. I put a few drops on each corner of my bed, just in case!

Scalp cleaner – I like to add a few drops to some coconut oil (I also add a few drops of lavender) and massage it into my scalp. Then comb it through the ends. This is a great way to clean your scalp and give yourself a hair treatment at the same time.

Hand Sanitizer – either use it on bare skin or mix with a little water or carrier oil to clean your hands.

Anti-fungal – I recently discovered the hard way what happens when you do too much hiking in ill-fitting boots! Sadly, I lost both my big toenails. Had I known then what I know now soaking my feet daily in tea tree oil and water, or massaging tea tree oil and coconut oil into my toenails could have prevented the infection! So if you hike a lot or have any kind of fungal infection on your feet tea tree oil can really help.

Deodorant – If you aren't a fan of putting chemicals on your skin, especially under your arms, Tea Tree oil is a great natural deodorant. I like to add a few drops along with some lavender to coconut oil and rub it into my armpits. It does a great job if I run out of my natural deodorant and it saves me having to either smell really bad or by a store deodorant!

Toothpaste – To make a great natural toothpaste mix a few drops of Tea Tree oil with some coconut oil and baking soda. It will keep your teeth nice and clean. And the antifungal will keep your mouth free from infection.
I swear by arnica for any kind of bruising or swelling. You can buy it already mixed but I prefer to mix my own for 2 reasons.
It takes up less room in my bag

I prefer to mix my own so I can make it stronger!
Arnica along with Tea tree oil are my top 2 first aid oils. From getting rid of unsightly bruises from my adventures to speeding up my swollen sprained ankles. My little vile of arnica had been put to use many times over the past few months.
My little vile of arnica had been put to use many times over the past few months.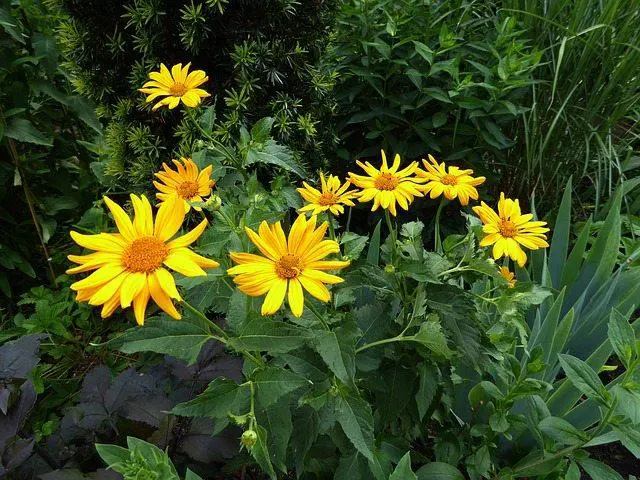 Frankincense is another great all-around oil. Unlike Lavender and tea tree though you shouldn't put it directly on your skin. You ideally need to use a carrier oil with it. I either use coconut oil (because it's amazing and I always have a jar to hand) or almond oil. It does a lot of the things that Tea Tree and Lavender do. ie it's good for aching joints, you can use it as a toothpaste (just replace the tea tree oil) and it's good for balancing hormones.
Here are some of my favorite travel-related uses for Frankincense:
Treatment of sunburn and windburn – Massage into burned skin with a carrier oil to soothe and help reduce pain.

Improve focus – feeling tired and jetlagged but still have a long way to go? Just drop a splash of frankincense oil under your tongue. It will give you an instant pickup.

Anti-aging – That's right if you are worried about all of that sun on your face then mix some frankincense with a good oil for your face. l like Jojoba or Rosehip oil. Use it to massage your face in the morning and evening.
Now there are a few crossovers between Tea Tree oil and Eucalyptus. So if you are really short on space then go with the tea tree oil. But if you can fit it in, it's worth it! Whereas Tea tree oil is great as an antibacterial, Eucalyptus does that and it's also a great cleaning agent. Here are some of my top uses:
Getting rid of bad smells – Hiking boots stinking? Need to get rid of bad odors? Simply mix some eucalypts with some water. Then spray it onto the item in question and then leave in the sun to dry. Or if you are staying in a smelly dorm room you can make a room deodorizer by just adding some to water and adding a little tea tree oil. It will be smelling fresh in no time.

Cleaning agent – You can mix eucalyptus with witch hazel and water to use as a great natural cleaning agent. I like to add in some lavender and tea tree oil and then use it to clean my yoga mat! It's also great at removing mold, so if you are staying somewhere damp or need to clean your things. Maybe after spending some time in the damp jungle! Eucalyptus is the perfect oil for the job.
I know Jasmin might not be at the top of everyone's travel oils list, but if you have the room it's a great one to include because of its uplifting qualities. Although it has relaxing qualities it really perks me up when I need it.
I have some mixed with almond oil I rub on my face, neck, and shoulders every morning and evening. As well as being amazing for your skin, it's a great pick me up if you suffer from depression and it can help to prevent skin infections.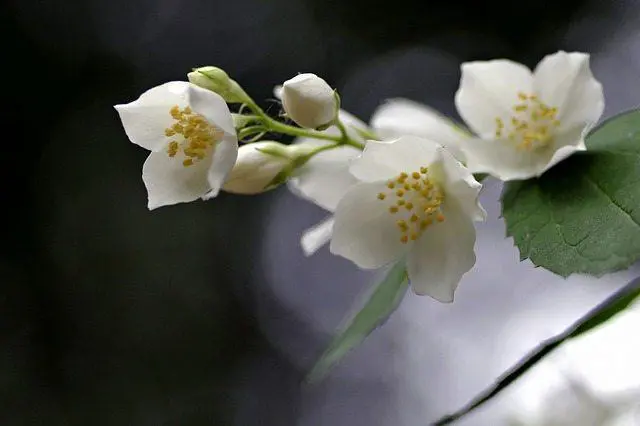 Multi-Use
The thing I love most about Essential oils is that they have so many uses and take up such a small amount of space! Each new country I travel too I simply buy a small jar of coconut oil that I can use as a base oil. If you are interested in mixing up your own beauty products take a look at my Pinterest board full of ideas here.
How to travel with essential oils
Invest in an essential oils travel case
The best way to travel with essential oils is by investing in an essential oils travel case to store your essential oils travel kit in. Here are a few of my favorite essential oils travel cases.
Best travel defuser
If you are as obsessed with traveling with essential oils as I am then I also recommend investing in a travel oil defuser. Here are a few of my favorite travel defusers.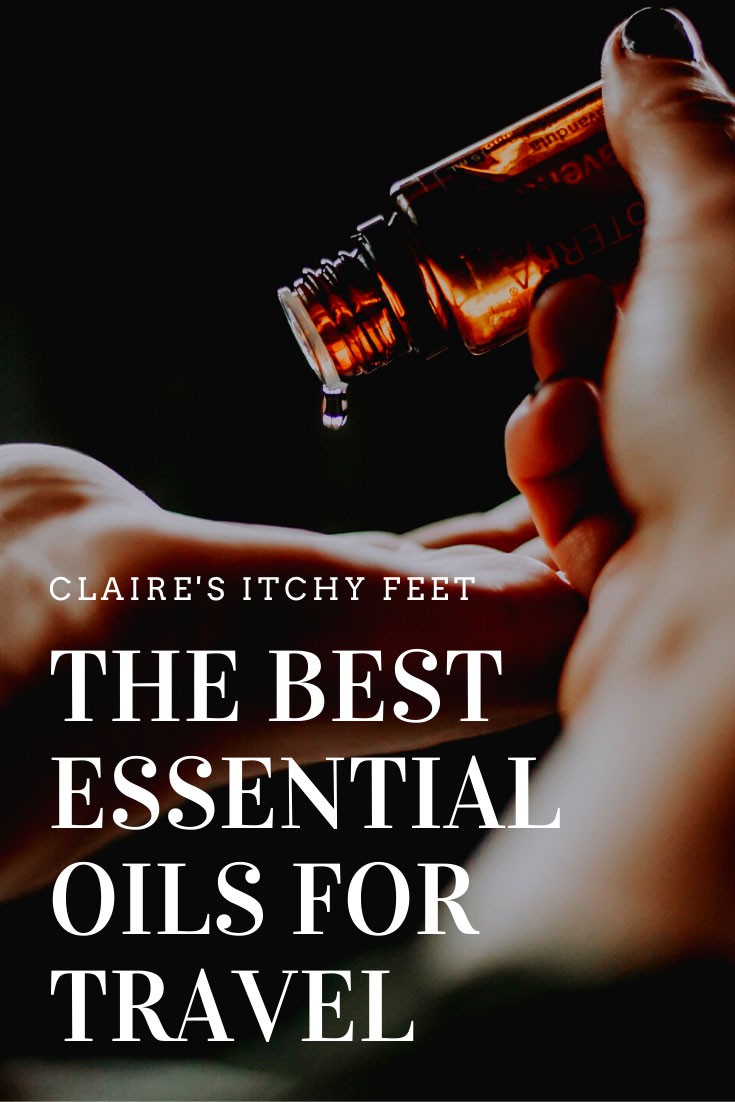 Like this post?
Then you might also be interested in these articles:
How to prepare for Yoga Teacher Training Abroad
How to fit in a workout when traveling
The Beginners Guide to Ayurveda for Travelers
Essential Natural Beauty Products for Travel
This post was proofread by Grammarly