Oaxaca is one of the most diverse and beautiful states in Mexico. Here, you'll find gorgeous colonial towns, unique and delicious food, rich history, thickly forested mountains, stunning untouched stretches of tropical Pacific coast, and an incredible range of biodiversity.
There really is something for everybody here. Check out this guide to the best things to do in Oaxaca state.
Did You Get Travel Insurance Yet?

The Insurance companies I recommend are Hey Mondo, Safety Wing, and Travel Insurance Master

Hey Mondo is great if you are looking for a great value flexible policy. They offer single-trip cover, annual multi-trip cover, and long-term travel cover. Safety Wing is great value, with monthly coverage starting at $39. It's super easy to use, and it just renews each month. I currently use them as they offer me free cover for my son as part of my policy. I also use Travel Insurance Master for short trips.

Read my full travel insurance post here, where I go into detail about all companies.
1. Culinary Adventures In Oaxaca City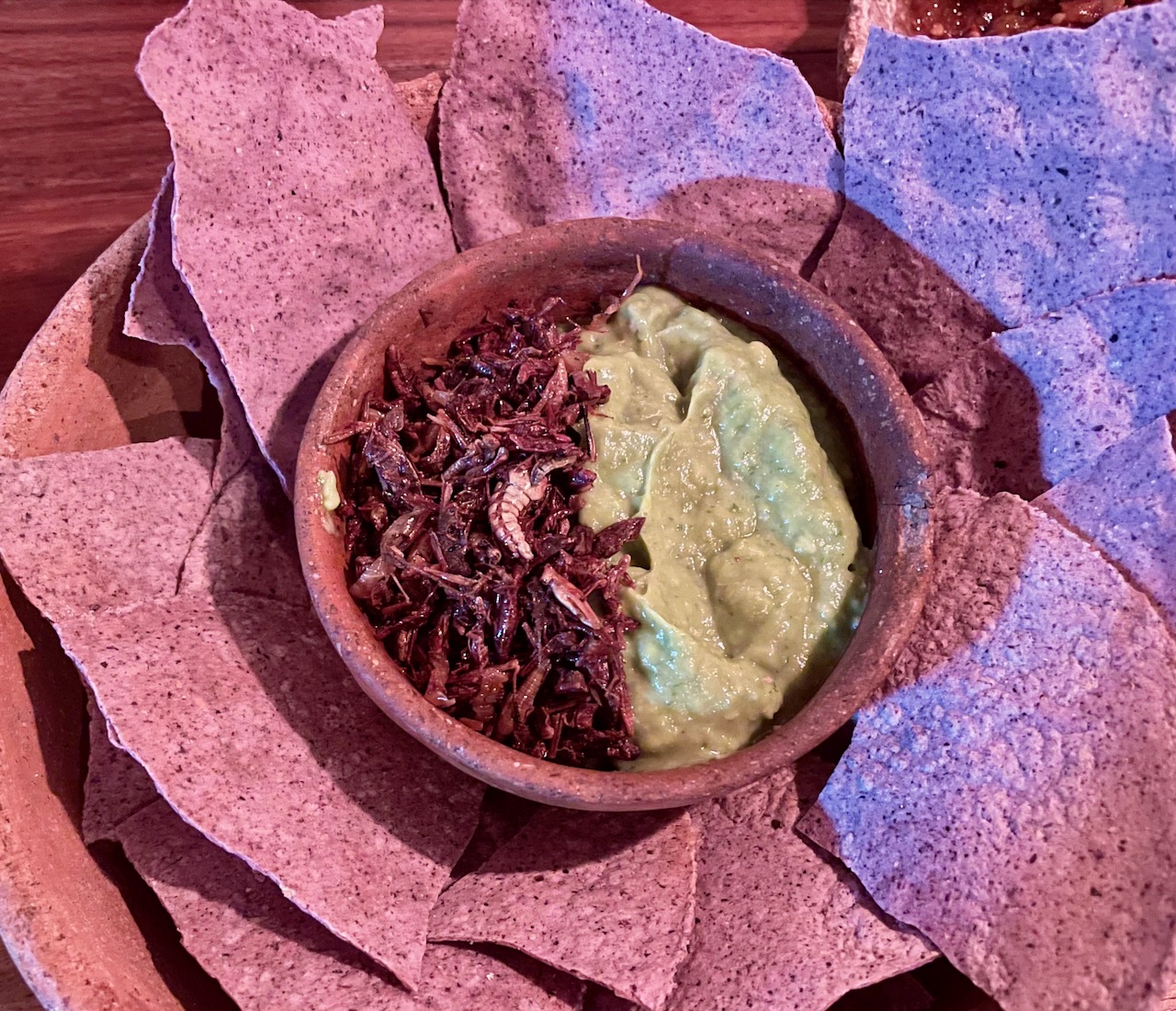 Oaxaca City (also known as Oaxaca de Juárez) is the capital and most important city in the state. It's an amazing place, with beautifully preserved colonial streets, colorful colonial architecture, giant maze-like markets, and a vibrant creative scene.
And then… there's the food.
Considered by many to be the culinary capital of Mexico, Oaxaca is home to some of the country's best (and most interesting) food. Typical Oaxacan food contains a range of unique ingredients, which combine to create flavors like anything you've ever tasted before.
Popular ingredients include avocado leaves, epazote (also known as wormseed), various varieties of chile (there are loads!), squash blossom, unrefined cacao (a key ingredient in several moles), and of course chapulines (deep-fried grasshoppers).
A note on the chapulines: If you're not accustomed to eating bugs (I certainly wasn't), there's a little bit of mind-over-matter involved at first. But you definitely should try one. Once you do, I can almost guarantee you'll want to eat more. Salty, savory, earthy, and crispy – seasoned with chile and lime, they're great!
Some of the best (and most traditional) Oaxacan dishes to try include:
tlayudas – giant, thin crispy tortillas covered with a range of different ingredients
moles – sauces with incredibly complex flavors, often served with chicken
pozole – soup made with corn and a variety of herbs and spices
chorizo Oaxaqueño – in a word: delicious.
You will find many excellent restaurants and eateries in the city, ranging from high-end to ultra-budget. I'd especially recommend Levadura de Olla. Here you can try a range of authentic local specialties in a tranquil and tastefully decorated courtyard.
As well as great restaurants, Oaxaca has some of the best street food in Mexico. All over the city, you will find street food vendors selling a range of delicious dishes, made to order. Empanadas del Carmen and Tortas La Hormiga are two of my favourites.
Also, be sure to visit Mercado 20 de Noviembre. This famous covered market is another excellent place for getting to know the local food. Browse the stands piled high with fresh ingredients, then pull up a stool and grab a bite to eat from one of the many vendors selling local specialties.
2. Explore Monte Albán
Perched on top of a hill just outside modern-day Oaxaca City, the ruined city of Monte Albán was once the capital of the Zapotec civilization.
Founded around 500 BC, this is one of the most impressive and best-preserved archaeological sites in all of Mexico. For more than 1,500 years, the city was an important centre of culture, politics, and economics in the region.
Monte Albán is spread out over quite a large area. At its heart is a massive central plaza, with many temples, palaces, altars, tombs, a ball court, and a large observatory. From the city's higher points, there are breathtaking views out over the Valley of Oaxaca and the mountains beyond.
Exploring this amazing place on foot, you get a real sense of how the ancient city would have looked and felt at its height. Standing in the centre of the Great Plaza, you are surrounded on all sides by towering pyramid complexes and raised platforms with wide stairways.
Monte Albán is a popular tourist destination, largely due to its importance and proximity to Oaxaca City. However, the place is so big it rarely feels crowded. It really is a must-visit destination in Oaxaca state.
3. Marvel At Hierve el Agua (+ Hike & Swim In Natural Springs)
Hierve el Agua is a series of petrified "waterfalls" in the mountains southeast of Mitla. This spectacular natural phenomenon was created over thousands of years by freshwater springs bubbling out of the mountainside.
The spring water here is rich in minerals. As the water runs off the edge of the cliffs, some of these minerals are deposited, creating limestone formations, similar to the stalactites found in caves.
In some places, the formations look like giant candles dripping wax down the side of the mountain. It's bizarre and totally unique.
For the best views of these amazing "waterfalls", take one of the paths that run down below the formations. They look even bigger and more impressive from below!
There are several hiking trails in the area. Some are just a short loop down to the base of the falls and back up again. Others are longer and take several hours to complete.
Be sure to bring enough water if setting out on a hike. It gets pretty hot in the middle of the day, and the altitude (1,800 meters) can make some of the climbs tough going at times.
One of the formations at Hierve el Agua, called El Anfiteatro (The Amphitheatre), has natural pools at the top, as well as a couple of larger artificial pools where you are allowed to swim. The best of these is the infinity pool – you can swim right up to the edge of the cliff and gaze out over the mountains and valleys beyond. It's one of the most scenic swimming pools imaginable!
4. Learn About Zapotec And Mixtec History At Mitla
Another important archeological site in the Oaxaca Valley, Mitla is much smaller than Monte Albán. However, it's still definitely worth a visit, and you can easily combine a trip to Mitla and Hierve el Agua in one day.
The site contains ruins of both the Zapotec and Mixtec civilizations. Many of the buildings are low and wide, built around square courtyards and quadrangles, in the typical Mixtec style.
Unlike Monte Albán, which was a political and economic centre, Mitla was more important as a place of religious ceremonies, including grizzly human sacrifices and sacred burials.
The most archaeologically significant feature of Mitla is the intricate mosaic designs that decorate some of the main buildings. These were fitted together and held in place without the use of mortar, making them unique in the whole of Mesoamerica.
In the group of buildings closest to the church, you will also see a series of ancient Mixtec frescoes decorating the inside of two of the courtyards. Sections of these are amazingly well preserved. Some show key events in the history of Mitla's inhabitants. Others give important insight into their society and belief systems.
5. Chill In An Idyllic Beach Town
Oaxaca's beach towns are generally more developed than those found in the neighboring state of Chiapas (like Boca del Cielo). However, there are plenty of unspoiled places along the state's long stretch of the Pacific coast.
The largest and most famous beach town in Oaxaca is Puerto Escondido. Here you'll find huge surf (see below), pumping nightlife, and a large range of places to stay, eat and drink.
If you prefer your beach towns a little smaller and more relaxed, check out the hippie paradise of Mazunte. This is definitely a "no shirt, no shoes, no problem" kind of place.
Yoga and meditation are both super popular in Mazunte. There are several places where you can take individual classes, or attend longer, more intensive retreats (including silent meditation retreats). Also, don't miss sunrise (and sunset) from Punta Cometa, the southernmost point in Oaxaca.
A couple of bays along, Zipolite is slightly bigger than Mazunte but shares much of its hippie, carefree spirit. Zipolite is also one of the most LGBTQ-friendly places in Mexico and is notable as the first and only legal public nude beach in the country.
6. World-Class Surfing
For fans of surfing, Oaxaca has some of the best waves in North America, with consistent swell throughout the year.
Puerto Escondido has long been a popular spot with surfers from all over the world. It's Playa Zicatela is home to the Mexican Pipeline, one of the most famous beach breaks in the world. The waves here are really intense (especially from May until September), with giant curling tubes that challenge even the most experienced surf pros. Definitely not one for beginners!
It's not all about Puerto Escondido though. There are countless other places along the state's ​​533 kilometers of coastline that are perfect for surfing, with something for all abilities.
Other standout spots include the area around Salina Cruz (especially Punta Conejo), Barra de la Cruz, Barra de Colotepec, Zipolite, and Mazunte. However, ask any local surfer for their favorite spot and most will tell you somewhere different. The options – especially for experienced surfers – are practically limitless.
Check out this post on the best surfing camps in Mexico
7. See Incredible Ocean Wildlife
The clean, warm waters off the coast of Oaxaca are home to a huge range of marine life.
Boat trips can be arranged in most towns and villages along the coast. These typically leave early in the morning and can be a fantastic way to see some incredible ocean wildlife.
Many boat operators provide snorkeling equipment. If the conditions are right, you can jump overboard and be with some of the animals in their natural environment. This is a great snorkeling tour for the entire family.
Bottlenose and spinner dolphins live in large pods on the Oaxacan coast. They like following boats, so you're likely to see them if you head out on the water. Swimming with these playful, gracious animals is an incredible experience. You can hear them clicking and "talking" to each other under the water, as they dart around (and below) you.
Other animals you're likely to encounter include sea turtles, manta rays, and many different types of fish.
If you're lucky, you might see a whale shark. These beautiful, mysterious creatures are the largest fishes in the ocean and can grow up to 18 meters in length. They're incredibly gentle animals, and you can swim with them in total safety.
Humpback whales also come to the southern Mexican coast to breed and give birth and are commonly sighted between December and mid-March.
8. Learn About Mezcal (+ Visit A Distillery)
Oaxaca state is the birthplace of mezcal. If you haven't already tried it, mezcal is tequila's smoky, complex older cousin.
It's made from agave, which is cultivated and also grows wild throughout large areas of Mexico. Once the plant reaches maturity (which can take up to 20 years depending on the variety), it is harvested, stripped of its leaves, and then cooked in an underground fire pit for about a week. This helps create a smokey flavor. Then, the cooked plants are ground up, left to ferment, and finally distilled (twice) before being bottled.
There are hundreds of mezcal distilleries all over the state of Oaxaca, with a large concentration in the Matatlán valley. Many of these will give you a tour to explain and show you the process of making this iconic spirit. In the end, you'll usually be invited to taste (and buy) some of the finished product.
If you acquire a taste for the stuff, there are bars all over Oaxaca (and Mexico more widely) specializing in various different types of mezcal. In Oaxaca City, my favorite is Mezcalería In Situ.
9. Float Through The Mangroves At La Ventanilla
A couple of bays along from Mazunte, the tiny fishing village of La Ventanilla is located on the edge of a swamp and a thick mangrove forest.
This amazing place is home to a large variety of animals and birds. However, it's also an extremely fragile ecosystem. Mangroves are often destroyed by hurricanes and/or careless human activity.
In recent years, an ecotourism initiative has been set up at La Ventanilla. This helps to protect this important natural habitat and provides jobs for members of the local community.
You can take a guided trip through the mangroves in a little wooden paddle boat. The guides are knowledgeable and will teach you about the various features of this aquatic forest, and the animals that live here.
La Ventanilla mangrove forest is extremely biodiverse. As you float through the naturally-occurring channels in the densely-packed trees and shrubs, you will see an incredible range of animals and plants.
As well as large numbers of iguanas and turtles, La Ventanilla is home to hundreds of crocodiles. Some of these are really huge – up to 6 meters long (!) – and can live for more than 70 years. Although slightly terrifying, they're pretty docile most of the time, and (mostly) harmless to humans.
Birds you'll likely see include herons, cranes, hummingbirds, eagles, and vultures.
The best time to visit is at the end of the day (the last trip leaves at 4 pm), as this is when you're likely to see the greatest number of animals.
10. Release Baby Turtles Into The Ocean
The Oaxacan coastline is an important nesting place for several endangered species of sea turtle. Throughout the year, female leatherback, green, hawksbill, and Olive Ridley turtles come to the beaches of Oaxaca to lay their eggs.
Sadly, it is common for many of these eggs to be poached.
In response, sanctuaries have been set up on several beaches to protect the eggs and allow as many hatchlings to reach the ocean as possible. Eggs are excavated and re-buried inside protective enclosures, where they are guarded until they hatch.
You can witness the incredible moment when the baby turtles make their way down the beach and into the ocean. It's a really magical experience and one that I will remember forever.
Important: Please be responsible when selecting which turtle sanctuary to visit.
Most are ethically run, but a few seem more interested in making money than actually protecting the turtles. Ensure that the sanctuary you visit releases the turtles into the sea immediately after they have hatched (and doesn't keep them in tanks prior to release).
Also, the baby turtles should not be touched with bare skin as this can interfere with their natural magnetic orientation, and makes it more likely that they will die before making it offshore. Instead, they should be placed inside a coconut or calabash shell before being released.
Don't give any money to a sanctuary that allows visitors to play with, or otherwise disturb or interfere with, the baby turtles. Your Instagram shot is not more important than the lives of these beautiful creatures.
Campamento Tortuguero on Playa Ventanilla beach, close to Mazunte, is a good option. It's run by kind people who respect the turtles and care for them properly.
Looking for a place to stay in Oaxaca?
---
---