Mexico is a huge country with an enormous array of experiences, landscapes, and cuisines to choose from, yet somehow when most people hear 'Mexico', their minds jump to the resorts and crystalline waters of the Riviera Maya. This part of Mexico is popular for a reason, the weather is almost always perfect, the beaches are some of the best in the world, and towns like Tulum are at the forefront of the Instagram movement. This all sounds great, but if you're looking for something with all the beauty but more of the authenticity, you'll have to look farther afield.
Puerto Escondido is often described as Tulum before it got cool. All of the charm, none of the pretension. Much like the rest of Mexico, Puerto Escondido on the Oaxacan Coast has a long history dating back to the 1500s but these days it's better known for long sandy beaches, barefoot bohemians, and a lively nightlife. This beach town is the perfect place to visit for a few days or a long-term visit to get the Tulum vibes without the price tag. There are so many things to do in Puerto Escondido to suit any taste and budget so we've put together a list of what not to miss.
Did You Get Travel Insurance Yet?

The Insurance companies I recommend are Hey Mondo, Safety Wing, and Travel Insurance Master

Hey Mondo is great if you are looking for a great value flexible policy. They offer single-trip cover, annual multi-trip cover, and long-term travel cover. Safety Wing is great value, with monthly coverage starting at $39. It's super easy to use, and it just renews each month. I currently use them as they offer me free cover for my son as part of my policy. I also use Travel Insurance Master for short trips.

Read my full travel insurance post here, where I go into detail about all companies.
Mezcal Experience
If you don't know by now, mezcal is not tequila. While they are made from the same plant, they are very different drinks, distilled in different ways, and provide different flavor profiles. Oaxaca is the capital of mezcal so no trip to this state would be complete without education in "the elixir of the gods" and the best way to do this is to learn from the professionals at an ancestral distillery.
Puerto Mezcal Tours are hands down the best option for a mezcal experience in Puerto Escondido. The tours are run by Antoine and Arely, a French and Mexican couple who have partnered with a local family-owned and operated distillery to provide the best authentic mezcal experience around. The tour itself is incredible value for money. At only 800 pesos [$40USD/$50CAD] per person it was the best value tour of any kind I found in the area and to make it even better, the price is all-inclusive.
Once you choose your tour time and confirm with Antoine, he takes care of the rest. Each tour fee includes round-trip transportation in a comfortable, airconditioned SUV to and from anywhere in town, a short, entertaining presentation on the history of mezcal, an informative tour of the mezcal distillery, and a group tasting of 10 different mezcals produced by this very distillery and some time to purchase a bottle or two of your favorites before heading back to town.
Whether you're a big drinker or not, this tour is a must-do for anyone visiting the area, traveling solo or otherwise. It's a great way to support local businesses and have a fantastic, fun afternoon exploring part of Mexico's culture. My group had such a great time together, we headed into town to keep the fun going with dinner and drinks.
Pro Tip: Pack bug spray! This is a functional farm and there are mosquitos. Book in advance! If you can't get the availability you want Antoine may be able to accommodate but to avoid disappointment book in advance. Take the 3:30 pm! You'll miss the peak heat of the day and it's the perfect time to start sipping the sauce.
Quick Tip: I highly recommend booking all of your Mexico transportation with GottoGo. You can search for buses, shuttles, ferries, and Flights on their website. What I love most about them is their customer service. I know these guys personally from living in Guatemala, and they look after their customers.

If anything happens and you get delayed and miss your bus, you can just call them, and they are always there to help. If you book through them, you will pay a little more than booking in person at the bus station. But it's worth it for the ease and security. Click here to search for transportation in Mexico.
Surf Lessons
Puerto Escondido is known as the Mexican Pipeline, one of the Top 10 surf spots in the world, and if there was ever a place to try surfing it's Puerto Escondido. Puerto Escondido has seven beaches that run the length of the town which are all great for different activities but Zicatela, at the south end of town a world-renowned spot for surfing. The waves here are extremely strong which makes them great for experienced surfers but not great for swimming. Even if you've surfed before I recommend hiring one of the local professionals to help you ride the waves. For beginners, the best place to start is on the picturesque hidden beach of Carrizalillo, about a 10-minute taxi ride up the coast from Zicatela. The waters are much more manageable here and the water is even swimmable.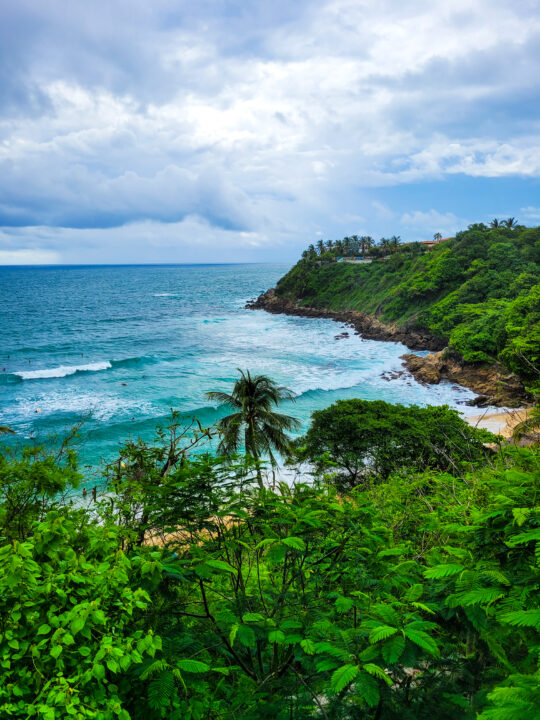 Finding a surf instructor on Zicatela or Carrizalillo is easy and sometimes they'll find you! The pros are on the beach from sunrise to sunset and they live and breathe the surf. There are more formal surf schools that offer camps and class packs you can book in advance or you can take a more casual lesson from one of the pros on the beach. A private lesson usually lasts 2 – 3 hours and will run about 1200-1600 pesos [$60-80USD/$75-100CAD]. If catching a wave sounds a bit too risky, find a spot on the beach to enjoy a cold beer and watch the pros carve it up.
Pro Tip: Cash is King in Mexico! Make sure you have pesos to negotiate a lesson and price with one of the beach pros. You can ask around for who can give you a lesson or if you sit long enough, one of them will likely approach you to offer their services.
Gastronomy at Almoraduz
A sleepy surf town on the Oaxacan Coast may not seem like a gastronomic hub but Puerto Escondido has a food scene to be reckoned with. Street food, seafood, pierogies, pasta, Peruvian, there's no shortage of options in Puerto Escondido but if you only eat at one place in PE it needs to be Almoraduz.
Almoraduz is a small, chef-driven restaurant located on the Rinconada in the north end of town. The unbelievably gifted and creative husband and wife chef team, Quetzalcoatl Zurita and Shalxaly Macias are the masterminds behind this operation. With traditional Oaxacan cuisine at its heart and a flare for the modern, there is nothing old-fashioned about the food here. The menu is small but varied, with a focus on local ingredients and dishes changing seasonally.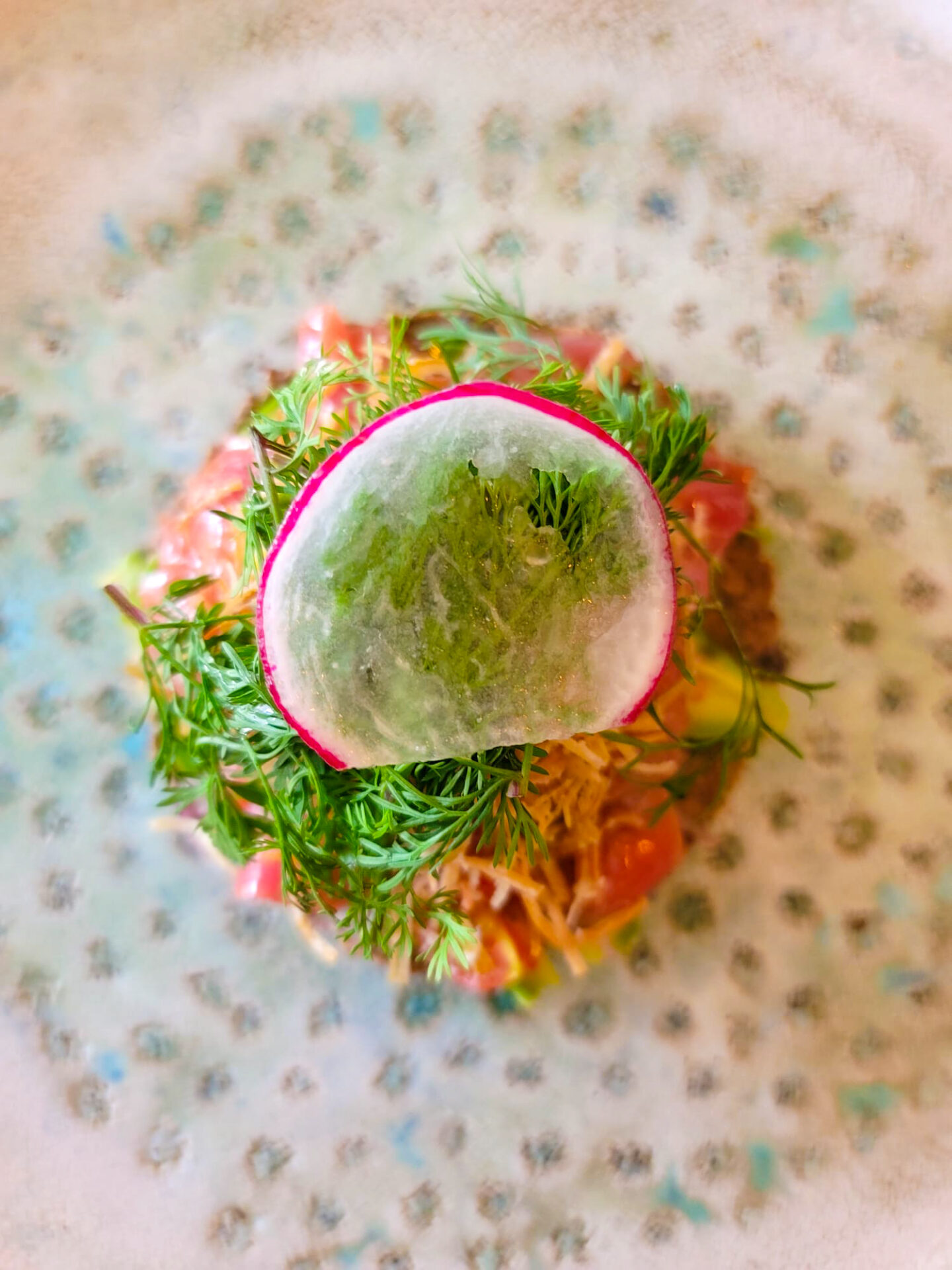 Dinner at Almoraduz is an experience in and of itself. I recommend enjoying at least a two-course meal here, plus the complimentary amuse-bouche of corn stew with chapulines and customary salsas and tortillas. But food isn't all they do! Almoraduz has an in-house sommelier, Pablo, who is so well-versed in Mexican wine, that there is nothing he doesn't know. They also have an excellently curated cocktail menu with the best mixologists in town.
Almoraduz was one of the best dining experiences I've had anywhere in the world, all while being casual and not breaking the bank. If you're a foodie or you just like a nice meal every once in a while, you won't regret choosing this place.
Pro Tip: This isn't just food, it's art so the kitchen doesn't allow substitutions. Be brave and trust the pros!
Get off the Beaten Path in Chacahua
There is no shortage of activities to do in and around Puerto Escondido from horseback riding to kayaking to surfing. But if you want to try something truly unique you should consider a day trip to Chacahua National Park. Although it is possible to do this trip alone, I strongly recommend hiring a guide as the journey is long and complicated.
Chacahua National Park is located about an hour and a half from Puerto Escondido and is not accessible by car. When you book a tour the journey will include a couple of drives and a couple of boat rides through the mangroves before you reach the town. It sounds arduous but this is an adventure worth taking. Most tours include an easy hike to the lighthouse, swimming in the magical bioluminescent lagoon, a gorgeous sunset on the beach, and time to relax.
What makes Chacahua unique is that it is home to the largest population of Afro-Mexicans in the country. Because the area is situated between the ocean on one side and hidden by the jungle and mountains on the other this was a prime haven for runaway slaves seeking freedom. This landscape is also what gives the town a remote and peaceful feeling along with the lack of internet and phone service. Because it's so difficult to reach this is not your typical tourist destination. You won't find it crawling with sightseers, you won't find fast-food chains and you won't find a giant sign that reads CHACAHUA on the beach. This area is of cultural and ecological importance and it offers an incredibly unique and authentic experience for people who don't mind things being a little rustic.
Pro Tip: If you're traveling in the wet season you'll want to book this tour early in your trip in case it needs to be changed. Heavy rains make the journey unsafe and uncomfortable.
Bonus: Catch a World Class Sunset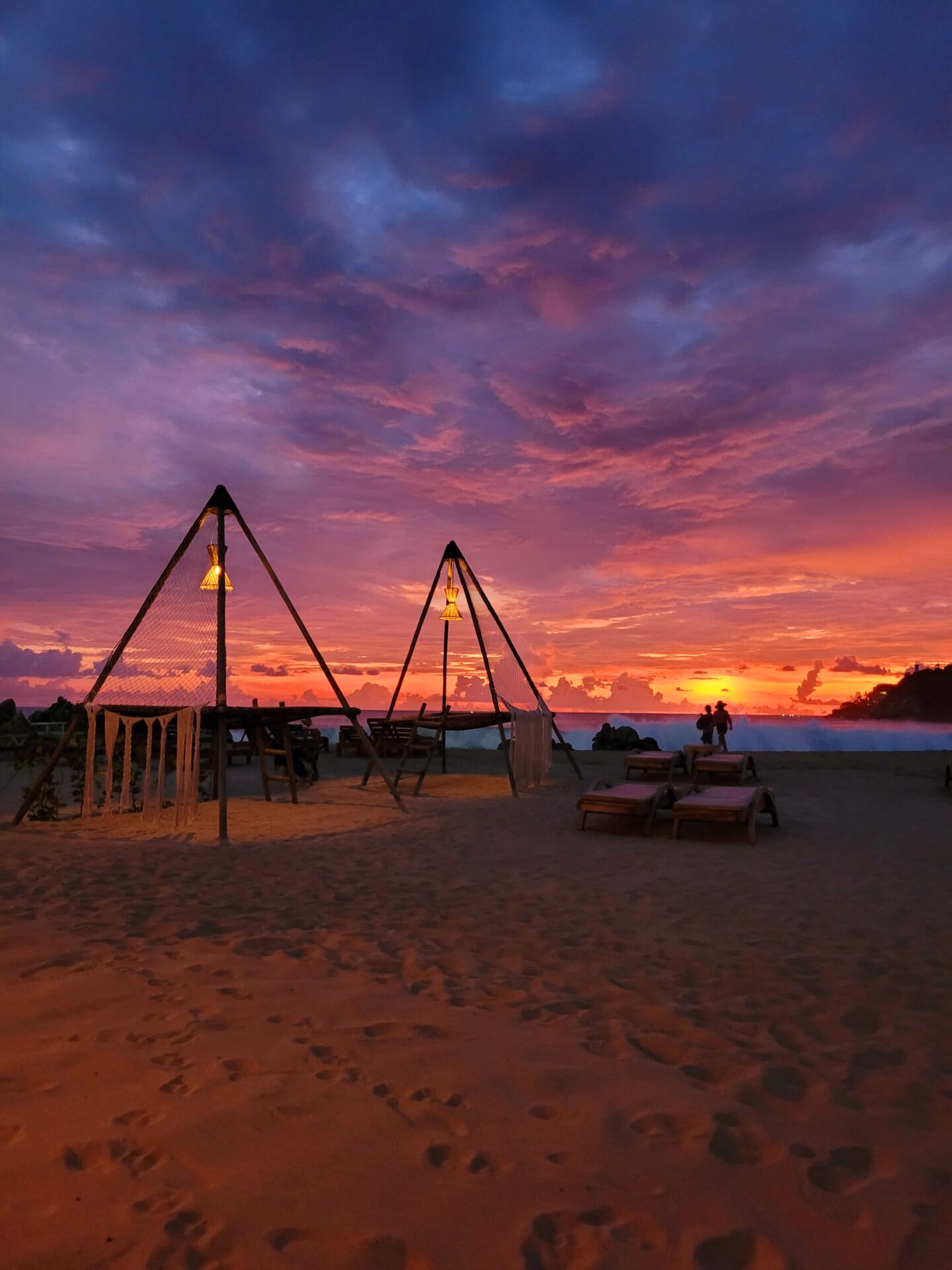 Being on the Pacific Ocean gives Puerto Escondido some of the most dramatic and beautiful sunsets you'll find anywhere in the world. Every night locals and travelers pick a spot on the beach to watch the sky dance with vibrant oranges, pinks, purples, and blues. You can pop down on the sand or try one of the beachfront bars and restaurants for a little added comfort.
However you decide to spend your time, there is no right and wrong way to experience Puerto Escondido. This is the sort of place where everyone is welcome to stay for a day or a while, so what are you waiting for?
If you are looking for all kinds of excursions and car rentals in Riviera Maya, take a look at what my friends from Turismo Channel have! You can check out their tours by clicking here and using the following discount codes for the best prices clairecaroff (car rental), claire10off (for 10% off group tours), claireprivate (for a discount on private tours).
Looking for a place to stay in Puerto Escondido?
Casa Losodeli & Coworking- Adults Only
AUTHOR BIO: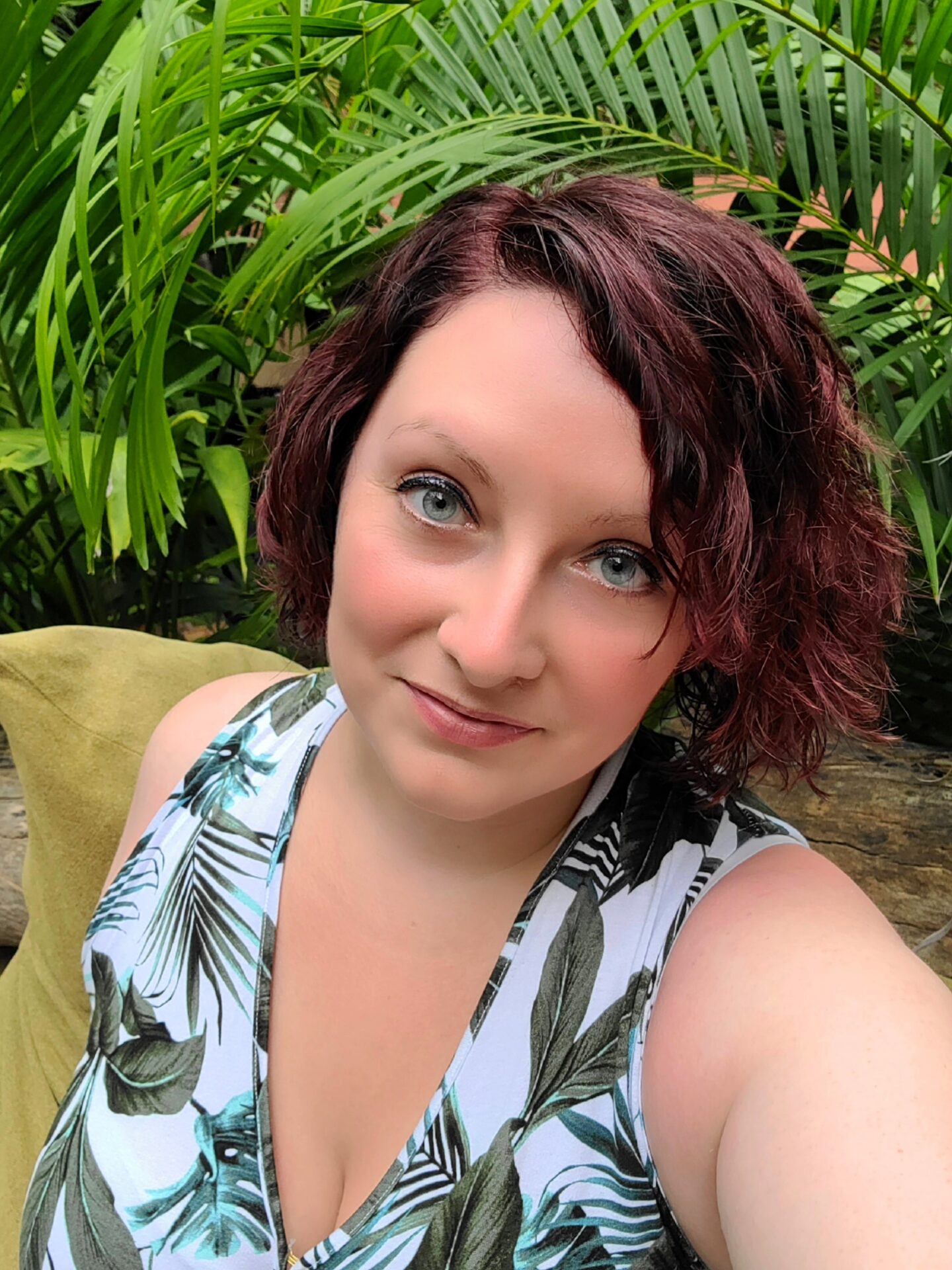 Ashlea is the voice behind She Roams About, where she shares her love of Mexican culture, food, and travel with the world.