Wondering the if Zurich is worth visiting? In this week's Solo Girls Guide my friend Anna from Expert World Travel has put together this great guide full of the best places to travel and see in Zurich, as well as where to stay, and some safety tips!
When it comes to solo travel, Switzerland has many great destinations to offer. From nature to architecture, this country has something for everyone.
Of all the cities, however, Zurich is one of the most popular destinations, and for good reason. Perched on the shores of Lake Zurich, this city is the perfect blend of urban life and the great outdoors. It's also very solo-traveler-friendly with brightly lit streets, convenient transportation options, and many things to do, both day and night.
No matter how short or long your stay will be, traveling to Zurich is something you certainly won't forget.
Did You Get Travel Insurance Yet?

The Insurance companies I recommend are Hey Mondo, Safety Wing, and Travel Insurance Master

Hey Mondo is great if you are looking for a great value flexible policy. They offer single-trip cover, annual multi-trip cover, and long-term travel cover. Safety Wing is great value, with monthly coverage starting at $39. It's super easy to use, and it just renews each month. I currently use them as they offer me free cover for my son as part of my policy. I also use Travel Insurance Master for short trips.

Read my full travel insurance post here, where I go into detail about all companies.
The Best Places to Travel and Things to Do in Zurich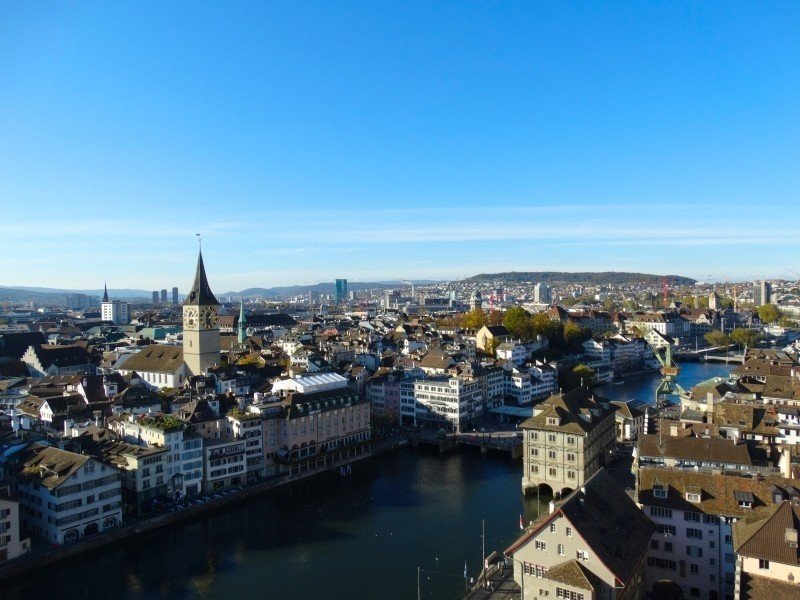 1. Take a Zurich Walking Tour
The easiest, best, and cheapest way to get your bearings is to take a free walking tour around Zurich. There are many options to choose from, and you'll see plenty of other tourists around the most important landmarks of the city.
Tours usually take around 2 hours. They are an excellent option to get a quick overview of what the city has to offer, and mark places you want to go back to for a closer look.
2. Hike to the Top of the Uetliberg
The quickest and most scenic outdoor excursion you can take from the city is a hike to the top of Uetliberg. Zurich's home mountain rises 2,850 feet above sea level and is accessible via train (tram N°13 towards Albisgüetli) or even a trek straight out of the city from Triemli (tram or train stop).
There are two well-marked paths you can take. For a fairly easy trek, take the Laternenpfad. It's pretty steep but leads right into the forest and onto the lookout. For a bit more challenge, the Denzlerweg also goes into the forest but involves several stairs and a ladder-and-chain setup to get over the final rock.
If you really want to take it easy, you can take the train and get off at Ringlikon. From here, it's a gentle 40-minute climb to the lookout point.
Whichever way you decide, the paths are clearly marked and even well lit for an evening hike. There's no need for hiking equipment either, but good shoes are a must to keep you safe. Once at the top, you'll be treated to amazing views looking over the city, Lake Zurich, and the Alpine peaks in the distance.
The form you have selected does not exist.
3. Go Ice Skating
If you head to Zurich during the winter, then you're in for an awesome time. Winter in Switzerland means one thing – snow sports. Many tourists hit the slopes for skiing and snowboarding, but fairly less strenuous activity is ice skating. There are several ice skating rinks all over Zurich that you can choose from. Some are open every year, some open depending on the season, and some with amazing views of the lake even.
4. Explore Lake Zurich
With a lake as beautiful as this so close to the city, Lake Zurich is impossible to miss. A stroll along the banks of this lake is breathtaking in itself. More than that, however, there are several activities you can try out for yourself. Water sports like stand-up paddling, wakeboarding, and boating are very popular around the lake. There are also a few swimming baths in the lake itself, which is a great experience if you have never tried it. Try Bade Enge, and then wait for dark when it turns into a bar.
There are also several restaurants perfectly situated for you to enjoy magnificent views while munching on excellent cuisine. One of the more popular is Lake Side at Zurihorn, but if you want to keep things simple, you can just lay out a blanket and have a small picnic while you watch the sun go down.
Considered the most expensive real estate in the world, Zurich's Bahnhofstrasse is lined with exclusive, high-end stores that would make any girl squeal. From some of the world's top designers to private boutique brands, the Bahnhofstrasse is the shopping mecca of Zurich. Of course, shopping here means dropping more cash than you're probably willing to burn. However, a stroll down this street is fascinating with towering buildings and beautiful window displays. It's a thrill to see the latest in luxury fashion and maybe you can try an outfit or two while you're here.
6. Explore the Swiss National Museum
Spend a couple of hours at the Landesmuseum, also known as the Swiss National Museum, to see some of the most important art collections in Switzerland. Displays go back all the way to the prehistoric era, including paintings, artifacts, and sculptures. In fact, if museum-hopping is your thing, Zurich is well known for its museums and art galleries. You'll definitely find something that suits your taste all over the city.
7. Visit Zurich's Old Town
Every city in Switzerland has its version of "Old Town". Zurich's Old Town is split in two by the Limmat River which leads out of Lake Zurich. The left bank is called Lindenhof most popular for Lindenhof Hill, which has a park with a great view worth dropping in at.
On the east bank are Brunnenturm and Napfgasse, built in the late middle ages. These are lined with charming old streets and many historical buildings. A popular area in the Old Town is Niederdorf, a pedestrian zone filled with shops during the day and bars during the night. You'll also find amazing local cuisine for a gastronomic experience or a place just to have a coffee or beer and people watch.
8. Wander Around the Historic Churches
Zurich is also filled with many architecturally stunning churches. The most famous landmark is the Grossmunster, which was said to be built on top of the city's patron saints, Felix and Regula. There's also the Fraumunster, also known as the Women's Church. It features five stained glass in the chancel created by March Chagall, creating a visual feast within the church walls. You can also visit St. Peter Kirche, the oldest Parish church in the city.
Zurich's Nightlife
Zurich definitely comes alive at night. The city is popular for some of the hottest nightclubs in Switzerland, from intimate and exclusive settings to massive venues open till way past dawn. Depending on how hard you plan on partying, Zurich nightclubs are known to be quite safe. Crowds tend to get rowdy later into the night, so if you want to hit up the more popular clubs, better to go with some friends you've made during your trip.
If you're not into a wild night, the best way to enjoy Zurich nightlife is with a cocktail at the many rooftop bars along Lake Zurich. Places like Bauschänzli and Barfussbar offer excellent views of the lake and the Alps together with great food and yummy cocktails.
If not the rooftop, you can also head to the many outdoor pools along Lake Zurich that turn into chill-out bars and lounges in the evening. You can head to Rimini Bar or Seebad Enge, which are as popular in the evening as they are during the day.
If you're looking for something a lot more relaxing, you can opt to take a sunset cruise on Lake Zurich or the Limmat River. This usually includes meals aboard steamboats and starts at 5:30 in the afternoon.
Getting Around Zurich
You'll never have problems with getting around Zurich. Switzerland is well-known for its extremely efficient transport system whether it's city-to-city or exploring inside the city itself.
You can get all the schedules and information on the tram, bus, and rail networks on the local transport system website.
If you're visiting other countries, you might consider getting The Swiss Travel Pass which gives you access to almost every transport option imaginable. And given how costly rail travel is in Switzerland, it's worth checking out.
You can also find many bike rental stores around Zurich. Since so many places in Zurich are walkable anyway, going around on a bike makes things easier and much more fun. Also keep an eye out for Züri rollt stations, which are bikes you can use for free. There's a 20 CHF deposit and you'll need to present a valid ID. You won't be able to reserve a bike, so try to get to the stations early. Stations are open up to 9:30 PM, however, so you can't go biking all night.
Public transport stays open till late during the weekends, but it's also possible to hire an Uber for those times you're not exactly capable of finding your own way home. It's a lot more expensive than your other options, but it's the safest and most convenient way, especially after a night of partying.
Walking around the city is pretty simple and safe, even at night. There are some areas such as Langstrasse and Hardbrucke that are a bit rowdier than other places. These are lined with bars and clubs and, while Zurich is one of the safest cities you can ever go to, human behavior is still unpredictable and it might be wise not to walk alone around here late at night.
How to Get From Zurich Airport to City Centre
Getting from Zurich airport to the City Centre is very easy on Public transport. To help you out here are the different ways you can travel from the airport to Zurich Centre.
Option 1 – Take a taxi from the airport to Zurich City Centre
If you are in a rush and don't want to deal with public transport you can take a taxi to Zurich City Center from the airport and it will take around 15 minutes. There are marked taxi ranks at both arrivals 1 and 2 and you can expect to pay around 50–70 CHF ($50-70 USD). If you have a lot of luggage, you may be required to pay a supplement. This is not the most budget-friendly way to travel!
Option 2 – Take the airport train
During rush hour this is the fastest way to get from the airport to Zurich City Centre. The trains run every 5-10 minutes daily from Zurich Airport to Zurich Main Station from 5.00 am until 0.30 am.
Both the S-Bahn lines S2 and S16 will also take you to Zurich Main Station in around 10 minutes.
A single ticket will cost 6.80 CHF ($6.80 USD) for adults.
Option 3 – By Hotel Shuttle Bus
If you have booked a hotel in Zurich then check with them if they provide a complementary shuffle bus service. Many of them do so it is worth asking!
Where to Stay in Zurich
There are many accommodation options in Zurich for a wide range of budgets. Keep in mind, however, that "budget" accommodations in Zurich are still quite expensive compared to other countries.
There are also some great AirBnB homes and apartments for a more unique stay in the city, too. These AirBnB's are quite stylish though and would be more for the high-end traveler looking for a place to call their own.
Want money off your first Airbnb booking? Click here.
In any case, if you're traveling alone and looking to make friends, then hostels are great options to meet like-minded travelers. If you're more of the pampered type, luxury accommodations in Zurich will not disappoint.
Claire: If you are backpacking in Switzerland you should check out these Swiss Alps Villages, so cool!
LADYs First Hotel is an Art Nouveau hotel with special consideration for female guests. Males are allowed to book rooms, but certain facilities such as their wellness center are exclusively available for females.
Another all-female accommodation is Josephine's Guesthouse. It's found right in the city with rooms available per night and monthly. They also welcome not only guests but women in emergency situations in need of a safe place to stay.
Both LADYs First and Josephine's Guesthouse are run by the same management. They have another budget-friendly accommodation called Hotel Marta found in Zähringerstrasse. Rooms are very modern and stylish with minimalist interiors and breakfast included in the rates.
Other nice Hotels:
Hotel Alexander Zurich Old Town
Safety Tips for Zurich
There are very few places if at all, that are considered safer than Zurich. Even the "worst" areas, including the red light district, in the city, are quite safe. Zurich locals are very law-abiding, respectful, and generally helpful, and being a solo girl you will have a very comfortable time making your way around the city.
Of course, it's still best not to be lulled into a false sense of security. Applying the usual common sense and alertness you'd have traveling anywhere else will keep you from running into any kind of trouble. While wearing expensive accessories or cameras won't turn a lot of heads in Zurich, it's still good to keep them hidden and be mindful of your belongings. Zurich is safe but not 100% crime-free.
When going around the city, make sure you have some form of identity with you as it's required by Swiss law. Instead of carrying around your actual passport, better to carry around a copy of your passport and another form of identification like a driver's license. This way, you won't have to worry too much about misplacing your passport. If you're a student, it would also be good to bring your school ID so you can score some discounts.
Final Thoughts
Zurich and Switzerland, for that matter, are very safe places to visit all year round. No matter what age or gender, the city offers a lot of things to do and enjoy. For solo female travelers, a trip to Zurich is a comfortable and easy one. From accommodation and transportation to outdoor adventures and night outs, Zurich is a phenomenal city to visit.
Anna's Bio
Anna was born to travel the world having studied languages all her life. Although she has traveled the world, she now calls Switzerland home and spends her time writing about her experiences on her travel blog with her husband.
Pin for Later!
Check out our other Solo Girls Guides
Barcelona | Copenhagen | Israel | Kuala Lumpur | Moscow | Nepal | Queenstown | Prague | Santa Barbara | Stockholm | Uzbekistan | Vegas | Zurich