If you are working as a content creator and you aren't doing any Influencer outreach then you are seriously missing out! In this post, I'm going to be sharing some of my tried and tested pitching email examples as well as some general guidance on how to reach out to brands as an influencer.
Before you go any further though make sure you have read my post on securing sponsorship as a blogger and this guide to help you create a blogger media kit. You are going to need to work through both before you start your influencer outreach work, so go do that now and then come back for the final piece of the puzzle.
Why you need to pitch brands and do influencer outreach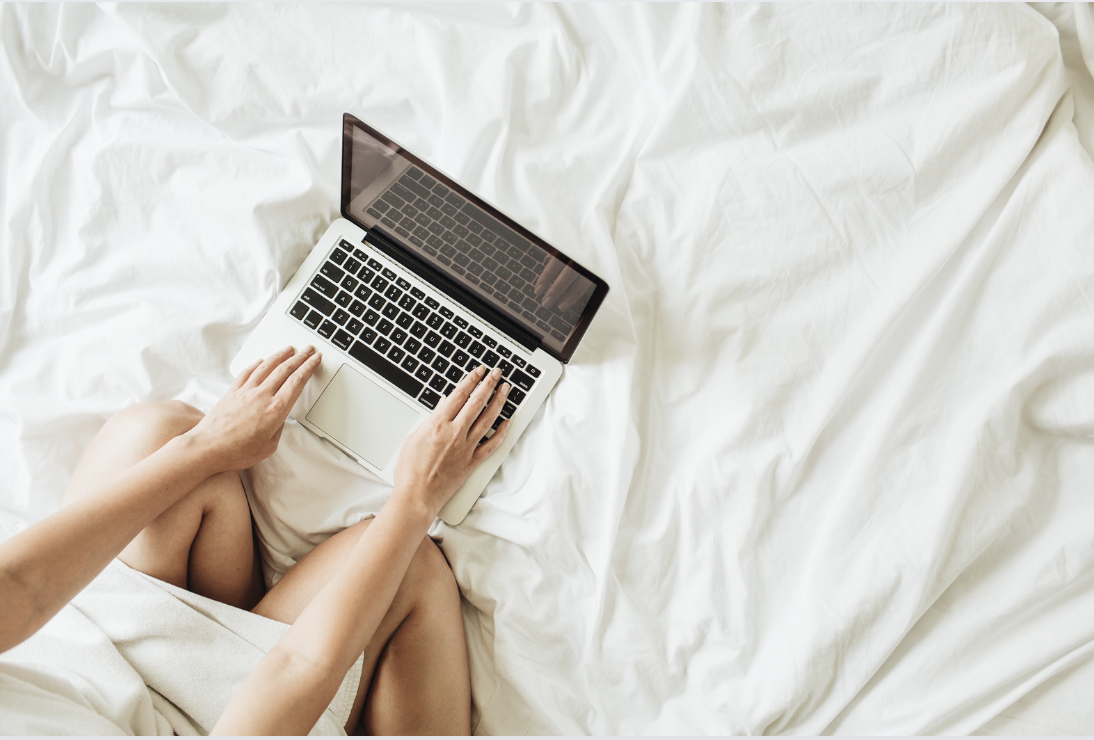 So why do bloggers need to pitch brands? Simple, to make money! But also because you might want products to review for your blog, or for sponsored travel. Notice how I don't use the word 'free' here? That's because nothing is for free!
If someone is giving you something, they expect something in exchange for that product or service. Please remember that when you are pitching, language is important, and you are asking for free things you are doing yourself and every other professional blogger in this industry a disservice. Instead, use the word collaboration or exchange.
Perfecting your travel pitch and figuring out how to pitch to hotels as a blogger can be a real game changer. I know it was for me! In the beginning, it can be hard as you will get more no's than yes's. But that's all part of the process.
The key is to learn how to pitch to brands as efficiently as possible and try not to take the rejections personally. When one door closes it is just making space for something even better to come along. Soon enough you will be a pro at how to reach out to brands as an influencer and it will just become a part of your day-to-day business.
As a travel blogger, I send pitching content to accommodations, tour companies, and travel providers mostly. Occasionally I may pitch for products, but generally, I'm the one pitching content from brands wanting me to review their products.
When I say pitch or pitching content, what I mean is I write them an email asking them for something, in exchange for a feature on my blog or social media.
Pitching brand content is an art, especially as these days people's emails get so full of spammy emails. This makes it important to get it right and stand out as being someone they want to reply to.
If you are sending a copy and past email blast to brands they will know, and you will just end up getting trash canned. This brings me nicely to my next point…
Who to send pitching content to
It may be tempting to go crazy and pitch to everyone and anyone. But resist this urge, instead, do your research and only pitch to brands that you genuinely want to work with. Do your research, learn more about the company, read reviews, and look at who they have previously worked with. All of this will not be wasted as you can use it in your initial email.
If you are looking to work with companies on a trip you are taking then reach out to other bloggers who visited that area and ask for advice and contacts. Or just see who they worked with and approach them. It's always best to work with companies who are already open to working with influencers as you won't need to work so hard to convince them there is value in what you offer.
Make a Google sheet and add in all of the information you collect on each company including the contact details, use this to keep track of who you sent pitching content to and the outcome, positive and negative.
My process is to send an initial email, then if no answer I'll send a follow-up 1 week later, and then a final email 2 weeks later. I have all of this automated on Click-UP so myself and my assistant can keep track of who we are emailing about what and when!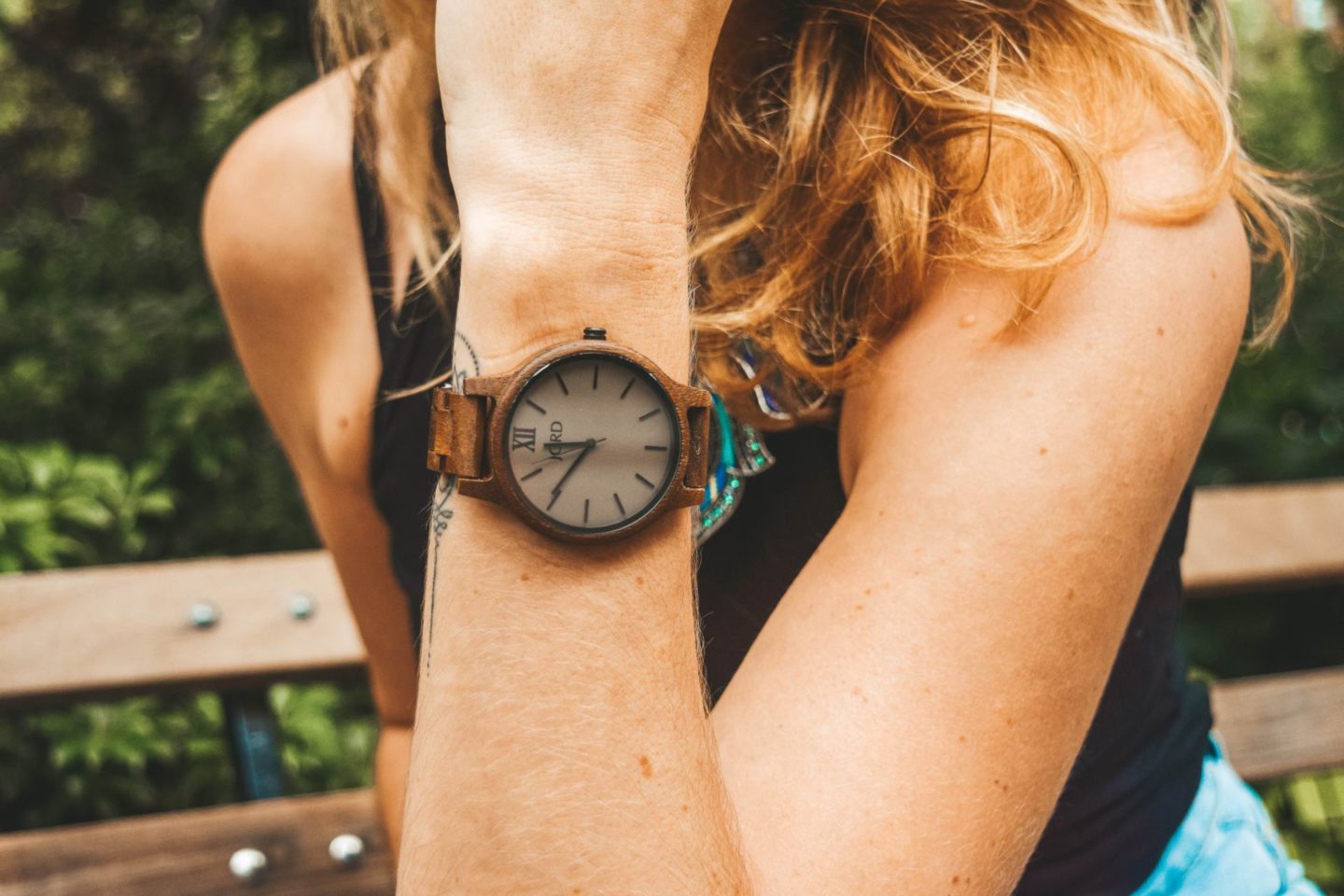 Pitching Email Example – What to put in a pitch to brands for sponsorship
So now you have your list of people to pitch to, it's time to write your pitch! Remember to keep it short and to the point, people are busy so don't waste their time by making them read an essay. This first email is just testing the water, if they ask for more information then you can give them that in your second email.
Here is a pitching email example to help you know what to include in your influencer outreach:
Who am I?
No. 'I don't mean Hi I'm Claire'. My email address tells them who I am, as does my signature. But you need to tell them who you are.
I am a digital influencer and I run a travel blog for adventurous women called Claire's Itchy Feet. My blog focuses on all things related to solo travel, female empowerment, and adventure'.
If I am pitching to a Scuba Diving company then I would probably include something about diving in this opening sentence too.
What do I want?
Be clear from the start what you want, get to the point, but make it open enough so they want to know more about your amazing offer.
I'm going to be traveling to Colombia next month and I would love the opportunity to collaborate with you.
How can we work together?
List a few ways you think you could work together, what can you offer them? I have a list of services on my media pack that I can use here, however, I personally prefer to take a little more time listing a few things that I think would work well for the company I'm pitching.
I will be writing a blog post on the best places to visit in Medellin, Colombia and I would love to feature your tour in this post.
Examples of work with links
Now, this part is very important, this is your social proof. Here you need to put in some key figures, for example, how many people read your blog each month? How many followers do you have on social media? Just put your key stats here, everything will be in your media kit for them to see, this is just to pique their interest.
As well as stats you need to link to at least 3 examples of your work. But not just any work, it must be relevant to what you are offering to them and showcase what you can do. For example, if you are pitching to a hotel for a stay in exchange for a review, then send them some reviews you have written about other hotels.
Media Kit
Always attach your media kit and let them know it's attached and what they will find in it.
How to write the perfect pitch pro tips
Get to the point!
Seriously, don't waffle or give them unnecessary information at this point. The goal is to get them to reply to you asking for more information so you can open a conversation. Be clear and specific about what you want.
Media pack
A blogger media kit is a must. If you don't have one yet then read this. You should make sure you always attach it to anyone you are pitching. It is your calling card and it will make you stand out as a professional. If you don't take yourself seriously, no one else will. If you don't have hours to spend designing your own media kit then click here to buy one of my templates.
Find a name/ contact if possible
Don't send email blasts or emails 'to whom it may concern' find out the person you need to be writing to and use their name. If you can't find it instead, use something like, Hi Claire's Itchy Feet team. It's so much better than Dear Sir/ Madam or other generic greetings.
Social media links
Always embed links to all of your social media platforms and your best work that will really connect with the brand you are pitching.
Find ways to connect and make your pitch personal
If you know they have worked with another blogger in a similar niche don't be afraid to name drop, I saw you worked with XYZ we have a similar audience and think would be a great fit… I also always like to include something I've found out about them that aligns with my brand.
For example:
I'm looking for a company to work with in Medellin that aligns with my brand and saw that last as a company you are 100% single-use plastic-free. I think this would really appeal to my audience who are all environmentally conscious travelers.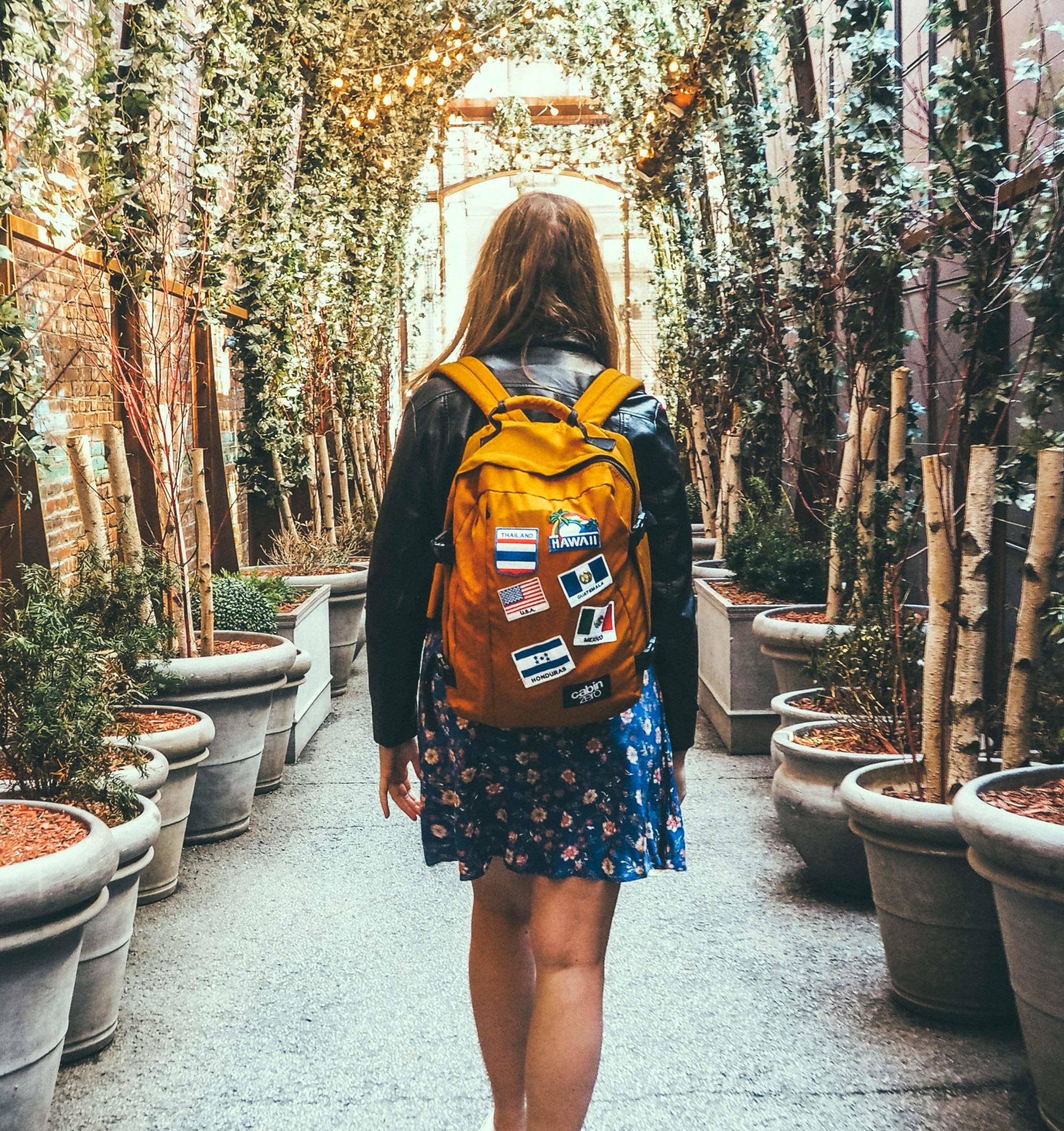 Spell check!!!
And then spell check again. Please please proofread your work and make sure you download Grammarly if you don't already have it. This is especially relevant if you are copying and pasting to send a similar email to multiple places. You do not want to send out an email to one hotel with the name of another hotel in the body of the email. So make sure you triple-check your email before you send it.
And that's it! Keep it short and to the point and sign off asking them to get in touch if they want more information. If they don't get back to you in a week follow up. If you still don't hear after that cross them off your list. Remember when you are starting out you will probably get a lot of rejection, but don't be disheartened once you start getting some success it will lead to more, and eventually brands will be pitching you!
Here are a few pitching email examples for you to read:
Pitching email example 1
Wondering how to pitch to hotels as a blogger? Here is an example of a successful travel pitch to a hotel I worked with in the UK.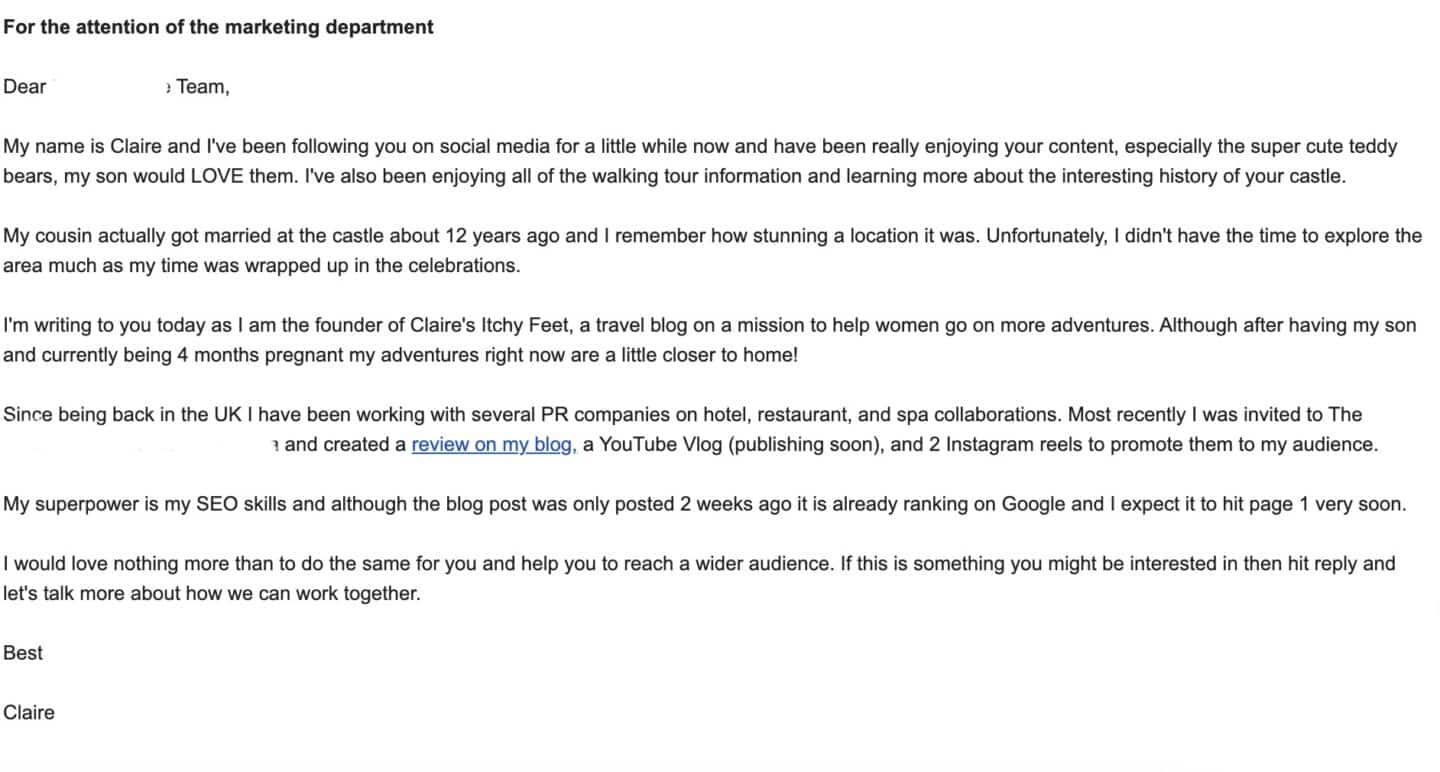 Pitching email example 2
Wondering how to pitch to brands? This is an example of a brand pitch I sent to a skincare brand.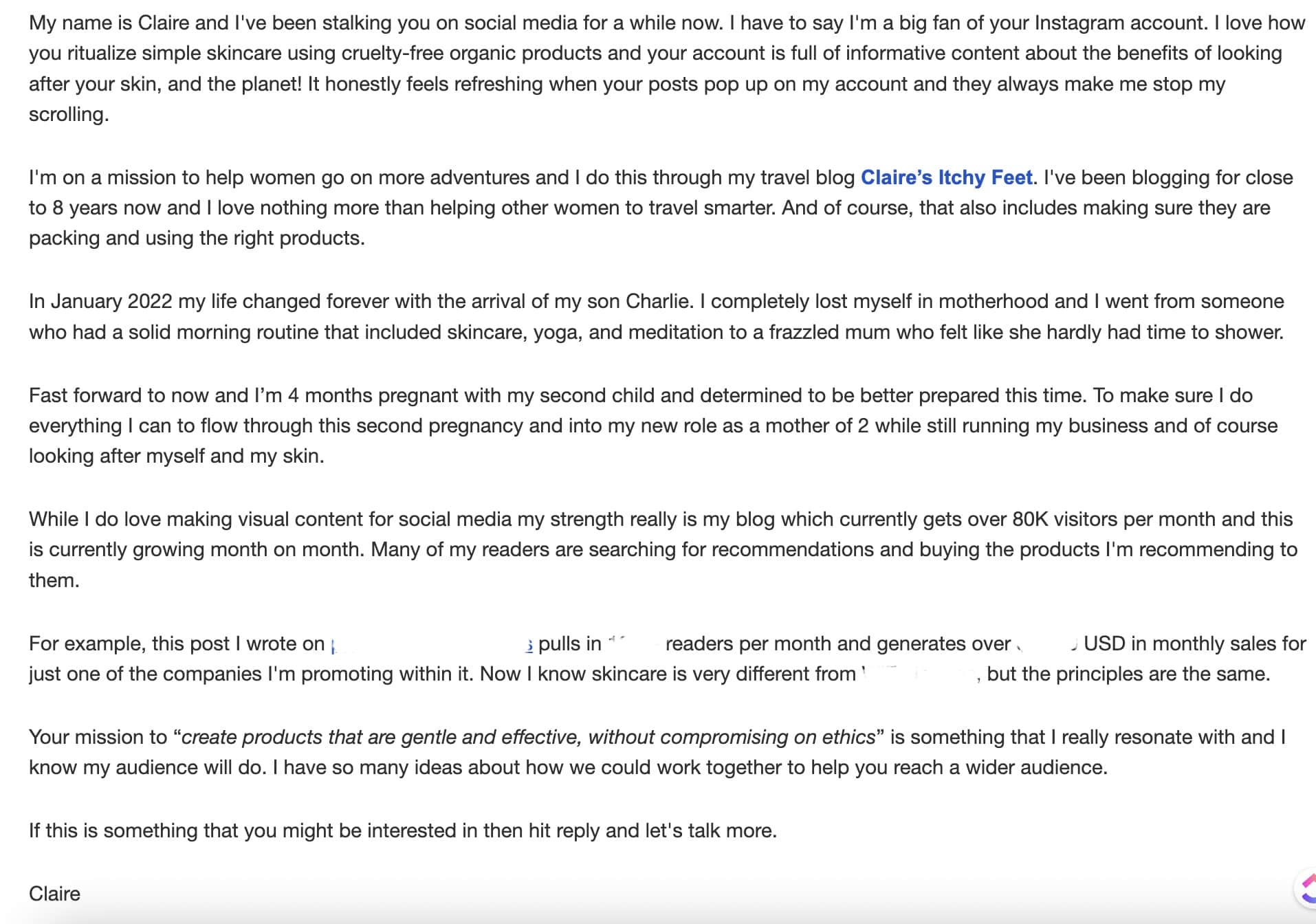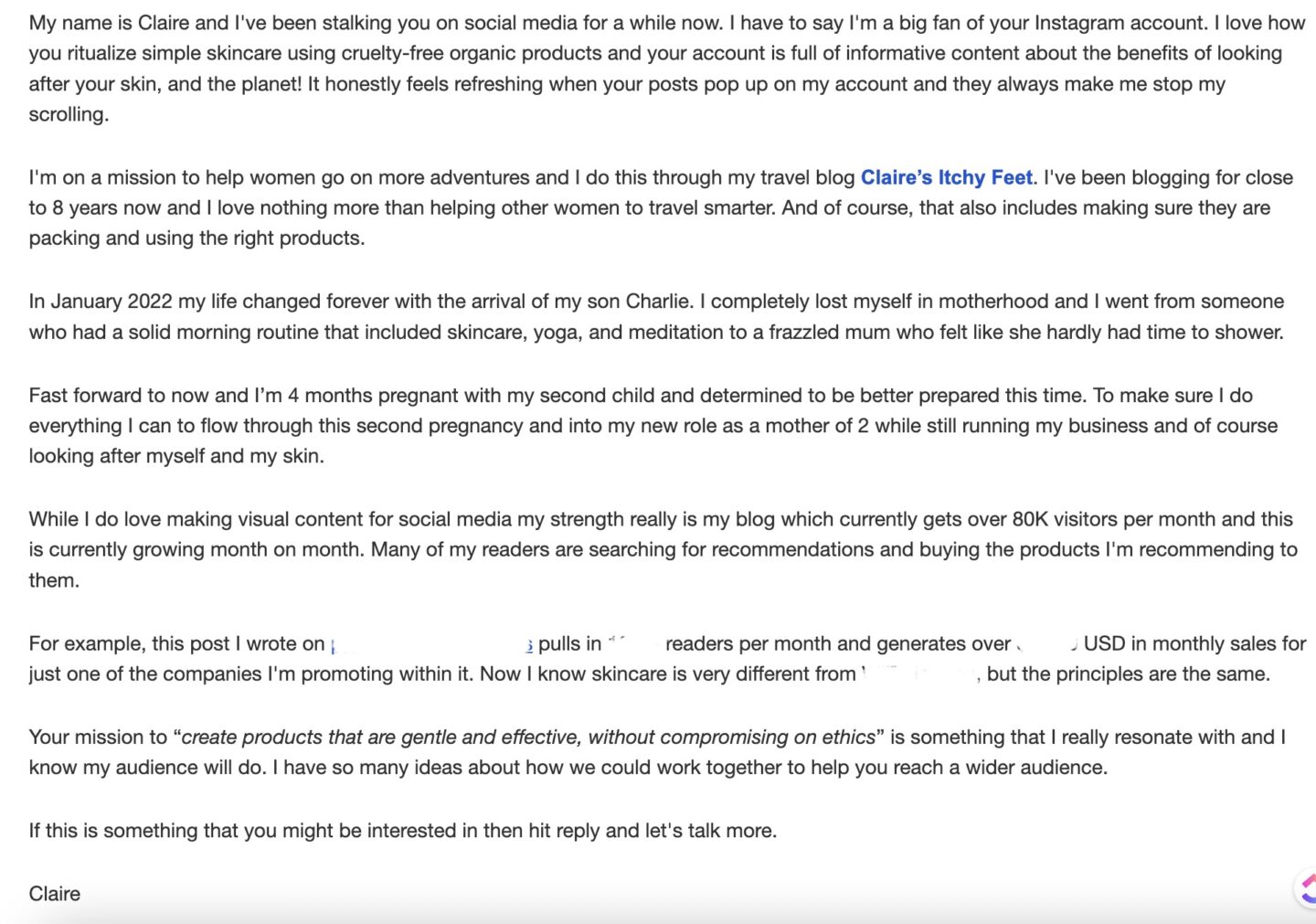 Pitching email example 3
And finally, this is a reply email to a a brand pitch that I received. I always confirm my authority and experience before sending links to my media kit and rate card. Just so the brand is clear I don't work for free!
Final Thoughts
And that's it! I hope this influencer outreach brand pitch guide has been helpful. Please feel free to use these influencer email templates to help you create your own pitching content!