In this post, I'm going to give you the inside info on Cozumel Scuba Diving and why it's always a good idea! Having lived in the Riviera Maya for 3 years, it's fair to say I've become pretty clued up on the best places to dive in the Riviera Maya. And the place I returned to time and again to dive was Cozumel. I will NEVER get tired of Cozumel scuba diving.
In the years I lived there I was lucky enough to go diving in the Caribbean a lot! Highlights include bull shark diving in Playa del Carmen, Tulum (cenotes), and of course, Cozumel. If you want my honest opinion on diving in the Riviera Maya, scuba diving in Cozumel wins every time.
Did You Get Travel Insurance Yet?

If 2020 taught us anything, it's that you need to be prepared for anything!

The Insurance companies I personally recommend are Hey Mondo, Passport Nomads, Safety Wing, and Travel Insurance Master

Hey Mondo is great if you are looking for a great value flexible policy. They offer single-trip cover, annual multi-trip cover, and long-term travel cover.

Passport Nomads provides the most comprehensive cover for Digital Nomads. If you find yourself in need of medical care you just contact them and they will pre-load your card with the funds to cover your treatment, meaning you won't need to pay out of pocket and then put in a claim later.

Safety Wing is great value with monthly cover starting at $39. It's super easy to use and it just renews each month. I currently use them as they offer me free cover for my son as part of my policy.

I also use Travel Insurance Master for short trips.

Read my full travel insurance post here where I go into detail about all 4 companies.
What's So Special About Cozumel Scuba Diving?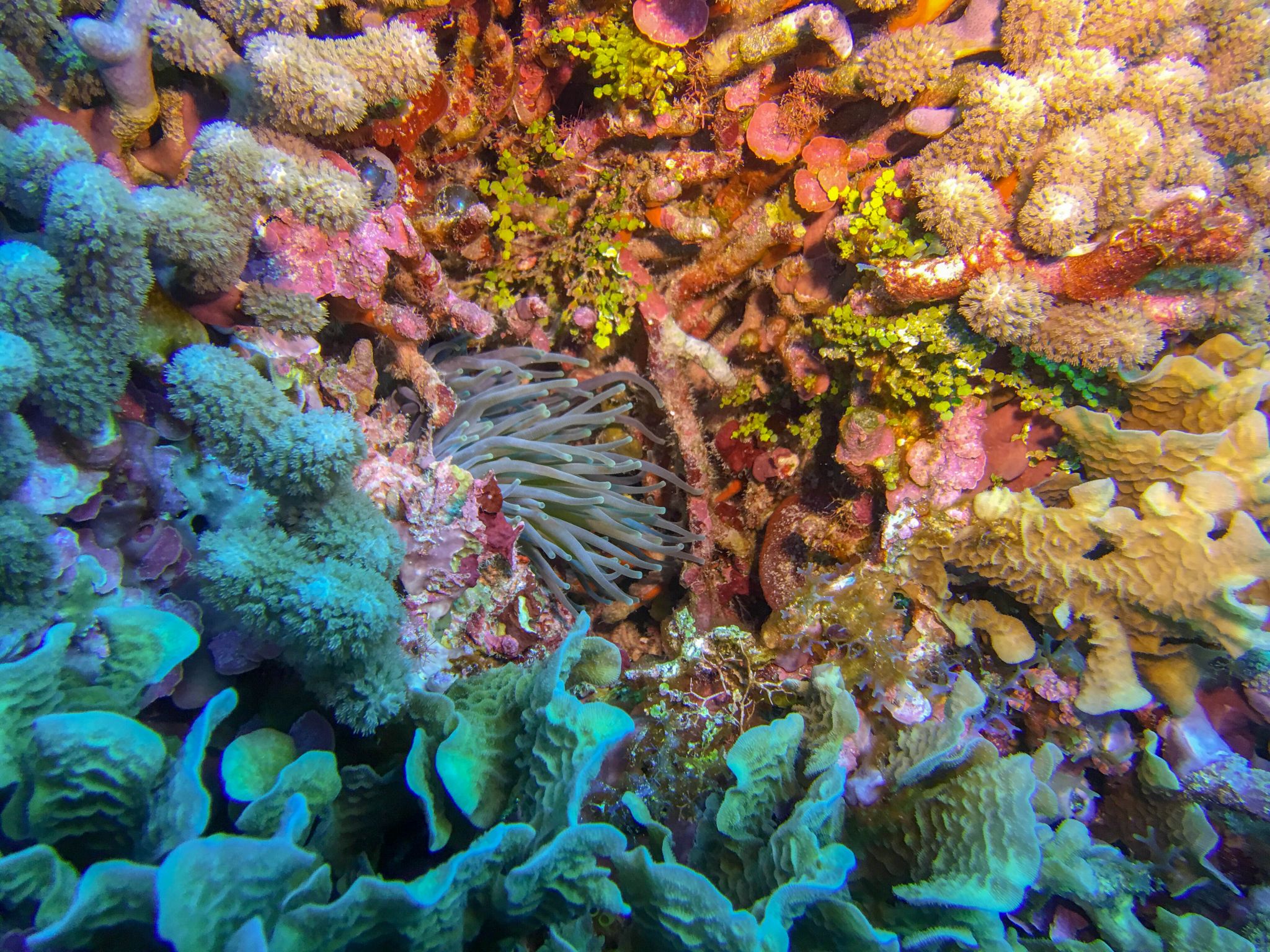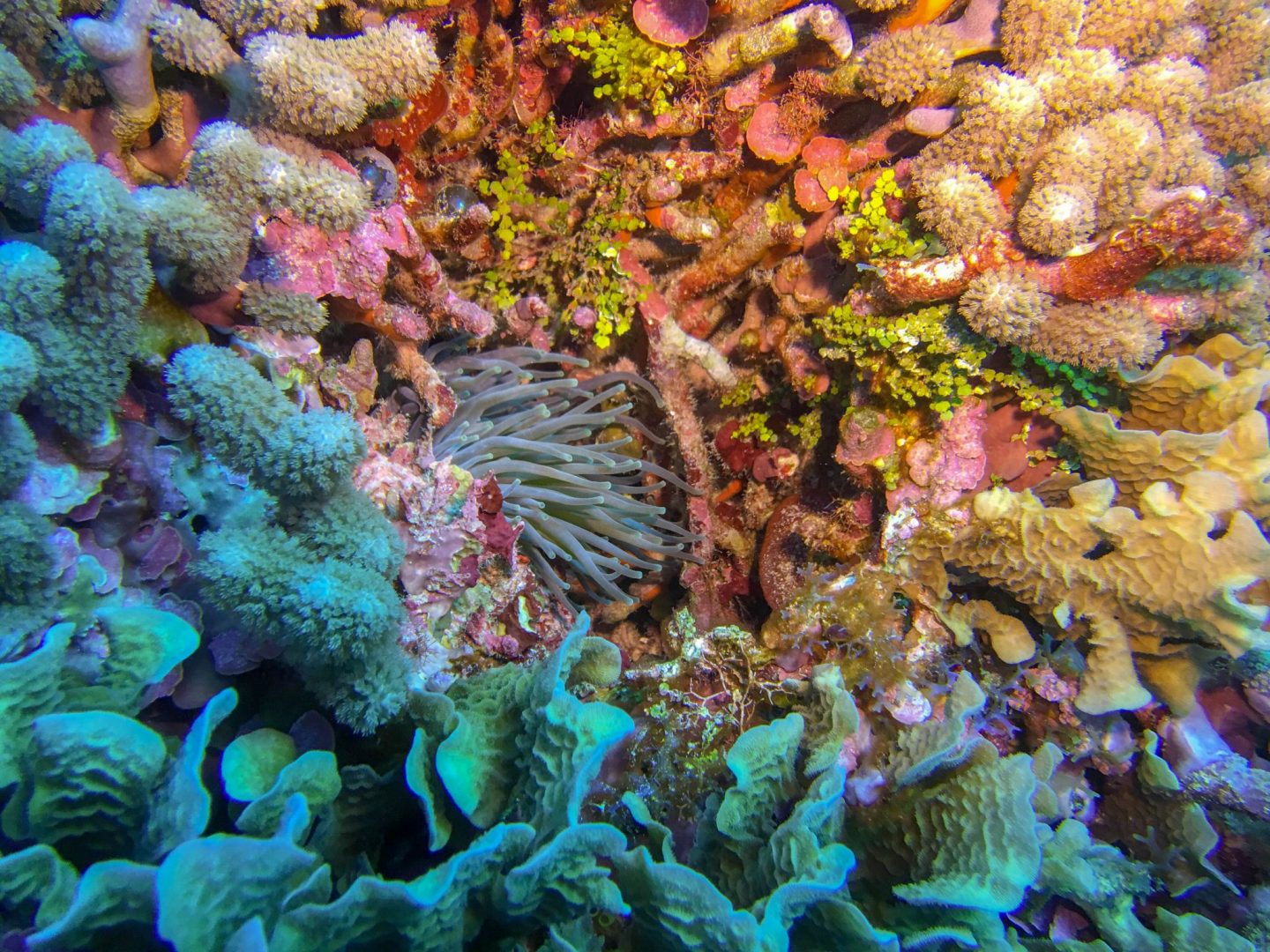 What's not! The reefs in Cozumel are world-class, in fact, their reef is part of the second-largest reef system in the world stretching nearly 115 million acres. And while sadly other reefs in this area are in a state of alert because of Cozumel's protected status it is still as healthy as ever.
The reef itself is made up of 26 different coral species, with over 500 species of fish to be found! Plus you can see sharks all year round. Pretty impressive right?! Cozumel diving is suitable for all kinds of divers. From complete beginners, looking to get certified, to advanced divers wanting to add eagle rays to their logbooks!
As a new diver, Cozumel is a great dive destination because almost all of the sites are suitable for beginners. So even if you have more advanced divers on your boat you can all dive the same sites together. Almost all of the really good sites here are great for beginners and divers with experience. That's what makes Cozumel such a world-class diving destination.
Quick Tip: I highly recommend booking all of your Mexico transportation with GuateGo. You can search for buses, shuttles, ferries, and Flights on their website. What I love most about them is their customer service. I know these guys personally from my time living in Guatemala and they look after their customers.

If anything happens and you get delayed and miss your bus, you can just call them and they are always there to help. If you book through them you will pay a little more than if you book in person at the bus station. But it's worth it for the ease and security. Click here to search for transportation in Mexico.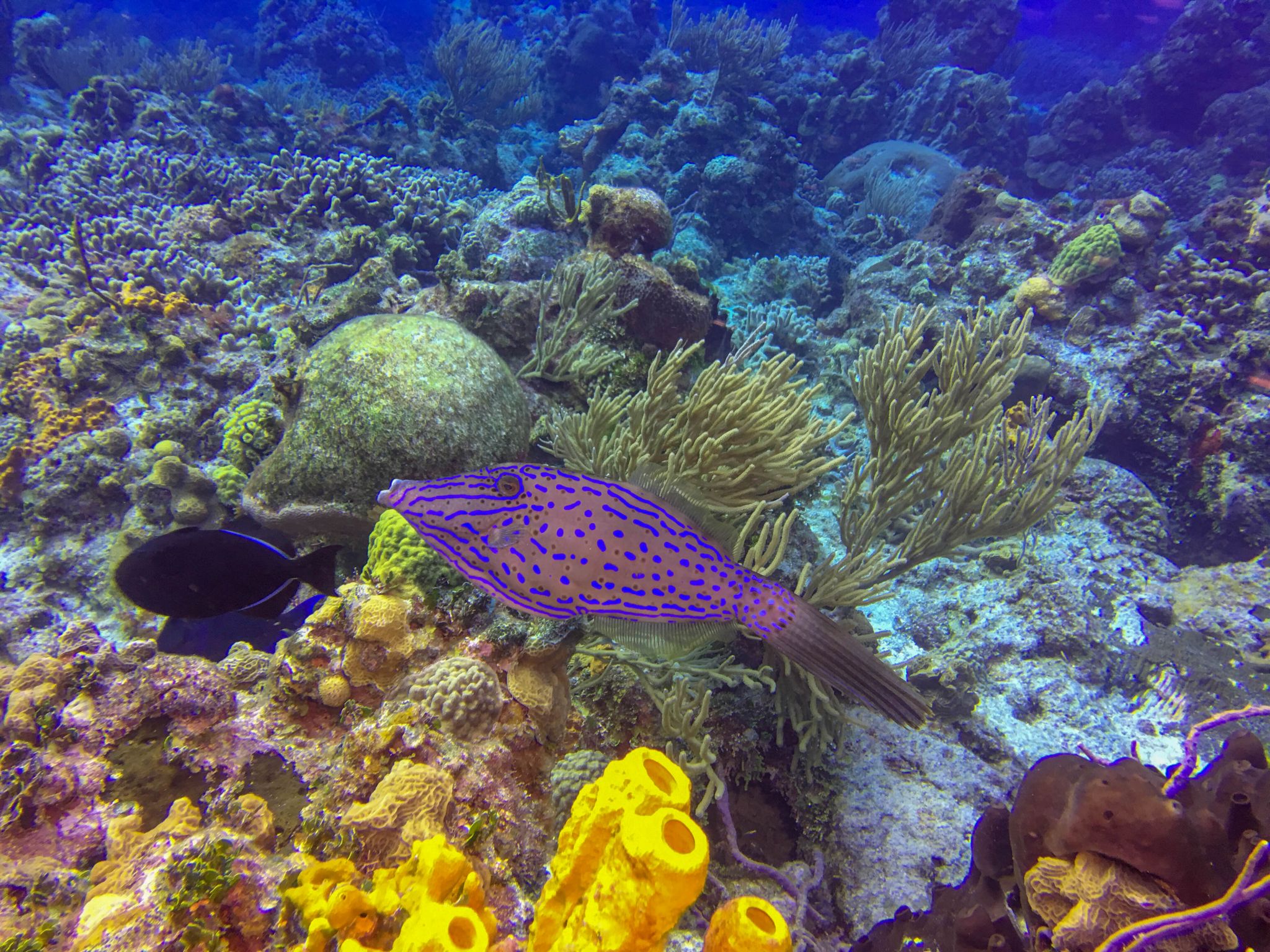 I personally have never had a bad dive in Cozumel. In fact, I feel like, on each dive, I've seen something new to get me excited! I've dived with sharks, turtles, eagle rays, huge crabs, toadfish… I could go on and on. What I'm trying to say is, the diving is ok in Puerto Morelos and Playa del Carmen. But in Cozumel it's magical!
Plus Cozumel drift diving is pretty great, you get to float along saving your air so you can dive for longer…winning!
When to Go Scuba Diving in Cozumel Mexico
There really is no bad time to go scuba diving in Cozumel! Water temperatures are warm all year round, they just drop a little in the winter. But you may prefer to do it during a specific season so you will get the chance to see something special.
Winter (December – April) is the high season in Cozumel so expect to pay a little more for accommodation. Temperatures are a little cooler but still warm.
During the winter season, there is a good chance of seeing eagle rays on your dive.
Summer (May – November) is low season and temperatures can get pretty hot! But in my opinion, it is a great time to go diving so you can keep cool underwater. You will also find better deals on accommodation and fewer crowds on the beach.
Cozumel Dive Operators – Who Should You Scuba Dive in Cozumel With?
So, if I've convinced you to hop on the ferry and travel over to Cozumel diving you are going to want to find the best scuba diving shop in Cozumel to go with. Living in Playa del Carmen and spending a fair amount of time in Cozumel I've been lucky enough to get to dive with a few dive companies in Cozumel and go to a lot of the best Cozumel dive sites.
There are several things to think about before deciding who to dive in Cozumel with, and I beg you, don't let cost be the main one. Because believe me when scuba diving is concerned you don't want to risk diving with a substandard company just because they are the cheapest.
Especially if you are planning on renting equipment from them. I personally check out a few things, Trip Advisor, Rate my Dive, and where possible I get personal recommendations from other divers (normally from Girls That Scuba Facebook Group). Then I go through the websites of the companies to get a feel for them.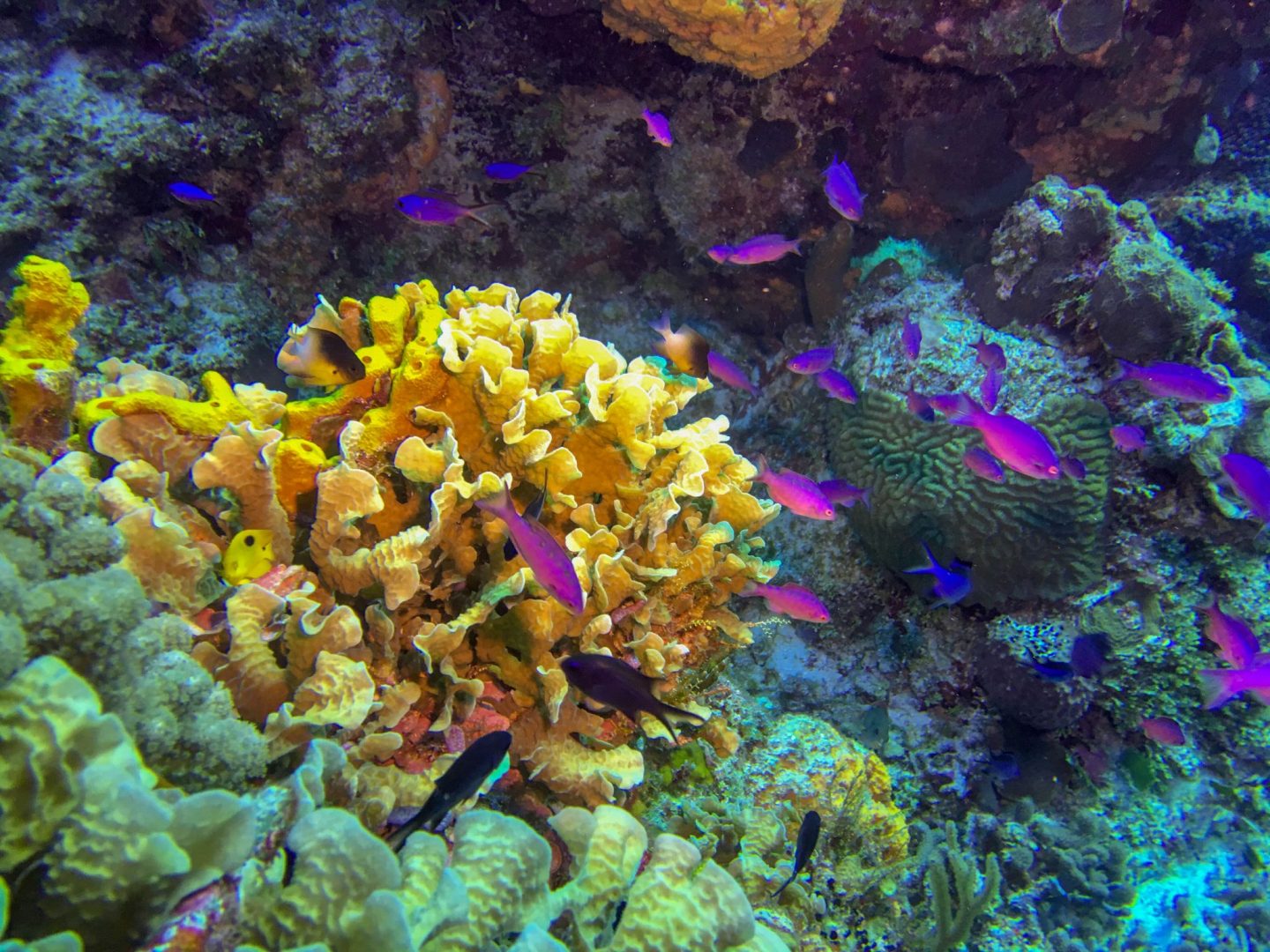 There are a few things to watch out for when planning your Cozumel scuba diving (that many people aren't aware of):
Check how far south they go
Ok so, in general, the better Cozumel diving sites are a bit further south. But many companies don't want to take you there because to be blunt, they don't really care about your experience that much. They prefer to just make things easy for themselves, save fuel and time and take you to sites close to them. Often these companies are the cheaper ones that don't pay their employees very well.
Some companies will go south, but they will charge you extra if you want to go further than Palancar. The better companies have a diver's choice policy and will ask you where you want to go when you get on the boat. To get the most out of your trip it's a good idea to do a little research!

Hidden charges
Just check online exactly what is included on your trip. You will need to pay extra for rental gear which is pretty standard. But you may also get charged extra for the national park entrance and if you want to visit the most southern dive sites. So it is wise to just double-check before booking.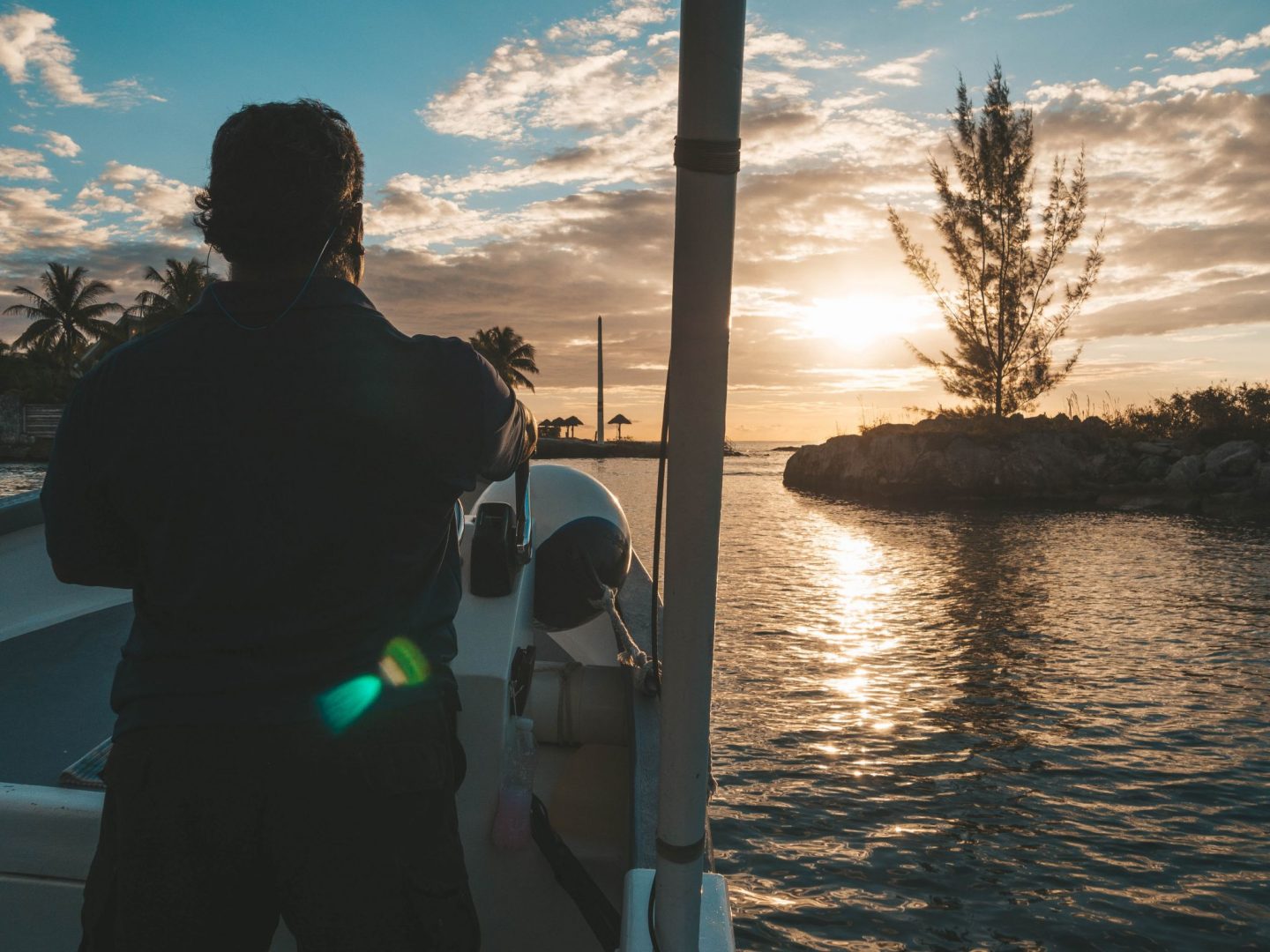 Boat size
Unless you want to be on a big boat full to the brim with divers and have to share the reef with a lot of other people. I would advise against booking with one of the larger companies. One of the great things about ScubaTony is that there was a maximum of 6 divers to the boat and because they often go to the more southernly dive sites that the others avoid it meant that we mostly got the reefs all to ourselves. On the bigger boats, I've been on we would be split up into groups to enter the water, but often ended up as one huge group… It's just not as much fun!
Pickups
If you are staying on the waterfront most of the time you will be able to be picked up by the dive operator. But it is worth double-checking with both your hotel and the dive company. Some hotels work exclusively with certain companies. Others will charge a fee to the dive company to be able to pick you up. If you are still deciding on a place to stay while in Cozumel then take a read of my Cozumel accommodation guide here for some of my top picks of places to stay.
Equipment
If you are renting equipment be sure to ask when it was last replaced/ serviced. Don't just blindly believe that all companies are going to invest in new equipment all the time. Your life is going to be dependent on that equipment underwater so always, ALWAYS check! I would also strongly advise you to invest in your own dive computer, especially if you are planning on doing multiple days of Cozumel scuba diving. You can read my dive computer review here if you need some help choosing the best one for you.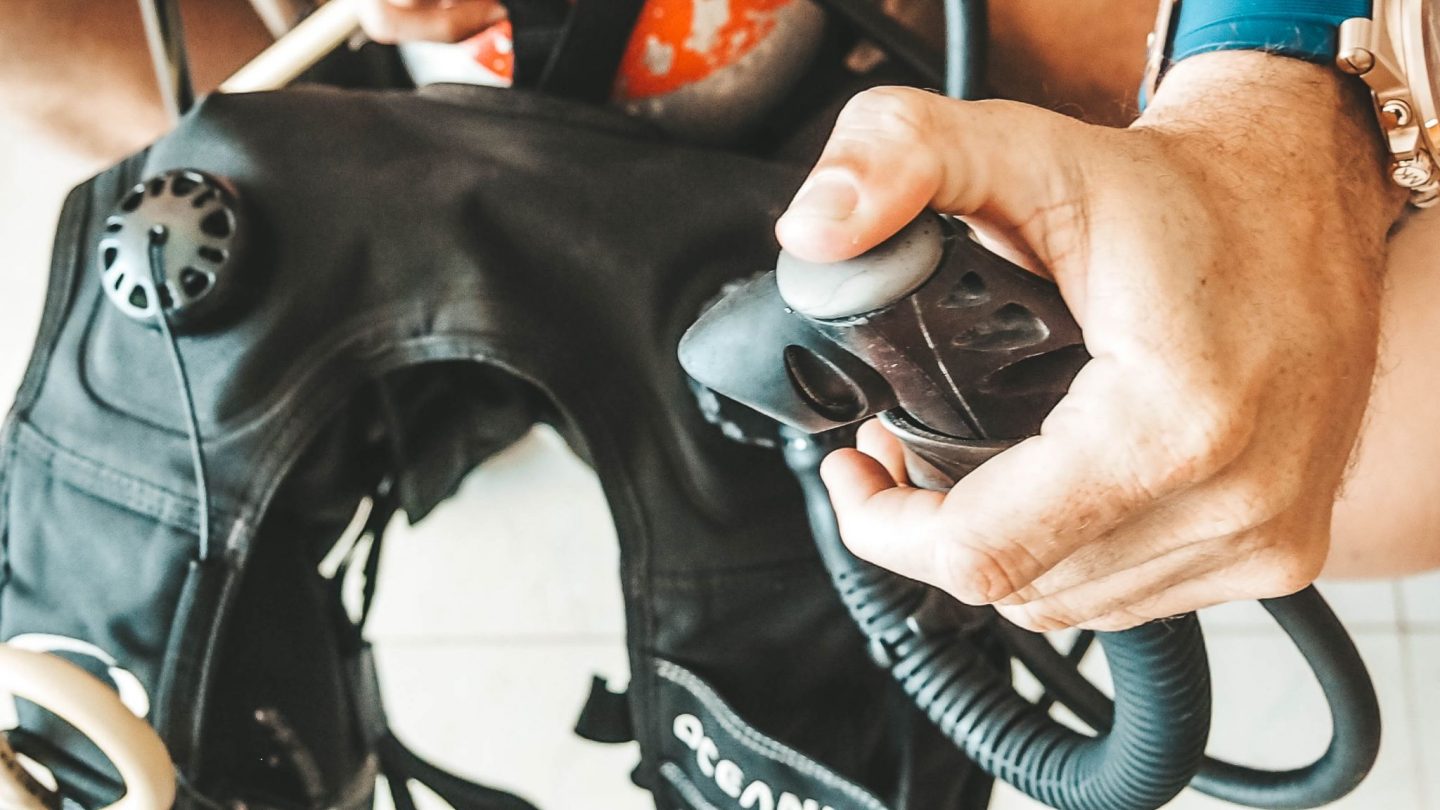 My Favorite Dive Company in Cozumel
My personal favorite dive company in Cozumel (well in Mexico actually) is ScubaTony. These guys actually found me on Instagram and now they are the only company I will dive with on Cozumel. I had spoken to a few other dive instructors about them before I went and they all had great things to say about the whole ScubaTony team.
They are a relatively small dive company and there is a maximum of 6 divers per boat. So what you get with them is a really personal service, from making my first booking through to my final dive with them I felt like these guys were my best friends.
As a solo traveler, this really does make such a difference to my experience with a company. I've done so many tours and everyone has been nice and generally friendly, but these guys went over and above! Every single one of them, and not in an I know you are going to be writing about us so we are all going to be extra nice to you kinda way. This was genuine, it's just who they are, a friendly group of people who love diving and want you to love it too.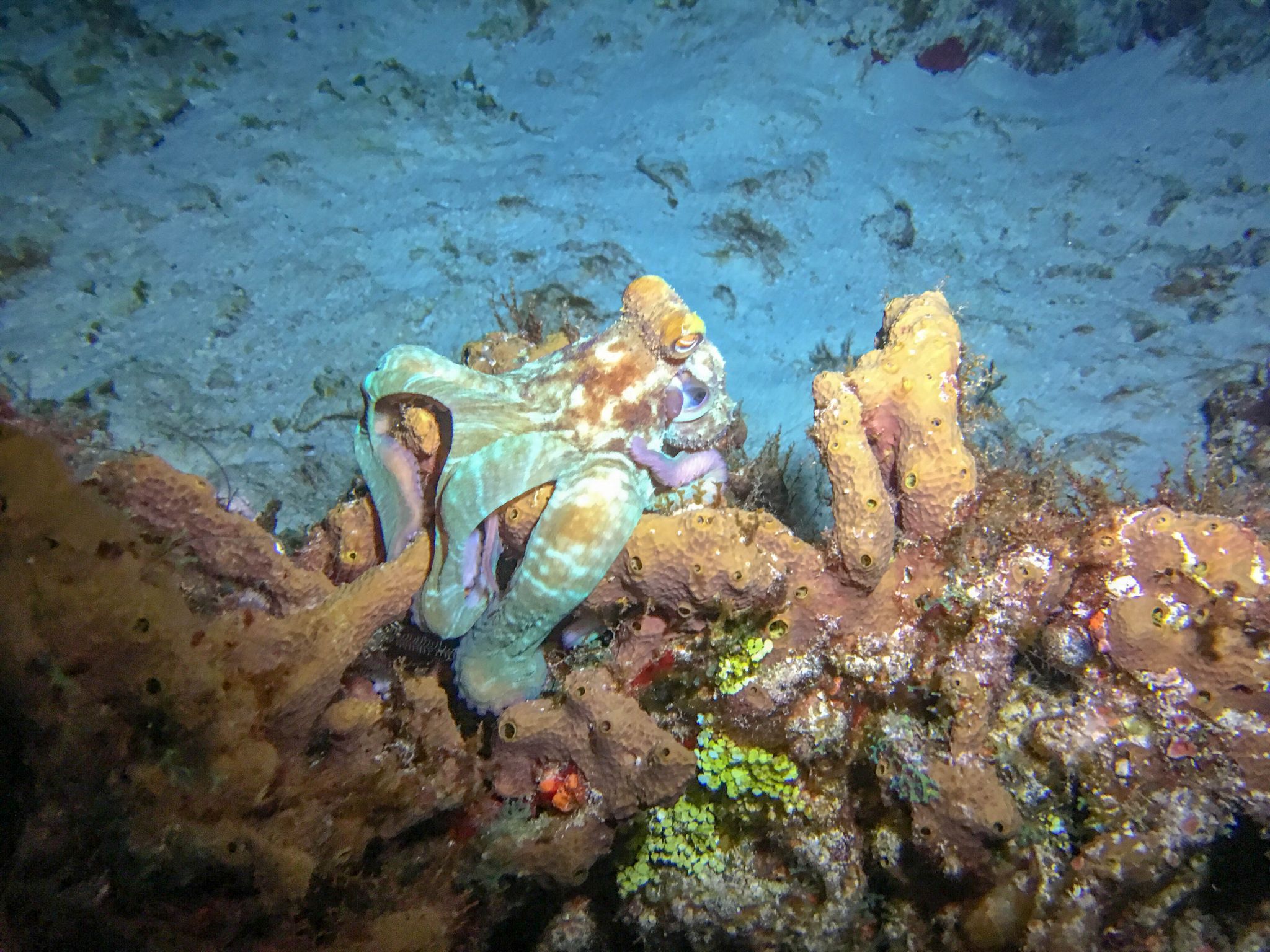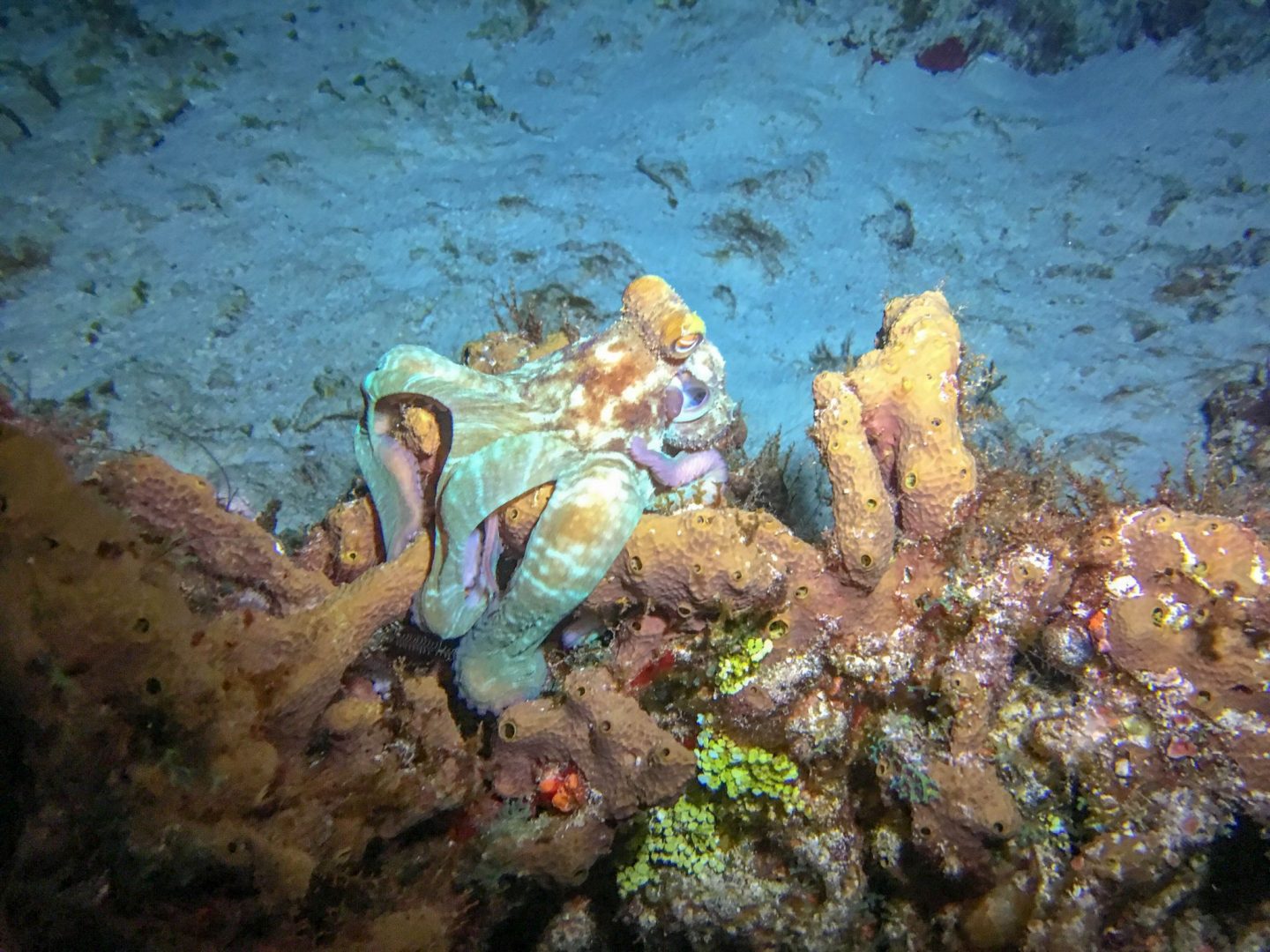 Another thing I worry about being on my own is not having a dive buddy! This is never really such an issue because in most places you just buddy up with the divemaster. But the level of attention and care you get from your Divemaster Buddy can vary.
At ScubaTony the divemasters didn't just look out for me, they helped me to take some videos and photos, but more importantly in just a few dives, they helped me drop 6 lb of weight and improve my buoyancy dramatically. What a difference from a divemaster I had somewhere else who completely ignored me for most of the dive as he was too busy taking pictures of fish (true story).
Knowing I was still a pretty new diver (I've done about 26 dives in total) they offered me tips and advice to improve my diving. Up until now, I had been having to surface at least 10-15 minutes before everyone else I was diving with because of my air consumption.
But after their help, I was able to do the full dive and surface with the whole group. In a conversation with a fellow diver who had done over 1000 dives he couldn't stop praising our divemaster saying he was one of the best, he has ever had. To me, that speaks volumes.
But it's not just the divemasters and instructors, It is also their captains and the admin staff who go over and above. Plus their equipment is top-notch. I'm slowly collecting things but right now I'm having to use the rental gear and believe me, not all dive companies get new gear regularly like these guys do.
Diving Certification in Cozumel
I was actually so impressed with them that I decided to do my Advanced Open Water Diver course. It was something that I had been toying with for a while, especially as I dive regularly in Cozumel and many of the best sites you can deep dive on (something you need the advanced certificate for), plus a lot of the cenotes in Tulum also require it.
I'd heard mixed things about the course itself from friends who had done it. May telling me not to bother as it wasn't worth it. Well with ScubaTony, I had a great few days! The group I was with was made up of 3 other drivers who were all really advanced (my buddy had over 400 dives). They had been diving all over the world and were doing the course just to get the piece of paper as many cool dive places like the Galapagos require the certificate. You will also need an advanced diving certificate if you want to do the bull shark dive in Playa del Carmen.
So if you are thinking of getting a diving certification in Cozumel then go with them. Our course instructor Marc made the two days a lot of fun whilst still learning everything we needed to.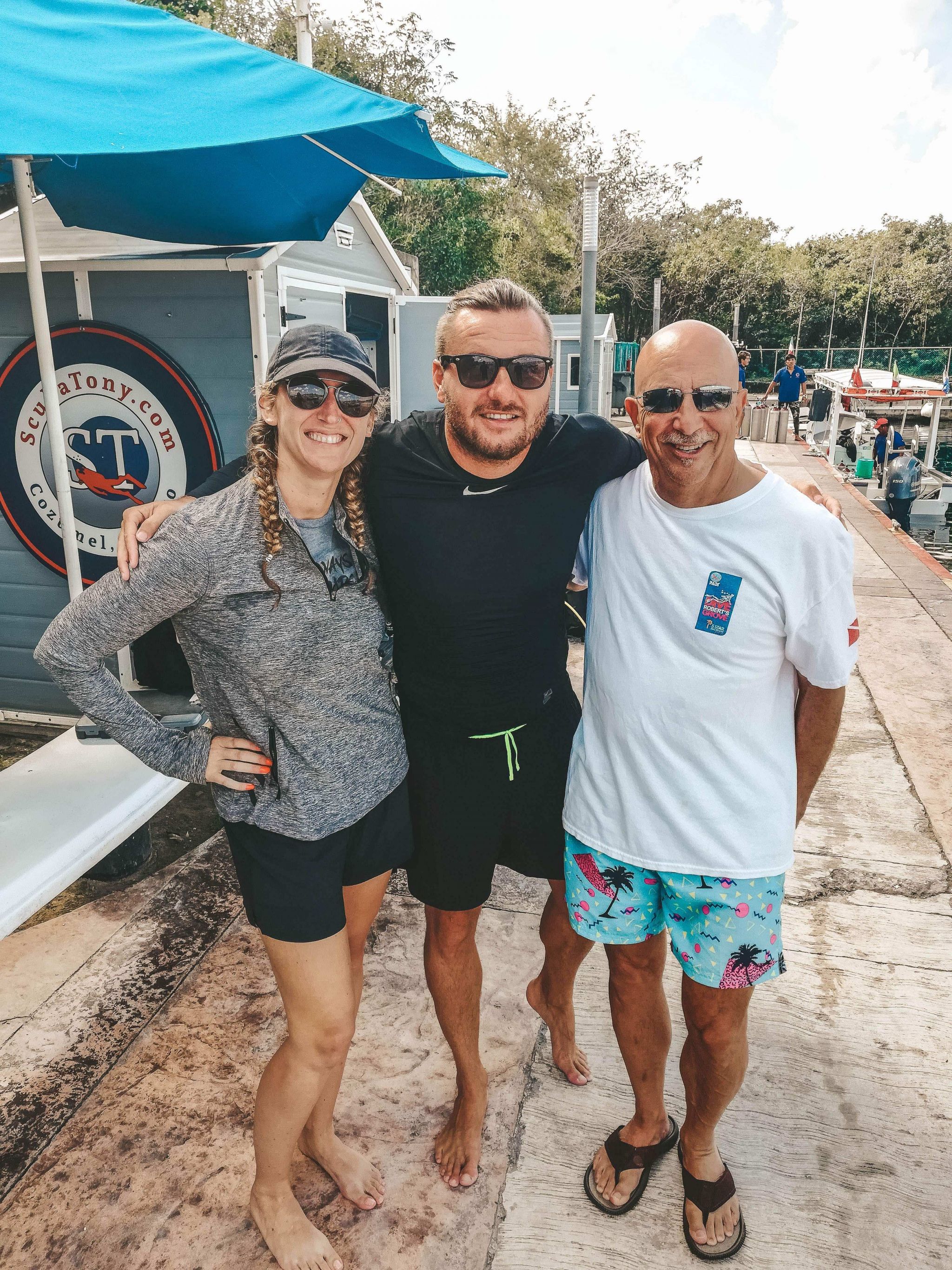 Where to Stay in Cozumel
While I was in Cozumel diving I stayed in an amazing Condo right on the water! Honestly, I was blown away when I first walked in. It does have 4 rooms though, so it would be better suited if you are planning a trip with your family or a few friends.
It would make the PERFECT base for a dive trip with friends as they have a place to store dive gear and if you book to dive with Scuba Tony they will give you a rather nice 10% off. It's right in town, opposite the supermarket, has the most amazing view… oh and I almost forgot to mention the hot tub on the balcony and the infinity pool downstairs! When I wasn't diving I was mostly staring out across the sea in the pool…oh take me back! The condo is called Casa Phoenix and you can find more information about booking on their website.

I wrote a full post on my favorite accommodation in Cozumel you can read here. Or check out a few of my other recommendations below.
Need accommodation in Cozumel?
Check out my guide to accommodation in Cozumel here, or if you don't have time here are 3 places I personally recommend.
Stingwray Villas boutique hotel in Cozumel
Also, I must give a shout-out to Buccanos. If you are looking for the best place on the Island to eat, this is it. And the best bit, it won't break the bank. I had the most delicious seafood pasta there. I can't believe I'd never heard of it until one of some friends invited me there. They also have a beach club which is at the top of my list of places to visit on my next trip! So, if you are a foodie and love seafood then you need to add this to your list. I also heard through the grapevine they will soon be opening a sushi restaurant… I'll keep you updated!
What to Pack
Wondering what to pack for a vacation in Mexico? Then check out my detailed packing guide here. Or pop your details below and download my FREE packing cheatsheet!
Final Thoughts
So as you can probably guess from this post, I'm a bit obsessed with diving in Cozumel. And I'm also a huge fan of ScubaTony. Yes, I was invited over by them. But no, they did not instruct me to write this gushing post haha. That's all me, and it's my honest opinion.
If you decide to go diving on Cozumel book with them, you won't regret it.
Also PLEASE let me know if you are a solo female traveler and would like a dive buddy. Honestly, I would love nothing more than to hop on the ferry and come diving for the day with you. So leave me a comment below or shoot me an email and let's go diving!
If you haven't been diving very long it's always a good idea to run through some scuba diving refresher tips before you get back in the water. Once you have got a bit of bottom time you are probably going to want to improve your buoyancy. I made this video with Marc from Scuba Tony to help beginner divers.
QUICK TIP: Book your tours, rental cars, and transfers through my local contact

I've been working with Turismo Channel in Playa del Carmen for years and they are who I send all my family and friends to when they visit the Riviera Maya. I really can recommend them enough for tours, private airport transfers, and rental cars. Vanessa and Oliver are personal friends of mine and I have 100% faith that you will have a wonderful time with them.

You can check out their tours by clicking here and using the following discount codes when booking online to save $$$ clairecaroff (car rental), claire10off (for 10% off group tours), claireprivate (for a discount on private tours).

You can also send her a WhatsApp message quoting the above codes to receive the discount.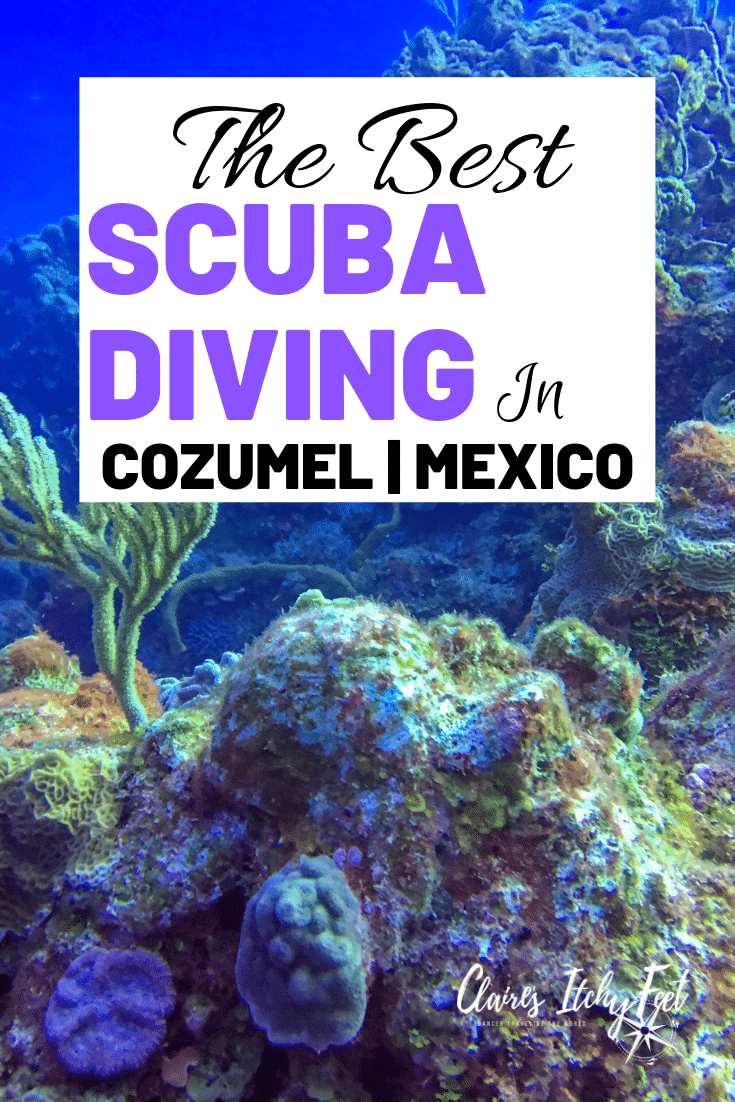 This post was proofread by Grammarly