Wondering where to stay in Cancun? If you are planning a vacation in Cancun it is important to do a little research before booking. Cancun has two distinct areas in which to stay and both are very different. In this post, I break down the best places to stay in Cancun depending on your budget, who you are traveling with, and the area you prefer to stay.
Short on time? Here's a quick list of where to stay in Cancun depending on your needs.
Quick Tip: Book accommodation, tours, and transport ahead of time online to save money and stress.
Best Cancun Tours: Click here to check out the top Cancun tours
Best Cancun Accommodation: Click here to check out the best accommodation in Cancun
Best Cancun Transport: Click here to book a bus, ferry, or train in Cancun
Deciding Where to Stay in Cancun
The first thing you need to decide when planning a vacation in Cancun is where you want to stay. You have two main options:
Hotels in Cancun Mexico center
Hotels in the Cancun hotel zone
If you are coming to Cancun with the intention of spending a week or two lazing on the beach or by a pool cocktail in hand then the best area to stay in Cancun is the Hotel Zone. It is a little horseshoe-shaped island away from the rest of Cancun where you can stay quite happily with easy access to beaches, shopping malls, and popular spots like Coco Bongo and Senor Frogs. This is the most popular area for families to stay in and it is very safe. It is also the best area to stay in Cancun for nightlife.
I must say though, there are so many things to do in Cancun for the whole family so wherever your Cancun hotel is please try and get out of the resort a few times to explore. If you are planning on doing lots of sightseeing while in Cancun then I strongly recommend renting a car with Car Rental Cancun before you arrive. That way your car will be waiting for you at the airport and you can drive yourself to your Cancun hotel. Be sure to check before booking if your hotel or Airbnb has parking though!
For those travelers who prefer to be in the thick of it a bit more, or who are on a tighter budget then you may want to look at staying in a Central Cancun hotel. This is where you will find the more affordable hotels in Cancun Mexico.
QUICK TIP: Book your tours, rental cars, and transfers through my local contacts

I've been working with Living Dreams Mexico for years and they are who I send all my family and friends to when they visit the Riviera Maya. I really can recommend them enough for private tours and experiences. They have solid 5* reviews on Trip Advisor and Google from almost 4000 reviewers! You can view all their tours here.

If you're looking for private airport transfers and rental cars then Vanessa and Oliver from Turismo Channel are personal friends of mine and I can 100% recommend them to make an inquiry click here and complete the form. Someone will be in touch within 24 hours.
Should you go all inclusive in Cancun
Let's face it you will find some of the best all inclusive resorts in Cancun. So deciding if you should go all inclusive can be tricky. The best all inclusive Cancun hotels can be very expensive. Although there are also some great value Cancun all inclusive resorts too. In case you don't find the right Cancun hotel, you can also check the best all inclusive resorts in Punta Cana for further choices.
If you can find a great all inclusive deal and you plan on spending most of your time in your resort then go for it. If you know you will be making lots of day trips to the big parks or Mayan Ruins like Chichen Itza, Tulum, and Coba. Then maybe going all inclusive isn't worth it for you.
Some resorts will actually give you the option. So you can book and pay for your room only. Then you can opt to do a few days all inclusive and a few days where you don't. It is always worth asking as this can save you hundreds if you are visiting Cancun as a family.
Also, all inclusive Cancun Mexico hotels work best for families with children who want food and drinks all day and adults who like to drink alcohol. If you are planning on sipping mojitos all day for 7 days then all inclusive is going to be well worth it for you.
Did You Get Travel Insurance Yet?

The Insurance companies I recommend are Hey Mondo, Safety Wing, and Travel Insurance Master

Hey Mondo is great if you are looking for a great value flexible policy. They offer single-trip cover, annual multi-trip cover, and long-term travel cover. Safety Wing is great value, with monthly coverage starting at $39. It's super easy to use, and it just renews each month. I currently use them as they offer me free cover for my son as part of my policy. I also use Travel Insurance Master for short trips.

Read my full travel insurance post here, where I go into detail about all companies.
Where to stay in Cancun
Okay so now we have that part sorted out it is time to decide where to stay in Cancun. In this section, I am going to share with you my top picks for the best Cancun hotels.
I have included Cancun Mexico hotels on the beach, the best all inclusive resorts in Cancun, the best Cancun airport hotels, budget accommodation in Cancun, and the best family accommodation in Cancun.
Quick Tip: I highly recommend booking all of your Mexico transportation with GottoGo. You can search for buses, shuttles, ferries, and Flights on their website. What I love most about them is their customer service. I know these guys personally from living in Guatemala, and they look after their customers.

If anything happens and you get delayed and miss your bus, you can just call them, and they are always there to help. If you book through them, you will pay a little more than booking in person at the bus station. But it's worth it for the ease and security. Click here to search for transportation in Mexico.
The Best All Inclusive Resorts in Cancun
I've scoured Cancun to find the absolute best all inclusive resorts where you can kick back, relax, and enjoy all the luxuries without ever reaching for your wallet.
From gourmet dining to action-packed water sports and even some fabulous spas, these resorts have it all.
The Best All Inclusive Resorts in Cancun
This beachfront haven not only offers breathtaking views but also a lot of activities that cater to guests of all ages. From dedicated children and teen clubs to engaging activities like mini golf, there's a wide range of options to keep everyone delighted.
You can spoil your taste buds with five distinct dining venues, explore on-site boutiques, and take a refreshing dip in one of the two inviting swimming pools.
For those seeking more adventurous experiences, you can dive into the underwater world with scuba diving and snorkeling excursions, or join in the thrills of the hotel's very own water park.
If you're eager to explore Cancun, bicycles are available for hire, and guided tours offer a deeper understanding of this destination.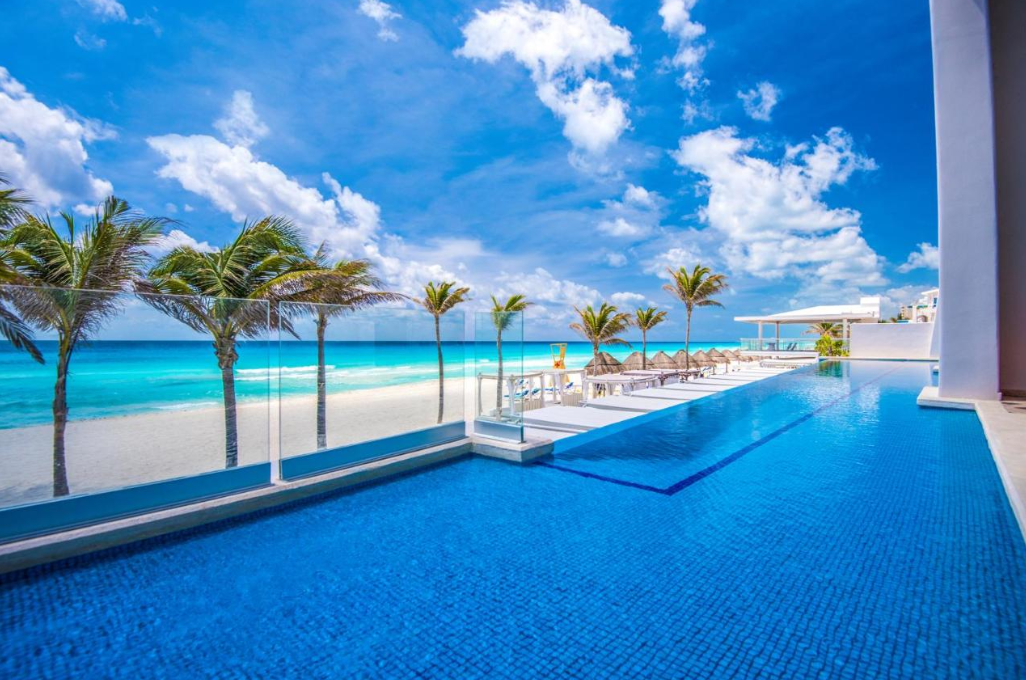 The Best All Inclusive Resorts in Cancun For Adults
Hyatt Ziva Cancun is a breathtaking beachfront resort located along the stunning strip of Punta Cancun, surrounded by the azure waters of the Caribbean Sea. Here, you'll enjoy the beauty of a white sand beach and the crystal-clear blue sea.
The resort offers a variety of activities, from theater shows to exhilarating water sports, not to mention tequila tastings and even a microbrewery. You can choose to unwind in a cozy beach cabana, sipping a refreshing margarita, or dive into the vibrant Caribbean for snorkeling, sailing, and a revitalizing swim.
To enjoy ultimate relaxation, you can indulge in the oceanfront spa, where you can enjoy a soothing massage, holistic body treatments, invigorating hydrotherapy, and even keep up with your fitness routine in the well-equipped center.
Hyatt Ziva Cancun is just 300 meters from Coco Bongo, a renowned entertainment venue. If you're in the mood for shopping, La Isla Shopping Mall is a short 3.4 km away. If you're flying in, Cancun International Airport is 17 km from the resort.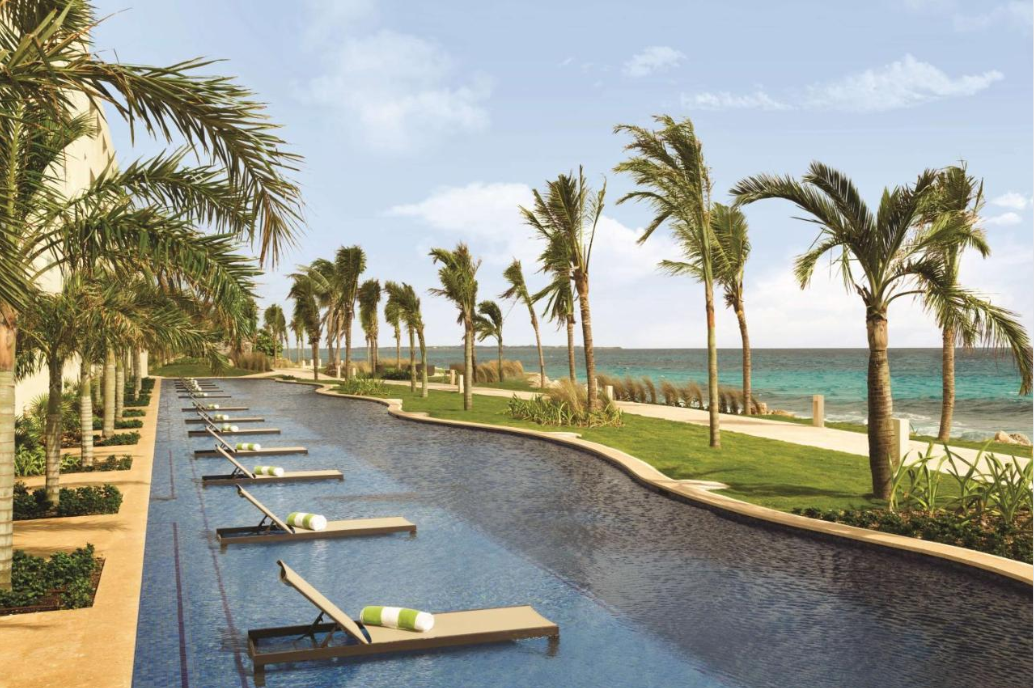 If you know you want an all inclusive adult-only best Cancun vacation package, then this is my top pick for you. It is rated as the best resort in Cancun for couples and it's easy to see why.
Le Blanc Spa Resort in Cancun is a top-tier destination for those seeking a luxurious all-inclusive experience. Located on a pristine stretch of white sand beach, the resort offers an ideal backdrop for relaxation and leisure. One of its standout features is the spa, where guests can indulge in a range of treatments from massages to hydrotherapy.
The dining options at Le Blanc are exceptional, with a variety of gourmet restaurants offering cuisines that range from French to Asian. Because it's all-inclusive, guests can enjoy fine dining without the concern of additional costs. For those interested in staying active during their stay, the resort provides a well-equipped gym, yoga classes, and various water activities.
Swimming pools at the property are meticulously maintained, offering another space for relaxation. Other amenities, like a pillow menu for personalized comfort, underscore the resort's commitment to luxury. In summary, Le Blanc Spa Resort offers a comprehensive, high-end all-inclusive experience for travelers looking for exceptional comfort and amenities.
This kind of luxury Cancun hotel is going to cost you from $700 per night, but it is ranked as one of the top 100 hotels in the world so it actually isn't bad value for money especially as the swim-up bar includes high-end drinks (many all inclusive Cancun Mexico hotels charge extra).
If you're seeking an all inclusive hotel in Cancun Hotel Zone, with unparalleled vistas of the Caribbean Sea, look no further than the Hyatt Zilara. Not only does this resort boast its own stretch of beach, but it also offers a robust itinerary of daily activities and live entertainment to keep you engaged throughout your stay which makes it one of the top-rated Cancun hotels.
While the resort caters to all age groups, it hasn't overlooked the needs of adults seeking a quieter atmosphere. The Hyatt Zilara features a dedicated adult-only zone, allowing you the choice to relax away from the family-centric activities and spaces, should you desire.
Dining at the resort is an experience in itself, with an impressive array of culinary options to explore. The property houses six specialty restaurants, ranging from local Mexican cuisine to international fare. Whether you're in the mood for sushi or a perfectly cooked steak, the Hyatt Zilara has you covered. And let's not forget the five bars dispersed throughout the resort, each with its own ambiance and specialty cocktails, ensuring that your beverage needs are well taken care of.
In summary, the Hyatt Zilara offers a comprehensive package for those looking for a versatile, all-inclusive experience in one of Cancun's most desirable locations. With its adult-only areas, variety of dining establishments, and extensive list of activities and entertainment, it ranks as one of the top-rated hotels in the region for good reason.
The rooms here are spacious with amazing sea views and your every need will be met by the super-friendly staff.
You can actually get some great deals here with prices starting from $350 per night for 2 adults.
The Best Hotels in Cancun For Families
I have picked three resorts that I think are perfect for families in the Cancun Hotel Zone. They all offer families slightly different things and are all at different price points so a lot will depend on your budget.
My Cancun all inclusive pick for families is the Iberostar. Expect to pay around $4000 for a family of four for a 7-night stay here. You can get some great deals, especially in the low season though.
The rooms are a good size and come well equipped. The hotel is right on the beach and all the rooms either have a garden view or a sea view.
The resort has everything you need for a family-friendly vacation in Cancun. Kids club, swimming pools, snack bars, and plenty of entertainment!
This is my top pick for families who want a great beachfront location in Cancun but prefer the flexibility of being able to self-cater. Each room here has a small kitchenette so you can prepare simple meals for the family.
The location is amazing and it has everything you need to keep the kids entertained. Expect to pay around $1500 for a family of four here for a 7-night stay.
The Best Cancun Hotel Zone Family Friendly Hotel – Marriott Cancun Resort
If you want to stay in a top resort, on the beach in Cancun Hotel Zone with the family without having to pay for all inclusive then this is my top pick. There are no facilities in the room for cooking or preparing food, so you will have to eat out. But if you plan on splitting your time between the resort and day trips then it is a great choice.
You can expect to pay around $3000 for a week here for a family of four.
The Best Value Cancun All Inclusive Hotel
If you want to stay in a beachfront all inclusive resort in Cancun Hotel Zone but you can't stretch to the prices of the top resorts then I recommend The Flamingo Hotel. At around $250 per night for two people all inclusive it is great value for money. It's actually next door to the Hyatt so if you manage to get a room with a sea view it's almost the same view, but costs a lot less.
It has two outdoor pools, two restaurants, three bars, and a gym making your options more limited than the bigger resorts but you do still have choices.
The Best Budget Hostels in Cancun Hotel Zone
Want to live the high life in Cancun Hotel Zone without paying top dollar in one of the Cancun hotels all inclusive resorts? I got you covered. All of these Cancun Mexico hotels are in the best area to stay in for nightlife. They are in the hotel zone so you will be close to places like Senor Frogs and Coco Bongo as well as within walking distance from the beach. Staying at one of these hostels is the most affordable way to experience the hotel zone nightlife.
If you have traveled through Latin America I'm sure Selina will be a familiar name for you. They are hostels geared towards backpackers and digital nomads. What you get with Selina is a party hostel with a pool (plus a swim-up bar), co-working space, and a great atmosphere. The location is perfect and the price is even better.
You are going to need to book in advance if you want to stay here. Mayan Monkey Hostel is very popular and for good reason. It is spotlessly clean, beautifully decorated, and in the best location if you want to party in the Cancun Hotel Zone.

Best Value Hotel in Central Cancun
If you don't want to be in the Cancun hotels zone and prefer something more central the location of the Ambiance suites is great, especially if you decide to hire a car. From here you can easily access the airport, local attractions like Coba, Tulum Ruins and Chichen Itza, and neighboring places like Playa Del Carmen, Holbox, Merida, and Tulum.
They have an outdoor pool, WiFi, 24-hour reception, and lots of parking close by. The benefit of staying here is that you have several large supermarkets within walking distance and it is only a 5-minute drive to the beach and the hotel zone.
The Best Boutique Hotel in Central Cancun
If you prefer to stay in a boutique hotel in Cancun then my top pick is in central Cancun. It is a 10-minute drive from the beach but within walking distance from many more local (and budget-friendly) restaurants and bars. The Plaza Las Americas shopping mall is just 10 minutes walk and the Hotel Zone is either a bus or taxi ride away.
You have access to a pool, free WiFi and the hotel is well decorated and equipped for shorter or longer stays. And the best part… rooms start at just $25 per night!
Best Budget Accommodation in Central Cancun
Prefer to stay in central Cancun rather than the touristy Hotel Zone? Me too! If Coco Bongo and Senor Frogs don't really do it for you then I would avoid the hotel zone and opt to stay in El Centro. Over this side of town, your money will go a lot further and you will get to experience a more local night out.
Don't worry though you will still be able to catch the bus to the beach and to the hotel zone malls and nightlife if you choose to.
This place is not located in La Zona Hotelera or as close to the beach as the other options, but if you are wandering around this category, you don't mind that. It is a pretty nice place with a great ambiance. If you don't mind taking a taxi after a night out partying (if partying is your thing) I fully recommend Hostalito since it is a chill place.
It is an adult-only place, and if you are feeling lazy one day, you can stay playing games in the game room or chilling at the hammocks.
This is another great option for central Cancun hostels. The location is great, especially for solo travelers, and they even have a rooftop & pool. The hostel provides some units that feature city views.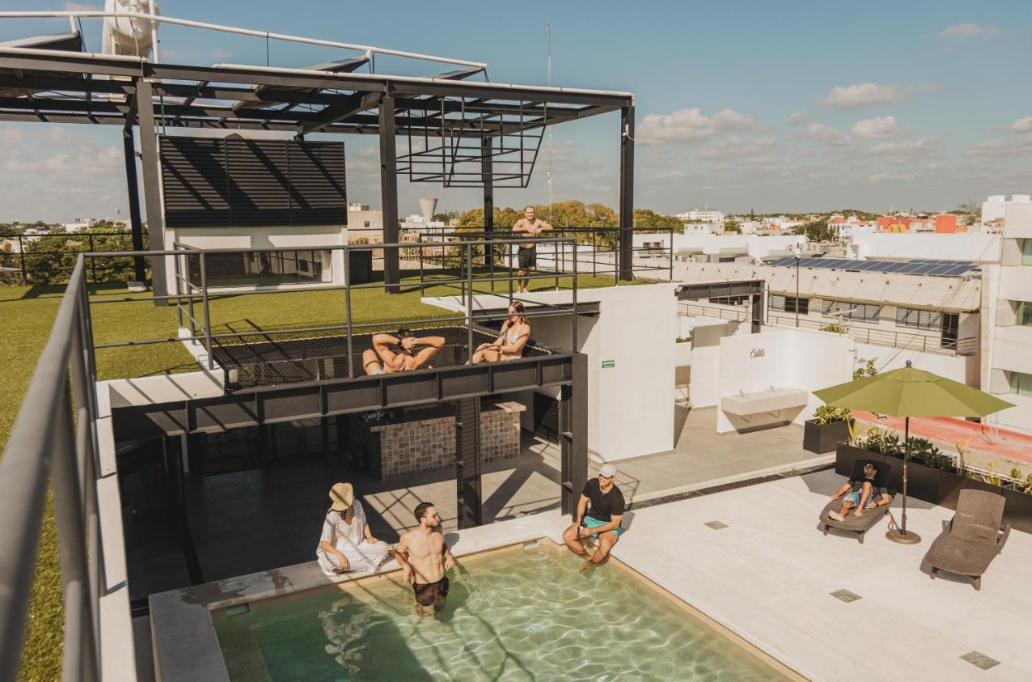 The Best Hotel Close to Cancun Airport
If you are looking for all inclusive near Cancun airport hotels, this is not fancy but it is a very nice option. To me, it is more of a guest house with comfortable and clean spaces. The rooms are for bigger parties if you are traveling in groups or with the family. The accommodation includes breakfast and there is a swimming pool and garden area to relax.
They offer airport shuttle transportation to and from Cancun airport for an additional charge.
Another resort near Cancun airport, a bit more expensive than the last one and a bit more luxurious than the last one. They offer an American breakfast included in the price and airport pick-up for an additional price.
Map of accommodation in Cancun
Cancun Travel Guide Planning
🧳 Any recommendations on what I should pack for Cancun?
Yes! I have created a whole packing guide to Cancun which you can read here and you can also check out my packing list for Cancun on Amazon here.
🚗 Where can I book bus or private transportation while I'm in Cancun?
I strongly recommend using GottoGo. You can book almost all transport in the major Mexican tourist destinations through them online. They don't just cover buses they also cover shuttles, ferries, and private drivers.
🎫 Where can I buy tickets for museums, attractions, and tours in Cancun?
First and foremost check out all of the amazing Cancun tours Where Sidewalks End has. They are a small local company and they have some really special experiences.
For everything else I recommend either Viator or GetYour Guide.
If you are traveling to Cancun you can use GoCity and save up to 55% of the initial cost of entrance tickets to various museums, tours, and attractions!
If you are traveling to Playa del Carmen then I recommend booking through my friend Vanessa at Turismo Channel. You can check out their tours by clicking here and using the following discount codes for the best prices clairecaroff (car rental), claire10off (for 10% off group tours), claireprivate (for a discount on private tours). You can also send her a WhatsApp message quoting the above codes to receive the discount.
👩‍⚕️ What is the best insurance to have while traveling?
I recommend using Heymondo for a great value policy. The app also offers you 24/7 Dr Chat. For Digital Nomads check out SafetyWing digital nomad insurance.
I have also written a blog post covering all my recommended travel insurance here
✈️ Any flight recommendations?
WayAWay offers you cheap flights with cashback. You can use this code CLAIRE22 to get 10% off. Otherwise Skyscanner or Expedia are my go-to flight searching platforms.
📱What do you use for internet connection while traveling?
I'm a big fan of personal WiFi devices and they have saved my ass so many times when traveling. I wrote a full review of the top travel WiFi devices you can read here. I personally use GlocalMe as I can either pop in a physical sim card or use their local carrier.
With regards to my phone connection, I use e-sims while traveling, so rather than having to swap out my regular sim card I can download the app and buy a virtual sim card. I recommend using eitherAirhub or Alosim. Both have great coverage of multiple countries and are very easy to use.
🛏️ What is the best platform to use for booking accommodation?
The 3 best platforms that I normally use are Booking.com, Hotels.com, and Expedia They offer great deals and multiple options. I always check all three to be sure of the best deals.
🛅 Do you have any luggage recommendations for traveling?
I do have a complete list of the best packing and luggage products that I recommend, you can check the list here. I'm currently traveling with this suitcase and this backpack.
Final Thoughts
I really hope this guide has helped you to find the perfect accommodation in Cancun. Hopefully, it will help you to find the perfect place to stay on your vacation or business trip. If you are visiting The Riviera Maya for the first time you may be wondering what to pack? Take a read of this great packing list for Mexico to ensure you don't forget any essentials!
All images in the post are taken from Booking.com.
Pin For Later
This post was proofread by Grammarly