Looking for long term travel tips to help you travel longer? In this special guest post, Matt Kepnes AKA Nomadic Matt shares his top 15 long term travel tips to help you travel for less
When I grew up, my family didn't travel. We vacationed. We would visit expensive hotels and resorts, go on cruises, and hit theme parks. It was never cheap, and since that's what my friends did too, I just assumed that travel was the expensive gift people gave themselves once a year. Who could afford more than that?
But when I started actually traveling, I learned that it wasn't really expensive. That there were plenty of ways not only to save for a trip but to save while you travel. In fact, traveling was actually cheaper than staying at home! As I roamed the world on my first trip overseas, I came across a plethora of ways to lower my expenses and get out of the resort mind-set.
15 Tips to Help You Travel Long-Term
To help make your long term travel plans a reality, here are some tips to help you travel on a budget — while also having a richer, deeper experience:
1. Start saving money
Don't just make a plan to start saving money — take action now to make it concrete. Do something tangible today to get yourself on track. Open a savings account, make a jar for your spare change, research how to save money when you travel.
If you haven't already, analyze your spending and start cutting out unnecessary items. To get a precise sense of your finances, write down all your expenses for a week. Every time you spend money, write it down! That way, you can see if there is any low-hanging fruit you can easily remove to start saving more money. Do you eat out a lot or spend money on drinks when you go out with friends? Start cooking at home more and limit yourself to one drink when you go out. Do you use Uber too much? Delete the app and take public transportation. The sooner you can start cutting back, the sooner you can start saving money!
2. Make a plan
This is going to require research. Where do you want to go? What are your priorities? Food, nightlife, adventurous activities, museums, private accommodation? Figure out where you want to splurge and where you want to save money. Once you know your spending priorities, you'll be better able to make a budget, narrow your research, and make your money last longer.
Next, create specific and achievable travel goals to increase the chances of them actually coming true. Don't just say, "I want to go to Paris." Create a goal that is much more specific: "I want to spend two weeks in Paris in November." The more specific you can get, the more likely it is that you will reach your goal.
3. Sign up for travel credit cards
Once you have a plan outlined, sign up for a travel credit card so you can rack up as many points as possible to earn free flights or free hotel stays. The best travel credit cards will give you points every time you use them, which can be eventually cashed in for flights and hotel stays. As long as you pay off your bill every month, you are essentially getting free travel rewards. Just do your regular shopping: groceries, clothes, bills, etc. Over time, the points will add up and you'll earn yourself free perks. (Here's some more information on how to do this!)
4. Get a no-fee ATM card
Every time you use an ATM from a different bank, you have to pay a few dollars in fees. On a one- or two-week trip, these don't amount to much. But if you're going to be away for weeks or months at a time, they certainly do add up. Learn how to avoid bank fees when you travel and save! In the long run, it will save you hundreds of dollars!
5. Join flight newsletters to find deals
Sign up for airline newsletters to find out about flight discounts and sales. Additionally, sign up for alerts from websites like these:
Scott's Cheap Flights
Holiday Pirates
The Flight Deal
These sites seek out the best travel deals and share them with their readers. Their deals will save you hundreds or thousands of dollars. Stop paying more for your flights and start utilizing these incredible resources!
6. Learn how to find cheap flights
Airfare will be one of your biggest expenses, and while the websites above will help, you also need to learn the skills to find great deals on your own. Most people actually spend upwards of 40 hours searching for a flight. That's insane! Don't be like them. By learning some simple tricks of the trade to find cheap flights, you'll save yourself both time and money and find those great deals that will let you travel further and longer.
7. Join the sharing economy
The internet has drastically changed how we travel, and one of those changes is the sharing economy, which allows for direct connections between locals and travelers, without a third party. Airbnb, Couchsurfing, BlaBlaCar, and Trusted Housesitters have changed the game for long term travelers. By taking advantage of the sharing economy when you travel and connecting directly with locals, you'll save yourself some money and get a much more unique cultural experience.
8. Consider working abroad
One of the best ways to keep your budget intact is to actually work while traveling. There are countless of ways to make money abroad, and there are also opportunities to trade work for free food and accommodation with services like HelpX, Workaway, and WWOOF. If your bank account is getting low, give these services a try. You won't get rich, but you'll be able to stay on the road longer.
9. Don't be penny-wise and pound-foolish
Always be on the lookout for deals, but make sure you're being frugal and not just cheap. Don't miss out on great experiences or lug your backpack 10 miles just to save a couple of bucks. At the end of the day, time is money. Use them both wisely!
10. Get travel insurance
While this is technically an expense, should something happen to you on your trip, it will save you thousands and thousands of dollars. I've seen countless travelers get injured or lose their valuables on their trip and then have to shell out money for their treatments or their trips home — all because they were pinching pennies and didn't want to pay for insurance. Don't be like them. It's much better to be safe than sorry (and I know from experience!). I know, it's not a fun or sexy topic, but finding the best travel insurance is an investment in your safety and peace of mind. I never travel without it. You shouldn't either.
Did You Get Your Travel Insurance Yet?
If you are planning a trip right now then you NEED to think seriously about insurance. If 2020 taught us anything, it's that you need to be prepared for anything! Travel insurance has always been high on the list of things to get before you travel but now more than ever it should be at the top of your list! I'm pretty sure we have all had travel plans messed up because of COVID and not all insurers covered this. So you need to find an insurer that covers travel disruption due to COVID-19, World Nomads and Safety Wing are the ones to go for. World Nomads is great for incidents that happen prior to your trip, so if you get sick or are unable to travel due to travel restrictions some of their policies will cover that as cancellation cover. Safety Wing goes the extra mile and covers quarantine outside your home for up to 10 days, they also have a really handy map on their website showing requirements and restrictions for each country. If you are doing shorter trips or a longer backpacking trip then WorldNomads is the best option. If you are a digital nomad or planning travel for at least 6 months then go for SafetyWing.
11. Visit the local tourism board to find discounts and deals
Local tourism offices are a highly underrated resource. They have tons of information on activities, museums, and discounts. They are experts at helping visitors, so take advantage of that expertise. Not only will you save money but you'll likely find out about some awesome new things to see and do.
12. Meet people on the road to split expenses with
If you're traveling solo, sometimes you'll have to spend more money to do certain activities (like rent a car, for example). So, if you are traveling solo, try to meet people as you travel and invite them to join you as you explore. Not only will you make a friend but you'll have someone to share expenses with, saving you both some money. Here are some places online where you can meet travelers:
The Nomadic Network
The Nomadic Matt Community Forums
Lonely Planet's Thorn Tree
Girls Love Travel (women only)
Couchsurfing Hangouts
Meetup.com
13. Track your expenses with a money app
If you're not naturally mindful of your expenses, get an app like Mint or Trail Wallet to track your expenses. They are easy to use and can give you a breakdown of your daily, weekly, and monthly expenses. They are super helpful if you're on a budget and traveling for a long time!
14. Aim to visit cheap destinations
Not every destination is equal when it comes to daily costs. Balance your itinerary with budget destinations, making sure to offset any time spent in expensive destinations (like the UK or Scandinavia) with time spent in more budget-friendly destinations (think Eastern Europe or Southeast Asia).
15. Slow down
Transportation is one of the biggest expenses when it comes to travel. If you're bouncing to a new country every other day, then you're going to run out of money very quickly. So slow down. Spend more time in each place. Aim for quality over quantity. The slower you travel, the less you will spend. You can stock up on groceries, buy transportation passes, and get accommodation discounts for longer stays. So try to slow down when you travel.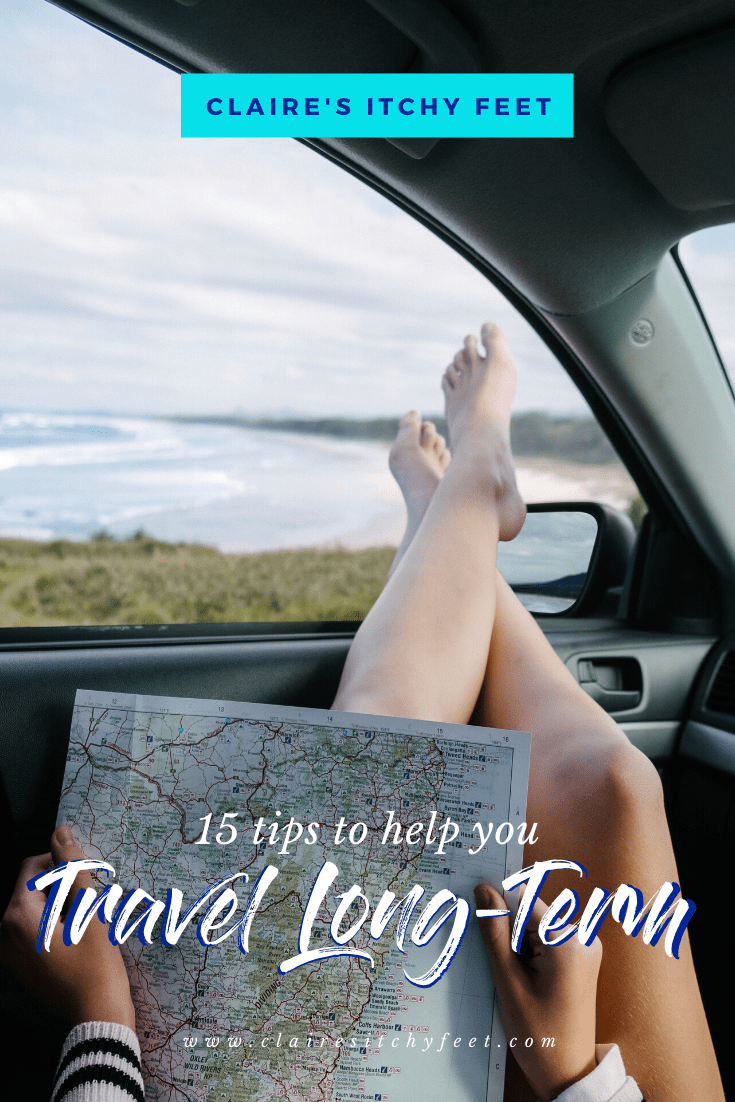 Final Thoughts
By implementing these tips before and during your trip, you will save yourself thousands of dollars (and avoid plenty of headaches, too!). With a little planning and a pinch of discipline, you'll be able to make the most out of your time and your money, leading to a much better long-term travel experience. But don't take my word for it. Go get started and let me know how it goes!
Nomadic Matt
Matt Kepnes is a New York Times best-selling author of How to Travel the World on $50 a Day and founder of Nomadic Matt the goto website for budget travel advice.
Follow him on Social Media:
Instagram | Facebook | Twitter
This post was proofread by Grammarly