Thinking of traveling to Central America in the rainy season? If you're not sure if you should be doing a one-month Central America itinerary during rainy season then this post will help answer some questions you may have.
Many people avoid traveling to Central America during the rainy season but if you don't mind getting a bit wet I'm going to tell you why I think Central America's rainy season is the best time to go.
Central America has 2 seasons: Dry season (around November to April) and Wet season (around May to October). This differs slightly depending on the country.
Did You Get Travel Insurance Yet?

The Insurance companies I recommend are Hey Mondo, Safety Wing, and Travel Insurance Master

Hey Mondo is great if you are looking for a great value flexible policy. They offer single-trip cover, annual multi-trip cover, and long-term travel cover. Safety Wing is great value, with monthly coverage starting at $39. It's super easy to use, and it just renews each month. I currently use them as they offer me free cover for my son as part of my policy. I also use Travel Insurance Master for short trips.

Read my full travel insurance post here, where I go into detail about all companies.
So why is the rainy season the best time to visit Central America?
1. It's cheaper
The rainy season in Central America is considered off-peak. This means everything slows down a bit and there are fewer tourists around. Fewer tourists mean more competition which drives down the prices. Traveling during the rainy season means you are very likely to pay less for your flights, hotels and any trips you want to take.
2. It's greener during the rainy season in Central America
The dry season may mean you are unlikely to get wet, but it also means everything is really dry and dusty. During wet season everything is so much greener and lusher. So if you like taking photos I would strongly advise traveling during the wet season rather than the dry season.
3. It rarely rains all day during the rainy season in Central America
Yes, it will most likely rain every day. But it is very rare for it to rain all day every day. That said it really is the luck of the draw. Don't pay much attention to the weather forecast as it pretty much says the same things every day that it will rain at some point. But in reality, as a general rule expect it to rain from around 2 pm. Some days it won't rain at all, some days if you are unlucky it won't stop.

4. Book activities last minute during rainy season in Central America
Normally I'm a bit fan of booking activities in advance especially if it's something big that I want to do like hiking a mountain or a volcano. If you aren't on such a tight schedule then wait until you arrive and see what the weather is like and book as late as you can. Unfortunately, some things that are not going to be possible for. If you do book something in advance make sure you book with a reputable company and check what their policy of refunds due to bad weather is. For a lot of activities, the rain won't matter. Like rappelling down waterfalls in Costa Rica at Mistico Park for example. I had an incredible day and it rained for most of it, as I was in and out of waterfalls it made no difference!
5. Start your day early
If you want to beat the rain then you need to get out of bed! As a general rule from 6am-10am, the sky is pretty clear. From 10 am the clouds will start to form and by 2 pm the rain will set in. So if you want to take photographs of a city go early in the morning and if you want to do a tour or activity plan it for the morning.
3. Be flexible
This is a must, one thing you can't control is the weather so you need to remain flexible in case the worst happens and the rain calls halt to your plans. This brings me nicely on to my next point…
4. Choose your accommodation wisely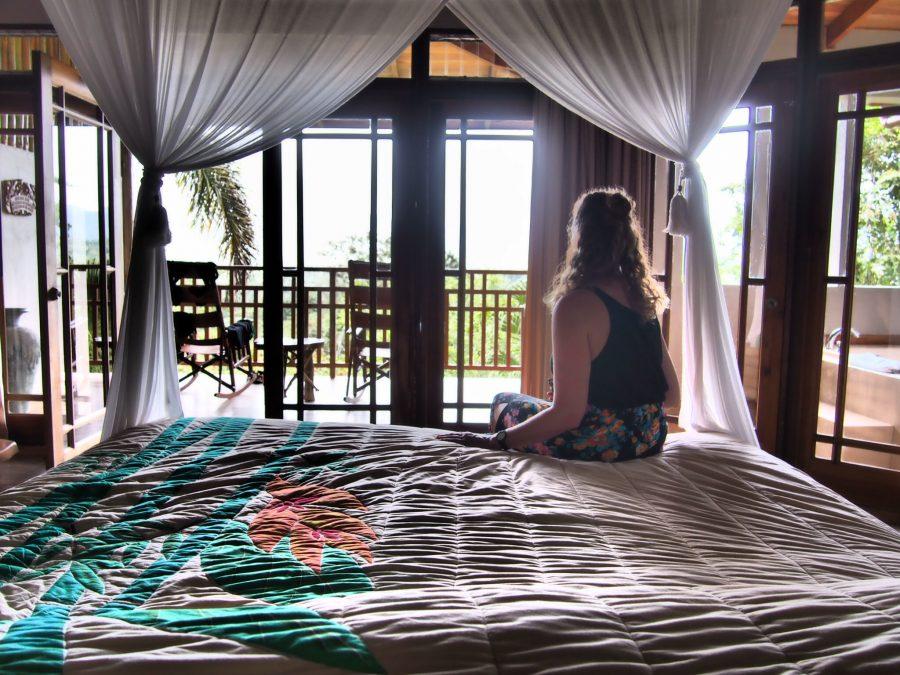 There is a good chance that you may end up stuck inside avoiding the rain. So you need to make sure you stay somewhere you don't mind hanging out. So if that's a hostel check and see if it has a games room or at least a good library, even better an undercover hammock you can take a siesta in. If you have a private room, book a nice one, preferably with an undercover pool or a spa! I stayed in Lost Iguana resort in Costa Rica and it was incredible.
5. Get Travel Insurance
You should never travel without insurance anyway. But during the rainy season, it's even more important. Accidents happen wherever you are in the world. If it rains heavily it can increase the risk. Make sure you are well covered not just for medical emergencies but also for your electronics! If you get caught in the rain and you aren't prepared at least your insurance will cover your drowned camera. I always recommend World Nomads for backpackers.
Top Tip: Always carry zip lock bags to store your valuables in. I also always keep a few good quality bin bags on my to put all of my stuff in as the waterproof covers for your backpack might not be as waterproof as you would expect if it really pours down. Better to be safe than sorry!
6. Issue caution when traveling somewhere remote
The weather can be really unpredictable so make sure you always plan for the worst and hope for the best. If you decide to go somewhere remote on a day trip make sure you have a plan b in case the rain is heavy and you can't get back.
7. Unplug electronics
If you find yourself in a thunderstorm make sure you unplug your expensive computer equipment. The power can often go out and the last thing you want is your expensive computer to be blown. Or even better add one of these to your arsenal.
8. Always travel with your headlamp ready to use
As I've already mentioned if you do get caught in an electrical storm during the rainy season the power will likely go out. So always make sure that you have your (waterproof) head torch handy. Put it in the pocket of your jacket or into your day pack.
9. Travel in the mornings not overnight
Travelling by bus is the easiest and most cost effective way of getting around. The best time of day to travel is in the mornings. Often the landslides happen later in the day or in the evening. Travelling in the morning reduces your risk of getting caught in the rain and it's also far safer to travel during daylight. Avoid overnight busses and shuttles if you can.
10. Entertainment
Make sure you pack some playing cards, at least one good book or your kindle and download plenty of podcasts. If you do end up in a power outage or stuck inside a tent/ hotel room for a while you will be thankful you did!
But what about the Mosquitos in rainy season in Central America?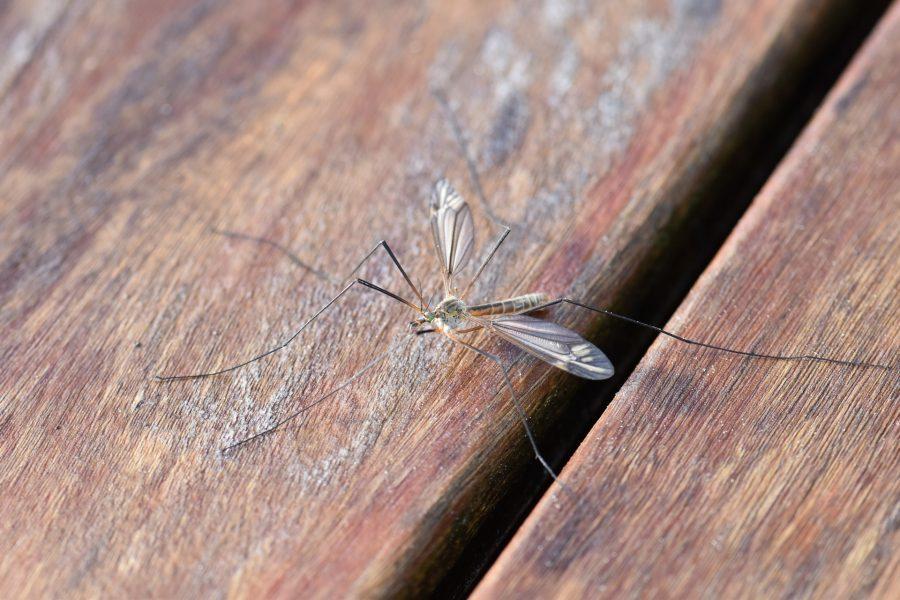 One offputting factor during the rainy season is the mosquitos! Rainy season = mosquito season!
If you are anything like me I get eaten alive by mosquitoes! The difference between Central America and some other places is that the mosquitoes are always around rain or shine. So even coming during the dry season doesn't mean you are going to avoid them. In the rainy season, however, they are even more vicious!
There are many diseases that are mosquito-borne like malaria, yellow fever, zika, and Dengue, the best way to avoid them is to not get bit in the first place.
Here are a few ways you can avoid mosquitoes in Central America Rainy Season
Make sure you travel with a DEET spray and clothes that cover you up (so they have less flesh to choose from).

Get a mosquito net. A small mosquito net won't take up much space in your bag and you can sleep under it wherever you are staying. Sometimes it can get really hot out here so you don't always want to sleep in a sleeping bag or under your sheets. A lightweight mosquito net is a perfect alternative.

Buy some mosquito repellent bracelets. I'm a big fan of these bracelets. I normally put one round one wrist and one around my ankle. They don't look like mosquito bracelets which are great and I do find I'm normally bitten just on the leg I'm not wearing it!
For a full packing list take a read of this post.
Top Tip: Make sure you have had all of your vaccinations before you arrive in Central America. Many of the countries won't let you in without proof of Yellow Fever vaccination for example. Malaria isn't such an issue in Central America, however, the malaria tablets are very cheap in Guatemala so if you are planning on continuing down into South America pick them up In Guatemala.
This post was proofread by Grammarly