If you are backpacking around Colombia it is important to know the best way to get from A to B. In this guide I'm going to share with you the different ways you can travel from Medellín to Santa Marta (or travel from Santa Marta to Medellín).
I normally split these posts into 3 categories, the cheapest way the mid-budget way, and the no-expenses-spared way. However, prices fluctuate in Colombia so this changes from day to day.
Did You Get Travel Insurance Yet?
If 2020 taught us anything, it's that you need to be prepared for anything! Travel insurance has always been high my list of things to get before I travel but now more than ever its at the top of my list.

I'm pretty sure we have all had travel plans messed up because of COVID and not all insurers covered this. So when looking for travel insurance it's important to check it covers travel disruption due to COVID-19, Hey Mondo, Passport Nomads, Safety Wing, and Travel Insurance Master all provide cover for this.

Hey Mondo is great if you are looking for a great value flexible policy. They offer single trip cover, annual multi trip cover, and long term travel cover. You even have the option to start the cover when you are already on your trip, although you won't be covered for the first 72 hours. For me my favourite feature is their app which offers you a 24/7 Dr chat and the ability to file a claim direct in the app.

Passport Nomads provides the most comprehensive cover for Digital Nomads. The game changer with them is that you have a red card and if you find yourself in need of medical care you just contact them and they will pre load your card with the funds to cover your treatment, meaning you won't need to pay out of pocket and then put in a claim later.

Safety Wing is great value with monthly cover starting at $39. It's super easy to use and it just renews each month. They have an excess of $250 and it's simple to make a claim through their website. I currently use them as they offer me free cover for my son as part of my policy and I like that it renews on a monthly basis, so I don't have to pay out a big lump sum up front.

I also use Travel Insurance Master for some short vacation type trips.

If you are doing shorter trips or an extended backpacking trip then Hey Mondo or Travel Insurance Master are the best option. If you are a digital nomad or planning travel of at least 6 months then go for Passport Nomads or SafetyWing.
Traveling by Air from Medellin to Santa Marta
This is actually the best and cheapest option normally! Having traveled both by bus and by plane I can 100% say fly if you can. Over Christmas and during peak times airfares go up so it may be cheaper to get the bus. In my experience booking a few weeks in advance, it was at least $10 cheaper to fly.
There are 2 airports in Medellin. A small one close to the south bus terminal and a large international one in Reonegro. Most flights go from the international airport but do check.
Be sure to check for the best flights on GuateGo.
Extra Charges
Be aware of the direct flights if they are with Viva Colombia. They are very strict on printing out boarding passes and luggage. If you book with them read the fine print and don't break the rules, otherwise, it is likely to cost you a lot more than the airfare. If you want to take more than 5kg of hand luggage you will need to pay extra. So take this into account.
EDIT: Viva Colombia has recently filed for bankruptcy and canceled all of its flights. Be careful when booking flights and ensure you are insured as there have been several unstable Colombian airlines recently.
Wondering where to stay in Medellin? I recommend staying in either El Poblado or Laureles and here are a few of my favorite places to stay:
Parceros Med Hostel ( I stayed here for a month and loved it!)
Los Patios Hostel Boutique
Purple Monkey Hostel
Hostal Medellin -Laureles
El Jardín de la 10 – El Poblado
You can also read my full Where to Stay in Medellin Guide here.
Getting to the airport in Medellin
The airport in Medellin is an hour away in Rionegro. A colectivo from Medellin to the airport will cost around $15mil COP and you can catch it from the San Diego shopping center. The Colectivos to the airport in Medellin park at the petrol station.
A private taxi from Medellin to the airport is more like $70 mil COP.
To get to the Santa Marta Colombia airport it is super easy and really cheap. You can get on one of the blue colectivos from Santa Marta to the airport for the bargain cost of $12,00 COP. Take the collectivo from the Carrera 1 (seafront) and it will drop you right outside Santa Marta airport. If you are coming from the airport then just wait outside airport arrivals until you see one of the blue buses.
How long does it take to fly between Medellin to Santa Marta?
The flight from Medellin to Santa Marta is really quick, under 45 minutes. If you are not checking in luggage you just need to be there an hour before boarding and you will walk right out of the airport at the other side. It should take around 3 hours max in total.
Traveling by Bus from Medellin to Santa Marta
The bus is by far the easiest way to go between Santa Marta and Medellin. However it isn't much cheaper, in fact, it is often more expensive, and it takes a LONG time. They may tell you 15 hours, but that would be a lie! I was on the bus for at least 20 hours and this is pretty normal. That's a long time to be on a bus!
Do you need to book the bus from Medellin to Santa Marta?
To take the bus from Santa Marta to Medellin I would strongly recommend booking! Especially if you are planning to travel on one of the night buses. I didn't book and ended up stranded overnight, the bus station closes at 10 pm so it's not possible to sleep there! Book your ticket online with GuateGo. Or go to the bus station and pre-book the bus at least 24 hours before.
Getting to the bus station in Santa Marta
This is really easy. In Santa Marta just head to the market area and ask for a bus that goes to the bus terminal. This will cost $1200 COP or a taxi should be $5mil COP.
The bus will stop right outside the bus terminal. If you just find your way out onto the main road you can take a bus into town. Just ask the driver if you are unsure.
The Santa Marta bus drops off and picks up from the North Terminal (Terminal Norte) in Medellin you can take a colectivo there (just find one that says Terminal Norte) or a taxi from Laureles should be around $6 mil COP.
If you don't know Medellin and your Spanish isn't great I would get a taxi as the colectivos can be confusing!
Why Get the Bus from Santa Marta to Medellin?
The best way to book your bus from Santa Marta to Medellin is through GuateGo. They do charge a small booking fee to cover their expenses, but it makes life so much easier! You can check the times and book your bus to Medellin ahead of time without having to go to the bus station the day before. Or if you prefer you can just turn up and get a ticket. You can check the times and prices of the Santa Marta to Medellin bus here.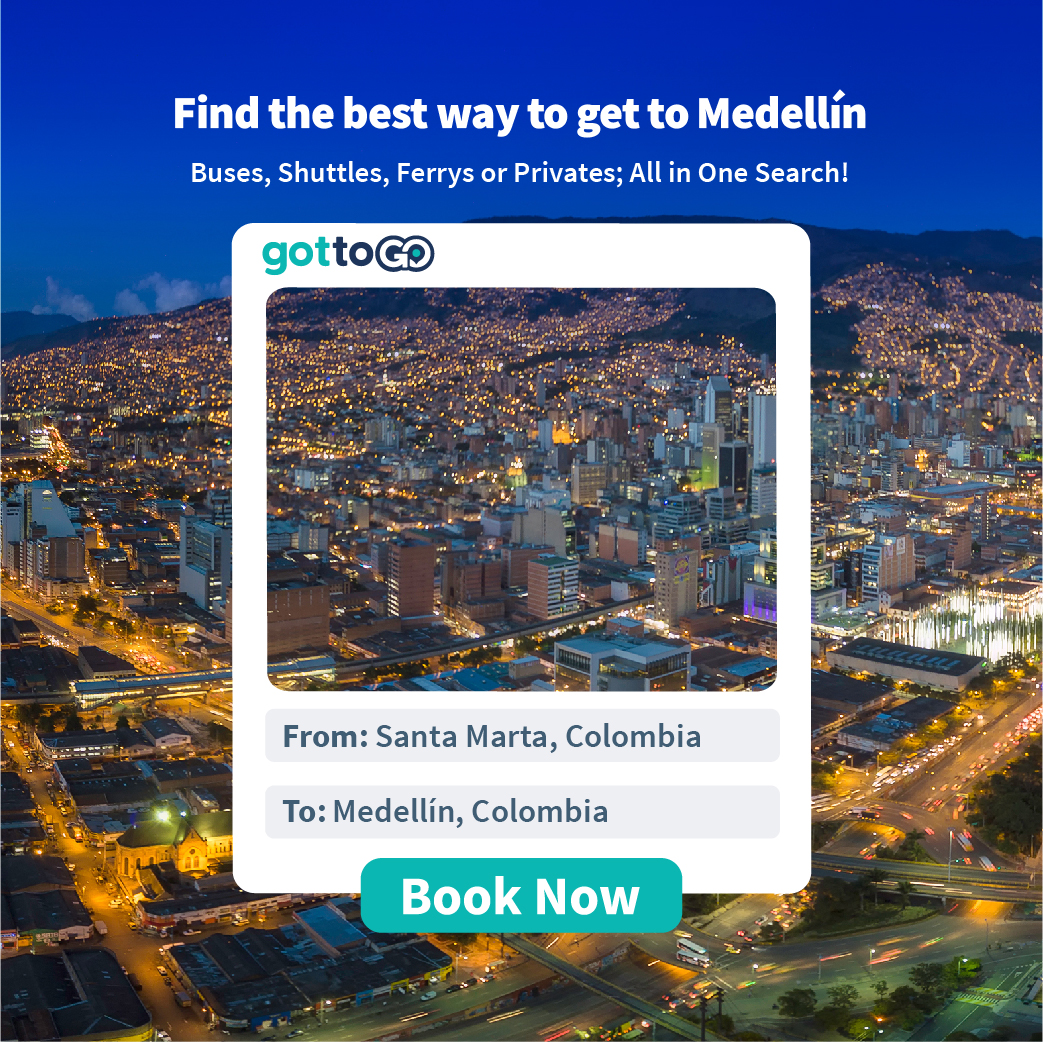 Even though taking the bus takes a ridiculous amount of time, and isn't that much different in cost I often prefer the bus.
If I have luggage it's just so much easier to sling my bag on a bus and sit there for a day than have to deal with packing my bag, weighing it, and dealing with the whole airport security stress.
So if you aren't in any rush and you hate airports as much as me then the bus is a good option. They are comfortable, the food is better and cheaper (well that's if you are lucky and the driver lets the guys who board the bus to sell food) and there are no hidden costs!
By Private Transfer from Medellin to Santa Marta
Does anyone even do this? Honestly, I really wouldn't recommend it. But if you want someone to organize everything for you and money is no object then speak to my friends at Colombian Buddy. They can organize an English or Spanish-speaking driver who can drive you around Colombia.
Is it safe to travel by road in Colombia?
I personally traveled many times by bus and at no point did I feel in danger. I also didn't hear any issues from other travelers.
It is no secret that Colombia is emerging out of decades of civil war. During this time it was extremely unsafe to travel by road anywhere. For that reason, Colombia's infrastructure for traveling between cities isn't great. Even though the geographical distance may not look far, for the most part, you have to go over and around the mountains on single-track roads. It can be slow going!

However, as the roads are now considered safe and as more people are traveling the government is investing in the country's roads. Within the next decade, bus journeys will get quicker and it will be much easier to travel. For example, a new tunnel due to be completed at the end of 2018 connecting Medellin and San Jose airport will half the drive time.
I hope this is helpful if you are backpacking in Colombia be sure to check out my other guides!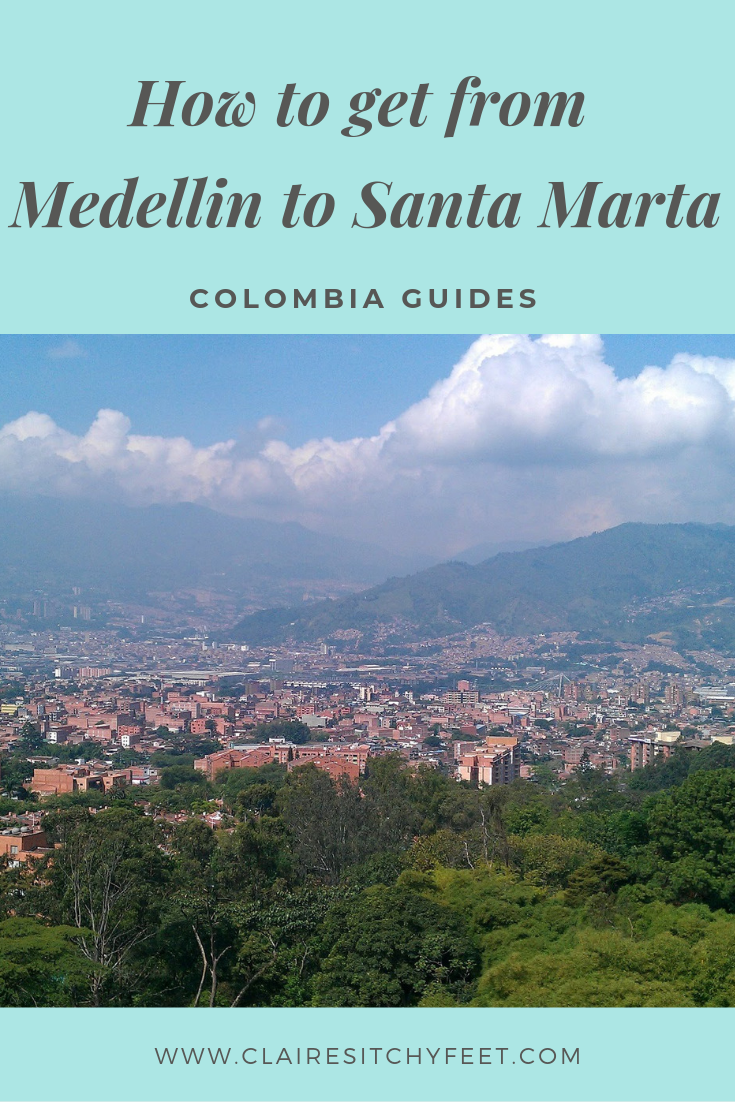 If you need help getting to your next destination take a read of my Colombia transport guides:
How to get from Bogotá to Medellín on the bus or plane
How to travel from Medellín to Santa Marta
How to get from El Dorado airport in Bogota to La Candelaria
Using Public Transport in Medellin
This post was proofread by Grammarly