Thinking of learning Spanish in Guatemala? When I decided I wanted to travel to Latin America I knew I would need to learn Spanish. I did a lot of research and ended up choosing to learn Spanish in Guatemala. In this post, you will learn about the best places to learn Spanish in Guatemala, as well as some top tips and advice to prepare you for your Spanish learning experience in Guatemala.
Did You Get Travel Insurance Yet?

If 2020 taught us anything, it's that you need to be prepared for anything!

The Insurance companies I personally recommend are Hey Mondo, Passport Nomads, Safety Wing, and Travel Insurance Master

Hey Mondo is great if you are looking for a great value flexible policy. They offer single-trip cover, annual multi-trip cover, and long-term travel cover.

Passport Nomads provides the most comprehensive cover for Digital Nomads. If you find yourself in need of medical care you just contact them and they will pre-load your card with the funds to cover your treatment, meaning you won't need to pay out of pocket and then put in a claim later.

Safety Wing is great value with monthly cover starting at $39. It's super easy to use and it just renews each month. I currently use them as they offer me free cover for my son as part of my policy.

I also use Travel Insurance Master for short trips.

Read my full travel insurance post here where I go into detail about all 4 companies.
Why You Should Consider Learning Spanish in Guatemala
There are lots of things to think about when choosing a Spanish course. Every Spanish-speaking country speaks Spanish slightly differently. This means where you choose to learn Spanish is going to be super important. If for example you are planning on traveling in Latin America, and you learn Spanish in Spain, you are going to run into a lot of difficulties as the accent is completely different.
As someone who has traveled extensively in Latin America and taken Spanish classes in 3 of those countries, I can speak to some authority when I say learning Spanish in Guatemala is a great place to start your Spanish learning journey. This is because in Guatemala they have a neutral accent and most importantly… they speak slowly.
Why is Guatemala The Best Place to Learn Spanish?
I started doing some research about the best place to learn Spanish. That's how I found the two best places to learn in Latin America were Guatemala and Colombia. After googling 'Where is Guatemala' and finding out it was just underneath Mexico at the top of Central America I decided it was the perfect starting point for my travels in Latin America.
In short you should consider learning Spanish in Guatemala because:
Guatemalan Spanish is slow. They speak slower than the other Latin American countries like Mexico and Colombia.

It's the cheapest place to learn.

It's close to the top of Central America so the perfect place to start my adventure.
there are 3 places most peo

ple learn Spanish in Guatemala:

To help you decide where to learn Spanish in Guatemala, here are a few notes and personal opinions to help your decision between Antigua and Xela, before I go into detail about why I chose to learn Spanish in San Pedro.
Learning Spanish in Antigua
Antigua is a lot of people's first choice. It's bursting with language schools and you will be spoilt for choice. It's a stunning city with its colloquial buildings and has some of the best nightlife in Guatemala.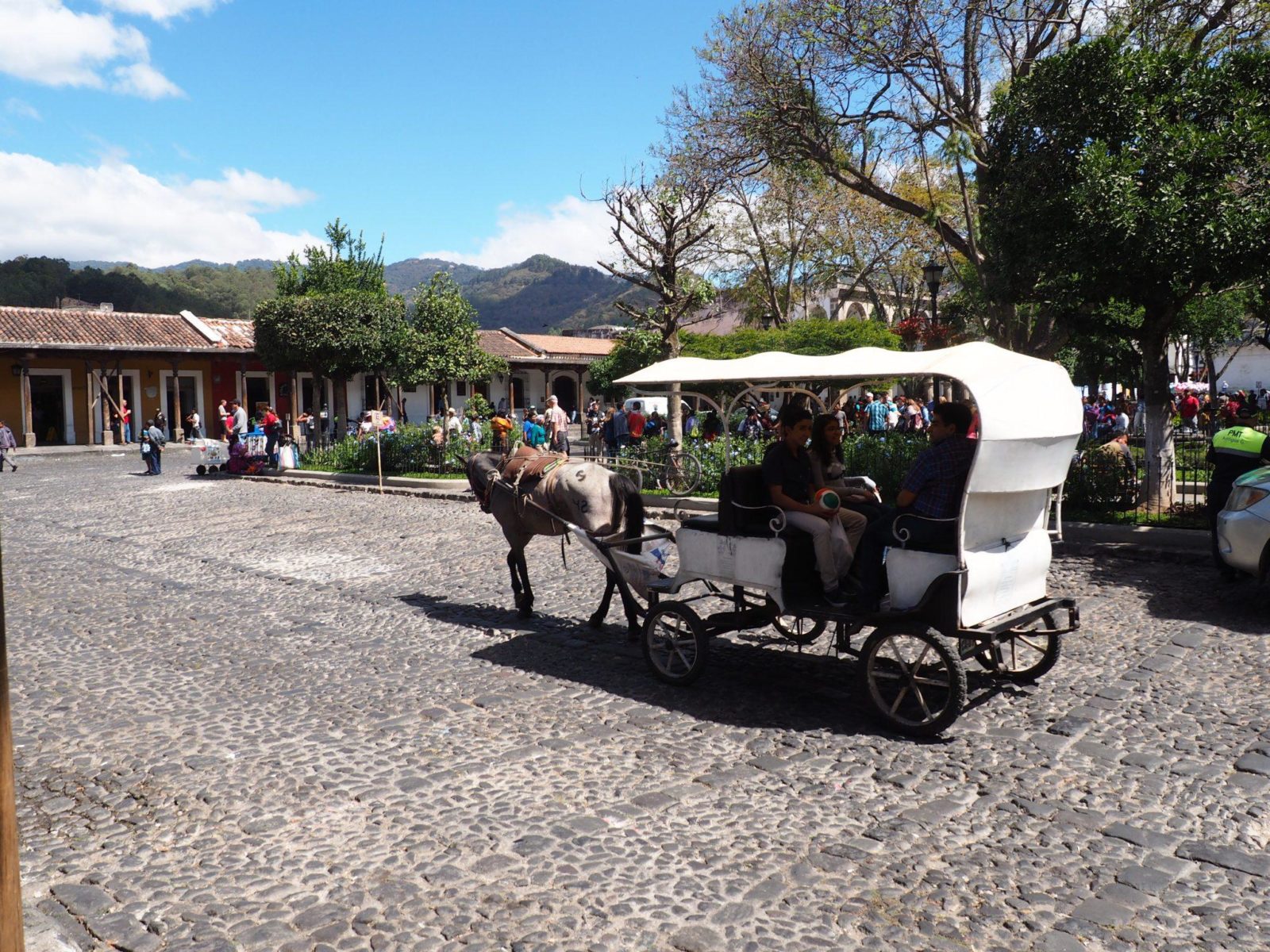 Love salsa?
You will find a dance party most nights here. With all of this of course comes a lot of westerners. This has its positives and negatives. On the plus side, you will be sure to have a great time. If you're in a homestay you will probably be there with a few other English speakers and you won't lack people to talk to in English. The negative side of this is that if you want to really make the most of the experience and fully immerse yourself in the language you will struggle as it's pretty easy to default into English. The school I went to was the oldest in Antigua La Savilla and I really can't recommend it enough, my teacher Lorena was incredible!
I also returned to learn Spanish in Antigua Guatemala in 2019 and wrote more in-depth about my learning experience here.
Study Spanish in Xela
Otherwise known as Quetzaltenango it is the second-largest city In Guatemala. I chose not to visit here as it didn't really appeal to me. However, from what I can gather it's just a big city and there aren't as many reasons for tourists to go there other than the language schools. It's also up in the mountains so pretty cool compared to other parts of Guatemala.
Why I chose to study Spanish San Pedro
I have read over and over again the serious learners go to San Pedro. So that's why I decided if I was going to invest in a course I wanted to be serious about it. In San Pedro generally, the local people don't speak English. Spanish is their second language, their first being Tz'utujil. Coupled with the fact that you are likely to be the only student in your Guatemalan homestay, it's hard for you to not speak Spanish outside of your lessons. So if you want to push yourself to really speak Spanish, go to San Pedro.
A bit about San Pedro La Laguna
San Pedro is extremely safe. This was pretty important to me as a non-Spanish-speaking solo female traveler. I wanted to study somewhere that I felt comfortable, that wasn't too busy, and that I could feel safe walking around alone at night. There is little crime in San Pedro, especially towards tourists.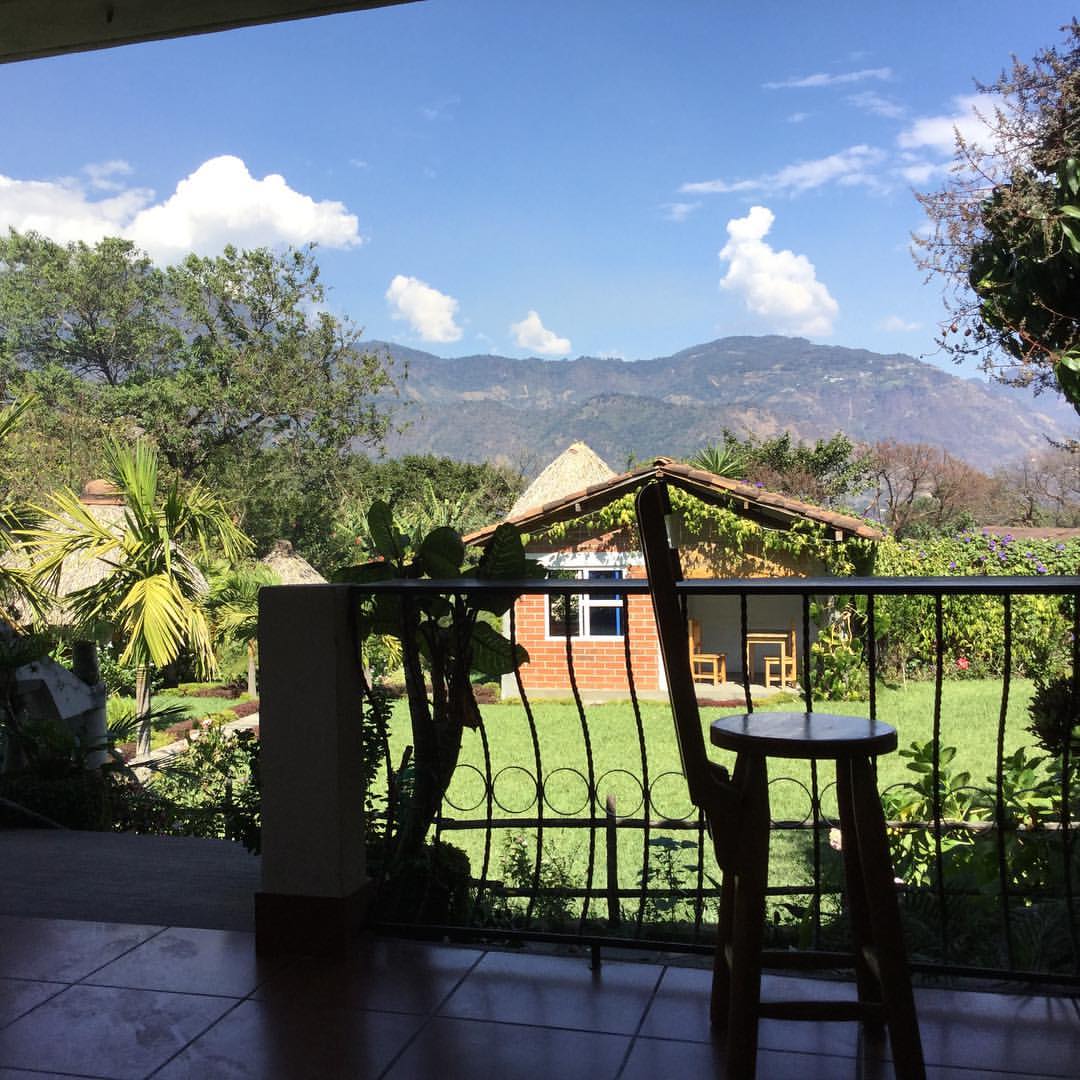 Choosing a Spanish school in Guatemala
I love to research, so before booking anything I did a lot. I'm a pretty conscious traveler, or I try to be anyway. So it was important to me that I choose a school that was positively impacting the local community. When I found the Cooperativa Spanish School I knew I had found my school! They do a lot of work in the local community which you can read about here. And they also have a beautiful garden where all of the lessons are held. They also offered activities outside of the classes, which is a great way to get to know the other students. There are several other local schools with great reputations.
Do you need to book a Spanish school in Guatemala?
It's also not always necessary to book, so I would recommend going and looking around a few before you decide and see which one you like. Although if you are planning on going around Easter or during July-September I would make sure you book ahead. Also, I would strongly advise you to pay each week in case you decide the school isn't for you.
I booked for 5 hours a day, 5 days a week for 3 weeks. This was far too much for me and I decided to stop my lessons after 2 weeks. I did get some of my money back but it would have been so much easier to just pay as you go! It's what most other people do and means you aren't tied down if you decide the school or teacher isn't for you.
You can book Spanish lessons in Antigua, San Pedro, Panajachel, San Marcos or Xela through GuateGo. You can also check out Heart of Travel's Spanish Immersion program here.

Be clear about what you want
I wrote a whole post all about things to consider, BEFORE choosing a language school. Take a read before you book anything.
Staying in a homestay in Guatemala while studying Spanish
When I first arrived and met my family as was given the most lovely welcome and all of my anxiety melted away. Now to be clear if you choose a homestay don't expect the ritz, or anything close. You will be living in the family home and it will likely be very different from your family home. My room was pretty large but simple, the showers weren't always hot (the longest I want without a hot/ lukewarm shower was about 4 days), they were lukewarm at best and ice cold at worst. The host family provides a full service including a cleaning service and meals. The food, in my opinion, was great.
My room was pretty large but simple, the showers weren't always hot (the longest I want without a hot/ lukewarm shower was about 4 days), they were lukewarm at best and ice cold at worst. The food, in my opinion, was great.
My Guatemalan mum Anita looked after me well and there was nothing I didn't like. I'm a veggie and I was really pleased they were able to cater for me. I ate three meals with the family Monday to Saturday at set times. On Sundays, Anita took a well deserved day off and I was able to enjoy the local food. Read more about that here. A normal menu for the day looked something like this:
Breakfast:
Pancakes and Banana or Eggs purified beans and rice with tortillas or fruit and toast
Lunch:
This amazing cauliflower cooked in egg with rice and tortillas or Salad, rice beans, and tortillas
Dinner:
Spaghetti with a tomato sauce or soup with (yes you guessed it) tortillas.
If you are a meat eater then you would normally get meat with your lunch. In Guatemala lunch is the main meal of the day with dinner being the smaller meal. One thing you can guarantee while in Guatemala is that you will be given tortillas for every meal. Sometimes, especially at lunch, I turned them down (I have bridesmaids dress to fit into and tortillas, rice, and potato in one meal with just too much), I honestly felt like I was offending them. They put a lot of salt in their cooking so go easy with it.
The host family won't do your washing for you, but don't worry there are plenty of places around the town to get it done cheaply.
The learning experience studying Spanish in Guatemala
Ok so full disclosure, as I said I left after 2 weeks, deciding not to do my 3rd and final week. This was not an easy decision but I felt so overwhelmed with all of the information that I couldn't take one more week! I needed a break to let my brain catch up and digest all of the information I was given.
This is why reading my post "Learning Spanish Abroad" is so important, so you don't make the mistakes I did, so quick read it now and then come back! Briefly, I did too many hours and wasn;t clear enough about what I needed from the school and my teacher. If I could do it again I would have done 2 weeks with 3-hour classes each day with my focus on talking NOT grammar. What I got was a lot of grammar, I burned out quickly and the whole thing felt pretty miserable.
What went wrong
Briefly, I did too many hours and wasn't clear enough about what I needed from the school and my teacher. If I could do it again I would have done 2 weeks with 3-hour classes each day with my focus on talking NOT grammar. What I got was a lot of grammar, I burned out quickly and the whole thing felt pretty miserable.
That said I loved the school and my teacher was a really nice guy, he just wasn't the right teacher for me. I did learn a lot and after 50 hours of classes over 10 days I got a pretty great foundation.
Week 1
I spent most of the week confused and mute! Struggling to understand most of the questions the family asked me and I could hardly answer anything. The dad asked me most days what I'd learned that day. After 5 intense hours, I had no brain power to recall anything! So I normally responded with "mucho" or "mas". I also spent most of the week repetitively saying "si" whilst nodding my head like a fool. The school was quiet and I hadn't found any friends because I pretty much went to school then came back ate and crashed out.
Week 2
By the second week, I noticed I was able to follow along with the family's conversations pretty easily. I understood their questions, even though I struggled to find the correct words to answer them. By the end of the week, I was able to join in conversations and answer questions using my very broken Spanish. I decided to put myself to the test-taking an overnight trip to Pana and the Chichi Market. It really helped my confidence just going out and speaking to people.
Week 3
It was a tough decision but I decided not to take any more classes. I was able to stay in my homestay thankfully and I was really glad of this. It meant I could continue to practice my Spanish with them whilst reviewing my mountains of notes from the previous 2 weeks. However, I made the most of this time by practicing my Spanish as much as I could.
By the end of the three weeks, I was far from fluent! But I was able to understand the gist of most conversations and questions as well as read a fair amount. My talking needed a lot of practice still but I felt I had a good basic grasp.
If I could offer anyone new to learning a language any advice at all it would be to get a head start and book a basic Spanish online course like this one Heart of Travel offers. It's a super interactive course that you can do in your own time. And the best part is that it's all centered around travel!

Final thoughts
As I'm in Guatemala for the next few months I'm continuing my studies less 'intencivly' by just doing a few hours a week with the focus on talking rather than any more Grammer!
If you are wanting to learn Spanish I would recommend San Pedro and The Cooperativa school. If you want to know more about San Pedro I wrote a post about it here.
The only company I recommend for booking transport, tours, and Spanish classes in Guatemala (other than the individuals and companies I have named) is GuateGo. They are a Guatemala owned company that has painstakingly brought together all of the transport and tour options in one easy-to-use website. You can book transport in Guatemala with them here and Guatemalan tours with them here.
Looking for somewhere to stay in San Pedro? Check out these places:
Cristalinas Cafe, Hotel & Restaurant at Lake
This post was proofread by Grammarly