Looking for the best itinerary for Europe trip? Well, look no further than my epic guide to help you plan an unforgettable Europe itinerary!
I've mapped out a 4 week European itinerary that will lead you through some breathtaking city breaks in Europe, stunning islands, and of course plenty of iconic historical landmarks.
In all honesty, you need more than 4 weeks in Europe to really see it. But in 4 weeks you can cover a lot of ground! So I'd say if you are planning on backpacking across Europe then you are going to need at least a month to cover some decent ground.
Every day on your itinerary for Europe trip, backpacking in Europe will hold a new adventure, and a new opportunity to create some unforgettable travel memories.
So, let's pack our bags and get ready to have some travel adventures!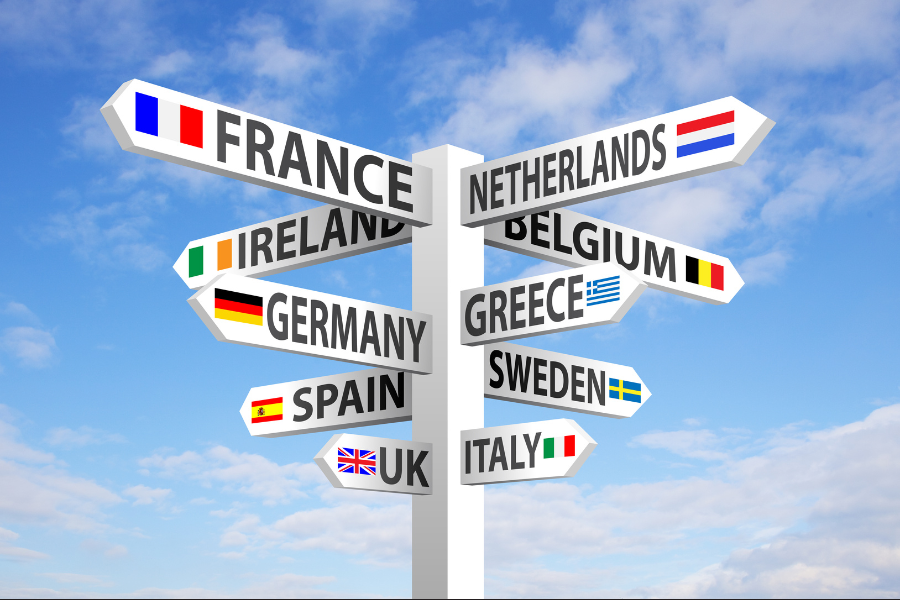 Did You Get Travel Insurance Yet?

The Insurance companies I recommend are Hey Mondo, Safety Wing, and Travel Insurance Master

Hey Mondo is great if you are looking for a great value flexible policy. They offer single-trip cover, annual multi-trip cover, and long-term travel cover. Safety Wing is great value, with monthly coverage starting at $39. It's super easy to use, and it just renews each month. I currently use them as they offer me free cover for my son as part of my policy. I also use Travel Insurance Master for short trips.

Read my full travel insurance post here, where I go into detail about all companies.
Quick View 4 week Europe Itinerary
Itinerary For Europe Trip Week 1: Spain and Portugal
What's a better place for your 1 week Europe trip than Spain and later take it to Portugal? I love the food, music, views, and vibes in both places.
So in my 4 week Europe itinerary, Spain and Portugal come first. You won't have to travel much to reach beautiful places. They are everywhere in these countries, so why not enjoy that?
Spend 3 Days Exploring Madrid, Its Museums and Nightlife
In your Europe itinerary 1 week is all you need to immerse yourself in Madrid's vibrancy and passion. From the moment you step off the plane, you will feel the city's incredible art, delightful cuisine, and pulsating nightlife. Madrid is a city that doesn't sleep, and it teems with energy and culture.
Begin backpacking in your European trip itinerary by exploring Madrid's "Golden Triangle of Art," the THREE world-class art museums.
If you're an art lover planning your 1 week Europe trip, The Prado is a paradise for art lovers, where you can spend hours admiring masterpieces from the likes of Goya and Velázquez. At the Reina Sofia, prepare to have your mind blown by modern art, including Picasso's Guernica – a real showstopper.
The real charm of Madrid is its buzzing nightlife that will surely fill up your Europe itinerary 1 week trip. If you love booze and wish to live in the moment, Plaza Santa Ana is a great starting point, with lively tapas bars and flamenco clubs begging to be explored.
Take A Day Trip to Toledo, A Historic City Near Madrid
On Day 4 of your backpacking trip to Europe, visit Toledo, an incredible city that's like stepping into a time machine. This UNESCO World Heritage site is a testament to Spain's historical and cultural diversity. The weather is generally nice, so you'll be comfortable roaming around here.
Don't miss out on the breathtaking Toledo Cathedral in your 1 week Europe trip, the serene Synagogue of Santa María la Blanca, and the commanding Alcazar fortress tell the tale of a city shaped by many cultures. And guys, don't miss the city view from the Mirador del Valle. It's a vista that'll stay with you forever.
Take An Overnight Train To Lisbon, Portugal
Say goodbye to Spain and hello to Portugal because there's a lot to cover in your 4 week Europe itinerary. Take a train from Madrid to Lisbon, where you can see the European country vibe while traveling comfortably. European trains are a class apart, so enjoy it while the journey lasts.
Quick Tip: Book accommodation, tours, and transport ahead of time online to save money and stress.
Best Europe Tours: Click here to check out the top Europe tours
Best Europe Accommodation: Click here to check out the best accommodation in Europe
Best Europe Transport: Click here to book a bus, ferry, or train in Europe
Spend 3 Days Exploring Lisbon's Historic Neighborhoods And Landmarks
As you continue your journey on 1 week Europe trip, I recommend starting your Lisbon adventure in Alfama, Lisbon's oldest district. It's a delightful maze of narrow streets leading to the impressive São Jorge Castle.
Do you hear that soulful music wafting through the air? That's Fado, a traditional Portuguese music genre best enjoyed with a hearty meal in the Bairro Alto district.
While in Lisbon, don't miss the architectural grandeur of the Jerónimos Monastery and the iconic Belém Tower. Catching the sunset along the Belém waterfront is a must – it's the perfect end to your Lisbon sojourn.
Take A Day Trip To Sintra, A Beautiful Town With A Palace And Castle
If you've ever dreamt of wandering through a fairy tale, Sintra is that dream come to life. The first stop has to be the Pena Palace. Perched high on a hill, the palace's vibrant colors stand out against the lush greenery that surrounds it and make backpacking for Europe a must-do.
Every corner you turn, every room you enter, you'll find a mix of styles that somehow works together perfectly, just like the Moorish tiles contrasting with the Manueline motifs.
End The Week In Porto, Portugal, And Explore The City's Famous Port Wine Cellars And Charming Streets
As you leave the fairy-tale behind, head towards Porto, a city where the houses are colorful, the streets narrow, and the vibe quintessentially Portuguese.
Don't forget to head to one of the many cellars in the Vila Nova de Gaia district for a tasting tour, this would be a highlight of your 1 week Europe trip. A glass of Tawny or Ruby Port overlooking the city at sunset to conclude your 1st week of 4 week Europe itinerary? Yes, please!
Looking for somewhere to stay? Check out these options!
La Cocotera Boutique Hostel & Coworking
Europe Itinerary Week 2: France and Italy
A 2 week Europe trip should ideally put these places in the center, as each corner in France and Italy is brimming with stories of the past and whispers of the present.
In your 2 week Europe trip itinerary, you should explore the rich history and vibrant culture of France and Italy as you visit iconic landmarks and savor exquisite cuisine along the way.
Take A Train From Porto To Paris, France
Your 2 week Europe itinerary begins with a train ride from Porto straight to Paris. As the train chugs along, you'll see the landscapes change, transitioning from the cozy countryside of Portugal to the lively, energetic urban expanse of France.
Spend 3 Days Exploring Paris's Iconic Landmarks And Museums
Continue your 2 weeks in Europe in Paris with the Eiffel Tower. This giant iron structure is really cool to see up close. And the view from the top? Amazing. But only when there's no rush. So wake up early to catch a good view of the Eiffel.
After that, you should go to the Louvre Museum. It's one of the largest art museums in the world and has all sorts of art, from paintings to sculptures. You can even see the famous Mona Lisa, which will be memorable for your 2 week Europe trip!
During your 2 weeks in Europe, don't miss the Notre Dame Cathedral, either. This grand church is a must-see.
Take A Day Trip To Versailles Or The Palace Of Fontainebleau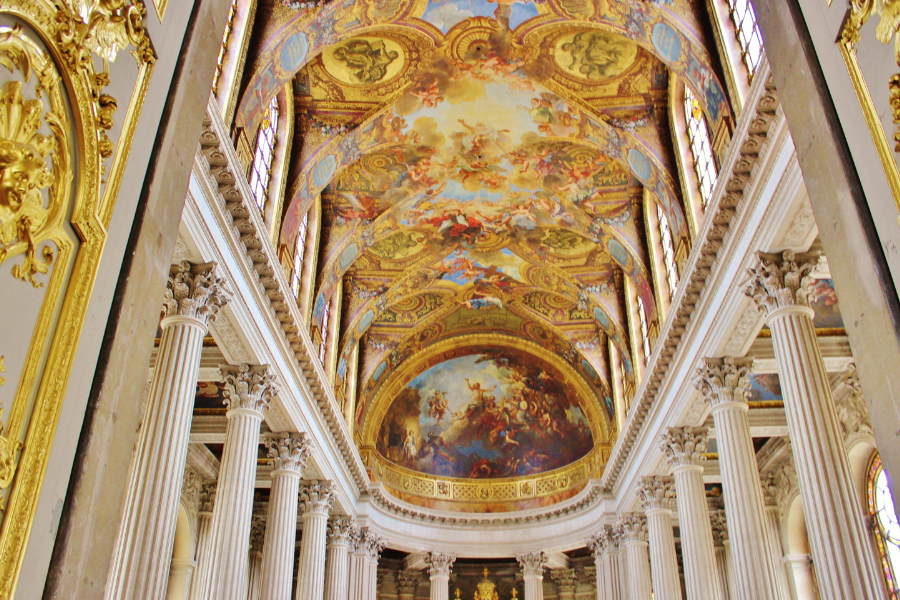 If you're doing your 2 week Europe itinerary by train, take a break from the city and go on a day trip to either Versailles or Fontainebleau. The Palace of Versailles has beautiful gardens, and the inside is just as stunning. If you choose Fontainebleau, you'll get to see a castle that was home to French kings for centuries.
Take An Overnight Train To Venice, Italy
For the best 2 week Europe itinerary, in the evening, get ready to take an overnight train to Venice for some calm time and to make your backpacking in Europe more diverse. The cheapest way to complete this almost 12-hour distance is via train, and if you want things to be more comfortable, get on a plane to Venice.
Spend 2 Days Exploring Venice's Canals And Architecture
Arrive in Venice and spend the day exploring. This city is famous for its canals, so a gondola ride is a must-do. Check out St. Mark's Square and the Doge's Palace, too.
On your second day in your two week Europe trip, see more of what Venice has to offer. Visit the Rialto Bridge and the markets around it. You might also want to see some of the smaller islands like Murano, known for glassmaking.
Take A Train To Florence, Italy
After enjoying Venice in your 2 week Europe trip, it's time to board a train to Florence, the next captivating destination on your itinerary. The journey is about 2 hours and quite convenient, so you won't spend much time out of your 4 week European itinerary while going to and fro from cities.
Spend 2 Days Exploring Florence's Art Museums And Churches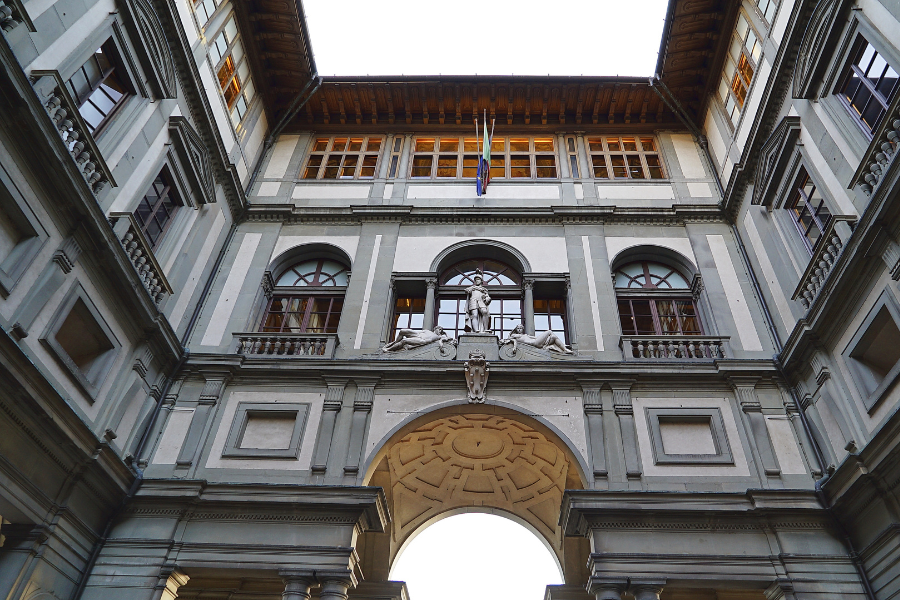 Continue your 2 week Europe Itinerary in Florence with a visit to the Uffizi Gallery. One of the most important Italian museums and among the most visited in the world, it holds a collection of priceless works, particularly from the period of the Italian Renaissance.
As you move from one room to another, you'll witness the works of art legends such as Botticelli, Michelangelo, Leonardo da Vinci, and Raphael.
As you enjoy your 2 weeks in Europe, you can end your day with a visit to the Basilica of Santa Croce, also known as the Temple of the Italian Glories, as it is the burial place of some of the most illustrious Italians, such as Michelangelo, Galileo, and Machiavelli.
Looking for somewhere to stay? Check out these options!
Enzo Hotels Reims Tinqueux by Kyriad Direct
💡Quick Tip
View my full Europe packing guide here including a downloadable checklist. And check out my Europe Essentials shopping list here.
Europe Trip Itinerary Week 3: Italy And Greece
I suggest dedicating a part of your 3 week Europe itinerary to Italy. Backpacking trips to Europe feel incomplete if you don't do justice to Italy because, honestly, you can dedicate a whole 10-day Europe itinerary to it. My stay in Italy was incredible, and I am biased toward it.
Take A Train To Rome, Italy
Start your 3 week Europe itinerary by taking a train from Florence and heading to Rome, the capital city of Italy. It's a pretty cool ride, and in a couple of hours, you'll be in the city's heart. Rome is one of the oldest cities in the world, and it's like stepping back in time.
Spend 3 Days Exploring Rome's Ancient Landmarks And Food Scene
Have fun in this ancient place on your Europe itinerary 3 weeks in duration by beginning your Rome visit with the Colosseum, the largest ancient amphitheater ever built. It's amazing to think of all the history that took place there. You'll also find the Roman Forum nearby, the ancient city's main square. Walking around, you'll see ruins of old government buildings.
On day two of your 3 Week Europe trip, check out the Pantheon, a former Roman temple that's now a church. It's got the world's largest unreinforced concrete dome, which is pretty impressive. After that, head to the Trevi Fountain, a huge and beautiful fountain that's famous all over the world. Remember to throw in a coin for good luck (we never know if it works out, right?).
Also, during your 3 weeks in Europe you can't leave without having some authentic Italian pizza, pasta, and gelato – it's almost blasphemous, IMO.
Spend the last day visiting Vatican City, where you can see St. Peter's Basilica and the Vatican Museums. Don't miss the Sistine Chapel in your 3 weeks in Europe itinerary, it is known for its ceiling painted by Michelangelo.
Take A Train Or Flight To Athens, Greece
After three days in Rome on your 3 week Europe trip, hop on a train or flight to Athens, Greece. It's the capital of Greece and one of the world's oldest cities. Athens is known for its ancient buildings and monuments, so you're in for a treat.
If you travel via local public transport during your 3 weeks in Europe, you must have the best travel bag for Europe that's waterproof and strong enough to bear the brunt of being relocated.
Spend 3 Days Exploring Athens's Acropolis And Other Ancient Sites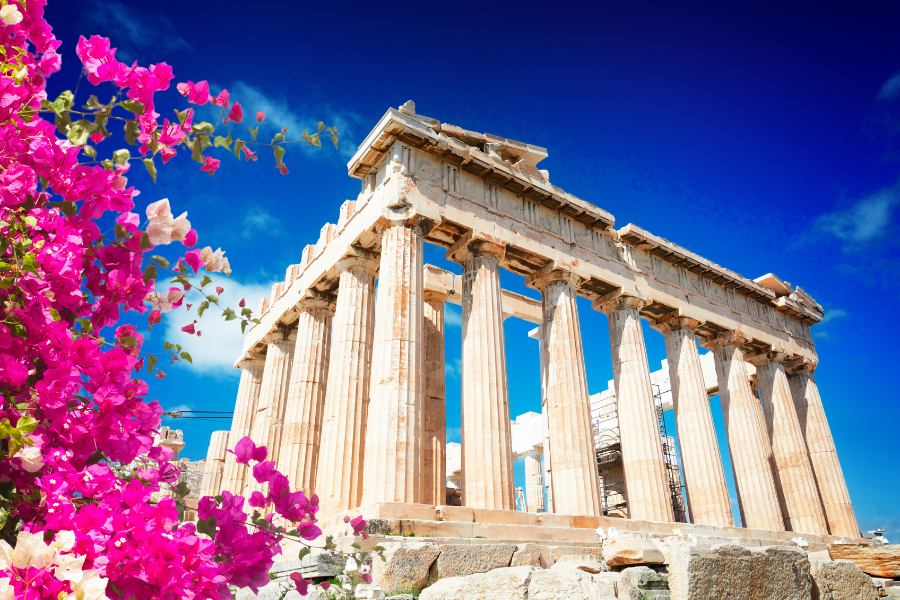 In your itinerary for Europe trip, I think your first stop in Athens has to be the Acropolis because of its vibe. This ancient hill holds several buildings, including the Parthenon, an old temple dedicated to the goddess Athena. The view of the city from up there is also stunning, and the weather will make it even better.
In your 3 weeks in Europe itinerary, other places to explore in Athens are Ancient Agora, a former marketplace, and the Temple of Olympian Zeus, once the largest temple in Greece.
Before you leave Athens, make sure to visit the National Archaeological Museum. I assure you it's the best Europe itinerary for you to include!
Take A Ferry To Santorini, Greece
Continue your 3 week Europe Itinerary by taking a ferry to Santorini. It's to get those Insta-worthy pictures clicked because no place is better than Santorini on your backpacking for Europe. From Athens, take a ferry to Santorini. This island is known for its beautiful beaches and blue-domed churches.
Spend 2 Days Exploring Santorini's Beautiful Beaches And Blue-Domed Churches
On your first day in Santorini during your 3 week Europe trip, visit Red Beach, named for its distinctive red volcanic sand. Remember to bring your camera, as the contrast between the red cliffs, blue sky, and turquoise sea is a sight.
Spend your second day in Oia, one of Santorini's most picturesque towns. The narrow winding streets are lined with small local shops offering everything from handmade jewelry to local wines and olive oil.
The town is famous for its blue-domed churches, which are scattered across its skyline. These iconic structures against the backdrop of the deep blue sea make for postcard-perfect photos of your Europe trip itinerary.
But the real magic happens at sunset, which will make your 3 weeks in Europe itinerary perfect! Find a good spot to watch the sun go down – it's a sight that will stay with you forever as the sky explodes in hues of orange, pink, and red over the calm Aegean Sea.
Looking for somewhere to stay in Greece? Check out these options!
Best Europe Itinerary Week 4: Greece and Germany
If you started traveling with a Europe trip itinerary 4 weeks, Santorini is a good place to conclude it. But I say the best backpacking trips to Europe give you enough leg space to travel to all places nicely. So plan a 4 week Europe itinerary and end it in Germany.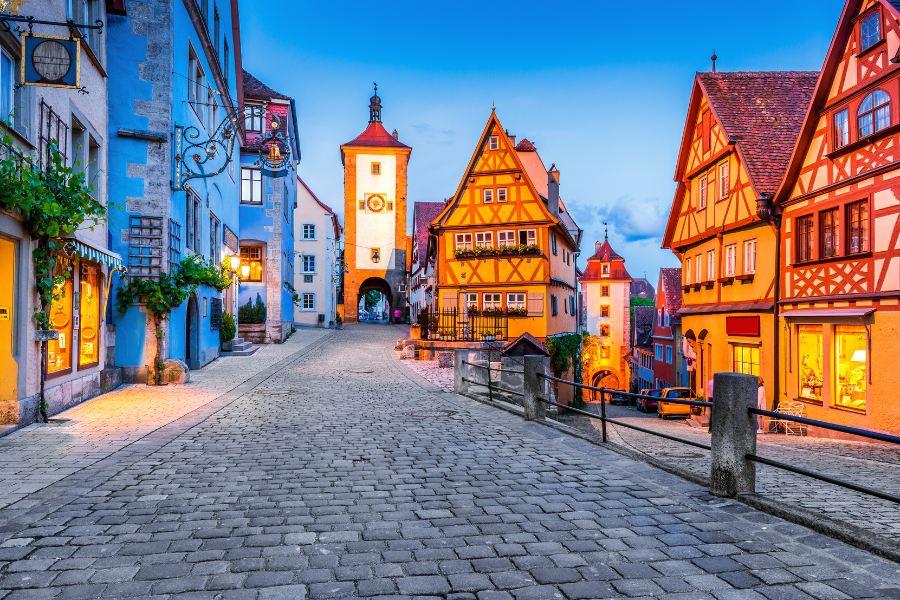 Take A Ferry Or Flight To Mykonos, Greece
After soaking in the beauty of Santorini, you can continue the 10 day europe itinerary by heading over to the energetic island of Mykonos. Take a ferry or catch a flight, and in no time, you'll be in the heart of Greece's party paradise, where summer parties are the most fun.
Spend 2 Days Exploring Mykonos's Party Scene And Beaches
Spend your precious 4 weeks in Europe in Mykonos with a visit to its famous beaches. Visit Super Paradise Beach, known for its clear waters and golden sand. It's a great spot to relax, soak up some sun, and maybe even make a few new friends. If you're up for it, you can also try water sports.
In your 4 week European itinerary, when the sun goes down, the island comes alive with music and dancing. Head to one of the many beach clubs or bars and join in the fun. It's a great way to experience the lively spirit of the island.
Take A Flight To Berlin, Germany
Let's move to the mainland on our Europe itinerary 4 weeks in duration, by doing backpacking across Europe excursions. Catch a flight to Berlin, the capital of Germany.
In your backpacking Europe itinerary 4 weeks will allow you to explore a diverse range of cultures, landscapes, and experiences, from the historic streets of Athens to the vibrant energy of Berlin.
Spend 3 Days Exploring Berlin's Museums And History
Brandenburg Gate, one of the city's most famous landmarks, is a good starting point for your Berlin stay. After that, walk along the East Side Gallery, a stretch of the Berlin Wall that's now covered in art.
Check out Museum Island, home to five of Berlin's most important museums. Also, don't miss the Pergamon Museum, which holds a huge collection of ancient art.
For your final day in Berlin during your 4 weeks in Europe, consider visiting Checkpoint Charlie, one of the most famous crossing points between East and West Berlin during the Cold War.
Take A Day Trip To Potsdam Or Sachsenhausen Concentration Camp
Before you finish your 4 weeks in Europe, consider taking a day trip from Berlin to either Potsdam or the Sachsenhausen Concentration Camp. Potsdam is home to beautiful palaces and gardens, while Sachsenhausen is a former Nazi concentration camp and a sobering reminder of Germany's past.
End The Trip In Munich, Germany, And Spend 2 Days Exploring The City's Beer Halls And Landmarks
As an addition to this itinerary for Europe trip, after your day trip, head back to Berlin and catch a train or flight to Munich. This city is famous for its beer halls, so you're in for a treat. But the weather here is quite cold, so plan your packing list for backpacking in Europe well. Keep jackets and warmers along, so you don't catch a cold.
In your itinerary for Europe trip, Plan a trip to Marienplatz to start your Munich visit with the city's main square. You should remember the New Town Hall and its famous Glockenspiel. After that, head to the Munich Residenz, a former royal palace that's now a museum.
As I said, Munich is famous for its beer halls, so visit at least one to have your own version of best Europe itinerary. The most famous is the Hofbräuhaus, which has been serving beer since 1589. Enjoy a traditional Bavarian meal with a pint of local beer to wrap up your amazing 4-week European itinerary.
Looking for somewhere to stay in Germany? Check out these options!
Map of Accommodation in Europe
Europe Travel Guide Planning
🧳 Any recommendations on what I should pack for Europe?
Yes! I have created a whole packing guide to Europe which you can read here and you can also check out my packing list for Europe on Amazon here.
👩‍⚕️ What is the best insurance to have while traveling?
I recommend using Heymondo for a great value policy. The app also offers you 24/7 Dr Chat. For Digital Nomads check out SafetyWing digital nomad insurance. I have also written a blog post covering all my recommended travel insurance here
✈️ Any flight recommendations?
WayAWay offers you cheap flights with cashback. You can use this code CLAIRE22 to get 10% off. Otherwise, Skyscanner or Expedia are my go-to flight searching platforms.
🎫 Where can I buy tickets for museums, attractions, and tours in Europe?
I recommend either Viator or GetYour Guide. They have a lot of options available!
🚗 Where can I book rental cars or private transportation?
I strongly recommend using RentalCars. They are available in more than 60.000 locations and customer service support in more than 40 languages.
📱What do you use for internet connection while traveling?
I'm a big fan of personal WiFi devices and they have saved my ass so many times when traveling. I wrote a full review of the top travel WiFi devices you can read here. I personally use GlocalMe as I can either pop in a physical sim card or use their local carrier.
With regards to my phone connection, I use e-sims while traveling, so rather than having to swap out my regular sim card I can download the app and buy a virtual sim card. I recommend using either Airhub or Alosim. Both have great coverage of multiple countries and are very easy to use.
🛏️ What is the best platform to use for booking accommodation?
The 3 best platforms that I normally use are Booking.com, Hotels.com, and Expedia. They offer great deals and multiple options. I always check all three to be sure of the best deals.
🛅 Do you have any luggage recommendations for traveling?
I do have a complete list of the best packing and luggage products that I recommend, you can check the list here. I'm currently traveling with this suitcase and this backpack.
The form you have selected does not exist.
Final Thoughts On This One Month Europe Itinerary
My biggest advice to anyone planning Europe trip itinerary is to embrace the diversity and let the journey guide you. Don't stress too much about seeing everything.
Instead, focus on experiencing the places you visit, whether that means sitting at a café and watching the world go by or joining the locals for a beer in Munich. And of course, keep my 4 weeks backpacking through Europe itinerary blog post handy and you will be stress-free!
Pin for later