Are you planning a trip to Guatemala? If you are then I'm sure San Marcos in Lake Atitlan will be on your list. There are plenty of choices of places to stay around the lake, you really can't go wrong with any of them. But San Marcos is a little bit special, especially if you are into all things alternative, 'new age' and spiritual. San Marcos is commonly known as a vortex, and for good reason. It can often seem impenetrable so I have put together this guide including some things to do in San Marcos Lake Atitlan to help you find your way into this very special village.
Why go to San Marcos in Lake Atitlan
As I mentioned in my opening San Marcos in Lake Atitlan is pretty special. There are so many things to do in San Marcos Lake Atitlan, plus it just has this incredible energy about it. It's hard to really describe to someone who hasn't been there, but you will understand when you go. Yes, I know I sound woo-woo, but it's true. It has something to do with the position of the village on the earth, next to the lake and surrounded by Volcanos.
Because of this energy, San Marcos attracts many people either wanting to be healed or wanting to heal. For this reason, if you have any health, emotional or spiritual issues San Marcos in Lake Atitlan is the place you can be guaranteed to find the right therapist (and therapy) to help you heal. For such a small place there are a lot of healers as well as a lot of other things to do!
San Marcos is also a great place to study yoga. Whether you want to do your Yoga Teacher Training in Guatemala or to just do a Yoga Retreat in Guatemala, there are a number of options. San Marcos has many Ashrams offering teacher training, and retreat centers offering everything from Crystal Healing training to learning to grow medicinal mushrooms… or any other kind of mushroom you might like to grow!
If that really isn't your thing I would still recommend going to San Marcos in Lake Atitlan for a morning or afternoon, just to take a stroll around the center (it's small and only takes 10 minutes), get a nice organic vegan lunch and maybe book a massage!

How to get to San Marcos, Lake Atitlan
The only way I recommend getting to San Marcos is by boat. You can easily catch a public launch from any of the villages to San Marcos. If you are traveling from Antigua, Guatemala City or anywhere else go to Panajachel first by tourist shuttle or chicken bus. Then get a boat. It's far easier and safer. A boat from Panajachel should be 25Q max.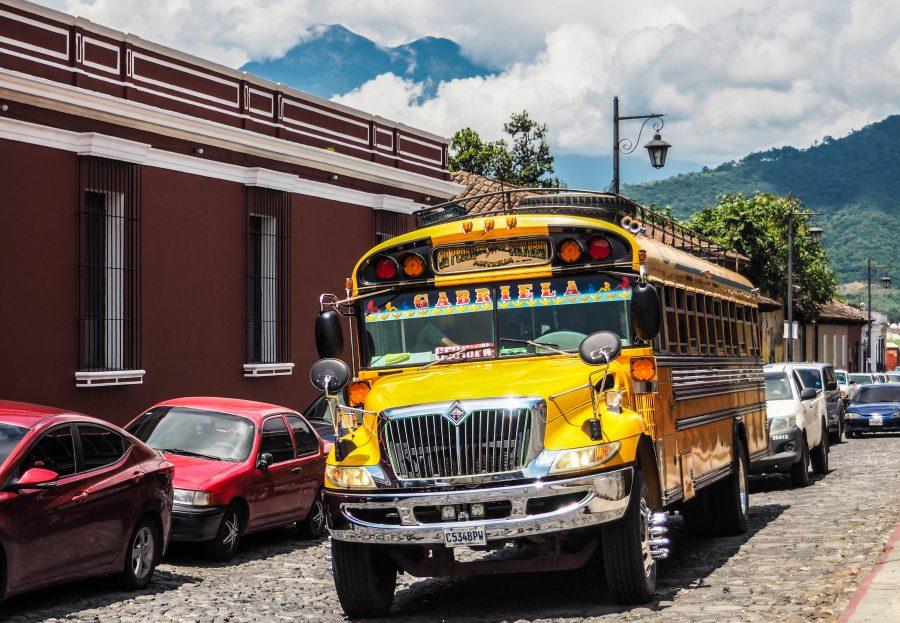 Where to stay in San Marcos
There are a number of places to stay in San Marcos depending on your budget.
The Best Hostels in San Marcos Lake Atitlan
Hostel Pacha Mama offers very basic accommodation so don't expect much. But the average price of a bed for the night is $7 usd. So you get what you pay for!
Hostel ahau is a bit nicer and a very chilled place to stay. It does get booked up quickly though so be sure to book in advance.
Lush Atitlan is my pick if you prefer to stay in the main village and have a little more money to play with. Breakfast isn't included but the rooms are clean and spacious. They have great WiFi and plenty of common space for you to hang out and relax in their gardens. If you are visiting San Marcos in the rainy season then be sure to check their rates as they normally do a seriously heavy discount. My friend got a single room there for less than a dorm room at Hostal del Largo!
Another good option is Paco Real Hotel Boutique.
The Best Yoga Retreats in San Marcos Lake Atitlan
Eagles Nest is just outside San Marcos in Tzunan new but well worth checking out.
The Best Air BnB's in San Marcos Lake Atitlan
I stayed in an Air BnB in between San Marcos and Tzunana. It was incredible! There are two options a small rustic cabin (outdoor toilet and shower):
Or a larger more modern cabin (with indoor bathroom):
Either way, the views are stunning and it's worth the short Tuk Tuk ride to get there. I stayed for a few nights in the small cabin and I actually quite enjoyed showering outside in nature! Karsten the host is super nice and helpful and I can't recommend this place enough. It's also great value for money.
Or my personal recommendation is to not stay in San Marcos, instead stay in neighboring Tzununá . My good friends Julia and Jole have the most beautiful AirBnB's available. They are lovely people and I know they will look after you well. If you book please tell them Claire sent you!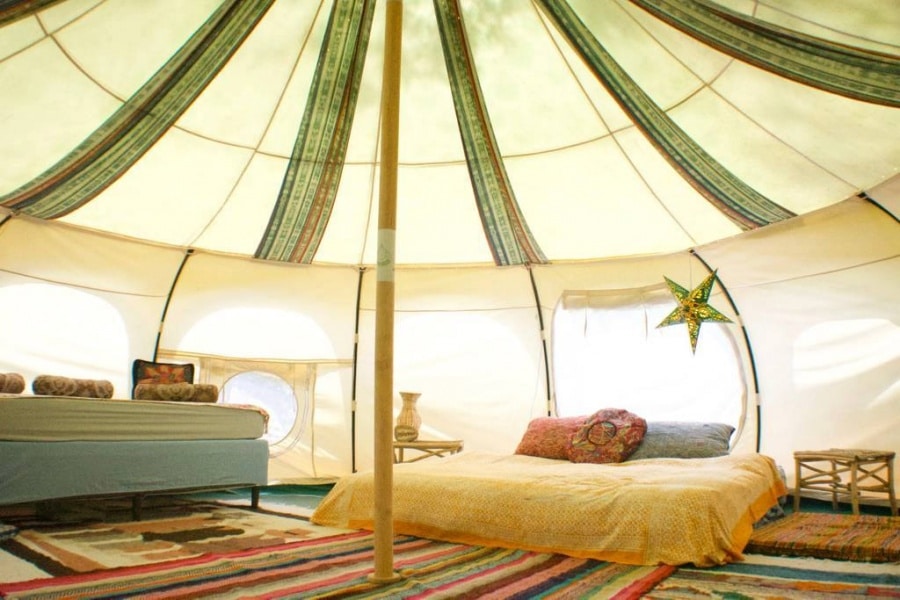 Too book click here and get a voucher worth $33 if you don't already have an Air BnB account.
Circles in San Marcos
Circles is a hostel and bakery in San Marcos and if you want to know about the best things to do in San Marcos Lake Atitlan this is the place to get the most up to date information. Just inside they have a noticeboard full of info. The food is sooooo good here, and they have the best bread around the lake, good bread isn't easy to find in Guatemala! So even if you don't stay there be sure to go in and ask about things happening in San Marcos and grab a bite to eat.
If you do decide to stay here then book for three nights and you get the third free. Breakfast is included (or you was at the time of publishing) making it great value for money. They also have great WiFi (by Lake Atitlan standards).
Why I don't recommend staying at Hostal del Largo in San Marcos
I personally don't recommend staying here, I did and it was awful (my standards aren't particularly high so for me to say this it's not great). It was dirty, dark (the light didn't work), the breakfast wasn't great, no hot water and the morning yoga class was canceled. That said it is a great place to go for food, take a yoga class, chill out on their deck and spend some time reading their notice board which is always full of workshops and offerings. So absolutely go there, just don't stay there!
Many things to do in San Marcos Lake Atitlan change quickly. This means it can be hard to keep up, as I've said already for the most up to date workshops and events go to Circles. For everything else, I've listed a few things that are pretty regular and some places to go and find out what they have on.
It's worth noting that it is difficult to plan or get much information until you are actually there. Things move quickly in San Marcos. There is a Facebook Group that I found invaluable in finding out what was going on there, it's also good to post any requests you have in there and people will always be happy to help.
To find out information about things to do in San Marcos visit these places in person:
Nectar is a cultural hub that runs and promotes various workshops, call in and find out what the have on. You can also check out their Facebook Page here. It does a lot of woman empowerment work and has a weekly women's group. Nectar is also run by a kick-ass Guatemalan woman.
Circles – As mentioned above be sure to call in here and ask what's going on.
Hostal Del Largo – They have a HUGE notice board full of information. And daily yoga classes.
Where to practice Yoga in San Marcos Lake Atitlan
Del Largo in San Marcos have daily classes close to the center of town. If you want to take a drop in class at one of the Ashrams I recommend Yoga Forest. Ask in Circles and they will help direct you there (you will likely need a Tuk Tuk) or there is sometimes someone who will come and pick people up from there. Either way, ask in Circles and they will help. If you want to do some self-practice then head up to Eagles Nest guest are welcome to use the incredible yoga platform. Book your stay here.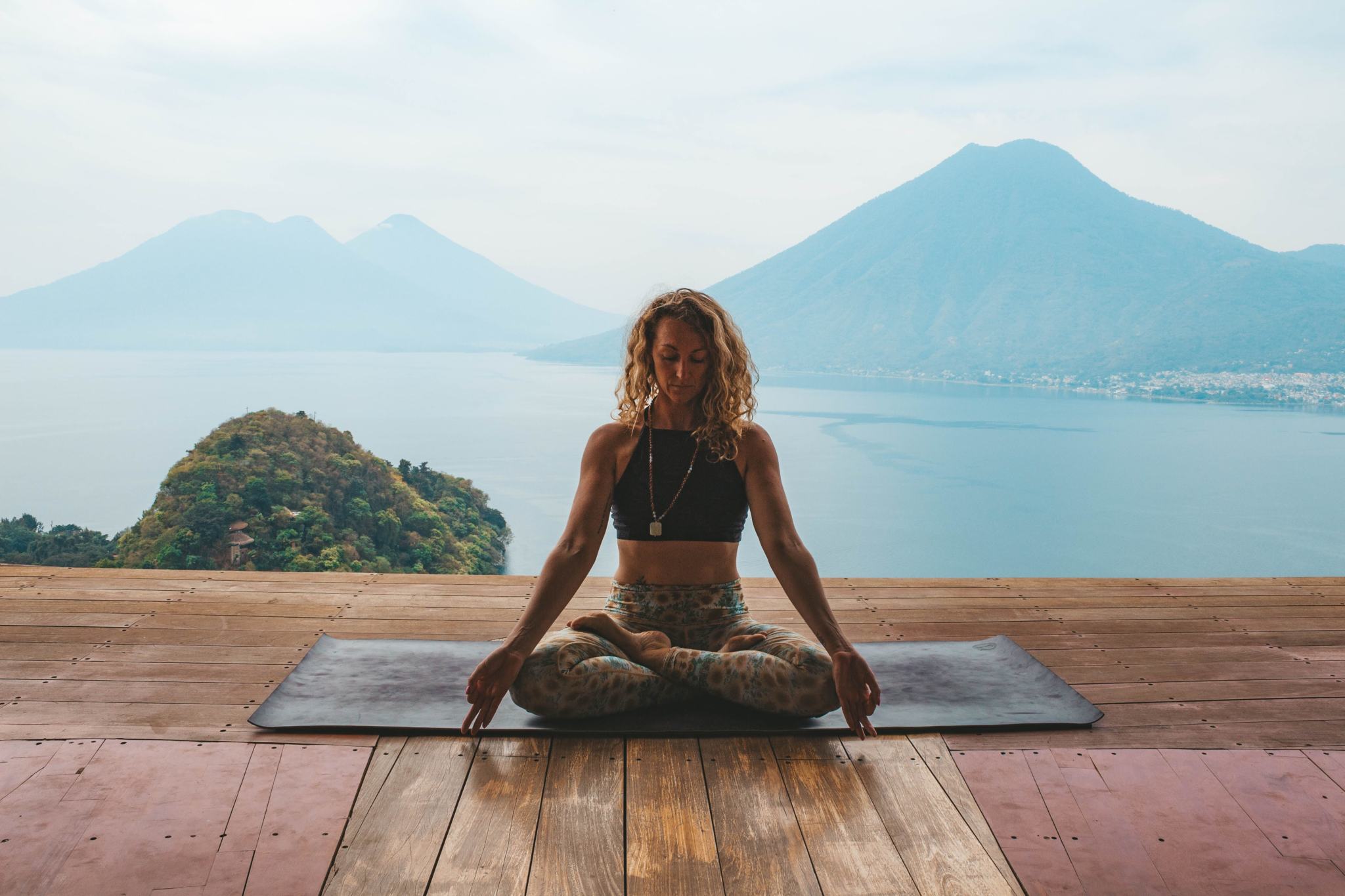 Learn to Grow Mushrooms in San Marcos
Want to learn how to grow your own mushrooms? The Fungi Academy offers a weekly workshop on a Tuesday.
Go to a Cacao Ceremony at Keith's house in San Marcos Lake Atitlan
You can't go to San Marcos and not pay a visit to Keith the Caco Shaman. He offers group Caco ceremonies on a Wednesday and a Sunday from 12:30 until around 6 pm. It's 200Q if it's your first time and 100Q after that. It's a unique experience and if energy healing work is new to you it might be a bit much, but go and see what you think. You can always leave if it's not for you.
Join a Kirtan in San Marcos
I recommend going to the Ashram in Tzunan (there is only one), take a Tuk Tuk from San Marcos for around 15-20Q per person and ask for the Ashram. You go through Tzunan, past hostel Bamboo on your left and just across the bridge there is a dirt path on your left, go p there and there is a door/ gate on your left. The Kirtan is each Friday at 11 am lasting for a few hours. You get Caco to drink and some instruments to play. It's a pretty magical experience and the best bit is it is by donation so you can pay what you can afford.
Find a Good Therapist and do Some Healing Treatments
You name it you can find it in San Marcos. I recommend posting in the Facebook group what you are looking for and asking for recommendations. Do this just before you arrive so you can get the most up to date information as people come and go quickly in San Marcos. If you are interested in herbal medicine then go and see my friend Julia at Casa Curativa, she really is magical. She does private appointments and weekly classes you can join.
Final Thoughts on Things to do in San Marcos Lake Atitlan
I hope this helps to shine some light on this mystical place and you are able to find what you are looking for there. Don't forget you can ask me any questions in the comments below or send me an email. I'm always happy to help.
Looking for somewhere to stay in Lake Atitlan?
If you want to stay in San Pedro then I'd recommend Zoola San Pedro Atitlan, AmiGos, Hotel Tinamit, or Cristalinas Cafe, Hotel & Restaurant at Lake. If you are planning on staying in San Marcos and enjoy yoga then I cannot recommend Eagle's Nest Atitlán enough. If yoga isn't your thing and you want something bit more upmarket then you can't go wrong with Lush Atitlan.
My friend Julia is developing an incredible retreat center close to San Marcos. They have two places to stay on Airbnb and I can't recommend them enough! I stayed there and it was the most blissed-out I've been in years. In Panajachel, I recommend PanaHouse or Selina Atitlan
Would you like up to $29 off Airbnb? Just use this link.
Planning a Trip to Guatemala? You might be interested in these articles:
How to get from Guatemala City to Antigua
Is it safe to visit Guatemala? Safety Advice for Solo Female Travelers
The night I thought I was going to die in Guatemala
Things to know before visiting Antigua, Guatemala
11 things to know before visiting Guatemala
The Top 5 Tours in Guatemala | The Best Tours in Guatemala in Guatemala
Are you ready to book your trip?  To help you get the best deals and service here are the companies that I personally use to book all of my travel online. I always shop around before booking anything, but these are my tried and tested starting places.