In this guide, I will share with you the best way to get from Guatemala airport to Antigua including uber to Guatemala, private cars, shuttle buses, and Chicken busses, I've covered them all! There is no Antigua Guatemala airport, the closest airport to Antigua is in Guatemala City and it isn't always the most smooth journey.
Having lived in Guatemala and traveled to and from Aurora International Airport in Guatemala more times than I care to remember, I'm a pro on getting to Antigua. If you are on an early or late flight though more often than not, it is better to find hotels in Guatemala city near the airport to avoid traveling in the dark.
Did You Get Travel Insurance Yet?

If 2020 taught us anything, it's that you need to be prepared for anything!

The Insurance companies I personally recommend are Hey Mondo, Passport Nomads, Safety Wing, and Travel Insurance Master

Hey Mondo is great if you are looking for a great value flexible policy. They offer single-trip cover, annual multi-trip cover, and long-term travel cover.

Passport Nomads provides the most comprehensive cover for Digital Nomads. If you find yourself in need of medical care you just contact them and they will pre-load your card with the funds to cover your treatment, meaning you won't need to pay out of pocket and then put in a claim later.

Safety Wing is great value with monthly cover starting at $39. It's super easy to use and it just renews each month. I currently use them as they offer me free cover for my son as part of my policy.

I also use Travel Insurance Master for short trips.

Read my full travel insurance post here where I go into detail about all 4 companies.
The main ways you can get from Guatemala City to Antigua are:
Uber
Airport Taxi
Book a private driver
Use public transport (AKA the chicken bus)
Now not all of these modes of transport are created equally! So read on to find out more about each of them and my personal recommendations for getting to Antigua from the airport.
Distance from Guatemala City Airport to Antigua
The distance from Guatemala City Airport to Antigua is just under 40 Kilometers. On a good day, it will take you 45 minutes. On a normal day an hour and on a bad day it could take several hours!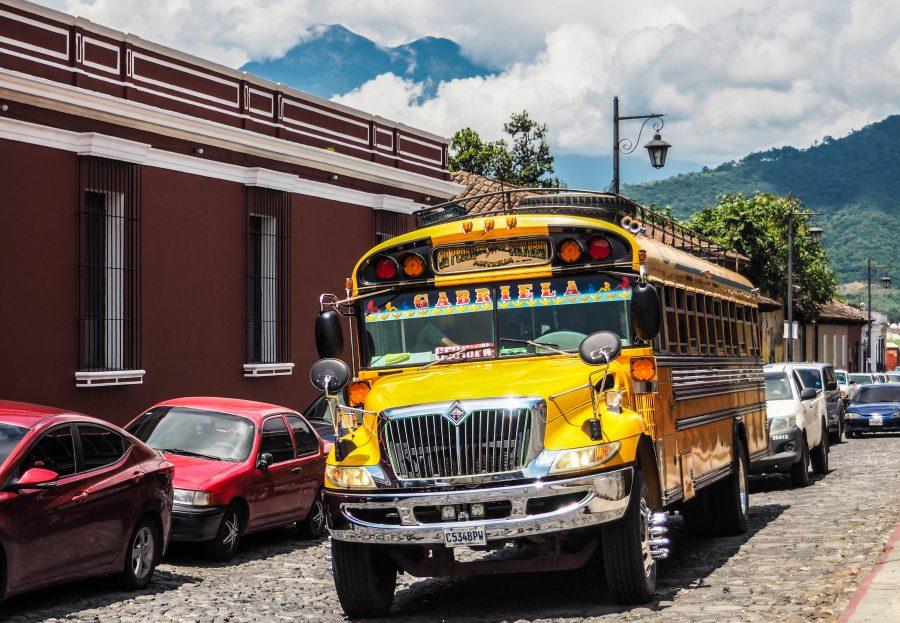 Why you should travel from Guatemala Airport to Antigua
If you are traveling to La Aurora International Airport in Guatemala, then you probably want to get out of Guatemala City as soon as you can. It's not somewhere that tourists like to hang around for safety reasons.
The closest place to Guatemala City Airport that's tourist-friendly is Antigua Guatemala. If you are planning to explore Guatemala, Antigua is the perfect place to start your adventure, check out my Antigua accommodation guide for some inspo and to find a place to stay while enjoying things to do in Antigua, Guatemala with kids. That said if you have an early or late flight and are nervous about traveling in the night then it is often best to stay at a hotel close to the airport.
All of the hotels/ hostels have a free airport shuttle. There are plenty of hotels in Guatemala City near the airport, but I have a few I have used that I recommend.
Quick Tip: Book accommodation, tours, and transport ahead of time online to save money and stress.
Best Guatemala Tours: Click here to check out the top Guatemala tours
Best Guatemala Accommodation: Click here to check out the best accommodation in Guatemala
Best Guatemala Transport: Click here to book a bus, ferry, or train in Guatemala
How to decide the best form of transport for you to get to Antigua
So here's the thing. I have people commenting all the time complaining that GuateGo is too expensive and Chicken busses are cheaper or letting me know that they managed to get an Uber for just a few $$ more than a shared shuttle.
I get it. I really do.
But here's the thing. We all have different priorities when it comes to transport in a foreign country.
When I first moved to Guatemala, I didn't speak a word of Spanish, and I needed to get to Lake Atitlan for my Spanish course the day after my flight got in. I was so nervous about traveling in Guatemala I booked a private driver to pick me up and deliver me to San Pedro. The thought of doing this now seems ridiculous to me as I know Guatemala so well. But back then, it was an important decision.
Now for me, the priority is always getting from A-B in the least stressful way that doesn't break the bank, or involve me waiting around at the airport for hours. So sometimes I book a shuttle, sometimes I'll take an Uber.
Here are your options as I see them for transport to Antigua:
If you are feeling nervous about the journey then book a shuttle with GuateGo. That way you know you will be picked up and dropped off and it will cost you less than $20.
If you don't want to deal with shuttles and don't mind potentially being stuck in a car with a stranger for several hours then take a taxi, Uber, or book a driver.
And if you are crazy and want to risk wandering around Guatemala City with your backpack in search of a Chicken Bus then please be my guest…
Now for the details, here is exactly how you do each option.
Book a place on a shared shuttle from Guatemala airport to Antigua
This is the method of transport between Guatemala airport and Antigua that I recommend. It is the cheapest, safest, and easiest way to travel. You can pre-book your shuttle (recommended) which will cost more money, BUT you will have peace of mind, and you shouldn't have to wait for too long.
To book a shared shuttle from Guatemala City airport to Antigua click here.
If you decide to risk it and not pre-book, when you are exiting the airport there will be shuttle vans there waiting to take people from Guatemala airport to Antigua. The cost is around $19 USD, and it takes just over an hour with good traffic.
Now the biggest pitfall of not pre-booking a shuttle is that you will be waiting for at least two others to join you. I've been sitting there for 3 hours before. You may get lucky, but for a few $$ I would just pre-book at least a day before with GuateGo.
How to pre-book a shuttle to Antigua:
When booking be sure to check From: la Aurora airport To: Antigua Guatemala. Then select how many tickets you want and your dates. Note: Every shuttle will wait between 10 to 15 minutes for you to come out of the airport. They will be holding a sign with your name on it. So make sure you look out for it! Don't forget to book your return journey too.
The shuttle will drop you off at your hotel or a central point in Antigua if you have nothing booked.
If you arrive in the evening after 8:30 pm then you may need to take a taxi, Uber, or get a hotel room. You can probably spot a fellow traveler with who you could share to save money. It's always worth asking people at the airport.
Hire a Private Driver to drive you to Antigua from Guatemala City Airport
To do this, you can do a bit of a Facebook search in the Antigua Guatemala groups as there are always local drivers posting in there offering their services, or check out Viatour. The driver will be there to pick you up from the Guatemala City airport with your name on a sign and deliver you directly to your hotel. I'd also recommend contacting Heart of Travel who are likely to have a driver available to come and pick you up. They can also help you to arrange any private tours you might want. Use the form below to send them a message.
Take an Airport Taxi from Guatemala airport to Antigua
If you are feeling flush, then you can take a taxi from the airport directly to Antigua for $35. If you prefer to travel in a little bit of comfort and don't like the idea of your backpack/ suitcase being strapped to the roof of a van, then this is the mode of transport for you!
Book an Uber to take you to Antigua
Uber is available in Guatemala, and I have known people to book an Uber from Guatemala airport to Antigua. If you are traveling solo though I wouldn't recommend it unless you are traveling after 7 pm due to traffic (it will cost a fortune quite possibly more than a taxi).
The cost can be as low as $25 USD outside of peak times but on average you will be looking at around $30 USD for an uber to Antigua. The biggest issue with Uber is the traffic. It may not look far on the map from Guatemala City to Antigua but believe me, if you are traveling during peak times it can take hours!
If you want to use Uber however you are going to need to use your phone! You can easily buy a Claro sim card at the airport so long as your phone is unlocked. The airport doesn't have an official free wifi network, but if you buy a coffee in one of the little cafes they do have wifi which is a bit on the slow side, but it will be enough to book an Uber.
Rent a car and drive yourself from the airport to Antigua
Firstly, renting a car in Guatemala is a terrible idea.
Unless you know Guatemala well and are experienced in driving in Latin American countries with roads full of potholes (craters) where no one pays any attention to traffic lights, give this a miss. But if you are convinced this is the option for you, then there are several rental car companies based in the airport, and you can book here.
Take the public bus from Guatemala airport to Antigua
This is not the way I would recommend you to travel from Guatemala airport to Antigua.
Especially if you don't know much Spanish. In fact, if you don't speak Spanish, I would strongly advise against it! There is a lot of reported crime on the chicken buses between Guatemala City and Antigua so use caution when choosing this route. That's not to say you shouldn't use chicken buses in Guatemala (you absolutely should!) just not when you first arrive and while carrying everything you own…
You will need to take a shuttle into the city to the main bus terminal and get a "chicken bus" to Antigua. The cost of the chicken bus ride is 10Q ($2.70). But honestly, though, it really isn't worth it.
When you clear immigration you will see signs for shuttles, just tell them you want to go into the city to the bus station. They will book you on the next shuttle.
Wondering if you need a visa for Guatemala?
For more details on Guatemala visa valid and details, you can visit natvisa.com. Many people can get a visa on arrival ., but always check first as there are a lot of nationalities that will need to apply for a visa before visiting Guatemala.