What better way to spend a day than relaxing in one of the many beach clubs Playa del Carmen? And lucky for you there are plenty of great beach clubs here in Playa for you to enjoy!
In fact, here you can pretty much find a beach club, Playa del Carmen, for every occasion! Want to party? You got it. Prefer something more lowkey? No problem. Prefer a swimming pool on the beach? I got you covered! Prefer to just hit the public beach? Read this post on the best beaches in Playa del Carmen.
To help you navigate all of the Playa del Carmen beach clubs you can click on the links below to jump directly to that beach club. I've also included a google map of all the beach clubs and the individual addresses and contact information to help you get to amazing places like the Grand Velas Riviera Maya.
The one thing I haven't included is the costs, I've done this deliberately because they seem to change constantly. The only way to get the most accurate information is to give them a call and ask. These are all tourist-friendly places so you will be able to speak in English with no problem.
Enjoy!!
Did You Get Travel Insurance Yet?

If 2020 taught us anything, it's that you need to be prepared for anything!

The Insurance companies I personally recommend are Hey Mondo, Passport Nomads, Safety Wing, and Travel Insurance Master

Hey Mondo is great if you are looking for a great value flexible policy. They offer single-trip cover, annual multi-trip cover, and long-term travel cover.

Passport Nomads provides the most comprehensive cover for Digital Nomads. If you find yourself in need of medical care you just contact them and they will pre-load your card with the funds to cover your treatment, meaning you won't need to pay out of pocket and then put in a claim later.

Safety Wing is great value with monthly cover starting at $39. It's super easy to use and it just renews each month. I currently use them as they offer me free cover for my son as part of my policy.

I also use Travel Insurance Master for short trips.

Read my full travel insurance post here where I go into detail about all 4 companies.
Coralina Daylite Club
If you are looking for the best beach party Playa del Carmen here you will find it! Playa Coralina is the go-to place for anyone wanting to party on the beach in Playa. If you have a larger group then it's best to pre-book here as it's a popular spot for bachelor/ bachelorette parties in Playa. The whole concept of Coralina beach club Playa del Carmen is modeled on the well-known Ibiza and Vegas-style pool parties.
What you get here is great music, multiple pools, beach access, and the best pool party Playa del Carmen has to offer! Take a look at the promo video below for an idea of the vibe here.
Bookings for Coralina playa del carmen can also be made online 48 hours in advance. The beach club is open from 11 am until 7 pm daily and it's located next to the Grand Hyatt.
Address: Calle 26 and The Beach, Playa del Carmen.
Phone: +52 1 (984) 204 6009
E-mail: [email protected]
Quick Tip: I highly recommend booking all of your Mexico transportation with GuateGo. You can search for buses, shuttles, ferries, and Flights on their website. What I love most about them is their customer service. I know these guys personally from my time living in Guatemala and they look after their customers.

If anything happens and you get delayed and miss your bus, you can just call them and they are always there to help. If you book through them you will pay a little more than if you book in person at the bus station. But it's worth it for the ease and security. Click here to search for transportation in Mexico.
Corasol Beach Club (Grand Coral Beach Club)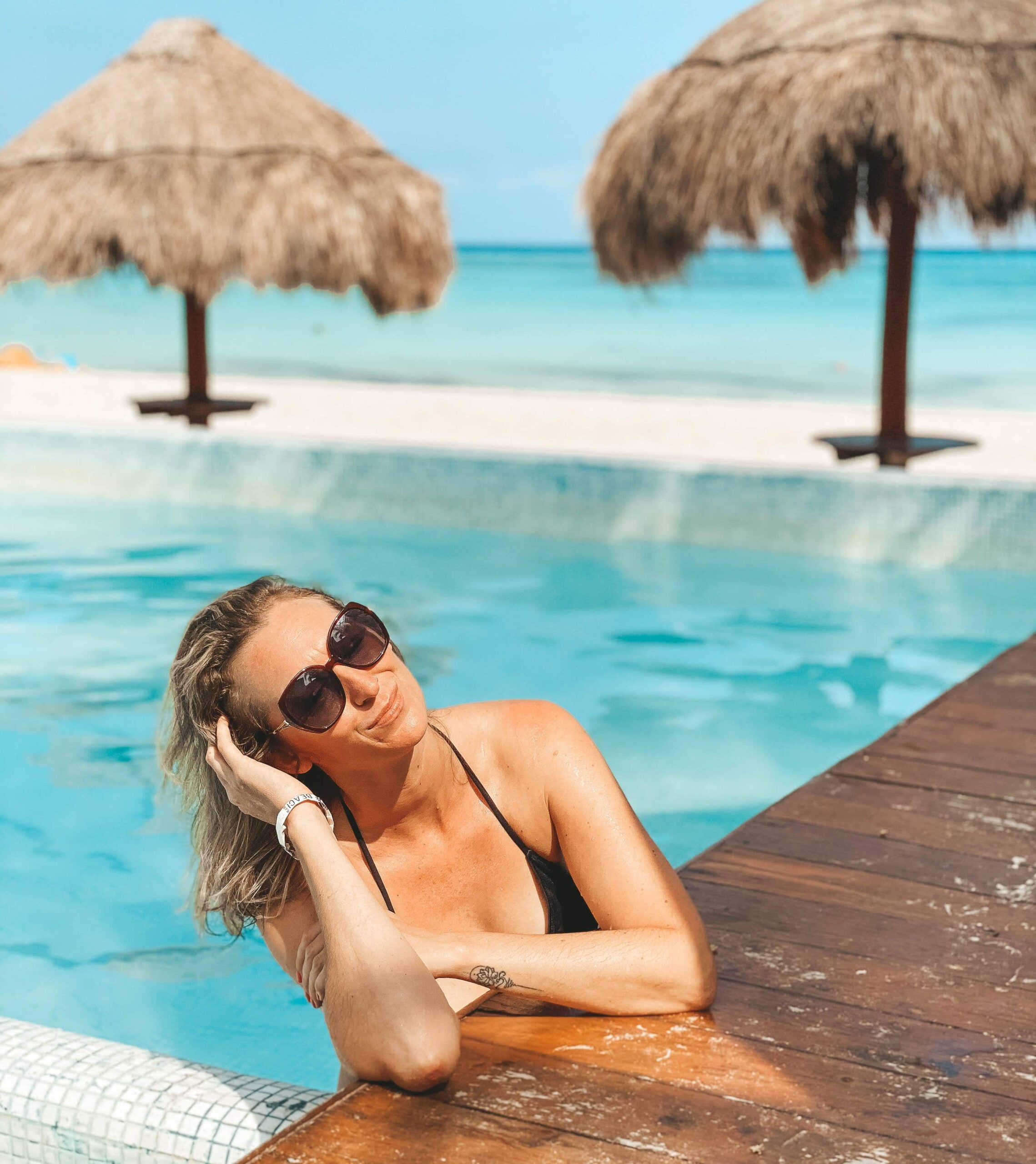 This is my personal favorite and holds my title of the best beach club Playa del Carmen. Mostly because it's a bit further out away from the center where the beach is much nicer. It's also reasonably priced and it has a pool. It's not the largest beach club and so if you want to get a bed by the pool you will need to arrive early.
The last time I went the minimum spend was just 250 pesos. This normally works out as a meal and an alcoholic drink, or 2 soft drinks.
There are a few different ways to get here, but you will need some kind of transportation. You can bike here if you have one, otherwise, you will need to drive or take a taxi. It's a bit confusing as they changed their name from Grand Coral to Corasol, just in case the taxi driver gets confused!
Open: 9 am – 5 pm
Address: Carretera Federal Nº307, Cancun Chetumal K.m 294, Playa del Carmen, Q.R., Mexico
Phone: +52 984 109 6112
Encanto Beach
https://www.instagram.com/p/BqndYdsHQPo/
Another of my favorite beach clubs Playa del Carmen is Encanto. It's located in the more local area of Playa del Carmen. So it's a quieter area of the beach. What makes Encanto Beach Club unique is that there are often events and activities happening here. At weekends you may find artisan markets. There are always fitness activities and volleyball games going on too.
Or you can do what I like to do… grab a piña colada and watch the volleyball players while trying to not look like a creep haha.
There is a minimum spend here if you want to use a sun lounger, this is normally around 300 pesos, which can jump up quite a bit if you want a four-poster bed, plus you normally need to be in a group of 4 from one of those. There is no pool here, but there is a Spa where you can get a great massage!.
Open: 9:30 am – 6 PM
Phone: +52 984 142 6250
Address: Zazil-ha, 77720 Playa del Carmen, Quintana Roo, Mexico
QUICK TIP: Book your tours, rental cars, and transfers through my local contact

I've been working with Turismo Channel in Playa del Carmen for years and they are who I send all my family and friends to when they visit the Riviera Maya. I really can recommend them enough for tours, private airport transfers, and rental cars. Vanessa and Oliver are personal friends of mine and I have 100% faith that you will have a wonderful time with them.

You can check out their tours by clicking here and using the following discount codes when booking online to save $$$ clairecaroff (car rental), claire10off (for 10% off group tours), claireprivate (for a discount on private tours).

You can also send her a WhatsApp message quoting the above codes to receive the discount.
https://www.instagram.com/p/CEPgnlel81y/
I've never actually spent the day here at INTI beach club, it's more somewhere I like to go for brunch. The food is great here, but this part of the beach is busy. This is why I don't often venture down here.
If you are looking for a central beach club in Playa del Carmen though, this is it.
Open: 9 am – 12 am
Address: Zona Federal Maritima, Centro, 77710 Playa del Carmen, Q.R., Mexico
Phone: +52 984 803 1109
https://www.instagram.com/p/CEjrklnn-DV/
In Lido Beachclub Playa del Carmen it's all about the food, music, and good vibes! I've been here a lot during my time in Playa, but mostly just to eat. The food here is very good and it's the perfect spot for breakfast on the beach. There are plenty of sunbeds here too so you can chill here for the day.
No need to book at Lido beach Playa del Carmen, unless it's during peak season in the mornings when they can get pretty busy for food.
Open: 8 am – 7:30 pm
Address: Av. 1era. Norte Bis, Mz. 22, Lote 3, Centro, 77710 Playa del Carmen, Q.R., Mexico
Phone: +52 984 803 1090
Indigo Beach Club Playa del Carmen
https://www.instagram.com/p/BUuftmnDVZh/
Indigo beach club Playa del Carmen is another of my top brunch spots in Playa. They serve breakfast until 12 pm every day and it's for a fixed cost of 169 pesos for a buffet-style breakfast. Once you have filled up just ask the staff to move you to a bed on the beach where you can sleep it off!
Open: 8 am – 4 PM
Address: Calle 14 y La Playa, Centro, 77710 Playa del Carmen, Q.R., Mexico
Phone: +52 984 803 2599
https://www.instagram.com/p/CE2BuXxlfYh/
Kool beach club is a little different as here it's not a minimum spend, it's a day pass. This means you pay a fixed price and (almost) all drink and a meal is included. The cost is normally 750 pesos which is well worth it if you are planning on drinking alcohol as you can easily spend double this in other places. There is a pool here and it's on a nice section of the beach. If you aren't planning on day drinking then Kool beach Playa del Carmen probably isn't the best choice for you.
Open: 8 am – 6 pm
Address: Calle 28 y Zona Federal Marítima s/n, Centro, 77720 Playa del Carmen, Q.R., Mexico
Phone: +52 984 873 1255
Mamita's Beach Club Playa del Carmen
I'm going to be controversial now, I hate Mamitas. I think the food is average but well overpriced. The staff I've always found rude. Last time I went on my own and they charged me a solo person fee because they only accommodate couples… and as if that wasn't enough to put you off they have a terrible terrible reputation with local people.
Just last year they were all over the local news for having a Mexican couple arrested and removed for sitting on the public beach close to their sunbeds. It was a whole shitstorm and they were 100% in the wrong and had to apologize. The videos of them manhandling this couple on their vacation went viral.
So yes, I've added Mamitas beach club to this list because it seems to be hailed as the best beach club in Playa del Carmen, but I strongly disagree and urge you to avoid it and go somewhere else.
Open: 9 am – 6 pm
Address: Mza 10, Lote 8, Calle 28 Nte., Centro, 77710 Playa del Carmen, Q.R., Mexico
Phone: +52 984 803 2867
https://www.instagram.com/p/CEczKUaFtal/
If you want a super pretty beach club in Playa del Carmen to add to your Instagram then Madrarino beachclub Playa del Carmen is the place for you. They have some super instagramable spots there and their pool is extremely photogenic. It's also on one of the best parts of the beach in the more local (quieter) area.
This is the Playa del Carmen beach club I go to when I'm feeling fancy and want to pretend like I'm rich and important for the day.
Open: 10 am – 10 PM
Address: Avenida CTM, Albatros y, Zazil-ha, 77720 Playa del Carmen, Q.R., Mexico
Phone: +52 984 110 7752
Playa Martina (Martina beach club)
https://www.instagram.com/p/CBcCjPBHh8T/
If I want to go to a low-key playa beach club where I can just turn up and chill out for the day, Martina beach club is my go-to. And that's not just because it's a 10-minute walk from my house! I love the Martina beach club because the prices are reasonable and it's always pretty quiet because it's away from the super touristy area of Playa.
Here I can sit and read my book in peace! If you are feeling flush then you can pay extra for a four-poster bed or a bed at their pool.
You pay 100 pesos for the bed here and the staff is very good at not pushing you to order anything. But the food is good and the prices are reasonable.
There is a pool here, but it does cost extra to use it.
Open: 8 am – 7 pm
Address: Albatros, Zazil-ha, 77720 Playa del Carmen, Q.R., Mexico
Phone: +52 984 164 2793
https://www.instagram.com/p/CE4kN3hBwkL/
I'm not going to lie to you, I have never been to Senor Frogs in Playa del Carmen, and I probably will never go. It's really not my scene and it's not in a great location as it's way down by the Cozumel Ferry. Which brings me to the next reason I wouldn't go here, it's too close to the ferry. That said, if you are in Playa del Carmen on vacation and looking for a fun super touristy beach bar then it's not a bad place to go, I suppose.
The Best Beach Bars In Playa Del Carmen
I've added these last two places to this post because they do have beach beds, but they are not really what I would class as beach clubs. They fall more into the beach bars in Playa del Carmen category.
The Carmen Hotel
https://www.instagram.com/p/BqSlSxslg1j/
I've added The Carmen to this list as it's worth mentioning. Although, it's more of a rooftop bar place than a beach club. But it is right on the beach and you can chill on their deck, grab a sunbed on the beach, or venture up to Deck Five their rooftop pool bar.
Open:
Address: Calle 8 Nte No 876, Centro, 77710 Playa del Carmen, Q.R., Mexico
Phone: +52 984 803 2409
Zenzi Beach Club Playa del Carmen
https://www.instagram.com/p/B9QKZdBlIBI/
Zenzi Playa del Carmen is the best beach bar in Playa del Carmen, in my opinion. I'm there a lot with friends in the evening to listen to their live salsa band. They have different events on most evenings, so check out their Facebook to be kept up to date.
During the day though there are beds you can lay on as long as you order food, I don't think there is a minimum spend. No swimming pool here, but the food is good and reasonably priced.
Open: 8:30 am – 2 am
Address: Calle 10 y la Playa, Centro, 77710 Playa del Carmen, Q.R., Mexico
Phone: +52 984 803 5738
Looking for somewhere to stay in Playa del Carmen?
I wrote a whole guide to Accommodation in Playa del Carmen you can read here. I also recommend booking one of these Airbnb's. They are all in great locations and are super reasonably priced.
Budget Airbnb Studio on 5th Avenue
Stunning Studio Close To The Beach In Playa del Carmen
Posada Mariposa Boutique Hotel – 5th Avenue
Caribbean Paradise Boutique Hotel