Looking for some day trip options from Merida and fun Merida tours? While there's no shortage of things to do in Merida itself, there's also seemingly no shortage of day trips from Merida options!
Given Merida's relatively-central location in the Yucatan Peninsula, this city makes for the perfect place to use as your home base for amazing and varied day trips.
From cenotes to Mayan ruins, colonial cities to UNESCO World Heritage Sites — and even one of the Seven Wonders of the World — there's so much within a few hours of Merida.
PS. If you are thinking of moving to Merida with children, then you need to read this book my friend Cassie wrote!
Did You Get Your Travel Insurance Yet?
f you are planning a trip right now then you NEED to thing seriously about insurance. If 2020 taught us anything, it's that you need to be prepared for anything!

Travel insurance has always been high on the list of things to get before you travel but now more than ever it should be at the top of your list! I'm pretty sure we have all had travel plans messed up because of COVID and not all insurers covered this. So you need to find an insurer that covers travel disruption due to COVID-19, Heymondo and Safety Wing are the ones to go for. Heymondo is great for incidents that happen prior to your trip, so if you get sick or are unable to travel due to travel restrictions some of their policies will cover that as cancellation cover. Safety Wing goes the extra mile and covers quarantine outside your home for up to 10 days, they also have a really handy map on their website showing requirements and restrictions for each country.

If you are doing shorter trips or a onger backpacking trip then Heymondo is the best option. If you are a digital nomad or planning travel of at least 6 months then go for SafetyWing.
Traveling within the Yucatan Peninsula
You have several options for Merida day trips transport. These include renting your own car, taking the bus, or taking the colectivo (shared van).
RENTAL CAR
The easiest, most convenient way to see everything? A rental car, of course.
Known as one of the safest states in Mexico, driving in Yucatan is as well, quite safe.
A few things to keep in mind:
Don't drive at night.
Stick to the Couta, or toll, roads. (Be sure to have a cash payment for these roads.)
Download an offline map from Google Maps or Maps.Me, because your signal will go in and out as you travel through more rural areas.
Speed limit signs are in kilometers per hour, not miles per hour.
Don't use your cell phone while driving; it's both unsafe and illegal.
Mexico roads have a lot of topes (speed bumps) which don't always have signs alerting you to them!
When you stop for gas, someone will pump it for you and take your payment. When they finish, it's customary to tip them at least $10 pesos.
Stop lights go from green to yellow to flashing yellow, to finally, red.
If you're renting a car, consider picking it up directly from the airport. If not, there are a few rental companies in downtown Merida, and also on Paseo de Montejo.
Many Merida Airbnbs hotels and hostels offer parking, but always double-check parking policies before booking.
Quick Tip: I highly recommend booking all of your Mexico transportation with GottoGo. You can search for buses, shuttles, ferries, and Flights on their website. What I love most about them is their customer service. I know these guys personally from living in Guatemala, and they look after their customers.

If anything happens and you get delayed and miss your bus, you can just call them, and they are always there to help. If you book through them, you will pay a little more than booking in person at the bus station. But it's worth it for the ease and security. Click here to search for transportation in Mexico.
BUS
Don't want to drive? No worries!
Mexico has an amazing public transportation system. From buses to colectivos (shared vans), you can easily get to every place on this list — even if you have no desire to drive to them!
Mexico's biggest bus company is ADO. They have multiple trips each day to/from the majority of places you can think of.
ADO has large buses with big comfortable seats and outlets at each seat for your gadgets. You can buy your tickets in advance online, or show up at the bus station 30-45 minutes before the trip to buy them.
If you find the ADO website stressful and you don't want to buy your ticket until the last minute, you can book an ADO bus with GuateGo. It will cost a little extra, but you can make sure that you will have a seat on a bus, and believe me, GuateGo's customer service is far less stressful than ADO.
COLECTIVO
Colectivos (shared vans) are the most inexpensive way to get around. As a general rule, they cost half as much as the bus, but take 25% longer to get there because they make more stops.
They are usually 10- to 12-passenger vans, think Nissan Urvan or Toyota Hiace, that do tend to have air conditioning. Overall, they are pretty comfortable; but less so than the bus.
Note that colectivos aren't available for every destination on this list. When available, information for them had been included.
Now that you have a better understanding of your transportation options, let's examine the 6 best Merida day trip destinations.
Looking for somewhere to stay in Merida?
Merida Day Trips – Colonial Cities
IZAMAL
One of Mexico's 120 famed Pueblos Mágicos (Magic Towns), and also a UNESCO World Heritage site, Izamal is a very popular day trip.
So just what is a Pueblo Mágico?
"Magic Town" is a prestigious designation given by the Secretary of Tourism to about 120 small(er) towns in Mexico. These places have been recognized for things including rich cultural history, unique folklore, amazing natural beauty, and more.
In the case of the small colonial town of Izamal, the magico (magic) lies in its monochromatic esthetic!
Known as the "Yellow Town," Izamal is, well, yellow! As in: All the buildings downtown are painted yellow.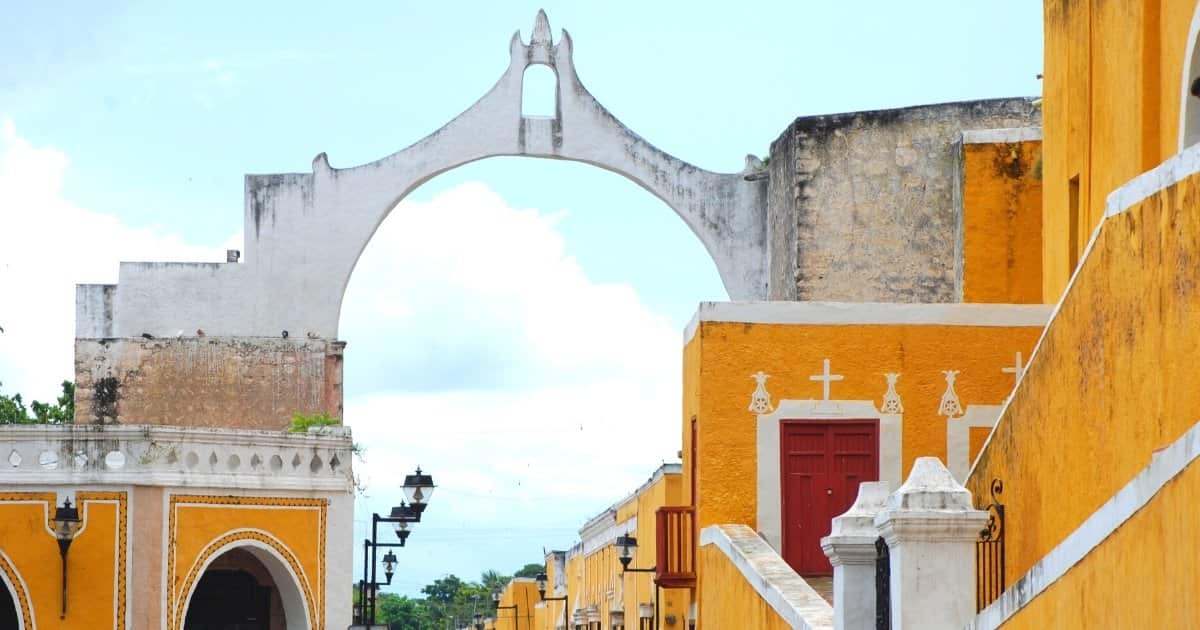 Yes — all of them!
However, as soon as you leave the approximately 20 square blocks of downtown, the buildings return to a more conventional color scheme.
Downtown Izamal's small size means you can see the whole area in about two hours. Stroll around and check out the main church, the Convent of San Antonio de Padua, or take the horse-drawn carriage tour.
Sample some traditional Yucatecan food at Kinich Restaurant, or at the mercado (market). Commonly only eaten on weekends, head to the Mercado Municipal De Izamal to sample dzik de venado (shredded venison), a local delicacy.
Izamal also has a few smaller Mayan archeological sites just outside of downtown — Kinich Kakmó Pyramid and the Zona Arqueológica de Izamal.
Getting to Izamal:
Distance from Merida: 68 miles/55 km
Travel time: About 1 hour by car/1.5 hours by bus/2 hours by colectivo
Drive: Take the Carretera Costera del Golfo de Mexico (Highway 180) east, to Highway 11 north, and follow the signs to Izamal.
Bus: Catch an ADO bus from the downtown Merida bus station, Terminal de Autobuses de Merida (abbreviated as TAME). Tickets average $300 pesos/$15USD/€10 round trip.
Colectivo: Catch a colectivo from the Terminal Noreste (Northeast Terminal) in downtown Merida. Tickets average $100 pesos/$5USD/€3 round trip.
VALLADOLID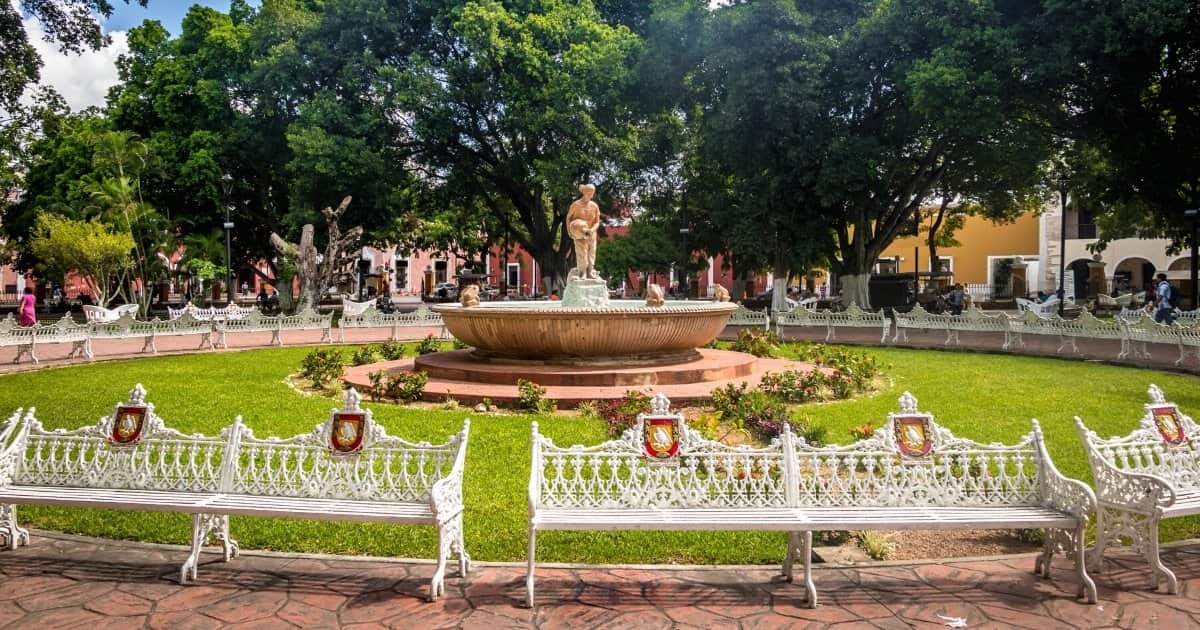 Another of Yucatan state's Pueblos Mágicos, Valladolid is known as one of the prettiest colonial cities in all of Mexico. An increasingly popular destination, Valladolid makes a great day trip, as well as a great overnight or weekend trip.
Get your camera ready!
Valladolid has so many gorgeous buildings to photograph or use as photography backdrops. Some of its prettier streets are the Calle de Los Frailes and Calle 50.
A few other iconic photo ops include the giant, colorful letters spelling out Valladolid and the large Talavera tile fountain in the back of the famous La Casona de Valladolid restaurant.
Check out the town's two large colonial churches — Iglesia de San Servacio and the Convent de San Bernardino de Siena. The Iglesia de San Servacio is the main church, located in the Zocalo (Main Square).
See the amazing art at Casa de Los Venados (casadelosvenados.com), the private home of John and Dorianne Venator. The two open their home for daily tours at 10 am to see their impressive collection of more than 3,000 pieces of folk art.
If you're in the market to buy some of your own art, head to Kuxtal Cafe & Mexican Art. They sell various styles of iconic Mexican folk art, made by artisans from all over the country.
NEARBY CENOTES
Looking to cool off with a swim in a cenote?
Some of the Yucatan Peninsula's prettiest cenotes are located within 30 minutes of Valladolid. These include Cenote Ik-Kil, Cenote Zaci, Cenote Suytun and Cenote Oxman.
Getting to Valladolid:
Distance from Merida: 100 miles/160 km
Travel time: About 2 hours by car/2.5 hours by bus
Drive: Take the Kantunil-Cancun Highway (Highway 180D) east, and follow the signs to Valladolid.
Bus: Catch an ADO bus from the downtown Merida bus station, Terminal de Autobuses de Merida (abbreviated as TAME). Tickets average $500 pesos/$25USD/€20 round trip.
CAMPECHE
Another UNESCO World Heritage site, the walled city of Campeche hides a rainbow of colored buildings within!
Located on the Gulf of Mexico, Campeche is vulnerably-positioned. Centuries ago, the citizens had to wall in their city to maintain a line of defense against incoming pirates.
Nowadays, you can walk along the walls atop the Fuerte de San Miguel (Saint Michael's Fort) to take in the colorful city views, as well as see the old cannons pointed directly at the Gulf of Mexico.
You'll have to pay about $25 pesos/$1/€0.50 to climb to the top for the views, but it's worth it to enjoy one of the best things to do in Campeche Mexico.
There's also a small museum, Museo de Arqueología Subacuática, at the entry to the stairs to climb the fort walls.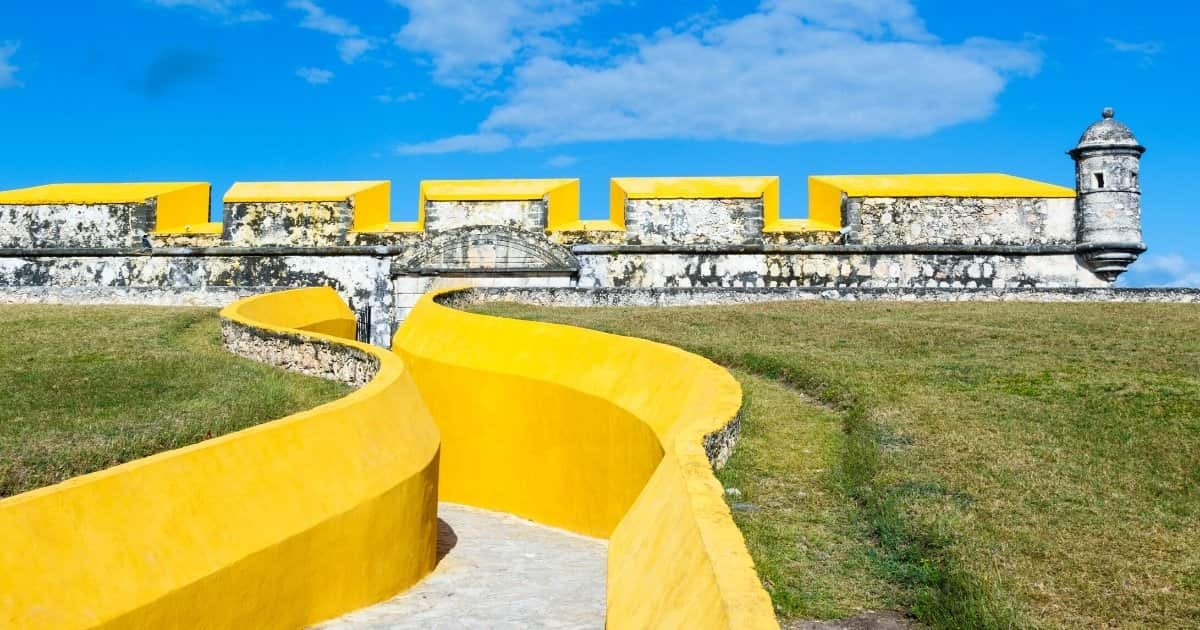 So about these colorful buildings… Campeche is known as one of Mexico's most colorful cities. The entirety of downtown is painted in every color of the rainbow.
Though not a large area at about 20 square blocks, leisurely stroll downtown admiring gorgeous buildings that double as instagrammable photography backdrops. Stop in at the adorable Altagracia Café cafe for a sweet snack.
For a full meal, grab an outdoor table at La Parrilla Colonial Campeche, or one indoors at Marganzo Restaurante.
Sample some of Campeche's local dishes, including pan de cazon, at El Bastión de Campeche. This locals-favorite is one the restaurants lining the Zocalo (Main Square).
After eating, hop on a tranvia (tram), parked at the Zocalo, to sit back, relax, and see all the sites you might have missed. These include the Fuerte de San José and Ex-Templo de San José.
At the end of the day, head west to the Malecon (walkway) to catch the sunset on the Gulf of Mexico.
Getting to Campeche:
Distance from Merida: 110 miles/177 km
Travel time: About 2.5 hours by car/3 hours by bus
Drive: Take the Carretera Costera del Golfo de Mexico (Highway 180) south, and follow the signs to Campeche.
Bus: Catch an ADO bus from the downtown Merida bus station, the Terminal de Autobuses de Merida (abbreviated as TAME). Tickets average $600 pesos/$30USD/€25 round trip.
Day Trips From Merida – Mayan Ruins
CHICHEN ITZA
One of the Seven Wonders of the World, Chichen Itza likely needs no introduction!
Chichen Itza usually ties Mexico City's Teotichucan for the most visited archeological site in the country. The two each average about 2.75 million visitors per year!
A UNESCO World Heritage Site, Chichen Itza is actually one of the most important Mayan archeological sites in the world.
When visiting, you'll see the iconic El Castillo (The Castle AKA the Temple of Kukulcan), Temple of the Warriors, Wall of the Skulls, Grand Ball Court, Group of a Thousand Columns, and Sacred Cenote, among other things.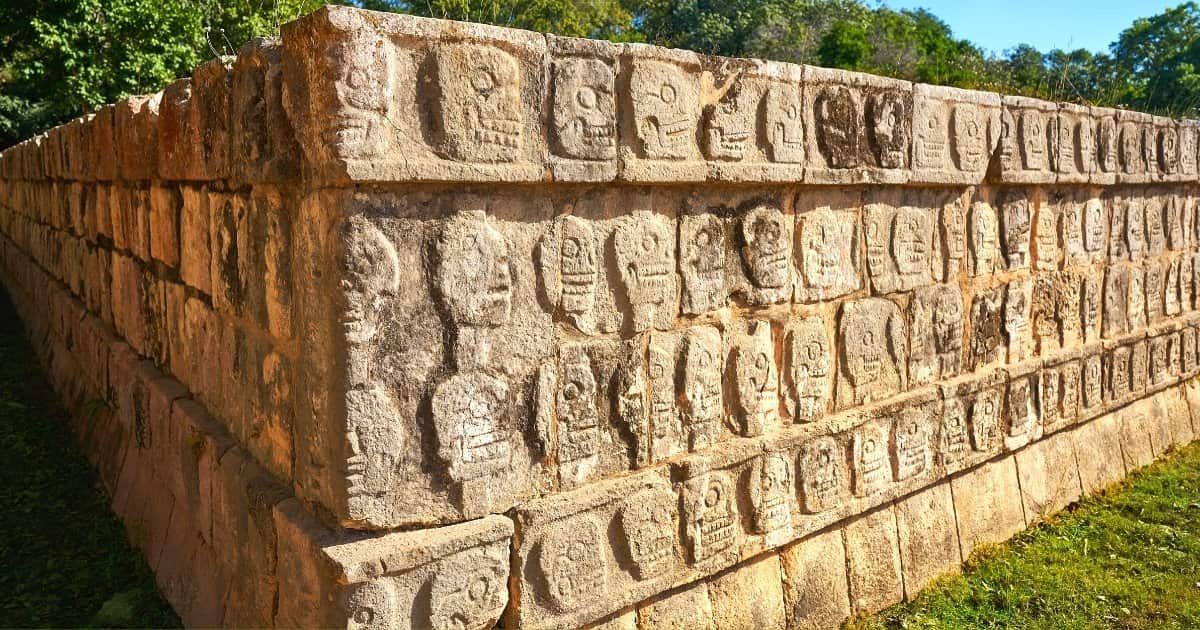 With a site of this size (740 acres/300 hectares) and such historical significance, you may want to consider hiring a guide. There are many guides waiting at the entrance when you buy your tickets who you can hire for the day.
Pro Tip: Arrive early — as in, as close to 8 am when they open as you possibly can — to beat the crowds. Getting there early also means you beat the heat.
As with many Mexican archeological sites, most trees at Chichen Itza have been cleared for ease of study by historians. While that's great for them, it's not great for visitors, as shade is at a premium.
Remember to wear your most comfortable sneakers, sunscreen, and a hat, and bring your reusable water bottle.
Getting to Chichen Itza:
Distance from Merida: 73 miles/118 km
Travel time: About 1.5 hours by car/2 hours by bus
Drive: Take the Costera del Golfo de Mexico (Highway 180) east, and follow the signs to Chichen Itza.
Bus: Catch an ADO bus from the downtown Merida bus station, the Terminal de Autobuses de Merida (abbreviated as TAME). Tickets average $350 pesos/$17USD/€14 round trip.
UXMAL
Though lesser known than Chichen Itza, Uxmal is just as impressive — though much less crowded and much, much less touristy. Uxmal sees about 275,000 annual visitors versus Chichen Itza's 2.75 million!
Besides the obvious of smaller crowds, you also won't be approached by hordes of souvenir vendors, and all the other perks that come with visiting hidden gems.
The top reason to opt for Uxmal over Chichen Itza?
You can actually climb the structures and one of the pyramids.
Though you can't climb the large El Adivino (Pyramid of the Magician), you can climb the nearly-as-tall pyramid adjacent to it. You'll get amazing views of the entire site from atop this pyramid, the tallest vantage point at Uxmal.
You can also get up close and personal with Uxmal's intricate stone carvings at the Nunnery Quadrangle building and see some of the beautiful Mayan design esthetics the Puuc sites are famous for.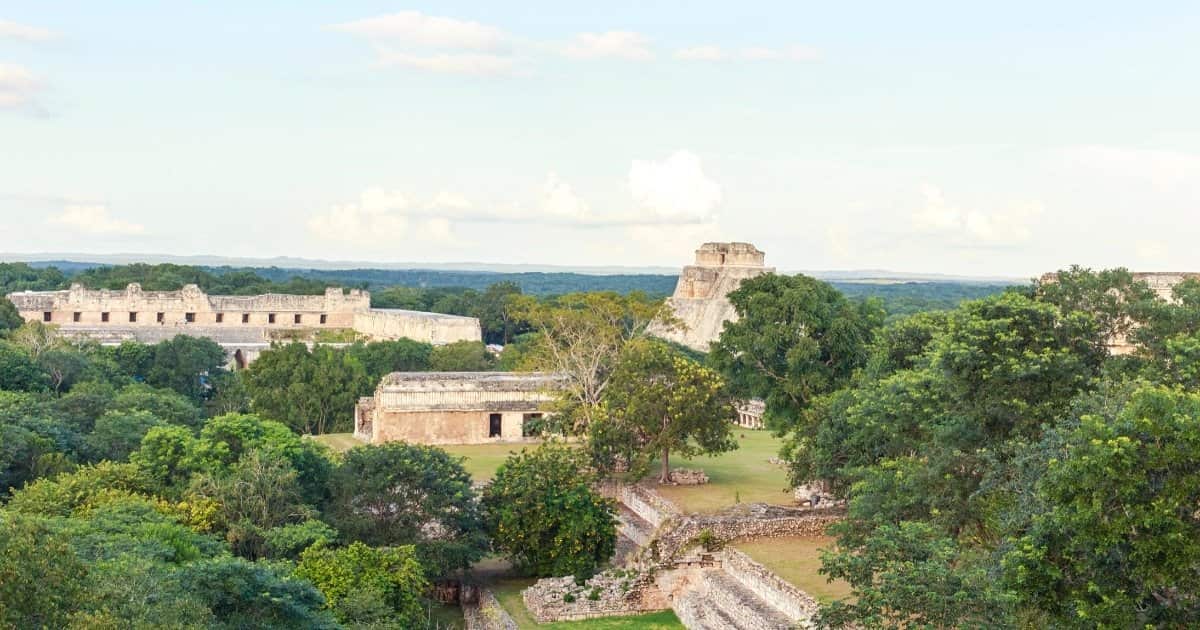 A UNESCO World Heritage Site, the Uxmal site consists of buildings in the Puuc style — but it's not the only with this esthetic.
RUTA PUUC (If you have your own car)
Uxmal is the most famous of the five archaeological sites along the Ruta Puuc (Puuc Route), a 19-mile/30 km drive.
However, the buildings at Labna, Kabah, Sayil and Xlapak, all feature similar stone carvings and impressive Puuc-style design elements.
As these are lesser-known, there's a chance you'll have all of these amazing places to yourself.
Getting there:
Distance from Merida: 53 miles/84 km
Travel time: About 1.5 hours by car/2 hours by bus
Drive: Take the Costera del Golfo de Mexico (Highway 180) southwest, to Highway 261 south, and follow the signs to Uxmal.
Bus: Catch an ADO bus from the downtown Merida bus station, the Terminal de Autobuses de Merida (abbreviated as TAME). Tickets average $200 pesos/$10USD/€8 round trip.
Day Trips From Merida – Progreso & Beaches
PROGRESO
Puerto Progreso is the closest beach town to Merida. As the "Puerto" in the name might have cued you in on, this is a cruise port.
On days when the ships dock, expect thousands of more people than usual in this beach town. If you're looking to have Progreso all to yourself, check to see if there's a cruise docking before you visit.
Once you arrive in Progreso, walk down the Malecon (walkway) for a bite to eat, then rent a beach chair for the day, either on the beach (usually about $100 pesos/$5/€3) or at a beach club.
Two of the best-known clubs are Silcer Beach Club and El HaGuay.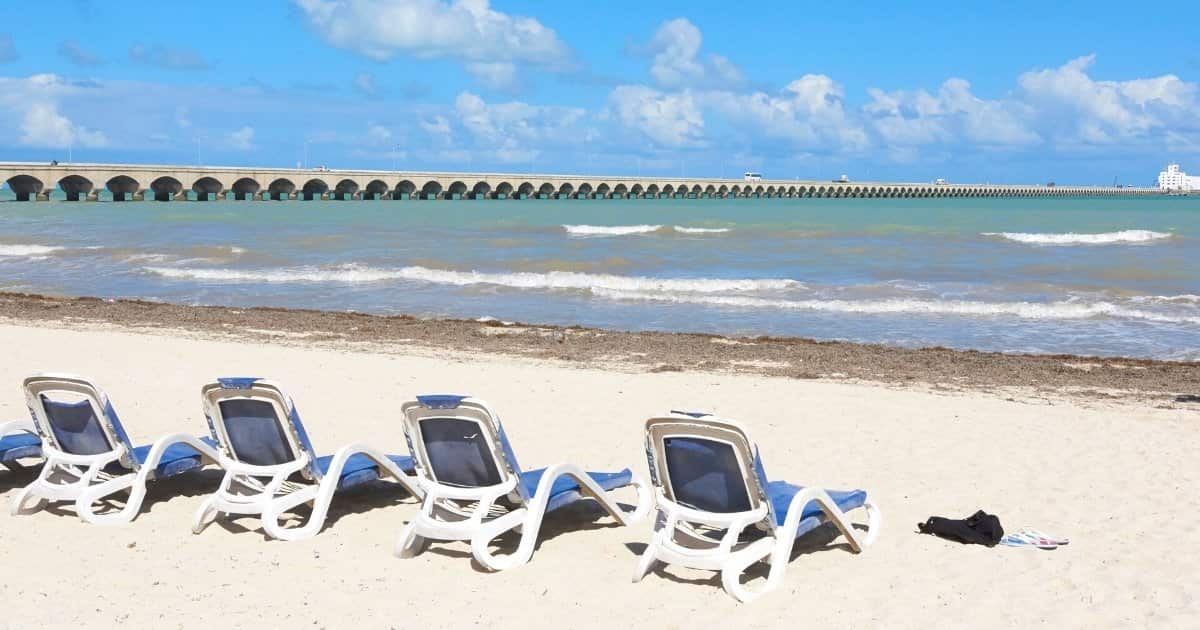 El HaGuay is located right next to the giant, colorful Progreso letters, on the eastern end of the beach. They let you have a beach chair for the day for free, as long as you order food and drinks.
For a sunset dinner, head to the other end of the beach to eat at Progreso's famous Eladio's Bar. For a fancier atmosphere, check out Crabster Seafood & Grill and Almadia.
ADDITIONAL YUCATAN BEACHES
Looking for quieter, more "naturey" type beaches?
Head to Celestun, Chelem, Sisal, San Crisanto, Puerto Telchac, Chuburna, and Chicxulub. These will have a few places to eat and drink, though little else, and far less of a crowd than Progreso.
Fun Fact: The Chicxulub crater, located only a few miles/kms from the beach, is believed to be the place the crater hit that wiped out the dinosaurs!
Getting to Progreso:
Distance from Merida: 24 miles/38 km
Travel time: About 45 minutes by car and bus/1 hour by colectivo
Drive: Take the Carretera Merida-Progreso (Highway 261) north to Progreso.
Bus: Catch the Auto Progreso (https://www.autoprogreso.com/en/) from their private terminal downtown. Tickets average $50 pesos/$2.50USD/€2 round trip.
Colectivo: Head to the Terminal Combis Progreso downtown. Tickets average $40 pesos/$2USD/€1.50 round trip. Or purchase your tickets ahead with GuateGo from Merida to Progreso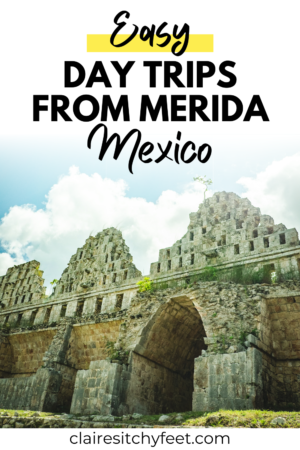 Author Bio
Hi, I'm Shelley! I'm a former Miami travel magazine editor who ditched the office for the world! After traveling solo to 14 states in Mexico, she decided to live in Mérida. I created the Travel Mexico Solo blog and the Dream To Destination podcast to inspire women who have always dreamt of Solo Travel & Mexico Travel, but haven't (yet!) accomplished either goal.
I hope we can continue this conversation on the socials: Instagram | Facebook | Pinterest | Twitter