As the blanket of travel restrictions slowly lifts around the world, many are dusting off their passports and researching interesting locations for travel. Thailand is one of the first countries in Asia to relax travel restrictions and welcome COVID-vaccinated tourists. It's safe, budget-friendly, and has world-class facilities and sights at every turn.
Thailand is one location that really has it all. With glimmering temples, white sandy beaches, bustling cities, and thriving nightlife, the country attracts millions of tourists every year and is gradually welcoming back international tourists.
Whether you're looking for sun and crystal blue seas or an action-packed adventure holiday to get the adrenaline pumping, Thailand ticks all the boxes. Then, of course, there's the incredible Thai cuisine and diverse jaw-dropping landscapes of Thailand that will have you marveling at every view and vantage point.
With your flights and hotels booked, and your COVID passport hot in your hand, it's time to plan how you're going to explore the incredibly diverse range of sights, tastes, and activities that Thailand has to offer. Let's delve into what to do during your Thailand itinerary.
Thai Cuisine
Thailand's food culture borders on an obsession for many. Fueled by a culture that places food at the forefront of nearly every important celebration in life. Thai food is simple, fresh, full-flavored, and incredibly varied from one region to the next. Exploration is key when savoring Thailand's many food venues, and you'll find traditional Thai cuisine both tasty and inexpensive.
Locals' enthusiasm for Thai food is expressed using 4 key flavors; spicy, sweet, salty, and sour. On every street corner, market stall, bar, or restaurant you'll find offerings that will expand your culinary palette, and Thai dishes are renowned for their use of exotic ingredients such as lemongrass, chili, lime, fish sauce, ginger, and tamarind.
World-Class International Cuisine
For those looking for cuisine a little closer to home, Thailand has a world-class restaurant scene, with every international cuisine catered for. From dining on the rooftop restaurants in the capital, Bangkok, to an intimate seafood dinner for two with your toes tickled by beach sand, Thailand's diverse and explorative approach to cooking can whet any appetite.
For an even more immersive experience, visit one of the many Thai cooking schools located all over the country. The mountainous regional city of Chiang Mai offers many culinary cooking schools catering to all levels of skill in the kitchen.
They're a fun and immersive cooking experience where you can learn how to prepare and cook authentic Thai food in a single class, or hone your Thai cooking skills with a week-long course in quest of the perfect Pad Thai recipe that you can take home to impress your friends.
Nightlife
For the night owls, Thailand's thriving nightlife and dynamic entertainment scene is an adult wonderland offering a dazzling variety of options. Enjoy sky-high cocktails in one of the many rooftop bars in Bangkok, or visit one of Thailand's party islands such as Koh Phi Phi or Koh Phangan where you can dance with the sand between your toes and watch the sunrise over the ocean with a cocktail.
You'll find world-class cocktail bars, vibrant night markets, elegant night venues, and the glitzy clubs of Bangkok, to lazy beachside cocktail bars or even the famous full-moon parties hosted on Koh Phangan. For nightlife and entertainment, Thailand has everything you could imagine, and much more!
Diverse and Vibrant Nightlife
Diversity is key when it comes to entertainment in Thailand once the sun has gone down. All walks of life emerge to entertain and delight in a safe and friendly environment where everyone is welcome. Thailand's nightlife is energetic, full of life and color, and best of all offers a host of friendly venues that can be enjoyed around the clock.
Whether you simply take in a theater show or wander the street, exploring the lively atmosphere of the many street bars, there's something for everyone and for every budget.
Bonfires and Boxing Gloves
For those looking for even more nocturnal adventure, visit one of the bustling nightlife districts in any city or island of Thailand. Jump fire ropes with the locals on the beaches of Koh Phi Phi, or be entertained ringside at a Thai Kickboxing match.
Beaches and Islands
If you're wondering what to do during your Thailand itinerary and prefer to explore by day, then you can't go past Thai beaches. The idyllic and picture-perfect coastlines of Thailand attract millions of visitors every year. Tempting people from all over the world to dip their toes into the warm, azure waters, or wander the many white-sand beaches that Thailand is famous for.
Exploring the hidden gems of the many Thai islands is also easy and affordable, with many tours and boat operators offering day tours to lesser-known coastal locations. Discover stunning coves and bays sheltered by towering natural rock formations or pristine white-sand beaches that run for miles. Finish off the day with a tipple at one of the many relaxed beachside cocktail bars or by the hotel pool.
Anywhere the sea meets the shore, you will find dreamy palm-lined landscapes, ideal for a whole range of watersport activities. Venture further into the warm waters and you'll find a sea alive with underwater creatures and beautiful reef formations making Thailand perfect for snorkeling or scuba-diving.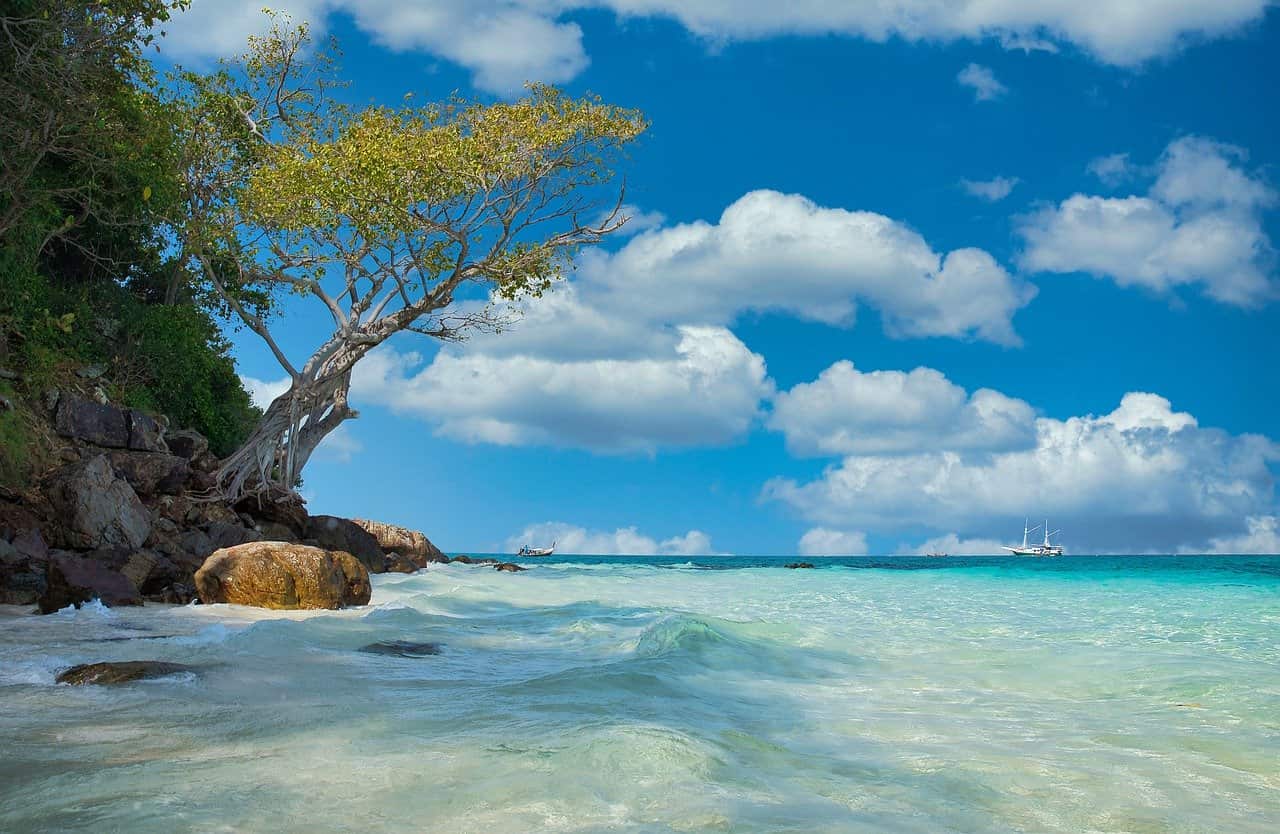 Cultural and Sacred Landmarks
Thailand's culture is most symbolic because of the vast array of cultural and sacred sites. From the golden temple spires visible over the Bangkok skyline to more secluded temples dotted within the mountains of Chiang Mai, Thailand has literally thousands of culturally sacred sights to explore.
Exploring the diverse countryside of Thailand is an awe-inspiring mixture of cultivated landscapes and natural wonders. Hiring a bicycle is the best way to immerse yourself into the regional wonders of Thailand, with many sights and activities to see and do along the way.
Thailand is an incredible place to disconnect from a busy city lifestyle and recharge with the gentle pulse of nature. Take a Thai long-tail boat tour along one of the many rivers to discover remote fishing villages and towns, or spend the night in one of the many guesthouses perched high atop the jungle and fall asleep to the gentle sounds of nature below.
Trekking and Camping in Thailand
With an abundance of nature and many pristine rainforests, trekking and camping opportunities are plentiful in Thailand. Whether you're looking for an energetic mountain hike that can be completed in a day or a more relaxed trek that explores the many hill tribe regions of Thailand over a few days, there are plenty of trekking options for all ages and skill levels.
Another fantastic way to immerse yourself in the warm and welcoming nature of the Thai people is to do a guided trek with a homestay. These tours are found all over the country and offer an intimate and relaxed rural setting where you'll be welcomed into the home of a local.
At your homestay, you'll be rewarded with generous hospitality by your smiling Thai hosts, who will prepare a Traditional meal to enjoy. They will also share local knowledge of the nearby sights and activities, offering a unique glimpse into the lesser-known sights of Thailand.
Adventure; Sports
The incredibly diverse landscape of Thailand is a natural host to a wide range of adventure and sporting activities. Go river kayaking down one of the many waterways and rivers, or explore off-road trails on a mountain bike or Segway. There's no end to your options for adventure in the great outdoors.
For the adrenalin junkies, fly high above the jungle of the Chiang Mai region on a 1000 meter zip wire, or scuba dive with giant whale sharks off the shores of the Surin Islands.
Then there's the rock climbing found around the islands of Railey and Ton Sai, where crystal clear waters lap against impressive limestone cliffs towering above. No matter what your skill level, climbing in Thailand offers a safe and enjoyable experience for everyone.
Summary
Now you know what to do during your Thailand itinerary, you're probably eager to get there as soon as possible!
No matter if you're looking to escape it all at a chilled and secluded beach, or you're simply looking to dance away the lockdown blues under the glitzy and high-energy streets of Bangkok, Thailand offers exceptional value for money, incredible food, and so many activities and sights, you're likely to never want to leave!