Heading to NYC and want to make the most of being in one of the most Instagrammed cities in the world? Not only is New York City full of super cool places to Instagram. It is also full of the most delicious and photogenic food EVER. So grab your smartphone, and add these 11 most Instagrammable places to eat in New York City to your Google Maps.
My top 11 most Instagrammable places to eat in New York City
Milk & Cream Cereal Bar
Did someone say ice cream mixed with cereal? Go with an empty stomach and keep your camera handy before it melts/ you eat it all in excitement. Because believe me it tastes as good as it looks.
Top Tip: Avoid during the weekends on hot days as this place gets packed!
Tacombi
Every day is #tacotuesday at Tacombi and this is by far one of my favorite Instagrammable places to eat in New York.
In this traditional Mexican eatery, you will be spoilt for choice of authentic Mexican food. Take a few shots up at the bar before getting a table and ordering food because it's just too cute not to.
https://www.instagram.com/p/Bhy7d9qn3SA/?hl=en&taken-by=thiswanderlustheart
Avocado Appetit Cafe
Oh, Avocado how I love thee.
What could be better than a smashed Avocado on toast?
I know what. A whole cafe dedicated to our favorite little green superfood, that's what.
Oh, and did I mention how frickin cute it is?
Want my unicorn t-shirt?
Black Seed Bagels
Did someone say Canadian bagels in NYC?
Yep, that's right no need to go to Montreal for your bagel fix just head to Soho and check out Black Seed Bagels.
Delicious!
Are you a blogger? Take a read of my faviourite blogging courses that helped me to explode my traffic and start earning an income from my blog.
Supermoon Bakehouse
Looking for the best-looking pastries in Manhattan?
Then you need to take a trip to Supermoon Bakehouse, my pastry-loving friend.
Honeybrains
Oh hello, beautiful latte.
Where do you find the best-looking latte in Manhattan? At Honeybrains that's where!
Broken Coconut
Like your background writing in neon and your food served in bowls?
Then Broken Coconut is the place for you.
Head over to East Village for some of the best looking healthy eats in Manhattan.
Cruzing on the River
Where do you get the best views in Manhattan?
On the water of course!
If you want to get a killer skyline shot whilst sipping wine then book on a river cruise.

NoMo SoHo
NoMo has to be one of the most Instagrammed restaurants in New York City. And for a good reason, I mean just look at it!
Dylan's Candy Bar
Not had enough sugar?
Then head over to Dylans Candy Bar and order one of these colorful beauties.
They should probably come with a diabetes warning though – So, maybe take a friend who can share the sugar with you.
Chip
Want more sugar?
Hello, colorful cookie dough… goodbye toned stomach!
Final Thoughts
I hope this list has provided you with plenty of insta inspiration for your next trip to New York City. Not only are these my favorite Instagrammable places to eat in New York, but they are all just great places to eat! It's one of the things I love most about New York, eating haha. If you aren't planning to do a food tour in New York, you need to!
Be sure to follow all of the NYC Instagrammers on this list for inspo. And please make sure you tag me in your pictures so I can see all the fun you had!
Big thanks to my favorite NYC based bloggers and Instagrammers for being a part of this post make sure you check out their blogs!
I hope you have found this useful. Don't forget to download these travel apps!
Looking for somewhere to stay in NYC? Here are my favorite places if you are on a budget: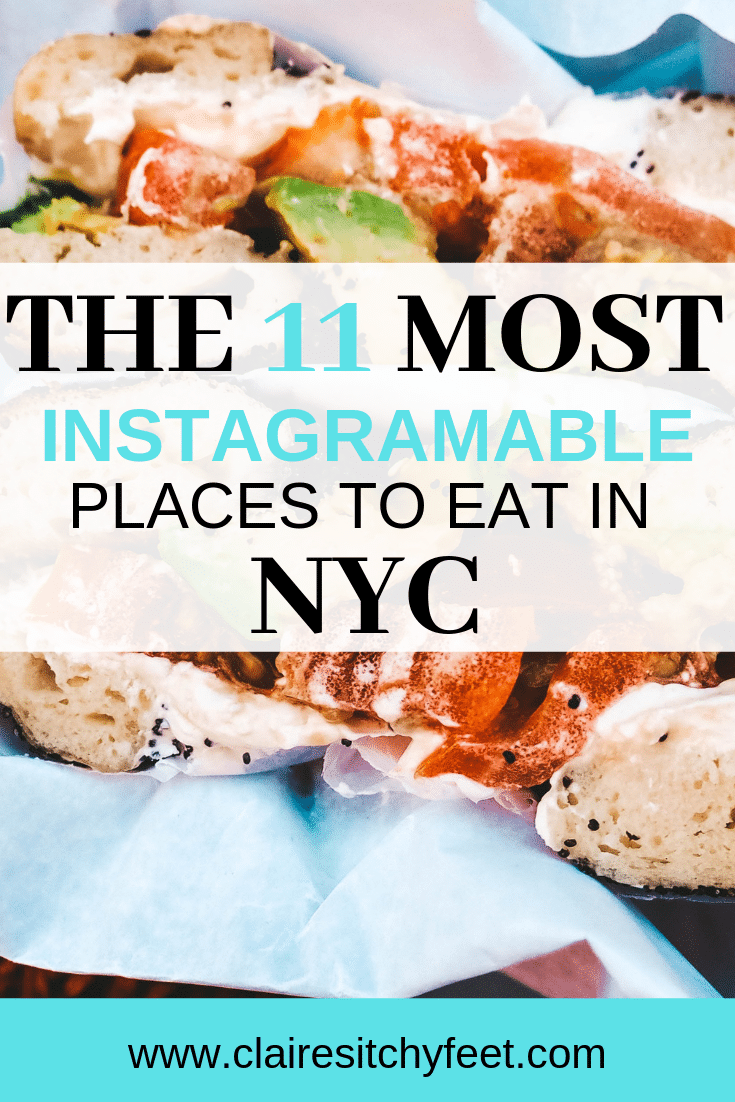 Traveling to NYC? Take a read of my other guides:
10 British inspired places to visit in New York City
How to spend 5 days in New York City
How to Spend a Weekend in New York City
5 Ways to Win at Christmas Shopping in New York City
Traveling solo in New York City | How to make friends in NYC
This post was proofread by Grammarly
Are you ready to book your trip?  To help you get the best deals and service here are the companies that I personally use to book all of my travel online. I always shop around before booking anything, but these are my tried and tested starting places.