Did someone say food tour in Playa Del Carmen? I feel like after two years of traveling in Latin America I can say with some authority that Mexico, for me, has the best food. Whenever I return to Mexico, it's one of the things I'm most looking forward to. So the thought of a whole evening of eating Mexican food on a food tour in Playa Del Carmen was a bit of a dream.
Why do a food tour in Playa Del Carmen?
As a fulltime traveler I've learned the hard way some hacks to speed up the settling in time whenever I arrive at a new place. Whether you are planning to stay for a few days or a few weeks in any new place the quicker, you can orient yourself the better. And finding the best food near me is always top of my list. Because who wants to eat crap Mexican food, or even worse get sick from eating from a doggie food truck!?
So what's the best way to figure out the best places to eat in Playa Del Carmen and get a lesson on what to order than doing a food tour? Let's face it it can be pretty overwhelming figuring out what to order in a new country. I know doing the food tour in Bogota gave me a crash course in the local food that stayed with me the whole time I was in Colombia. On food tours, you always end up eating things you would never order on your own which is never a bad thing, right?

Eating with Carmen Food Tour
There are a few companies offering a food tour in Playa Del Carmen. I decided on Eating With Carmen because I liked the fact you get three options. The Authentic Mexican Food Tour, the Gourmet Food Tou, and even a Vegan Food Tour. I also loved that Daniel the owner spend 6 months finding the best food in Playa del Carmen. All of the places we went to on the food tour were small family-run places off the typical tourist trail. They are all places I have returned to because the food is so good.
About the Authentic Mexican Food Tour
The food tour starts at the ADO bus station and after a brief introduction from Rodrigo our guide we took a seat in the park and got to watch the show.
On this tour, you don't just eat. Rodrigo also took us to see some cool street art while learning about the development of Playa Del Carmen, which is the fastest growing place in Mexico right now.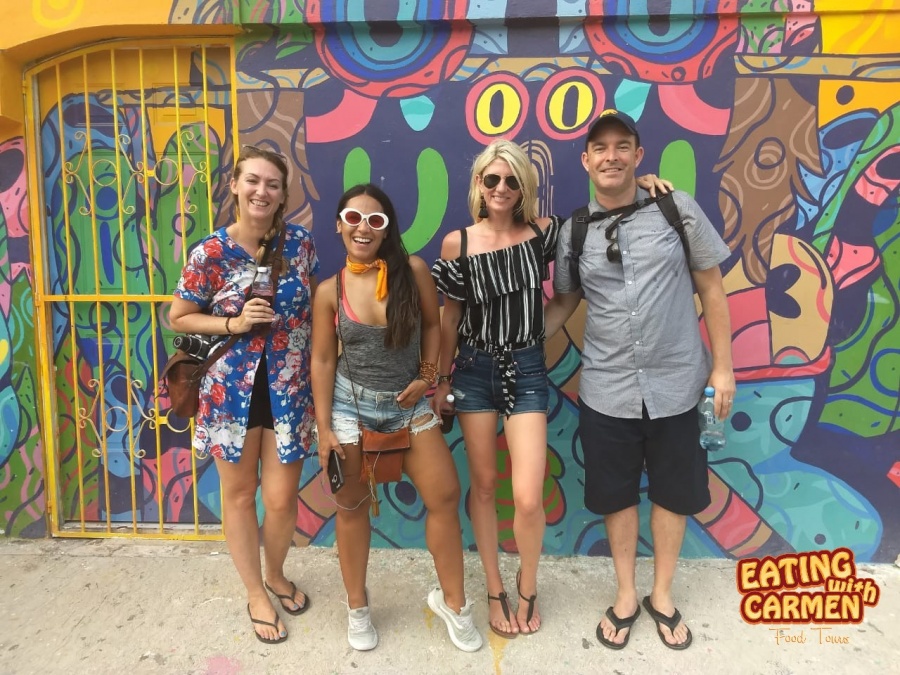 I don't want to spoil the tour for you, but we ate some delicious fruit, drank a lot of tasty fruit juices, and there was plenty of Tacos! Some more 'exotic' than others…
Solo Travelers
As a solo traveler, I love tours like this as they are so sociable. Sometimes I just don't want to eat on my own so taking a food tour, or a beer tour or any other kind of tour that involves walking around and eating/ drinking and ultimately socializing with other people is always money well spent for me.
But on this tour, I actually did it with an influencer friend It's a Travel OD. We had only met in person that day after talking online for a while. It was so much fun to hang out and get to know her and learn more about her vlogging work. If you don't follow her already then go check out her Instagram, Facebook and especially her YouTube Channel!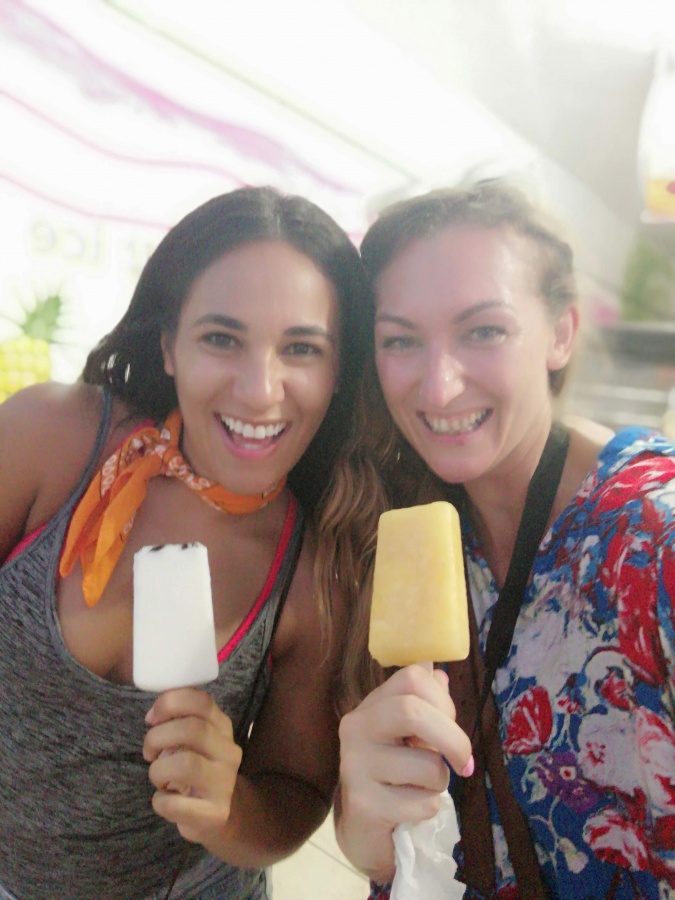 Final Thoughts on the Eating with Carmen Food Tour
Even though I've spent quite a bit of time in Mexico and know a little about Mexican food I learned so much on the tour. So, if you are interested in learning about Mexican food, like eating Mexican food and want to know where to go for the best food tour in Playa Del Carmen, then you need to do this tour.
Plus, when you think about it, the price you would pay to do this whole food tour is the price you would pay in The USA for a nice meal at a restaurant. Trust me its money well spent especially as all of the food venues are small independent businesses.
If you are looking for things to do in Playa Del Carmen, Cancun, or Tulum, then I highly recommend doing this Mexican food Tour in Playa Del Carmen.
Looking for somewhere to stay in Playa del Carmen? Check out my accommodation guide.
Check out Eating With Carmen on Facebook and Instagram
Looking for things to do in the Riviera Maya?
Check out these articles:
Visiting Cenote Azul and Cenote Cristalino
The Complete Guide to Chichen Itza in Mexico
How to see the Mayan Ruins in Tulum
How to spend a weekend in Merida
Doing a cooking class in Tulum
Choosing a Scuba Diving Company in Playa Del Carmen
Scuba Diving in Puerto Morelos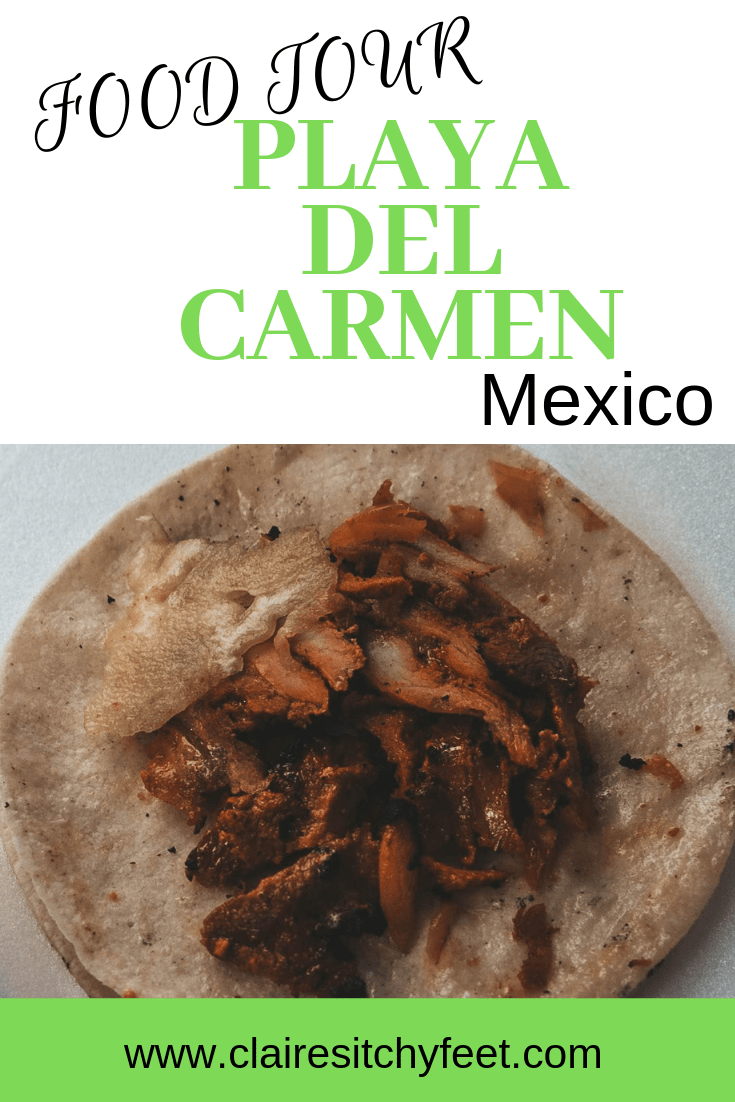 Take a read of my other Mexico guides here.
This post was proofread by Grammarly
Are you ready to book your trip?  To help you get the best deals and service here are the companies that I personally use to book all of my travel online. I always shop around before booking anything, but these are my tried and tested starting places.