You've probably heard a lot of whining from your fellow travel bloggers in the last few days. Traffic is down! What will I write about since I can't travel!? I am out of toilet paper (just gonna leave that one alone). Instead of whining about this coronavirus travel slow down why not stay productive? In fact, why not get ahead with your travel blog!?!? Here are seven things travel bloggers can do to stay productive during this travel slow down.
7 Things Travel Bloggers can do to stay productive when you can't travel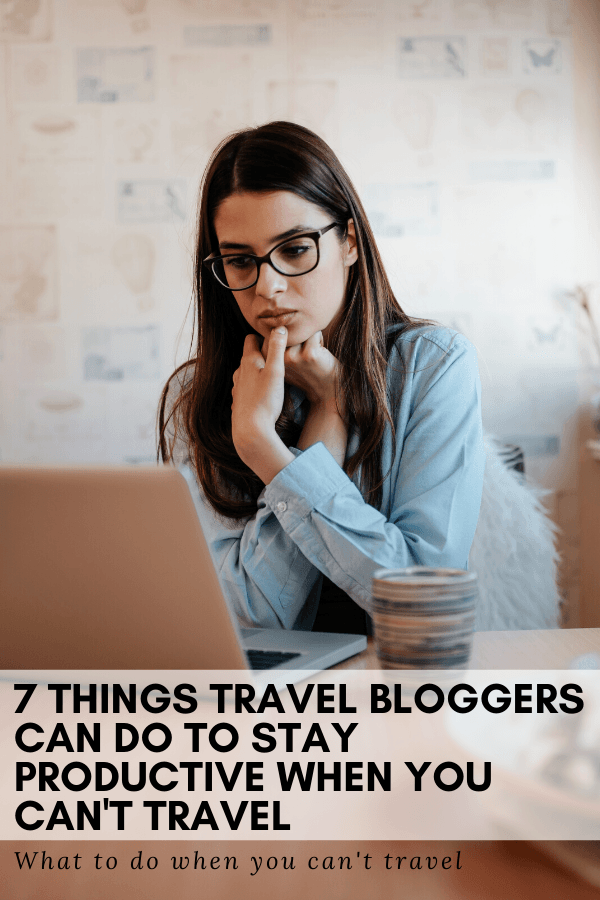 I am a frequent business traveler who's usually sleeping on a different hotel pillow every week. I've been documenting my experiences, travel hacks, advice and humorous gripes (in the form of memes) for about a year and a half now on my blog, CBoardingGroup.com. But, like you, I am grounded right now.
My company has instituted a travel ban for non-essential travel (which basically means customer emergencies only). I will probably not hit the road again until at least mid to late April at the earliest.
Such a lengthy delay has the potential to cut into the progress I've been making with my travel blog, but I see it differently. Sure, my traffic is way down (just like most of us right now), but that's not stopping me.
I see this coronavirus slow down as a perfect opportunity to get ahead with my blog. I've been furiously pounding away at a lot of tasks that I've simply been too busy to get to. Now, with a slow down in travel, I can finally get to them!
Here are 7 things that travel bloggers can do to stay productive during this coronavirus slowdown (or for that matter, ANY period of time when you can't travel):
Update old posts
Keyword research
Write guest posts
Finally, finish those posts you've had in draft for 8 months
Go nuts with Pinterest (create several months worth of Pins)
Work on technical issues with your travel blog
Read / Research
Bonus Tip: Get yourself educated on something in the blog world you've been wanting to learn about!
In the following sections, I dig into these ideas a bit more and where applicable share links to putting these practices into action.
Update old posts
Besides creating new content, one of the most impactful things travel bloggers can do is find older posts that are ranking in Google (ideally first page or towards the top of page 2) and update them in a big way.
Google already knows about them and if they are already ranking "ok" (just not great, yet) then perform a serious update to them to give them that final push.
One strategy is to research additional keywords that are related to your current primary keywords and weave them in. You also want to refine your content, add depth and detail wherever possible, and make sure your on-page SEO is on point for the post. And, of course, don't forget about cross-linking your pages.
Keyword research
Speaking of keywords, isn't it a great feeling when you find a keyword you think you can rank for that has high traffic and low competition? Keyword research takes time, though. You need a good Keyword tool and some time to really do it right but with less travel, you should have the time to establish a strong list of words you either want to rank for (with new content) and/or words to start adding to your existing content.
Why not use this travel slowdown to dig deeper into your keyword research. I use a combination of KeySearch and the Keywords Everywhere Chrome plugin, along with, of course, Google Search. How about you? What's your favorite keyword research tool?
Finally finish those posts you've had in draft for 8 months
I literally have 314 blog posts in draft format. It's terrifying really. On the one hand, it's great because I have so many ideas for content. On the other hand, it's daunting because, well, I actually should write them! And that's a TON of work.
I've already been using this coronavirus slowdown to finally finish and schedule some of my half-written posts and it's feeling pretty good so far! Only 311 to go… LOL!
Write those guest posts you've been putting off!
Backlinks are like crack cocaine for bloggers and one of the best ways to get backlinks is by guest posting on other blogger's sites. If you are like me, though, this is not the most exciting prospect. While I love to write, I don't really like to write about things and then give it to someone else.
I've been getting over this though having recently published several guest posts after finally giving into it and grinding them out. I've even created a little template that I use in Google Docs that makes it more repeatable for me.
The coronavirus travel slowdown is the perfect opportunity to finally start working on those backlinks by writing several guest posts. Get to it!
PS…you can use the Making Money from Blogging Facebook group to find collaborations or guest post opportunities (among many other helpful blogging tips and tricks).
Go nuts with Pinterest (create several months worth of Pins)
If you rely on Pinterest for your travel blog you are well aware of the recent Pinterest algorithm changes and the heavy emphasis that Pinterest now places on new content.
Many travel bloggers are struggling with creating so many new pins. Use this travel downtime to go nuts with Pinterest. I've already created about 30 pins so far and scheduled about 15. I figure that with the travel downtime facing me I could probably create enough new pins to last several months.
recent Pinterest algorithm changes
What's my secret? Well, it's really not that big of a secret. I take an existing pin and make a change to it. See the two pins below as an example. Took me literally 15 seconds to create the second pin and I could easily create 10 more:
Two Pins using similar style – so easy to create
You could also use this downtime to research Pinterest keywords, update your Board definitions, archive low performing boards, and more.
Work on technical issues with your travel blog
Speed matters! Use this downtime to focus on improving some of the technical aspects of your travel blog including making it faster. Or clean up those categories you've been meaning to get to. Maybe fix some broken links or configure that Google Analytics dashboard that's been irritating you.
Use this downtime to get to work on the things you've been putting off!
Read / Research
Just because you can't travel doesn't mean you can't still use your imagination and experience this world if even only through a book.
Use this downtime to read that book that's been sitting on your nightstand for 5 months or buy a new one. Here are a few ideas in this Best Travel Books list.
Or, you can do some research for your travel blog. Maybe it's examining your competitors to see what trends they are seeing or to see how you might be able to do something a little better.
Or maybe it's just researching a place you intend to visit (like say, Krakow) or some new rental car hacks to use on your next trip.
Use this downtime to research and read!
Bonus Tip: Learn more about the business of blogging!
Being a travel blogger is something anyone can do. Being a successful travel blogger is a far greater challenge. There is MUCH to learn. From SEO to Pinterest, to small business taxes, Twitter, Facebook, and more, it's not easy. The good news is that there are many free resources out there to help you.
Consider these great resources for bloggers: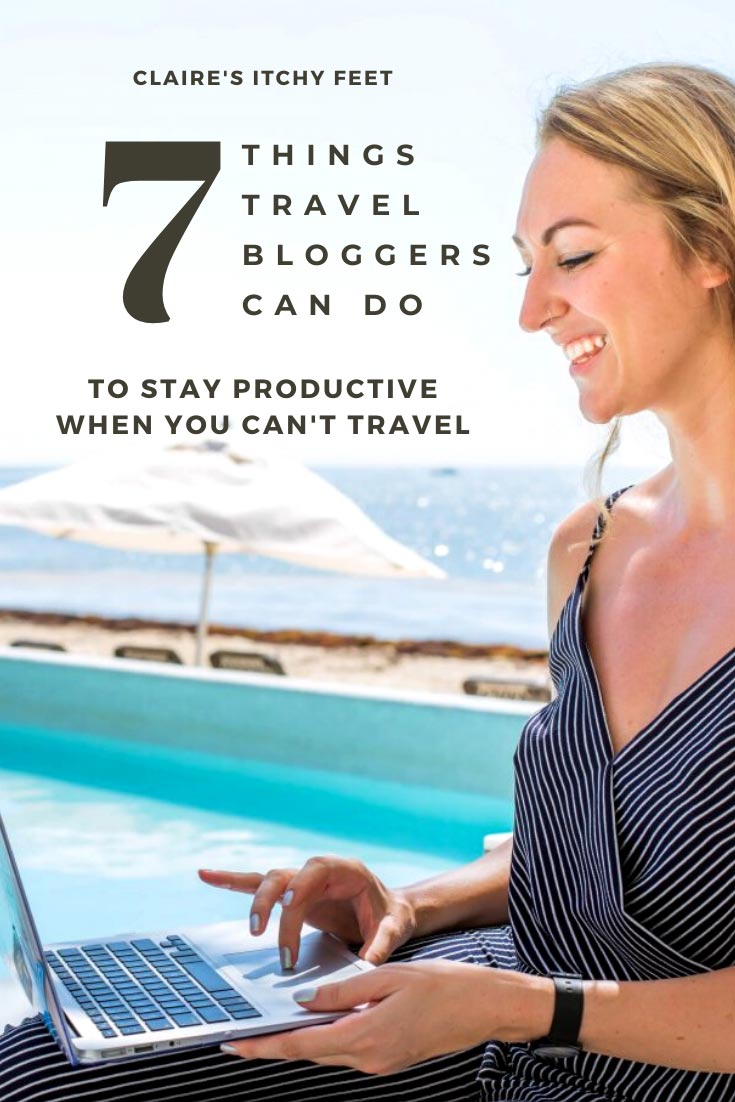 Thanks and happy quarantining!
No one really knows how long the coronavirus will last, but at least we can stay productive while we aren't traveling. I hope you enjoyed this list of ideas for travel bloggers to stay busy and useful while stuck at home. How about you? What are you doing to survive the coronavirus scare of 2020?
Bio: Jeremy is a frequent business traveler who spends more nights in hotel beds than he does his own bed. His business travel blog, the CBoardingGroup.com highlights the daily grind of the work traveler with business travel tips & hacks, humor, and travel gear reviews. Business travel has taken him all over the globe…on the company dime, of course…and he can't complain one bit (although he still does). He also runs the drone blog, BestTravelDrone.com.