I recently returned from an Oaxaca road trip and full disclosure, it was a bit of a disaster. Well, it was and it wasn't. As far as trips go it was a fun trip with some friends where we got to see some cool places and eat some delicious breakfast in Oaxaca. But I also had a constant feeling that I wished I'd done a bit more planning and used some expert Oaxaca city tips.
The truth is I did no planning at all. Not. One. Bit. Something that is essential, especially if you plan to enjoy the day of the dead in Oaxaca.
Which was fine, I had fun and I got to experience a new state in Mexico. But most of all what that short road trip Oaxaca did was get me really excited about planning a second road trip in Oaxaca, one that was better planned by following some solid road trip tips and going when it wasn't the rainy season so we could actually do more than hang out indoors waiting for the rain to stop…
So here is my Oaxaca road trip itinerary. The one I'm planning on doing very soon! Once I've done the road trip Oaxaca I'll come back here and write about my experience. Even though I haven't actually been to all of these best places to visit in Oaxaca from my research I couldn't find anything like this on the internet, so I wanted to share in the hope it would help you in planning your visit to Oaxaca.
PS. If you don't want to rent a car in Oaxaca because you are worried about driving in Mexico then this Oaxaca itinerary could also be done by public transport. You could also easily add hiking Camino Copalita in Oaxaca, Mexico to your itinerary too!
Oaxaca City
This is the most obvious starting point for a Oaxaca itinerary, as most people arrive into Oaxaca City via their international airport. Or on a bus from another Mexican city. It's also going to be a great place to rent a car in Mexico from as you will have many more options for car rentals in Oaxaca city than you will in other places.
We rented a car in Puerto Escondida and it wasn't so easy.
Before you pick up your rental car, be sure to spend some time exploring Oaxaca City, eating lots of delicious Mexican food, and catching up on some work at Convivio.
Once you have taken your time exploring Oaxaca City there are some places close by you can explore as day trips.
This is one of Mexico's most iconic archeological sites and it some truly magical views over the city.
Did You Get Travel Insurance Yet?
If 2020 taught us anything, it's that you need to be prepared for anything! Travel insurance has always been high my list of things to get before I travel but now more than ever its at the top of my list.

I'm pretty sure we have all had travel plans messed up because of COVID and not all insurers covered this. So when looking for travel insurance it's important to check it covers travel disruption due to COVID-19, Hey Mondo, Passport Nomads, Safety Wing, and Travel Insurance Master all provide cover for this.

Hey Mondo is great if you are looking for a great value flexible policy. They offer single trip cover, annual multi trip cover, and long term travel cover. You even have the option to start the cover when you are already on your trip, although you won't be covered for the first 72 hours. For me my favourite feature is their app which offers you a 24/7 Dr chat and the ability to file a claim direct in the app.

Passport Nomads provides the most comprehensive cover for Digital Nomads. The game changer with them is that you have a red card and if you find yourself in need of medical care you just contact them and they will pre load your card with the funds to cover your treatment, meaning you won't need to pay out of pocket and then put in a claim later.

Safety Wing is great value with monthly cover starting at $39. It's super easy to use and it just renews each month. They have an excess of $250 and it's simple to make a claim through their website. I currently use them as they offer me free cover for my son as part of my policy and I like that it renews on a monthly basis, so I don't have to pay out a big lump sum up front.

I also use Travel Insurance Master for some short vacation type trips.

If you are doing shorter trips or an extended backpacking trip then Hey Mondo or Travel Insurance Master are the best option. If you are a digital nomad or planning travel of at least 6 months then go for Passport Nomads or SafetyWing.
The Tree of Tule is the widest tree in the world and located just 9 km outside of Oaxaca city. I'm not sure I'd make the trip just to see the tree. But as it's on the way to Monte Alban it's on my itinerary.
So this isn't so much or a day trip, it's more of a multi-day hiking kinda thing. I need to look more into it. But from what I can see it's better to go on an organized tour with a guide. So that's what I'll be looking at doing. You can read more about it here.
When you are ready to leave Oaxaca I would suggest heading north first and then doing a big loop that will bring you back to Oaxaca city. Please find below a map of the places on this Oaxaca road trip itinerary so you can see the geographical location of each place. It's in numeric order so you can easily see the order to travel to each place in.
More commonly referred to simply as Tuxtepec it is located in the North of Oaxaca and a beautiful place surrounded by the Papaloapan River. It was an important place for the Aztecs and then the Spanish conquerors. It's the ideal jumping-off place for entering the Chinantla and discovering a way of life that is in harmony with nature. There is a lot of things to do here so give yourself enough time to fully immerse yourself.
One of Mexicos Pueblo Magicos, Capulalpam de Mendes borders neighboring Varacruze in the north of Oaxaca high in the Sierra Juarez mountain range. Please visit here to explore the nature and do outdoor activities like zip-lining.
Tecotitlan del Valle
Next up on this Oaxaca itinerary is Tecotitlan del Valle at the base of the Sierra Juarez mountains. Tecotitlan de Valle is renowned for its artisan goods from weaving to woodwork. Here is the best place in Oaxaca to shop for local products and learn about the traditions behind them.
Commonly referred to simply as Mitla people travel here to explore the archeological site, wander around the churches, shop at the craft markets, and most importantly eat all the different color Mole!
It's time to head south to Huatulco Mexico for beaches, waterfalls, and lots of hidden adventures. You can spend time here in Parque Eco-Arqueológico Copalita exploring the pre-hispanic ruins, and on the coast at Huatulco National Park. You can also take a day trip to Copalitilla Waterfalls or just chill at the beach in the town of La Crucecita.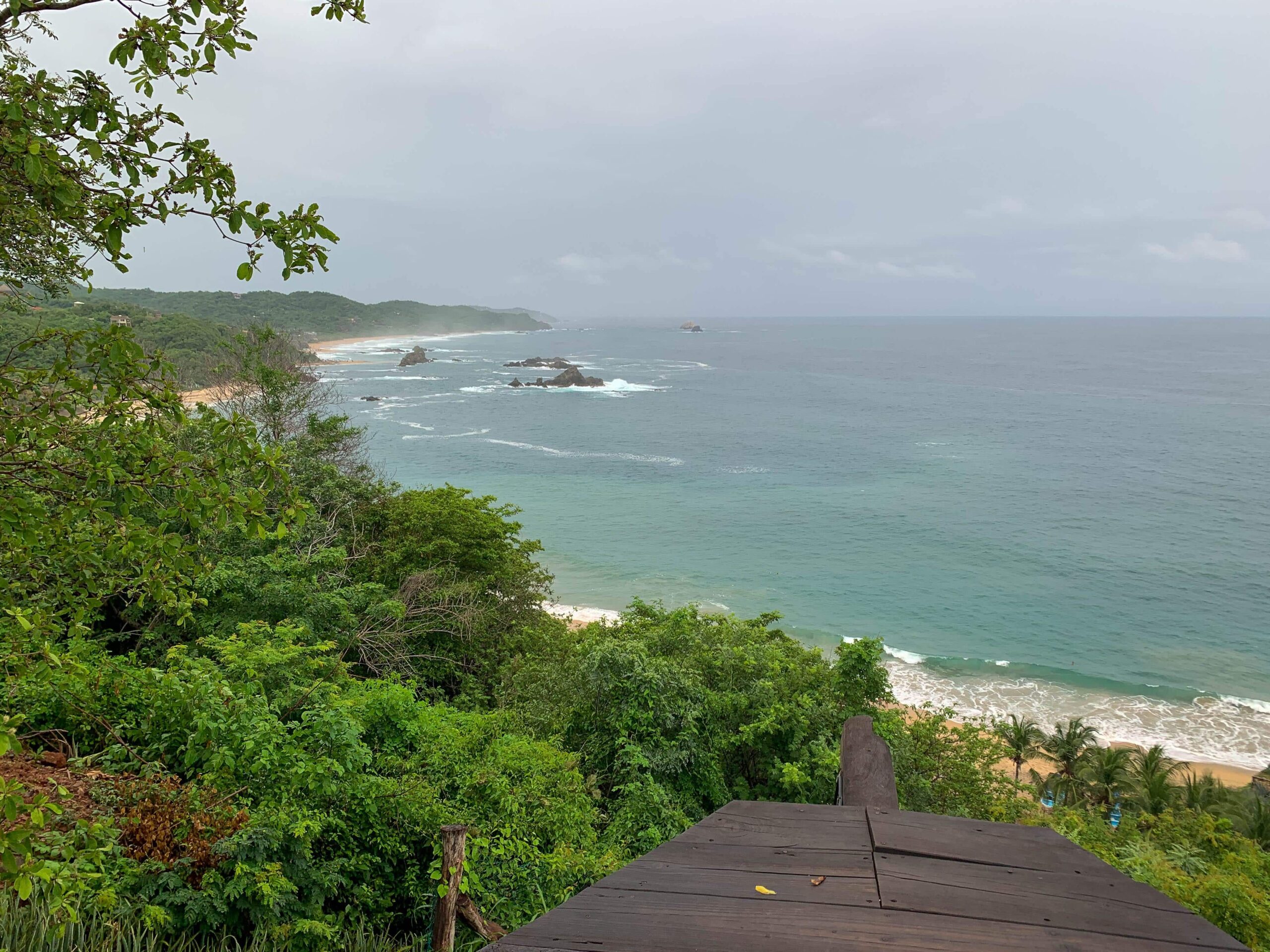 I did actually make it to Mazunte, but I can't really tell you much about it as it rained the entire time! From what I saw it's a super cute Pueblo Magico with a great Pizza restaurant and a nice beach. We stayed at some accommodation high up on the cliff with amazing views. We decided to leave early because of the rain, but I will go back and stay there again for sure.
Check out the accommodation in Mazunte here.
Give yourself at least 3 days in Puerto Escondido, more if you have time. The main thing to do here is to explore the beaches and go surfing. Don't expect to get decent Wi-Fi here, you will be disappointed. We stayed at Casa Daikiri and loved it.
The location was great, it had a pool and a decent kitchen, and the staff were super friendly. You may ee lots of advertising for turtle releasing, personally I would avoid this are I'm not sure it's very ethical, but do some research and make your own mind up.
This is the place to visit to see the bioluminescent and the 'frozen' waterfall.
More lakes!!! It's a little off the beaten path, but totally worth adding to your Oaxaca itinerary if you have time. Not only are the lakes supposed to be absolutely stunning there is also a traditional Medicine center that I really want to visit. You can take a boat ride through the mangrove forest to the beach where you can stay.
Time to leave the coast now and head back up into the mountains. San Jose del Pacifico is the 'mushroom capital of Mexico'. I wrote a whole blog post about it that you can read here. 1 or 2 nights is enough here.
Santa Catarina Minas
I'm sure by now on your Oaxaca road tip you have already been introduced to Mezcal but how much do you know about the Mezcal distilling process? Santa Catarina Minas is a great place you can stop off on your way back to Oaxaca City to visit a small mezcal producer to learn all about it. You don't need to spend the night here a few hours is enough.
And that's it! You are back in Oaxaca City where you can return your rental car and hit up the fast wifi at Convivio coworking to upload all of your epic Oaxaca road trip pictures and catch up on your emails.