I recently saw a Chichen Itza Night Show, which didn't disappoint! Since it was impossible to find reliable information about visiting one of the most famous landmarks in the world after dark, I decided to create this Chichen Itza Light Show guide. I'm sharing everything you need to know about planning your visit to Chichen Itza at night.
First, check out this post for information about seeing Chichen Itza by the day. The following blog is about the Chichen Itza Pyramid Light and Sound Show.
Quick Tip: I highly recommend booking all of your Mexico transportation with GottoGo. You can search for buses, shuttles, ferries, and Flights on their website. What I love most about them is their customer service. I know these guys personally from living in Guatemala, and they look after their customers.

If anything happens and you get delayed and miss your bus, you can just call them, and they are always there to help. If you book through them, you will pay a little more than booking in person at the bus station. But it's worth it for the ease and security. Click here to search for transportation in Mexico.
P.S. Apologies for the photos, they really don't do the Light Show Chichen Itza justice!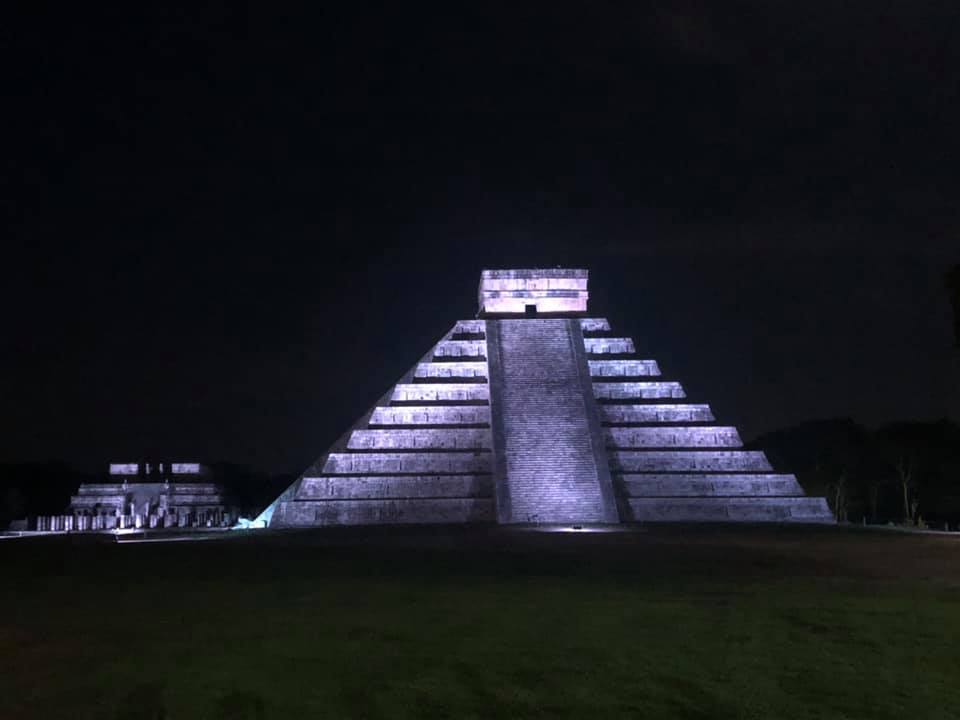 Everything to Know About the Chichen Itza Night Show
The best time to visit Chichen Itza is Sunday evening because you can enter Chichen Itza at night for half price! On these nights, the Chichen Itza Night Show entrance fee is just $225 MX (about $10 USD)—any other time, it's $550 MX (about $20 USD).
You need to book and pay for Pyramid Sound and Light Show tickets online. While you can purchase them in person, I don't recommend it as you'll likely get bad seats. We got tickets the day before and snagged third-row middle seats! Click here to book tickets for Chichen Itza at night.
When planning your Light Show Chichen Itza experience, remember that some like to visit during the day. If that's you, I advise going on Sunday night, staying in a local hotel (see below for recommendations), and returning to Chichen Itza again in the morning. However, you will have to pay twice if you do this.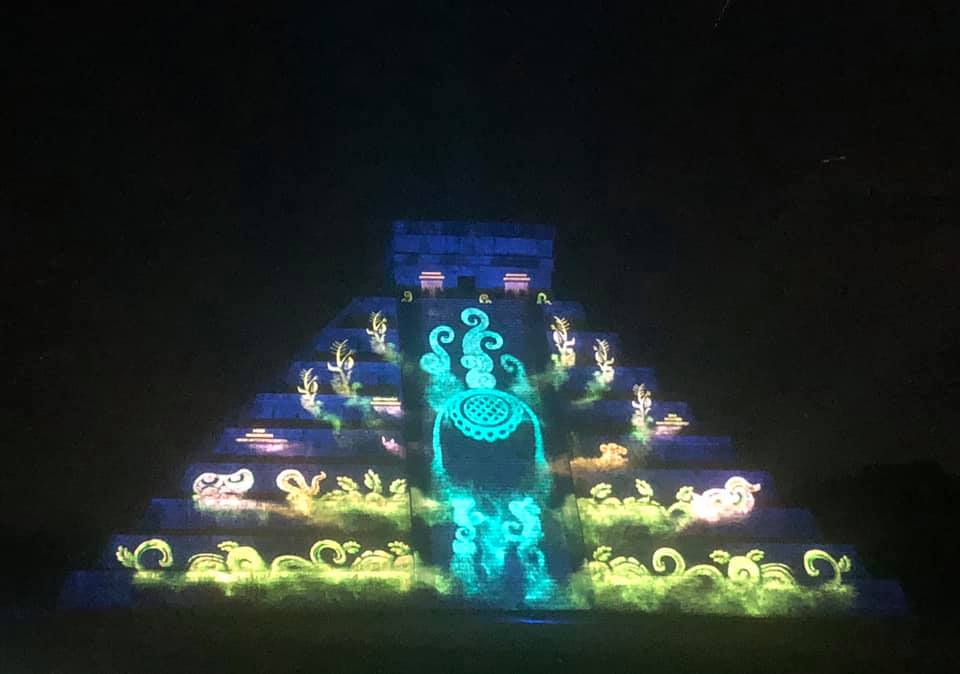 Chichen Itza Night Show: What to Expect
The Chichen Itza Light show exceeded my expectations—this could be because I live in Mexico, and my expectations are generally low for tourist activities. While I love Mexico, things can sometimes be disorganized and frustrating for my European brain! Don't get me wrong: there was a lot of confusion entering the park, but the Chichen Itza Pyramid Sound and Light Show was fantastic!
During the summer, the Chichen Itza Light Show begins at 8:00 p.m. In the winter, the show's start time is 7:00 p.m. The organization recommends arriving 15 to 40 minutes before the show, but I don't think it's necessary. You can't get into Chichen Itza at night until 8:00 p.m., and the show doesn't start until 8:30 to 8:45—plus, seating is assigned, so you gain nothing by standing in line. Arrive around 8:00 p.m., and you should be fine.
Did You Get Travel Insurance Yet?

The Insurance companies I recommend are Hey Mondo, Safety Wing, and Travel Insurance Master

Hey Mondo is great if you are looking for a great value flexible policy. They offer single-trip cover, annual multi-trip cover, and long-term travel cover. Safety Wing is great value, with monthly coverage starting at $39. It's super easy to use, and it just renews each month. I currently use them as they offer me free cover for my son as part of my policy. I also use Travel Insurance Master for short trips.

Read my full travel insurance post here, where I go into detail about all companies.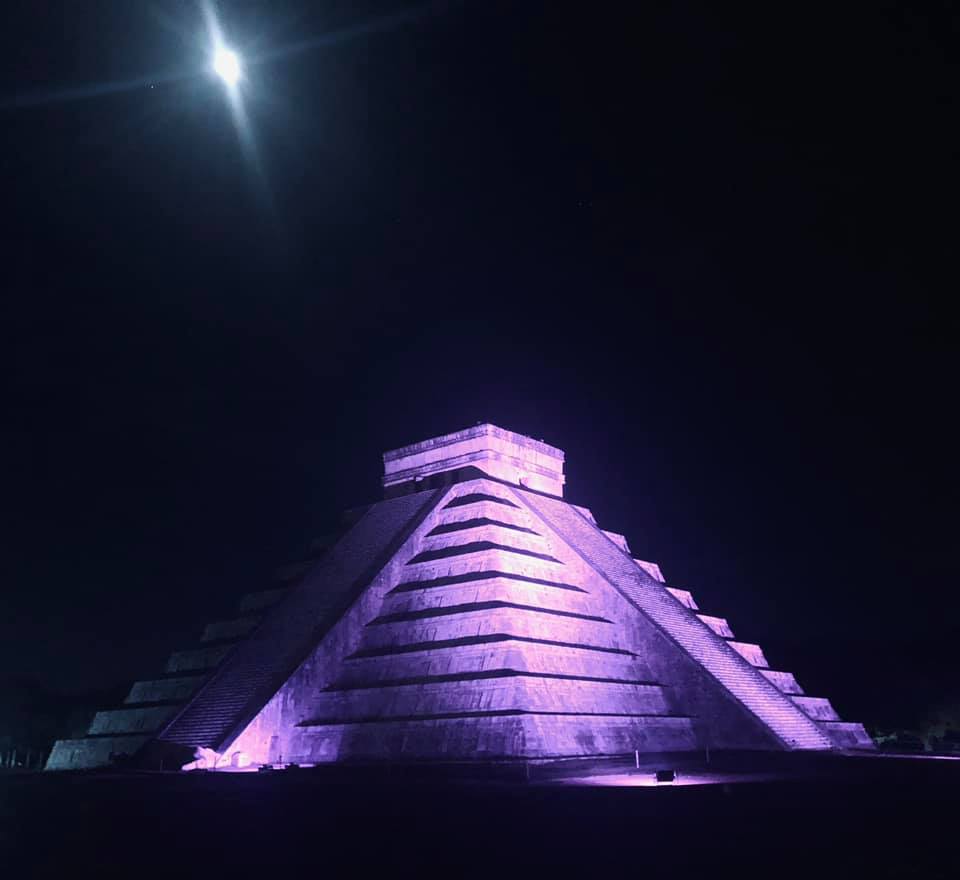 Chichen Itza Light Show Schedule
Before the Chichen Itza Night Show begins, you'll have time to walk around the park's central area. This was news to me, as I thought we would just be watching the show!
The Chichen Itza Night Show schedule is as follows:
8:00 p.m. – Park opens for entry.
8:00 to 8:30 p.m. – Tour the central park, take pictures (with flash), and enjoy Chichen Itza at night.
8:30 p.m. – Begin making your way to the designated seating area.
8:45 p.m. – The Chichen Itza Pyramid Sound and Light Show begins.
9:15 p.m. – The show ends, and you must exit the park.
Please note this schedule is an hour early during the winter months.
What to Do in Chichen Itza at Night
I've visited Chichen Itza several times and experienced the park with and without a guide. During this visit, I brought my sister, who was visiting from France—I was worried she'd miss out by only seeing Chichen Itza at night. Thankfully, she had a great time exploring the park and taking some incredible pictures of the Chichen Itza Light Show, which most people don't get to see.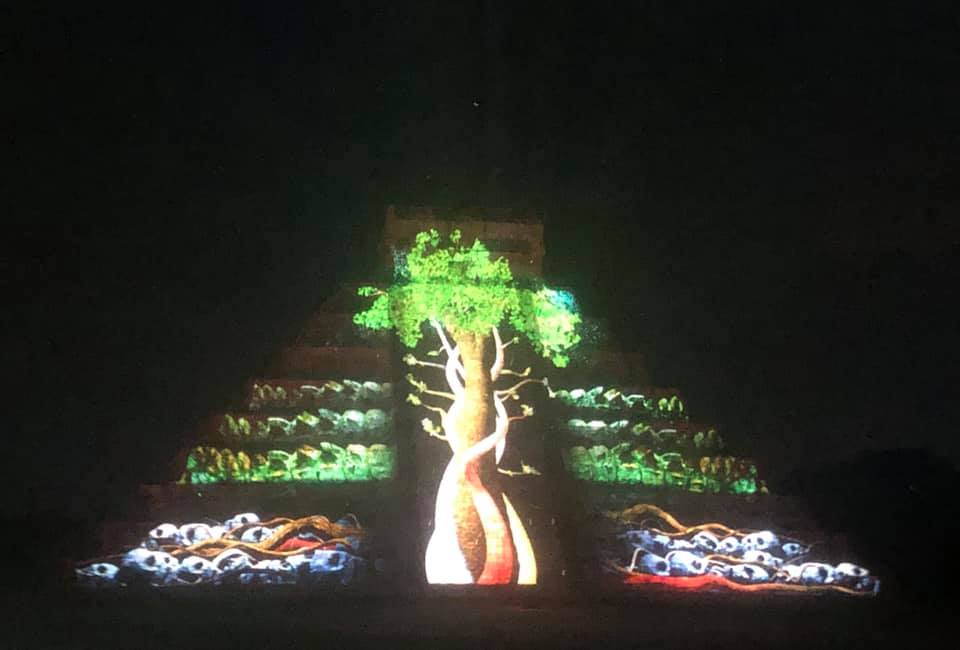 There are some potential downsides to visiting Chichen Itza at night. The most important thing to note is that the Light Show Chichen Itza is in Spanish with no English translation. I understand Spanish well, but the narration was tricky to understand fully. Unless you have excellent Spanish-speaking skills, you'll struggle to translate anything being said. The Chichen Itza Night Show speaks for itself in many ways, which is still fun.
Here's what I recommend if you foresee this being an issue and are curious to learn more about the history of Chichen Itza:
Take a guided daytime tour before the Night Show to learn about the history of Chichen Itza.
Do a guided tour of any Mayan Ruins in the Yucatan Peninsular—this will give you general context, which is all you need.
Chichen Itza Night Show Accommodations
Unless you rent a car and drive yourself, you must stay in a Chichen Itza hotel. There are several options depending on your budget. Since there were two of us, we opted for the middle-of-the-road budget hotel, the Hotel Doralba Inn Chichen. Despite some mixed reviews online, this hotel is an excellent value for the price and location. There's a pool, air conditioning, fresh-cooked breakfast, bar, restaurant, and clean, comfortable beds. This Chichen Itza hotel is also on the main road, so you can get a colectivo.
For those traveling on a backpacker's budget, check out the Chichen Hostel. You get what you pay for here, so go into the experience with low expectations, and you won't be disappointed. Most of the complaints are related to the cleanliness of the communal bathrooms.
If you have more of a budget and want to be in the heart of the action, the Mayaland Hotel & Bungalows is the place to beat. This hotel has excellent reviews, and although I've not stayed there, I've walked through the resort, and it's stunning. The price is around $80 USD per night, which is fair considering the lovely accommodations. The Mayaland Hotel is also in Chichen Itza, so you don't need to worry about getting taxis.
How to Get to Chichen Itza
Read this post for a thorough guide to traveling to Chichen Itza during the day. Renting a car is the best way to travel there, especially if you don't enjoy the hassle of buses and colectivos.
I was traveling from Meri and hopped on the ADO bus to Valladolid. Wherever you're staying, you'll need to take a bus to Valladolid, as this is the closest major town to Chichen Itza.
From Valladolid, hop in a colectivo to Chichen Itza—exit the ADO bus terminal, turn left, and walk a few yards to an area of minivans where someone will call out "Chichen."
Speak with the representative about going to Chichen Itza. They can usually drop you off near local hotels. The cost is $35 MX (just under $2 USD), and the trip takes about 45 minutes. You can usually request they pick you up the next day as well.
I stayed at the Hotel Doralba Inn Chichen, and the colectivo dropped me off right outside, which was perfect. You'll be fine as long as the hotel you're staying at is located along the main road. The colectivos end at 5:00 p.m., so arrive there a bit early.
A taxi from hotels to Chichen Itze costs around $80 MX, typical for standard tourist prices. Don't pay more than $80—if you speak Spanish well, you may be able to negotiate the price down to $40, which is closer to what locals pay.
QUICK TIP: Book your tours, rental cars, and transfers through my local contacts

I've been working with Living Dreams Mexico for years and they are who I send all my family and friends to when they visit the Riviera Maya. I really can recommend them enough for private tours and experiences. They have solid 5* reviews on Trip Advisor and Google from almost 4000 reviewers! You can view all their tours here.

If you're looking for private airport transfers and rental cars then Vanessa and Oliver from Turismo Channel are personal friends of mine and I can 100% recommend them to make an inquiry click here and complete the form. Someone will be in touch within 24 hours.
Chichen Itza Night Show Final Thoughts
That was my guide to visiting Chichen Itza at night and catching the Pyramid Sound and Light Show! I hope this helps you plan a fantastic evening in Chichen Itza.