So you want to see the Chichen Itza light show? Good choice. I went recently and it didn't disappoint. But I decided to put together this post as it was impossible to find much reliable information on visiting one of the most famous landmarks in the world after dark. In the following blog post, I'm going to share everything you need to know to plan your visit to Chichen Itza at night.
First things first, if you are just looking for information about visiting Chichen Itza during the day, I wrote this post which will answer all of your questions. The following is specifically about the Chichen Itza light and sound show.
Need to book transportation in Mexico?
I highly recommend booking all of your Mexico transportation with GuateGo. You can search for buses, shuttles, ferries, and Flights on their website. What I love most about them is their customer service. I know these guys personally from my time living in Guatemala and they really do look after their customers. So if anything happens and you get delayed and miss your bus, you can just call them and they are always there to help.

If you book through them you will pay a little more than if you book in person at the bus station. But it's worth it for the ease and security in my opinion. Click here to search for transportation in Mexico.
p.s apoligies for the photos, they really don't do it justice!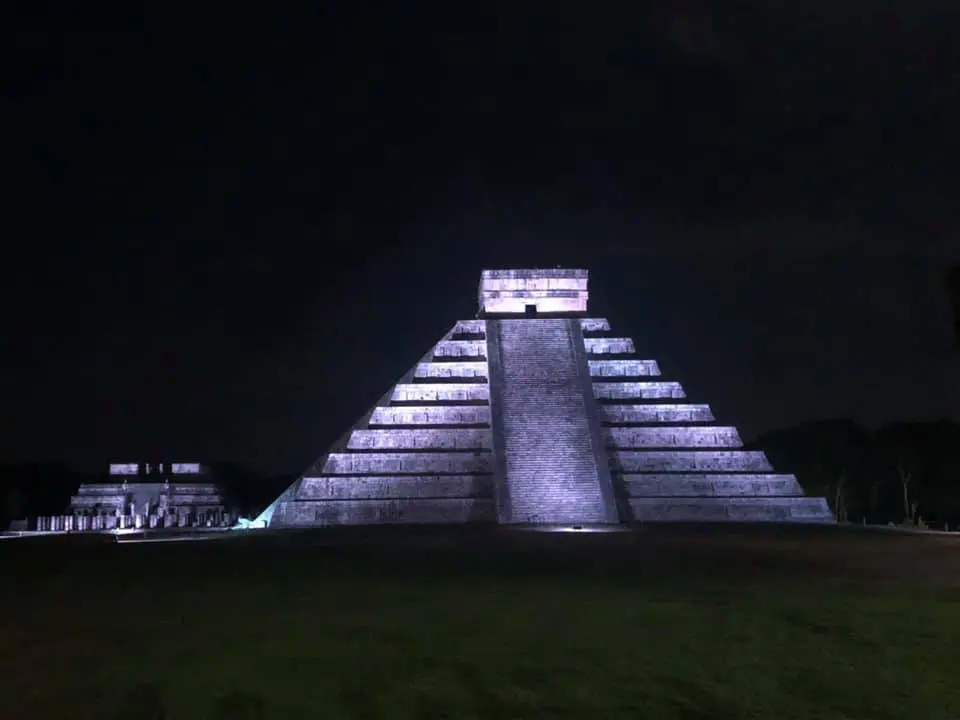 Everything you need to know about the Chichen Itza light show
If you want to know when the best time to visit Chichen Itza is I can tell you without a doubt it's a Sunday evening. Why? Because on a Sunday evening you can enter Chichen Itza at night for half price! That's right on a Sunday evening the Chichen Itza entrance fee is just $225 MX (about $10 USD) if you go any other time the entrance fee is $550 MX (about $20 USD).
You will need to book and pay for your tickets online before you go. You can book them in person, but I wouldn't recommend it as you will get crap seats. We booked the day before and managed to get 3rd-row middle seats! To book tickets to Chichen Itza at night click here.
So when planning your Chichen Itza excursion it's worth keeping that in mind. Some people want to do the night time and also visit during the day. If that's you, then I advise you to go on Sunday night, stay close by in one of the hotels (see below for recommendations) and then re-enter again in the morning. Keep in mind that you will have to pay twice if you do this, once in the evening and then again the next morning.
Chichen Itza show
The Chichen Itza light and sound show exceeded my expectations. Maybe that's because I live here in Mexico and in general my expectations are pretty low for tourist activities. I love Mexico, but sometimes things can be poorly organized and frustrating for my European brain. Now don't get me wrong, there was a lot of confusion entering the park and with the general organization (hence my writing this post) but the actual Chichen Itza light and sound show was awesome!
During the summer the show starts at 8 pm, in the winter it is an hour earlier at with entrance at 7 pm. They recommend arriving 15-40 minutes before. But in all honesty, I wouldn't bother. They don't let you in until 8 pm and the show doesn't start until between 8:30 and 8:45, plus seating is assigned anyway. So you will gain nothing by standing in a line outside the entrance other than a headache from the guys trying to sell you mosquito spray and Aguas Frescas. Get there around 8 pm and you will be totally fine.
Did You Get Travel Insurance Yet?
If 2020 taught us anything, it's that you need to be prepared for anything! Travel insurance has always been high my list of things to get before I travel but now more than ever its at the top of my list.

I'm pretty sure we have all had travel plans messed up because of COVID and not all insurers covered this. So when looking for travel insurance it's important to check it covers travel disruption due to COVID-19, Hey Mondo, Passport Nomads, Safety Wing, and Travel Insurance Master all provide cover for this.

Hey Mondo is great if you are looking for a great value flexible policy. They offer single trip cover, annual multi trip cover, and long term travel cover. You even have the option to start the cover when you are already on your trip, although you won't be covered for the first 72 hours. For me my favourite feature is their app which offers you a 24/7 Dr chat and the ability to file a claim direct in the app.

Passport Nomads provides the most comprehensive cover for Digital Nomads. The game changer with them is that you have a red card and if you find yourself in need of medical care you just contact them and they will pre load your card with the funds to cover your treatment, meaning you won't need to pay out of pocket and then put in a claim later.

Safety Wing is great value with monthly cover starting at $39. It's super easy to use and it just renews each month. They have an excess of $250 and it's simple to make a claim through their website. I currently use them as they offer me free cover for my son as part of my policy and I like that it renews on a monthly basis, so I don't have to pay out a big lump sum up front.

I also use Travel Insurance Master for some short vacation type trips.

If you are doing shorter trips or an extended backpacking trip then Hey Mondo or Travel Insurance Master are the best option. If you are a digital nomad or planning travel of at least 6 months then go for Passport Nomads or SafetyWing.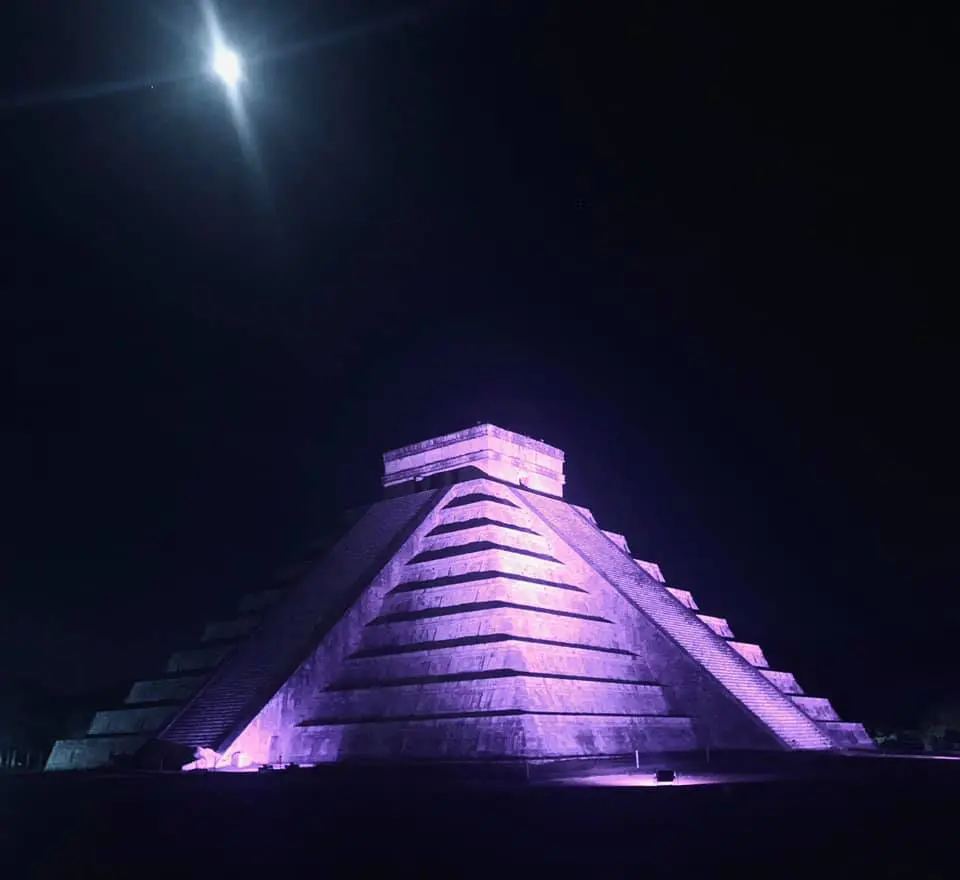 Chichen Itza light show schedule
Before the Chichen Itza night show begins you will have time to walk around the main area of the park. This was news to me as I hadn't realized this was even possible. I thought we would just be watching the show.
The Chichen Itza light show schedule is:
8 pm – The park opens and you can enter.
8 – 8:30 pm – You can take a tour around the main park, take pictures (with flash), and enjoy seeing the park in the early evening.
8:30 pm – They will ask you to make your way to the designated seating area.
8:45 pm – The Chichen Itza night light show begins.
9:15 pm – The show ends and you will need to exit the park.
Please note this schedule is an hour early during the winter months.
What to do in Chichen Itza at night
I've visited Chichen Itza several times now, so I've been able to experience the park with and without a guide. This visit I was taking my sister who was visiting me from France and I must admit I was a little worried that she would be missing out by not seeing the park during the day. But in reality, I really didn't need to. I mean, if you have the time and budget to do in twice, do it. We didn't, but she had a great time and still got to see most of the park and get some great pictures of the Chichen Itza sound and light show, which most people don't get to see.
It's not possible to get a guided tour during the evening or to see all of the park, but she didn't feel like she missed out as she got to see the main pyramid.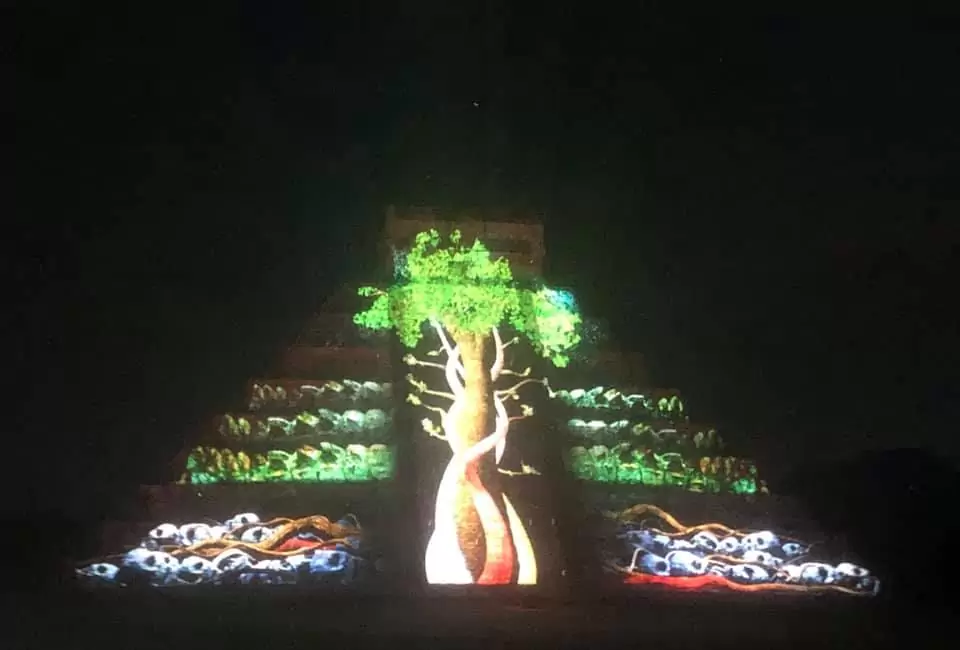 However, there were some downsides that you do need to keep in mind. The most important thing to say is that the light and sound show Chichen Itza is in Spanish. There is no English translation. I understand Spanish pretty well and the narration was a bit tricky for me to fully understand. So unless you have excellent Spanish you are unlikely to be able to understand anything being said. That said the main thing is getting to watch the light show which speaks for itself in many ways. Even if you don't understand a word that is being said getting to see the show is still very cool.
What I would recommend if this feels like an issue for you and you are really interested in the history is one of two things:
Take a guided tour in the day before the show so you already have an idea of the history so the show will make more sense to you, even if you don't understand every word.
Do a guided tour of any of the Mayan Ruins in the Yucatan Peninsular before your visit. This will give you some general context which is all you really need. I was able to help my sister fill in the gaps as I've been to so many ruins and had so many tours I could practically lead them myself now (joke, nobody needs that).
Where to stay near Chichen Itza
One thing is for sure unless you rent a car and drive yourself then you will need to stay in a Chichen Itza hotel.
There are several Chichen Itza hotels to choose from depending on your budget. As there were two of us we opted for the middle of the road budget hotel and stayed at the Hotel Doralba Inn Chichen and I thought it was great value in a good location. There are some mixed reviews online but I disagree with most of them. There is a pool, AC, a nice freshly cooked breakfast, bar, restaurant, and beds to sleep in. It's also on the main road so you can get a collectivo there and back. You will need to ask them to call you a taxi to get to Chichen Itza in the evening, which we expected. During the day they run a shuttle service.
Chichen Itza where to stay:
On a backpackers budget, there is the Chichen Hostel. You are going to get what you pay for here, go with low expectations and you won't be disappointed. Most of the complaints seem to be able to the cleanliness of the communal spaces (bathrooms).
If you have more of a budget and want to be right in the action then the place to stay in is the Mayaland Hotel & Bungalows. It has great reviews and although I've not stayed there myself I've walked through the resort and it is stunning. The cost is around $80 per night which really isn't that expensive for what you get. It's also in Chichen Itza so you won't need to worry about getting taxis.
How to get to Chichen Itza
If you want full detailed instructions of how to get to Chichen Itza take a read of this post I wrote. If you want to know how to get there to see the night show keep reading.
If you are renting a car then that's the best way to get there, especially if you don't want to mess around with buses and colectivos.
I arrived from Merida so I hopped on the ADO bus to Valladolid. But, wherever you are arriving from you will need to take a bus to Valladolid as this is the closest major town to Chichen Itza.
From Valladolid, you will need to get in a collective to get you to Chichen Itza (if you have never been in one before, don't worry, I'm going to talk you through it). Come out of the ADO bus terminal, turn left and a few yards down you will see an opening on the left with some minivans parked in it. There will likely be a young guy calling out "Chichen". This is the collective park.
Tell the guy you want to go to Chichen Itza. If you are staying at one of the hotels let him and the driver know which one and they will drop you off as close as they can to it. I promise you they won't forget, especially if you are a tall blonde gringa like me haha. The cost is 35 MX (just under $2 USD) and it takes about 45 minutes.
There will be room for your backpacks and suitcases in the back. Remember where they drop you off and then the next day when you want to go back you just need to wait on the opposite side of the road. I stayed at the Hotel Doralba Inn Chichen and they dropped me off right outside which was perfect, I can't speak for the other hotels, but as long as they are on the main road you will be fine. The collectivos end at 5 pm so you will need to be there before 5 pm. I read online they were until 6 pm, but the driver told me 5 pm so I wouldn't risk arriving later
To get from the hotel to the park and back we needed to take a taxi as the collectivos were finished for the night. The cost was $80 MX which is expensive, but in all honesty, it's the 'standard' tourist price. I didn't bother arguing as I know better and although I do live in Mexico I'm not local to this area so I can't really argue that I'm a local haha. Just don't pay more than $80. If you have excellent Spanish and can be bothered you might be able to get it down to $40 which is probably what locals will pay.
Looking for a reputable tour company in The Riviera Maya?
I've been working with Turismo Channel in Playa del Carmen for years and they are who I send all of my family and friends to when they visit the Riviera Maya. I really can recommend them enough for tours, private airport transfers, and rental cars. Vanessa and Oliver are personal friends of mine and I have 100% faith that you will have a wonderful time with them.
You can check out their tours by clicking here and using the following discount codes for the best prices clairecaroff (car rental), claire10off (for 10% off group tours), claireprivate (for a discount on private tours). You can also send her a WhatsApp message quoting the above codes to receive the discount.
Final Thoughts
So that's my guide to visiting Chichen Itza at night. I really hope this has been helpful to you if I missed anything leave me a comment below with any questions. I hope you have a great evening!