Planning a trip to the Riviera Maya? Don't skip visiting Tulum Ruins. In this post, I share my top tips on how to see the Tulum archaeological site as well as some other useful information to help you enjoy your trip.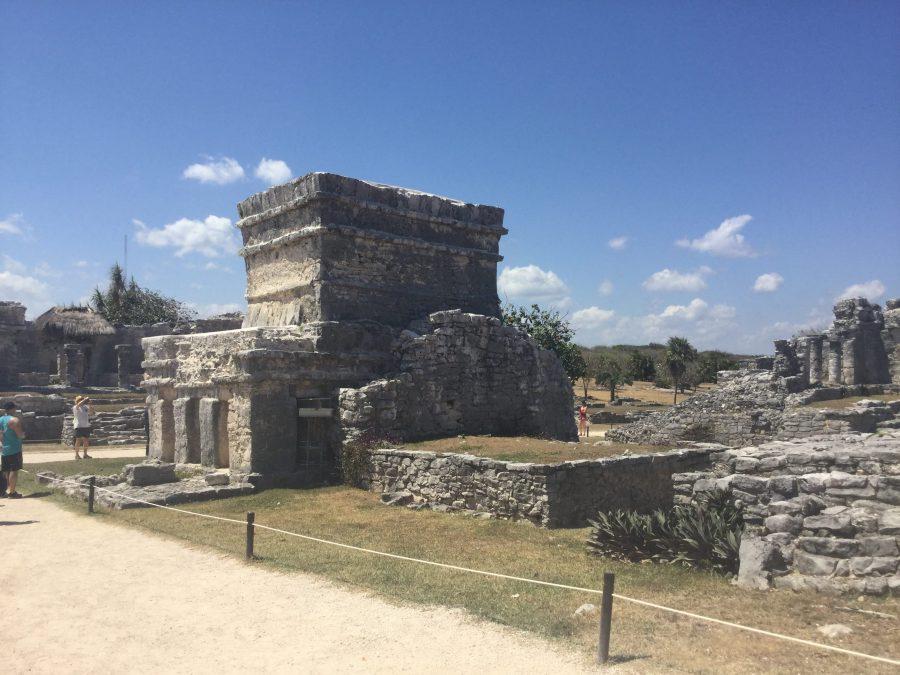 How to get to Tulum Ruins
If you are staying anywhere along the Riviera Maya coastline it's really easy to get to Tulum Ruins as it is just set back off the main road connecting Tulum to Playa del Carmen and Cancun.
Getting to Tulum Ruins from Tulum Town:
The cheapest two options to get to the ruins from Tulum town are to take a Colectivo from the main street and then the driver "Ruines" (it is around 10-15 pesos), or rent a bike and cycle.
It's only a 10-minute bike ride from Tulum Town to Tulum Ruins and most of it is on a bicycle path.
If neither of these options works for you, then you can take a taxi for 80 pesos or rent a car and drive yourself.
If you want to know how to get from Cancun airport to Tulum, then read this.
Getting to Tulum Ruins from the Tulum Beach
If you are staying on the north side of the beach (Playa Paraiso/ Playa Pescadores area) then it may not be too far for you to walk. Just remember it gets very hot and often there is little to no shade on the roads in Tulum. I personally always prefer to rent a bike for the day in Tulum. The cost of renting a bike in Tulum is around $100 pesos per day (less than$5 USD).
If you are staying further down the beach road away from the Ruins then you can take a colectivo into the town. Get out at the top of the road by the 7/11 before they turn to go into town. From the 7/11 you can take the colectivo heading towards Playa del Carmen and ask for the "Ruines".
Alternatively, rent a bike or take a taxi. Taxis in Tulum can be pretty expensive. Expect to pay anything from $80 -$100 pesos…it really depends on how good your Spanish is!
If you are visiting the Yucatan Peninsular in Mexico it's really worth hiring a car and exploring the area. You can get a car for just $30 a day and there are so many places to explore in the area like the Pink Lakes which you can read about on Our Escape Clause. Just looking at the photos made me regret not having more time to explore the area!
Getting to Tulum Ruins from Playa Del Carmen or Cancun
Again you have a few options: Drive yourself (there is a huge carpark), take a taxi (this won't be cheap, or take any Colectivo to Tulum and ask them to drop you off at the ruins. There is no direct colectivo from Cancun to Tulum, instead, you will need to take a colectivo first to Playa del Carmen and then change and take a colectivo from Playa to Tulum). It's actually very easy so don't be put off by the change!
Although what most people do is do a Mayan Ruins Tour. This way you visit Coba Ruins and Tulum Ruins in a day on the same tour. This is probably the easiest and cheapest way if you want to see both sites and don't have your own transport.
Getting your ticket – Tulum Ruins entrance fee
The first time I visited Tulum Ruins it was actually my 4th Mayan Ruin Site in 3 months and I was really surprised at how different it felt to all of the others. It felt like I was walking down Main Street in Disney World.
I was a little taken aback and unsure where to go. I ended up accidentally buying a train ticket instead of a park ticket… Yes, that's right they even have a train that takes you 500m to the entrance. You can also buy your entrance ticket from the booth next to where you buy the train tickets. I would advise doing this as the que when you get down to the actual entrance was pretty long.
Top Tip: Don't pay for the train, walk the 500 meters if you want to save money.
Tulum Ruins entrance fee is 70 pesos per person
Entering the Mayan Archeological Site
When you enter the site there are two entrances once you are past the barriers. Go in through the second one. The views are much better as this is the first thing you see. I was pretty stunned and spent the longest time just staring at this view than I did anywhere else.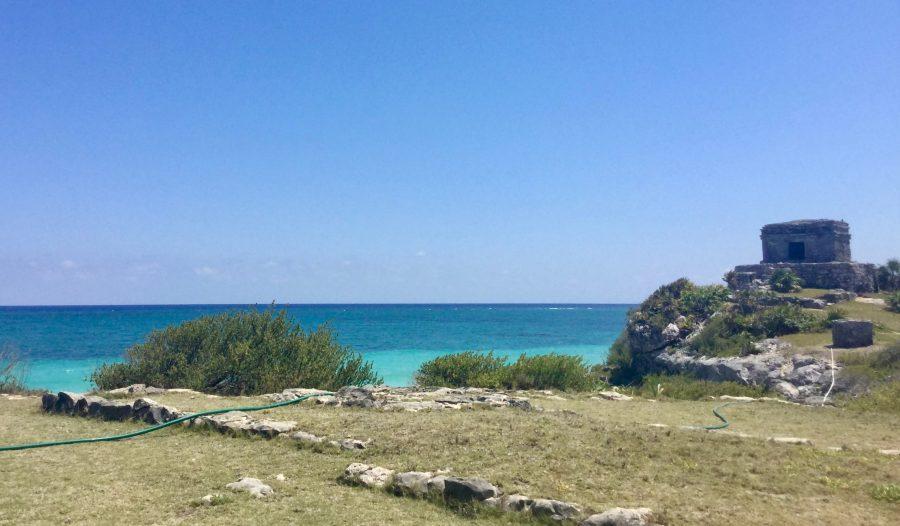 I'm much more of a beach person anyway, so this for me was perfection.
The whole time all I kept on thinking was how incredible it was and what it must have been like to actually live there.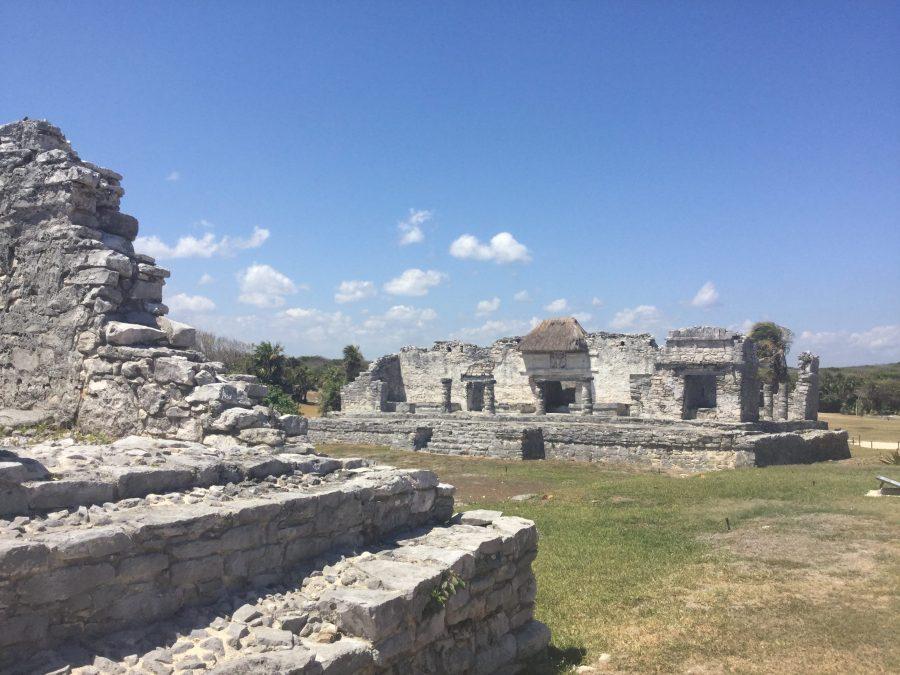 Unlike the other sites I've been to (Copan, Tikal, Chichen Itza, and Coba) you are kept well away from the ruins. Mostly behind barriers in fact. It's the world away from Coba where I was able to climb up one of the mayan pyramids.
Tulum Ruins is on the Beach so you can take a swim
Yes, that's right, you can cool off half way round by taking a dip in the Caribbean sea. Where else can you do that! Although if you are in the area you need to go to some of these cenotes near Tulum, they really are out of this world!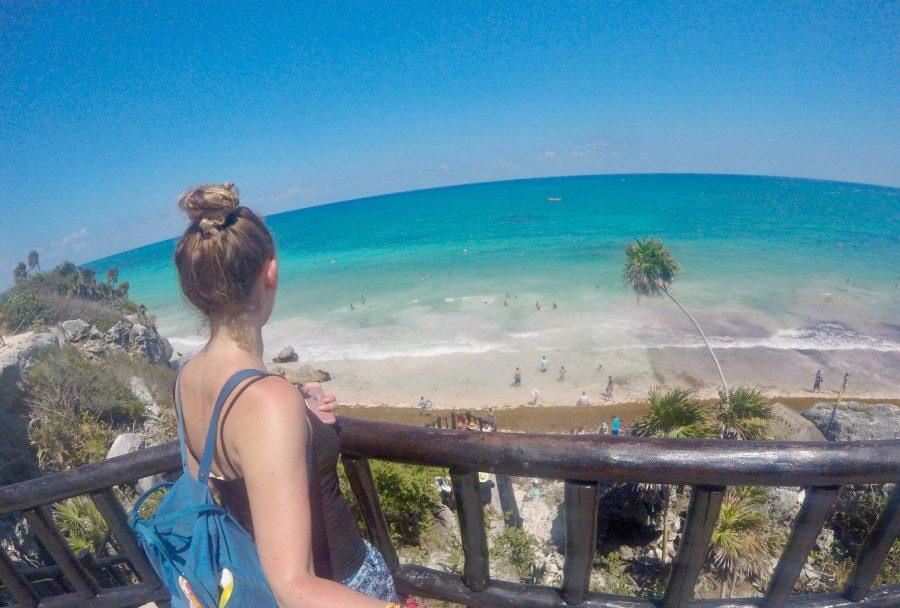 Why visit Tulum Ruins
Just take a look at the pictures. With the backdrop of the Caribbean sea its hard to think of reasons why not to visit Tulum Ruins. Not only do you get stunning views, but you can also swim in the sea to cool off halfway round. It's really easy to get to (unlike close by Coba) and if you have children in a pushchair or have mobility issues it's also wheelchair friendly. That's a bit of a rarity and not something I have seen anywhere else.
There are so many more incredible ruins you should really try to visit if you have the time though. Take a read of this great post from Mexico Bites and Sights "12 ruins in Mexico you shouldn't miss" for more information.
Need somewhere to stay in Tulum?
I wrote a whole post to help you decide the best area in Tulum to stay with my recommendations depending on your budget. I also wrote a guide to my top boutique hotels in Tulum here.
Or click to read my guides to accommodation in Playa del Carmen and Cancun
Looking for things to do in the Riviera Maya?
Check out these articles:
Akumal Glamping | Glamping in the Riviera Maya
Visiting Cenote Azul and Cenote Cristalino
How to spend a weekend in Merida
Food Tour in Playa Del Carmen Review
Doing a cooking class in Tulum
Choosing a Scuba Diving Company in Playa Del Carmen
Scuba Diving in Puerto Morelos
This post was proofread by Grammarly
Are you ready to book your trip?  To help you get the best deals and service here are the companies that I personally use to book all of my travel online. I always shop around before booking anything, but these are my tried and tested starting places.