If you're visiting Yucatan, you've probably heard of Chichén Itzá Mexico. As one of the 7 New World Wonders, you can't visit Yucatan without going to tour Chichen Itza. You're probably wondering how to get to Chichen Itza—you have a few options, including public transport, organized tours, and hiring a car. I'm answering all your questions in this Complete Guide to Chichen Itza Mexico, including "Where is Chichen Itza?" and "Is Chichen Itza worth it?"
Short on time and not sure which Mayan Ruins to visit? Read this post comparing the Mayan Ruins of Tulum, Coba, and Chichen Itza to help you decide.
Quick Tip: Book accommodation, tours, and transport ahead of time online to save money and stress.

Best Chichen Itza Tours: Click here to check out the top Chichen Itza tours
Best Chichen Itza Accommodation: Click here to check out the best accommodation in Chichen Itza
Best Chichen Itza Transport: Click here to book a bus, ferry, or train in Chichen Itza
How to Get to Chichen Itza Mexico
How you travel to Chichén Itzá Mexico can impact your entire experience visiting the ruins. Touring Chichen Itza with a group will be much different than renting a car and visiting Valladolid or Merida beforehand. If you decide to stay in Valladolid for a few nights, read this guide to spending 36 hours in Valladolid.
My friends at GottoGo can help with transportation from Cozumel to Chichen Itza or Merida to Chichen Itza. Check out their schedule and prices for the Cancun to Chichen Itza drive or traveling from Chichen Itza to Playa del Carmen. They are awesome!
Quick Tip: I highly recommend booking all of your Mexico transportation with GottoGo. You can search for buses, shuttles, ferries, and Flights on their website. What I love most about them is their customer service. I know these guys personally from living in Guatemala, and they look after their customers.

If anything happens and you get delayed and miss your bus, you can just call them, and they are always there to help. If you book through them, you will pay a little more than booking in person at the bus station. But it's worth it for the ease and security. Click here to search for transportation in Mexico.
Should I Tour Chichen Itza Mexico with a Group?
If you don't mind traveling in a group and want to see the ruins without the hassle of planning how to get to Chichen Itza, I recommend joining a small group tour. Organized tours arrange all transportation, and you won't have to make the Cancun to Chichen Itza drive yourself. Plus, you'll get a tour of the site—a big bonus. On the guided tour of Chichén Itzá Mexico, you'll learn about ancient Mayan history, which you won't receive during a solo tour.
Group Tour Chichen Itza Mexico: Cost and Company Recommendation
Budget tours of Chichen Itza are around $65 USD, while luxury tours cost anywhere from $80 to $150 USD. The only tour company in the Riviera Maya that I suggest is my friend Vanessa at Turismo Channel. They have the best prices on tours, excursions, and rental cars, making them one of my trusted partners in Playa del Carmen. Send her a WhatsApp in English or Spanish, and let her know I referred you—you can also send an inquiry through the form below, and someone will get back to you within 24 hours.
Private Chichen Itza Mexico Tour
If you're like me and don't enjoy big group tours, consider taking a private tour of Chichen Itza. It's well worth the extra money—after taking a private tour of Chichen Itza with Living Dreams Mexico, I'll never go on a big tour bus again!
They welcomed me onto the minibus with a blanket and cushion so I could sleep en route, and we took advantage of the early Chichen Itza hours to get pictures of the pyramids without people. Our guide, Juan, was excellent and answered every random question while providing Mayan history.
I highly recommend taking any Living Dreams Mexico tours—they're the most professional and trustworthy private tour company in Playa del Carmen. I also crossed Sian Ka'an off my bucket list with them not too long ago!
QUICK TIP: Book your tours, rental cars, and transfers through my local contacts

I've been working with Living Dreams Mexico for years and they are who I send all my family and friends to when they visit the Riviera Maya. I really can recommend them enough for private tours and experiences. They have solid 5* reviews on Trip Advisor and Google from almost 4000 reviewers! You can view all their tours here.

If you're looking for private airport transfers and rental cars then Vanessa and Oliver from Turismo Channel are personal friends of mine and I can 100% recommend them to make an inquiry click here and complete the form. Someone will be in touch within 24 hours.
Interested in Booking a Private Tour of Chichen Itza?
Add your name and email address to the form below, and someone will contact you within 24 hours to discuss your requirements.
Quick Tip: You can also book tours for Chichen Itza with Living Dreams Mexico here
Should I Rent a Car for Chichen Itza?
The roads to Chichen Itza are easy to drive and well-marked—they're also littered with Cenotes along the way. This makes traveling from Tulum, Playa del Carmen, or Cancun to Chichen Itza the perfect opportunity for a Mexican Road Trip!
If you drive yourself, research the cenotes you want to visit and stop in Valladolid for lunch. It's a two to three-hour drive from Playa del Carmen to Chichen Itza and a little less from Tulum. How far is Chichen Itza from Cancun? The new road takes just two and a half hours for the Cancun to Chichen Itza drive.
There are two ways to get to Chichen Itza; the one that avoids the toll road is a bit slower. Take the slow road if you're traveling on a budget and not rushing for time. Head towards Tulum and drive up the 307, which takes three hours from Tulum.
For the toll road, take the 305 or the 180. While this cuts out many miles, it costs over 250 pesos each way. Going the slow way, we still had to pay a 75 peso toll—on the main toll road, you pay that on top of the 250 pesos. I recommend taking the long road to save money.
Cost of Driving to Chichen Itza from the Riviera Maya
You can rent a car for an average of $30 to $40 USD per day, and there are many options in town. To save money, take the slow road and watch your speed—the cost of parking at Chichen Itza is 30 pesos.
I wrote a blog post about renting a car in Playa del Carmen, which you should check out. The only company I recommend renting a car through is Turismo Channel. You can contact my friend Vanessa through WhatsApp (she speaks English and Spanish). Don't forget to mention Claire's Itchy Feet referred you!
Best Cenotes to Visit En Route to Chichen Itza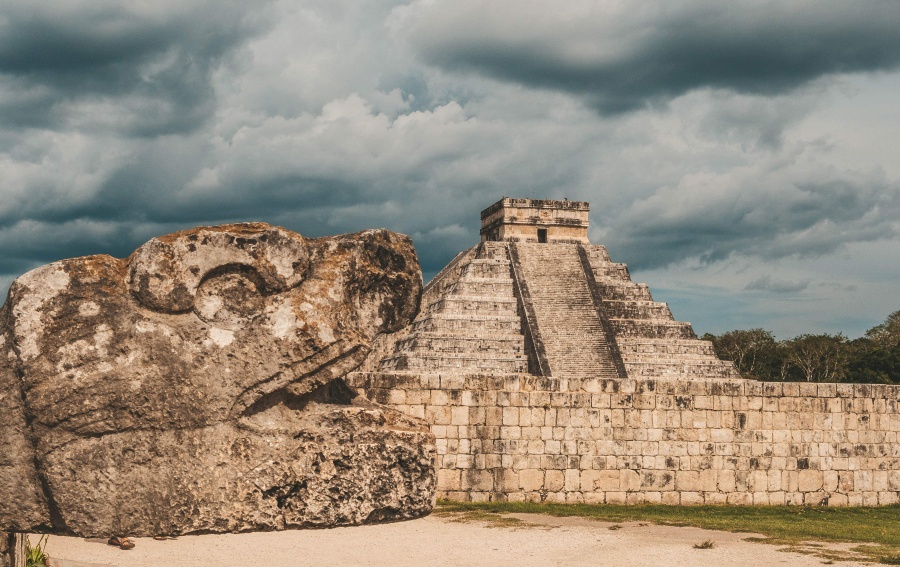 Did You Get Travel Insurance Yet?

The Insurance companies I recommend are Hey Mondo, Safety Wing, and Travel Insurance Master

Hey Mondo is great if you are looking for a great value flexible policy. They offer single-trip cover, annual multi-trip cover, and long-term travel cover. Safety Wing is great value, with monthly coverage starting at $39. It's super easy to use, and it just renews each month. I currently use them as they offer me free cover for my son as part of my policy. I also use Travel Insurance Master for short trips.

Read my full travel insurance post here, where I go into detail about all companies.
How to Get To Chichen Itza on Public Transport
Getting to Chichen Itza by public transport can be challenging. Expect infrequent buses if you're traveling from Cancun, Playa del Carmen, or Tulum. Check the bus schedule on the ADO website or go to the office in person to book tickets. Save yourself the stress of dealing with ADO by booking your tickets to Chichen Itza through GottoGo.
The bus from Playa del Carmen leaves at 8:10 a.m. and takes around four hours, returning at 4:00 p.m. I strongly suggest booking your return ticket in advance!
Cost of Taking the Bus to Chichen Itza
The price of a bus to Chichen Itza depends on whether the ADO offers a sale. Expect to pay around $33 each way.
You can also take public transport from Valladolid or Merida, which offers regular buses and taxis for a reasonable price.
Staying in Valladolid
From Valladolid, hop on a public bus or colectivo to Chichen Itza. Valladolid is a cute little town with many shops selling local goods. If you don't want to deal directly with the ADO, buy a seat on a Valladolid bus with GottoGo. Valladolid is the perfect place to snag a Chichen Itza hotel for the night and explore the ruins first thing the following day.
Staying in Merida
Merida is the capital of Yucatan, and there's a lot to do throughout town—it's easy to find an affordable and comfortable Chichen Itza hotel in Merida. Go for a few days and catch a Merida to Chichen Itza bus.
Tips for Visiting Chichen Itza
Chichen Itza Hours
Avoid the crowds and go later in the day—while I typically enjoy visiting places right when they open, taking advantage of the late afternoon Chichen Itza hours was a blessing in disguise. We arrived in Chichen Itza around 3:30 p.m., and most tour buses were gone, meaning we got plenty of pictures without other tourists!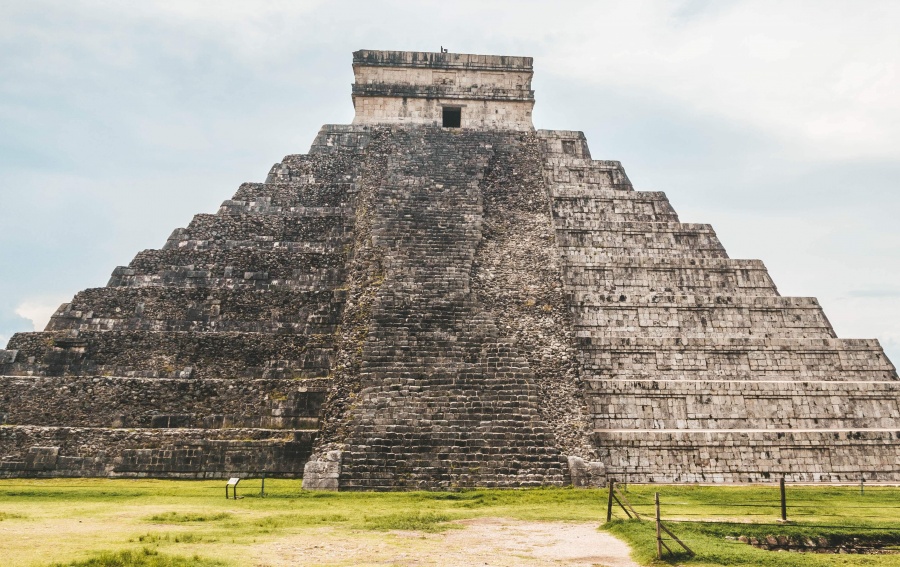 Avoiding Scams
If you drive to Chichen Itza, you'll be told to pull over for a "free map" after passing through the toll booth. They might try to sell you a VIP entrance package to use a closer parking lot and skip the queues. The VIP price was only $3 more, so we (stupidly) paid for it. Unfortunately, when we got to our Chichen Itza hotel, we realized we had overpaid and had been scammed.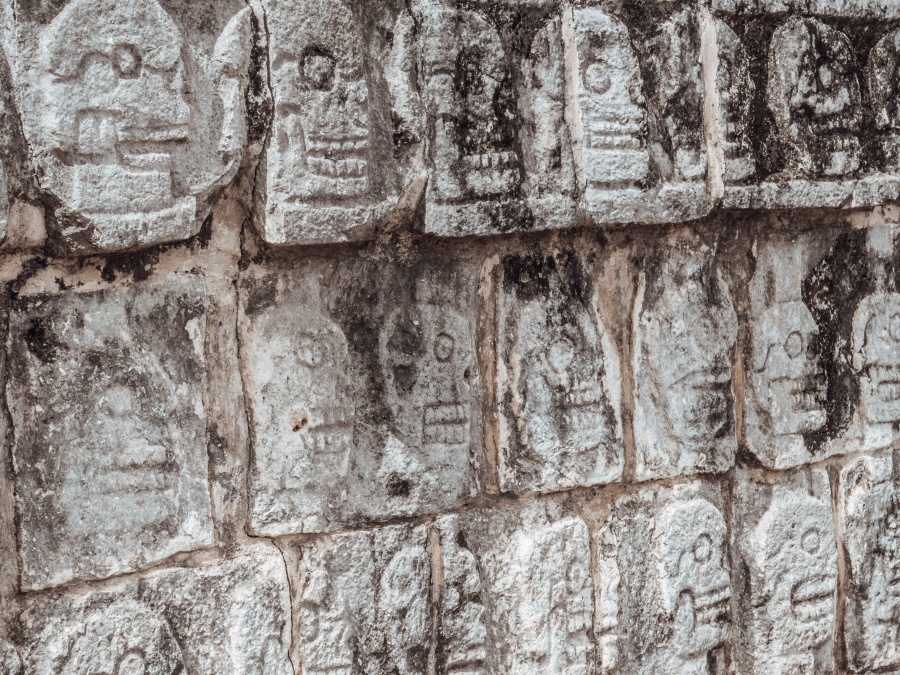 Parking
Rather than turning right to enter the park, turn left and park at a Chichen Itza hotel. The parking fee is 60 Mexican Pesos per vehicle. Rates for parking at the Chichen Itza may vary from 60 to 80 pesos for 2 hours.
How to See Cenote Ik Kil with Minimal Crowds
The best time to visit Cenote Ik Kil is at the end of the day. It closes at 5:30 p.m., but we were still swimming at 6:00, and it didn't empty until around 6:15. I'm glad we went late because the cenote was significantly less crowded.
This is a rare thing as it's usually full of tourists! To get the cenote, turn right out of Chichen Itza, and it'll be on the right side of the road.
Quick Tip: View my full Mexico packing guide here including a downloadable checklist. And check out my Mexico Essentials shopping list here.
Chichén Itzá Mexico FAQs
Where is Chichen Itza?
The Chichen Itza archaeological site is located on Mexico's Yucatan Peninsula. The drive from Cozumel to Chichen Itza is roughly four hours, while Chichen Itza to Playa del Carmen is slightly over two hours.
Is Chichen Itza Worth It?
Yes, the ancient Mayan ruins of Chichen Itza are worth a visit.
Where to Stay Near Chichen Itza?
I recommend these hotels:
Mexico Travel Guide Planning
🧳 Any recommendations on what I should pack for Mexico?
Yes! I have created a whole packing guide to Mexico which you can read here and you can also check out my packing list for Mexico on Amazon here.
🚗 Where can I book bus or private transportation while I'm in Mexico?
I strongly recommend using GottoGo. You can book almost all transport in the major Mexican tourist destinations through them online. They don't just cover buses they also cover shuttles, ferries, and private drivers.
🎫 Where can I buy tickets for museums, attractions, and tours in Mexico?
First and foremost check out all of the amazing Mexico tours Where Sidewalks End has. They are a small local company and they have some really special experiences.
For everything else I recommend either Viator or GetYour Guide.
If you are traveling to Cancun you can use GoCity and save up to 55% of the initial cost of entrance tickets to various museums, tours, and attractions!
If you are traveling to Playa del Carmen then I recommend booking through my friend Vanessa at Turismo Channel. You can check out their tours by clicking here and using the following discount codes for the best prices clairecaroff (car rental), claire10off (for 10% off group tours), claireprivate (for a discount on private tours). You can also send her a WhatsApp message quoting the above codes to receive the discount.
👩‍⚕️ What is the best insurance to have while traveling?
I recommend using Heymondo for a great value policy. The app also offers you 24/7 Dr Chat. For Digital Nomads check out SafetyWing digital nomad insurance.
I have also written a blog post covering all my recommended travel insurance here
✈️ Any flight recommendations?
WayAWay offers you cheap flights with cashback. You can use this code CLAIRE22 to get 10% off. Otherwise Skyscanner or Expedia are my go-to flight searching platforms.
📱What do you use for internet connection while traveling?
I'm a big fan of personal WiFi devices and they have saved my ass so many times when traveling. I wrote a full review of the top travel WiFi devices you can read here. I personally use GlocalMe as I can either pop in a physical sim card or use their local carrier.
With regards to my phone connection, I use e-sims while traveling, so rather than having to swap out my regular sim card I can download the app and buy a virtual sim card. I recommend using eitherAirhub or Alosim. Both have great coverage of multiple countries and are very easy to use.
🛏️ What is the best platform to use for booking accommodation?
The 3 best platforms that I normally use are Booking.com, Hotels.com, and Expedia They offer great deals and multiple options. I always check all three to be sure of the best deals.
🛅 Do you have any luggage recommendations for traveling?
I do have a complete list of the best packing and luggage products that I recommend, you can check the list here. I'm currently traveling with this suitcase and this backpack.
Pin for Later!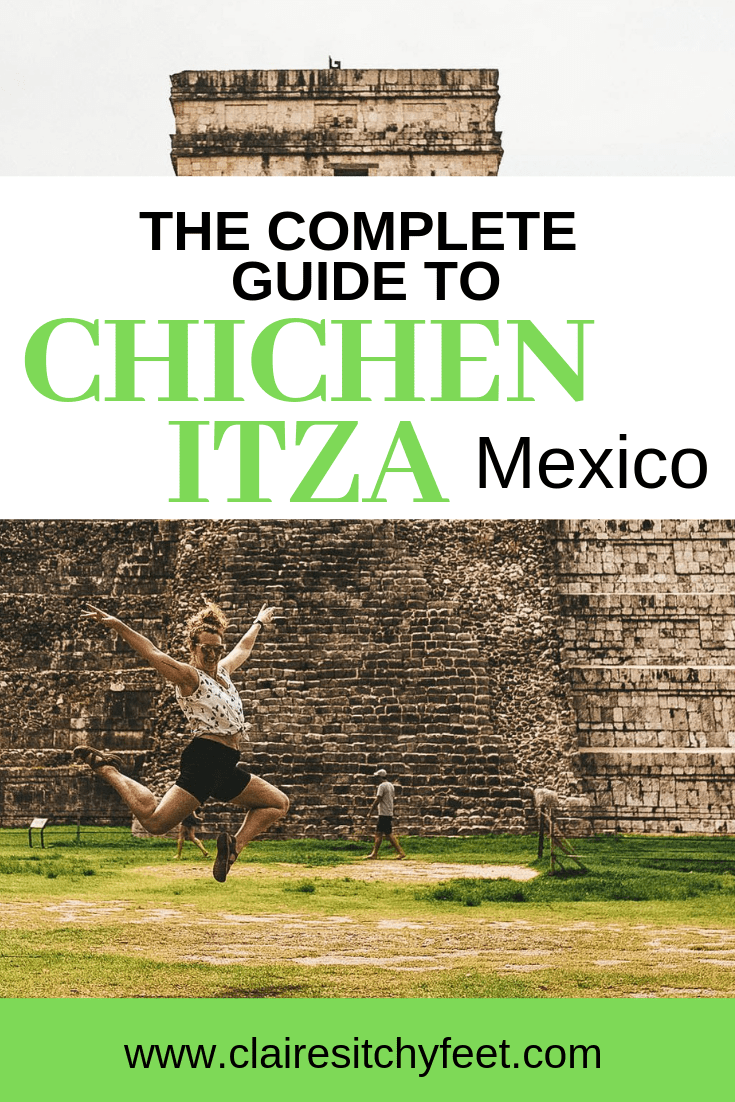 Visiting Chichen Itza: Final Thoughts
Chichen Itza is a highly underrated destination on the Yucatan Peninsula and the perfect place to learn about Mayan history. I hope this Complete Guide to Chichen Itza Mexico inspires you to plan a trip—you won't regret it!