If you are visiting Yucatan, then you have probably already heard of Chichen Itza. As one of the 7 New World Wonders, you really can't visit Yucatan without taking a trip there. You have a few options to get to Chichen Itza including public transport, organized tour, and hiring a car. In this article, I have outlined how to get to Chichen Itza and some of the main highlights to help you plan your visit.
Short on time and not sure which of the Mayan Ruins to visit? Then take a read of this post comparing the Mayan Ruins of Tulum, Coba, and Chichen Itza to help you decide.
Did You Get Travel Insurance Yet?
If 2020 taught us anything, it's that you need to be prepared for anything! Travel insurance has always been high my list of things to get before I travel but now more than ever its at the top of my list.

I'm pretty sure we have all had travel plans messed up because of COVID and not all insurers covered this. So when looking for travel insurance it's important to check it covers travel disruption due to COVID-19, Hey Mondo, Passport Nomads, Safety Wing, and Travel Insurance Master all provide cover for this.

Hey Mondo is great if you are looking for a great value flexible policy. They offer single trip cover, annual multi trip cover, and long term travel cover. You even have the option to start the cover when you are already on your trip, although you won't be covered for the first 72 hours. For me my favourite feature is their app which offers you a 24/7 Dr chat and the ability to file a claim direct in the app.

Passport Nomads provides the most comprehensive cover for Digital Nomads. The game changer with them is that you have a red card and if you find yourself in need of medical care you just contact them and they will pre load your card with the funds to cover your treatment, meaning you won't need to pay out of pocket and then put in a claim later.

Safety Wing is great value with monthly cover starting at $39. It's super easy to use and it just renews each month. They have an excess of $250 and it's simple to make a claim through their website. I currently use them as they offer me free cover for my son as part of my policy and I like that it renews on a monthly basis, so I don't have to pay out a big lump sum up front.

I also use Travel Insurance Master for some short vacation type trips.

If you are doing shorter trips or an extended backpacking trip then Hey Mondo or Travel Insurance Master are the best option. If you are a digital nomad or planning travel of at least 6 months then go for Passport Nomads or SafetyWing.
How to Get To Chichen Itza
How you decide to travel to Chichen Itza is going to impact your whole experience. For example, if you come on an organized tour to Chichen Itza, you are going to have a very different experience than if you rent a car and travel to Valladolid or Merida and stay there for a day or two in between visiting Chichen Itza. If you do decide to stay a few nights in Valladolid then take a read of this great guide to spending 36 hours in Valladolid below.
If you are seeking transportation, my friends at GuateGo will be very helpful. Click here to find the prices and schedules if you are planning to visit Chichen Itza from Cancun, Playa del Carmen, Merida, or Valladolid. They are awesome!
Need to book transportation in Mexico?
I highly recommend booking all of your Mexico transportation with GuateGo. You can search for buses, shuttles, ferries, and Flights on their website. What I love most about them is their customer service. I know these guys personally from my time living in Guatemala and they really do look after their customers. So if anything happens and you get delayed and miss your bus, you can just call them and they are always there to help.

If you book through them you will pay a little more than if you book in person at the bus station. But it's worth it for the ease and security in my opinion. Click here to search for transportation in Mexico.
Should I Take One of the Tours to Chichen Itza?
If you don't mind traveling in a group and want to see Chichen Itza without the hassle of getting yourself there and back. Then I would recommend taking a small group tour. The pros of coming on an organized tour to Chichen Itza are that your transport is all arranged, and you don't have to drive. Plus you will get a guided tour of the site which is a real bonus. On the guided tour you will find out all about the history of who the ancient Maya were. Something lacking on a do-it-yourself tour.
Cost of a Tour to Chichen Itza:
Budget tours are around the $65 USD mark (I would personally avoid these overcrowded cheap tours) with luxury tours costing anywhere from $80-150 UDS.
Interested in Booking a Group Tour of Chichen Itza?
The only tour company in the Riviera Maya that I personally recommend to do that (and any other tour) with is my friend Vanessa at Turismo Channel. They have the best prices on tours, excursions, and rental cars, which is why they are one of my trusted partners in Playa del Carmen. Send her a WhatsApp in English or Spanish and make sure you let her know I am referring you. Or send an inquiry on the form below and someone will get back to you within 24 hours.
Take a Private Tour of Chichen Itza
If however you are like me and don't particularly like big group tour situations then I recommend taking a private tour of Chichen Itza. It is well worth the extra money, trust me after taking a private tour to Chichen Itza with Living Dreams Mexico, I don't think I could ever get back on a big tour bus again!
They welcomed me onto the minibus with a blanket and cushion so I could sleep on route, got me there before the crowds so I could get pictures without people, and the whole day was just a dream. Also, one thing I really missed when I did Chichen Itza alone was the history. Our guide Juan was amazing! Honestly, he answered every random question we asked him and gave us so much Mayan history. I also realized that I had actually missed out on half of the site the first time around… OOPS!
I highly recommend taking any of their tours, they are by far the most professional and trustworthy private tour company in Playa del Carmen. I also checked Sian Ka'an off my bucket list with them not so long ago!
Looking for a reputable tour company in The Riviera Maya?
I've been working with Turismo Channel in Playa del Carmen for years and they are who I send all of my family and friends to when they visit the Riviera Maya. I really can recommend them enough for tours, private airport transfers, and rental cars. Vanessa and Oliver are personal friends of mine and I have 100% faith that you will have a wonderful time with them.
You can check out their tours by clicking here and using the following discount codes for the best prices clairecaroff (car rental), claire10off (for 10% off group tours), claireprivate (for a discount on private tours). You can also send her a WhatsApp message quoting the above codes to receive the discount.
Interested in Booking a Private Tour of Chichen Itza?
Just add your name and email address to the form below and someone will be in touch with you within 24 hours to talk through your requirements.
Should I Rent a Car to Get To Chichen Itza?
The roads to Chichen Itza are very easy to drive, and it is well signposted. The roads are also littered with Cenotes on the way. This makes traveling from Tulum, Playa Del Carmen, or Cancun to Chichen Itza the perfect opportunity for a Mexican Road Trip!
If you choose this option, then make sure you map out the cenotes you want to visit and be sure to stop off at Valladolid along the way for lunch. It's a 2-3 hour drive from Playa Del Carmen to Chichen Itza. A little less from Tulum or Cancun. Cancun to Chichen Itza is now even quicker because of the new road.
There are two ways to get to Chichen Itza one way is a bit slower avoiding the toll road. But if you are on a budget and not rushed for time, then take the slow road.
On the slow road, you need to head towards Tulum and then drive up the 307. This way will take you 3 hours from Tulum. The toll road you can take the 305 and 180. This cuts out a lot of miles, but it will cost you over 254 pesos each way.
Going the slow way we still had to pay a 75 peso toll. But on the main toll road, you will pay that plus the 254. I would say it's best to take the long road and save money.
Cost of Driving to Chichen Itza from the Riviera Maya
You can rent a car from $30-40 per day on average as a starting price, and there are plenty of options in the town. To save money take the slow road and watch your speed to save petrol. The cost of parking at Chichen Itza is 30 pesos.
I wrote a whole blog post on renting a car in Playa del Carmen which you should read before renting anything. But if you want a quick referral then the only company I recommend renting a car with is Turismo Channel. You can contact Vanessa my friend via this Whatsapp link in English or Spanish. Please mention Claire's Itchy Feet for a special price
Here Are Some of the Best Cenotes on the Way to Chichen Itza
Suytun
Zaci
Dzitnup
Ik Kil
Xcanche
How to Get To Chichen Itza on Public Transport
Getting to Chichen Itza by public transport is a bit more problematic. If you are traveling from Cancun, Playa Del Carmen or Tulum and the busses are very infrequent. If you want to take the bus then either check the schedule on the ADO website or go to their office and book your tickets. I would always suggest going to the office as the website has a mind of its own! If you want to save yourself the stress of dealing with ADO, you can book your tickets to Chichen Itza through GuateGo, they work different routes and schedules so you can easily plan your trip ahead.
The bus from Playa Del Carmen leaves at 8 am each morning and will take around 4 hours. The bus then returns at 4:30. I strongly recommend booking your return ticket the day before.
Cost of Taking the Bus to Chichen Itza:
This varies depending on if ADO has a sale or not. Expect to pay 150-250 pesos each way.
If you want to travel to Chichen Itza by public transport and don't want to do all of that traveling in 1 day, then I suggest visiting either Valladolid or Merida where you can get regular buses or taxis for a reasonable cost.
Staying in Valladolid
Valladolid is easy to get to on an ADO bus and from there you can either get a public bus to Chichen Itza or hop in a Colectivo for around 25 pesos (next to the main bus stop). It's a cute little town with lots of handmade goods if you wanted to do a little shopping.
If unlike me, are a planner then you will very much appreciate having the chance of planning your trip to Chichen Itza ahead of time. If that is the case and you don't want to deal with any ADO customer service yourself, you can buy a seat in a bus from Valladolid with GuateGo.
Staying in Merida
Merida is the capital of Yucatan, and there is plenty to do there. Go for a few days, and you can catch an ADO bus to Chichen Itza or easily catch a public one as they run every hour from Downtown Merida and it costs 58 pesos one way.
Tips for Visiting Chichen Itza
Avoid the crowds and go later in the day. I went there with some friends, and I was really pissed that we got there so late. I like traveling solo as I want to be in control of my schedule and it's always the thing that irritates me when I travel with others (yes, I know I'm a control freak). But I love to get out early and make the most of the day.
Arriving at Chichen Itza at 3:30 pm because we left Playa so late made me super agitated. Especially when I found out it closed at 5 pm. But it turned out to be a blessing in disguise! Arriving so late most of the tour bus groups had gone. And that means pictures with no people in them!! WIN!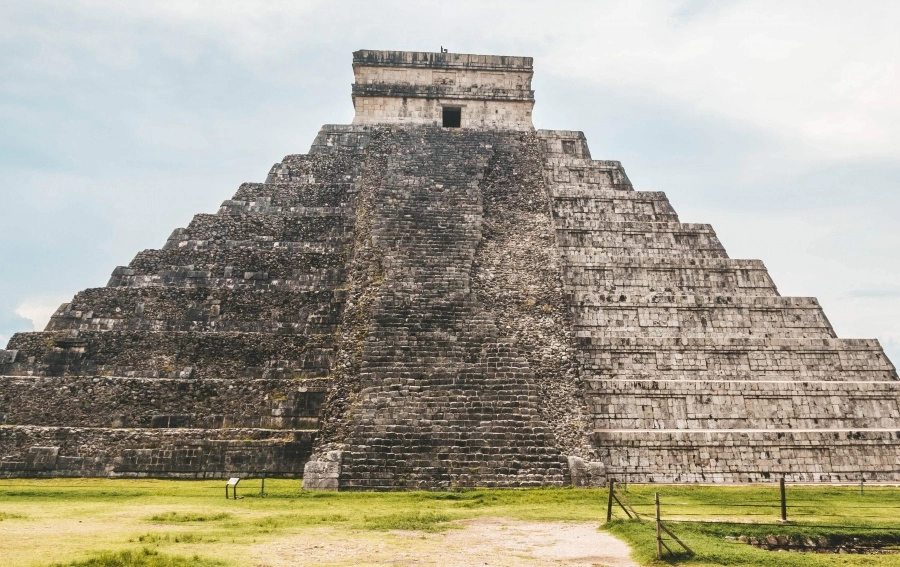 So, if you don't mind getting there later in the day, it is worth arriving after 3 pm and avoiding the crowds.
How to Avoid Getting Scammed in Chichen Itza
If you decide to drive to Chichen Itza when you pass the toll booth, they will tell you to pull over and get a 'free map.' The guy may try to sell you a VIP entrance package, basically, so you can park in a closer carpark and skip the ques. He gave us the regular price and then this VIP price, and it was only $3 each more, so we (stupidly) paid for it. Unfortunately, when we got to the hotel, we found out we ended up paying way too much. The guy totally scammed us!
Get a Better Parking Spot When Visiting Chichen Itza
But we did learn a good trick for parking, closer and skipping the ques! Rather than turning right to enter the park, turn left. Then turn right into the hotel and park in the hotel. The cost of parking is 200 pesos (4 times more than the public car park but you will have no cue and a shorter walk). The entrance is then 250 pesos each. We were conned into paying 450 pesos each! So the guy charged us 200 pesos each for parking. I was so pissed!
Visiting Cenote Ik Kil Without the Crowds
The best time to visit this Cenote is right at the end of the day. It closes at 5:30 but we were still swimming at 6 pm and it didn't empty out until around 6:15. I was so glad we went so late as it meant I could get these shots of it empty.
This is a rare thing as it usually is full of busloads of people on tours!
To get the Cenote just come out of Chichen Itza and turn right. Then not far on the right is the cenote.
Looking for Somewhere to Stay In Chichen Itza?
Pin for Later!