If you have decided to spend a weekend in Merida, congratulations! You have made an excellent choice. It is one of my favorite places in Mexico and I'm already planning to return there soon. There is a reason why many Digital Nomads are choosing to live there. In this guide, I'm going to give you the low down on some cool things to do in Merida as well as some recommendations of where to stay and what to eat in Merida.
PS. If you are thinking of moving to Merida with children, then you need to read this book my friend Cassie wrote!
Need to book transportation in Mexico?
I highly recommend booking all of your Mexico transportation with GuateGo. You can search for buses, shuttles, ferries, and Flights on their website. What I love most about them is their customer service. I know these guys personally from my time living in Guatemala and they really do look after their customers. So if anything happens and you get delayed and miss your bus, you can just call them and they are always there to help.

If you book through them you will pay a little more than if you book in person at the bus station. But it's worth it for the ease and security in my opinion. Click here to search for transportation in Mexico.
My Weekend in Merida
As a travel blogger, I probably read four times as many blog posts as I write. And because I'm such a travel junky, I love reading about travel as much as I love writing about travel. When I visit a new place I'm normally solo. Before I do any relaxing you will find me reading every piece of tour literature, studying the city map and combing Trip Advisor and other blogs for advice. Then I'll either do a walking tour or just get lost on my own.
But I threw all of that out of the window when got off the bus in Merida where I planned to spend the weekend. It was love at first sight and I knew instantly that Merida wasn't a place for maps and plans. It was for getting lost and wandering the streets waiting for the magic to find me. The difference between visiting Merida at the weekend rather than in the week is that there is a lot more going on in the evenings with free outdoor performances and street food. But be aware Sunday daytimes can be slow, many places close and a lot of the city tours don't run.
Did You Get Travel Insurance Yet?
If 2020 taught us anything, it's that you need to be prepared for anything! Travel insurance has always been high my list of things to get before I travel but now more than ever its at the top of my list.

I'm pretty sure we have all had travel plans messed up because of COVID and not all insurers covered this. So when looking for travel insurance it's important to check it covers travel disruption due to COVID-19, Hey Mondo, Passport Nomads, Safety Wing, and Travel Insurance Master all provide cover for this.

Hey Mondo is great if you are looking for a great value flexible policy. They offer single trip cover, annual multi trip cover, and long term travel cover. You even have the option to start the cover when you are already on your trip, although you won't be covered for the first 72 hours. For me my favourite feature is their app which offers you a 24/7 Dr chat and the ability to file a claim direct in the app.

Passport Nomads provides the most comprehensive cover for Digital Nomads. The game changer with them is that you have a red card and if you find yourself in need of medical care you just contact them and they will pre load your card with the funds to cover your treatment, meaning you won't need to pay out of pocket and then put in a claim later.

Safety Wing is great value with monthly cover starting at $39. It's super easy to use and it just renews each month. They have an excess of $250 and it's simple to make a claim through their website. I currently use them as they offer me free cover for my son as part of my policy and I like that it renews on a monthly basis, so I don't have to pay out a big lump sum up front.

I also use Travel Insurance Master for some short vacation type trips.

If you are doing shorter trips or an extended backpacking trip then Hey Mondo or Travel Insurance Master are the best option. If you are a digital nomad or planning travel of at least 6 months then go for Passport Nomads or SafetyWing.
Things to do in Merida
My first and best advice is – Don't Plan Anything!
Yes, this is a guide to Merida including things to do in Merida. But, my number one piece of advice for anyone traveling to Merida is to be spontaneous. Merida is a cultural hub and there are performances everywhere, on the streets, in the theatres, and on erected stages in the main plazas. If you are there over the weekend then you will be spoilt for choice. If you pack out your time with plans of places to visit and things to do you may miss these unique opportunities to witness Mexicana and Mayan cultural performances.
If you can't deal without at least a few bullet points for plans then here are a few things to do:
1. Do a free walking tour of Merida
There are two free walking tours of Merida. One is at 9:30 am and one is at 6 pm. Both meet at the tourist office on the main Plaza. I didn't do this as it only runs Monday – Saturday and I was there on a Sunday, but as Merida is only small I think it would be fine to walk if you can handle the heat! I'd also look into doing a Merida market tour too, something on my list for next time I'm there.
2. Do a Merida Bus Tour
Now I arrived at the tourist office at 9:30 am as I had read on a blog the bus tour is free at this time. But it wasn't, I had to pay $120 pesos and walk to a different place to take the bus at 10 am. There are two bus tours you can take. One is a big red bus that looks new and leaves from the main plaza. This tour is only in Spanish. If you want the tour in English then you need to walk up to Santa Lucia Park at 10 am as the bus with a bilingual English and Spanish guide is from there. This is the rickety old bus made of wood. Same price and probably the same route.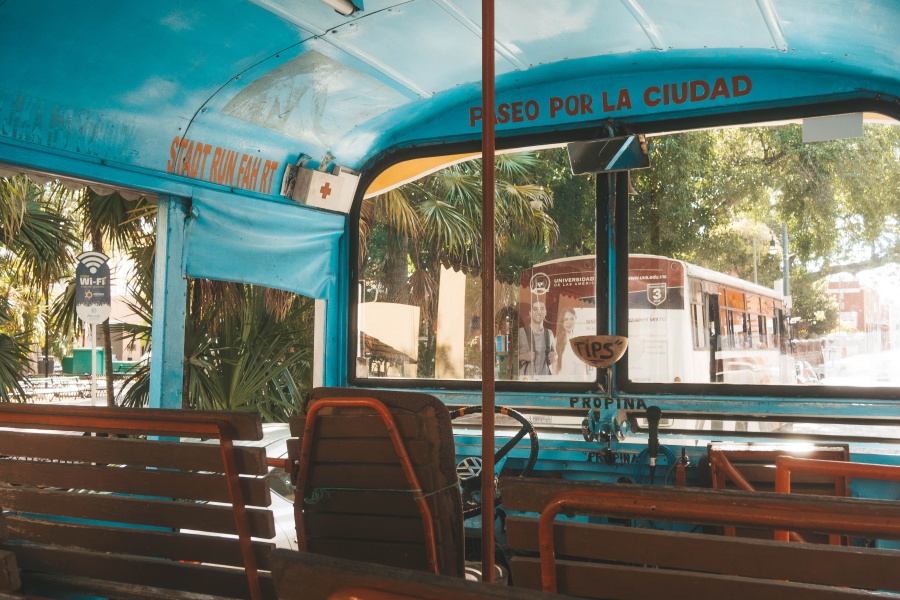 I'm not going to lie and tell you the tour was great. It was dull as dishwater! "And here is another French building. Private home." hahaha. But Merida is hot and I had my backpack so I didn't really want to walk. I really enjoyed seeing such a wide geographical amount of Merida, I wouldn't have liked to walk that distance! Plus I got some cool shots that you can only really get from the perspective of the Merida tour bus. The Merida tour bus is a cool thing to do, but don't worry about missing it and the information wasn't great so if you prefer to sit comfortably then go with the red bus and listen to some music.
3. Visit Some Plazas
There were 3 areas that I bounced in between. Plaza Grande (the main plaza in the center of town), Parque de Santa Lucia (smaller parr with some nice restaurants and the big kissing chair), and the area just south of the Monumento A Los Montejo (normally closed off to cars at weekends). These were the main three areas that had lots of things happening at the weekend. So if you walk between the 3 you will be sure to find something interesting happening.
4. Visit a Museum or Two
There are a lot of museums in Merida. If you love learning about history or are looking for a wet weather activity then visiting a museum is a great option. Here are some of the best ones:
MACAY – Contemporary Art Museum
Museum of the City
Museo de Arte Popular de Yucatan – Casa Molina
Gran Museo del Mundo Maya
Museo National de Antropologia – Palacio Cantón
5. Go to the Theatre and Watch a Performance in Merida
There are free events every day in Merida but if you fancy something a bit special then how about a trip to the theatre. Be sure to dress up a bit! You can check out the schedule of free and paid performances in Merida here.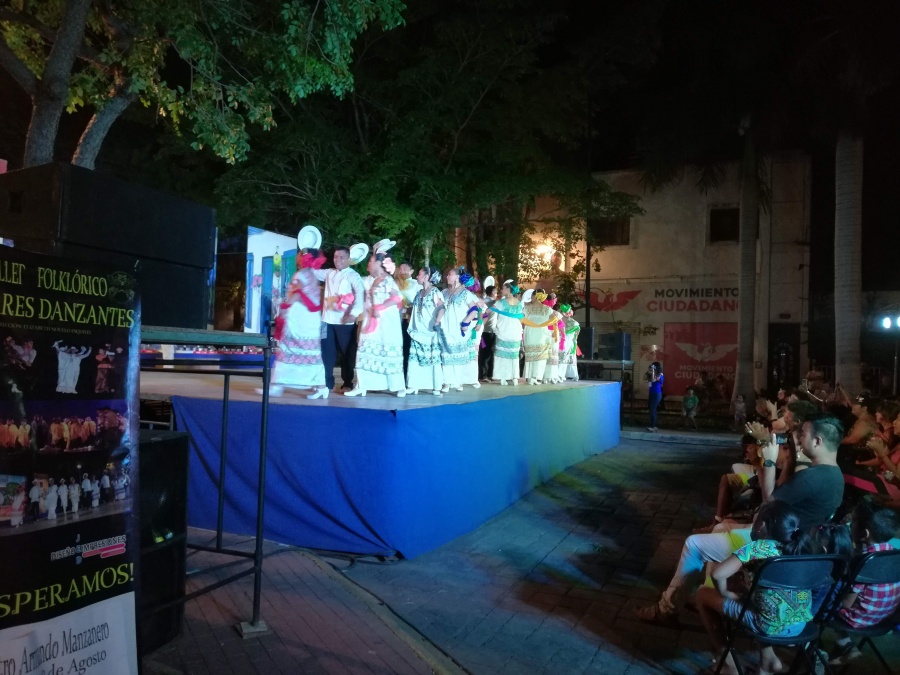 How to Get Around in Merida
Within the city of Merida itself you can walk or bike everywhere you need to go. The ADO bus station is slightly to the south of the cultural center where most of the hostels are and although it is a 20-minute walk in the heat so long as you don't have a huge backpack it is fine to walk. Although in the heat no one would blame you for grabbing a cab.
Remember taxi drivers love to add $5-$10 pesos to a tourist's fair. So always fix the price before you get it. Then when they say the price, suck your breath in and say "¡oh, es caro!" (oh that's expensive) then offer him $5 pesos less. Or just suck it up and pay, it's really not a lot and I just think of the extra as a tip.
For the rest of my time in Merida, I walked everywhere. There are tourist buses if you want to do a tour of Merida without spending hours walking around in the heat.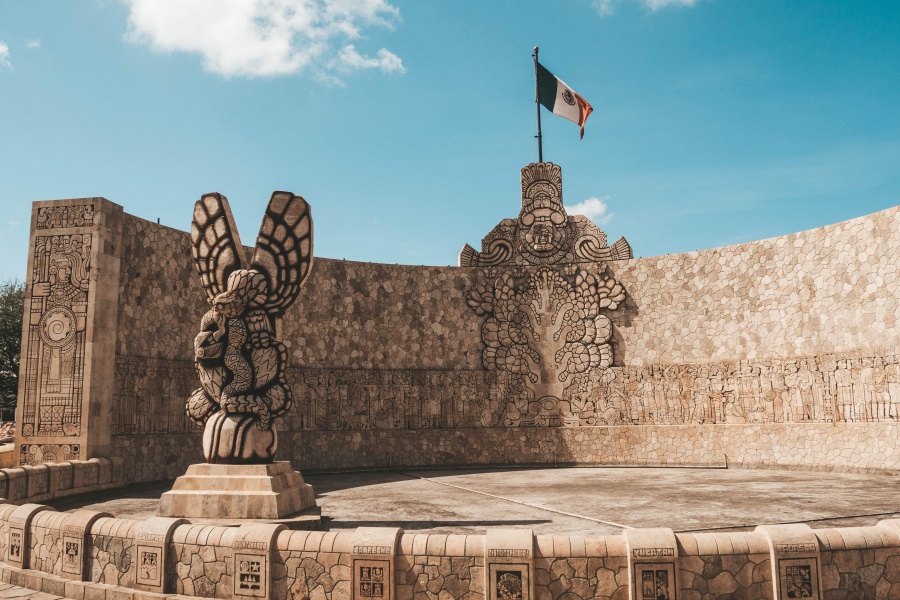 If you want to explore the surrounding area your best option as a solo traveler is to take the bus or colectivo. As it is the capital city there are plenty of busses to get you everywhere you need to go. They depart from the main bus station, although you can find the information online the ADO website has a mind of its own so I prefer to just go in the day before and book. Top Tip – If you want to book an ADO bus do it in as much advance as possible to get the best prices.
I booked my bus to Merida the night before and paid $500 pesos. To return I booked it 3 days before and it only cost me $300 pesos. That's $10 USD difference (or as I like to think of it, an extra night in a hostel).
Another option is to rent a car for the week This way you are free to explore Merida and the surrounding areas as you wish. I would 100% recommend this option if you are traveling as a couple or a group. Driving in Mexico is very straightforward. Although watch out for the rental companies and their added charges and if you plan on using your credit card insurance cover give them a quick call first as many don't cover you for Mexico.
The Best Day Trips from Merida
Merida is a great place to base yourself for a week or more so you can explore this area of Yucatan. Here are my top recommended day trips from Merida.
This had to be the top one really. If you come to Merida and don't visit one of the 7 New World Wonders you must be crazy. Don't go as part of a tour. I recommend instead taking the first bus from either of the bus terminals.
You want to get there before the hordes arrive from Cancun, so ideally before 10 am. It is a 2-hour journey from Merida to Chichen Itza. Your best options are the bus, taxi, self-drive, or take a tour. In all honesty, if you are solo traveling I would recommend taking a tour of Chichen Itza as by the time you have paid all of the costs (transport, parking fees, etc) it's not that much different to take a tour, plus you will get a guide. If there is more than one in your party then I would say self-drive. If you take a tour to Chichen Itza try and get in early one so you avoid the crowds.
Looking for a reputable tour company in The Riviera Maya?
I've been working with Turismo Channel in Playa del Carmen for years and they are who I send all of my family and friends to when they visit the Riviera Maya. I really can recommend them enough for tours, private airport transfers, and rental cars. Vanessa and Oliver are personal friends of mine and I have 100% faith that you will have a wonderful time with them.
You can check out their tours by clicking here and using the following discount codes for the best prices clairecaroff (car rental), claire10off (for 10% off group tours), claireprivate (for a discount on private tours). You can also send her a WhatsApp message quoting the above codes to receive the discount.
2. Visiting Uxmal and Kabah From Merida
These ruins are just behind Chichen Itza on the importance scale. Both are UNESCO sites and both are 100% worth a visit. If you are self-driving then it's pretty easy to find your way here. Otherwise, I would recommend taking a tour. It is possible to do both on public transport but it can take a long time and be tricky if you don't speak a lot of Spanish.
3. Visiting Celestun From Merida
If you love nature and want to see flamingos in the wild then you NEED to take this tour!
4. Visiting Mayapan Ruins From Merida
If you want to visit a Mayan site that isn't crowded then come here. Known as the last great Mayan capital of the Yucatan peninsula Mayapan is a great day trip from Merida.
5. Visiting Dzibilchaltun Ruins From Merida
If you are on a budget then this is the day trip for you. You can very easily take a day trip here by colectivo. As well as the ruins there is a cenote very close and it is one of the most beautiful cenotes in Mexico. Your hostel or hotel will be able to give you the most up-to-date information. But here is what I was told: go to Calle 62 between 65 and 67. There you can take a colectivo 'auto Progreso. Just tell them Ruinas Dzibichaltum be warned it will drop you off about 1k from the ruins so make sure you have some good walking shoes and sunblock!
The entrance fee is $152 pesos and the colectivo costs $11 pesos.
There are actually a lot of amazing cenotes near Merida that you really should check out if you have time.
How to Get To Progreso Beach From Merida
Did someone say beach? Progreso is the closest good beach to Merida. Lower your expectations if you have been hanging out in the Riviera Maya over on the Caribbean side of Yucatan. That said it is a very lovely beach and totally worth visiting!
I have been extremely brief in these explanations, mostly because I wasn't in Merida long enough to visit anywhere! But My friends over at Roaming Around The World have created a kick-ass guide to ALL of these day trips and more.
Where to Eat In Merida
I'm going to list a few restaurants you should check out in Merida. However, if I'm honest I wasn't wowed by any of them. I ate some amazing empanadas in but the rest of the good food I ate was on the street. So my advice, skip the restaurants and eat on the street. Look out for the places with big queues and lots of locals around. Many places have plastic tables and chairs so you can sit while you eat. Not only will you get a real taste of Merida but you will also save a lot of money.
A normal meal in a will be between $70-$200 pesos depending on where you go. If you stick to street food in Merida then you are looking at $50 including a drink. I found plenty of veggie and vegan restaurants in Merida and there were even lots of veggie street food options.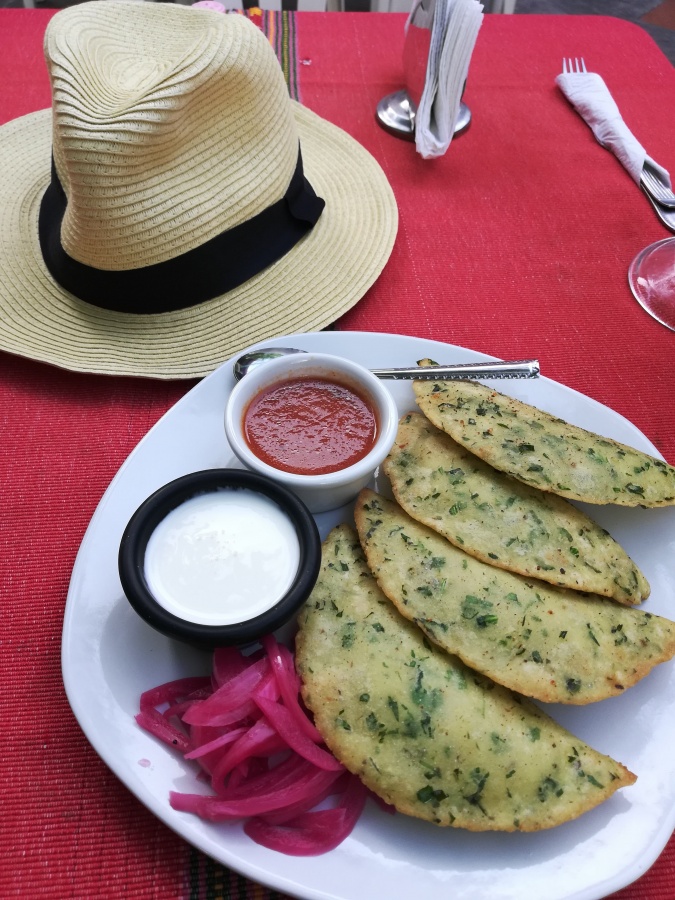 If you prefer a restaurant here are my top recommendations in order:
Espacios de Mayas Y Algo Mas

This was the place I ate the amazing empanadas. The staff was really nice and helpful and the prices were very good. Plenty of veggie options and fresh juices.
Mercado 60

This place is on most people's list of restaurants to visit. While it was lovely and I enjoyed my meal there it was expensive for what it was and the quality wasn't great. Expect a beautiful venue, live music, and street food that will cost you 3 times as much as it would on the actual street. Although the pizzas looked AMAZING!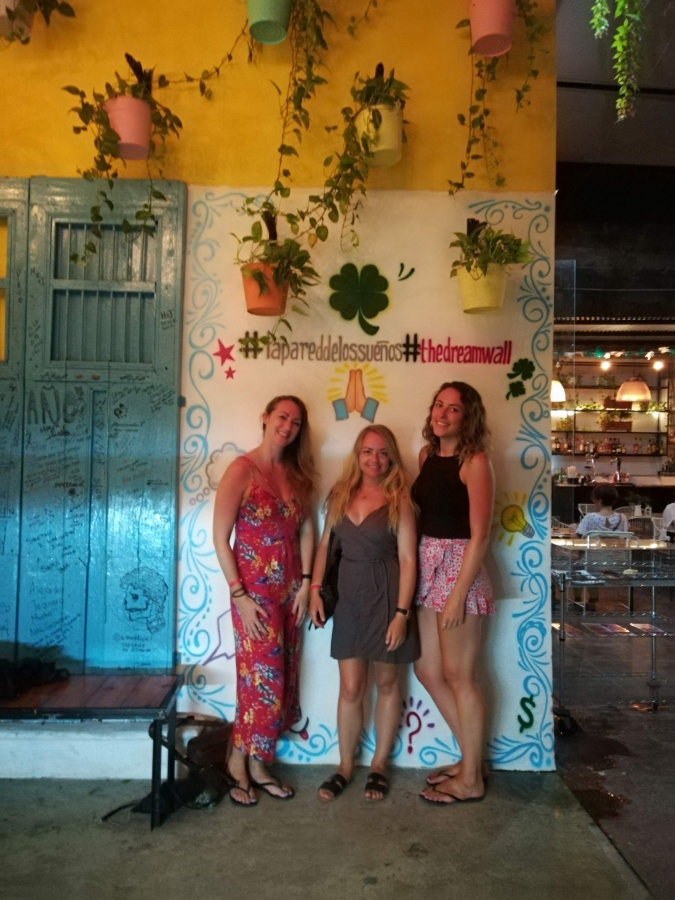 100% Natural

This is a great option if you are into healthy food and especially for veggies. I ordered a veggie burger and wasn't a fan. But my friend got the pasta and it was delicious. I have serious food envy.
The Best Accommodation in Merida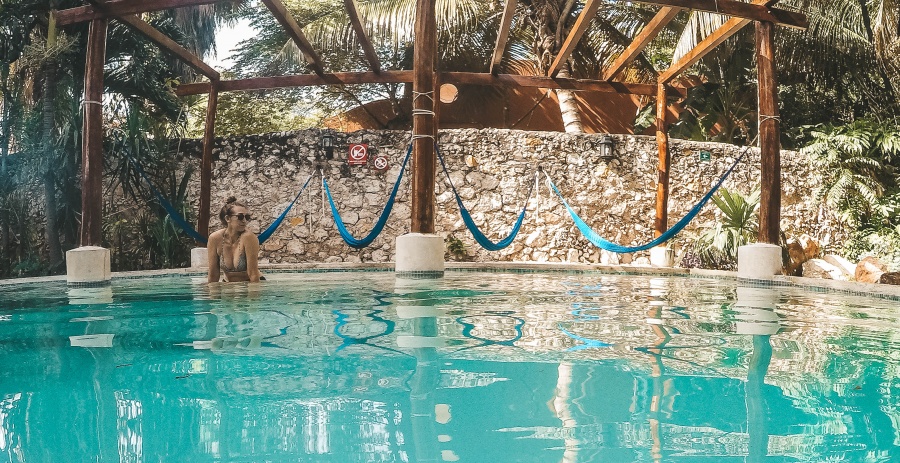 Low
If you are looking for a budget hostel then there really is only one choice. Nomadas Hostel. It has a pool with hammocks over the water, free DIY breakfast, drinking water, and a program of free activities including a cooking class, yoga, salsa, and even Spanish lessons. This place is like the gold standard for cool hostels.
You will have to make your own bed, and if you get a top bunk it's pretty narrow (the bottom bunks like a double bed though!). But these are just minor details in comparison to what you get. It's about a 20-minute walk from the bus terminals but only 5 minutes from the main Plaza. They also give you the most unto date information on things to do in the area on a handy sheet, they tell you how to do it all yourself or they can help you book a tour.
Trust me this is the hostel you want to stay at!
Mid-Range
This place has great reviews online and it looks beautiful The area is good and you can expect to pay about $1200 Pesos a night here.
If you want some great Instagram shote pick this hotel. Or if you just want to relax in a little luxury that doesn't break the bank this is my top pick. The pool is to die for and it is in a great location.
High
This is without a bought the top pick for Merida if money is no object. They have everything you would expect from a top-end boutique hotel and more. They have almost perfect reviews online for good reason.
Casa Lecanda Boutique Hotel is a top-end adults-only luxury hotel. It has amazing reviews and the pictures online really don't do it justice.
How to Get To Merida
The best thing about visiting Meride is that it is so accessible from all over Mexico being a capital city. You can get a direct bus from Bacalar, Tulum, Playa Del Carmen, and Cancun. All of the buses stop in Valladolid. If you are traveling from Playa you will likely have to stop in either Tulum or Cancun.
If you want to travel on an ADO bus I recommend going in and booking at least 3 days before. I paid $500 pesos booking the day before to get to Merida. My return, which I booked 2 days before cost me $300 pesos! That's a $10 difference. You can also get some good deals booking with Mayab. This is also done at the ADO bus station. I honestly wouldn't bother trying to book online. The website is awful and the app is no better.
Final Thoughts
So that's my quick and dirty guide to a weekend in Merida. If you think I've missed anything important let me know. Sadly there is only so much I can cover in 3 days. If you can spend at least a week here, I promise you will not regret it!
Looking for things to do in the Riviera Maya?
Visiting Cenote Azul and Cenote Cristalino
The Complete Guide to Chichen Itza in Mexico
How to see the Mayan Ruins in Tulum
Doing a cooking class in Tulum
Choosing a Scuba Diving Company in Playa Del Carmen
Scuba Diving in Puerto Morelos
This post was proofread by Grammarly