If you have clicked on this post, you are looking to book the best India yoga retreat for a spiritual getaway. India is the ultimate place for a yoga retreat, or yoga teacher training. I would need to make sure I join the best yoga retreats in India according to my abilities and level of expertise.
India is one of the best places you can go to for yoga teacher training, but if you don't feel like you are there yet, there are also plenty of great options for yoga and meditation retreats in india for all levels, even if you have never gotten on your yoga mat before.
ps. if you are looking for a travel yoga mat, check out this post here.
To make things easier for you, I've searched and reviewed the best places for an India yoga retreat to save you some time and stress. To learn more about any of the retreats in this post click on the buttons to be redirected to the full course information.
Did You Get Travel Insurance Yet?
If 2020 taught us anything, it's that you need to be prepared for anything! Travel insurance has always been high my list of things to get before I travel but now more than ever its at the top of my list.

I'm pretty sure we have all had travel plans messed up because of COVID and not all insurers covered this. So when looking for travel insurance it's important to check it covers travel disruption due to COVID-19, World Nomads, Safety Wing, or Travel Insurance Master all provide cover for this.

World Nomads is great for incidents that happen prior to your trip, so if you get sick or are unable to travel due to travel restrictions some of their policies will cover that as cancellation cover.

Safety Wing goes the extra mile and covers quarantine outside your home for up to 10 days, they also have a really handy map on their website showing requirements and restrictions for each country.

I also use Travel Insurance Master for some short vacation type trips as they are cheaper than World Nomads a lot of the time.

If you are doing shorter trips or a longer backpacking trip then WorldNomads or Travel Insurance Master are the best option. If you are a digital nomad or planning travel of at least 6 months then go for SafetyWing.
3 Day Himalayan Meditation and Yoga Retreat in Rishikesh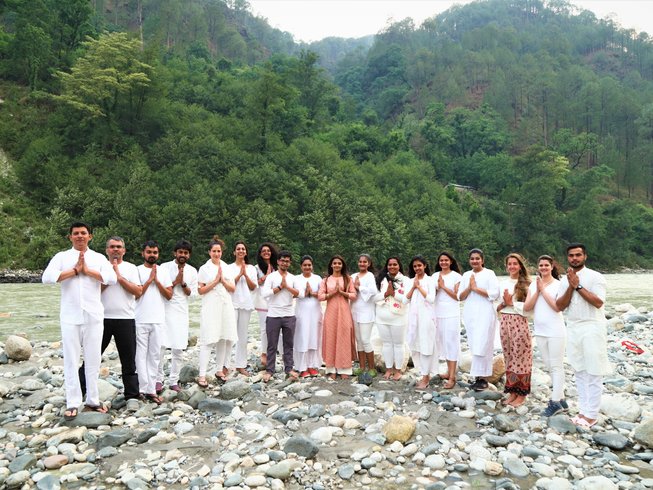 Price: from $101 USD
Number of nights: 2
Yoga style: Hatha, Vinyasa, Nidra, Ashtanga, Karma
Location: Uttarakhand
If you are a nature lover, you will love this yoga retreat in India. But this is so much more than a yoga retreat, it's a wholly spiritual experience here you will immerse yourself in the powerful energy of the Himalayan mountains whilst spending time with the monks that have dedicated their lives to their spiritual practice. This really is a once in a lifetime experience not to be missed.
What is Included in this India Yoga Retreat?
Daily yoga and meditation sessions
Daily mantra recitations and relaxation
An introductory study of Indian philosophies
Opportunity to explore the Himalayan shrines and temples
Daily pranayama and breath awareness practices
Exploring the holy town of Rishikesh
Daily vegetarian meals with snacks
2 nights accommodation
8 Day Surf & Soul Yoga Holiday in Goa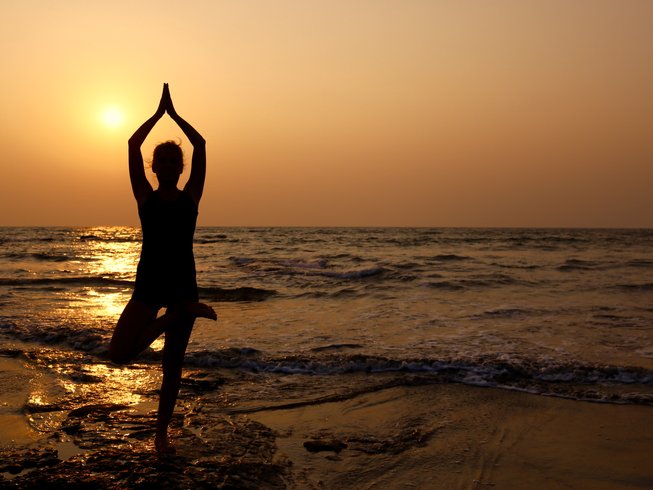 Price: from US$ 944 USD
Number of nights: 7
Yoga style: Yin yoga and surfing
Location: Goa
If you have a deep respect for all life around you and enjoy adventure, this is a perfect opportunity for you to do yoga in India. All levels are welcome here from beginners to more advanced practitioners, and of course that goes for the surfing. side too.
This yin yoga retreat in India is a great opportunity to explore your practice, learn some new skills, meet new people, and really let your adventurer side go wild.
Also, the stunning sea view from the deck where the yoga sessions take place is the cherry on top of this experience. There is no better way to celebrate the colorful and mystical spirit of India.
What is Included in this India Yoga Retreat?
Two daily yoga classes
Daily Surf Lessons with qualified and experienced teachers
Daily yoga sessions with qualified and experienced teachers
Healing circles
Welcome gift
Full body massage
Manual & E-Book 'The power of Chi – Move Your Energy with Yin Yoga
All equipment needed from surfboard rental to the yoga mat
German and English speaking host
Full use of resort amenities including swimming pool, relaxation areas, gardens, and private beach access with sun loungers
Discover Goa
Ocean, sun, and fun
Herbal Infusions, chai, lemon ginger water, and drinking water provided throughout the day
Vegetarian or vegan brunch and dinner buffet
7 nights accommodation with air-conditioner and two pools, beach access and sunbeds, bed linen, bath towels, hand soap, and housekeeping services
7 Day Yoga, Lifestyle, Ethics, and Meditation Retreat in Goa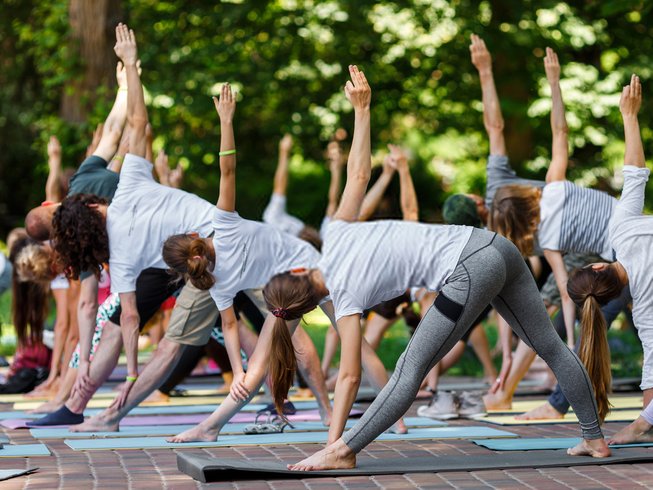 Price: from $150 USD
Number of nights: 3
Yoga style: Hatha and ashtangaga
Location: Goa
A holistic experience all around for all levels of experience. At this yoga retreat in Goa you will start by studying Hatha and ashtanga yoga to understand the practice better before you get into the practice.
You will go on a journey to learn the ashtanga sequences. Lastly, this yoga retreat also focuses on mental work. Ashtanga yoga is a powerful and demanding practice that will need a strong and willing mindset and deep concentration.
This is a space for everybody. No matter if you are traveling solo, the environment is built around making new experiences and acquaintances to share your life-changing experience.
What is Included in this India Yoga Retreat?
2 nights accommodation
Daily guided meditation
Daily healthy vegetarian brunch and dinner
Regular workshops and lectures
Daily yoga sessions
7 Day Hatha India Yoga Retreat in Rishikesh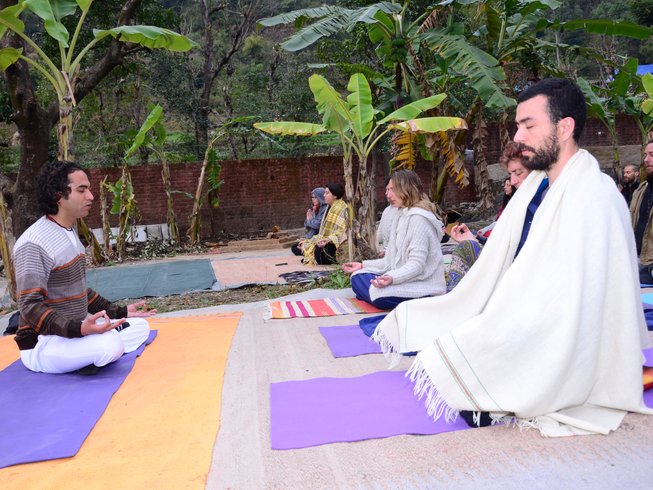 Price: from US$ 267.00
Number of nights: 6
Yoga style: Hatha, kundalini, kriya, and tantra
Location: Rishikesh
This yoga retreat in Rishikesh India is only for advanced yogis who want to one-up their yoga practice. The classes will be imparted in English. This is a more spiritual experience where you will be guided through the ancient wisdom of Hatha yoga.
What is Included in this India Yoga Retreat?
Daily Hatha yoga class
Daily vegetarian meals
6 nights' accommodation
21 Day Ayurveda Yoga in Thrissur, Kerala
Number of nights: 10
Yoga style: Hatha
Location: Kerala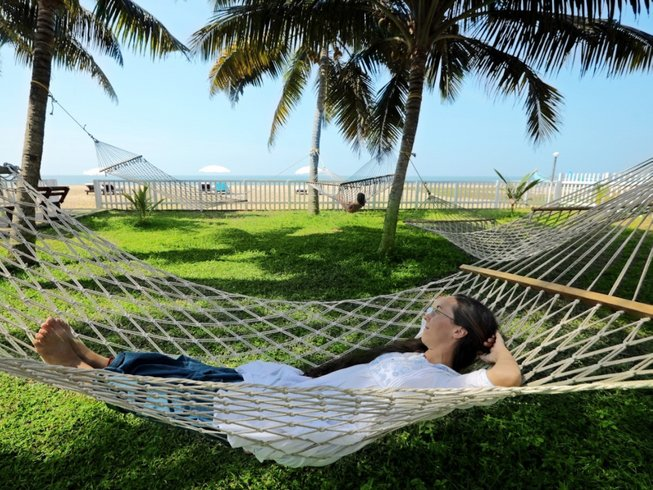 I don't know about you, but a 21-day Ayuverda Yoga in India with Ayurveda sounds like heaven right about now! And the best bit is that at this Indian yoga retreat everybody is welcome, from beginners to advanced yogis.
During this program, you will reconnect with your inner life force and learn new skills to develop and maintain a healthy lifestyle. Throughout the entire time, there are three stages all closely watched and advised by professionals.
This is an intense retreat, but at the end of it, you are going to feel amazing!
What is Included in this India Yoga Retreat?
Daily yoga exercises
Daily breathing exercises
Ayurveda medicines / herbs
Ayurveda herbal treatments / massages
One complimentary activity per week
3 daily Ayurvedic vegetarian foods
20 nights' accommodation
Airport transfers
5 Day Fresh Beach Yoga Retreat in Canacona, Goa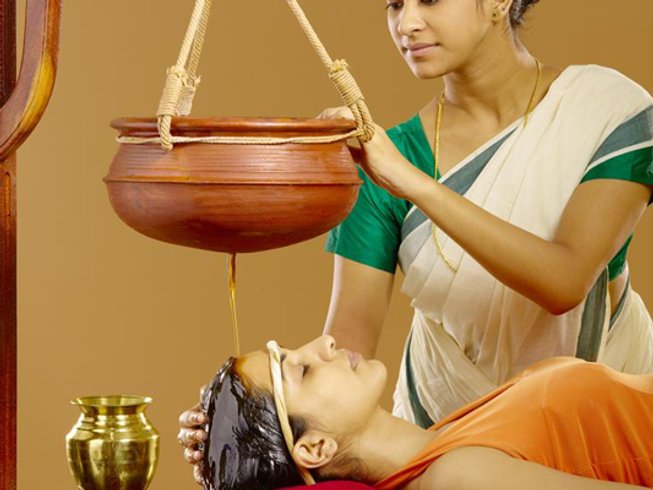 In this Yoga Retreat, you can create your own itinerary. So whether you want to completely immerse yourself in yoga practice, take some time out for sightseeing, it's your choice.
What is Included in this India Yoga Retreat?
Taxi airport pick-up and drop-off
4 nights' accommodation in your own en-suite bamboo beach cabana
Daily Fresh wake-up power juice, tropical fruit salad, and teas
Daily Morning meditation and yoga class (1.5 hours)
Daily Delicious substantial fresh vegetarian buffet brunch
Daily Afternoon sunset yoga class (1.5 hours)
Daily Evening buffet vegetarian dinner
Weekly Entertainment nights
Check out other yoga retreats and yoga teacher training in Mexico, Bali, UK, Colombia, Guatemala, and Costa Rica.
PIN ME!