To kick 2023 off I asked some of the top female travel bloggers in the industry to share with me their pick for the best places to travel solo in 2023. The response was incredible with 50 bloggers sharing their pick for the top destination for solo travel in 2023.
You can use the table below to navigate this epic post and click on any of the links to learn more about that destination and get more detailed information about things to do there.
My Top Choice For Solo Travel in 2023
Cyprus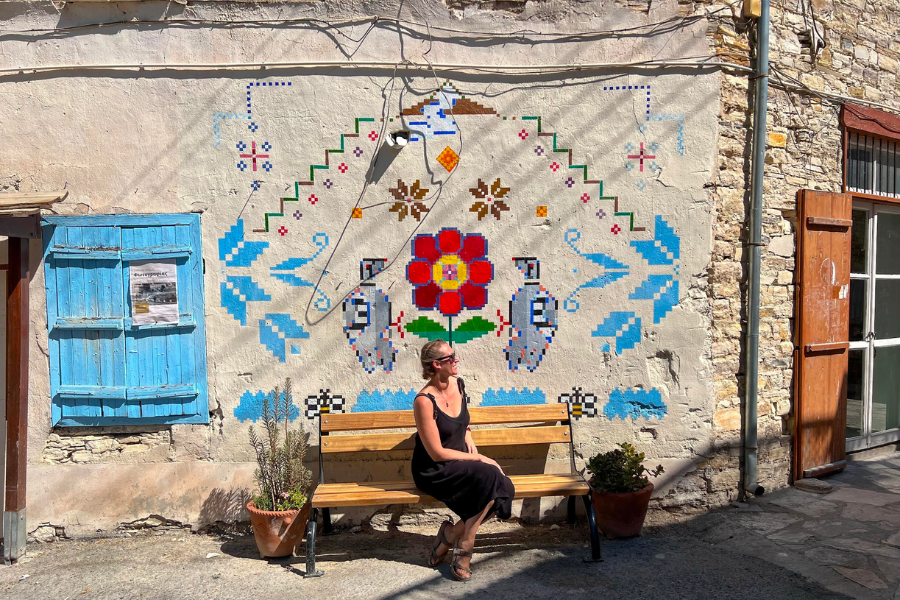 My number 1 place to travel solo in 2023 is the island of Cyprus.
It's a country I've visited extensively over the years, but more recently I've chosen to live half of the year here and set up a home base in the Larnaca area.
So why do I love Cyprus so much? And why do I think it's the perfect place for solo travel? Well first of all almost everyone speaks English. You will find everything from menus to road signs in English. So it's incredibly easy to navigate the entire country without knowing any Greek. It has one of the lowest crime rates in the world, and the people are so laid back and friendly that sometime my husband and I can't help but laugh. When we bought our car in Cyprus the guy who sold it to us let us take it for a week before paying for it!
It's small enough to be able to explore the entire island in a week or 2 if you rent a car here. But large enough to not get bored during that time! There are 4 main cities in Cyprus, plus lots of smaller villages and tourist resort places. In the winter months, you can go skiing and surfing, in the summer you can scuba dive, taste the local wine, and enjoy the beaches.
The food and vibe here are very Greek island but without the Santorini price tag. It's in Europe but not part of Schengen, which is a huge bonus if you aren't an EU passport holder. It's also very close to places like Isreal, Jordan, Turkey, and Egypt all of which you can find cheap flights to via Larnaca airport.
The one thing I would say though is that as a solo female traveler, the old me (think Grandpa's) can be a bit much. You won't have any issues at all with the younger men, But I've heard through multiple friends that they were shocked at the looks and catcalls from the very old men! Also, the bus drivers are 90% assholes for some reason, so be prepared for that if you decide to take the bus, much better to rent a car!
If you come here you can rent our villa during the summer months while we are away escaping the heat.
Did You Get Travel Insurance Yet?

The Insurance companies I recommend are Hey Mondo, Safety Wing, and Travel Insurance Master

Hey Mondo is great if you are looking for a great value flexible policy. They offer single-trip cover, annual multi-trip cover, and long-term travel cover. Safety Wing is great value, with monthly coverage starting at $39. It's super easy to use, and it just renews each month. I currently use them as they offer me free cover for my son as part of my policy. I also use Travel Insurance Master for short trips.

Read my full travel insurance post here, where I go into detail about all companies.
Top European Destinations For Solo Travel in 2023
Czechia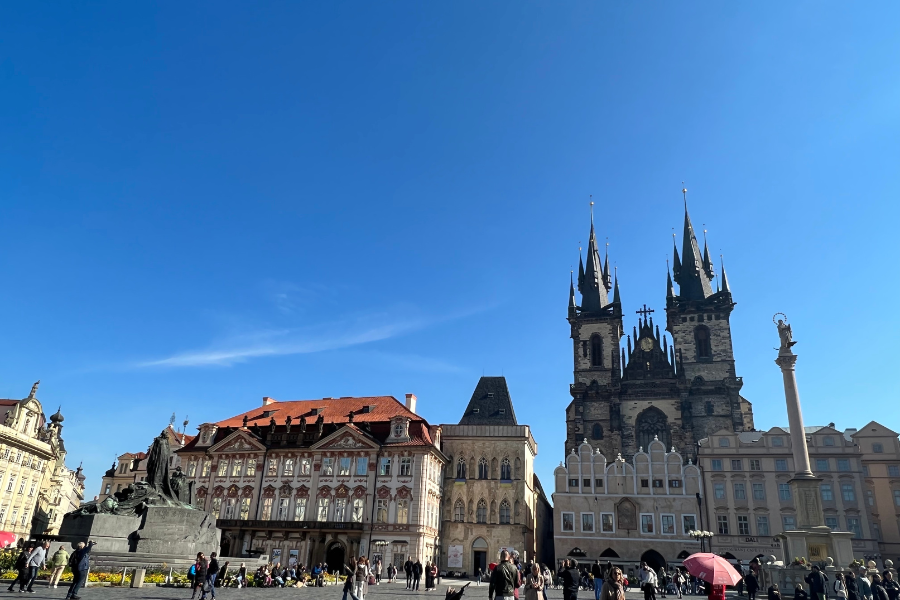 Czechia is a great country for solo female travel. It's packed full of beautiful cities, UNESCO World Heritage Sites, and amazing national parks. It also has great public transport links and feels very safe when you're on your own.
Czechia is an easy country to access from the rest of Europe with cheap flights available and bus and train links to some of its major cities. Highlights of the country include Brno, Cesky Krumlov and the country's capital city Prague. Train travel is very cheap across the country and first-class tickets often include some food and drink too. It's also easy to navigate with clear signs both on the trains and at the stations.
Prague is a very safe destination to visit. The city is usually bustling with tourists and has a happy, positive atmosphere. Try taking part in a free walking tour on your first day to get acquainted with the city and the sights. The city is easy to explore on foot with most of the main attractions within walking distance.
Bars and restaurants are also set up to accommodate solo travellers with everywhere being very welcoming if you're on your own. Prices for food and drink in the city, and in Czechia in general, are very reasonable and so if you're on a budget this central European country is a great choice of destination.
When you're traveling on your own, hostels are a great choice for accommodation as they can help you make friends. The Franz Kafka Hostel in Prague is very close to the main attractions of the city and plenty of restaurants and bars. This is great for when you're walking around by yourself at night time as you don't have far to go.
Although it is very basic, the price does reflect this and the hostel offers some of the best value accommodation in Prague. Female-only dorm rooms are available if this is more comfortable for you when traveling alone.
submitted by Samantha from CocoTravels.co.uk
Hotel Recommendations For Czechia
Warsaw, Poland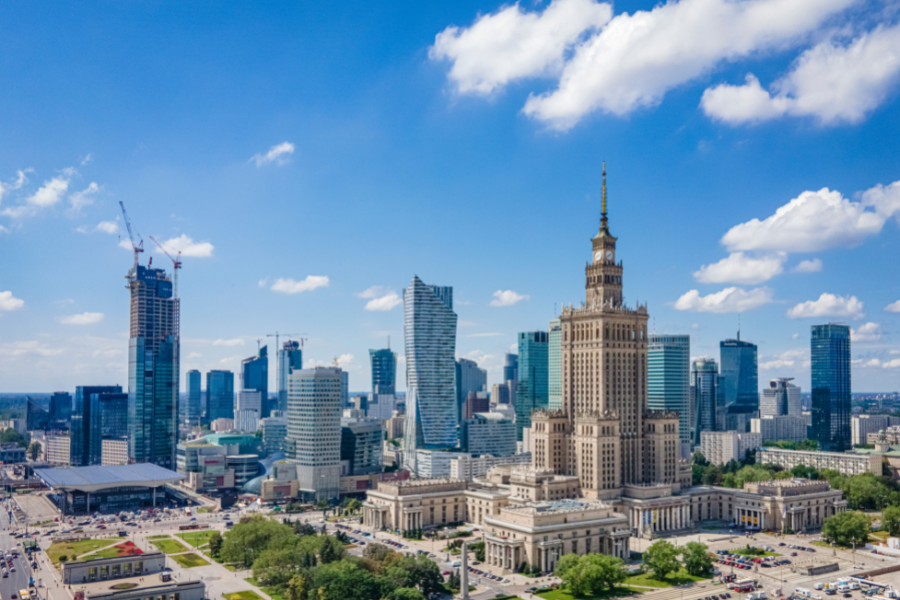 Warsaw, Poland is a great destination for solo female travel. It is well connected by air and rail to other parts of Europe and inexpensive compared to Western Europe since it doesn't use the Euro.
The Old Town is the main tourist area, but I stayed in a quieter neighborhood that was less expensive. I would recommend staying between the Palace of Science and Culture and the Old Town if you want to be closer to the sights. Doing a free walking tour of the Old Town is a good way to meet people and socialize. Spending time in one of Warsaw's beautiful parks should definitely be on your list of things to do.
For transportation, scooter rentals are very popular and it is easy to find them on the sidewalks all over town. Metro and bus are also available, plus ride-sharing apps. The central train station is located next to a crowded mall, which made it feel very safe, and there were multilingual volunteers at the information desk.
Poland has done an excellent job of welcoming and integrating Ukrainian refugees. While the war in Ukraine is obviously a safety concern in 2023, my travels were not negatively affected by it at all. Poland could use the support that tourism brings, so now is the perfect time to go.
English is prevalent in Poland, although not as much as in places like Italy or Germany. Having an app like Google Translate will be helpful for the few occasions when the person you are conversing with doesn't speak English.
I visited in October and avoiding the crowds also made me feel safer from potential pick-pockets. That being said, Poland is cold and it would be best to go between May and October to enjoy the outdoors. One last tip, make sure you bring credit cards, as they are used much more widely than cash.
submitted by Kristin from growingglobalcitizens.com
Hotel Recommendations For Warsaw
Paris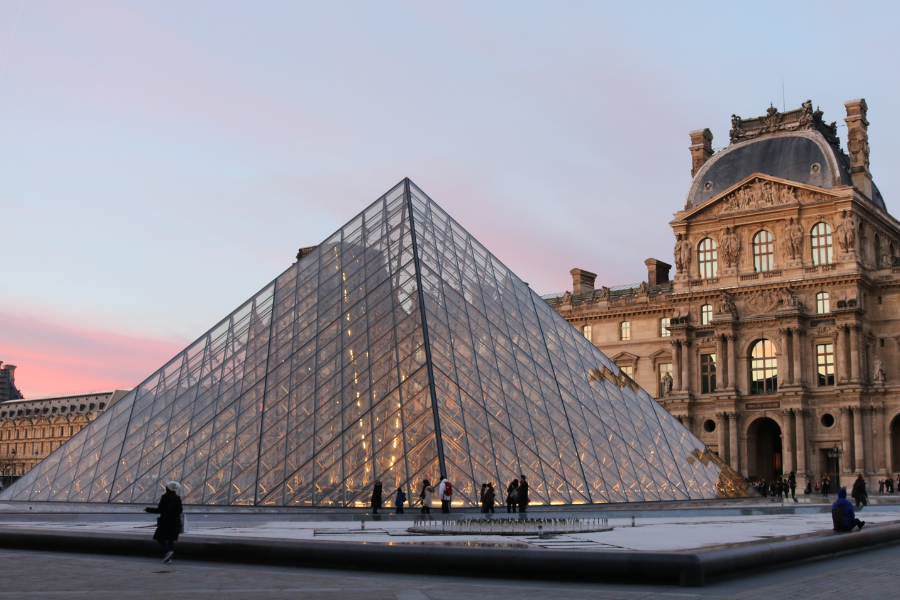 One destination that's perfect for first-time solo female travelers is Paris, France! The French capital is the most visited city in all of Europe, and as such, there's a high amount of diversity and plenty of other solo travelers. Thus, it's fairly easy to blend in with a lot of the other people visiting the city and connect with fellow solo travelers.
On top of this, Paris is a wonderful place to visit for solo travelers because it has a highly efficient public transportation network. As a result, you don't have to worry about traveling alone in taxis with strangers or walking long distances alone at night. Instead, you can just rely on the city's convenient metro system or public buses to quickly get around.
That said, it's still important to be vigilant and practice general safety. For example, make sure to carefully secure your belongings when traveling on public transportation or walking around the city as Paris is a hotspot for pickpocketing.
Another thing that makes Paris great is that there's no shortage of fun activities to do around the city on your own. For example, you can spend your time walking around the Louvre, relaxing at the Jardins du Luxembourg, or shopping at the Galeries Lafayette. Even if you find yourself wanting a change of pace or want to retreat to somewhere quieter, female solo travelers can comfortably travel to the picturesque towns in the French countryside.
And if you're looking for housing accommodations, consider checking out Hôtel Mercure Paris Boulogne. It's a 4-star hotel that's surprisingly affordable and located close to the center of Paris.
In conclusion, Paris is a great place for first-time solo female travelers! With its vibrant culture, many attractions, and convenient public transportation, it's easy to see why so many solo travelers love traveling to the French capital.
Submitted by Kristin of Global Travel Escapades
Hotel Recommendations For Paris
Nice, France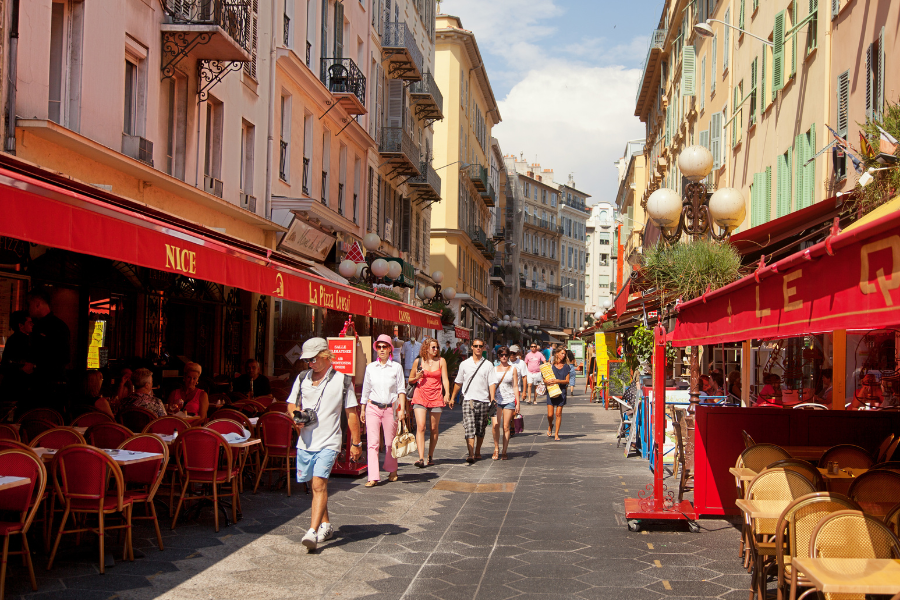 Nice, France is one of the best places for female solo travelers to visit in 2023. It's easy to get to, there are lots to do, amazing food, and most of all, if you take the usual precautions, you'll be safe.
Located on the French Riviera, Nice has a small International airport and a major train station. They provide easy access from Paris and Marseille, as well as, to some of the more local cities of the Côte d'Azur. Once you arrive, public transportation is plentiful; a bus or trolley can usually get you where you need to go.
If you stay near the Vieux Ville aka old town, you will be able to walk to the beach, the Promenade des Anglais, most of the sights, and some of the best restaurants in Nice. The iconic Le Negresco is a wonderful luxury hotel with many rooms facing the Mediterranean Sea. Another somewhat more affordable option with coastal views is Le Meridien a few blocks away.
Spending some time on the wide Promenade along the shore will help you get a feel for the city and its people. Families roller skate and bike, couples walk hand-in-hand or sit on a bench, and many individuals jog or stroll while taking in the view. Catch at least one sunrise from here, they are reliably incredible.
Old Nice is the heart of the city and where you'll find most of the tourist sights. The cobbled stone streets are narrow and flanked by colorful buildings. Be sure to hit the Cours Saleya Farmers Market where you'll find the local specialties. Stop at the Chez Theresa cart where a socca (chickpea pancake) is mandatory. At the end of the market, sit outside at Le Safari Restaurant and enjoy a good meal and people watching.
Linger in the large open square of Place Messena with its Neptune fountain and the "Conversations in Nice" art installation. The 7 naked men on lamp posts are said to represent the 7 continents. Nearby, the historic Place Garibaldi, the old port, and Castle Hill are also must-visit spots.
Submitted by Denise from Chef Denise
Hotel Recommendations For Nice
Reims, France
Reims, located in the world-famous Champagne region in France, is a perfect destination for any solo female traveler. I arrived from Paris in a short 45 minutes via the SNCF train direct to Reims.
Reims has everything you want in a big city- arts, culture, dining, and historical landmarks. In fact, it's a mini Paris, only much smaller and quieter. But with one big distinction- the champagne houses!
To visit them, book a guided tour where you'll join a group and learn about the history of the Champagne region and the production as you sip on your bubbly. I recommend visiting Champagne Taittinger as this champagne house features an underground limestone cave dug by the Romans. This designated UNESCO World Heritage site was used by monks who've been producing champagne here since the early 1700s.
Reims is a walkable city and easy to navigate. The historic center of Reims has all the top sights within walking distance. And, the only time you might want to use the city bus or tram is to reach the champagne houses that are located on the edge of Reims.
One of the most popular sites that you can't miss is the Reims Cathedral. It too has been designated a UNESCO World Heritage site status.
A recommended café especially for female travelers is En Aparthe. This vintage country chic tearoom is Instagram-worthy. It offers a delicious brunch menu and an all-day serving of tea and scrumptious cakes. The vibe is friendly and welcoming to female travelers, ex-pats, and locals.
Because this is the capital city of the world-famous champagne region there are endless choices for dining. Fear of eating alone? Don't be. I saw lots of solo travelers (or locals) dining alone in this foodie haven. Enjoy a pre-dinner drink during happy hour followed by a late-night meal and you'll find that the restaurant staff is very attentive and friendly.
Reims is a great city for a short solo getaway in Europe and one that I would do again in a heartbeat.
Submitted by Renee from Dream Plan Experience
Hotel Recommendations Fo Remis
Santorini, Greece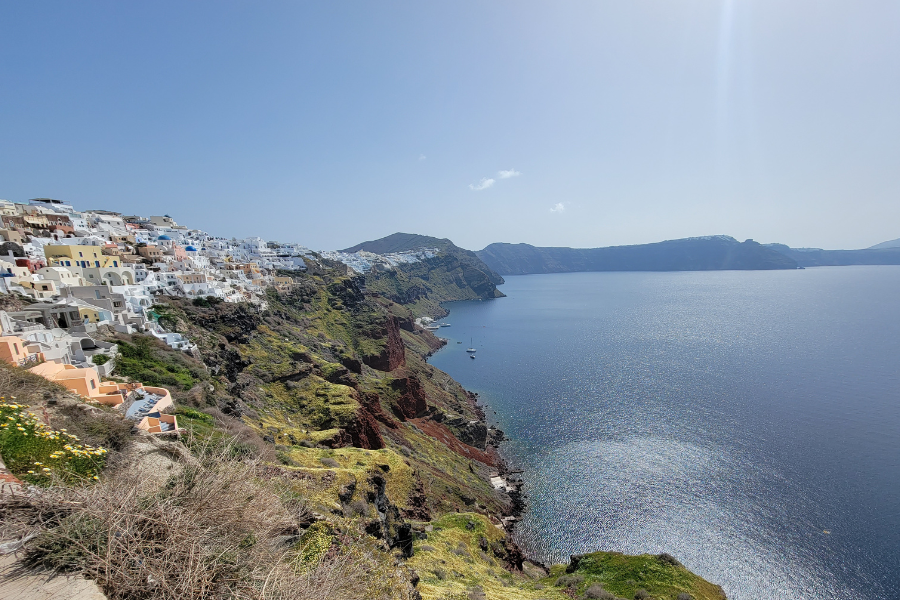 Santorini is easily one of the most beautiful islands in Europe, full of white-washed cave houses, blue dome churches, and stunning caldera views. Santorini is great for solo female travelers because it is easy to travel to, there are plenty of things to do, it's safe, and English is commonly spoken. Additionally, while Santorini may be considered a luxury vacation, it is totally possible to visit Santorini on a budget, making it a great option for solo travelers.
There are many things to do in Santorini, as a solo female traveler. One of the best things to do is check out the incredible sunset at the Oia Castle or the Akrotiri Lighthouse. Another great option is to visit a rooftop bar in Fira and have a drink while enjoying the sunset.
As a solo female traveler, taking a day tour is a great way to see the sights while also meeting other travelers. Santorini offers some great day tours, including Catamaran cruises that will take you around the island and give you a chance to swim in the Aegean Sea. As Santorini is famous for its wine, another fun option is to do a wine tour. This tour will take you around to Santorini's wineries to drink wine while enjoying the incredible views.
Another thing to do in Santorini is to hike from Fira to Oia. The hike takes a few hours, and you will want to either take the public bus or a taxi back. Once in Oia, make sure to check out the cute shops, blue dome church, and the Oia castle.
One of the most important things about solo female travel is safety, and as a small island, Santorini is quite safe and has a low crime rate. One of the biggest safety things to remember is to drive carefully if you rent an ATV in Santorini, as there can be potholes, hilly roads, and traffic. Additionally, as with any other tourist spot, there is always a chance of pickpockets, especially in more popular areas such as Oia.
Getting to Santorini is simple. The easiest option is to book an international flight to Athens and a domestic flight to Santorini. The flight from Athens to Santorini only takes about 45 minutes. Alternatively, you can take the ferry from Athens to Santorini, but it will take about 4-5 hours on the high-speed ferry. Once in Santorini, it is easy to get around to the different villages by taking the public bus, taxi, or car rental.
For more accommodations, it is recommended to stay in Fira or Imerovigli. Both villages provide fantastic caldera views and have plenty of things to do within walking distance, and these locations will also give you the best budget-friendly accommodations. If you want to treat yourself to a luxury stay, Andronis Boutique Hotel in Oia is also a great choice.
Submitted by Amber from getlostinwanderlust
Hotel Recommendations For Santorini
Reykjavik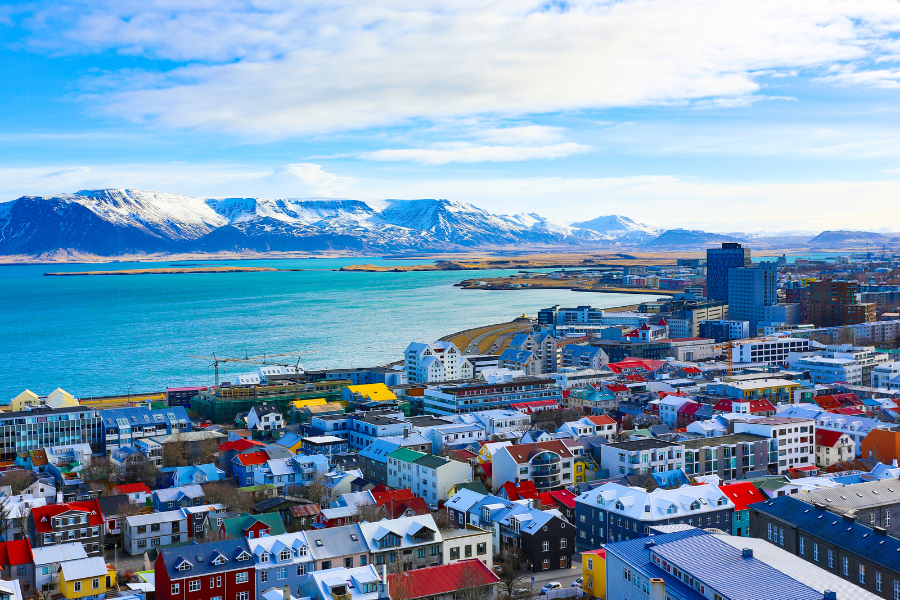 If you're looking for one of the best destinations to travel solo in 2023 then you can't beat a stunning, south coast road trip in Iceland.
Not only is this 236-mile road trip incredibly safe, but it's filled with a wealth of scenic stops. Therefore, you won't really have time to feel alone since you'll be too busy admiring the incredible scenery all around.
So, after landing in Reykjavik, be sure to learn a bit about Viking history at the Saga and National Museum before walking down Laugavegur and visiting Hallgrímskirkja.
Then, when you're ready, grab your rental car and start your trip to the South Coast and Jökulsárlón Glacier Lagoon. After all, it's best if you drive yourself since public transportation can be hard to come by. Plus, crime rates are super low so safety isn't an issue.
However, if you don't want to drive yourself then you could always look into several tours that will take you to the Southern coast. It'll be a long day though since the drive takes between 5 and 6 hours.
Therefore, it's best to rent a car and spend at least two days on this picturesque drive. This way you can stop and admire Skógafoss, one of Iceland's grandest waterfalls, before checking out some of the best things to do in Vik, Iceland.
Before you head to Vik though, be sure to have your tripod ready so that you can take some awesome photos with the Sólheimasandur Plane Wreck just outside the city.
Continue up the road to Reynisfjara Beach and then spend the night at Hótel Kría near Vik before continuing the next morning with a 2.5-hour drive to Jökulsárlón Glacier Lagoon and then Diamond Beach.
You'll then go back towards Skaftafell so that you can stop at Vatnajökull National Park and hike among the 2,500 year old glaciers here.
Whatever you do though, don't leave without spending the night at the 104-room Fosshotel Glacier Lagoon hotel on the way back to the capital. It's only about 20 minutes from Skaftafell, has a lovely spa, and is known for its exceptional views of the area.
Submitted by Victoria from Iceland Trippers
Hotel Recommendations For Reykjavik
Amsterdam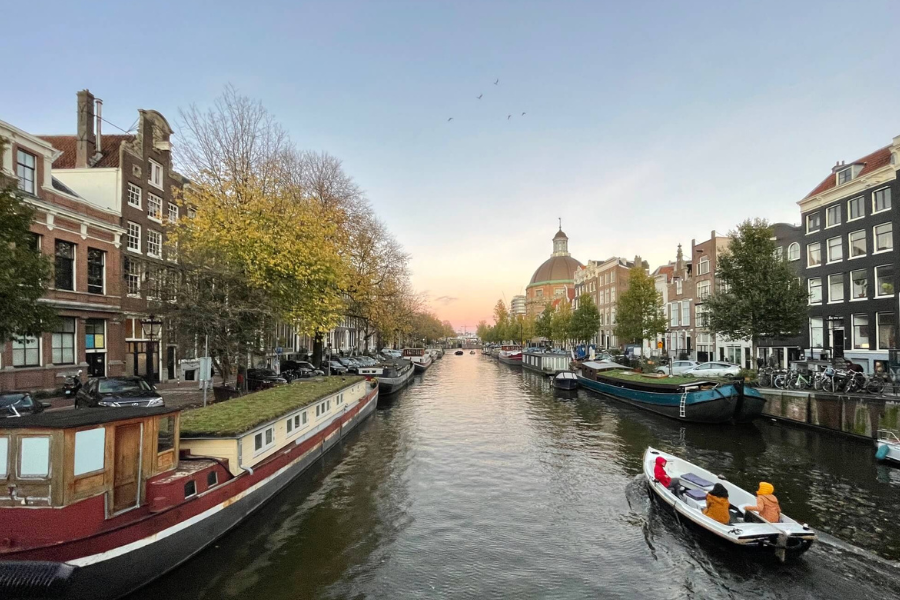 Amsterdam is the perfect place for a solo trip in Europe to take in some culture, from Renaissance art to historical and contemporary museums, as well as while away the hours by taking some pictures along the pretty canal bridges. Not to mention, the city's numerous branch locations where you can grab a bite to eat, and read a book in a local café before heading out on the water on a canal tour. It's also a great European destination to enjoy a city and beach break combined, with an area known locally as Amsterdam Beach, a short 30-minute train journey from Amsterdam Central Station, which is perfect for solo travelers seeking escape and relaxation after days exploring Amsterdam's bustling streets.
Whilst a popular destination for group getaways, the social city of Amsterdam in The Netherlands is also the ideal place for solo travelers in Europe. Amsterdam is a short flight from many European destinations and has the benefit of the train station located inside Amsterdam's Schiphol Airport which can transport you to Amsterdam Centraal Station in 20 minutes, making it a safe and stress-free option for female solo travelers. With staff on hand to help with the purchase of train tickets, the ticket machines also benefit from helpful flag options to change the language to purchase train tickets with ease. The NS.NL website is ideal to check train times, routes, and platforms before you travel – Once you input your departure-arrival stations and selected a train time, you can click the screen to check your stop and arrival time.
Of course, as with many other capital cities in Europe, an Amsterdam City Card provides unlimited travel on public transport for 24, 48, 72, and 96 hours, as well as valuable discounts on canal tours, museums, and attractions in Amsterdam. The benefits of the Amsterdam City Card discounts mean you also have more money to spend on stroopwafels at Van Wonderen Stroopwafels, fries covered in Dutch favorite mayonnaise and other specialties at Foodhallen, before enjoying a signature cocktail at The Pulitzer; a five-star hotel overlooking Amsterdam's Golden Age canal houses. If a stay at The Pulitzer is out of your price range and you're looking for cheaper boutique hotels or apartments, you may wish to consider Hotel Paradis at Zandvoort's Amsterdam Beach or staying in Haarlem city, which is also located a short distance from the flower fields of Lisse.
Submitted by Jasmine from thelifeofasocialbutterfly
Hotel Recommendations For Amsterdam
Ireland's Ancient East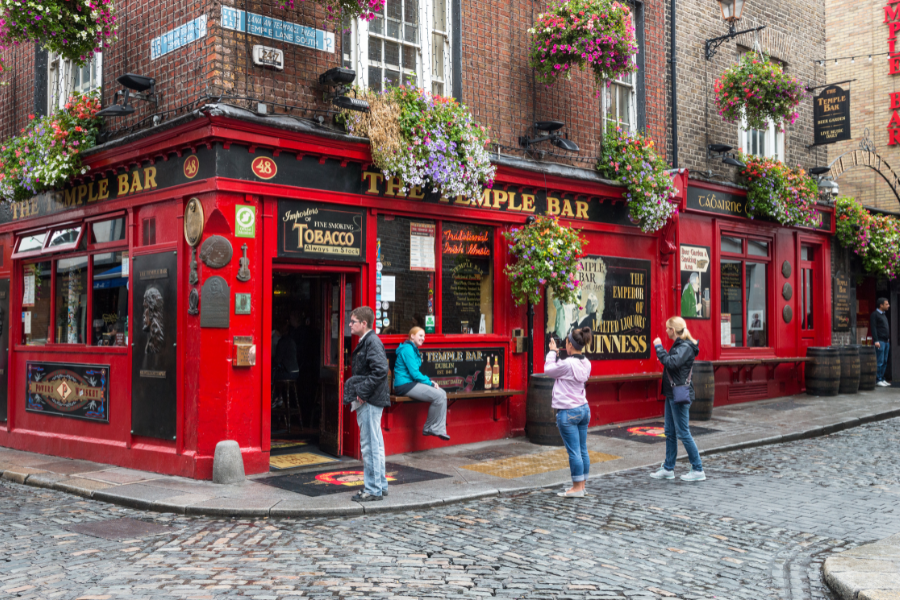 Ireland has long been considered a safe and secure travel destination for female travelers. The low crime rate and friendly locals make for a welcoming country full of beautiful countryside and coastline to explore. Most Irish tourism can be divided into routes along Ireland's Ancient East and the Wild Atlantic Way, both of which would make great destinations or road trip routes for the solo female traveler.
If you want to include Dublin in your itinerary, plan a road trip through Ireland's Ancient East, which runs from the capital of Dublin to Cork, the country's southernmost city. The route, of course, includes the traditional and music-filled city of Dublin, where the inviting and warm pubs of Temple Bar offer a glimpse into the past and a chance to make new friends. You'll also find great restaurants, interesting tourist attractions like the Guinness Warehouse, and plenty of swans swimming in the parks.
Next, head down to the mystic and ancient-feeling Wicklow Mountains, where you can hike around Lake Glendalough. Nearby, you'll find a set of monastic ruins with a stone tower and a Celtic cemetery. Finish the day with a pint of Guinness or an Irish Coffee in the Wicklow Heather, a charming pub nearby.
You can continue your route even further south to County Waterford, where you can explore the seaside village of Tramore. Known for its large, swimmable beach, you'll find plenty of families enjoying the summer sun while children are on break from school.
Finally, you can end your trip in Cork, Ireland's Rebel City. Cork is the Food Capital, complete with restaurants from around the world. Don't skip a trip to Blarney Castle to kiss the Blarney Stone and to the English Market, both of which are essential stops while in Cork.
To explore Ireland's Ancient East, you'll definitely want to rent a car, as many destinations will be inaccessible by public transit. When packing for Ireland, be sure to always bring plenty of layers and warm clothes. Although the temperatures are mild throughout the year, the humidity and wind can leave you feeling much chillier than a weather app would suggest.
Submitted by Amber from Amber Everywhere
Hotel Recommendations Fo Ireland
Malaga, Spain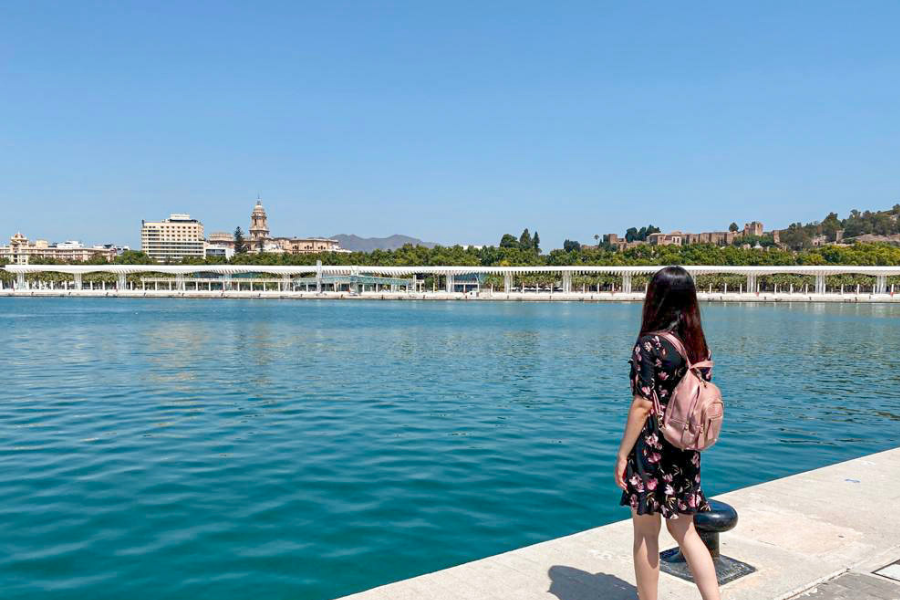 Malaga, situated in the south of Spain, is one of the best European destinations for solo female travelers.
The city is very well-connected and easy to travel around. The nearest airport is Malaga-Costa del Sol Airport (AGP) which is only a 15-minute drive from Malaga city center. You don't need to book a taxi because buses and trains leave you in the city center.
Walking around the city center is safe at all times. Pickpocketing is not an issue in Malaga as it happens in Spanish cities like Barcelona.
I have always felt safe in Malaga, but it's good to keep an eye on your belongings and avoid walking through non-transited areas in the evening as you would normally do in other places.
As a solo traveler, you also have plenty of activities to do in Malaga. From visiting the beautiful Alcazaba fortress palace and Gibralfaro castle and enjoying Malaga views from the Cathedral rooftop to tasting the local cuisine and wine.
Although there are enough things to do in Malaga city center for one or two days, it is worth checking out towns near Malaga.
If you love whitewashed towns, consider visiting picturesque towns like Nerja, Mijas Pueblo, and Frigiliana which have fantastic viewpoints, pretty streets, and interesting museums.
In case you don't want to rent a car, you can access all of these towns by using public transport or booking a tour which also will give you the chance to meet other travelers.
As a first-time traveler to Malaga, it's good to know that summer is perfect for hitting the beach and water parks whereas the rest of the year is better for sightseeing. Temperatures can reach up to 40 degrees in summer.
For accommodation, you will be glad to hear that there is a wide variety of hotels and hostels perfect for solo travelers. One of my favorite hotels is Room Mate Valeria, however, if you are looking for a cheaper option, Dulces Dreams Boutique Hostel is best for you.
Overall, there are many reasons to visit Malaga and choose it as your next destination.
Submitted by Christina from My Little World of Travelling
Hotel Recommendations For Barcelona
Venice, Italy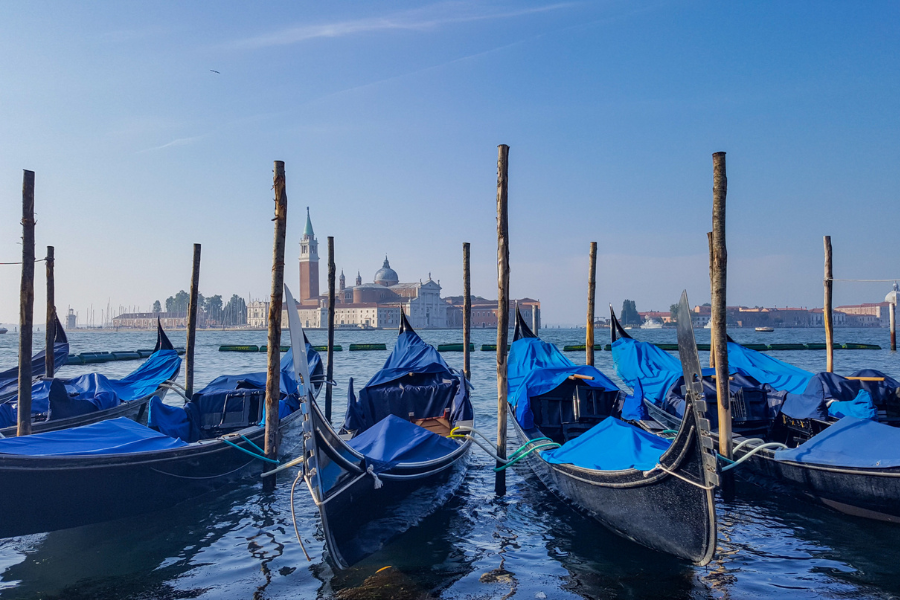 The canals with gondolas, more than 400 bridges, historical monuments, and even excellent food make Venice the perfect city for your first solo trip in 2023. Every glimpse and perspective is a masterpiece and also for this reason the entire city and its lagoon were included in the UNESCO World Heritage Site in 1987. Very rich and refined, it has managed to preserve its elegance through the centuries like few others. Venice is a city for all seasons. Romantic in spring, sunny, joyful, and full of life in summer, fairy-tale in autumn, and mystical in winter when wrapped in fog, it becomes even more suggestive.
Among the places not to be missed is the Rialto bridge, the symbol of the city, Piazza San Marco, the most important in Venice where it stands with the splendid basilica and the bell tower of San Marco from where you have a beautiful view of the square and the island of San Giorgio. Next to the basilica is the magnificent Palazzo Ducale, connected to the prisons through the Ponte Dei Sospiri, so called because when crossing it the inmates sighed as they saw the lagoon and the sky for the last time.
Among other free things, I recommend the Acqua Alta bookshop, one of a kind with a huge selection of new and used books arranged inside gondolas, boats, and tanks, don't miss the view from the terrace of the Fondaco Dei Tedeschi. It's free but with advance booking. The largest canvas painting in the world inside the church of San Pantalon will leave you speechless.
A unique and particular event is its famous carnival, in those days thousands of people in the typical sumptuous clothes and the typical Venetian masks crowd the city pouring into the squares and along the canals, it usually takes place in the month of February. Don't leave Venice without taking a day trip to the lagoon islands of Torcello, Murano and Burano.
It is easily reachable by plane where you land at Marco Polo airport, to reach Piazzale Roma in Venice you need to take bus number 5, the stop is immediately outside the airport, Venice is connected by fast trains with Rome, Milan, and Bologna, which arrive at Santa Lucia station.
The only hostel, Generator Hostel available in Venice is located on Giudecca island, otherwise, another hostel, Anda Venice, is located in Mestre just outside the train station, the connections with Venice are good and frequent.
I also recommend that you pack comfortable shoes in your luggage.
Submitted by Miriam from Miry Giramondo
Hotel Recommendations For Vennice
Milos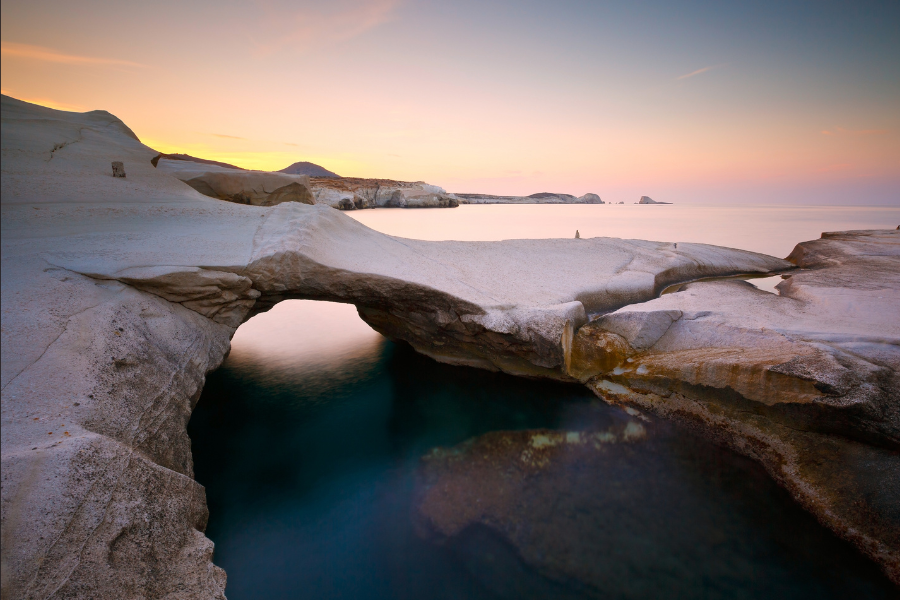 If you're looking for the best destinations suitable for solo travel, Milos must be at the top of your list! Together with more famous islands such as Santorini and Mykonos, Milos is part of the Cycladic group of islands. It may not be as well-known as its sister islands, but Milos doesn't come short in natural beauty and Cycladic charm.
Milos has a more chilled vibe, is less touristy, and if you visit off-season, it is way more affordable. The locals are also friendly, and the island is extremely safe to explore on your own.
You can easily rent a car, or if you're more adventurous, go for an ATV and make your way around the island. Most attractions are located within 30 minutes drive from each other. It is also possible to visit most towns on the island by bus.
Make sure to visit places such as Sarakiniko Beach – famous for its moon-like landscape, the traditional fishing village of Klima with its iconic colorful boathouse, and the island's capital Plaka steeped in history and boasting some incredible, panoramic views over the entire island. Another must-see place on Milos is Kleftiko. Kleftiko is only accessible by boat, and you can book a tour to take you there and admire the souring chalky-white cliffs from the sea.
One of the best places to stay in Milos for solo female explorers is Adamas – the island's port town and its liveliest town. Adamas is very well connected with the rest of the island, with public buses regularly operating throughout the day.
Milos is not a cheap destination, especially for solo travelers, but Adamas offers some good budget options. Milos Apartments is an excellent choice if you're looking for something with a private kitchen.
Getting to Milos is super easy and affordable. You can catch a flight from Athens or take a ferry from Port Piraeus, which takes just over 2 hours and brings you to Milos' main port – Adamas.
Submitted by Mal from RawMalRoams
Hotel Recommendations For Milos
Crete, Greece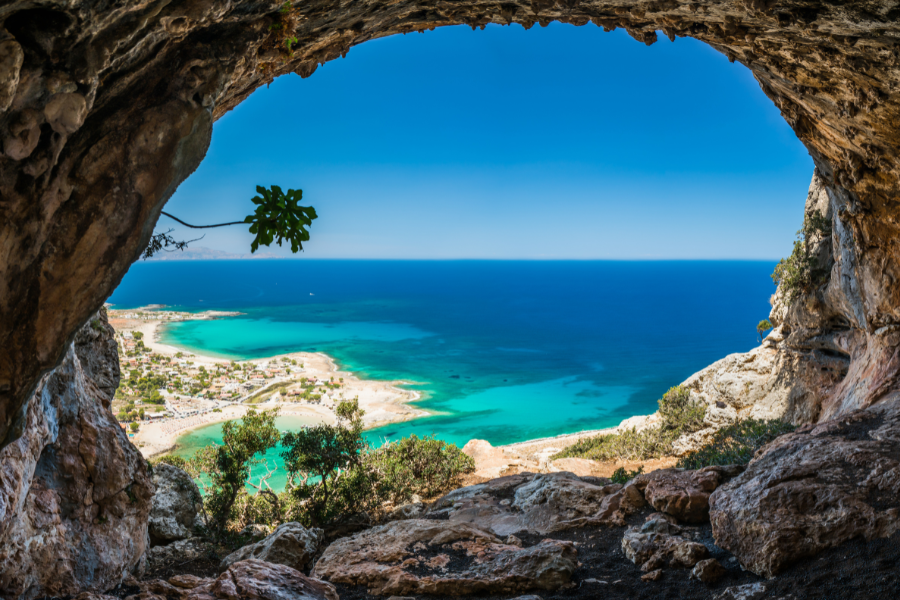 If you dream of quaint and colorful towns with delicious dishes on the Meditteranean sea, let me point you towards Crete. This tranquil and idyllic island is Greece's largest and perfect destination for solo female travelers who enjoy hiking, beaches, and exquisite foods.
The ancient and picturesque old town of Chania on Crete's north coast is easily explored on foot or by bicycle. With well-lit and colorful streets, it's perfect for solo female travelers because most locals speak English, and an array of public buses will take you to the stunning spots on the island for a low cost. Solo travelers can enjoy the pretty pink beaches of Elafonisi or a boat tour to the remarkable views of Gramvousa island and the turquoise waters of Balos lagoon. Where goats stroll on pink shores and nudge beach-dwellers for snacks.
Across Crete, solo travelers can find cozy hostels with beds starting from £8 per night and private rooms starting from £15 per night.
The island is full of affordable restaurants serving glorious Greek food. In Crete, it's common for local restaurants to supply a free dessert and a shot of rakia with every meal. Tuck into fresh fish, tasty pasta, delicious cheese dishes, and Mediterranean salads. with meals starting from £5. Be sure not to miss the highly recommend restaurants of Senate and Salis close to the slow seafront in Chania. I personally suggest trying Senal's beef tartar, veal pappardelle pasta, and ceviche dishes.
The Cocoon City Hostel is a 10-minute walk from central Chania, which comes with comfy clean rooms, security, and well-equipped kitchens and socializing spaces to meet other solo travelers. The streets feel safe to walk at night, and in the evenings, you can expect vibrant bars and restaurants along well-lit streets filled with friendly locals and holiday-makers.
A short bus ride outside of Chania will take you to Samaria Canyon. With endless views, you can enjoy a stunning 10-mile guided hike through white mountains and colorful wildflowers to the black shores of the Libyan Sea in the town of Agia Roumeli. Visiting the gorge is best done with a tour guide as they are affordable and will take care of all the logistics for you.
I personally felt very safe for the entirety of my stay in Crete. And fell in love with the slow-paced and relaxed nature of the locals, the random corners I stumbled across, and the simply delightful foods. It stands as one of my favorite places in the world and a must-visit for solo female travelers.
Submitted by Sophia from Beauty in a Backpack
Hotel Recommendations For Crete
Edinburgh
If you are thinking about planning a solo trip, add Edinburgh, Scotland, to the top of your bucket list.
I have been to a lot of different places, and when I think of a city that really resonates with me for being fun and safe, it is Edinburgh, Scotland.
Edinburgh is the capital of Scotland and is very well connected, making it very easy to get there by rail or plane. The city is bursting with history, great food, and even castles. Because Edinburgh is rather small, it doesn't feel overwhelming to explore on your own, and I felt very safe exploring the city by myself.
You can explore the top attractions in as little as 2 days in Edinburgh. Some of the top sites include Edinburgh Castle, walking the Royal Mile, visiting museums, exploring the charming Dean Village, and hanging out at Grassmarket.
You can walk to just about every attraction, but if your feet start getting tired or Scotland decides to be moody, you have the option to hire an Uber, take a classic black cab, take the tram, or ride the bus.
Public transportation is very easy to use in Edinburgh, and with Google Maps, you will be able to figure out what line you need to take with ease. You can also use the app CityMapper, which is also helpful for using public transportation.
A tip I would give to other female solo travelers is to practice the normal precautions you would in any city and just be aware of your surroundings. Additionally, I would not walk alone at night. The Scottish people are so kind, and since it is English-speaking, you don't have to worry too much about language barriers. Additionally, you can use a credit card everywhere.
Submitted by Sam Opp from Find Love and Travel
Hotel Recommendations For Edinburgh
Porto, Portugal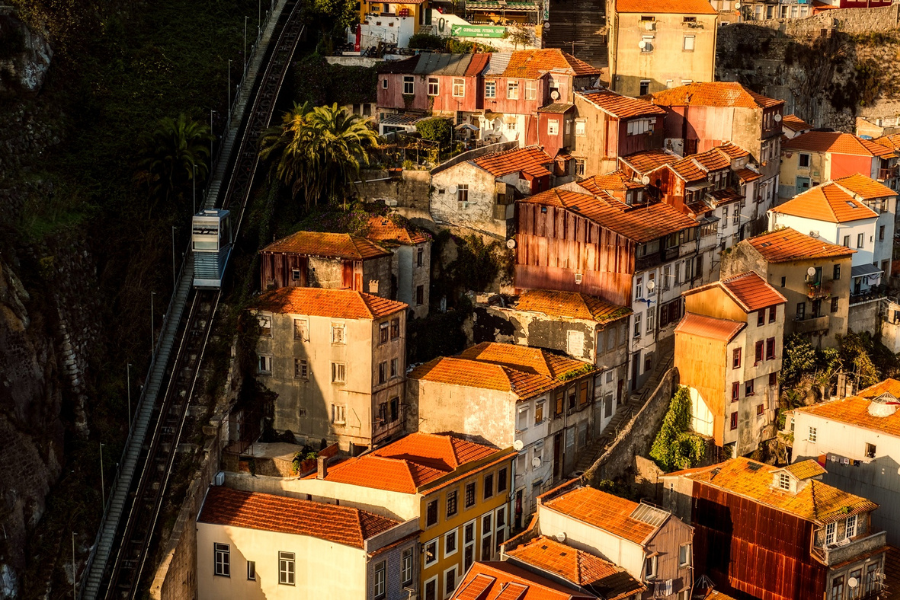 Porto, the second-largest city in Portugal, is an incredibly safe place and a great European destination for solo female travelers. This city is famous for its association with port wine. Also, the old Historic Centre of Porto, alongside the nearby Luiz I Bridge and Monastery of Serra do Pilar, are considered a UNESCO World Heritage Site. From peaceful boat tours on the Douro River to discovering hidden architectural gems, there are plenty of wonderful things to do in Porto to enjoy alone.
Take a stroll along the gorgeous riverfront by the River Douro. The bustling promenade is lined up with cafes, restaurants, and street performers. Next, take a 50-minute boat cruise down the Douro River, passing under the six famous bridges, one designed by Gustave Eiffel, who is also behind the design of the iconic Eiffel Tower.
Ride the cable car for an excellent view over the city skyline. It runs from the Jardim de Morro park by the Dom Luis I bridge down to the port warehouses and the boat tours. No visit to Porto is complete without taking a tour of its famous port wine cellars. You will find many of them in Gaia, on the other side of the Douro River.
Also, don't miss a visit to the famous Livraria Lello. This beautiful bookstore is rumored to be the inspiration behind the Harry Potter books. Afterward, visit the nearby Sao Bento Railway Station to find beautiful artwork on ceramic tiles, known as azulejos. Finally, head down to Matosinhos beach and Foz do Douro promenade for a day out by the beach.
Porto is a very safe city for solo female travelers. Portugal is frequently mentioned as one of the safest countries to visit in Europe. You don't have to know any Portuguese to visit this city. English is widely spoken throughout Porto, especially by everyone in the hospitality industry. Also, the friendly locals are always willing to help you.
Porto is not too big and has an extensive public transport system. The closest airport to the city is the Francisco Sá Carneiro Airport, which is well-connected to the city by bus, train, and metro services. Porto is quite easy to navigate on foot. Walking down the narrow winding streets of the city is the best way to explore it.
As a solo traveler, it is very important to stay in a reputable, safe, and centrally located accommodation. Memoria Porto FLH Hotels would be a great choice to stay in Porto. This relaxed hotel is a just few minutes walk from most of the tourist attractions in Porto.
Submitted from Moumita by ChasingThelongRoad
Hotel Recommendations For Porto
Faro, Portugal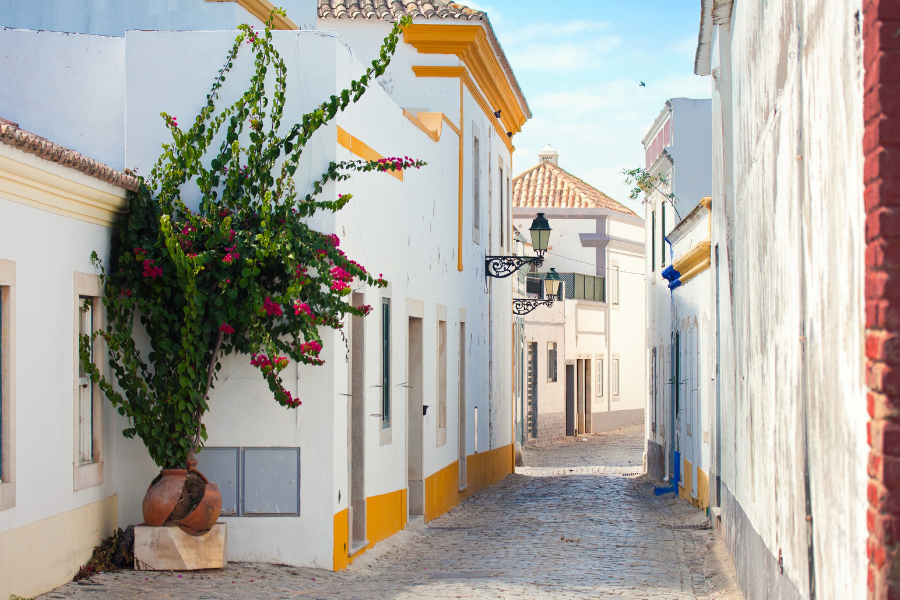 Faro is one of the most beautiful destinations to visit in Portugal. It is a small yet adorable destination that has got several things to explore and various activities to offer. It is neither a port nor Lisbon, but it is still a great destination for a relaxing solo holiday. If you are looking for small and laidback destinations, you might find Faro the right choice. It is because, despite the small area, the place has got so much to show you. It is the perfect destination to explore river routes, sandy beaches, lagoons, and hidden bays.
Faro is perfect for solo female travelers as it is walkable, and the place is populated with locals and travelers. Hence, it is safe to explore a destination even when you are alone. One of the main things that attract travelers is the old town, a fortified city. The old town takes will stun you. Start exploring with the most impressive gate called Arco Da Villa. It is one of the most picturesque spots in Faro.
Continue with exploring the Faro Cathedral situated in the walled city. It is yet another spot that Faro is most popularly known for. This Roman Catholic Cathedral was built back in the 13th century, and it is still open to the daily public. Do not forget to explore Capela de Ossos Bone Chapel, which is often known as the bone church of Faro.
In the end, do not miss out on the scrumptious Portuguese food with exceptional dining experiences. Traveling here from one place to another is also not a hefty task. You can rent a car and explore the whole town easily. With a car, you will also be able to enjoy things to do in Algarve. For nice accommodation, consider the boutique hotel- Lemon Tree Stay.
Submitted by Paulina from paulinaontheroad
Hotel Recommendations For Faro
Lisbon, Portugal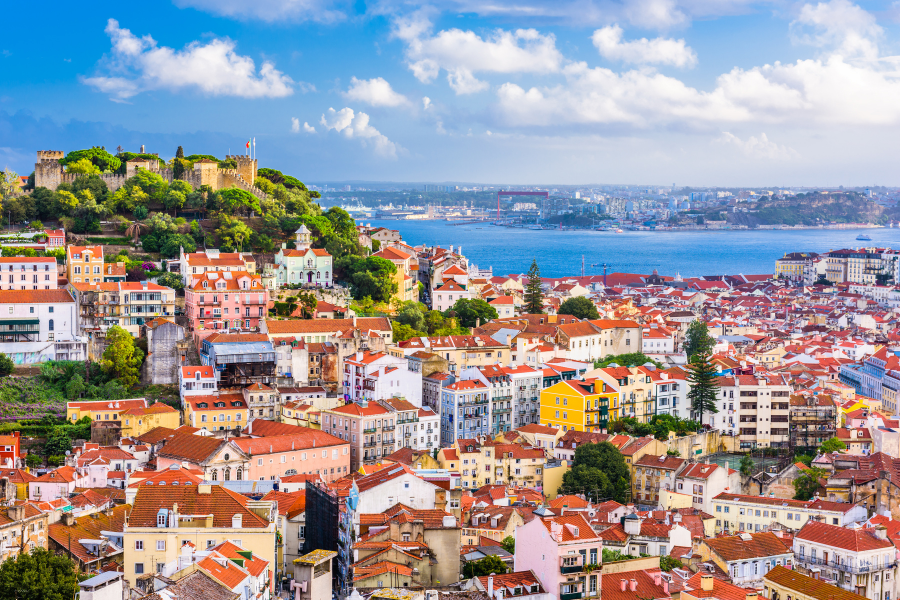 Lisbon, Portugal is one of the best places to visit as a solo female traveler. Not only is Portugal one of the safest countries in the world, but Lisbon's vibe is also very laid back, immediately putting you at ease, and the locals are super friendly and will make you feel at home instantly. You'll feel so at home that you may want to look into the new Portugal digital nomad visa.

As a solo female traveler, Lisbon has tons to offer. There are digital nomad communities and ex-pat groups that offer opportunities to meet new people and participate in activities or meetups. There are myriad museums to explore like the Azulejo Tile Museum or the MAAT, the Modern Art, Architecture, and Technology Museum. You can ride the historic 28 Tram to see some of the city's best sights, or head to the Graça neighborhood to check out some of the most amazing street art. Miradouros, or viewpoints, are prevalent throughout the city of hills. Hop on an electric tuk-tuk tour and let your guide take you to some of the best miradouros in Lisbon.
If shopping is your thing, stroll through the Chiado neighborhood or venture further north to Avenida da Liberdade for more high-end offerings. Walking through the city is one of the best ways to explore, but there are also public transportation options like trams and the subway. And you can always hire a ride on Uber or Bolt. You'll never feel unsafe no matter how you move around, even at night.
Head down to Timeout market to grab some food and then walk along the river toward Praça do Comércio to take in the waterfront. From there you can meander through the cobblestone streets and hills of the popular Baixa, Alfama, and Chiado neighborhoods. Across the river, you'll see the ever-more popular neighborhood of Almada.
A quick train ride can take you across the 24 de Abril bridge to the Setúbal Peninsula where there are amazing beaches along the Costa da Caparica, or head to Cascais for a charming seaside beach day in this cosmopolitan town. A 1-hour train ride will even get you to Sintra, where you can while the day away in the multitude of castles and palaces and take in some of the best souvenir shopping around. And if you're willing to spend a night or two away from Lisbon, a 3-hour train ride will get you as far as Porto where you can experience its own version of magic.
The options are endless. And as a solo female traveler, you really don't need to limit yourself. With safe and reliable transportation, friendly and welcoming people, rich history and culture, and a burgeoning hipness, Lisbon should definitely be on your list of places to visit as a solo female traveler!
If you're looking for a coliving/coworking space, check out the incredible Selina Secret Garden & Cowork Space. Casa do Principe is a beautifully classically renovated palace with beautiful rooms.
For the ultimate luxury and Portuguese hospitality, choose one of the Pestana properties.
Submitted by Allison Baxley from Renovating Life
Hotel Recommendations For Lisbon
Andalucia
A great destination to travel to as a solo female traveler is Andalucia in southern Spain. It is one of the most beautiful regions in Spain with lovely temperatures all year round. Traveling by bus or train between the main cities is easy, but if you want to explore more remote destinations, it is a good idea to rent a car. However, if you are new to solo traveling and don't speak Spanish, you might prefer to stick to the cities like Seville, Granada, and Malaga.
There are also a wealth of charming villages on Costa del Sol which is the most touristy region in Andalucia where you can go on organized tours from Malaga. Among them are Mijas Pueblo and Frigiliana – picture-perfect whitewashed villages clinging to the mountainside and overlooking the sun-kissed Mediterranean coast.
There are also many fun activities to do on Costa del Sol, which is a favorite among ex-pats. Go dolphin-watching, paddleboarding, or diving. If you are an avid hiker, you can walk Rio Chillar in the summer months.
I find the Spanish are very protective and open to chat when you hike solo. This is a highly frequented hike back and forth through a river in a ravine so you will not be alone at any point. Andalucia is also a short day trip from both Morocco and Gibraltar which makes for amazing day tours if you want a little variety.
Do not miss out on the Alhambra in Granada – the Moorish fortress and palace are the most impressive in Spain! The city is one of the most traditional in Andalucia, yet there are hostels where you can meet other travelers to go sightseeing with. A good choice is the modern Toc Hostel Granada where you can choose between private rooms or dorms.
If you travel outside the summer months, make sure you visit Seville too. It is one of the hottest cities in Spain in the summer and temperatures reach an endearingly 50 degrees Celsius at their worst, so you want to stay clear of it in the summer. However, October to June is a great period to visit Andalucia's charming capital city.
Jam-packed with bars and restaurants in the historic center where you can glance up at the iconic Giralda tower over a beer makes this one of the best cities in the region. All of Andalucia's cities are walkable so you do not have to worry about public transport while in the city. On top of that, it is a safe place, you should just be aware of pick-pockets in the crowded places in the cities.
Submitted by Linn Haglund of Amused by Andalucia
Hotel Recommendations For Andalucia
Split, Croatia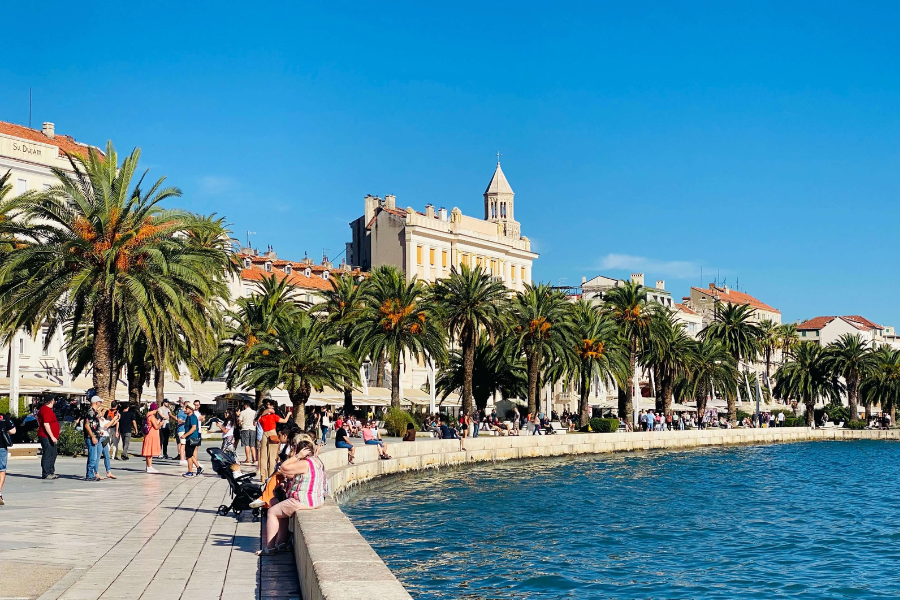 Split is a city located in Croatia on the eastern shore of the Adriatic Sea. It is the second-largest city in Croatia and the largest city in the region of Dalmatia. Split is known for its rich history and culture, as well as its beautiful beaches and Mediterranean climate. Split is a popular tourist destination and a gateway to the nearby islands of the Adriatic Sea.
To get to Split, Croatia, you can fly into Split Airport (SPU) or take a ferry or bus from one of the nearby cities. Here are some options for getting to Split:
Once you arrive in Split, you can get around the city using the local bus network, taxi, ride app like Uber or Bolt, or by walking.
Split's bus system was recently added (fall 2022) to Google maps so you can easily find which buses you can take, how frequently they run, and where they stop. You can buy tickets for the bus at kiosks, newsstands, and some supermarkets, or you can purchase a prepaid ticket card.
Overall, Split is a safe city to visit. Many people in Croatia leave their personal belongings on the beach unattended while they swim in the sea. Unfortunately, when there are a lot of tourists in town, petty theft can happen. Otherwise, there is almost no violent crime, and police, and swat teams are present when there are football (soccer) matches to ensure things don't get out of hand.
Religion is an important part of Croatian culture, and many Croatians are actively involved in their local churches. Many Croatians value family, hospitality, hard work, religion, and respect for authority. Croatian men are generally very respectful of women, not aggressive, and look out for women and try to help if they see someone in distress, which is rare.
When walking home late at night or early in the morning, the only "gangs" you'll most likely encounter will be stray cats who like to congregate in the streets. Don't worry though, they're well-fed, cared for, and look happy, much like the citizens in Croatia.
Submitted by Nora from Travelbloggerr
Hotel Recommendations For Split
Algarve Portugal
The Algarve in southern Portugal is a wonderful place to travel as a solo female. Portugal is a safe country to travel in, most people speak English, and it is an easy country to drive in if you want to go on a road trip. If you prefer meeting other travelers, there are plenty of organized tours taking you from the most popular resort towns to the top tourist spots
. Western Algarve is perfect for active travelers that love surfing, hiking, diving, snorkeling, kayaking, and paddleboarding. There are also many fun boat tours taking you up and down the coast. Among the most impressive attractions, you find Ponta da Piedade rock formations and Sagres cliffs on the far west corner of the Algarve. To discover this area, you should stay in Lagos where there are many great hostels that organize activities for travelers daily. Stay at Boutique Taghostel for a comfortable and sociable stay.
Central Algarve is also known for its beautiful coastline and the mesmerizing Benagil Cave which you can only explore by kayak, paddleboard, or boat. This is easily the most popular natural attraction on the Algarve and should not be missed. For partygoers, Albufeira is a lovely place to stay in the central Algarve. It is also a great base for adventure travelers with a myriad of water activities like parasailing, surfing, paddle boarding, and jet skiing available. If you want to try something different, go on a boogie or 4WD tour to discover Algarve's countryside. In the heart of the old town, you find a lovely hostel to socialize, Musical Hostel.
For solo travelers that prefer a slower pace and time to themselves, the eastern Algarve is amazing. From Faro to Tavira, there is enough to do and see, surrounded by the incredible Ria Formosa Natural Park. Take a boat tour to the barrier islands and discover the sweeping beaches or walk to the quirky anchor Cemetery on Tavira Island. Tavira town is the perfect place to slow down and walk through the cobbled streets. To top up the relaxation stay at AP Maria Nova Lounge, an adult hotel with a pool and spa.
I have traveled extensively in the Algarve and mostly solo. Mainly by car as it is the best way to get around, but there are buses and trains to the main towns and cities. On top of that, there are organized tours to all the main attractions which are easy to join and a good way to meet other travelers. All in all, the Algarve is an easy place to travel solo.
Submitted by Linn Haglund from Amused by Algarve
Hotel Recommendations For The Algarve
Top Australia & Oceania Destinations For Solo Travel in 2023
New Zealand's North Island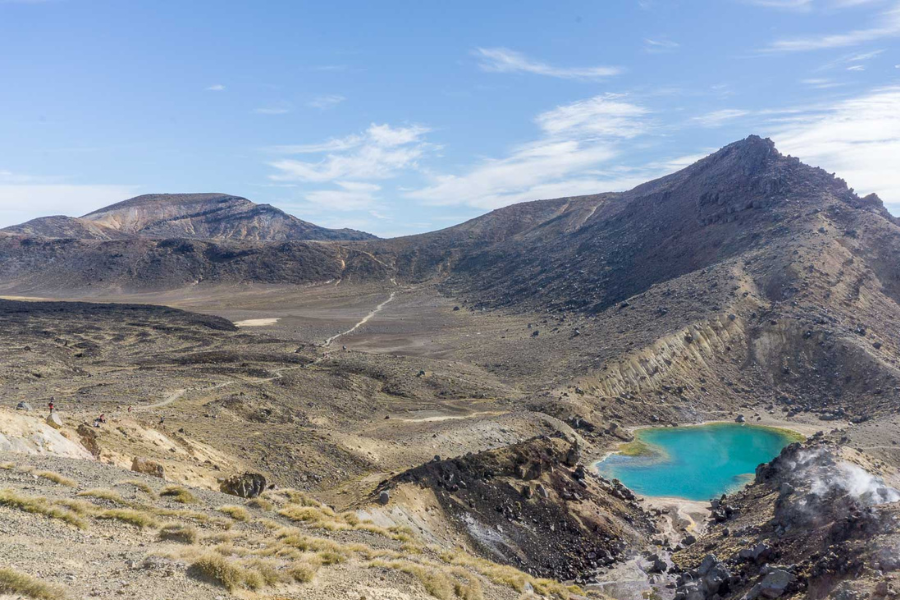 New Zealand is a fantastic destination for solo female travelers. If you like the outdoors and want a safe place to travel solo, consider a trip to New Zealand! With a relatively low crime rate and no dangerous animals out in the wild, New Zealand is a safe country to explore on your own.
Something to consider is that New Zealand is made up of two islands: the North Island and South Island. Both islands have amazing scenery, but if you only have a couple of weeks for your trip, you'll want to focus on one island.
If you're interested in experiencing beaches, glow worms, geothermal wonders, and Maori culture, then the North Island is for you. The best way to see the North Island is via a road trip, either in a regular car or a campervan.
For an epic 10-14 day road trip on the North Island, start in New Zealand's largest city, Auckland. Spend a couple of days in Auckland to recover from jet lag and get your bearings. You won't need a car in Auckland, so take an Uber or grab a Supershuttle to get from the Auckland Airport to the city.
In Auckland, make sure to hike up to the top of Mount Eden and spend a day exploring Waiheke Island's wineries and beaches.
After a couple of days in Auckland, pick up your rental car or campervan and hit the road!
From Auckland, complete a driving loop that includes the following stops and attractions:
After visiting these places, finish your road trip by returning to Auckland to drop off your car or campervan.
If you'd like to travel around the North Island via car, look at staying in hostels with female-only dorm rooms. There are lots of great hostels around New Zealand and you'll likely be able to meet other solo travelers by staying in hostels.
Alternatively, if you'd prefer to rent a campervan for your trip, know that this is a common way to travel around New Zealand, and you'll be spoilt for choice when it comes to campgrounds to stay at.
As a solo female camper, opt for staying in holiday park campgrounds or DOC (Department of Conservation) campsites, rather than freedom camping—you'll feel safer in these more established campgrounds, and it'll also be easier to meet other travelers.
Submitted by Jac from Weekend Path
Hotel Recommendations For New Zealand North Island
New Zealand South Island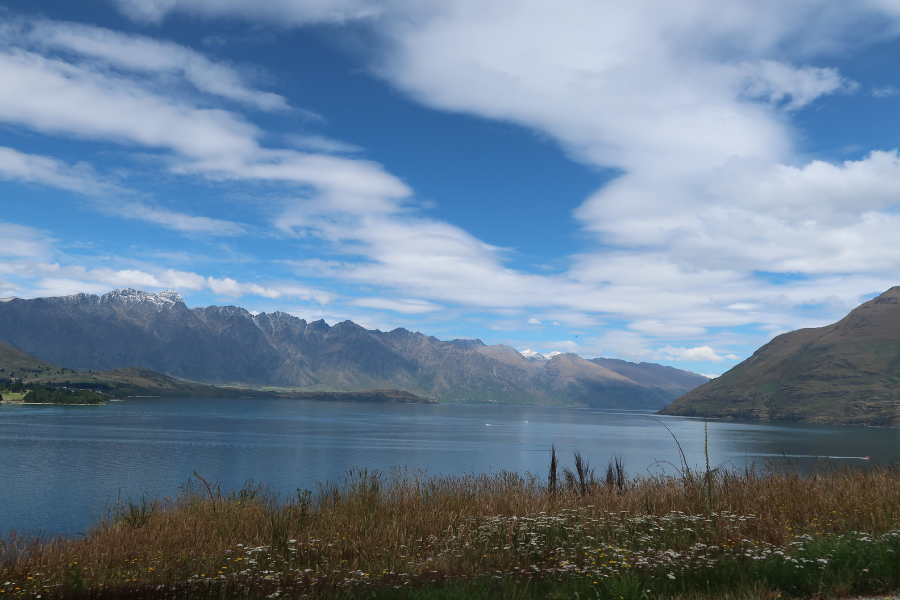 The South Island of New Zealand is the perfect destination for your first solo trip as a female traveler! New Zealand South Island is known the world over as one of the safest destinations for solo travelers, in particular for female solo travelers. The crime rate is extremely low, the locals are very friendly and respectful, it is easy to get around the island, English is the main language, and it has long been a popular place for solo travelers to visit.
Solo travel around the South Island of New Zealand is surprisingly easy, which makes it a great destination – especially if you're planning your first solo trip!

People from New Zealand are extremely kind and welcoming, and they'll do their best to help you if you need it. Plus, New Zealand is a place where you feel safe traveling around – whether you're walking, taking a taxi, or taking public transport. Transport across the South Island is easy and accessible, with good roads, plenty of rental vehicles, and many hops on hop-off tours around the island.
Although if you prefer the ultimate way to see the South Island of New Zealand as a solo traveler then you should definitely book a campervan, which is the most popular way to travel around the island! Hiring a small campervan lowers your costs as it covers both your transport and your accommodation! New Zealand caters for campervan travel exceptionally well and there are many campsites – some of them free for campervans!
The best area for solo female travelers to stay is Queenstown – the Adventure Capital of New Zealand! In Queenstown you'll find many solo travelers and lots of day trips and fun activities to do such as climbing Roy's Peak, and visiting Milford Sound, Arrowtown or Glenorchy. There are plenty of comfortable and safe hostels in Queenstown if you won't be traveling by campervan. Alternatively, if you prefer self-contained apartments, check out Melbourne Lodge located in a convenient area of town.
The easiest way to get to New Zealand South Island is to fly in and out of Christchurch (often a lot cheaper than flying in and out of Queenstown). From here you can figure out where to stay in Christchurch and then travel in a loop around the island, visiting Lake Tekapo, Lake Pukaki, Mount Cook, Dunedin, Queenstown, Wanaka, Franz Josef and Hokitika.
If you love beautiful landscapes, nature, and the outdoors then definitely put New Zealand South Island at the top of your list for your next female solo travel destination!
Submitted by Katrina from 24hourslayover
Hotel Recommendations For New Zealand South Island
Sydney, Australia
Sydney, Australia is the perfect place to start your solo traveling adventure. Not only is it an interesting city, but it is also incredibly safe.
Personally, what made Sydney feel really safe for my solo traveling adventure was the wonderful Australian community. Aussies are very friendly and helpful on the whole, and the massive backpacking culture helps to create its own safety net since solo travelers are guaranteed to always find new friends.
Additionally, Sydney has great female-specific social meet-up groups which can be found on Facebook. In these groups, you will find like-minded solo females of all ages looking for friends to go to the beach or out for drinks in the city etc.
What adds to the safety of Sydney is the excellent travel infrastructure, which is well-equipped for backpackers. The transport is regular, reliable and easy to use. In Sydney, the best way to get around on public transport is to use an Opal card. The opal card is accepted on busses, trains, ferries and light rail, and negates any need to buy individual tickets. Security guards are often onboard busses which always helped to put my mind at ease, especially after a night out in the city! If you ever feel unsafe on the train, it is a good idea to sit next to the guard's carriage, which is the compartment with the blue light.
Walking the streets of Sydney as a solo female never made me feel anxious or in danger however, even though Sydney is one of the safest counties in the world, you should always trust your instincts and stick to well-lit streets. If at any point you do feel unsafe, hop on the nearest bus, they will make sure you get home safe and if needed, they'll call the police.
If you are looking for a place to stay in Sydney, Wake up! hostel in Sydney is a great option. They regularly advertise group outings such as the Bondi to Coogee coastal walk, which will help you get familiar with the area and make new friends at the same time. Many of the staff are backpackers themselves, so will be able to recommend the best way to get around the city.
Ultimately, solo female travel in Sydney is safe and you will be able to have an epic adventure down under, without anxiety or fear.
Submitted by Chloe from Passport Down Under
Hotel Recommendations For Sydney
Perth, Australia
Western Australia recently made Lonely Planet's list of the 30 Best places in the world to visit in 2023. A journey through the region truly does offer it all – spectacular beaches to laze on, towering gorges to climb through, coral reefs to explore and city adventures to be had! Perth, the capital city of Western Australia, is the ideal destination for solo female travelers in 2023 for a number of reasons.
Perth is a very safe city with a low crime rate. This means that solo female traveler can feel secure exploring the city on their own. Police and emergency services respond to issues quickly and seriously, but of course, as with any city, travelers should exercise conventional safety precautions and common sense.
Perth is home to a number of attractions and activities that are perfect for solo travelers. Perth is lined by many beautiful beaches, easily accessible by public transport. Perth's coastline features bright white sands and crystal-clear, turquoise water. Laying on the beach, taking the occasional dip in the Indian Ocean and indulging in fish and chips for lunch is the perfect way to spend a day. Cottesloe, City Beach and South Beach are some of the most popular for visitors.
The city also has a diverse and thriving food and drink scene, with a range of restaurants, cafes, and bars to choose from. This is a great way for solo female travelers to meet locals and other travelers. A night out in Northbridge offers plenty of choices for food and drinks and will not disappoint!
The city is also home to a number of cultural activities, festivals and events throughout the year, which can be a fun and social way to experience the city. Travelers can head to the Cultural Centre and spend the day wandering through the Western Australian Museum Boola Bardip and the Art Gallery of WA before catching a performance at the Perth Institute of Contemporary Arts.
Travelers can book one of many Aboriginal experiences to understand the heritage of Australia's First Nations People or check out one of the city's famous festivals like the Fring World Festival in January and February or Perth Festival during February and March.
Perth is well-connected, with an efficient public transport system and it's easy to access other parts of Western Australia by plane, rail or coach. This makes it easy for solo female travelers to get around and explore both the city as well as the region.
Finally, Perth is home to a friendly and welcoming community, so solo female travelers should have no problem making connections and finding support during their trip. There are plenty of organized tours and activities available in Perth, which can be a great way for solo female travelers to meet like-minded people and explore the city with a group.
Spinners Backpackers is a great accommodation option for the budget traveler. It's located in the heart of the city, within walking distance of many major attractions and public transport hubs. It offers private and female-only dorm rooms and is a great place to meet like-minded travelers.
Submitted by Nadia Cuthbertson from Perth Weekend
Hotel Recommendations For Perth
Melbourne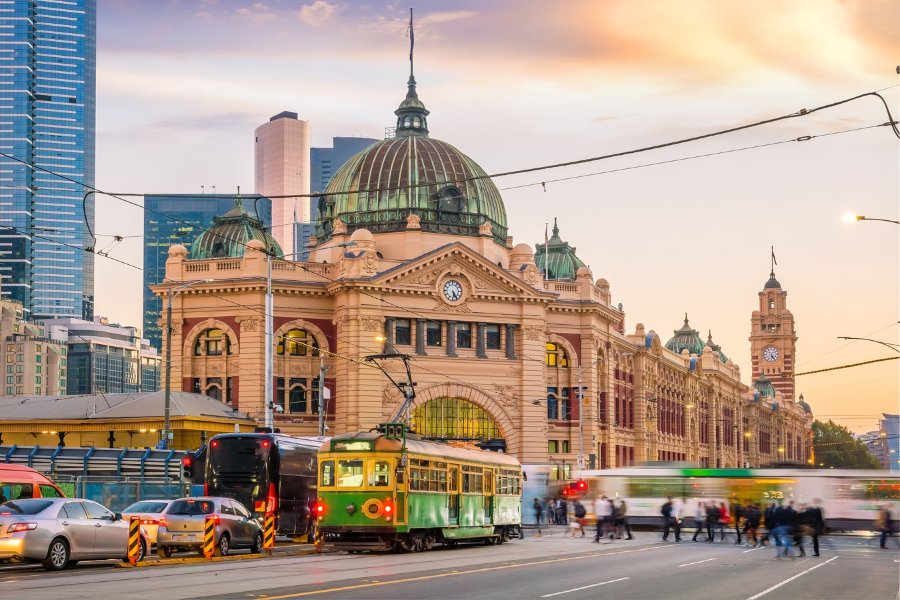 Australia in general is a safe place for solo travelers, but it was Melbourne that I felt the safest as a solo female traveler. After spending a few weeks in the city, I found it to be very safe while visiting the many attractions that are accessible on foot and on public transport. Melbourne has a fantastic tram network that people use to get around, even when traveling for one or two stops. They have a fabulous free tram that circles the city (Tram 35). It is mostly for tourists as it is quite slow and the tram talks to you telling you about all the places to visit.
The people of Melbourne were so friendly and welcoming and not once did I feel intimidated or unsafe even late at night in the bars. I must admit, I am a safe solo traveler that uses my common sense to suss out any negative situations that may be around me. But I really didn't have to in Melbourne as I didn't feel unsafe.
Melbourne is also a compact city so it is quite easy to walk around. Even the intricate laneways that Melbourne is famous for didn't deter me. Some of them are dark, dingey, and smelly but I never felt unsafe. Maybe because there were plenty of other travelers checking out the murals of the laneways too!
Eating was a breeze in Melbourne. Melbourne is known as the 'coffee capital' of Australia, and you can see why with lots of cafes. I enjoyed sitting in the cafes enjoying a coffee and a snack on my own watching people. There were plenty of other solo coffee drinkers doing the same. And finding a place to have a meal was so easy with the Southbank area of Melbourne within walking distance of the city center. Southbank is usually full of people enjoying great food.
My accommodation felt safe too. I booked a bed in the Melbourne Central YHA which is in the center of the city. It was a laid-back lodging where I could walk out the front door and be in the thick of a vibrant city. I chose it after extensive research into hostels and the things they offer. It had safe places to store my valuables, was welcoming and I enjoyed my stay meeting other female solo travelers.
If you are looking for a safe solo destination I would suggest putting Melbourne, Australia on your plans.
Submitted by Sharyn from Live Work Play Travel
Hotel Recommendations For Melbourne
Top Destinations in America For Solo Travel in 2023
Cancun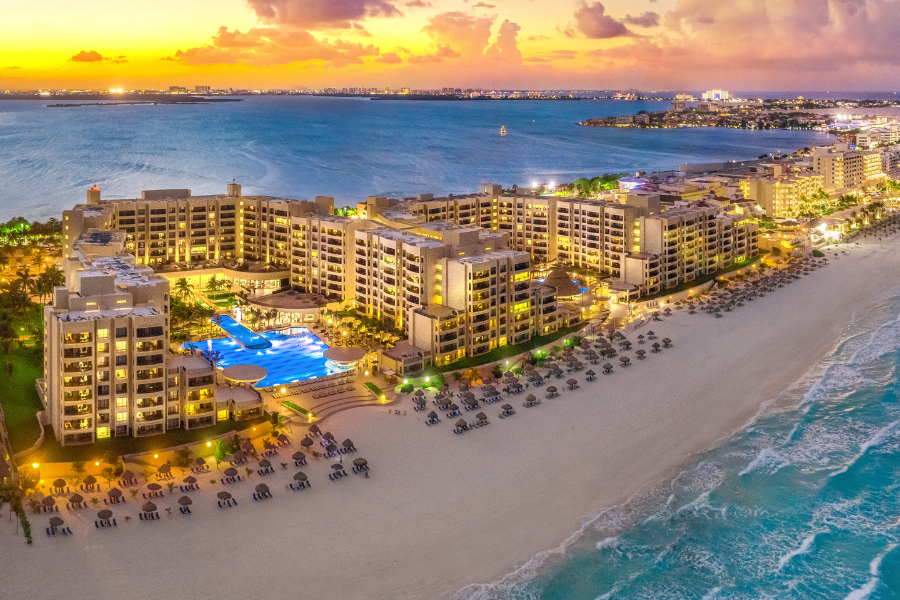 Mainly known as the ultimate beach destination for Spring-Breakers, Cancun is much more than that. The touristy Mexican City is one of the top vacation spots for any kind of traveler who loves a tropical getaway, including solo travelers.
With a spectacular 20 km long white-sand beach and the turquoise water of the Caribbean sea, Cancun offers a variety of activities.
Among the things you can do in Cancun as a solo traveler, you shouldn't miss a tour of Contoy Island a protected area, and sanctuary of different bird species.
You should also make sure to visit one of the mystical cenotes near Cancun, snorkel or scuba dive near the barrier reef, and check out the world-famous Chichen Itza archeological site, a UNESCO Heritage site and one of the world's seven wonders.
If you have more time, take a day trip to Tulum to visit the ancient Mayan ruins and its spectacular beach, or Playa del Carmen, where you must take a stroll of the popular Quinta Avenida.
You can move around by local buses although a car is much more convenient and comfortable as you can explore freely at your own pace. As an alternative, you can just join organize tours which is a great way to meet other travelers and make new friends.
Among the best hotels for solo travelers, you may want to check out Selina hostel either the one downtown or the one on the Lagon if you are on a budget, or Breathless Cancun Soul Resort if you are ready to splurge and get some luxury treatment.
Last but not least, if you are concerned about safety, worry not. Being one of the top Mexican tourist spots, it's very well looked after by the Mexican authorities. Obviously, you will need to do your part and avoid situations that will put you in danger, such as, walking in the dark or on the beach alone at night, getting wasted, flaunting your wealth, etc.
Also, remember to avoid tap water and use the water dispenser or bottles provided by your hotel and protect yourself from the tropical sun with a good reef-safe sunscreen.
No matter how you choose to explore Cancun, you will have a blast traveling solo there!
Submitted by Isabella from Let's travel to Cancun
Hotel Recommendations For Cancun
Check out my guide to accommodation in Cancun here.
Galapagos – Ecuador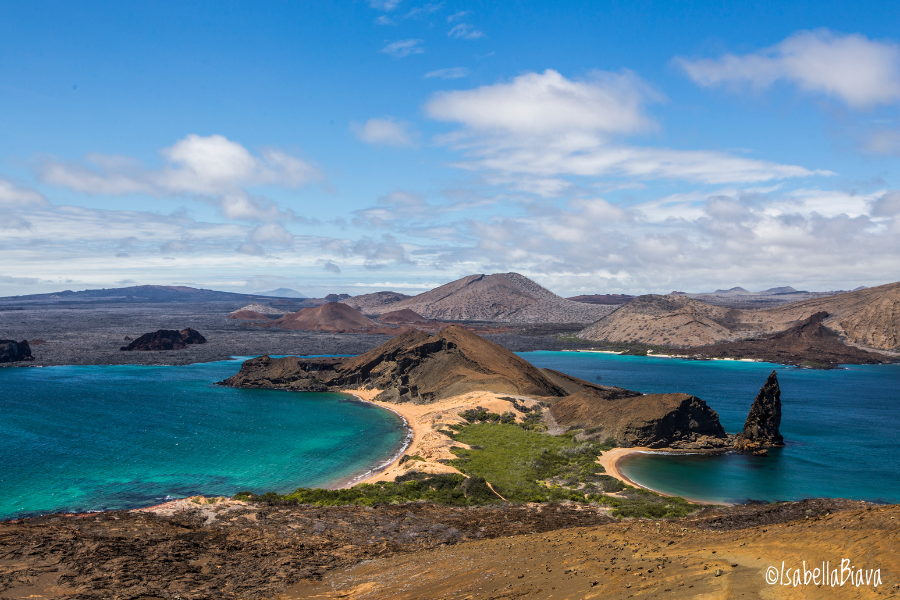 Located off of the coast of Ecuador, the Galapagos islands are some of the most exclusive and dreamed-about destinations, especially for wildlife lovers and photographers but really anybody who wants to learn about this unique remote place.
Considered an unreachable luxury destination, it is in reality relatively affordable and also super safe even for solo travelers.
You will be surprised to notice that many hotels will offer single-room rates, which is quite uncommon everywhere else and helps you keep the cost down if you are traveling on your own.
There are different ways to explore the islands and things that you should know before you go so that you can plan accordingly.
First of all, to get to the Galapagos islands you must fly either to Quito or Guayaquil first. From there you must book local flights either to Baltra Island (Santa Cruz) or San Cristobal, two of the 4 islands that are inhabited and that you can visit while island hopping. The other two are Isabela island and Floreana island.
And that leads to the second important point. Is it better to visit the Galapagos Islands by land or by cruise as a solo traveler? The answer is, it depends on the kind of trip you want to have but both ways are doable.
If you choose one of the amazing Galapagos Islands cruises, you should first make sure you don't suffer from seasickness, and if you do take the necessary precautions. Also, you may want to select a bigger boat where the motion will less affect you.
The most important factor you should consider about the Galapagos cruises is the accommodation. Some cruises offer single cabins which is the best situation that you could find. Others offer the option to share the cabin with other travelers.
If you don't mind sharing your space with a stranger, this could be a great way to save money, but keep in mind that boat cabins are very small. Also, some cruise companies offer the option to have the cabin all for yourself for an extra charge, usually 50 to 75%. So make sure you check this before confirming and paying for your cruise.
Island hopping is another great option for a solo traveler. The islands are all very safe to travel alone, and the people are quite friendly. You can hop from island to island by ferry and book tours on each island, explore their beaches, have some wildlife encounters and learn about the conservation projects on the islands. There is so much to do that you be well entertained even if you are traveling alone.
Among the highlights of the Galapagos islands and the things that you shouldn't miss are visiting the Darwin Center, walking to the Tortuga Bay beach, snorkeling at la Grieta, and the tour to San Bartolome's island.
From San Cristobal de las Casas visit Playa Punta Carola and do the 360 tours around the Island.
From Isabela Island, make sure you rent a bike and visit the wall of tears, book a kayak tour to see the penguins, and snorkel with the sharks. If you have time you can join a hiking tour to the vulcanos.
The Galapagos islands can easily become the trip of a lifetime and surely very enjoyable when traveling on your own.
Submitted by Isabella from Boundless Roads
Hotel Recommendations For The Galapagos Islands
La Paz BCS
La Paz is one of the best destinations in Mexico for solo travelers mainly because it's very safe and walkable and offers a lot of activities to enjoy.
Although it's a big city, being the capital of Baja California Sur, everything revolves around the historical center which has a small-town feel, with its cute cafes and lots of colorful graffiti on the walls representing the marine life.
But the best thing about La Paz is the long Malecon (promenade) stretching along the entire town from the Marina to Coromuel Beach approximately.
That's where people gather all day long for long walks, exercise, or just to hang out. Sunsets and sunrises are the best time of the day to walk around and enjoy the pink and orange hues of the sky. It's magical. We can safely say that you can experience some of the best sunsets in Mexico in La Paz.
Every sea-related activity is big in La Paz being on the sea of Cortez, the so-called world´s Aquarium. So you can find a lot of tours to take you out and see the rich marine life, be it kayaking, paddleboarding, snorkeling, or whale watching.
The highlight of La Paz, though, is swimming with whale sharks in winter. From December through April, these gentle giants of the sea swim to La Paz bay to breed and give birth and it's easy to see them.
Luckily the local government has put strict laws in place to protect them and avoid disrupting their natural routine. That means that only boats with permission can go out in the area and only 4 people at a time can swim with them.
Other things that you can do in La Paz include hiking at el Triunfo, sandboarding, and of course spending a day on one of the most spectacular beaches in Mexico, Playa Balandra.
Located at only 30 km from La Paz, you can reach the beach either by local buses or, even better, by your own car rental. The access to Playa Balandra is restricted to 8 am to 12 pm and 1 to 5 pm so we cannot watch the spectacular sunset from there anymore, but still, it's an incredible place to spend the day and you can also explore the nearby beaches such as Playa Tecolote or Playa Tesoro.
The beach bus is very convenient and leaves from the Bus Terminal on the Malecon in La Paz.
Although Baja California Sur is in general above the average expensive, in La Paz you can find accommodations for all budgets. A cute place is called Aquamarina a few blocks from the Malecon but with nicely decorated and spacious rooms at a very modest price. If you are up for a luxury experience you have Baja Club, by Habita, a high-end property right on the Malecon.
There are plenty of eateries to choose from, such as Mariscos los Laureles for great jumbo shrimp, and cute coffee shops such as Doce Cuarenta or Peaches where to relax with a good cup of coffee and a delicious pastry.
As a solo traveler, you will fall in love with La Paz!
Submitted by Isabella from Let's travel to Mexico
Hotel Recommendations For La Paz
Mexico City
Mexico City may not be the first place to spring to mind when it comes to the best destinations for solo female travelers, but it should be. Unfortunately, Mexico has a reputation for being dangerous and that's due in large part to media coverage of the bad stuff that tends to happen thousands of kilometers away from popular travel areas. But in reality, Mexico is a safe destination for travelers and the jewel in this crown is Mexico City.
In 2018 Mexico City elected a female mayor and she got to work implementing a variety of safety features to make the city a safer place for women. The city released "App CDMX", an official app with a built-in panic button, a secure way to hail a taxi (Uber is also very inexpensive and popular), and information on public transit including when and where to find female-only areas when traveling.
The city is well lit making it safer to walk at night and panic buttons are installed on crosswalks just in case you need help in a hurry. There is also public WiFi available throughout many of the neighborhoods keeping you connected at all times.
But safety isn't the only thing that makes Mexico City great for solo female travelers. There's also so much to do and see! Mexico City is a gorgeous, historical and cultural hub and it's impossible not to fall in love with its charm and European influence. Neighborhoods like Condesa and Roma are the safest places to stay in Mexico City and are teeming with beautiful cafes, incredible restaurants, and lovely parks and avenues to wander.
Mexico City is also the world capital for museums, with over 200 museums and galleries of varying interests to choose from, from the very big to the very niche. Some of these museums can be found inside the monumental Chapultepec Park, twice the size of New York's Central Park. It also boasts its own lake, castle, and botanical garden.
Mexico City is one of the largest cities in the world and there is so much to do and see no matter what your interest is. From hidden jazz bars to street food in the park, dancing along to live brass bands to exploring Aztec ruins or shopping the colorful markets, there's something for everyone.
Submitted by Ashlea J. Russell from She Roams About
Check out my guide to accommodation in Mexico City here.
Antigua, Guatemala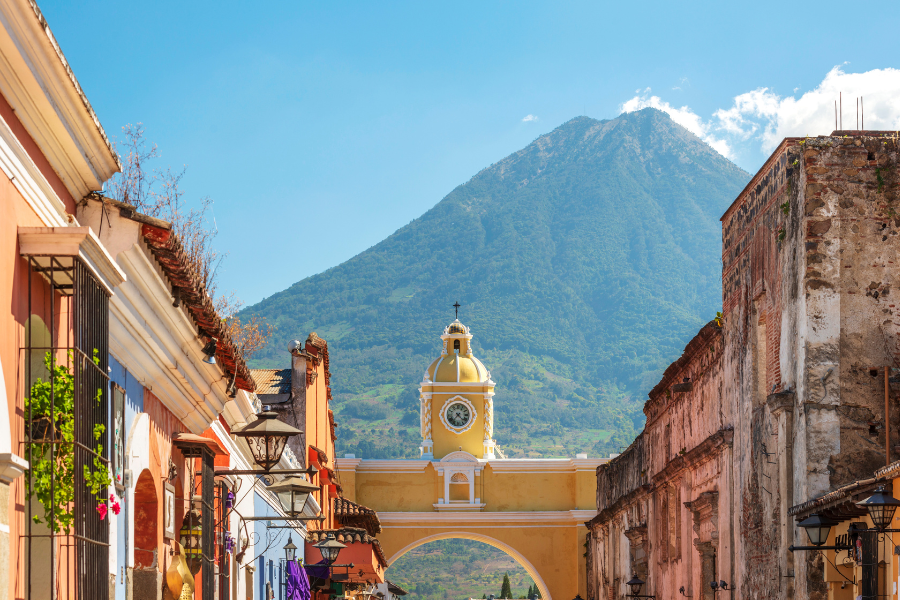 Antigua, Guatemala is an excellent destination for a first solo trip. One of the largest tourist centers in Guatemala, the city has many travelers and though Spanish is the official language, English is also very widely spoken in hotels, restaurants, and by tour operators. The well-established tourism infrastructure and ease of navigating the city make it a great choice for a first solo trip.
Located about an hour from Guatemala City, it is easily accessible via taxi or uber from the airport. A taxi or Uber generally ranges from 250-350 Quetzales or roughly $25-35 USD. Uber is readily available both in Guatemala City and in Antigua, so getting around the city is very easy and affordable. The city of Antigua itself is extremely walkable and generally very safe. There are police officers in most busy intersections directing traffic.
Having traveled solo several times, I have always felt safe walking both during the day and evening, though one should take the same safety precautions as in any location and avoid walking on empty streets alone at night.
In Antigua, there are countless beautiful photo opportunities. Bring a tripod to make taking photos solo easier or hire a local photographer for a photoshoot. Many of the popular photo spots such as the Santa Catalina archway can get quite crowded, so get an early start if you plan on a solo photoshoot.
Antigua, Guatemala is also the perfect destination for outdoor and hiking lovers. Nearby day trips include hiking volcanoes: Pacaya Volcano is a popular day hike and for the more adventurous, an overnight hike to Acatenango and Fuego is not to be missed.
The city also has many beautiful historic buildings. Most hotels and hostels are actually converted mansions.
For those traveling on a budget, Ojala offers very comfortable dorms and a delicious breakfast is included. The quality of the mattresses in the dorms here rival those found in 5-star hotels.
If you are looking to splurge, Hotel Casa Santo Domingo is an excellent choice. Housed in a former monastery, the rooms feature beautiful handmade tile work. The onsite spa is also not to be missed, and spa services can also be booked by non-hotel guests as well. A massage and a day spent at the spa is the perfect treat to recover after a day spent exploring the city or hiking one of the nearby volcanoes.
If you are planning a longer trip in Guatemala, some destinations to consider are Lake Atitlan, the Mayan ruins at Tikal, or a visit to the beach at el Paredon.
Submitted by Jackie from bonvoyagejackie
Hotel Recommendations For Antigua
You can read my full accommodation in Antigua guide here.
Puerto Escondido, Oaxaca
Puerto Escondido, Oaxaca is known for being one of the top surfing destinations in the world. But this beachside town also ranks as one of the best destinations for solo female travelers.
Puerto Escondido is a small fishing village turned tourist destination. It spans a large part of the Oaxaca coastline, tucked between the Pacific Ocean and the rugged mountains of the Sierra Sur.
The things to do in Puerto Escondido are practically endless. Whether you want to learn how to surf, explore the surrounding nature, relax on the beautiful beaches, or learn about mezcal, you'll find plenty of Puerto Escondido activities to keep you busy.
Plus this surfer town has a laid-back vibe that's ideal for making new friends as a solo traveler whether you decide to stay in a hostel, coworking space, or rent a private hotel room.
Perhaps most importantly as a solo female traveler in Puerto Escondido, I felt incredibly safe during my stay. Most areas of this beach town are within walking distance of at least one beach and multiple restaurants.
As with normal safety precautions when traveling, you should be more aware when going out at night and avoid walking along the beaches late at night.
Transportation is also easy and inexpensive. If you want to explore a different area of Puerto Escondido, you can hop on the back of one of the colectivo pickup trucks or take a taxi, which is typically quite affordable.
If you prefer a social place to stay in Puerto Escondido, I recommend La Punta. If you want to be close to the nicest beaches for swimming, Rinconada is the best.
And if you simply want to relax and get away while still being in a convenient location, I recommend booking a room with ocean views at Villas Carrizalillo.
Puerto Escondido, Oaxaca should be on every solo female traveler's list of destinations for 2023.
Submitted by Julien from Oaxaca Travel Tips
Hotel Recommendations For Puerto Escondido
Read my full accommodation in Puerto Escondido post here.
Chicago, Illinois
If you're in search of the best solo travel destination then look no further than Chicago, Illinois.
After all, this vibrant midwestern city of 2.7 million people is positively brimming with fascinating history, amazing architecture, delicious restaurants, and beautiful views of Lake Michigan.
So, while the city is large and features a wealth of things to do, it's still safe and easy to navigate if you use L Train.
However, you need to be careful and watch out for bag snatchers and pickpockets In neighborhoods like The Loop, River North, the Magnificent Mile, the Gold Coast, and Lincoln Park, the biggest threats to watch out for are going to be things like pickpocketing and bag snatching.
On the whole, though, Chicago is totally safe, especially the areas that you'll be visiting to see top attractions like the Riverwalk, Garfield Park Conservatory, the Art Institute of Chicago, and more.
In fact, the city is even safer when you book a room inside the luxurious Viceroy Chicago. It's a great hotel on the Gold Coast that is known for its rooftop pool and modern rooms with great views of 875 North Michigan Avenue and Lake Michigan.
Yes, it's a little pricey but it's worth it since you're within walking distance of the Riverwalk. Also, try to visit during the summer since the weather is the best.
This way you can get outside and embark on some of the best boat tours in Chicago, like an architecture river cruise through the city. In fact, it lasts about 90 minutes and is a superb way to get photos of the skyline.
Just don't forget to explore Navy Pier since it's been around since 1916. And after walking around, relax with a drink at the Offshore Rooftop & Bar while taking in views of the lake.
If you can, try to spend sunset at 360 Chicago since it sits atop the old John Hancock Building and features excellent panoramas of the city.
Submitted by Linda from Midwest Explored
Hotel Recommendations For Chicago
New York City, USA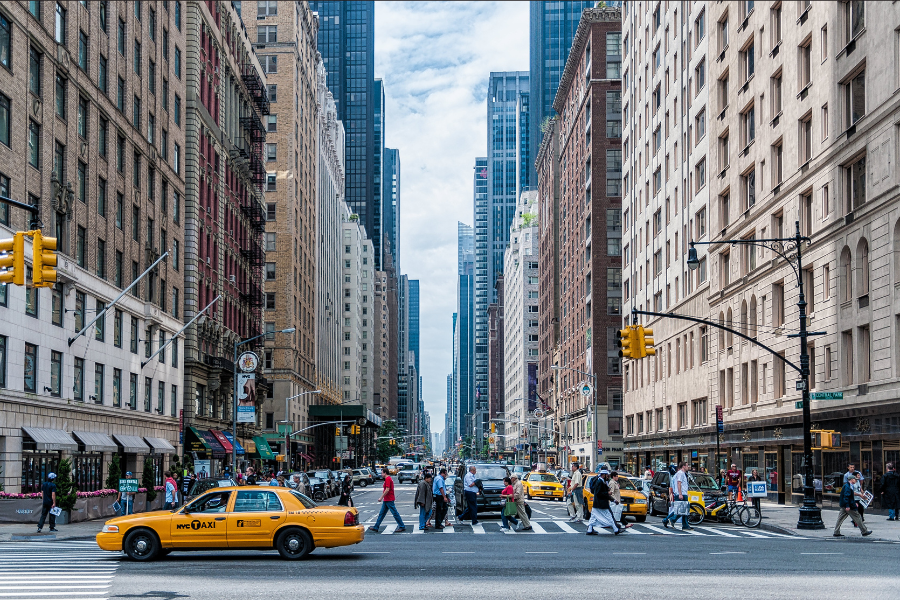 Easily one of the best destinations for solo female travelers in 2023, New York City is a vibrant metropolis that is best reached by arriving at JFK.
Once here, grab the Airtrain and take it to Jamaica station. Then, buy a ticket for the LIRR (aka Long Island Railroad) and take that all the way to Penn Station in Manhattan.
Next, check into the Freehand Hotel. It is well-priced, safe, and has luxurious rooms that are perfect for solo female travelers. It's also well-located and a great place from which to grab lemon ricotta pancakes for brunch at Sarabeth's.
When you're ready, explore the city that never sleeps since it is filled with a wide variety of fun things to do, regardless of the time of day. Just be sure to grab a Metrocard so that you use the subway.
Contrary to popular belief, it's totally safe. Just be careful after 9:00 pm or 10:00 pm and make sure to book a room at a hotel that is within a 10-minute walk of a subway station as you solo travel NYC.
But, on the plus side, you won't have a second to feel alone as you take photos with the Manhattan Bridge in DUMBO, grab a pizza at Juliana's, check out the incredible Bushwick Street Art Collective, and ascend to the top of the Empire State Building.
And while the views from the 101st floor of the Empire State Building are pretty sweet, the best photo ops are actually on the 86th floor, which is the main deck.
This viewing platform is open-air and not surrounded by glass, making for better photos. Just be sure to check the weather before visiting and reschedule (they'll do this for free) if need be since clouds can completely obstruct the view.
That being said, if you want a mega epic pic of the Empire State Building itself then you'll want to head to the Top of the Rock and not the Empire State Building. After all, it's hard to get a picture of the building you're standing on top of.
Afterward, head to Greenwich Village and check out a cheap, but amazing, comedy show at the Comedy Cellar before grabbing a meal at Loring Place. Try grabbing a seat at the bar and ordering a pizza to make dining alone feel a bit less awkward.
Submitted by Kelly from Girl with the Passport
Hotel Recommendations For New York City
Washington DC
For first-time solo female travelers looking to get out and explore in the US, you can't beat the nation's capital. Washington DC boasts an incredible variety of museums, art galleries, and fantastic dining opportunities that will fill your days with learning and fun.
You won't even notice you're traveling solo!
The best part about traveling on your own is that you can go wherever interests you — no compromises needed. So spend as much or as little time in each museum or gallery as you'd like.
Since so many museums in DC are run by the Smithsonian Institution, you'll enjoy free entry and won't feel obligated to spend hours upon hours in each one.
Stroll the National Mall and stop at the National Museum of the American Indian, The National Air and Space Museum, and The National Museum of American History.
The Sculpture Garden at the National Gallery of Art hosts Jazz in the Garden on Friday evenings in the summer so you won't want to miss it. If you're visiting in the winter, go ice skating in the Sculpture Garden instead!
The National Museum of African American History and Culture is a must-do; just book your (free) entry time in advance.
Of course, see all the monuments, the White House, and the US Capitol along the Mall as well.
For good dining options, head to M Street in Georgetown or browse the Penn Quarter area for tons of choices. Eastern Market is a favorite local spot near the Capitol to grab a bite and enjoy the outdoor craft and ware stalls.
DC's downtown area is very walkable, with the city being designed and planned into a logical grid: lettered streets run east-west while numbered streets run north-south. State streets run on a diagonal.
If you're going a longer distance, the Metro is user-friendly for visitors. Just add the SmarTrip card to your iPhone Wallet or Google Pay and you can tap in at any station gate.
If you have more than just a weekend, definitely take advantage of the many great day trips from DC to see even more! If you don't have a car, head to Old Town Alexandria by Metro and then enjoy a visit to historic Mount Vernon, which was George and Martha Washington's home.
Remember that DC is a busy metropolitan area, so you'll want to stay in a popular area and take an Uber at night. Book a hotel in Dupont Circle or Georgetown for a swanky DC experience in some of the most vibrant regions.
Looking for a bit of unique DC history? Staying at The Watergate Hotel in Georgetown will bring back memories for some and bring history alive for others!

Submitted by Amanda, Hey! East Coast USA
Hotel Recommendations For Washington DC
Sedona
If you are a solo female traveler, look no further than Sedona, Arizona. This is a top destination in the United States for solo female travelers because of its beauty, safe environment, and abundance of beautiful hiking trails, views, and adventure tours.
Sedona is an incredibly safe and friendly city. Most of everyone who lives there is welcoming, and the town has very low crime rates. It is a frequented destination for solo female travelers and adventure-seeking families. It is easy to find transportation options, like car rentals and Uber/Lyft rides, in case you need to get around while exploring.
The most beautiful and well-known Sedona hiking trails area are Cathedral Rock, Devil's Bridge, Bell Rock, and Boynton Canyon. If you have ever looked at beautiful and stunning views, you will most likely have seen some of the beautiful Sedona has to offer. Cathedral Rock is a must-hike at sunset. It is such a magical place to watch the sunset. There is a hike down from the rock, so if you are hiking down past sunset, you will want to make sure you bring a headlamp.
If you are looking for great tours and some nightlife, Sedona also has something for everyone. Some great tours in the area are the Sedona nighttime UFO and Stargazing tour, the Sedona Small Group Vortex Jeep tour, or any of the fun Pink Jeep tours throughout the area. These tours are great ways to meet other travelers and see the area with knowledgeable guides.
At night you will want to check out Mooney's Irish Pub and Lacuna Kava Bar Sedona; both have great management and staff and are fantastic locations for meeting visitors, locals, or those who are just passing by looking for a little fun as they pass through.
Sedona is a safe and adventurous area that is high on any female solo traveler's destination list in the United States. You are sure to have a great experience while traveling solo through Sedona, Arizona. It is such a magical place and a great place to relax and rewind.
Submitted by Candice from CS Ginger
Hotel Recommendations For Sedonia
Clearwater, Florida
Clearwater is an exciting destination for solo female travelers. Located on Florida's Gulf Coast, Clearwater offers beautiful beaches and tons of activities to keep you busy – from swimming in the warm ocean waters to exploring the historic district and yummy restaurants. The drive from Orlando to Clearwater is even short enough that you can hop over to Disney or Universal for the day.
Clearwater is a safe city for single women travelers, as it has a low crime rate and lots of friendly people who are more than happy to help out a traveler in need. Additionally, it is easy to get around Clearwater with public transportation, like the Jolley Trolley, which runs along the beachfront and also downtown. It is also a good place to utilize Uber and Lyft.
There are plenty of activities that you can do while visiting Clearwater. If you're looking for adventure, take a chartered fishing trip and try your luck at catching a variety of fish. If you're looking to relax, head over to Pier 60 for some sunbathing or check out the Clearwater Beach Boardwalk for some shopping and sightseeing.
In addition to the activities, Clearwater also has plenty of options when it comes to nightlife. You can check out the Clearwater Beach Boat Parade each month and enjoy some live music at Shephard's Tiki Beach Bar & Grill. A few other great places for staying out late are The Shipwreck, Coco's Crush Bar Original, and Jimmy Crows Nest.
A few tours that people love in the area are the Calypso Queen Tropical Party Buffet Cruise, a Wine Tasting Experience at Aspiratios Winery, or the Clearwater Tiki Boat Cruise.
No matter what you decide to do in Clearwater, it is sure to be an enjoyable and memorable experience. With its warm weather and abundance of activities. Just don't forget to head to the keys and go scuba diving in Key Largo while you're here.
Submitted by Candice from Exploring the Gulf
Hotel Recommendations For Clearwater
Montreal, Canada
Montréal, Québec, Canada is an excellent choice for a solo travel destination. And, since French is the official language of Montréal, you'll enjoy the European flair of this city without leaving North America. (Don't worry, English is widely spoken.)
Visitors generally arrive via the Montréal-Pierre Elliott Trudeau International Airport. Montréal is a very safe and walkable city, and parking can be expensive. So, unless you're planning to visit other cities in the region, I'd recommend skipping the car.
If you're on a budget, take the 747 Express bus from the airport to downtown Montréal. Just do a little research in advance to figure out which stop is the closest one to your hotel. Tip: if you buy a ticket for this bus, your pass will include one 24-hour transit pass.
Montréal has a great public transit system, making it easy to quickly and safely get around the city. If you plan to use public transit more than a couple of times per day, you should purchase a transit pass. These come in different durations and provide unlimited use of public transit in certain zones.
There are many fantastic things to do and see in Montréal, so you'll want to spend at least three days here to be able to hit most of the highlights. Here are some itinerary recommendations:
Day 1: Explore Vieux Montréal. The historic center of the city is chock-full of great architecture, museums and more. The stunning Notre-Dame Basilica of Montréal, located on Place d'Armes, is one of Montréal's top attractions. And a visit to the old port is a must. Take a ride on the La Grande Roue de Montréal, a Ferris Wheel overlooking the St. Lawrence River.
Day 2: Climb the staircases up to the Parc du Mont-Royal. Enjoy panoramic views of the city from the Belvédère Kondiaronk. Then wander southwest through the park to see the gorgeous Saint Joseph's Oratory of Mount Royal. This breathtaking church is free to tour and the views are fantastic.
Day 3: Start off with a visit to the Montréal Botanical Garden. It's located a couple of miles from downtown Montréal, but is easy to get to by metro. Get your nature fix walking through the rose gardens and arboretum, and admire the bonsai trees in the Japanese Garden and the pagodas in the Chinese Garden. Then, finish off your day with a visit to one of Montréal's great museums, like the Pointe-à-Callière, the Museum of Archeology and History.
I recommend staying at Le Square Phillips Hôtel & Suites. This hotel is located in downtown Montréal, within walking distance of Vieux Montréal and many other attractions. The suites have a fully equipped kitchen, which is great for those times when you've had a long day of sightseeing and just want to cocoon. Plus, they have a great breakfast buffet – be sure to sample a Montréal-style bagel!
Submitted by Lisa of Waves and Cobblestones
Hotel Recommendations For Montreal
Vancouver, Canada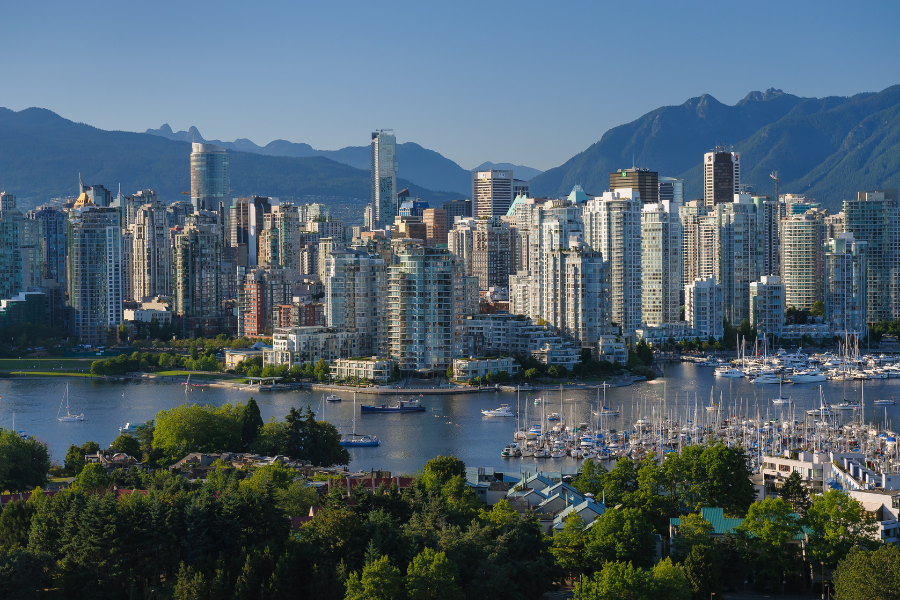 Vancouver, Canada is an excellent destination for solo female travelers. Not only is it a generally safe city with friendly locals, but there are also lots of things to do to keep you busy.
Stanley Park is a not-to-be-missed attraction. Its seawall, part of the world's longest uninterrupted waterfront path, provides a great place to bike or walk, rain or shine. (There are stations with bikes available to rent along the path.) And it's full of locals, so you'll be in great company! For safety, it's best to be there during daylight hours as it's not well-lit.
For visitors looking for outdoor fun, Vancouver has a number of excellent beaches. Kitsilano Beach is one of the city's most popular. It has a great view of downtown, and there are courts for volleyball, tennis, and basketball for solo travelers who want to join in on the action. Hiking is another popular outdoor activity in Vancouver, and there are a number of trails where travelers can be alone in the woods—alright, you'll rarely be totally alone, but it'll be peaceful nonetheless! Bring bear spray with you, as that's one encounter you should avoid. Take the bus up to Grouse Mountain, for example, for great trails and an impressive view of the city waiting for you at the top.
Other neighborhoods that are great to explore solo are the historic Gastown and the artsy Mount Pleasant. Main Street's independent shops and restaurants make it worth a solo stroll. Vancouver is a very walkable city, and you'll find the sidewalks are busy with locals on foot, too. (Just, at night, stick to well-lit main streets as much as you can.) Or, from downtown, take a water taxi to Granville Island to wander around the artsy faux island with a great public market.
Transit is efficient in Vancouver, and it's a safe way to get anywhere you need to go. An adult ticket is about $3-6 (cash or contactless payment on board), depending on distance, and each ticket is good for any number of transfers within 90 minutes; a day pass is $11. After 9 pm, to make you feel safer, you can ask the bus driver to drop you off in-between regular bus stops.
Overall, Vancouver is a perfect choice for solo travel, especially for first-timers looking for something comfortable. It's safe and easy to get around and it has lots to do, whether you're interested in exciting city life or nature.
Submitted by Melanie from postcardsandplaces
Hotel Recommendations For Vancouver
US Virgin Islands
St Thomas and St John in the US Virgin Islands are both solo travel-friendly destinations for females.
I visited during peak season (January-April), so there was no shortage of busy streets, beaches, and restaurants.
However, hitting some off-path hikes and beaches is possible if you want some seclusion. Whether I was exploring the busy streets of Charlotte Amalie or snorkeling the reefs in Virgin Islands National Park, I felt like I was surrounded by welcoming locals and friendly tourists.
Charlotte Amalie downtown is the heart of St Thomas! There's a rich history to explore. You can visit the famous 99 Steps to Blackbeard's Castle or spend time in one of the oldest synagogues in the western hemisphere. There are more shops to wander around and beach bars to hit than you could possibly see in one trip!
And my favorite part – you can get from St Thomas, St John, and the British Virgin Islands by ferry in under an hour. You can get around each island by taxi, but renting a car is helpful, especially if you're not comfortable riding in taxis with strangers.
The ferry in St John will drop you off at Cruz Bay, but I'd recommend heading to Coral Bay. There's no gas station on that side of the island, and taxis are few and far between, so plan your transportation ahead of time. In St John, you'll want to explore the protected beaches and hikes in the Virgin Islands National Park.
Many snorkel tours on the island will take you to LimeOut for lunch, a floating taco bar on the east side of St John. This is a great way to hit the best snorkel spots and check a unique restaurant off your bucket list.
If you want to splurge a bit and stay near the ferry port in St Thomas, I'd recommend the Secret Harbour Beach Resort. But, if you want to stay near the action downtown, The Green Iguana Hotel is the perfect solo-travel gem.
Submitted by Rachel from Caribbean Uncovered
Hotel Recommendations For US Virgin Islands
Maine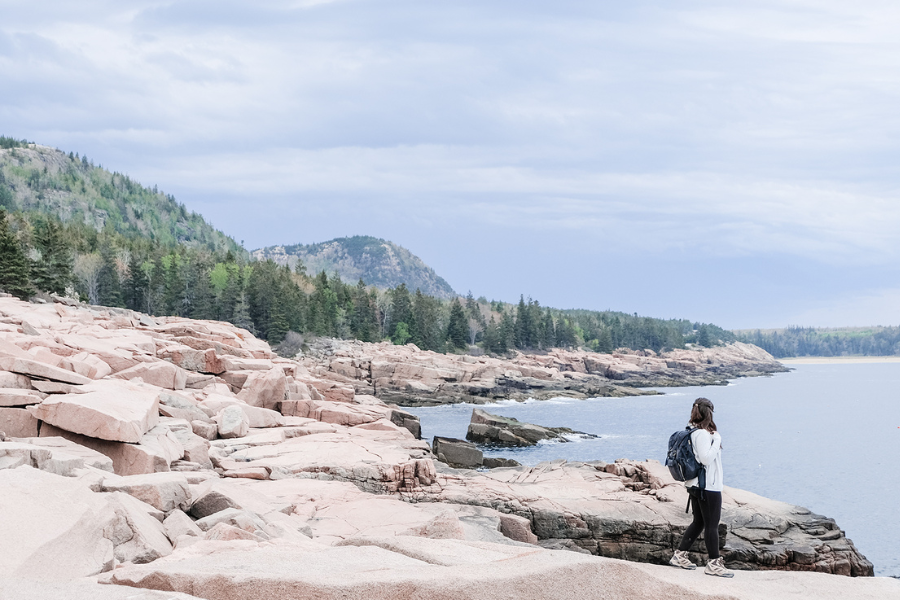 Maine is often listed as the No. 1 safest state in the U.S., which makes it the perfect destination for female solo travel in North America, especially for your first-ever solo adventure.
It also offers a beautiful mix of charming small towns, historic cities, and stunning coastline, and is even home to a national park. You'll be hard-pressed to run out of things to explore and discover! And since safety isn't a huge concern, you'll easily be able to unwind, relax and fully embrace your first solo experience.
The best way to explore Maine is to take an exciting road trip through the state to experience the different landscapes and scenery it's known for. For this, you'll want to drive directly to Maine or rent a car at the airport, depending on where you're coming from. While public transportation and ride-share services are easily found in cities, it's necessary to have a car to get around the entire state.
The cheapest flights will be into Boston Logan International Airport, which is just under 2 hours from Portland, Maine. Alternatively, you can fly directly into Portland, and immediately begin your trip from there.
Depending on how much time you have for the trip, a great itinerary to plan is Portland to Acadia National Park, with the option of heading inland to also explore Baxter State Park and Moosehead Lake. This will allow you to explore the beautiful coastline from southern to northern Maine, and stop at picturesque towns along the way.
For your first few days in Maine, you'll want to explore the historic city of Portland, and allow time to take some day trips to nearby coastal towns like Kennebunkport and Ogunquit. The best area to stay in Portland for first-timers is the Old Port district. This is the most beautiful part of the city and is also walkable to a lot of sites and attractions.
A great hotel in Old Port is the Portland Harbor Hotel, which has cozy and modern rooms, and a private parking garage.
Before leaving Portland, you'll want to be sure to see the area's three lighthouses: Portland Head Light, Bug Light, and Spring Point Ledge Light.
From there, you'll want to start to make your way up the coast, and some other beautiful towns to visit during the drive are Freeport, Boothbay Harbor, and Camden.
Once you arrive in Bar Harbor, it's time to explore Acadia National Park! Some of the top sites to see are Sand Beach, Ocean Path, Jordan Pond, Bass Harbor Lighthouse, and Cadillac Mountain's summit. There are also some scenic hikes that are safe for solo travelers like Bubble Rock and Great Head.
To feel safe during your time in Acadia, you'll want to be sure to offline Google Maps, and also grab a paper copy of the park map before you begin sightseeing. Be sure to also fill your day pack with water and snacks, as there's only one place that sells food inside the park – Jordan Pond House.
Submitted by Samantha from NewEnglandWanderlust
Hotel Recommendations For Maine
Yellowstone NP
Yellowstone National Park is a wonderful place to visit for solo females whether you're camping in a tent, RV, staying in one of the historic lodges, or outside of the park in West Yellowstone or Gardiner.
Yellowstone is on the bucket list of many travelers and with good reason. I recently spent four nights there on a solo RV trip and it was one of the highlights of my summer. There's no transportation inside Yellowstone, so you'll have to bring your own or rent an RV or car for your visit. Since the park is so vast, I'd recommend getting accommodations in more than one area. You might also opt to take a guided tour, which can be great. No matter which way you plan to see Yellowstone, be sure to plan ahead, as tours and accommodations book up early.
The 2.2 million acre National Park is located in three states: Wyoming, Montana, and Idaho. It's home to an incredible array of geological wonders including geysers, hot springs, and waterfalls, plus wildlife you likely will not see anywhere else in the US: wolves, bison, black and grizzly bears, and elk are all easy to spot right from your car. Because Yellowstone is so vast and so diverse, it's smart to spend at least three days there.
Yellowstone has five entrances and each one offers a unique vantage point and also different options for accommodations. The park is set up in three different loops: The Grand Loop, the Upper Loop, and the Lower Loop, which makes setting up exploring days easy. For example, you can spend a whole day near Old Faithful and the Upper Geyser Basin. There are more than 150 geysers to walk around. And when you're wiped out, take yourself inside and have dinner or drinks at the Old Faithful Inn. Or better yet, book yourself a room at this national historic landmark. As a solo, I was able to walk into the restaurant for dinner when reservations for larger parties were booked out for weeks.
As a solo traveler, there are plenty of opportunities to meet others at Yellowstone, if you desire. You can chat with folks from all over the world while waiting for Old Faithful to erupt, in a campground or one of the many bars and restaurants inside the park. Because so many people travel here from all over the world, folks are eager to swap travel stories.
The one disadvantage you'll have as a solo is hiking in the backcountry. Yellowstone is a grizzly country and you need to be bear-aware and carry bear spray for protection. You can do what I did, and hang out at a trailhead until someone else comes along and ask if you can stay near them for safety. It's definitely nice to get out and away from the crowds on the more than 1,000 miles of trails within the park.
Yellowstone must see Old Faithful, Mammoth Hot Springs, Yellowstone Lake, Grand Prismatic Spring, Hayden Valley, and my personal favorite Artist's Point and the Grand Canyon of Yellowstone.
Submitted by Kathy Belge Solo Women RV
Hotel Recommendations For Yellowstone
Oregon Coast
If you're looking for a picturesque getaway that offers the perfect mixture of relaxation, adventure, and stunning surroundings, the Oregon Coast is an awesome destination for solo female travelers.
While it would be possible to fly into Portland and take public transit to one of the towns along the Northern Coast, your best bet will be renting a car. The coastline stretches over 360 miles and is packed with incredible beaches, lush forests, and small coastal towns—you'd miss a lot of ground if you were just relying on public transit! In fact, the charming towns are a big part of why this destination is so awesome for solo travelers—even though there are dozens of villages just waiting to be explored, almost all of them are extremely walkable and safe and offer the amenities that any traveler would need, like good food and drink and cozy accommodations.
Start your adventure in arguably the most iconic town along the coastline, Cannon Beach, which is famous for its 235-foot tall sea stack, Haystack Rock, jutting out of the Pacific Ocean. There are so many cool things to do in Cannon Beach—just on the beach itself, you can spot puffins in the summer months, explore some of the best tide pools along the coastline, or have a campfire while watching the sun sink into the Pacific. Nearby, there are several state parks that are worth exploring. For example, Oswald West State Park offers several incredible hiking trails and one of the best places to surf along the Oregon coastline.
Heading south, the town of Newport is an excellent home base to explore the central portion of the coast. Be sure to stop by the docks in town to see dozens of adorable sea lions hanging out, in addition to Local Ocean Seafood, for dishes crafted from fresh, local ingredients and creative cocktails. Nearby, you can hike up to the Heceta Head Lighthouse, an incredibly picturesque lighthouse perched on top of a cliff overlooking the ocean.
Along the southernmost part of the coastline in Brookings, Oregon, home to the Samuel H. Boardman Scenic Corridor. This little slice of heaven offers several secluded beaches, hikes through coastal forests to rugged sea stacks, and jaw-dropping scenic overlooks. Once you're done soaking in the incredible scenery, there's a handful of charming microbreweries in town to toast to an incredible time exploring the Oregon coast.
Submitted by Jessica from Uprooted Traveler
Hotel Recommendations For Oregon
Top Destinations in Asia For Solo Travel in 2023
Jordan
Are you looking for an amazing solo travel destination in 2023? Look no further than Jordan! This stunning Middle Eastern country is known for its incredible ancient ruins, sprawling deserts, and world-class scuba diving in the Red Sea. With its friendly people and fascinating culture, Jordan offers a unique experience for solo travelers.
Depending on how much time you have, you'll definitely want to spend time in Petra, Wadi Rum, and the Dead Sea. If you have a little extra budget, check out Aicha Memories Luxury Camp in Wadi Rum and spend the night there to explore Wadi Rum by jeep at sunset, and then gaze at the stars at night.
And there's, even more, to experience in Jordan if you have a week or more!
What Makes Jordan Solo Female Travel-friendly?
Jordan is an incredibly welcoming and safe destination for solo female travelers.
Locals are always willing to stop and help out tourists. And despite the fact that it's not very common in their culture to see a woman traveling alone, locals are often curious about you and may even invite you to join them for family gatherings or celebrations.
This happened to me! It was amazing how warm and inviting the people were despite my being a stranger from abroad. I was invited to for tea and a chat several times, and also joined in on two different family celebrations for the end of Ramadan – one of the highlights of my trip!
Tips for Traveling to Jordan
Jordan is an incredibly safe destination for solo female travelers, with extremely friendly locals who will make you feel welcome.
However, there are a few tips to keep in mind when planning your trip.
Jordanian culture is fairly conservative and although there's no strict dress code for travelers, you'll want to dress more modestly than you might in other places, and avoid wearing anything too revealing or tight-fitting clothes.
Public transportation isn't always available, but if you're mainly visiting the top tourist destinations like Petra and Wadi Rum, you should be able to get around by bus or taxi without issues. Invite some of your new friends that you'll meet along the way to split a taxi with you to save money.
Driving in Jordan is very easy, and renting a car is the best way to get around if you want more flexibility or to venture a little more off-the-beaten-path. I recently completed a 3.5-week solo road trip around Jordan and loved it!
Another tip is to remember that bargaining is a huge part of Jordanian culture, and it's nearly always expected. So when you're hiring a taxi or tour guide or buying souvenirs, do a little research about what a fair price should be, and don't be afraid to haggle, just like the locals do!
Whether it's exploring the world-famous Petra or scuba diving in the Red Sea, there's something here to suit any type of traveler. So why not get out there and see what this magical land has to offer? You won't regret it!
Submitted by Cat from catisoutofoffice
Hotel Recommendations For Jorden
Sapporo, Japan
Sapporo is often overlooked by many when planning a trip to Japan. Travelers often prefer to explore more well-known cities such as Tokyo, Kyoto, Osaka, and Hiroshima. After all, why wouldn't they? All of those places are absolutely stunning and famous for good reason! I highly encourage anyone visiting Japan to plan a trip along the traditional tourist route and add in a couple of extra cities or towns if time permits. One of my most common recommendations to tourists is to visit Sapporo – the capital of Japan's northernmost prefecture, Hokkaido!
Much like the rest of Japan, Sapporo is safe and welcoming to solo travelers. Violent crime in Japan is extremely rare, and petty theft is uncommon. Even so, I still urge travelers to take the usual safety precautions when traveling.
Some of the popular attractions in the city are as follows. The Sapporo TV Tower, offers a 360-degree view of the city. The Sapporo Beer Museum – a must-visit for beer lovers! Nijo Market – a market specializing in fresh seafood, with crab and salmon roe being especially popular. And Odori Park – where the locals come to relax. All of these attractions (with the exception of The Sapporo Beer Museum) are within walking distance of one another. Sapporo is a great city to explore on foot, however, the subway and buses are also convenient and reliable.
Food lovers will have a great time eating their way through the city. Sapporo is famous for soup curry, seafood, BBQ lamb, melon, and items made from dairy sourced in Hokkaido. The soft-serve ice cream served in Sapporo is some of the best you'll ever have! Solo dining in Japan is not uncommon, so solo travelers need not worry about being denied entry when dining alone.
After a few days exploring the city, I recommend taking an easy day trip out of Sapporo. One of the best day trips for tourists visiting Sapporo is to an old port town called Otaru, located around an hour by train from Sapporo station. Otaru is known for its beautiful handmade glassware, with dozens of stores located along the main street.
Avid skiers or snowboarders should plan a trip to Sapporo during the ski season. Hokkaido is known for its amazing snow, with ski runs perfect for all levels from beginner to expert. It's possible to take a bus to the ski slopes, otherwise, renting a car is also an option (just be sure to check local driving laws).
Staying near Odori station or Susukino station will put travelers in a great spot to explore the best of Sapporo by foot, in addition to being close to the subway and bus. Otherwise staying close to Sapporo station is also a good option, and of course useful for bus and train transfers.
Submitted by Lisa from Lisa Eats the World
Hotel Recommendations For Sapporo
Tokyo, Japan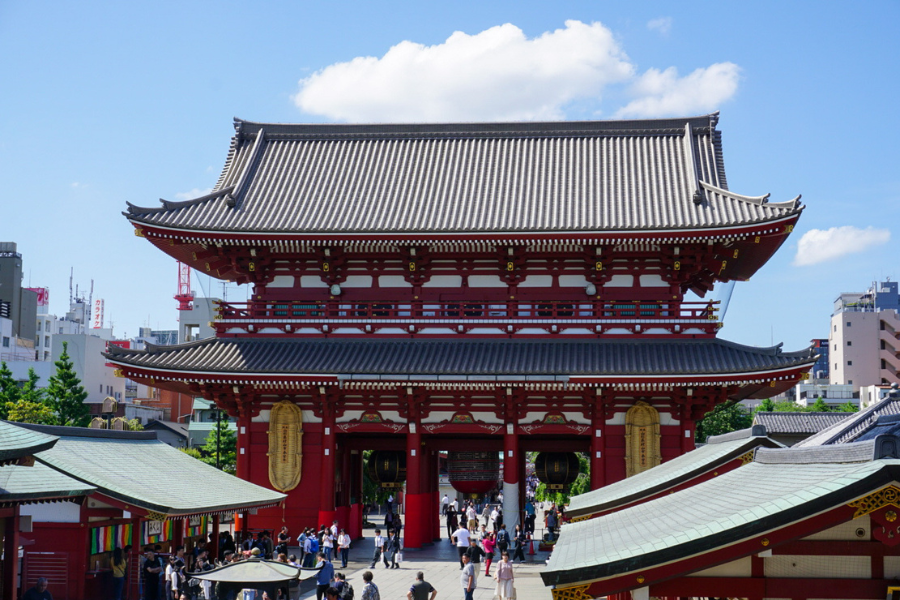 Now that Japan is finally reopened for tourists, it's the perfect time to plan a solo getaway to Tokyo.
Japan's bustling capital city is the perfect destination for both newbie and seasoned solo female travelers. Japan is one of the safest countries in the world. You could leave your purse on a bench in Tokyo and come back hours later to find it untouched. Petty crime, like pickpocketing, is also extremely rare.
Tokyo's public transportation is unbeaten, and you can easily get to pretty much any destination in the city via the subway. The subways have signs in multiple languages (including English). Navigating the multiple different lines can be a bit tricky at first, but you can use Google Maps to get directions and find out which station/subway line you need to go to.
Make sure that you have access to mobile data on your cell phone. If your home service provider doesn't provide affordable international data that works in Japan, consider purchasing a SIM card once you land, getting a Japanese eSIM, or renting pocket WiFi.
One of the quintessential Tokyo experiences is staying at a capsule hotel. These unique accommodations are affordable, and some capsule hotels have expanded from providing only the basics to giving guests a more luxurious experience – well, as luxurious as sleeping in a pod can be. Check out Resol Poshtel for a nicer capsule experience.
If you need a bit more space or privacy, check out a business hotel. These hotels offer small rooms with everything you need – a bed, TV, desk, and an en-suite bathroom. The APA chain of hotels is affordable and located all across the city.
Once you've landed in Tokyo, get ready to explore and start checking things off your Tokyo bucket list. Make sure to visit a temple or a shrine (or two) – Senso-ji Temple and Meiji Jingu Shrine are two of the most popular in the city. Check out Harajuku for shopping and tons of sweet treats, like giant cotton candy and cheesecake-stuffed crepes. And don't forget to get a birds-eye view of the sprawling metropolis – I recommend Shibuya Sky or the free observation deck atop the Tokyo Metropolitan Government Building.
Submitted by Sydney from A World in Reach
Hotel Recommendations For Tokyo
Bali, Indonesia
One of the best and safest destinations for first-time solo female travelers is Bali, Indonesia.
It's known for its beautiful beaches, vibrant culture, and stunning natural landscapes. People visit Bali to see the epic rice terraces, and the Hindu temples and to try out its world-class surfing spots.
Bali is ideal for solo female travelers because the locals are super friendly and welcoming. I never felt unsafe once whilst traveling all around Bali. Bali pretty much everyone I interacted with spoke English which made things easier and I actually bumped into tons of other solo female travelers.
The island itself has a super laid-back and relaxed atmosphere and there are tons of attractions that are ideal for people traveling alone including yoga retreats, surf camps, and tours.
Before traveling to Bali, I also had a look at crime rates and they are very low so you should generally feel at ease whilst on the island.
It's pretty easy (and safe) to get around the island using either taxis or a motorbike. You'd be surprised at how many people ride a motorbike in Bali (it's a lot) and it's not uncommon to see every type of person (male, female, young, old etc) riding a bike alone.
Renting a motorbike is super cheap and very convenient in Bali. Additionally, it allows you to explore the island at your own pace and on your own schedule. Make sure you wear a helmet though!
If you're not comfortable riding a bike, then you can hop in a taxi which is what I did as I didn't know how to ride a motorbike.
I used the ride-sharing app Grab to get around instead. It gives you the option of booking a car or a bike (I usually chose a car). My experience with Grab was excellent and I felt completely safe whilst in the cars. Every driver I had was really friendly and they often gave me tips on things to do and places to see.
My favorite place to visit in Bali was Ubud which is located in the midst of the jungle in central Bali.
You can literally spend hours wandering around the peaceful rice terraces and stopping off at aesthetic cafes to try the local cuisine. Make sure to try out some Nasi Goreng!
You can also visit the Ubud Palace which showcases traditional Balinese culture and architecture. Make sure you wear something that covers your knees and shoulders though as this is a religious site.
Whilst in Ubud, you can stay at The Kayon Resort which is very luxurious and close to all the action.
Bali is super aesthetic, making it an ideal place for taking photos. Make sure you have your best Bali Instagram captions on hand!
You'll also spend a lot of time in Bali eating. I can truthfully say that Bali has the best food I've ever had on my travels. You can get pretty much every type of food in Bali from traditional Indonesian food to Italian, Mexican, and Japanese. Bali is also very well suited to vegans and vegetarians.
Submitted by Megan From Traveller's Elixir
Hotel Recommendations For Bali
Seoul, South Korea
Seoul is a fantastic destination for solo female travelers in 2023. This is especially true for first-time solo female travelers. This is because South Korea as a whole has quite low levels of crime, making the country very safe.
But that doesn't mean crimes don't occur. You should take safety precautions while in Seoul, you just don't have to be on such high alert as you might be in other destinations.
It's also very easy (and cheap!) to get around Seoul by yourself. The city has an extensive system of buses and subway lines that can take you to every corner of the capital. So visitors can have their pick of how they want to get around to visit Seoul's major tourist sites
You can also catch taxis if you want, though they can be a bit trickier to take. Many of the taxi drivers won't speak any English, so make sure you have your desired address in Korean to show the driver. Also, if you're hailing a taxi on the street, some taxi drivers will avoid picking up foreigners.
Seoul is a sprawling city, so it would take hours to walk across central Seoul. But in general, the city is pretty walkable, with decent sidewalks along the main streets. However, there often aren't sidewalks down the side streets or alleys. So keep to the side and not in the middle of the street to stay out of the way of traffic.
As for picking a place to stay, choose the accommodation that is located near a subway station and/or bus stop, depending on how you want to get around.
If you want to get around easily by subway, stay in accommodation close to a stop on Line 2. This is Seoul's circular line that stops at many major areas and conveniently connects to many other lines.
It's also easy and convenient to get to other destinations in South Korea from Seoul. You can fly out of Incheon Airport or Gimpo Airport, take the train from Seoul Station, or catch an intercity bus from one of several bus stations.
So Seoul is easy to get around and relatively safe. But of course, it can still be a little nerve-wracking to travel by yourself for the first time. Particularly somewhere you don't speak the local language.
But many of the signs, menus, and so on around Seoul have English on them. If you need to translate something, use the Papago app, its translations are generally better than Google Translate.
But beyond all this, Seoul is just a great city to visit!
Submitted by Ashley from Culture Snapshots
Hotel Recommendations For Seoul
Singapore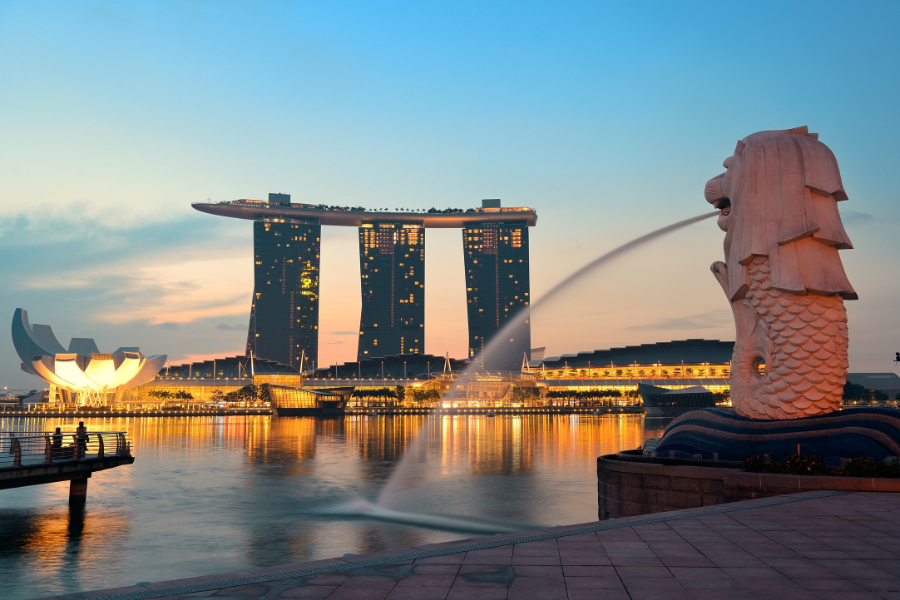 Singapore is one of the best and easiest places in the world to visit as a solo female traveler. This city-state has one of the lowest crime rates in the world and I always felt comfortable walking around alone even at night. In addition to being very safe, Singapore has a lot to offer visitors including a beautiful city skyline, diverse neighborhoods, tasty and cheap food, unique instagrammable attractions, and warm weather year-round.
Many of Singapore's top attractions are free so even those on a budget will find plenty of things to see and do. Singapore Changi Airport is well-connected by flights from all over the world and is a convenient stopover for those planning to visit other destinations in Southeast Asia as well.
One of the most beautiful places to see in Singapore is the indoor conservatories and outdoor gardens at the Gardens by the Bay. The outdoor gardens are free including Supertree Grove, which is made up of tall tree-shaped vertical gardens and offers nightly light and sound shows.
Walk along the waterfront promenade while enjoying skyline views and passing by famous landmarks including the Marina Bay Sands complex, ArtScience Museum, Helix Bridge, and the Merlion statue. Other attractions worth visiting in Singapore include the Singapore Botanic Gardens and The Singapore Flyer.
Make sure to explore Singapore's diverse neighborhoods including Kampong Glam and Little India, which are both full of street art in addition to restaurants and other must-see attractions. Chinatown is another neighborhood worth exploring for great food, shopping, and interesting landmarks such as the Buddha Tooth Relic Temple & Museum.
Most of Singapore's top attractions can be easily reached using the excellent metro system making it easy for solo travelers to get around safely using public transportation.
If your budget allows I recommend staying at one of the many Singapore hotels with a rooftop pool to take advantage of the warm year-round weather. While most hotels with rooftop pools are expensive, the Ibis Budget Singapore Clarke Quay is a budget option and is also centrally located.
Submitted by Matilda from The Travel Sisters
Hotel Recommendations
Top Destinations in UAE For Solo Travel in 2023
Abu Dhabi
Abu Dhabi, the capital of the United Arab Emirates, is a great place to visit for a first-time solo female traveler. Abu Dhabi has a low crime rate so it is very safe for women to visit and explore on their own. Although not as well known as neighboring Dubai, Abu Dhabi offers many amazing cultural and other interesting attractions.
The highlight of any Abu Dhabi itinerary is the magnificent Sheikh Zayed Grand Mosque which is famous for its bright white exterior and massive courtyard as well as its minarets, domes, intricate columns, and reflecting pools. Make sure to join the free tour offered hourly to see the largest hand-woven carpet in the world and the beautiful large chandeliers inside the mosque. The mosque has a strict dress code that visitors are expected to follow including that women must cover their heads.
Other attractions worth visiting in Abu Dhabi include the golden Emirates Palace hotel, the Presidential Palace, and the Louvre Museum. If time allows, head up to the observation deck at Etihad Towers for 360-degree panoramic views as well as afternoon tea. There are several beaches in the city for those looking to relax and enjoy time in the sun. You can also join a half-day tour to go dune bashing and sandboarding in the nearby desert.
Abu Dhabi does not have a metro system but it does have a comprehensive public transportation bus network as well as free shuttles for visitors. The Corniche area, which is close to many of Abu Dhabi's best attractions, is very walkable except during the summer when it can get unbearably hot. The fastest and easiest way to get around is to use taxis or ridesharing services which are plentiful and fairly affordable. While you can enjoy Abu Dhabi year-round, it is best to avoid visiting during the extremely hot and humid summer if you prefer to explore by walking or enjoy spending time outdoors.
Abu Dhabi is home to many luxury hotels but you can see them and visit the spectacular public areas without paying to stay there. The InterContinental Abu Dhabi is a great midprice option with a private beach that is conveniently located close to several top attractions.
Submitted by Patti from The Savvy Globetrotter
Hotel Recommendations For Abu Dhabi
Top Destinations in Africa For Solo Travel in 2023
Cape Verde
Cape Verde is an archipelago located off the western coast of Africa. It has remained relatively peaceful with low levels of crime making it an excellent destination for female solo travel. Although there are some incidents of theft, tourists should not be overly concerned if they use common sense such as keeping belongings out of sight and avoiding dark streets and stairwells at night.
I lived in Cape Verde as a single female for two years and always felt safe. This is greatly due to the Cape Verdean's sense of "Morabeza" or hospitality. Locals are incredibly welcoming to tourists and will often invite you to "taiga" or to enter their home for juice and cookies. It is worth noting that Cape Verdean men have a tendency to flirt, however simply ignoring any catcalls is usually enough to deter any unwanted advances. Cape Verdeans speak Kriolu, a local language derived from African and Portuguese dialects. There are not as many English speakers beyond tour guides and hotel staff, however, knowing some Cape Verdean slang and common phrases will get you pretty far.
Cape Verde consists of 10 inhabited islands, each ranging somewhere on the spectrum between very touristy to very rural. For those seeking a high-end getaway, I would recommend traveling to the islands of Boavista or Sal. These islands are characterized by powdery white beaches, water sports, and all-inclusive vacation resorts. They are both easily accessible with their own international airports. Top-rated resorts include Hotel Riu Palace on Boavista and Melia Llana Beach Resort and Spa on Sal.
If you prefer a more "authentic" experience, I would recommend traveling to Santo Antao, Sao Nicolau, or Fogo. These islands are known for their rustic landscapes, incredible hiking trails, and seaside villages. They do not have international airports. Tourists will need to fly into either Boa Vista, Sal, Santiago, or Sao Vicente, and charter a domestic flight or a local ferry boat. Although there are some larger hotels available on these islands, I would recommend supporting local businesses by staying at one of the many locally-owned bed and breakfasts.
Submitted by Cecilia of Lovicarious
Hotel Recommendations