If you are traveling the coast of Colombia be sure to spend at least 1 night in Minca. I went for 1 night and stayed for 3. Up in the mountains, the fresh mountain air made it a welcome relief from the heat of the coast. It is also surrounded by coffee farms and so far Minca wins my best coffee in Colombia prize! To help you plan your trip here is my guide to 24 hours in Minca Colombia.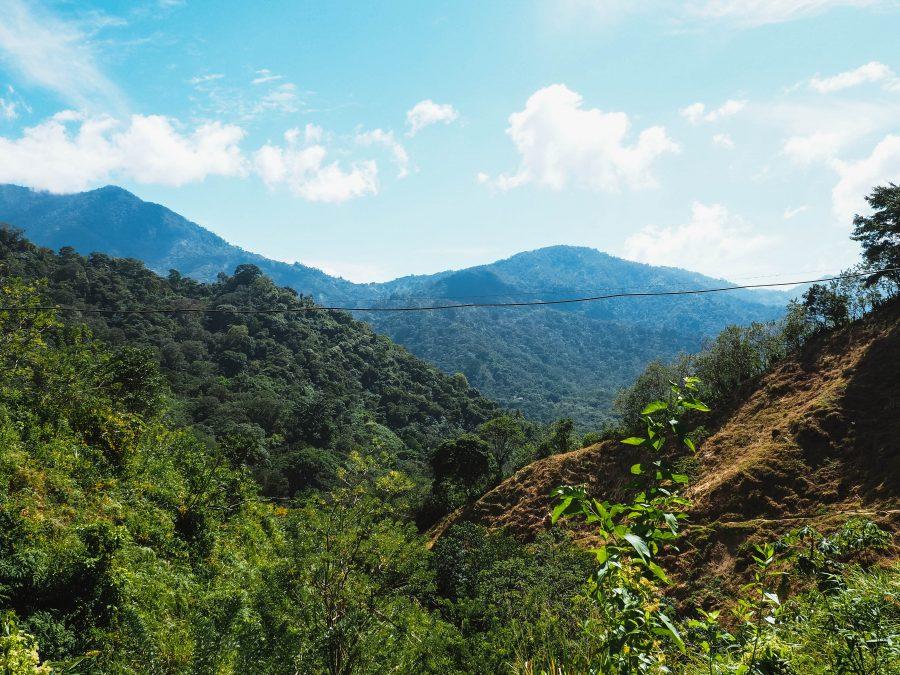 How to get to Minca from Santa Marta
To get from Santa Marta to Mince you will need to get up early and that the Santa Marta Minca bus… Which is actually not a bus but a 4 wheel drive. If you take the bus early from Santa Marta so you arrive with the full day to explore.
When you arrive in Minca you can either walk or get moto-taxi to your accommodation (I would book accommodation online during peak season as everywhere gets booked up fast). Dump your bags and head to Tienda Cafe Minca for a coffee.
If you want to travel from Cartagena to Minca then you will still need to take the bus to Santa Marta and then change there.

Things to do in Minca
There are lots of things to do in Minca Colombia, here are a few of my personal favorites:
Visiting a coffee farm in Minca
From here take a moto-taxi (or hike uphill for an hour and a half to Candelaria coffee and cacao farm. The tour takes 2 hours and cost 20mil. I decided on the cacao tour as I wanted to save to coffee tour until I visit the coffee region.
Pozo Azul Minca Waterfall
After the tour take a different path down the mountain towards the Pozo Azul Minca Cascades (waterfall). It's a stunning walk with so many incredible views.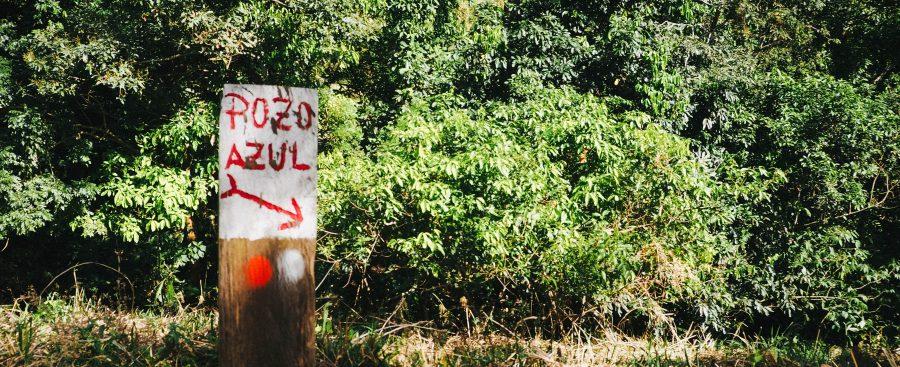 It also had this really cool bridge!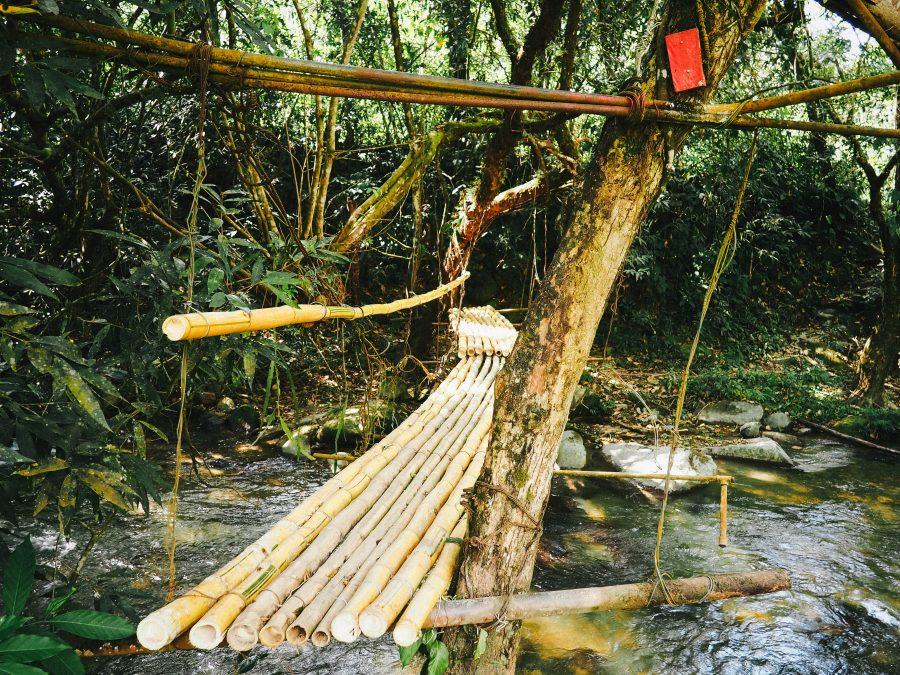 You will probably be hungry so if you haven't brought any lunch there is a small farm shop close to the waterfall where you can get a great veggie sandwich, some cold water, and a beer! If you want something a little more filling there is a restaurant next to the river you can get lunch.
Be warned the water is COLD even after the hot and sweaty jungle track to get there it was too cold for me to get in. So I just paddled for a while and cooled off before continuing back down to Minca.
Once back in town take a stroll around and grab a smoothie or juice before making your way back to your accommodation for a shower and to check in. I always try to shower just before the sun goes down, that was I'm hot enough to not mind the cold water, and the water is still warm from the sun! It gets cold in the mountains so showering at night and early in the morning can be a little chilly!
Where to eat in Minca
After you have washed up and spent some time chilling in a hammock go for dinner at The Lazy Cat. It is the most highly rated place to eat in Minca and for good reason. They also have a great selection of veggie options (rare in Colombia!).
Breakfast (and maybe some yoga?)
If you like yoga and don't mind early mornings Casa Yoga offers a 6:30 am class in Spanish (by donation) and an 8 am class in English (I think the cost is 20-25mil). Or enjoy a lie in!
After morning yoga has breakfast at the French bakery or Duni for some fresh artisan bread. It's some of the best bread I have eaten in Colombia!
The chocolate bread in … is to die for!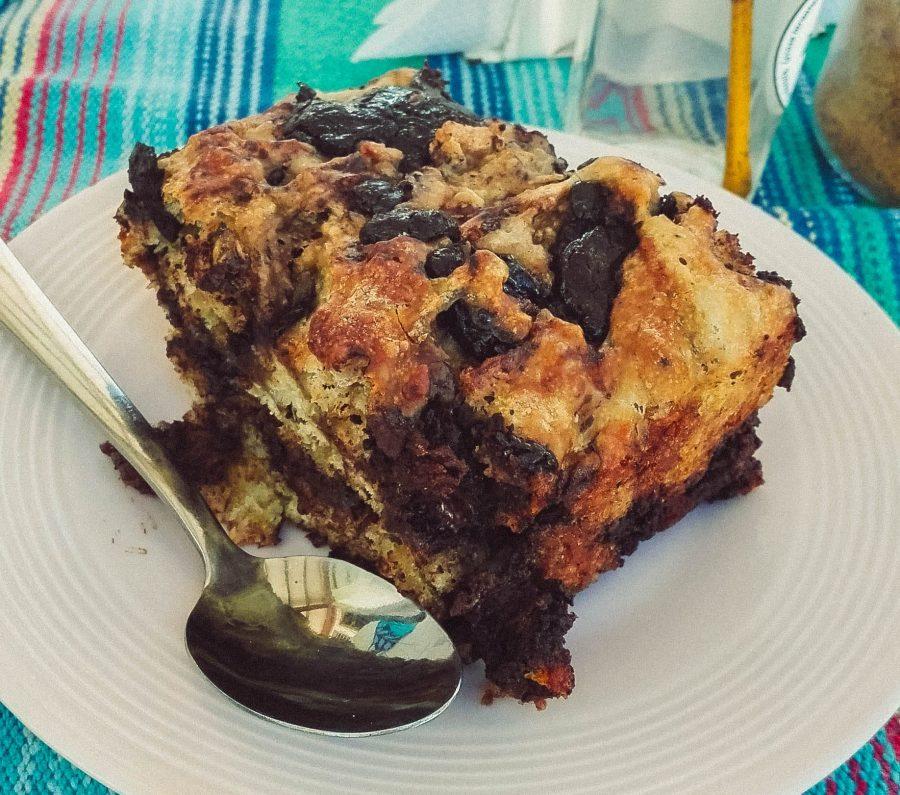 Spend the rest of the morning enjoying the quiet and cool weather before heading to your next destination.
Where to stay in Minca
I stayed at Hostal Casas Colibri, however, I would not recommend staying here.
The place is great but the owner is not. I stayed there because it was one of the few places that had WiFi. Sadly the WiFi didn't work anyway. Without going into too much detail a lot of guests were very unhappy about the behavior of the owner who decided to stay up partying loudly. I cut my stay short after one of the owners 'friends', who he has been up all night partying with, came over while I was skyping my dad (it was Christmas morning) and started shouting abuse at my dad and showing him the drugs he was smoking. The owner did nothing to stop this he just sat and watched. As you can imagine I was very upset.
My recommendation for accommodation is Casa Loma it has amazing views and the owner is supposed to be super nice ;-).
Here are some other recommendations hostels in Minca:
Finca Hostal Bolivar – Casa Mango
I hope this is helpful if you are backpacking in Colombia be sure to check out my other guides! Also, you can follow my 1-week, 2-week, and 3-week Itineraries for the Caribbean coast.
Are you planning a backpacking trip around Colombia? Take a read of my other guides here.
This post was proofread by Grammarly
Are you ready to book your trip?  To help you get the best deals and service here are the companies that I personally use to book all of my travel online. I always shop around before booking anything, but these are my tried and tested starting places.