Traveling in Colombia and looking for an adventure? Then you need to tour Cabo de la Vela and Punta Gallinas to your Colombian itinerary. Colombia is one of the world's most diverse countries with so many epic adventures to be found.
When I heard Colombia had a desert it jumped to the top of my places to visit on my Colombia bucket list. Punta Gallinas in Colombia is hard to get to, so to help you find your way to this remote destination take a read of my guide which includes how to get to Cabo de la Vela Guajira and of course how to get to Punta Gallinas.
Why go to Cabo de la Vela Guajira
Because you will never see anything like it anywhere else in the world.
Traveling to Cabo de la Vela was an eye-opening cultural experience, I learned a lot about the area and the Wauu people from our guide Jesus. You can read about these things, but seeing it with your own eyes is a whole other thing.
Should you tour Cabo de la Vela alone or with a group tour?
This was my big question. After doing some initial research online and I realized it was possible to get to Punta Gallinas without a tour and it didn't seem too difficult. Just a few buses and then haggle for a ride in a Jeep… simple!
However, as anyone who has backpacked knows things are a bit different on the ground…
While I was in Minca I spoke to a few others who were heading there and they had been speaking to others who had had lots of problems getting there. You have to take a few different buses, then haggle your way onto a truck or Jeep. Then when you finally get to Cabo de le Vela you need to find someone to take you to Punta Gallinas and back again. This all needs negotiating and the trip to Punta Gallinas you can't do without a guide and the price is pretty set.
In addition to this, I had spoken to people who had been without a tour to Cabo de la Vela Guajira and they made it to Punta Gallinas. Some loved it, others hated it because of all of the hassle to get that and also because of the poverty… More on this later though.
A tour for people who 'don't do tours'
I must admit, I'm not normally a joiner. I don't really like multi-day group tours. Unless it's something like Hiking Acatenango that I can't do alone. But I weighed everything up and decided for me taking a group tour was the best option. I do not regret my decision!
Reasons to take a group tour to Punta Gallinas:
Less stress
These places are remote, I mean seriously remote! Just getting there is stressful. If you don't speak good Spanish it is going to be even more difficult. Taking a group tour all I had to do was be ready for my pick up!
Extras
We did so many extra things that no one I spoke to did when they went on their own. Some of my favorite things I did were those extras. We went to the salt farm, stopped at different lookouts for photos, remote beaches, hikes up rocks for sunsets, a boat trip and we even stopped on the way back to do a bit of shopping. We also went looking for the flamingos but it was too windy!
I can't imagine missing out on these extras and you need a guide to take you to them, it's the desert, there is no public transport!
Food and Accommodation in Cabo de la Vela Guajira
If you are anything like me, you look for the cheapest accommodation and try and eat breakfast and 1 meal a day to save money. I'm such a cheapskate when it comes to food and accommodation! I went on this tour after speaking to others prepared for the worst night's sleep in my life and no electricity or running water. I was told you just get a bucket of water that is your rationing for the day to wash with.
So when I was accommodated in hostels with running water, showers, and electricity until 10 pm sleeping in beautiful Hammocks and fed more food than I'd eaten in weeks I felt like I'd died and gone to heaven haha. If you are used to 5* luxury, this trip probably isn't for you, as it is still very basic, but the accommodation and food provided by Magic Tour Colombia far exceeded my expectations!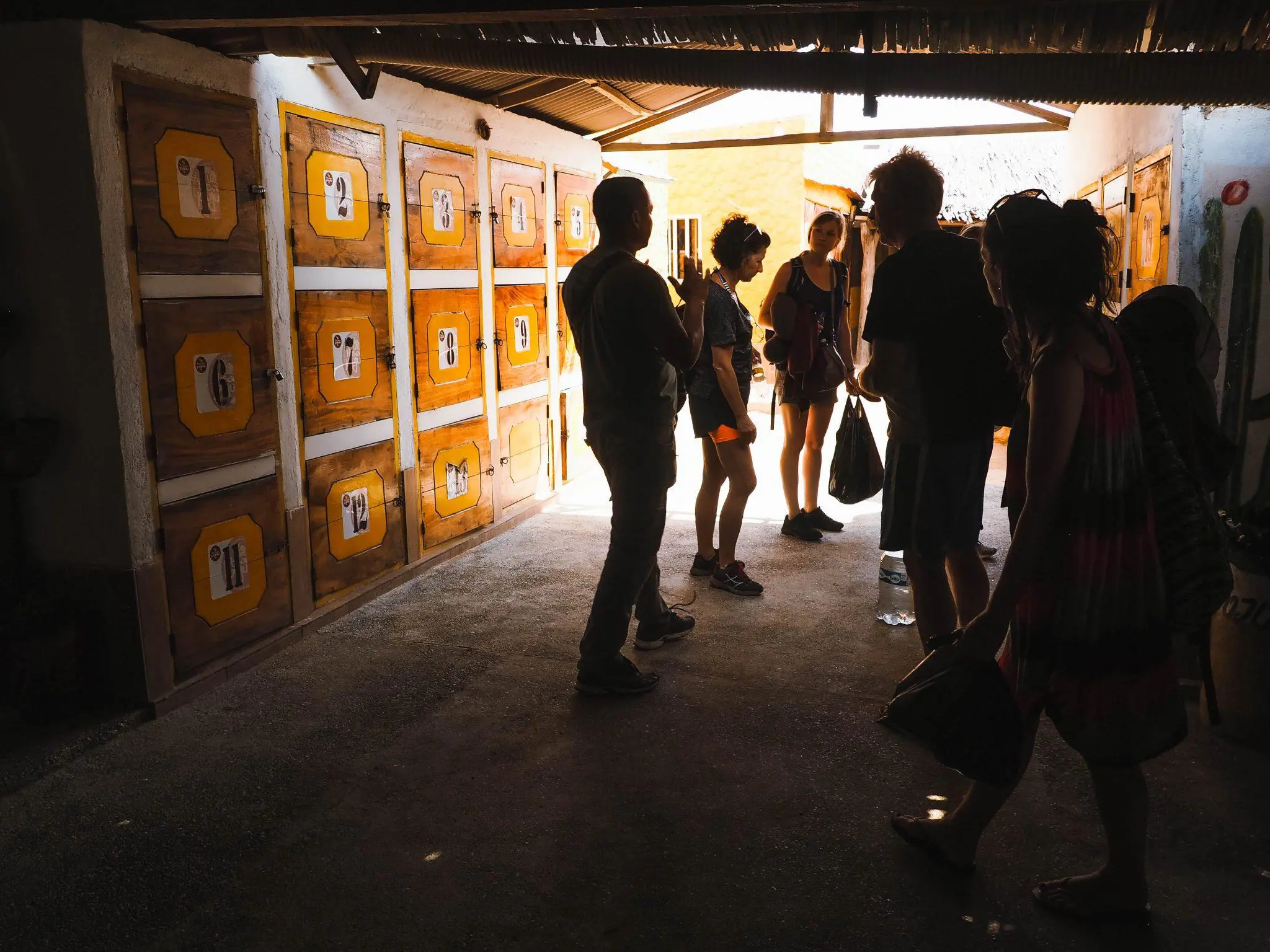 Safety and Insurance
I must admit, this isn't always top of my list of priorities (sorry mum and dad). And before actually taking this trip I wouldn't have thought twice about safety or insurance. However, it should be something you seriously think about. You are driving through the desert in a jeep.
There are risks. At no point did I feel unsafe as our driver Jesus was a total pro. In fact, he was called in to help another driver stuck in the sand, and got up very quickly unstuck when we were stuck in the mud.
Going with a reputable tour company means you are covered by insurance, the vehicles are well maintained and the drivers are professionals who not only know how to get you to these places, but they also know what to do if you run into trouble. Can you say the same for the random local who offers to drive you?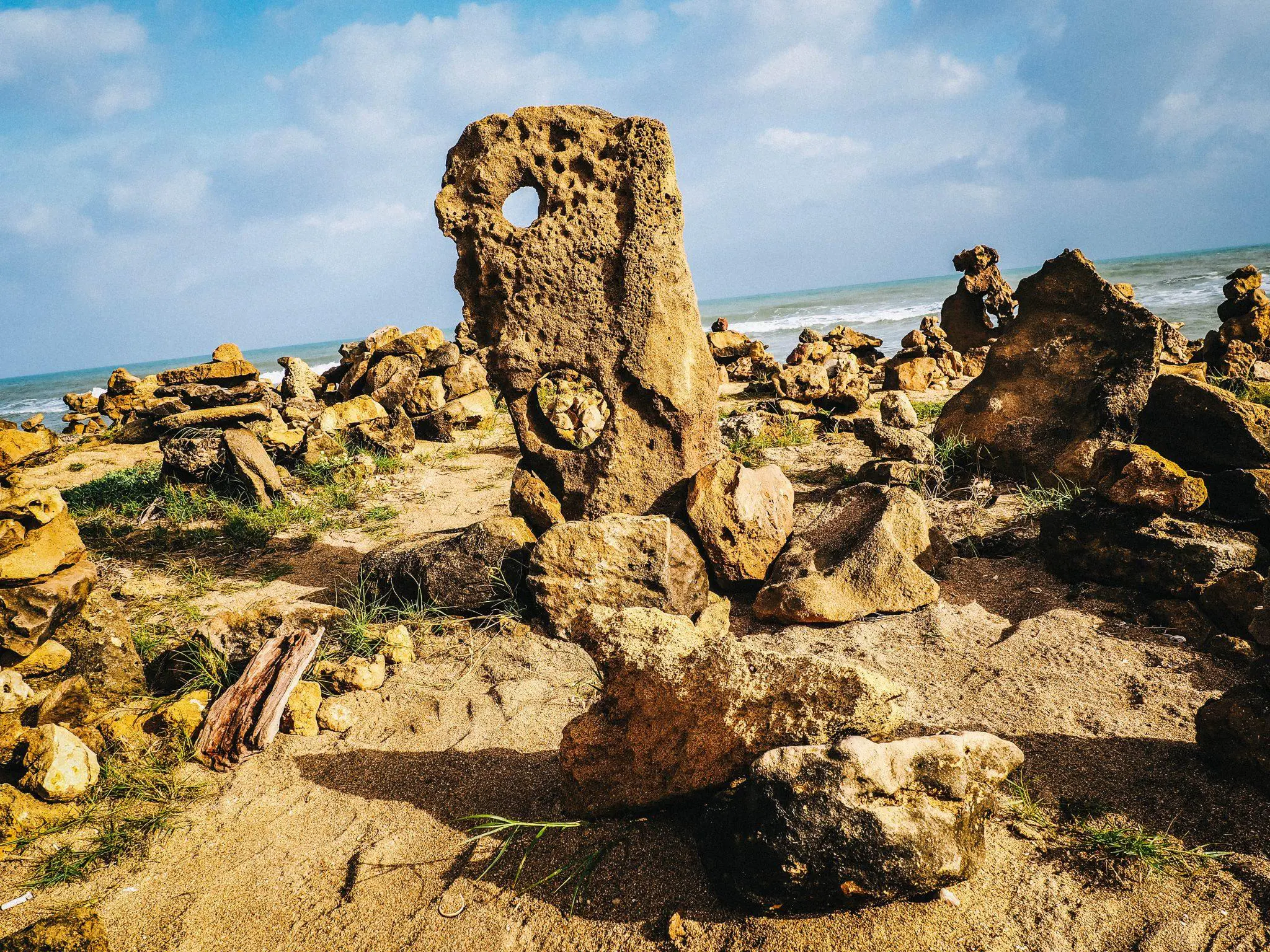 Reasons not to take a tour to Punta Gallinas
Save some $$
I've worked out the budget (see below) and you would probably save about $45 by not doing a tour. For me doing all of the extra trips was worth the $45. You are likely to only get one chance to do this trip and I personally think it's worth spending the money. However, if you are traveling on a shoestring $45 gets you a lot in Colombia.
You don't like other people
I totally get you. Me too. I'm a solo traveler and when I do travel with others I'm picky about who. I don't like big groups and hate feeling like a 'tourist'. Although there are some bigger tour groups out there I went with Magic Tour Colombia and there was just 6 of us. It was the perfect number!
But what I liked, even more, was that every place we got too there was hardly any people. I got so many amazing photos of empty beaches. Then amazingly each time we came to leave I'd see 5 or 6 Jeeps pull up and lots of people get out. I felt like they timed it perfectly so we were always the first ones to arrive at the "sites". It made the early morning starts worth it.
Our tour guide kept a really low profile and I didn't even feel like I was on a tour most of the time. There is no way of avoiding doing a tour to Punta Gallinas and the Jeeps will want to be full (6 people) so you really have no choice about it… sorry! Best you can do is to make sure it is a small tour and not one of the convoys of 5-6 Jeeps I saw.
You want to relax and take longer in each place
Lots of people just go to Cabo de la Vela and don't go any further. It's a nice place to chill for a few days and maybe learn to Kite Surf. If this is what you are looking for there is no need to book a tour. Just make your own way there and back and find somewhere nice to stay for a few days. I would ask around in the hostels to find a good one. There is plenty of choices and you don't need to book.
The Tour to Cabo de la Vela and Punta Gallinas
Ok here's the good bit. I wish I would put into words just how incredible the things I saw on this tour were. It blew my mind a bit.
Half of the time I felt like I was an extra in the film Mad Max, the rest of the time I felt like I was in a Salvador Dali painting.
Seriously, I've never seen anything like it. I feel this is best shown by watching the video below and looking at the pictures in this post.
We spent a lot of time in the Jeep. It was actually quite tiring all of the travelings but I fought not to sleep because I didn't want to miss anything! The places you are driving through make the tour for me. Being in the Jeep and driving through this incredible landscape was just as important and interesting to me as the boat ride and the beach sunsets.
I slept like a baby both nights. If you read my post on Tikal where I vowed never to sleep in a hammock again this may come as a surprise!
How to get to Cabo de la Vela without a tour
Wherever your starting point you need to get to Riohacha and then take a colectivo to Uribia. If you are coming from Santa Marta go to Palomino and take a second bus from there.
It is also possible to stay for a night or two at Mayapo beach on your way to Cabo de la Vela to break up the journey. A hostel named Talata was a really small, but beautiful hostel on the beach. They are also a rescue centre so have adopted and care for around 9 dogs and 9 cats at the time of writing. This was one of the most magical places I stayed at in Colombia.
Once in Uribia (if you do choose to stop along the way, the hostel owners will help you to get a collectivo or a jeep from there), you need to find someone with a jeep to take you to Cabo de la Vela. You will most likely have to wait until the jeep is full so settle in for a wait if you are on your own.
If you want to go to Punta Gallinas then you will need to ask around for someone local who will take you. Make sure you negotiate with them to take you to the sand dunes on the way back. This should cost $150mil COP. That is just for the transport there and back. Once you get back to Cabo de la Vela you just head back the way you came!
In theory, it's not difficult to get there. But as you are depending on colectivos you may get lucky and they fill up quickly, or you could have a long wait. You just never know! I would also say that you need to have at least some basic Spanish to do this. No one is going to know English so make sure you know how to at least ask for what you need.
Budget
With a tour
The tour I took with Magic Tour Colombia was $217. That included everything apart from tips for the driver. We were picked up and dropped off in Santa Marta (most tours start in Riohacha), accommodation, Insurance and we had 3 meals a day plus drinks on all three days (on the last day evening meal wasn't included as the tour ends at 4 pm).
Total $217
Without a tour
This is a rough budget I have put together based on advice from friends who have done this recently (January 2018).
Bus from Santa Marta to Palomino (each way) 18mil

Bus from Palomino to Riohacha (each way) mil 20 mil

Colectivo from Riohacha to Uribia (each way) 30mil

Jeep from Uribia to Cabo de la Vela (each way) 40mil

Overnight tour to Punta Gallinas (transport only return to Cabo de la Vela) 150mil

Accommodation per night in Cabo de la Vela (hammock) 15-25mil

Accommodation per night in Riohacha (hammock) 15-25mil

Food budget for 3 days (breakfast, lunch, and dinner plus drinks) 165mil
Total 473mil or $170 (roughly)
Remember although you do save money with this, you wouldn't go to any of the places we were able to access on the tour, apart from the sand dune as far as I know. So take this into account.
Let's talk about the poverty…
It would be unjust to write this post without talking about the extreme poverty of this area. I always research a lot and I read nothing about this before taking the trip. It wasn't until I got up to the coast and spoke to other backpackers who were either on their way there or who had just left.
What I was told was:
People there are starving and have no water

You have to take sweets and food to give to the local children or they won't let you past

The people can get aggressive if you don't give them money to go past them

Local people hold rope and chain across the road to stop you passing
Then I was told by a friend who had just returned that you don't have to give them anything. But she felt very intimidated and the whole situation really upset her. She went alone and told me she regretted going.
All of these things are sort of true and they are some of the reasons that made me feel a bit nervous about going without a tour if I'm honest.

But my personal experience was not a negative one.

Yes, it is hard to see such poverty, but when you are traveling a country and looking to learn about other countries and cultures then it's important that we privileged travelers do see these things and do what we can to help and raise awareness.

I firmly believe we shouldn't just be visiting the nice safe places designed to make tourists feel welcome, we need to see it all, even if it is unpleasant.
Here is my personal experience and advice…
I hate giving children sweets. I would much rather give something more useful (school supplies or actual food, not just sugar). It offers little nutrition, rotts their teeth, and adds to the horrific plastic issue out there in the desert (so much plastic thrown at the side of the roads).
But I did it anyway… sigh. Don't be like me, be smart and buy something useful. It's hard to get fresh food out there so bring fruit and veg. Also, most of the children were asking for water!
I could have kicked myself for not bringing water for them. I would bring at least 1 if not 2 extra big bottles of water plus as many of the small bags of water as you can. Give the little bags to the children instead of sweets. I would recommend making sure you have plenty of change and 1 mil notes to offer too in case you want to give money.
Spend your money
Other ways you can help by spending your money! If you want to buy a Wayuu bag, do it here! Even better buy a hammock. This is helpful for the local economy in so many ways. But please remember not to haggle too much. The prices they ask are actually really fair considering that everything is handmade. As a rough guide, the larger bags are 40mil for a plane one or 50mil for a patterned one. Please do not ask for less than this as it is unfair to the people who spend hours designing and making them.
What to expect in Cabo de la Vela
As you drive through the desert there will be points where the local people have made fences on either side of the track and they will hold up the rope, string or sometimes a bike chain across the track forcing the car to stop. They will then expect you to give them something in return for crossing. This happens a lot.
Yes, it can get a little annoying. But remember these people have nothing. The political situation is difficult and they are indigenous people who have little infrastructure or help from the Government. There is no running water and little access to fresh food (fruit and veg). So it may inconvenience your sightseeing a little bit, but remember whose land you are on and that these people are struggling.
Review of Magic Tours Colombia
I felt that Jesus our guide handled this really well. He brought things to give to the children and also gave money. As the three days progressed a group responsibility formed and we all took turns in offering something to the people we passed. At no point did I feel pressured? I wanted to offer something. My only regret was not being better prepared.
As a socially conscious traveler, I always check out any tour company that I am thinking of using and make sure they are giving back to the community. Magic Tour ticked all of the boxes for me. They are part of Corpoteyuna, a corporation that looks after the welfare of the indigenous and peasant communities that inhabit the Sierra Nevada de Santa Marta. Part of there mission is:
"To contribute to the socio-economic development of the samarian and ancestral community…"
In addition, I heard first hand from Jesus our guide about them taking bags of clothes and food to some of the families after Christmas.
As always, although I have partnered with Magic Tours Colombia on this article, my opinions are 100% my own.
Final Thoughts
I really hope this article has been useful for you to help you decide on the best way to see Punta Gallinas. As I've made clear in my opinion it's worth the extra few $ to do the tour. I've been caught out before when I tried to save a few bucks and see Tikal in Guatemala without a tour. I vowed next time I wouldn't be such a tight arse, and I'm really glad I took the tour.
I hope this is helpful if you are backpacking in Colombia be sure to check out my other guides!
Check out my 1-week, 2-week, and 3-week Itineraries for the Caribbean coast.
This post was proofread by Grammarly