Do you only have 2 days in Belgium? Keep reading my Brussels itinerary to help you find the best places in Belgium when you don't have much time to spare. Although 2 days isn't a lot Belgium is a small country so it can be done!
Solo traveling for the first time? get my new book on Amazon…
Why Visit Belgium?
Belgium is a really fascinating country because of its history. For such a small country, it has a pretty interesting past. There are three languages spoken in Belgium, French, Dutch, and even some German, and the currency is the Euro. Many people visit Belgium as part of a longer trip backpacking around Europe.
Here are my top reasons to visit Belgium:
To learn about the history within Europe
To eat lots of Belgium Chocolate
Eat Waffles
Drink Belgium Beer
Eat Fritas (are you seeing a pattern here)
Pay your respects at Flanders Fields
Visit Bruges and Ghent
Explore Antwerp
Hang out in Brussels
Sadly in having only 2 days, I didn't get to do all of these fun things in Belgium. But I did manage most of them (pretty much the eating and drinking things haha).
Getting to Belgium
Travel within Europe is really cheap and I booked myself some bargain flights through Skyscanner £29.00 return from the UK to Brussels Charleroi airport. Be aware that the Charleroi airport is outside of Brussels and it takes about 90 minutes for a coach to get into Brussels city center from Charleroi airport.
To get from Charleroi airport to Brussels I took the shuttle bus. You can buy the ticket from the desk outside the airport. the ticket cost me €17 (way more expensive than I had thought it would be). You don't even save any money by pre-booking online, but you may save some queuing time. So keep this in mind when booking your flights. If you can get a flight into the central airport for just€30-40 more I would say book it and save yourself the hassle.
Top Tip I was told by a friend in Antwerp that the best way to get from the airport into central Brussels is to walk outside of the airport where there are loads of taxis and minibusses.

They aren't allowed into the airport grounds after the terrorist attacks in Brussels earlier this year. You can get a seat in one of them and share with other people. It works out cheaper and takes a lot less time. I'd say its worth a try as if you can't find a ride you could always walk back in and get on the bus.
Arriving or leaving at night from Brussels Charleroi Airport
If you arrive late at night or have an early morning flight from Brussels Charleroi airport then it's pretty impossible to get from central Brussels via public transport. My flight was at 6 am so I got a taxi and spend a lot of money or find somewhere close to the Airport to sleep. The only place in my budget was an Airbnb, it was 30 minutes walk from the airport and perfect.
Dario was a great host and it's great value. If you don't fancy the 30-minute walk you can walk 10 minutes to parking 3 and get on the shuttle bus that will take you to the airport terminal.
Here have $19 off AirBnB on me.
Things to Know Before Visiting Belgium
What Language Do they Speak in Belgium?
English is widely spoken if you are in Brussels and know a bit of French then use it, the same goes for Antwerp. Bruges and Ghent are both Flemish and speak Dutch, don't speak French here. And unless you have a good grasp of Dutch/ Flemish then just stick to English.
Get on your bike! Everyone cycles here! In Antwerp, I hired a bike for a week for €9. You have a completely separate cycle path with its own signaling system so it's unbelievably safe, unlike cycling in the UK when you fear for your life most of the time!
Where to Stay in Brussels
In Brussels, I stayed at Train Hostal. It was a bit out of town (10 minutes on a train) but it was OK and next door to the train station.
My only issue with it was at breakfast the next morning. I saw a breakfast buffet and got myself a coffee. The member of staff watched me do this and said nothing. Once I had sat down and drank my coffee she asks me for my room number. She then informs me breakfast is not included and I have to pay €8! I was so annoyed as she really should have asked me on my way in or there should have been a sign-up somewhere. The most expensive coffee I think I have ever had and she didn't even apologize just laughed and told me it was ok I could pay when I check out…cheers!
How to Spend One Day in Brussels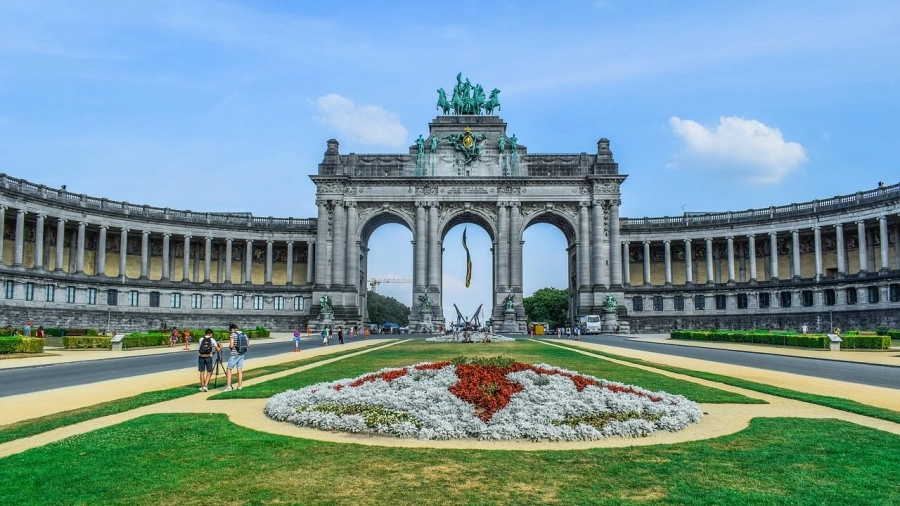 Brussels Itinerary
Drop your bags off at your accommodation and you are good to go!
There are Plenty of Things to Do in Brussels in One Day! Here Are a Few –
Take a Free Walking Tour of Brussels
Make your way to the Grand Palace from 1:30-2 pm and take a free walking tour
There are a few to choose from. I went with New Europe Tours completely by accident. I had booked with a different company but missed my slot due to my plane being delayed and I was looking for a different company who was recommended to me by my hostel but I got the wrong one! The good thing about doing a walking tour of Brussels is that you see all of the main places to visit in Brussels in one day. So you are unlikely to miss anything important. Plus it helps you to get oriented and learn about the place from a local. If you only have one day in Brussels I really recommend doing a walking tour.
The idea behind free walking tours is that the tour guides work really hard to make sure you have a fantastic tour and then at the end you pay what you feel it is worth (or in my case what you can afford). The standard rate for a walking tour is around €15 per person so ideally, that's a good figure to go for.
You pay at the end and I think it a great way of working. I was a bit put off paying €15 before taking a walking tour as I wasn't sure it would be worth it, it absolutely was, though.
The tour was great and lasted around 3 hours.
We got to see all the sights and national treasures including Manneken Pis…
In the Evening – Do a Beer Tour in Brussels
My plan was to get some food and then head back to the hostel. But I was enticed by the beer tour. I felt a bit torn about this as I was on a very tight budget and you had to pay €18 and only got 1 drink and 3 tasters in two different bars.
Finally, I gave in, deciding I should make the most of being here and I couldn't come to Belgium and not drink some beer. I didn't really feel like drinking alone so I booked on. I'm so glad I did. If you are thinking of booking a beer tour and aren't sure DO IT. Especially if you are a solo female traveler, beer + other people = instant friends, a great night, and a lovely hangover the next day.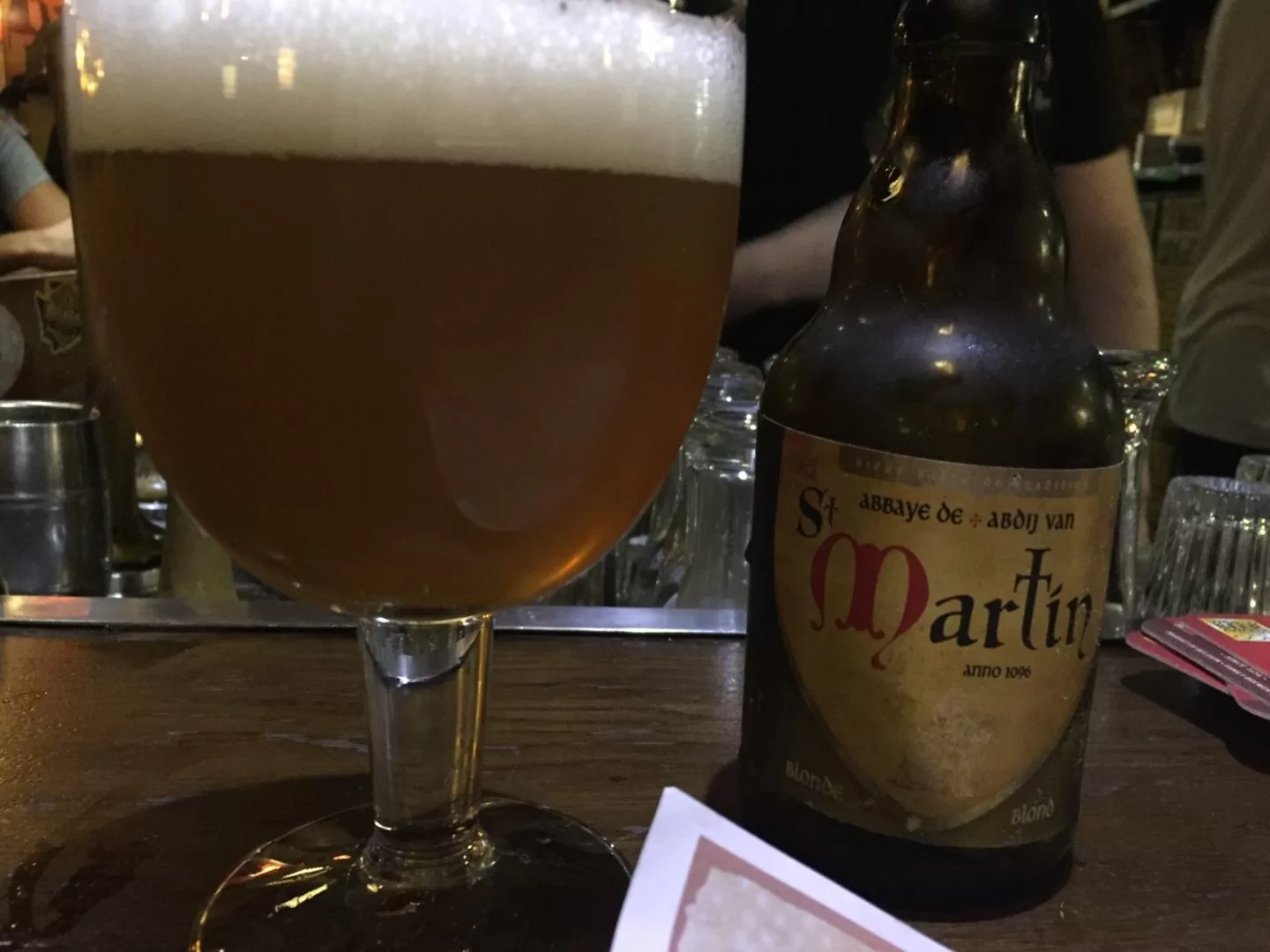 I learned a lot about beer…
and drank a LOT of beer
but I made some new friends
And I had a great night.
Do remember though that the beer is a lot stronger in Belgium than you might be used to. Also, check the last train/ tram/ bus back if you are staying out of the center. Long story short, I ended up getting plastered with a bunch of Aussie gap year students and a lovely Canadian couple on their honeymoon. Having lost track of time I had to get a very expensive taxi back. The budget was blown!
I didn't do much else with only one day in Brussels, well actually I bought some chocolate but I wouldn't worry about that wait till you get to Brugges.
Day Trips from Brussels?
Explore Ghent to Bruges
On my second day in Belgium, I booked myself on a coach tour to Ghent and Bruges.
There are times when it ok to book organized tours, and this was one of them. When researching what to do with my 2 days in Belgium I knew I didn't want to spend 2 days in Brussels. So I looked for day tours from Brussels. The best day trip from Brussels was obvious; A combined tour to Bruges and Ghent. They seemed to be the best cities in Belgium to visit (aside from Brussels and Antwerp). Plus from the look of the pictures, I saw they were also the most beautiful places in Belgium to visit.
After doing lots of research trying to decide on Bruges or Ghent and being unable to decide which one to do I decided to do a day tour of Bruges and Ghent in one day.
Why Do a Day Tour of Bruges and Ghent?
The trains are expensive in Belgium so it wasn't much more to do a tour than it was to get the train, plus I could leave my backpack on the coach, and a walking tour of both areas was included. This meant I would be able to fit a lot into my day.
Lots of people told me not to do this as I would feel too rushed. But honestly, I didn't feel rushed at all and I really enjoyed the trip. I always book all of my city tours with Viator. They normally have some great discounts so make sure you download the app and always check them first. If you do have more time though spend one full day in Bruges and maybe half a day in Ghent.
Things to See and Do in Ghent
We didn't have much free time in Ghent after the walking tour. But it was wet, and I was hungover so I didn't mind so much.
Things to Do and See in Bruges
We had much more time in Bruges especially as I chose not to eat with the rest of the group. They take you to a rather pricey restaurant which was out of my budget. Instead, I headed for a lovely little café close by and treated myself to a coffee and a waffle for €5.
I loved Bruges, it's possibly the most photogenic place I have visited. Sadly due to the awful weather and my equally as awful hangover, it wasn't the best day to explore.
Here are a Few Things to Do While You're in Bruges:
Buy some Belgium
Chocolates
Look for a shop just off the main square called Truffelhuisje. The man who served me was so helpful and the prices were reasonable…the chocolates were pretty amazing too. I had planned on giving them as a gift to someone… but I changed my mind and ate them myself, oops!
Eat some Frits
Breaking news, French fries do not come from France, they are from Belgium. If you are a vegetarian check before you order though as they normally fry them in beef fat.
You really have to see it to believe it. It's free to enter and I'd give you at least 30 minutes.
Take a Walking Tour of Bruges
Mine was included in my trip but if you decide to go it alone I would recommend taking a tour as there is so much to see and so much history. If you are limited on time then this means you are less likely to miss something.
Drink a Belgium Hot Chocolate
I think this is what I will remember about Belgium (this and the beer). Honestly, I have never tasted anything like it. They just give you a cup of milk with a lollypop stick with a big lump of chocolate on it. AMAZING.
Take a Boat Trip in Bruges
I think the cost was €10 each. The weather was far too wet for me to do this sadly. Although just as I was leaving the sun came out…typical.
Take lots of pictures
As I mentioned before Bruges is the most beautiful place in Belgium so make sure you take a lot of photos.
Three Days in Belgium?
Visit Antwerp
If you are lucky and you have 3 days in Belgium you can walk a short walk down a path from the coach station in Bruges and get a train to Antwerp. I got on the 6:30 pm train and arrived just before 8 pm, the cost was around €15.
Spend your final day in Antwerp exploring.
Where to Stay in Antwerp
I actually stayed with a friend in Antwerp but if you are looking for somewhere to stay take a look on Bookin.com
Final Thoughts
Belgium is a great place to spend a few days. My only regret was not having more time to see Antwerp. I would say 4-6 days in Belgium would be the perfect amount of time to explore this beautiful country.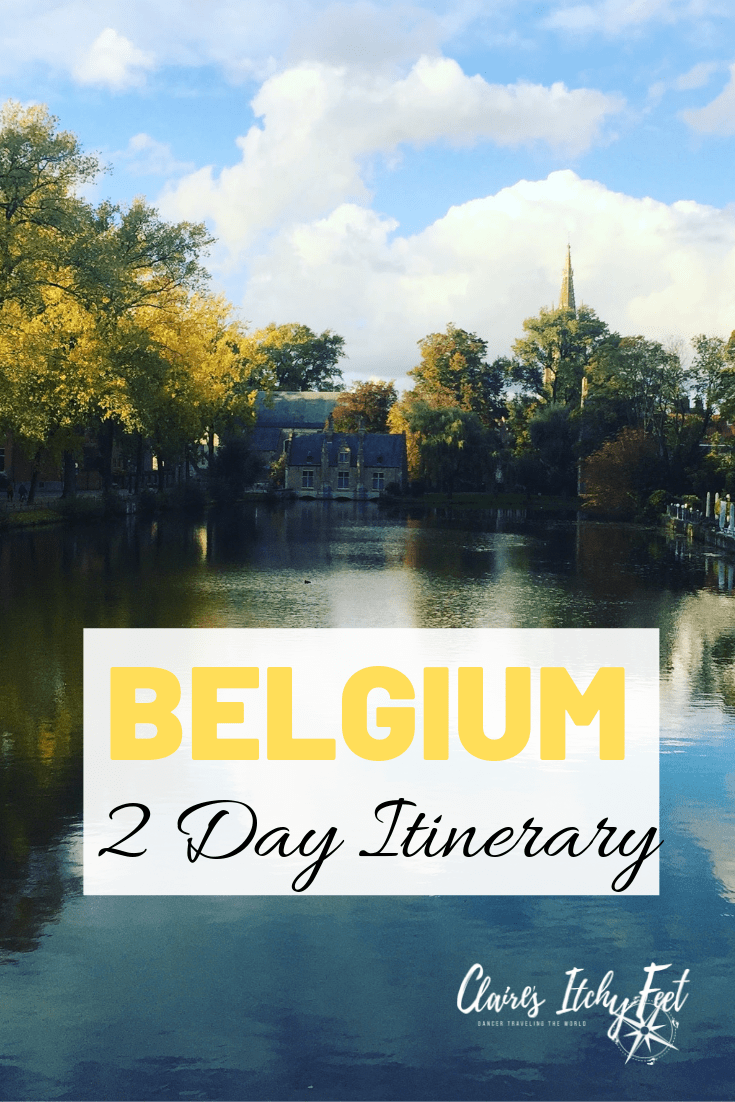 Visiting Europe? Take a read of my top posts in Europe:
The Solo Girl's Guide to Zurich
The Solo Girls Guide to Moscow
The Solo Girl's Guide to Barcelona
The Solo Girl's Guide to Stockholm
What to See in Seville
If you like My 2 Days in Brussels Itinerary, save it in your Stipple trip planner where you will find destinations, things to do, and accommodation all in one place without juggling between several apps.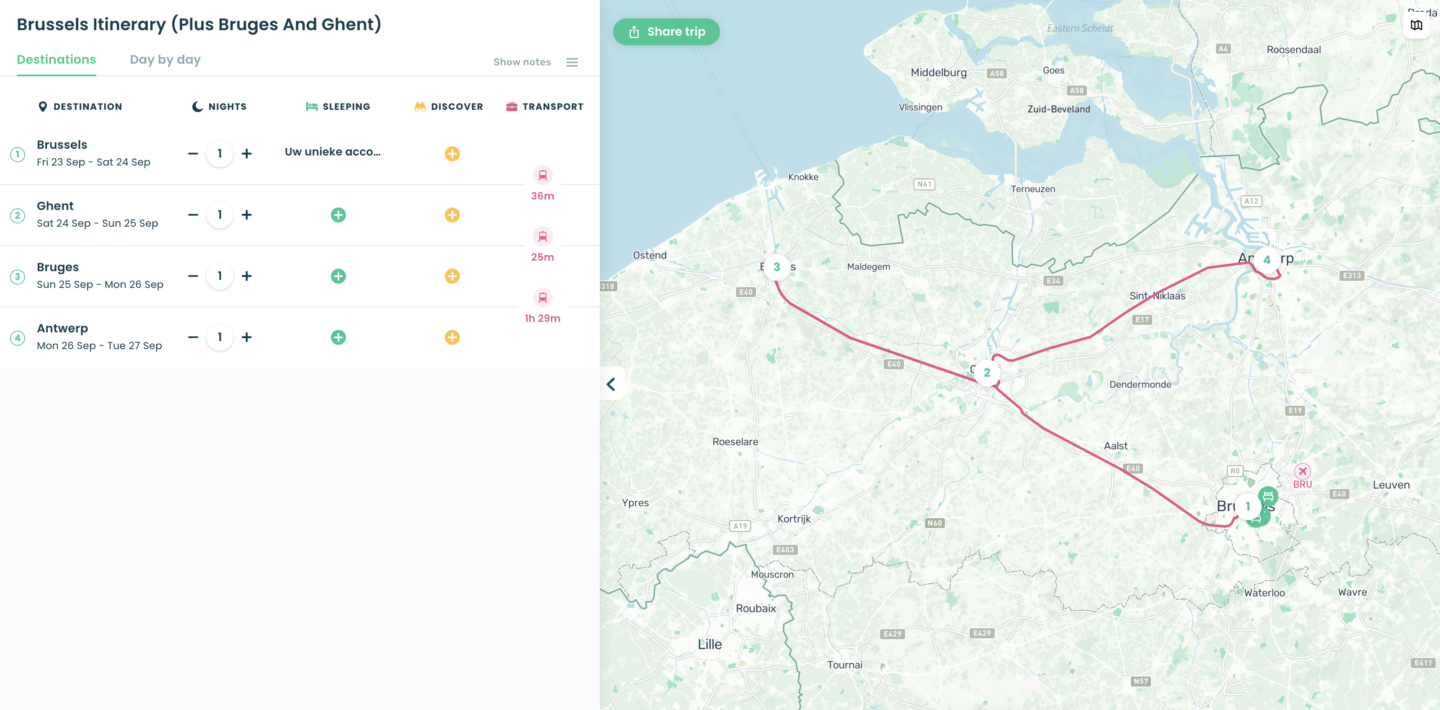 This post was proofread by Grammarly