Is there ever a bad time to visit Tulum? Not really, but there is a best time to visit Tulum depending on what you are going there for. Tulum is many things to many people and in this post, I'm going to break down some of the best times to go to Tulum based on your personal preferences.
When is the best weather in Tulum?
The best weather in Tulum is during the winter. If you are visiting Tulum to spend lazy days on the beach this is the best time of year to visit. Winter for us in Tulum starts in November and goes through until the end of February.
During this time there isn't much rain, the temperatures drop during the mornings and evenings and the humidity is still high, but nothing like the summer months.
Looking for a tour company in the Riviera Maya that won't rip you off? Speak to my friend Vanessa at Turismo Channel for the best prices on tours, excursions, and rental cars. If you tell her that Claire's Itch Feet sent you she will give you a special discounted price on anything you buy through her. Send her a WhatsApp in English or Spanish.
During the summer from May to September, the weather can be oppressive. It never lets up. You walk outside and you will be glistening in the sweat/ humidity. It's difficult to walk anywhere and do very much during the day. Although as a tourist it's not so bad. For us who live here and are trying to work or do normal life stuff, it's a killer as all you want to do in that kind of weather is lay by the pool sipping Pina Coladas!
The only month I would say to try and avoid is October, this is our rainy month and normally the peak of the hurricane season! October is also the end of hurricane season and there are almost always a few tropical storms. Some of them can last for days. So October is not the best time to go to Tulum!
Just one more thing about the weather in Tulum, please don't pay any attention to the weather reports about Tulum. They almost always show as thunderstorms and showers. While you may get a small shower of rain during the day for 10 minutes, for the rest of the day there is not a cloud in the sky!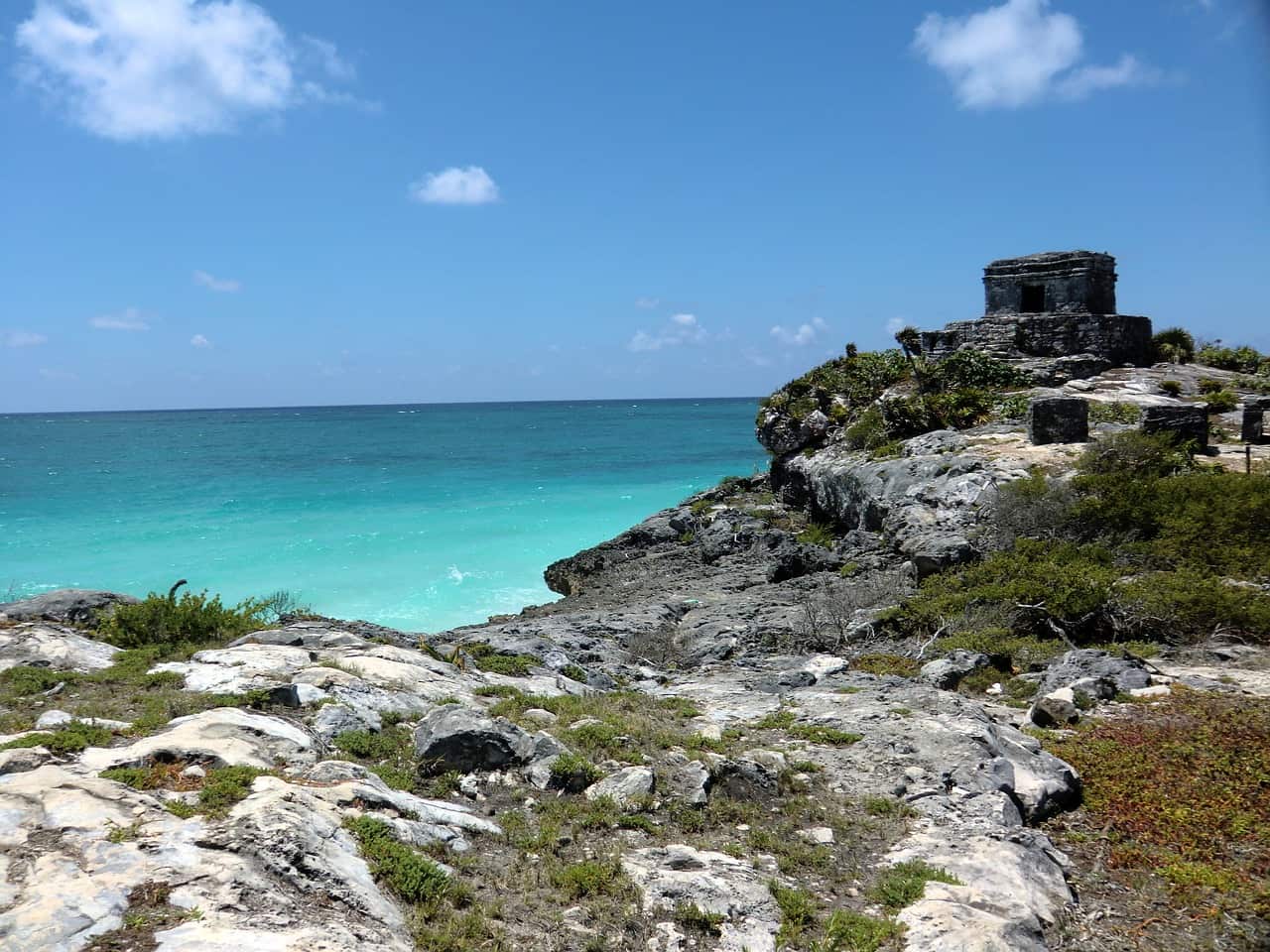 When is the high season in Tulum?
The high season in Tulum is during the winter. From November until mid-January is considered peak season. This is when most visitors from the USA and Canada come to escape the winter and explore the best cenotes in Tulum! It may be one of the best times to go to Tulum, but it's also one of the most expensive! The weather is good here and people also get time off for the holiday season.
The other peak times to visit Tulum are during Spring break, Easter, and August. August the weather is very hot, but this is when a lot of Europeans take their vacations and travel to Mexico.
When is the low season in Tulum?
The low season in Tulum is May (because it's normally the hottest month in Mexico, September, and October because these are generally the months when the weather isn't great. Plus hurricanes are most likely during these months! So although prices are cheap and it's generally quieter, it's not the best time to go to Tulum.
When Is The Best Time To Visit Tulum?
In my opinion, the best times to go to Tulum are during the other months of February – April (avoiding spring break and Easter). These are considered shoulder season months and the best months to visit Tulum as the weather is still cooler, it's less busy, and the prices are less inflated.
During high season prices can rise to triple what they are in low season! So the shoulder season is the best time to visit Tulum on a budget!
Is a Visa Needed to Visit Tulum?
This depends on your nationality. Is a Mexican visa for US citizens need to visit Tulum? No, it's not. If the stay is under 90 days, Americans can visit Tulum. Actually, most travelers from different nationalities will not need a visa, but a tourist card. Again, this depends on your nationality.
Did You Get Travel Insurance Yet?
If you are planning a trip right now then you NEED to think seriously about insurance. If 2020 taught us anything, it's that you need to be prepared for anything! Travel insurance has always been high on the list of things to get before you travel but now more than ever it should be at the top of your list! I'm pretty sure we have all had travel plans messed up because of COVID and not all insurers covered this. So you need to find an insurer that covers travel disruption due to COVID-19, World Nomads, Safety Wing, or Travel Insurance Master are the ones to go for.

World Nomads is great for incidents that happen prior to your trip, so if you get sick or are unable to travel due to travel restrictions some of their policies will cover that as cancellation cover.

Safety Wing goes the extra mile and covers quarantine outside your home for up to 10 days, they also have a really handy map on their website showing requirements and restrictions for each country.

I also use Travel Insurance Master for some short vacation type trips as they are cheaper than World Nomads a lot of the time.

If you are doing shorter trips or a longer backpacking trip then WorldNomads or Travel Insurance Master are the best option. If you are a digital nomad or planning travel of at least 6 months then go for SafetyWing.
When are the best parties in Tulum?
You can ALWAYS find a party in Tulum, always! But if you want to really party then December through to January especially over the new year period is when you will find the biggest and best parties in Tulum.
They take the new year seriously and there are parties almost every night. Parties in cenotes, parties in the jungle, parties at the beach, parties EVERYWHERE.
There are also lots of EDM festivals in Tulum to look out for if that's your scene.
Spring break is more of a Cancun thing, but you will still find plenty going on if you choose to spend your spring break in Tulum instead of Cancun. You should also try out the nightlife in Playa del Carmen too.
When is there sargassum in Tulum?
I had to include something about the sargassum in Tulum in this post because I know it's a question a lot of people ask when they are planning the best time to visit Tulum.
The truth is we never really know. Generally speaking the sargassum arrives when the sea gets warmer, so during the summertime. Then when the sea gets cooler it goes away.
Right now we are moving into winter and there is no sargassum. We don't expect it back until maybe April or May next year. But we are always hopeful that it won't return. But it can't be predicted. The sargassum is disgusting. It stinks and Tulum is terrible about cleaning it up, it's often just left rotting on the beach for days!
But there is so much more to Tulum than the beach. So if you are due to visit and there is sargassum then visit cenotes for swimming. Make sure you have booked accommodation with a pool. And for guaranteed sargassum-free beaches take day trips to Cozumel and Isla Mujeres.
Best Time To Visit Tulum Pin For Later