Traveling solo in New York City can feel daunting. Especially if you aren't sure how to make friends in New York City.
Let's face it, going solo to any big city can feel pretty overwhelming, especially one as fast paced and seemingly impossible to penetrate as NYC. Although The City may never sleep, people here are always busy, and it's not so easy to talk to random strangers on public transport without being looked at like a crazy person. So with these odds stacked against you how can you possibly make friends in New York City?
It may seem impossible, but trust me it's not, I managed it and you can too. New York is one of those cities that if you know where to look, you can find anything you could ever wish for! Including some new friends…
Traveling solo in New York City – How to make friends
On my last trip to NYC, I decided it was time I made some friends and get out more on my own. I've been traveling the world solo for years now, and even though I know NYC well and have been more times than I can remember as my mum lives there I had no real friends in New York.
Well, on my last visit I changed that. I met some super cool New Yorkers and I made them be my friends haha. So in the spirit of sharing here is how to make friends in New York City guide.

NYC meetups
So simple, but so overlooked. All you have to do is sign up for an account, check your likes and join some meetup groups. And then wait for your inbox to fill up with a tone of invites to cool events where you can meet others with similar interests.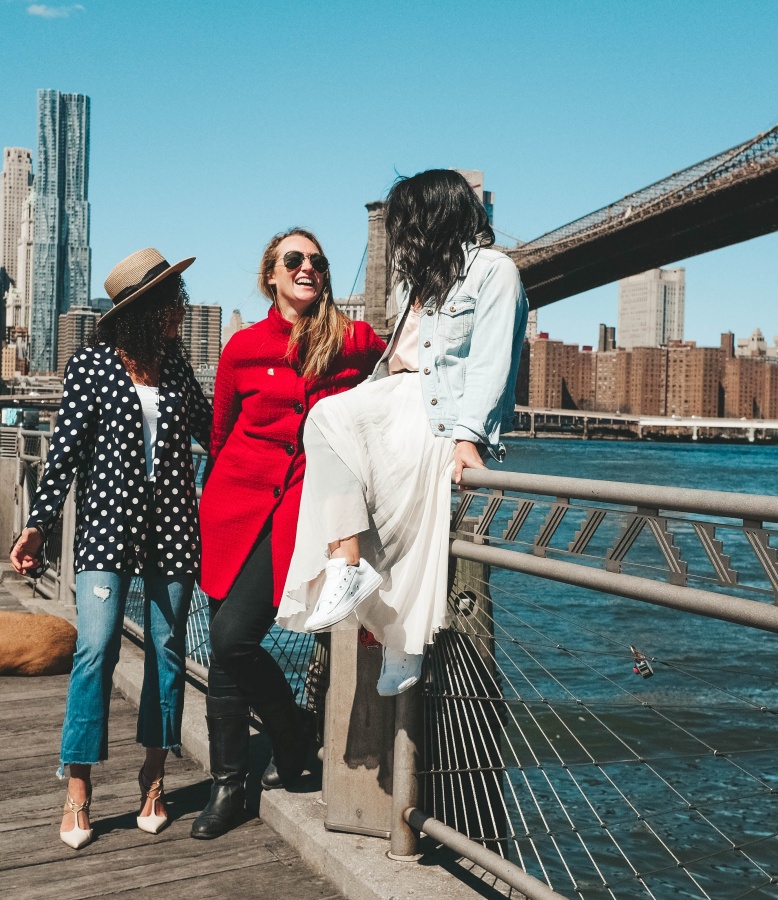 New York City Facebook Groups
Facebook Groups have saved me from despair on more than one occasion. I have also met some pretty amazing people who have become my real life friends as well as my virtual friends. Just do a few searches for things like, visiting NYC, Traveling in NYC, Backpacking in NYC or take a chance and post in some of the worldwide groups like these:
Grown-up Solo Female Travelers
Just put a cool picture of yourself and tell people you are visiting/ moving to NYC and that you would love to meet some other travelers while you are there. Simple. People will respond, and you will make some friends. I promise!
NYC Facebook Events
Just search events NYC and say goodbye to a few hours while you fall down the black hole of reading about all of the cool things you can do while in NYC.
If you like to Salsa | Latin Party
This is for my salsa loving friends. If there is one thing that living and breathing Latino culture for a few years has taught me it's that they know how to party south of the border! If you like the idea of partying with NYC's vibrant Latino community, then I suggest that you sign up for the Latino Party events. Don't know your Salsa from your Samba? Not to worry almost all of the activities include a beginners dance class.
There are events every night of the week. As I mostly went on my own and didn't like taking the bus home late at night solo, I always went to their Sunday event. It starts at 5 pm and it is in a studio on the same block as The Empire state building.
Don't be put off by their names or marketing (which looks incredibly derogatory and sleazy). I went every week on my own and never had any problems. In fact, it was the highlight of my week. I met a lot of really cool guys there. I was able to practice my Spanish and my dancing at the same time. And the best bit? It was totally fine not to drink. I spent the whole night dancing, so I didn't have to worry about feeling awkward sitting on my own nursing a drink.
Final thoughts about making friends in New York City
So there you have it, these are just a few suggestions of ways you can get out and enjoy your time in NYC solo and some suggestions of how to make friends in New York City.
On the street, New Yorkers may seem cold and a little bit aggressive. But put yourself in their position. They live there, and while they are trying to get to work, they are always having to navigate lost tourists or people stopping to take photos. Trust me you would get fed up too.
Traveling to NYC? Take a read of my other guides:
10 British inspired places to visit in New York City
The 11 most Instagrammable places to eat in New York City
How to spend 5 days in New York City
How to Spend a Weekend in New York City
5 Ways to Win at Christmas Shopping in New York City
This post was proofread by Grammarly