If you're in New York City and curious about the best British store NYC has to offer, this guide to 10 British-inspired places to visit in New York City will be your new best friend! The best part about shopping and eating at British-inspired places in NYC is you can enjoy the British vibes without the bad weather or an expensive plane ticket to the UK.
One of the things I love about NYC is that no matter who you are or what you like, you can find everything. So, if you want to go to the UK but can't afford the airfare (or can't deal with the weather, like me), visit the top stores and British restaurants NYC is home to.
British Places to Stay in NYC
If you're looking for British-inspired hotels in New York City, consider the following options:
The Whitby Hotel: The Whitby is part of the Firmdale Hotels group, which has a strong British influence. The hotel features a contemporary British design and is known for its colorful and eclectic interiors.
The Langham, New York, Fifth Avenue: The Langham is an upscale hotel with a British heritage. It offers luxury accommodations and service with a touch of British elegance.
The NoMad Hotel: While not strictly British, The NoMad Hotel is known for its British-inspired interiors. It's housed in a historic Beaux-Arts building and features a classic, sophisticated atmosphere.
British Grocery Store NYC
1. Myers of Keswick NYC
Do you need some tea bags, or are you fed up with American-style bacon and want some proper back bacon? Get yourself over to Myers of Keswick ASAP! From Heinz baked beans to pork pies, the Myers of Keswick NYC specialty store has all your British favorites. You can also browse the selection of homemade British sweets, pastries, and savory meat pies.
2. A Salt & Battery
Another incredible British grocery store NYC has to offer is A Salt & Battery. Since 2000, A Salt & Battery has been one of the most popular fish and chip shops in New York City. Not only do they serve a deliciously authentic fish and chip basket, but they also sell popular British teas, candy, and more.
Finding a Decent British Cup of Tea in NYC
You have two good options: Tea & Sympathy and Alices' Tea Cup. Both serve a bloody good cup of English breakfast and a few other British favorites you'll be hard-pressed to find at Starbucks.
3. Tea & Sympathy
Tea & Sympathy is a top British store NYC is home to and consists of a restaurant and small shop with British treats and knick-knacks. This charming shop is located in the trendy Greenwich Village neighborhood, so it's a great place to visit during an afternoon of shopping.
Tea & Sympathy not only sells tea, cakes, and groceries, but it also has a restaurant serving classic British comfort food like bangers and mash, hot pot, and roast beef with all the trimmings. If you still have room at the end of your meal, end your experience with a large helping of sticky toffee pudding. Stepping into Tea & Sympathy feels like going back home to the UK!
4. Alice's Teacup
With more teas on its menu than I've seen outside of Asia, you'll struggle to choose just one at Alice's Teacup. I went with the Alice Special, and I wasn't disappointed.
The cream tea at Alice's Teacup was a bit of a disappointment. The scones were delicious, so much so that I was willing to overlook that there wasn't a fruit scone in sight. But I initially visited with promises of clotted cream and jam to smear on my scones. This is what I got…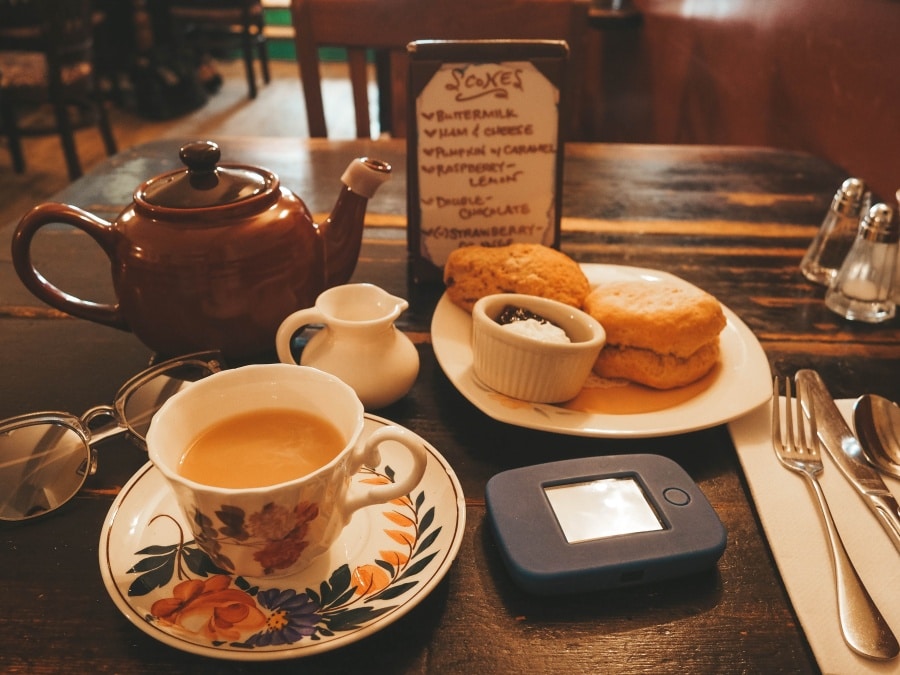 They served a piddly amount of cream, and to add insult to injury, it WAS NOT authentic clotted cream. My hopes and dreams were smashed, but I soldiered on and dreamed of the day I'd be reunited with my favorite afternoon treat back in the UK.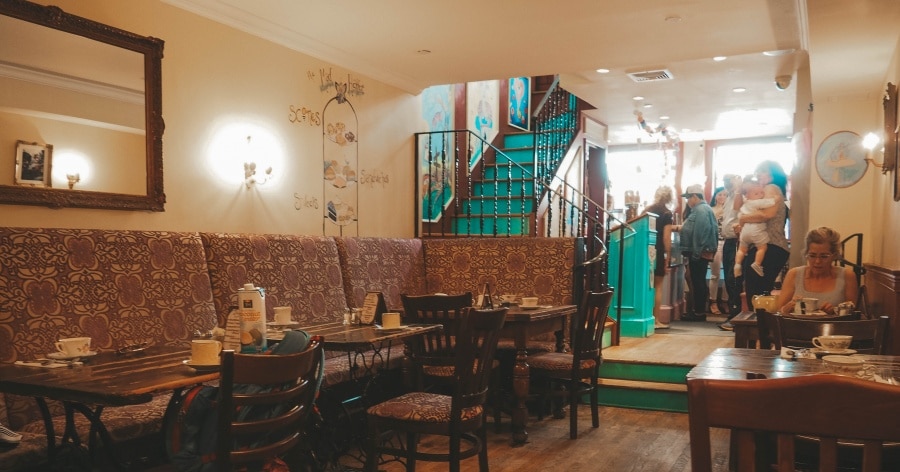 Despite the clotted cream disappointment, Alice's Teacup is utterly charming. The staff are also lovely and do their best to ensure every customer has a magical experience.
Irish and British Pubs NYC
Looking for a "proper" pint in a British alehouse? I've got three recommendations for you to choose from—spoiler alert, one of my favorite British pubs NYC is home to is Irish! Since I'm from Liverpool, which is pretty close to Ireland, I wanted to include it.
5. McSorley's Old Ale House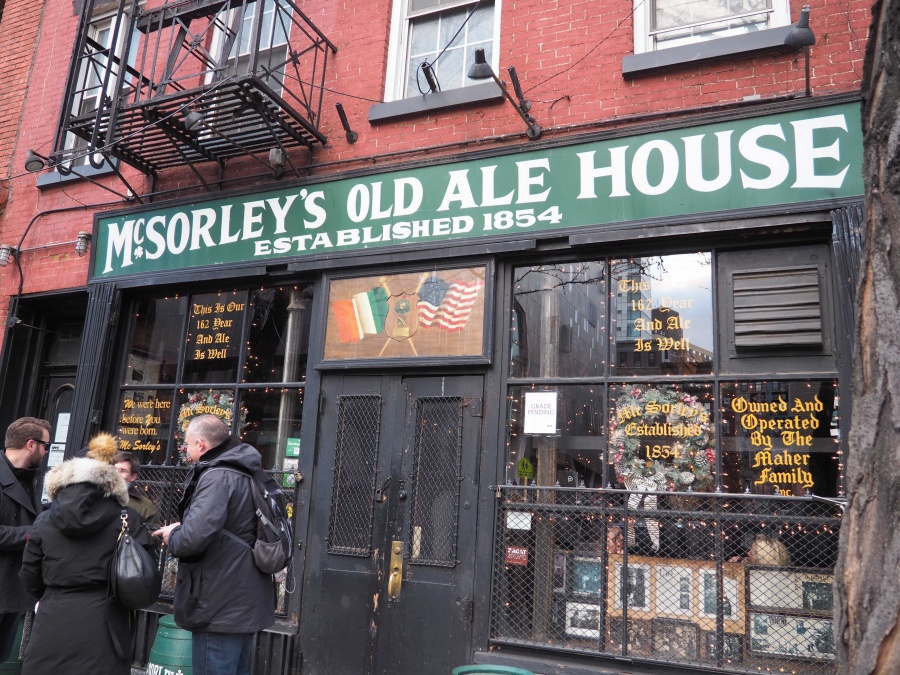 Whenever I have friends over, I take them to McSorley's Old Ale House—it's always the number one spot on my list of British restaurants NYC.
First, get any expectation of tacky, fake Irish pubs out of your head. You'll find no four-leaf clovers, leprechauns, or even Guinness here. McSorley's only serves three drinks (pale ale, dark ale, and water), and while you won't get service with a smile, this place is as authentic as it gets.
McSorley's is one of the oldest British pubs NYC is home to—it first opened in 1854, and until 1970, women weren't allowed to drink there. This ale house has rustic touches, like sawdust on the floors and large tables made for socializing. Every time I visit McSorley's, I leave with a new story!
6. The Churchill Tavern
If you're looking for a cozy Sunday Roast, The Churchill is the place to go. Sunday Dinner is served from noon every week, and they also have an impressive menu featuring other British favorites.
7. The Red Lion
Miss watching British sports in NYC? No problem, go to The Red Lion, where you can drink and watch football—just like back home!
British Food NYC
8. The London Bar
The London Bar offers an upscale twist on British cuisine—it's more like the food we British people eat when we go out in the UK. Let's face it: not all British people want to eat bangers and mash every time they eat out! In reality, most Brits eat anything but British food. The London Bar is a fun, British-inspired spot in NYC you must check out.
9. Chip Shop NYC
Craving chippy chips and a nice piece of battered cod deep-fried and soaked in salt and malt vinegar? Chip Shop NYC is a top pick in the city for authentic British eats. Founded by ex-pats back in 2001, Chip Shop NYC even serves fish finger butties. Did I mention the Chip Shop also offers delivery? Score!
10. Brick Lane Curry House
While curry is an Indian dish, every Brit knows it's the king of British cuisine. If you've never heard of Brick Lane Curry House, you must visit for mouthwatering, British-inspired curry dishes.
Bricklane (the road in London) is home to many of the UK's award-winning curry houses. That's right—London has a whole road dedicated to Indian restaurants! Brick Lane Curry House is the British-Indian fusion of your dreams. The menu is less traditional Indian and more British-Indian, which also goes for the decor and general vibe.
British-Inspired Places to Visit in NYC: British Store NYC FAQs
What's the Best British Store NYC is Home To?
Myers of Keswick NYC is a British grocery store NYC is well-known for—it carries traditional British food items, including sausages, pies, pastries, sweets, and more. It's a favorite among those looking for authentic British groceries.
Where Can I Find the Best British Food NYC?
A British pub in the Flatiron District, The Churchill Tavern serves a range of British classics, including plowman's lunch, steak and kidney pie, and sticky toffee pudding.
If you're craving fish and chips, A Salt & Battery is a classic chippy offering this beloved British dish.
What Are the Best British Pubs NYC?
I recommend the Red Lion or McSorley's for a classic Irish pub experience in NYC.
Final Thoughts on British-Inspired Places to Visit in NYC
I love traveling to and living in foreign countries, but sometimes I miss home comforts. New York is home more often than Liverpool these days, so I've had a lot of fun exploring British food NYC options. I hope you enjoy checking out some of these British restaurants NYC is home to. Also, if you're looking for more fun places to eat, check out my guide to New York restaurants from movies!
Traveling to NYC? Take a read of my other guides:
The 11 Most Instagrammable Places to Eat in New York City
How to Spend 5 Days in New York City
How to Spend a Weekend in New York City