Are you looking to embark on an epic road trip through the stunning region of Yucatan State in Mexico? A road trip Yucatan State is the perfect way to explore this region's rich history, diverse culture, natural beauty, and delectable cuisine.
I lived in the neighboring state of Quintana Roo for several years and loved nothing more than renting a car for the weekend and heading over the border for a road trip!
With a road trip through Yucatan State, you'll have the flexibility to discover both the popular destinations like Chichen Itza and Puerto Progreso Beach, as well as lesser-known hidden gems like Homun and Izamal (the yellow town).
In this article, I'm going to give you my detailed 14-day itinerary to help you plan your road trip Yucatan. I've tried to include the most exciting and memorable experiences along the way. So, buckle up and get ready for an unforgettable adventure as I guide you through the highlights of Yucatan on your road trip!
Did You Get Travel Insurance Yet?

The Insurance companies I recommend are Hey Mondo, Safety Wing, and Travel Insurance Master

Hey Mondo is great if you are looking for a great value flexible policy. They offer single-trip cover, annual multi-trip cover, and long-term travel cover. Safety Wing is great value, with monthly coverage starting at $39. It's super easy to use, and it just renews each month. I currently use them as they offer me free cover for my son as part of my policy. I also use Travel Insurance Master for short trips.

Read my full travel insurance post here, where I go into detail about all companies.
Renting a Car in Yucatan State
Before we go any further I wanted to address renting a car in Yucatan, as I'm guessing most people reading this will need to rent a car to do this road trip. Renting a car in Yucatan State really is the best way to explore the many attractions at your own pace. While public transportation is available, having your own vehicle gives you the freedom to visit less touristy destinations and take detours along the way.
In my personal experience driving in Yucatan is very easy. The roads are mostly well-maintained and the signposting isn't bad, by Mexican standards haha.
How do you rent a car in Yucatan State?
Well first off you have 2 options, renting a car from the airport (best if you are flying in) or you can rent one from downtown. Generally speaking, renting a car from the airport is more expensive. But possibly more convenient if you are flying in and out of the airport in Merida. If you aren't then rent one from downtown and save some money.
To drive in Mexico you just need your license issued by your home country. If your license isn't in Spanish or English you may need to have an international driver's license, so double-check that.
Many US citizens get upset about renting a car in Mexico as they believe that their credit card provides insurance, but 99% of credit cards do not cover Mexico. And even if they do the Mexican companies will not accept it. So save yourself a lot of drama arguing with the rental companies and budgeting for the extra insurance that they will charge.
In my experience, the bigger companies are worse at trying to rip people off. So look for the smaller local Mexican companies to rent from. You may think they look more expensive. But that's because they are more upfront with their pricing. Once the big companies get you there in the office they will start adding on lots of extra fees and the rental price will be double what you were originally quoted. It can be super frustrating!
If you want more detailed information on the process of renting a car in Mexico take a read of this post. It's about renting a car in Playa del Carmen, but much of the information can be applied to renting a car in Yucatan too.
Cost of Renting a Car In Yucatan State
Depending on the type of car you rent and the company you rent from, prices can vary. On average, you can expect to pay around $30-50 USD per day for a basic rental car, with additional fees for things like GPS rental and airport pick-up/drop-off. It's always a good idea to shop around and compare prices to find the best deal, just don't be fooled by super-low prices. If it looks too good to be true… it probably is!
As I already mentioned what sends up the cost of renting a car is the insurance. Basic coverage typically starts at around $15 USD per day, but can go up from there depending on the level of coverage you choose. Don't be tricked into purchasing insurance from a third-party provider, through sites like Expedia etc. It may be more affordable but most of the rental companies will refuse to accept it.
It's happened to me personally and I've had no choice but to pay twice for insurance.
Getting Gas
Gas is more expensive in Mexico. But the distances aren't that great so you shouldn't need to budget so much money for gas. When it comes to filling up, gas stations are easy to find along major highways and in larger towns. Just make sure to have cash on hand, as some smaller stations may not accept credit cards.
You don't pump your own gas in Merida so be sure to have a few coins on hand to tip the gas station attendants.
Driving in Yucatan State
As someone who has experienced it firsthand, I can tell you that it's definitely an adventure!
First things first: be prepared for some bumpy roads. While the major highways are in good condition, once you get off the beaten path, you might encounter some rough terrain. But trust me, it's all part of the fun!
One thing I absolutely loved about driving in Yucatan was the scenery. The landscape is full of lush jungles, beautiful beaches, and charming towns. And of course, the best part is that you can stop and explore whenever you want. Just make sure to have a good GPS or map handy, as some of the roads can be a bit tricky to navigate.
Now, I won't lie – driving in Yucatan State does come with some challenges. For one, the traffic can be a bit hectic in larger cities like Merida. And while the drivers are generally friendly and courteous, there are definitely some who drive a bit more aggressively. I like to always keep in my mind when driving in Mexico that I can trust nothing. If someone is indicating, don't believe them.
But overall, I found driving in Yucatan to be a fantastic way to see the region on my own terms. Whether I was cruising along the coast or exploring Mayan ruins in the jungle, having a car has always given me the freedom to go wherever I wanted, whenever I wanted.
Just remember to take it slow and be prepared for some adventure.
Road Trip Packing Essentials
One of the things I love about road-tripping is I can overpack haha. Well maybe not overpack, but I can pack what I need at least. Here are a few of my road trip Yucatan packing essentials:
Navigation tools: GPS or a physical map can help you navigate your way through unfamiliar roads and towns. Make sure to have a backup plan in case you lose signal or run out of battery.
Snacks and drinks: Pack a cooler or small bag with snacks and drinks to keep you energized and hydrated during the journey. Consider items like granola bars, fruit, nuts, and water bottles.
Comfortable clothing: Dress comfortably for long hours of sitting in the car. Bring layers to adjust for changes in temperature, and pack comfortable shoes for any walking or hiking excursions.
Entertainment: Keep yourself entertained during the longer stretches with audio books, music, podcasts, or games. And of course, don't forget to bring chargers for your devices.
First aid kit: A basic first aid kit with band-aids, pain relievers, and antiseptic can come in handy for any unexpected mishaps.
Personal hygiene items: Stock up on toiletries like hand sanitizer, tissues, and wet wipes for quick cleanups on the road.
Cash and cards: Make sure to have cash and a credit card on hand for gas, tolls, and unexpected expenses. Although don't keep too much cash in one place. Split it up for safety.
Yucatan State Road Trip Itinerary
Day 1: Merida
Arrive in Merida and explore the city's colonial architecture, bustling markets, and vibrant nightlife.
Start your trip in Merida, one of my favorite cities in Yucatan State.
One of the things that makes Merida so special is its beautiful colonial architecture. From the grand mansions on Paseo de Montejo to the colorful buildings in the historic center, there's something to admire around every corner.
Take a stroll through the streets and make sure you bring your camera!
Merida is well known for its vibrant markets. The Mercado Lucas de Galvez and Mercado San Benito are two of the largest and most popular markets, where you can find everything from fresh produce and handmade crafts to clothing and souvenirs. Be prepared to haggle a bit – it's all part of the experience!
After all that you will I'm sure have built up an appetite! Well lucky for you Merida is known for its delicious local cuisine, which blends Mayan and Spanish influences. Some must-try dishes include cochinita pibil (slow-roasted pork with spices), papadzules (tortillas filled with hard-boiled egg and topped with pumpkin seed sauce), and sopa de lima (a tangy, lime-based soup). You'll also want to try some of the local street food, like tacos al pastor or marquesitas (a sweet crepe filled with cheese and toppings).
I've written a few full blog posts on Merida for more detailed information click on the links below.
Accommodation in Merida
Merida offers a range of options to suit every budget and travel style. From luxury hotels in historic mansions to budget-friendly hostels and guesthouses, there's something for everyone. If you're looking for a unique experience, consider staying in a traditional Yucatecan home or a charming boutique hotel in the historic center.
Here are a few of my top accommodation recommendations for Merida depending on your budget.
Day 2: Celestún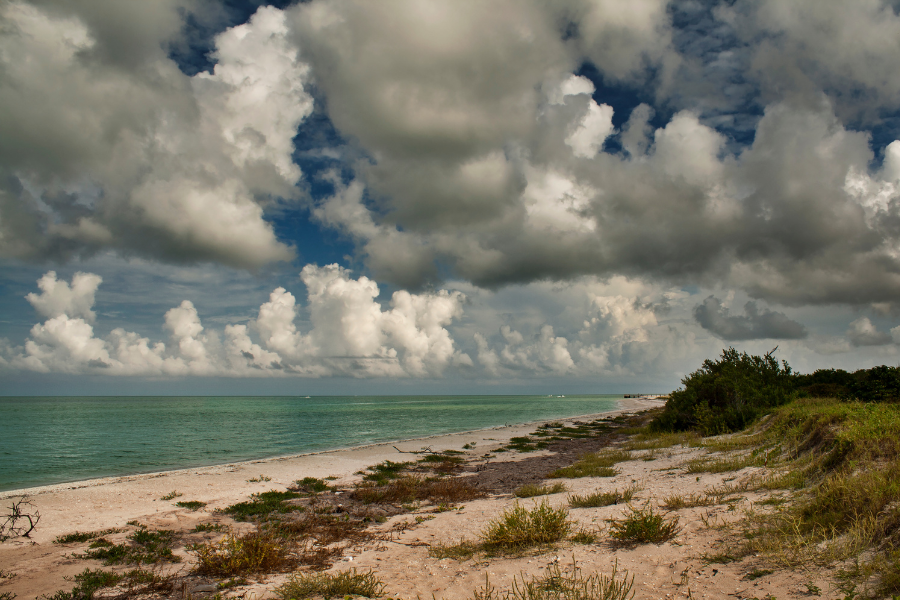 Head west to the coastal town of Celestún and take a boat tour of the Ría Celestún Biosphere Reserve to see flamingos and other wildlife.
Distance from Meride: 106.9 km / 66 miles
Approximate Drive time: 1hr 24 minutes
Map:
It's time to hit the road and drive to the small fishing village of Celestun. One of the town's main draws is its beaches, lined with palm trees and with crystal-clear waters perfect for swimming and snorkeling.
The main draw that brings tourists here is the pink flamingo lagoon. This natural wonder is home to thousands of flamingos, who come to feed and breed in the shallow waters. You can take a boat tour of the lagoon to get up close and personal with these stunning birds and learn more about their habitat and behaviors. Most people come here on a day tour from Merida, Cancun, Playa del Carmen, or Tulum, and by mid-afternoon they will be starting to leave. So the best time to take a tour is first thing in the morning or late afternoon if you want to avoid the crowds.
In addition to beach and lagoon activities, there are plenty of other things to do in Celestun. You can take a horseback ride along the beach, go fishing for the day, or hike in the nearby nature reserve. For a more relaxing experience, you can indulge in a massage or spa treatment at one of the local resorts.
You will not struggle to fill a day here that's for sure!
Accommodation in Celestun
In Celestun you can take your pick stay in a luxurious beachfront resort, rent a private villa with a pool, or opt for a more budget-friendly hotel or guesthouse. Many of the accommodation options in Celestun offer ocean views.
Here are a few of my top accommodation recommendations depending on your budget.
Casa BreMar 3097 – Only adults
Day 3: Uxmal and Kabah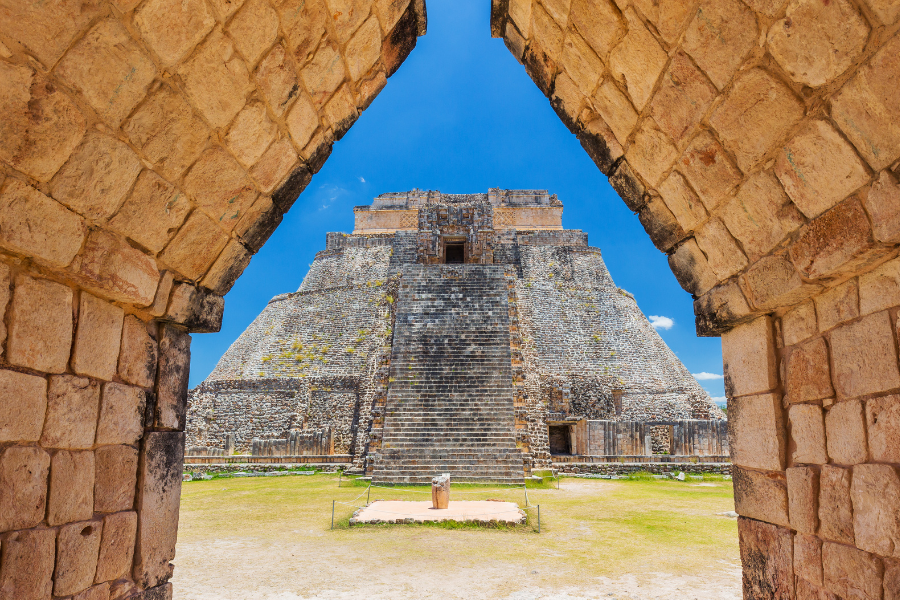 Visit the ancient Mayan cities of Uxmal and Kabah, both known for their impressive architecture and intricate carvings.
Distance from Celestun:132km / 82 miles
Approximate Drive time:1hr 56 minutes
Map:
Visiting both Uxmal and Kabah in a day is definitely doable, but it will be a bit of a tight schedule. You'll want to make sure you get an early start to make the most of your time. Or visit Uxmal on day 1 and then visit Kabah on the way out the next morning.
When you arrive at Uxmal, take your time exploring the ruins and admiring the intricate stone carvings and well-preserved pyramids. The site is pretty large, so be prepared to spend a few hours there.
After you've finished up at Uxmal, head over to Kabah, which is just a short drive away. Even though it's a lesser-known site, Kabah is equally impressive with its stunning architecture and intricate stone carvings, particularly the Palace of the Masks.
You can easily spend a few hours exploring Kabah before heading back to your accommodations for the evening in Uxmal.
While it's definitely possible to visit both sites in one day, keep in mind that you'll be doing a lot of walking and potentially dealing with crowds at the more popular Uxmal site. Make sure you wear comfortable shoes and bring plenty of water to stay hydrated.
As for accommodations, there are several options in the nearby town of Santa Elena or you can head back to Merida or onward to Valladolid if you can't find anything suitable in your budget.
Accommodation in Uxmal (Santa Elena)
Here are a few of my top accommodation recommendations depending on your budget.
The Pickled Onion Eco-Boutique B&B
Day 4: Valladolid & Cenotes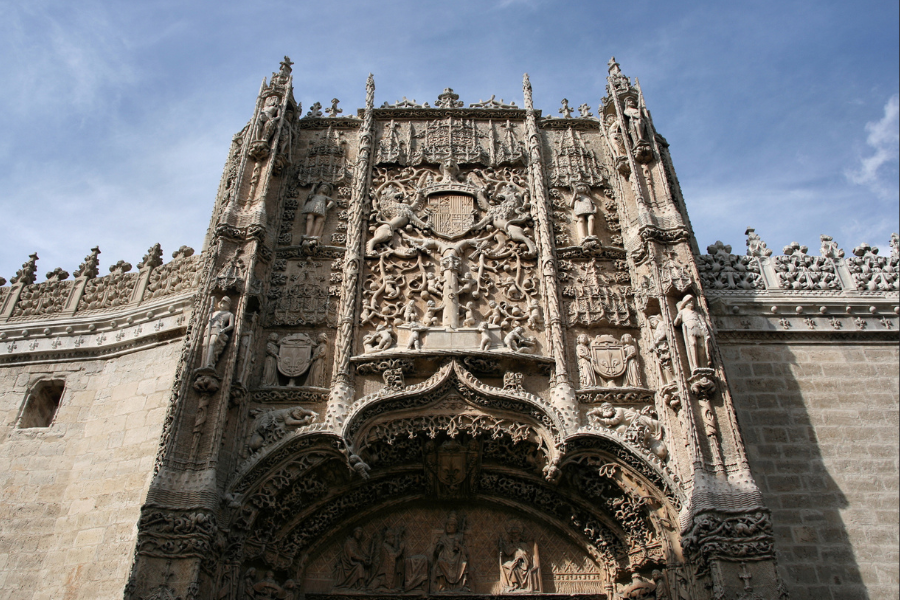 Drive to Valladolid, a charming colonial town with a rich history and a beautiful cenote (natural swimming hole) located in the city center.
Distance from Uxmal:203 km / 126 miles
Approximate Drive time: 3hr 34 minutes
Map:
Cenotes are natural sinkholes created by the collapse of limestone bedrock, revealing crystal clear groundwater pools beneath. They are unique to the Yucatan Peninsula due to the region's geology and are an important part of the area's history and culture. There is a large concentration of Cenotes around the Valladolide area so be sure to plan visiting a few while you are in the area.
Some of the best cenotes in the area include Cenote Samula and Cenote Xkeken, both located near Valladolid. Cenote Samula is a stunning underground cave with a small opening at the top that allows sunlight to filter in and illuminate the crystal-clear water. Cenote Xkeken is another beautiful cave cenote that's perfect for swimming and snorkeling.
Once you are done exploring it's time to head to Valladolid.
Valladolid is known for its well-preserved colonial architecture, with many colorful buildings lining the streets. But in my personal experience, the main thing I like to do in Valladolid is eat! Valladolid is famous for its traditional Yucatecan dishes, including cochinita pibil, a slow-roasted pork dish, and papadzules, a type of enchilada stuffed with hard-boiled eggs and topped with pumpkin seed sauce.
Once you are done eating you can wander the streets and burn off some of that delicious food!
Accommodation in Valladolid
There are several options in and around Valladolid, ranging from budget-friendly hostels to luxury hotels.
Here are a few of my top accommodation recommendations depending on your budget.
Day 5: Chichén-Itzá
Explore the stunning ruins of Chichén-Itzá, one of the most famous and well-preserved Mayan sites in the world.
Distance from Valladolid: 42.1km / 26 miles
Approximate Drive time: 41 minutes
Map:
So first off, you can choose to stay in the Chichen Itza area or you can easily visit from Valladolide and book 2 nights accommodation there to save morning so much as it's a short drive from Valladolide.
Chichen Itza is a UNESCO world Herratage site and one of the most famous and well-preserved Mayan ruins in the world. It's one of the most visited archaeological sites in the region, and it offers a glimpse into the history and culture of the ancient Maya civilization.
I've written a full blog post about visiting Chichen Itze here and this one is about visiting at night (they do a very cool light show). So please read them for a more detailed overview.
Accommodation in Chichen Itza
There are a few options around the site or many more in the larger city of Valladolid, ranging from budget-friendly hostels to luxurious hotels.
Here are a few of my top accommodation recommendations depending on your budget.
Day 6: Ek Balam and Tizimin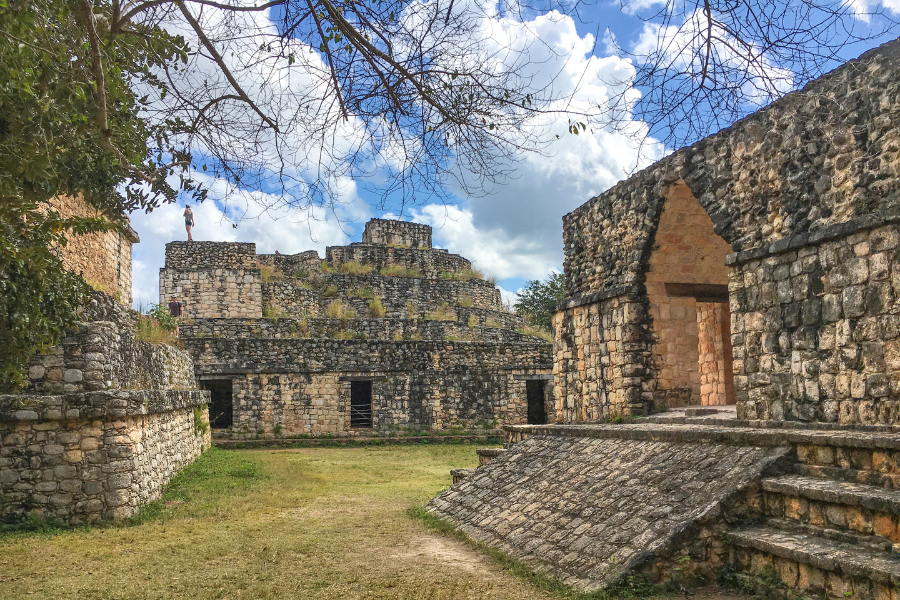 Visit the lesser-known but equally impressive Mayan city of Ek Balam, famous for its towering acropolis and well-preserved sculptures. Then drive to Tizimín, a quaint town known for its beautiful churches and traditional Yucatecan cuisine where you can spend the night.
Distance from Chichen Itza: 87.2km / 54 miles
Approximate Drive time:1hr 27 minutes
Map:
I'm just going to put this out there… I actually prefer visiting Ek Balam to Chichen Itza. Now I know Chichen Itza is the UNESCO site and one of the new wonders of the world and all that. But Ek Balam is less busy, you can climb up it and take some cool pictures, and it's just a bit more of an enjoyable attraction to visit.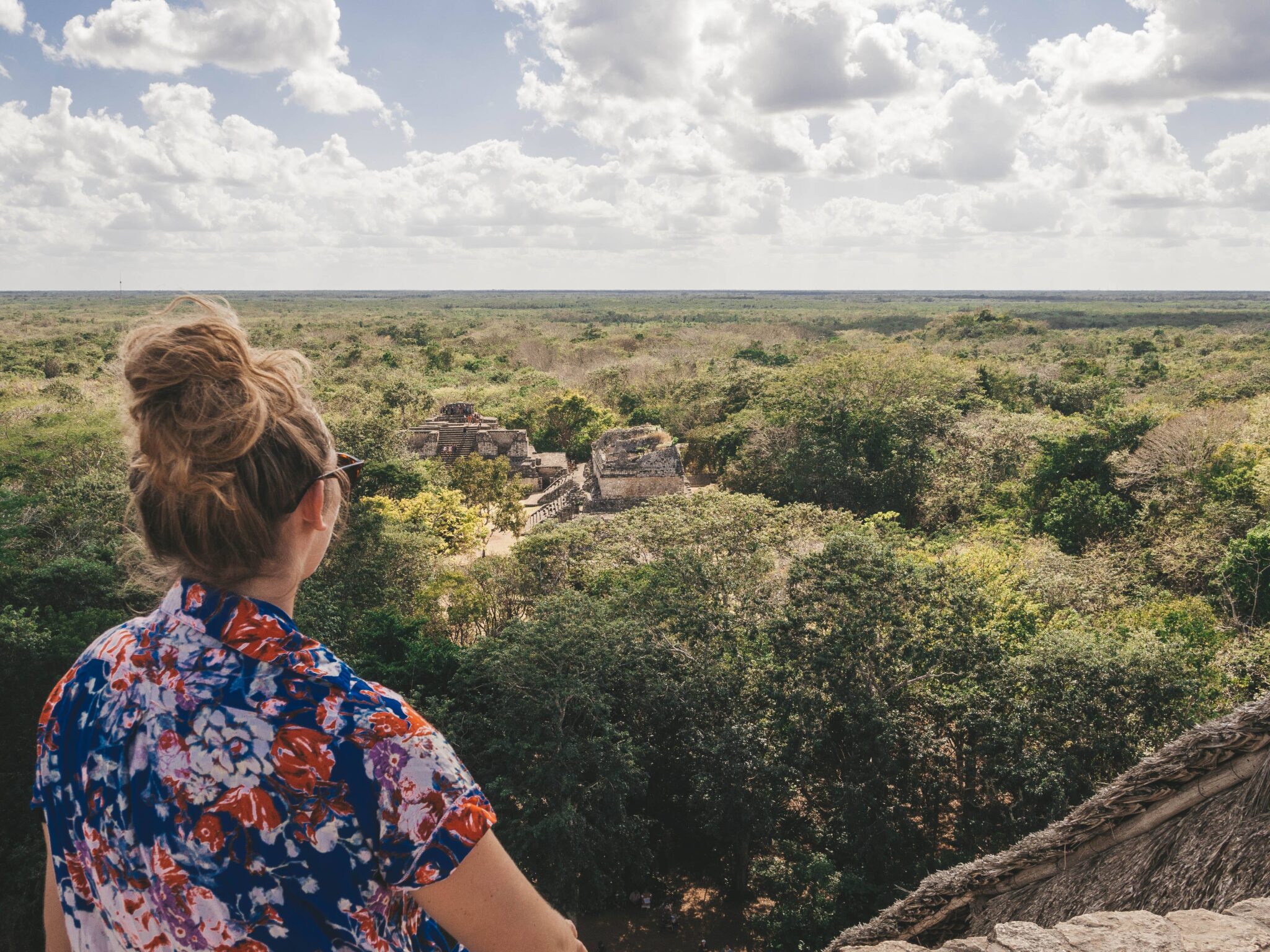 Once you are done exploring Ek Balam head on to the town of Tizimin located in the northern part of the Yucatan Peninsula. Tizimin is full of colorful streets and historic architecture. Walking around the town, you'll notice lots of brightly painted buildings and quaint shops and restaurants lining the streets, creating a picturesque scene.
Accommodation in Tizimin
For accommodations in the area, there are several options in Tizimin and the surrounding area.
Here are a few of my top accommodation recommendations depending on your budget.
Hacienda San Francisco Tzacalhac – a beautiful 18th-century hacienda that has been converted into a hotel
Hotel Los Aluxes Tizimin – a budget-friendly option with comfortable rooms and a central location
Day 7: Río Lagartos
Take a boat tour of the Ría Lagartos Biosphere Reserve to see crocodiles, pink flamingos, and other wildlife in their natural habitat.
Distance from Tizimin: 52.4km / 32 miles
Approximate Drive time: 44 minutes
Map:
Just a short drive from Tizimin is Río Lagartos is a small fishing village named after the nearby Río Lagartos Biosphere Reserve, a vast natural park known for its diverse wildlife and breathtaking landscapes. Here you can enjoy a peaceful and relaxing stay while experiencing some of the most beautiful natural wonders of the Yucatan.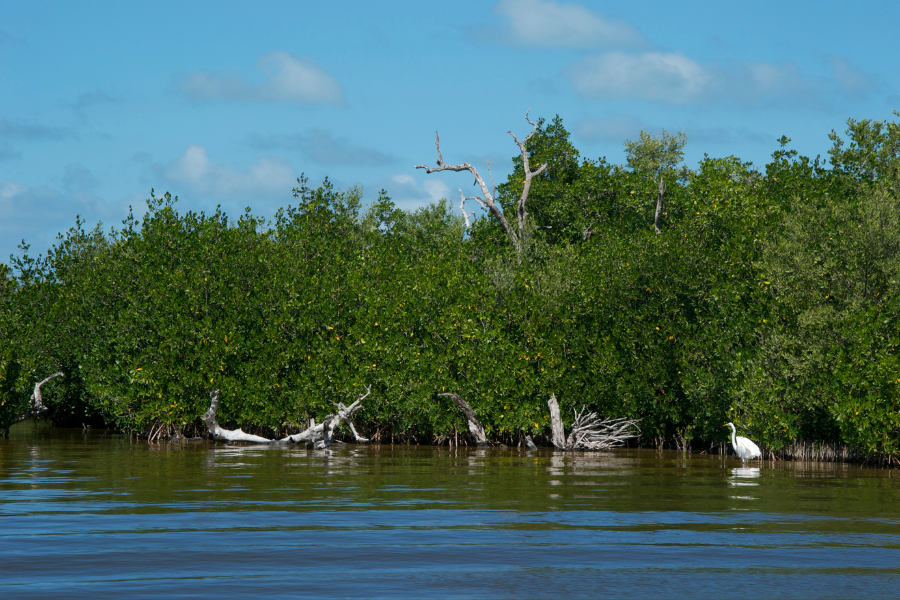 One of the main attractions of Río Lagartos is the biosphere reserve, which is home to thousands of species of plants, animals, and birds. Visitors can take a boat tour of the reserve to see pink flamingos, crocodiles, sea turtles, and a variety of other wildlife in their natural habitats.
This area became a hot shop for Instagrammers not so long ago thanks to its pink salt flats. Although these days it's hard to get any decent photos as the area is not tightly regulated to protect it from tourists. However, if you are interested in taking the opportunity to see how salt is harvested from the sea, using traditional methods that have been used in the region for centuries, now is the time!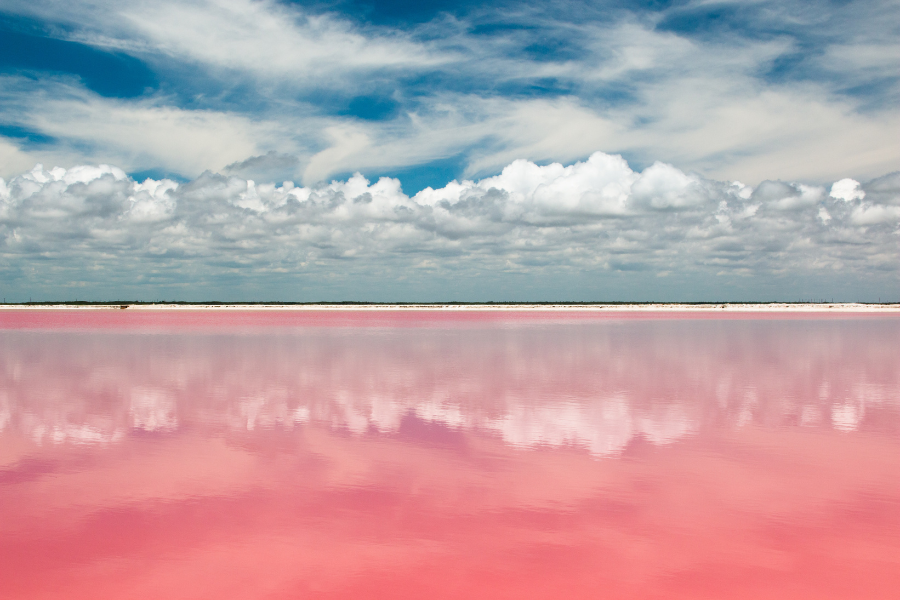 In addition to the reserve, Río Lagartos itself is a charming town with colorful buildings, a bustling waterfront, and a lively market. Visitors can stroll through the town's narrow streets, shop for handmade crafts and souvenirs, or enjoy a delicious meal at one of the local restaurants.
Accommodation in Rio Lagartos
Río Lagartos offers a range of options, from small guesthouses and bed and breakfasts to larger hotels and resorts.
Here are a few of my top accommodation recommendations depending on your budget.
Eco Hotel Maya Ka'an – eco-friendly accommodations, a swimming pool, and a restaurant serving locally sourced cuisine
Day 8: Izamal
Visit the "Yellow City" of Izamal, famous for its colonial architecture and beautiful yellow-painted buildings.
Distance from Rio Lagartos: 163km / 101 miles
Approximate Drive time: 2hr 28 minutes
Map:
Izamal is a charming town located in the Yucatan Peninsula known for it's striking yellow buildings and well-preserved Mayan ruins. The town is known as the "Yellow City" due to the color of its buildings, which were painted in this hue to honor Pope John Paul II during his visit to the town in 1993. This gives the town a unique and vibrant atmosphere that is sure to impress visitors.
One of the key sites to see in Izamal is the Convent of San Antonio de Padua. This impressive structure was built in the 16th century on top of a Mayan pyramid and is one of the largest convents in the Americas. It features a beautiful courtyard and impressive colonial architecture that is sure to impress.
Other notable sites in Izamal include the Kinich Kak Moo Pyramid, which is one of the largest Mayan pyramids in the Yucatan Peninsula, and the Kinich Kak Moo Archaeological Museum, which features exhibits on the town's history and culture.
There are plenty of activities to keep you busy in Izamal, including walking tours of the town to learn about its history and culture, visiting the various ruins and museums, and enjoying the local cuisine.
Accommodation in Izamal
There are several options in the town and surrounding area.. For a more budget-friendly option, you can stay at Hotel Macan Che, which offers simple but comfortable rooms at a great price.
Here are a few of my top accommodation recommendations depending on your budget.
Hotel San Miguel Arcangel – a colonial-style hotel with comfortable rooms and a central location.
Hotel Hacienda Izamal – a beautiful property with a pool and lush gardens
Hotel Macan Che – budget-friendly option with simple but comfortable rooms
Day 9: Homún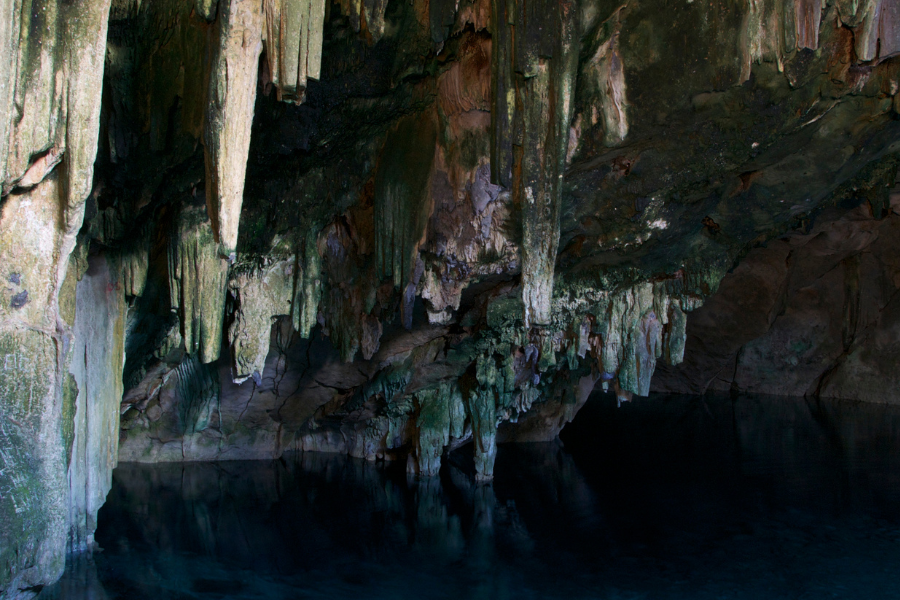 Explore the town of Homún and take a dip in one of its many cenotes, known for their crystal-clear water and stunning natural beauty.
Distance from Izamal: 47.2km / 29 miles
Approximate Drive time: 49 minutes
Map:
Homún is a small town located in the heart of the Yucatan Peninsula and is famous for its abundance of cenotes.
There are several cenotes in and around Homún, each with its own distinct features and attractions. Some of the most popular include Cenote Santa Barbara, Cenote Yaxbacaltun, and Cenote San Antonio. Each of these cenotes has crystal clear waters and breathtaking natural formations, making them perfect for swimming, diving, or simply relaxing in the sun.
In addition to the cenotes, Homún also has several other attractions worth visiting, including the town's historic church and town square, which are perfect for a leisurely stroll. It's a nice place to spend the day swimming in cenotes and enjoying the small-town vibes.
Accommodation in Homun
There are several options available in and around Homún, including small guesthouses, bed and breakfasts, and even eco-lodges.
Here are a few of my top accommodation recommendations depending on your budget.
Hacienda San Jose – a beautifully restored 18th-century estate located just a short drive from Homún.
Day 10 & 11: Progreso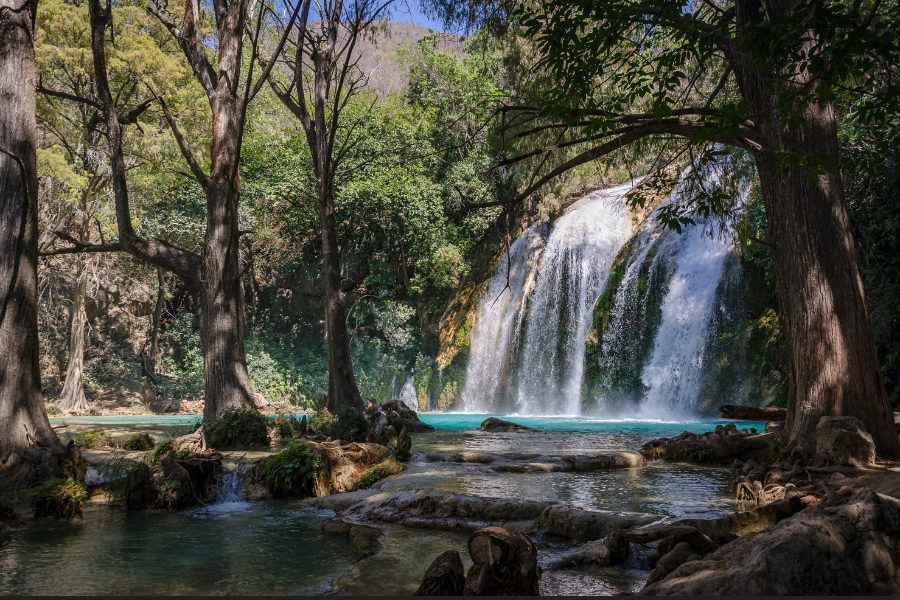 Head to the beach town of Progreso and enjoy a day or 2 of sun, sand, and sea.
Distance from Homun: 100 km / 62 miles
Approximate Drive time: 1hr 52 minutes
Map:
Progreso is a fishing town located on the northern coast of the Yucatan Peninsula, and it makes for a great place to spend your last day of the trip. The town is known for its sandy beaches, crystal clear waters, and laid-back atmosphere. It's where the residents of Merida go to at weekends and during holidays to enjoy the beach.
Progreso's beaches are also a major draw for visitors, with miles of pristine sand and warm, turquoise waters. There are plenty of beachfront restaurants and bars where you can relax and enjoy a refreshing drink or some delicious local seafood.
Unlike the coastline of the other side of the peninsular, this area is very underdeveloped which really adds to the charm and laid-back vibes you are going to discover here.
What do do in Progreso for 2 days? Relax and enjoy!
Accommodation in Pogresso
There are many options to choose from, ranging from budget-friendly guesthouses to luxurious beachfront resorts.
Here are a few of my top accommodation recommendations depending on your budget.
Hotel Playa Linda – a cozy family-run hotel located just steps from the beach
Hotel Reef Yucatan – a stylish resort with an outdoor pool and panoramic views of the Gulf of Mexico
Day 12 & 13: Sotuta de Peón 7 Merida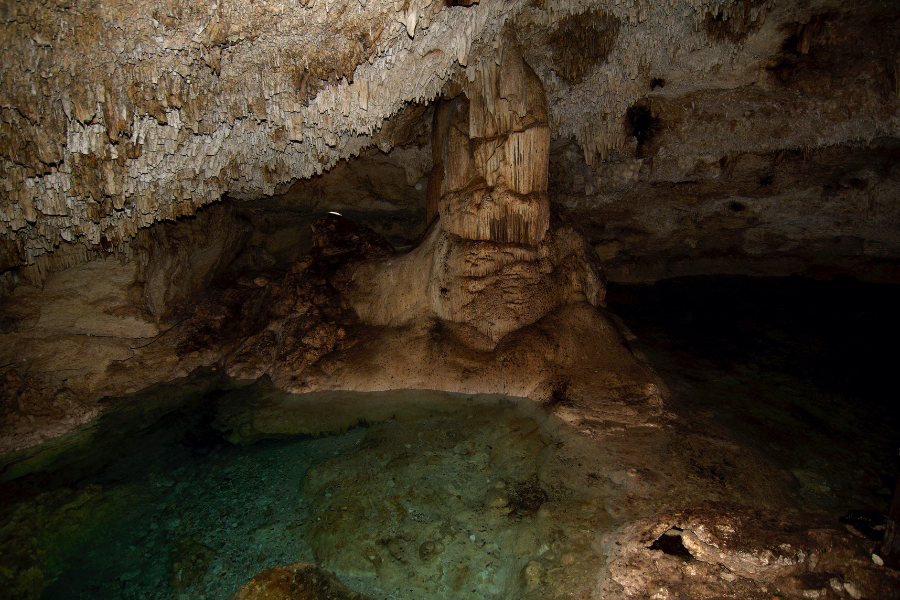 Visit the Sotuta de Peón hacienda, an old sisal plantation turned eco-tourism destination where you can learn about the history and culture of the Yucatan. Once you have finished exploring return to Merida and spend your last days exploring any sights or activities you may have missed earlier in the trip.
Distance from Progreso: 73.1km / 45 miles
Approximate Drive time: 1hr 4 minutes
Map:
Head straight to Sotuta de Peón a historic plantation located near Merida. This plantation provides you with a glimpse into Yucatan's colonial past. The hacienda dates back to the 19th century and was once a major producer of henequen, a type of agave plant used to make fiber for ropes and other materials.
The best way to see the plantation is to take a tour of the hacienda and learn about the region's henequen industry, exploring the restored buildings and machinery that were used to process the plant. The tour also takes you through the lush gardens and cenotes on the property, providing a tranquil and picturesque setting for your visit.
Once you are done exploring it's time to head back to Merida to finish off anything you wanted to see but didn't get the chance first time around!
Day 14: Departure
Depart from Merida and head home, taking with you unforgettable memories of your Yucatan road trip.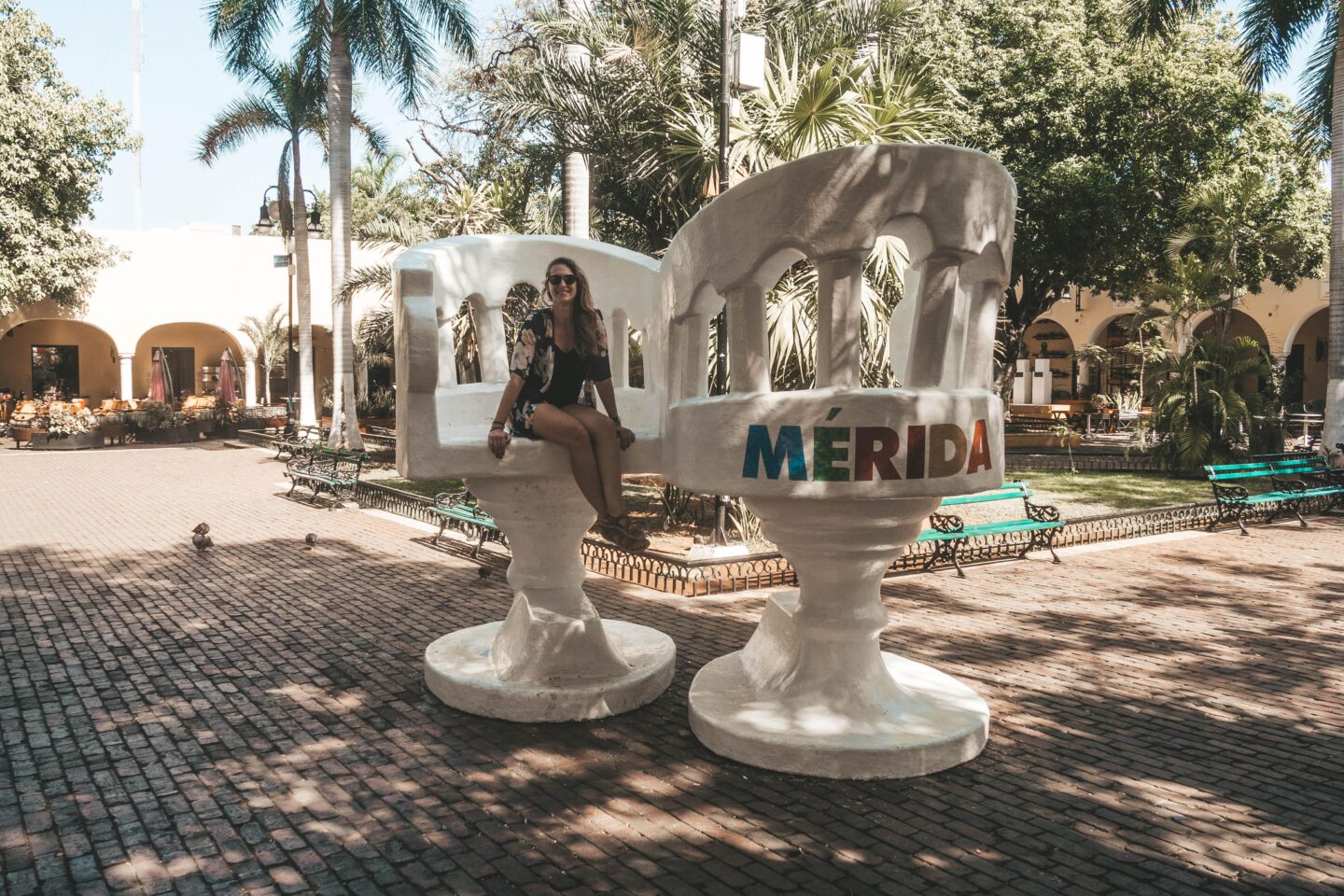 Map of Accommodation in Yucatan
Conclusion
A road trip through the state of Yucatan is an excellent way to explore this fascinating region of Mexico.
With its rich history, diverse culture, stunning natural beauty, and delicious cuisine, Yucatan offers a unique and memorable travel experience. From the ancient Mayan ruins of Chichen Itza, Uxmal, and Ek Balam to the beautiful cenotes, beaches, and colonial towns like Merida, Izamal, and Valladolid, there is something for everyone on this road trip.
I hope you enjoy this beautiful state of Mexico as much as I do!
Pin for later