Wondering how to get from Cancun airport to Playa del Carmen? In this guide, I'm going to share with you the different options you have for traveling between Cancun airport and Playa Del Carmen. Having lived in Playa Del Carmen and been a regular visitor to the Riviera Maya I've traveled to and from Cancun airport to Playa Del Carmen more times than I can remember.
If you are planning on traveling back from Playa del Carmen to Cancun airport it's much the same, although getting a taxi is much cheaper! So you can just reverse all of the advice in this post.
Quick Tip: I highly recommend booking all of your Mexico transportation with GuateGo. You can search for buses, shuttles, ferries, and Flights on their website. What I love most about them is their customer service. I know these guys personally from my time living in Guatemala and they look after their customers.

If anything happens and you get delayed and miss your bus, you can just call them and they are always there to help. If you book through them you will pay a little more than if you book in person at the bus station. But it's worth it for the ease and security. Click here to search for transportation in Mexico.
I also wrote some other guides to help you get arround the Riviera Maya, check them out by clicking the links below:

How To Get To Cozumel – Cancun To Cozumel
How Far is Playa Del Carmen From Cancun Airport?
It's just over 55km in distance from Cancun airport to Playa Del Carmen and it generally takes around an hour, depending on the traffic. It's a very easy drive along the main road and even traveling on the Cancun to Playa del Carmen bus really doesn't take long.
How to Get From Cancun Airport to Playa Del Carmen
These are the best ways to travel from Cancun airport to Playa del Carmen
Rent a Car from Cancun Airport
Take a taxi from Cancun airport to Playa del Carmen
Hotel Transport

Charter a Private Air Transfer
Want to save time and not on a budget? Then you can charter a private flight transfer through Fly Cozumel who runs routes to all of the major destinations in the Riviera Maya. To get a quote for a private flight from Cancun to Playa del Carmen Click here.
Did You Get Your Travel Insurance Yet?
If you are planning a trip right now then you NEED to thing seriously about insurance. If 2020 taught us anything, it's that you need to be prepared for anything!

Travel insurance has always been high on the list of things to get before you travel but now more than ever it should be at the top of your list! I'm pretty sure we have all had travel plans messed up because of COVID and not all insurers covered this. So you need to find an insurer that covers travel disruption due to COVID-19, Heymondo and Safety Wing are the ones to go for. Heymondo is great for incidents that happen prior to your trip, so if you get sick or are unable to travel due to travel restrictions some of their policies will cover that as cancellation cover. Safety Wing goes the extra mile and covers quarantine outside your home for up to 10 days, they also have a really handy map on their website showing requirements and restrictions for each country.

If you are doing shorter trips or a onger backpacking trip then Heymondo is the best option. If you are a digital nomad or planning travel of at least 6 months then go for SafetyWing.
Take the ADO Bus to Playa Del Carmen
Using the ADO bus is just so cheap and easy in all honesty it's always my first option when I need to get from Cancun airport to Playa Del Carmen. Once you arrive at the airport just ask for directions or follow the signs to the ADO bus station within the airport. You can either buy your ticket inside, if the booth is open, otherwise, you can buy your ticket outside before you board the bus. Be aware that you can only pay by card at some of the ADO bus stands in Cancun airport.
So to avoid added stress make sure you either take some cash out at the airport or have some USD on you as they will accept USD or Pesos, just not cards! Or plan ahead and book the bus from Cancun Airport to Playa del Carmen online here through GuateGo. It will cost you a little extra, but it's worth it to save the stress of trying to find cash in the airport.
The ADO buses from Cancun airport to Playa run every 30 minutes and the cost is around 200 pesos (around $10). This makes taking the bus from Cancun airport the best choice for anyone on a budget. Please note you will pay a little more if you book through GuateGo. But for me it's worth the extra knowing I don't need to worry about not having cash on me when I arrive.
The bus from Cancun airport to playa del Carmen runs from 8:30 am until 12:30 am. So if you are on an early or late flight this may not be the best option. It's also worth remembering that you will be dropped off at the ADO bus stop in downtown Playa Del Carmen. That means if you have pre-booked your accommodation you may need to take a taxi there so don't forget to add that to your budget.
Book a Shared Shuttle from Cancun Airport to Playa del Carmen
Don't fancy the bus but can't afford a private transfer? Well luckily for you, you can now book a shared shuttle from Cancun airport to Playa del Carmen! There are up to 10 spaces in the shuttles so it won't get too crowded. Shuttles cost around $25 USD and depart each hour. Click here to book your shared shuttle from Cancun airport with GuateGo.
Get a Private Shuttle from Cancun Airport to Playa Del Carmen
If you want transportation from Cancun airport to Playa Del Carmen as quickly and easily as possible then I would recommend booking an airport transfer Cancun to Playa del Carmen. Be sure to do this well in advance online. By booking an airport transfer or private shuttle you will be saving money (compared with a taxi) and saving yourself time and stress (getting the bus). The driver will be there to greet you at the airport holding your name on a sign. All of the shuttles are private so you won't need to be waiting around for anyone. Each transfer from Cancun to Playa del Carmen is slightly different. But as standard, you will be in a small minibus/ people carrier and will have AC. The driver will then drop you directly at your hotel or accommodation.
The cost is around $50 each way. If there are a few of you this is a great option as it could end up cheaper than taking a taxi from Cancun airport to Playa del Carmen or even the bus.
Cancun Airport Transportation by eTransfers is the company I often use. I personally choose to take a private transfer sometimes, especially when taking early morning flights, or if I have a lot of luggage. Or when I have family visiting then I always prefer to book a transfer from Cancun to Playa del Carmen for them as it saves so much stress for me and my family. It can be so stressful arriving in a new country when you don't speak the language so if I've booked them a transfer I know everyone will arrive safe and stress-free!
GuateGo also has options for booking private and shared shuttles from Cancun airport to Playa del Carmen. Click here to get a quote.
Alternatively, you can book a private Cancun airport transfer with my friend Vanessa from Turismo Channel. Send her a message via WhatApp and tell her I referred you for a special Claire's Itchy feet price. She will do you a great deal on any tours and excursions you want to go on too! You can also fill out the form below and someone will get back to you within 24 hours to arrange your Cancun airport pickup.
Rent a car from Cancun airport
If you are thinking about hiring a car for your vacation/ trip then renting a car from Cancun airport is quick and easy. Be sure to book before you arrive to get the best deals. Also, be very careful about insurance. Even though most US Citizens have insurance through their credit cards, more often than not this doesn't cover you in Mexico. So always get the extra insurance and check everything very carefully before taking the car.
I wrote a whole blog post about renting a car you can read here. I highly recommend renting through Turismo Channel as the price you are quoted is the price you will pay. I've lost count of the number of horror stories I've heard from people being ripped off by the rental car companies at the airport.
QUICK TIP: Book your tours, rental cars, and transfers through my local contact

I've been working with Turismo Channel in Playa del Carmen for years and they are who I send all my family and friends to when they visit the Riviera Maya. I really can recommend them enough for tours, private airport transfers, and rental cars. Vanessa and Oliver are personal friends of mine and I have 100% faith that you will have a wonderful time with them.

You can check out their tours by clicking here and using the following discount codes when booking online to save $$$ clairecaroff (car rental), claire10off (for 10% off group tours), claireprivate (for a discount on private tours).

You can also send her a WhatsApp message quoting the above codes to receive the discount.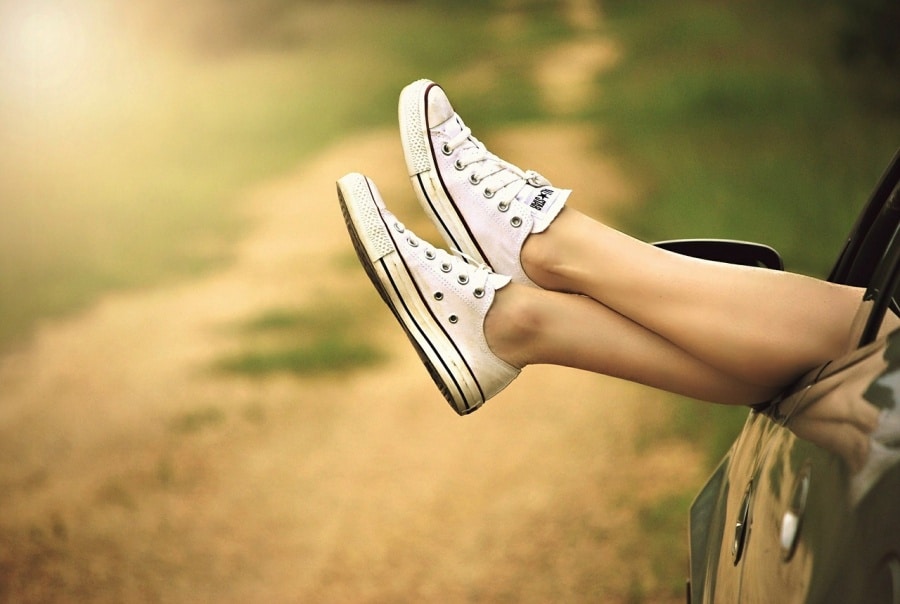 Get an airport taxi from Cancun to Playa Del Carmen
If you don't do public buses and haven't planned ahead and booked a shuttle or transfer then your only option is to take a taxi from Cancun to Playa del Carmen. Be warned you will have to pay their inflated prices and the Cancun airport taxi drivers have a pretty bad rep. The cost of a taxi from Cancun Airport to Playa Del Carmen can vary hugely as the taxi drivers are a law unto themselves. Expect to pay from 1500 pesos ($80) plus tip.
The more Spanish you can speak, the more likely you will get a better rate. I've managed to get them down to around $1200 before when I told them I was local and I'd rather get the bus. They like to tell tourists that the buses aren't running, or the rental car places are shut, they will tell you anything to get you in their taxi! They will also often expect a tip on top of any fair you agree, so I strongly suggest that you skip getting a taxi from Cancun to Playa del Carmen and book a private or shared shuttle instead.
Taking a taxi from Playa del Carmen to Cancun airport
If you want to take a taxi from Playa del Carmen to Cancun airport things are very very different! A taxi will cost you a fraction of the price at around $600 pesos (just over $30 USD). There are several local taxi drivers who provide this service. I can personally recommend Pepe (WhatsApp +52 9841203695) and Raul (WhatsApp +52 9841658346) I know that Pepe speaks English, but I'm not sure about Raul. Maybe google translate just to be sure!
Hotel Transfer to Playa del Carmen
If you have booked into a swanky resort for 5 days or more in Playa Del Carmen then the chances are that your Cancun airport transfer will be included in your booking. Yep, that's right the hotel will send a driver to pick you up and provide you with a transfer from Cancun airport to Playa del Carmen. this is ideal as it means you will get from the airport to Playa del carmen quickly and easily. Plus it will save you some cash, although do be sure to tip your driver. 10% -20% is the normal tip in the Riviera Maya.

Need a hotel close to Cancun Airport?
Here are my recommendations:
If you are on a budget and need a place to sleep close to the airport then Boom Feel Hostel is the number one choice.
If you are looking for a private hotel room close to Cancun airport my top pick is Villa Airport Prestige.
Final Thoughts
As you can see getting to Playa Del Carmen from Cancun airport is super easy, fast, and budget-friendly (unless you fly of course). Make sure you plan in advance if you want to do anything other than taking the ADO bus and you will be fine.
This post was proofread by Grammarly