Looking for the best Isla Holbox hotels? In this post, I have pulled together Isla Holbox hotels that you need to know about! Each one is in a great location, has fantastic reviews, and it will make your stay on Isla Holbox even more special. As everyone's budget is different I've included something for everyone, from budget Holbox hostels to Holbox all-inclusive resorts.
Short on time and just looking for the recommendation for your budget? Then just click the links below to jump to the section you need.
Where To Stay In Holbox
For me, Isla Holbox Mexico was love at first sight. It's the place I go when I need a vacation (yes, that's right travel bloggers need a vacay too!), mostly because the wifi is terrible there so it's impossible for me to work, even if I wanted to! Although, my Travel Wifi device actually worked really well there, so if you don't think you will survive without wifi, then I suggest renting one before you go.
Getting to Holbox can be tricky, but in this post, I tell you exactly how to get to Holbox for most places in the Yucatan peninsula. Once you arrive on the island depending on where you are staying in Holbox, and how much stuff you have with you, is going to determine how you get to your accommodation. If you are on a budget then take a backpack rather than a suitcase, and stay in the center of town so you don't have far to walk. If you have more of a budget and don't mind forking out for a taxi, then feel free to bring a suitcase and stay at one of the more secluded spots.
Holbox Island is small, so it doesn't really matter where you decide to stay on the island, as you will almost always be within walking distance. Most of the budget places to stay are in the town, whereas the slightly more expensive and luxury places tend to be a little farther out of town and directly on the beach.
If you want to stay at a beachfront hotel in Holbox then you are going to pay more for it. The rule is the closest to the beach and the more secluded the place, the more you are going to pay!
Did You Get Travel Insurance Yet?
If 2020 taught us anything, it's that you need to be prepared for anything! Travel insurance has always been high my list of things to get before I travel but now more than ever its at the top of my list.

I'm pretty sure we have all had travel plans messed up because of COVID and not all insurers covered this. So when looking for travel insurance it's important to check it covers travel disruption due to COVID-19, Hey Mondo, Passport Nomads, Safety Wing, and Travel Insurance Master all provide cover for this.

Hey Mondo is great if you are looking for a great value flexible policy. They offer single trip cover, annual multi trip cover, and long term travel cover. You even have the option to start the cover when you are already on your trip, although you won't be covered for the first 72 hours. For me my favourite feature is their app which offers you a 24/7 Dr chat and the ability to file a claim direct in the app.

Passport Nomads provides the most comprehensive cover for Digital Nomads. The game changer with them is that you have a red card and if you find yourself in need of medical care you just contact them and they will pre load your card with the funds to cover your treatment, meaning you won't need to pay out of pocket and then put in a claim later.

Safety Wing is great value with monthly cover starting at $39. It's super easy to use and it just renews each month. They have an excess of $250 and it's simple to make a claim through their website. I currently use them as they offer me free cover for my son as part of my policy and I like that it renews on a monthly basis, so I don't have to pay out a big lump sum up front.

I also use Travel Insurance Master for some short vacation type trips.

If you are doing shorter trips or an extended backpacking trip then Hey Mondo or Travel Insurance Master are the best option. If you are a digital nomad or planning travel of at least 6 months then go for Passport Nomads or SafetyWing.
The Roads in Holbox
A little note about the roads in Holbox, they are pretty terrible. When it rains they flood and it becomes a giant mud bath. this can make things difficult if you are planning to bike to and from the town from your Holbox hotel. Another great option is renting a golf cart, although sometimes the roads flood so much that even traveling by golf cart is pretty impossible.
Need to book transportation in Mexico?
I highly recommend booking all of your Mexico transportation with GuateGo. You can search for buses, shuttles, ferries, and Flights on their website. What I love most about them is their customer service. I know these guys personally from my time living in Guatemala and they really do look after their customers. So if anything happens and you get delayed and miss your bus, you can just call them and they are always there to help.

If you book through them you will pay a little more than if you book in person at the bus station. But it's worth it for the ease and security in my opinion. Click here to search for transportation in Mexico.
My Top Holbox Airbnb Rentals
As of 31st March 2021 sadly Airbnb has shut down its affiliate program. This came as a bit blow to content creators like me as we had put a lot of work into reviewing and promoting the best Airbnb's on our blogs and social media to help our followers find the best accommodation while traveling. It's through these affiliate programs that we are able to create content on our websites and offer it to you for free as we are compensated by the companies you book with. It is, for this reason, I am no longer promoting Airbnb on this blog. Where possible I have swapped the links so you can book on VRBO or booking.com. I hope you understand. Claire x
Budget Holbox Airbnb's
House Isla Holbox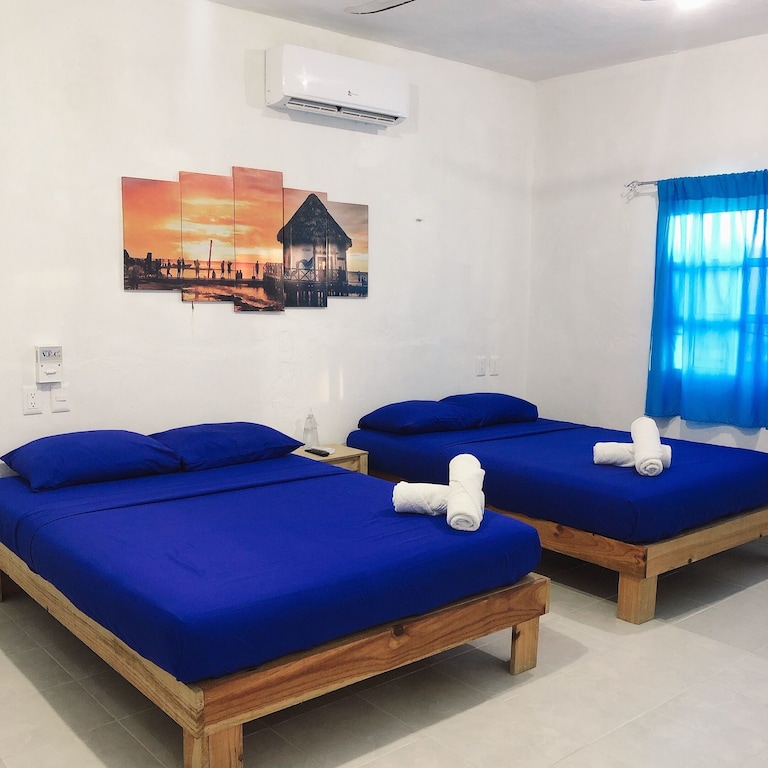 Located close to Central Square, beach, shops, and pier, this budget Holbox Airbnb has a perfect location. It also features a kitchenette, fully equipped with amenities like air conditioning, cooking utensils, an electric grill, minibar, and hot water.
It is like a small apartment that can make you feel at home, with all the facilities, including Wi-Fi, fan, and AC.
Click here to book House Isla Holbox
Looking for a reputable tour company in The Riviera Maya?
I've been working with Turismo Channel in Playa del Carmen for years and they are who I send all of my family and friends to when they visit the Riviera Maya. I really can recommend them enough for tours, private airport transfers, and rental cars. Vanessa and Oliver are personal friends of mine and I have 100% faith that you will have a wonderful time with them.
You can check out their tours by clicking here and using the following discount codes for the best prices clairecaroff (car rental), claire10off (for 10% off group tours), claireprivate (for a discount on private tours). You can also send her a WhatsApp message quoting the above codes to receive the discount.
High-end Holbox Airbnb's
Holbox Island Casa Impala

Surrounded by palm groves and with the beach just a few steps away, Casa Impala is an exclusive private duplex that is fully equipped with a living area, balcony, kitchen, bathroom, bungalow, and sun deck.
I'm a little bit obsessed with this place, it's decorated so well and the attention to detail in the design is everything. If you are looking for a little piece of Tulum in Holbox, here it is.
You receive purified water and a refrigerator stocked with refreshments, this Isla Holbox Airbnb takes special care of cleaning and sanitization during Covid-19 times.
Click here to book Casa Impala
Villa Punta Coco on the beach by Love is Simple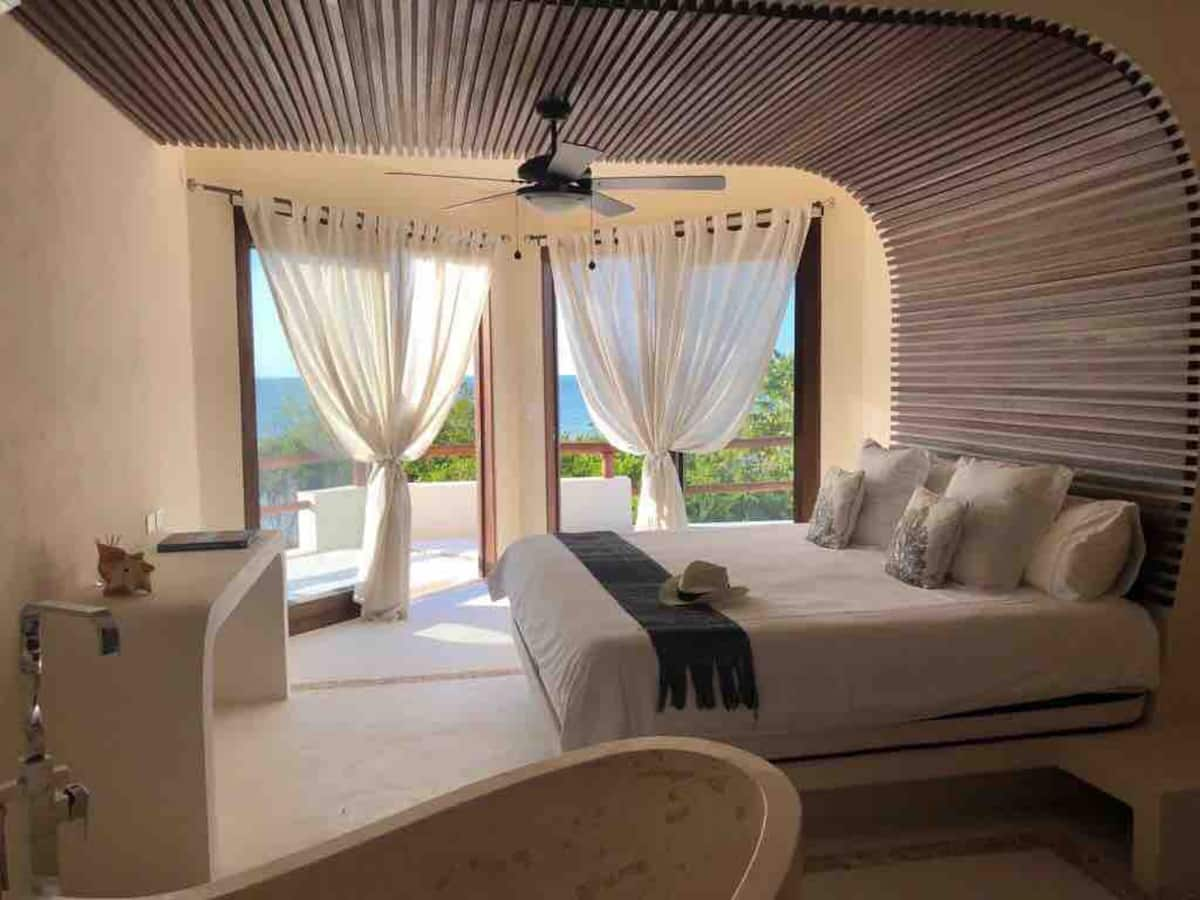 This is one of the recently constructed hotels in Isla Holbox with the beach in the vicinity and restaurants just a few minutes away by golf cart. Villa Punta Coco sleeps 6 people in its 3 rooms and is just a few steps from the sea, with spectacular views from the rooms and terraces.
On the ground floor, you will find a living room, open kitchen, bathroom, and a room, the first floor has two double rooms and a private bathroom, and on the second floor, you will find the main suite.
I love the freshness and openness of this Holbox Airbnb, it's so light and airy it really is the perfect getaway and it doesn't;t even matter that you are a little out of town as once you walk in you won't want to leave, well apart from wandering over to the beach of course.
Click here to book Villa Punta Coco
Casa Mariposa- Beach House For Large Group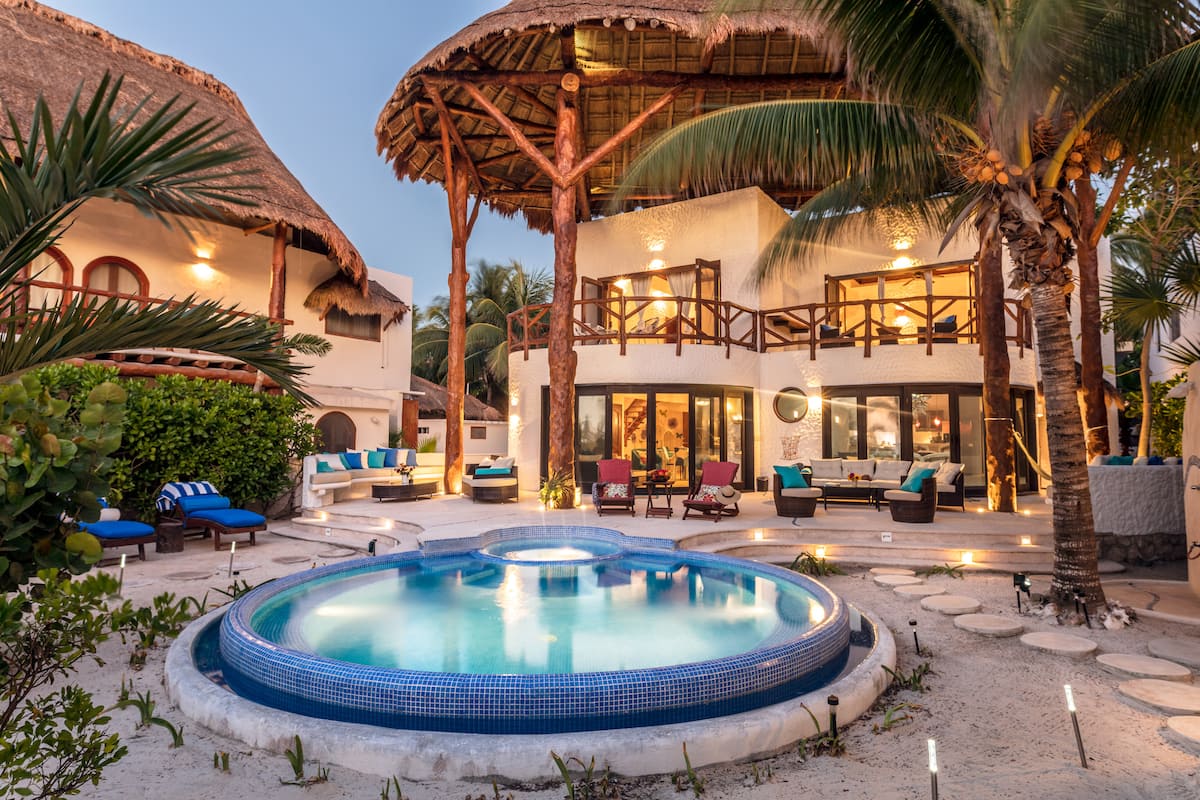 Planning a large group trip to Isla Holbox with family or friends? Then Casa Mariposa is the place to stay as it can accommodate up to 20 people and it's quite literally built on the sand. It offers privacy for your group if you just want to chill and enjoy your time together, but it's still close enough to the town that it's very easy to access when you need to by golf cart or bicycle.
When you stay in this luxury Holbox accommodation you will be treated to a private beach, outdoor pool, large kitchen, and a private pool with an outside shower. It has six bedrooms, six full baths, gazebos, hammocks, and all other prime facilities. The kitchen is fully equipped with all appliances, dinnerware, and cooking utensils.
While you are staying here, you have the entire house at your disposal!
The Best Holbox Boutique Hotels
LaIsla Holbox Luxury Villa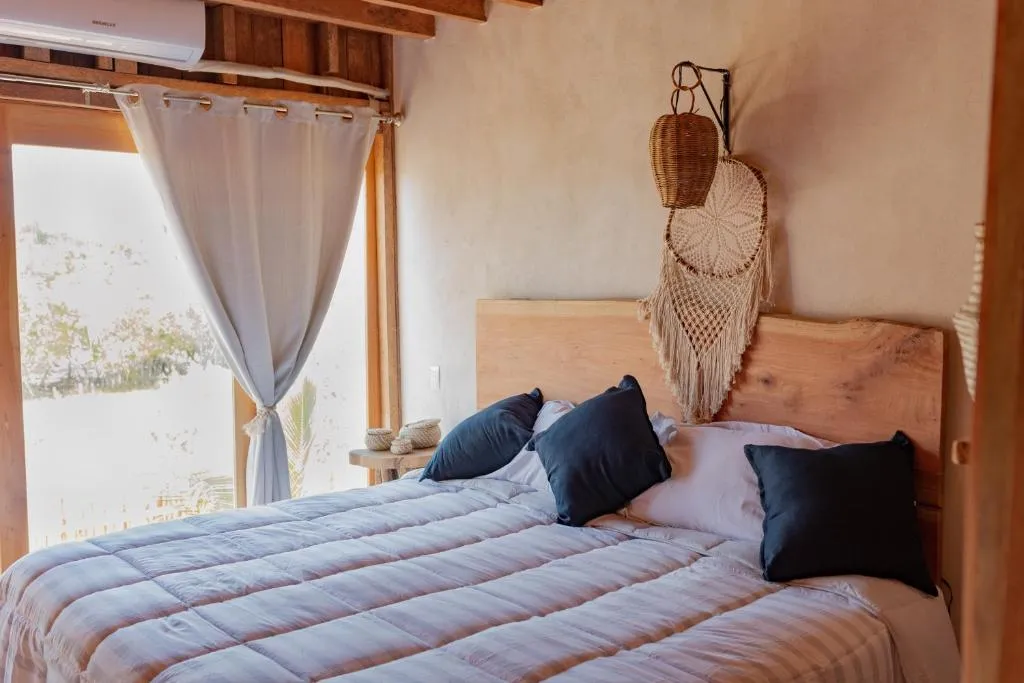 LaIsla is a luxury hotel Holbox with contemporary décor, pool area, views of the sea, and satellite Wi-Fi. Equipped with two living rooms, four bedrooms, 4.5 bathrooms, an outdoor pool, and a full kitchen. This is one of the very few Holbox boutique hotels that also have a rooftop from where you can enjoy the sea and the sunset views.
For this reason, it's my top pick for Holbox boutique hotels.
Click here to book LaIsla Holbox Boutique Hotel
Casa Las Tortugas Petit Beach Hotel & Spa
Holbox Hotel Casa Las Tortugas is one of the family-run hotels on Holbox Island located right next to the beach. It's one of the most well-known and loved places to stay in Holbox, and for good reason.
When you think of classic Holbox beach-chic accommodation this is it. It's especially popular with people looking to merge their stay on the island with a mini-retreat as they also offer yoga and a range of spa treatments.
Featuring hut-style rooms, a hammam, hot tub, and outdoor pool, the hotel rooms have ethnic furniture and bamboo frames. There is a bar by the pool, and the hotel restaurant serves a wide range of foreign cuisine.
Click here to book Casa Las Tortugas Boutique Holbox Hotel
My Favourite Luxury Hotel Holbox
Aldea Kuka
If you are looking to stay in one of the luxury Holbox hotels then Aldea Kuka is my top pick. I'm so in love with the decor and vibe here. They have many different rooms from luxury honeymoon suites to a superior family room that sleeps up to 5 adults. So if you are traveling in a group and want to share to keep costs down, while still staying in a more luxurious place, this is it.
They also provide breakfast, air conditioning, fire extinguisher, hairdryer, and smoke alarm.
All in all, it's a great place to make your stay but enjoyable and luxurious.
Click here to book your stay at Aldea Kuka
The Best Holbox All Inclusive
Holbox isn't really known for all-inclusive resorts, that's more of a Cancun or Playa del Carmen thing. But there are one of 2 options if you prefer to stay at a Holbox all inclusive resort.
Villas HM Palapas del Mar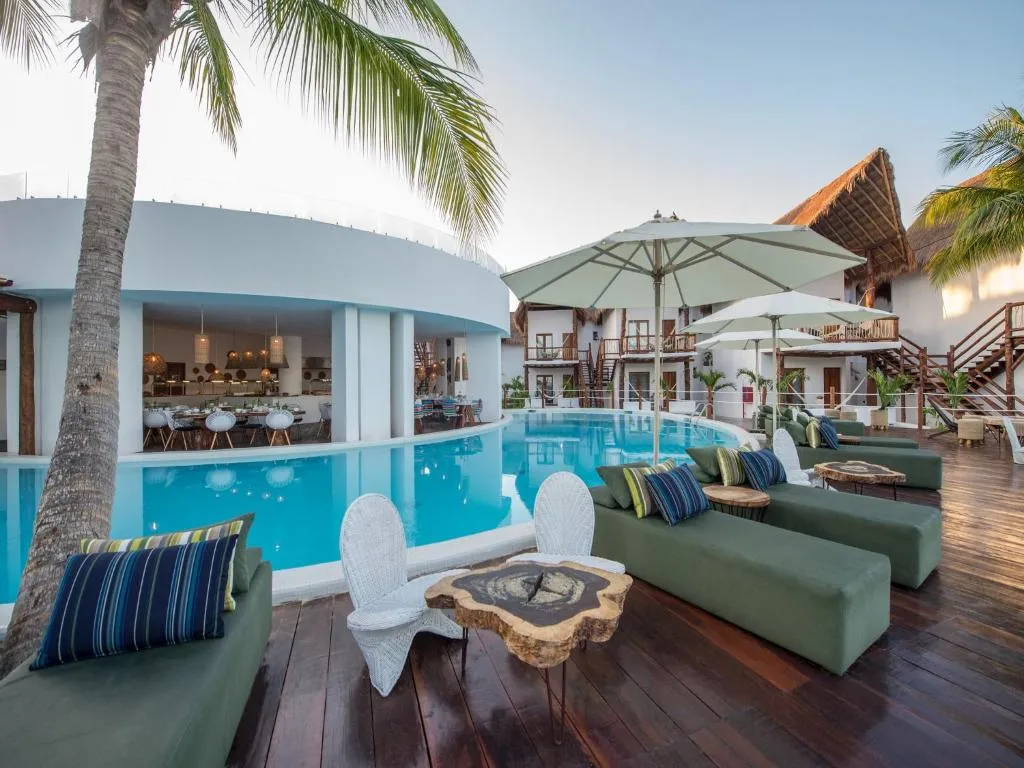 Highly popular among couples, Villas HM Palapas del Mar is a Holbox all-inclusive featuring family rooms, restaurant, bar, garden, and outdoor swimming pool.
All rooms also have free Wi-Fi access and a private bathroom. HM Palapas del Mar is in one of the best locations on the island and with bike hire available direct from the hotel you can easily get around the island from here. The hotel is right on the beach and has a super zen private beach area full of hammocks and sun loungers to spend lazy days.
It's a bit of a couple's place to stay, but if you don't mind being surrounded by loved-up couples it's a wonderful hotel in Holbox to stay at.
Click here to book Villas HM Palapas del Mar
Casa HX – Optional All Inclusive
Just 500 m from Playa Punta Coco, Casa HX is one of the small 4-star Isla de Holbox hotels featuring a restaurant, bar, shared lounge, garden, outdoor swimming pool, and sun terrace.
This is a great option if you want to be close to see the bioluminescence at night time as you can see it right at the beach close to the hotel (no need to take a boat trip).
All rooms come with it air-conditioning (needed in the summer months) a wardrobe, a private bathroom, and free Wi-Fi.
Click here to book your stay at Casa HX
Holbox Best Hotels For All Budgets
Hotel Para Ti – Adults Only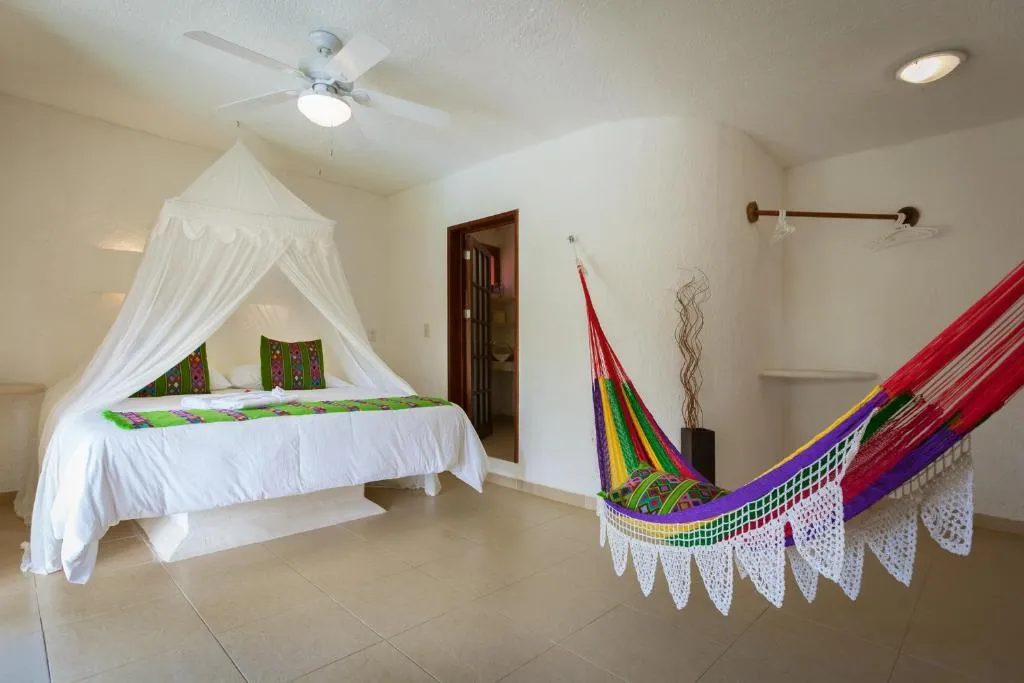 If you are looking for adults-only hotels in Holbox, this 3-star hotel would be an ideal choice.
Hotel Para Ti features a bar, outdoor swimming pool, garden, hot tub, and snacks bar, this hotel has air-conditioned rooms with a wardrobe, private bathroom, and free Wi-Fi.
Situated in one of the best locations especially popular with couples looking for a romantic getaway. The hotel does offer an airport shuttle (at an additional cost), but you will always pay more for this service if you book through the hotel.
Click here to book your stay at Hotel Para Ti
Villas Caracol
Situated on Playa Norte Beach on the northern coast of the island, Villas Caracol is one of the best hotels in Holbox featuring Balinese loungers and beds.
The air-conditioned rooms are equipped with modern décor, a private bathroom, free Wi-Fi, and cable TV. The villa offers kayaks to guests to explore the sea and the island. Holbox Ferry Terminal is a 5-minute drive so you will need to take a taxi here from the ferry if you come with lots of baggage.
Click here to book your stay at Villas Caracol
Holbox Casa Punta Coco – Adults Only
Featuring a private beach and outdoor pool, Casa Punta Coco is an adults-only Holbox hotel offering free continental breakfast and lunch or dinner on request.
Some rooms have a private bathroom with a spa bath, some have a seating area, and others have a balcony or terrace.
And remember while staying in any of the Isla Holbox hotels, you can also enjoy a range of activities, including cycling, fishing, and windsurfing. It's a 30-minute walk into town from this Holbox hotel, or a short bike ride if you rent a bike.
Click here to book your stay at Holbox Casa Punta Coco
Holbox Hostel Choices If You Are On A Budget
Che Holbox Hostel & Bar
If you are looking for a Holbox hostel with all the facilities and amenities, then hostel Che is a great choice. It's one of the most popular Holbox hostels with backpackers and budget travelers alike. Featuring a bar it also offers a shared lounge and a garden for you to relax in. You can cook for yourself in the shared kitchen, or order some snacks at the bar. There is free Wi-Fi throughout, but of course, like all of the Island, it's not great.
There is also a terrace and equipment to play table tennis. Che is 2.3 km from Punta Coco so you will need to rent a bike or golf cart to get there.
Breakfast is included in the price.
Click here to book your stay at Hostel Che
Tribu Hostel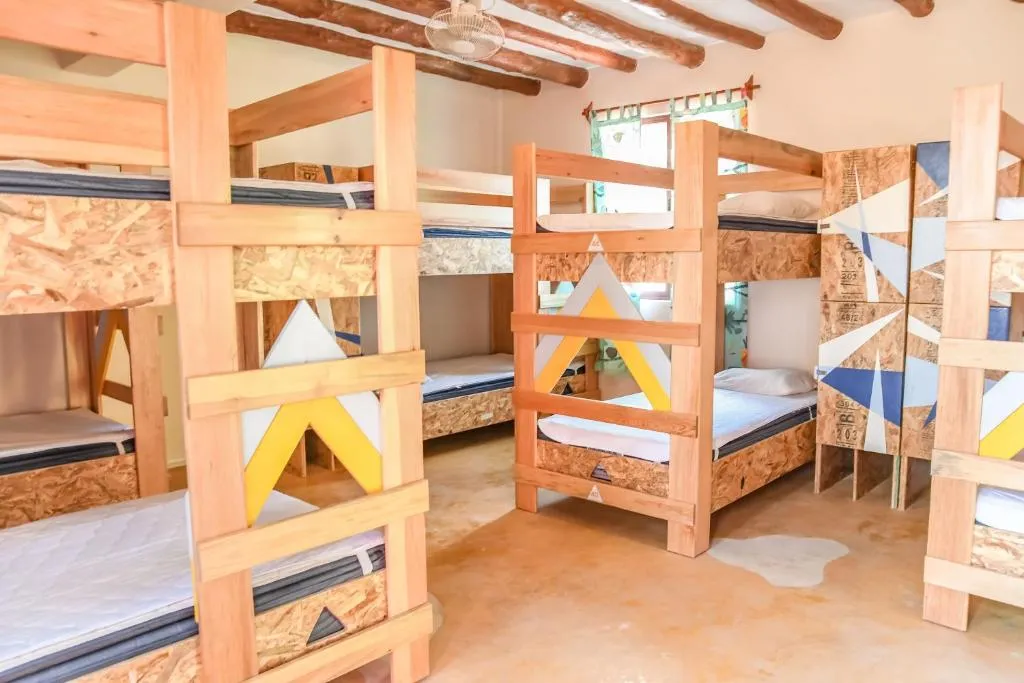 If you are looking for facilities like Isla Holbox resorts without breaking your budget, Tribu is one of the best Holbox hostels to make a great pick.
Just 50m from the beach, this hotel features spacious rooms, a garden with hammocks, a roof terrace, and private bathrooms. The hostel is equipped with private rooms, shared dormitories, mosquito nets, and bright colorful décor for all your Instagram pics.
You may also enjoy BBQ and communal kitchen facilities, along with jam sessions, movie nights, and kite surfing lessons.
Click here to book your stay at Tribu Holbox Hostel
Final Thoughts
Hopefully, this guide must have helped you find some of the best Isla Holbox Hotels. No matter what your budget is, no matter what size of group you are traveling with, and whether you are on a vacation or a business trip, don't forget to refer to this guide before booking your hotels Holbox Island.
Pin For Later