In Tulum, it's easy to blow the budget, so one of the best areas to save money is on your accommodation. Now don't be fooled into thinking that you will be 'slumming it' in a Tulum hostel, you won't be. Every one of these hostels in Tulum Mexico is stunning, and they all have private rooms. And I've even got a section highlighting some Tulum hostels on the beach that are easily some of the best hostels in Mexico.
Need to book transportation in Mexico?
I highly recommend booking all of your Mexico transportation with GuateGo. You can search for buses, shuttles, ferries, and Flights on their website. What I love most about them is their customer service. I know these guys personally from my time living in Guatemala and they really do look after their customers. So if anything happens and you get delayed and miss your bus, you can just call them and they are always there to help.

If you book through them you will pay a little more than if you book in person at the bus station. But it's worth it for the ease and security in my opinion. Click here to search for transportation in Mexico.
The Best Hostels in Tulum Mexico
The number 1 most popular hostel in Tulum Mexico is Che. Che hostel in Tulum is in the perfect location if you want to be right in the center. It's in the heart of Tulum town making it easy to get anywhere you want to in Tulum. There is a pool and a lively bar so it's ideal if you are looking for a party/ social hostel to stay at.
Here you can get a dorm bed for about $10 USD or a private one for around $27 USD.
Click here to see prices for your dates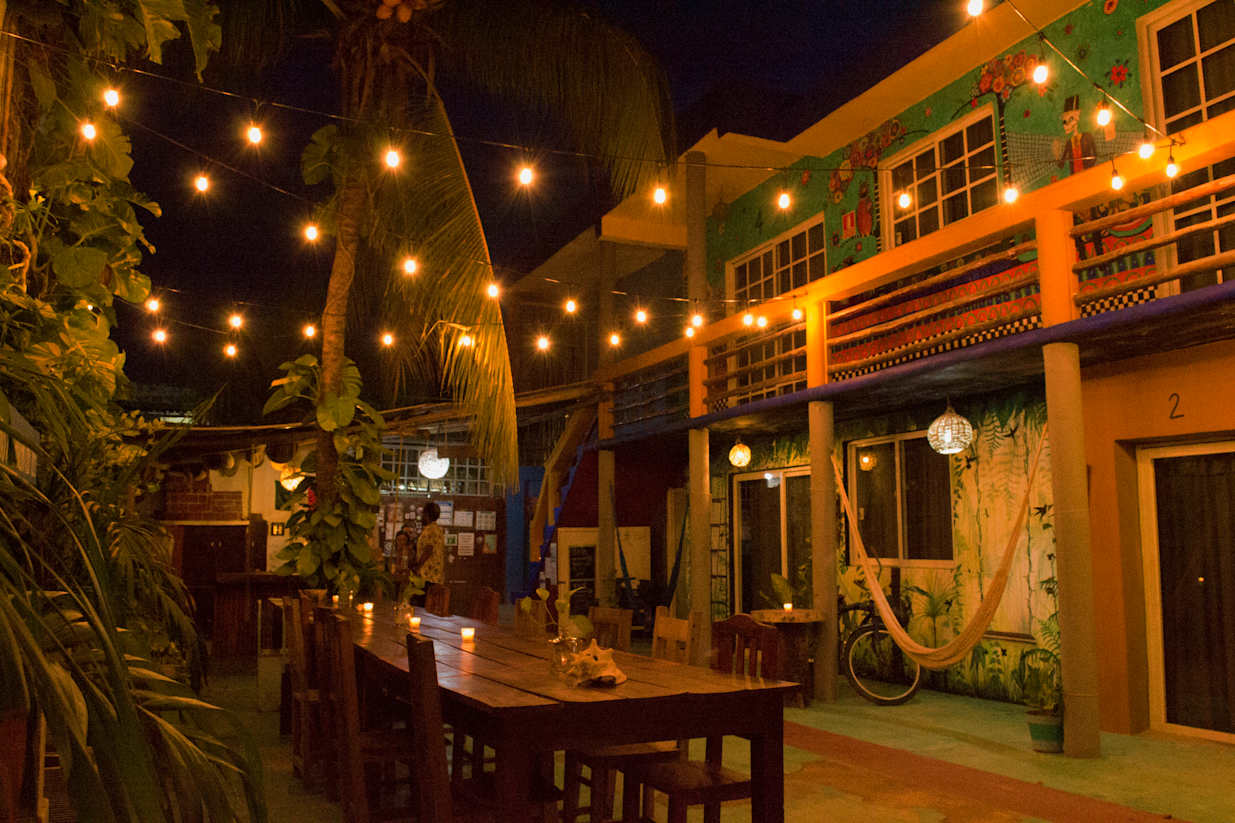 Mamas house hostel Tulum is another well-known and popular hostel among backpackers. It's very central, but just off the main road so it's quieter. They have a large patio area where you can chill out and meet other travelers, all rooms have AC (you will need it), and when you walk in you feel like you are in the jungle, even though you just came in off the street!
Expect to pay around $30 USD for a private and under $10 USD for a dorm bed.
Click here to see prices for your dates
This is a very small hostel located in Tulum town. It is pretty impressive to see what the owners did in such a small piece of land. The bar is absolutely beautiful and the dorms are very comfortable and well equipped. All the rooms have AC which is pretty important here, but you can also dive into the two small pools in the hostel to refresh yourself.
A word of warning though, it is a beautiful place but if you are looking to do some yoga while you stay there, you may want to choose your spot wisely because there are not many places where you can unroll your yoga mat and get on with your flow.
The place is very affordable and it has options for different budgets.
Click here to see prices on your dates
This is one of my personal favorite Tulum hostels for one reason… the rooftop! Seriously, the rooftop at this hostel is amazing and features a good size swimming pool. I told you there was no slumming in Tulum hostels, didn't I! The rooftop is the ideal place to watch the sun setting with a cocktail in hand.
The location of Mayan Monkey Hostel in Tulum is on the main road going towards the beach just opposite the big supermarket. It's at a midway point where you can easily walk into town (better on a bike though), or bike to the beach.
Dorm beds are pretty cheap here and you can get one for under $10 USD but a private room will set you back just under $50 USD.
Click here to see prices for your dates
Looking for a reputable tour company in The Riviera Maya?
I've been working with Turismo Channel in Playa del Carmen for years and they are who I send all of my family and friends to when they visit the Riviera Maya. I really can recommend them enough for tours, private airport transfers, and rental cars. Vanessa and Oliver are personal friends of mine and I have 100% faith that you will have a wonderful time with them.
You can check out their tours by clicking here and using the following discount codes for the best prices clairecaroff (car rental), claire10off (for 10% off group tours), claireprivate (for a discount on private tours). You can also send her a WhatsApp message quoting the above codes to receive the discount.
This is another place a bit more expensive, but it is worth it. It is very close to archeological sites and you can bike or walk to the beach. If you do this, remember to take your water bottle with you because it will be HOT!
There is a decent size pool where you can swim and the rooms are quite spacey and beautiful to relax and enjoy.
Click here to see the prices for your dates
Tulum Hostels on the beach
That's right there are some hostels on the beach! And they are nice and not too expensive. Of course, you will pay more money if you want to stay on the beach than you will in town. But when you look at the prices the hosels are charging (most Tulum beach hotels are $500 USD a night) you will see that you are getting an excellent deal!
Selina has finally come to Tulum, and wow did they get a great spot! This is the only hostel that is actually on the beach and it has both beach access and a swimming pool. Plus if you are a digital nomad then you can also access the coworking space here for an additional fee.
The location of Selina in Tulum is right in the heart of the beach road with plenty to explore on foot or by bike.
A bed in a dorm room will cost around $35 USD while a private room will set you back around $60 USD a night upwards, which is an actual steal!
Click here to see prices for your dates
Did You Get Travel Insurance Yet?
If 2020 taught us anything, it's that you need to be prepared for anything! Travel insurance has always been high my list of things to get before I travel but now more than ever its at the top of my list.

I'm pretty sure we have all had travel plans messed up because of COVID and not all insurers covered this. So when looking for travel insurance it's important to check it covers travel disruption due to COVID-19, Hey Mondo, Passport Nomads, Safety Wing, and Travel Insurance Master all provide cover for this.

Hey Mondo is great if you are looking for a great value flexible policy. They offer single trip cover, annual multi trip cover, and long term travel cover. You even have the option to start the cover when you are already on your trip, although you won't be covered for the first 72 hours. For me my favourite feature is their app which offers you a 24/7 Dr chat and the ability to file a claim direct in the app.

Passport Nomads provides the most comprehensive cover for Digital Nomads. The game changer with them is that you have a red card and if you find yourself in need of medical care you just contact them and they will pre load your card with the funds to cover your treatment, meaning you won't need to pay out of pocket and then put in a claim later.

Safety Wing is great value with monthly cover starting at $39. It's super easy to use and it just renews each month. They have an excess of $250 and it's simple to make a claim through their website. I currently use them as they offer me free cover for my son as part of my policy and I like that it renews on a monthly basis, so I don't have to pay out a big lump sum up front.

I also use Travel Insurance Master for some short vacation type trips.

If you are doing shorter trips or an extended backpacking trip then Hey Mondo or Travel Insurance Master are the best option. If you are a digital nomad or planning travel of at least 6 months then go for Passport Nomads or SafetyWing.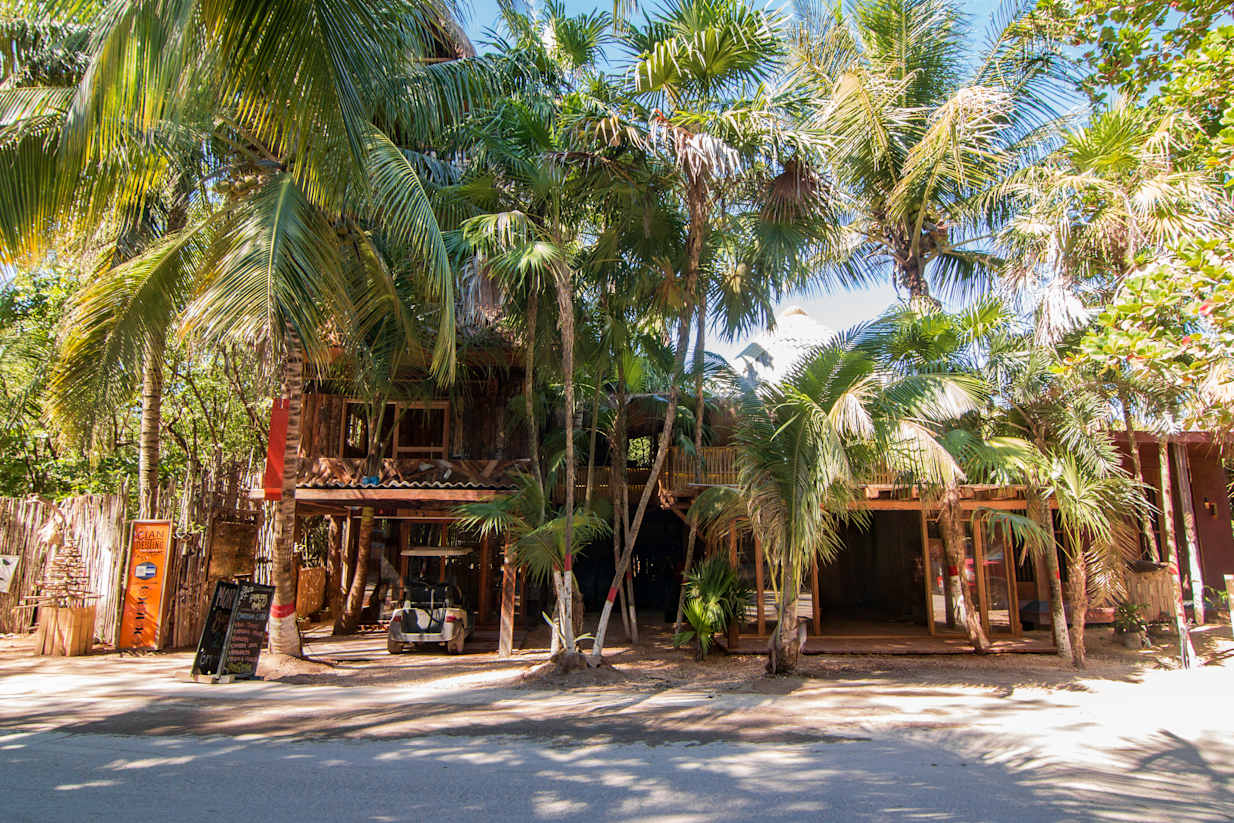 My final on this list of the best Tulum hostels is the Bambu. It can be a little tricky to find (Google maps doesn't always work. But the location is great. It's a bit further down the road than Selina but it's very close to La Zebra which has a great bar and restaurant on the beach.
Be warned though, the hostel is made of bamboo, so if you can't cope with creepy crawlies (mostly in the bathroom) then maybe staying in a bamboo hostel in the Tulum jungle isn't for you. The dooms themselves are nice and cool and you have a big lockable box at the end of each bed which was very handy.
Oh, and there is also a beautiful cenote there!
A dorm bed here can be as cheap as $17 USD a night! And a private starts at $60 USD.
Click here to see prices on your dates
Need some more options for Tulum Accommodation?
I wrote a whole post to help you decide the best area in Tulum to stay with my recommendations depending on your budget. I also wrote a guide to the top boutique hotels in Tulum and Where to stay in Tulum
Traveling in the Riviera Maya? Click to read my guides to accommodation in Playa del Carmen, and Cancun
Pin For Later!