Looking for a Tulum hostel? In Tulum, it's easy to blow the budget, so one of the best areas to save money is on your accommodation. Now don't be fooled into thinking that you will be 'slumming it' in a Tulum hostel, you won't be.
It's not just the pristine beaches or the ancient Mayan ruins that call to the wanderer in you, but also the vibrant hostels that have become a cornerstone of the Tulum experience. As a seasoned adventurer who's laid her head in countless hostels around the globe, I can tell you that Tulum offers some of the best.
In this post, I'm excited to share with you the creme de la creme of Tulum hostels, each offering a unique blend of hospitality, comfort, and that much-needed local vibe. Whether you're traveling solo, with a partner, or in a group; whether you're here for the yoga, the parties, or just to soak up the sun, there is a hostel Tulum for you!
Every one of these hostels in Tulum Mexico is stunning, and they all have private rooms. And I've even got a section highlighting some Tulum hostels on the beach that are easily some of the best hostels in Mexico.
Let's dive into my top picks for the best hostels in Tulum, Mexico, where each stay promises new friends and unforgettable memories.
Did You Get Travel Insurance Yet?

The Insurance companies I recommend are Hey Mondo, Safety Wing, and Travel Insurance Master

Hey Mondo is great if you are looking for a great value flexible policy. They offer single-trip cover, annual multi-trip cover, and long-term travel cover. Safety Wing is great value, with monthly coverage starting at $39. It's super easy to use, and it just renews each month. I currently use them as they offer me free cover for my son as part of my policy. I also use Travel Insurance Master for short trips.

Read my full travel insurance post here, where I go into detail about all companies.
The Best Hostels in Tulum Mexico
From dorms that offer a cozy bed and a locker, to private rooms that are a retreat in themselves, Tulum's hostels cater to every preference. Communal spaces are where the magic happens; they are vibrant melting pots where travelers exchange tales, plan expeditions to nearby cenotes, or team up for a yoga session by the shore.
Quick Tip: I highly recommend booking all of your Mexico transportation with GottoGo. You can search for buses, shuttles, ferries, and Flights on their website. What I love most about them is their customer service. I know these guys personally from living in Guatemala, and they look after their customers.

If anything happens and you get delayed and miss your bus, you can just call them, and they are always there to help. If you book through them, you will pay a little more than booking in person at the bus station. But it's worth it for the ease and security. Click here to search for transportation in Mexico.
The number 1 most popular hostel in Tulum Mexico is Che. Che hostel in Tulum is in the perfect location if you want to be right in the center.
Che Tulum is known for its lively atmosphere, where the buzz of excitement is palpable. Weekly events, salsa nights, and group tours ensure that there's never a dull moment. Yet, it manages to balance the fiesta with the siesta—offering quiet nooks and comfortable beds where you can recharge after a day exploring Tulum's mystical cenotes and Mayan ruins or basking in the sun on its powdery beaches.
With options ranging from airy dorms to private rooms, Che caters to every type of traveler. The staff, often travelers themselves, are a wellspring of insider tips, keen to help you uncover the hidden gems of Tulum. Sustainability is also part of Che's charm, reflecting Tulum's growing eco-conscious ethos.
Here you can get a dorm bed for about $15 USD or a private one for around $52 USD.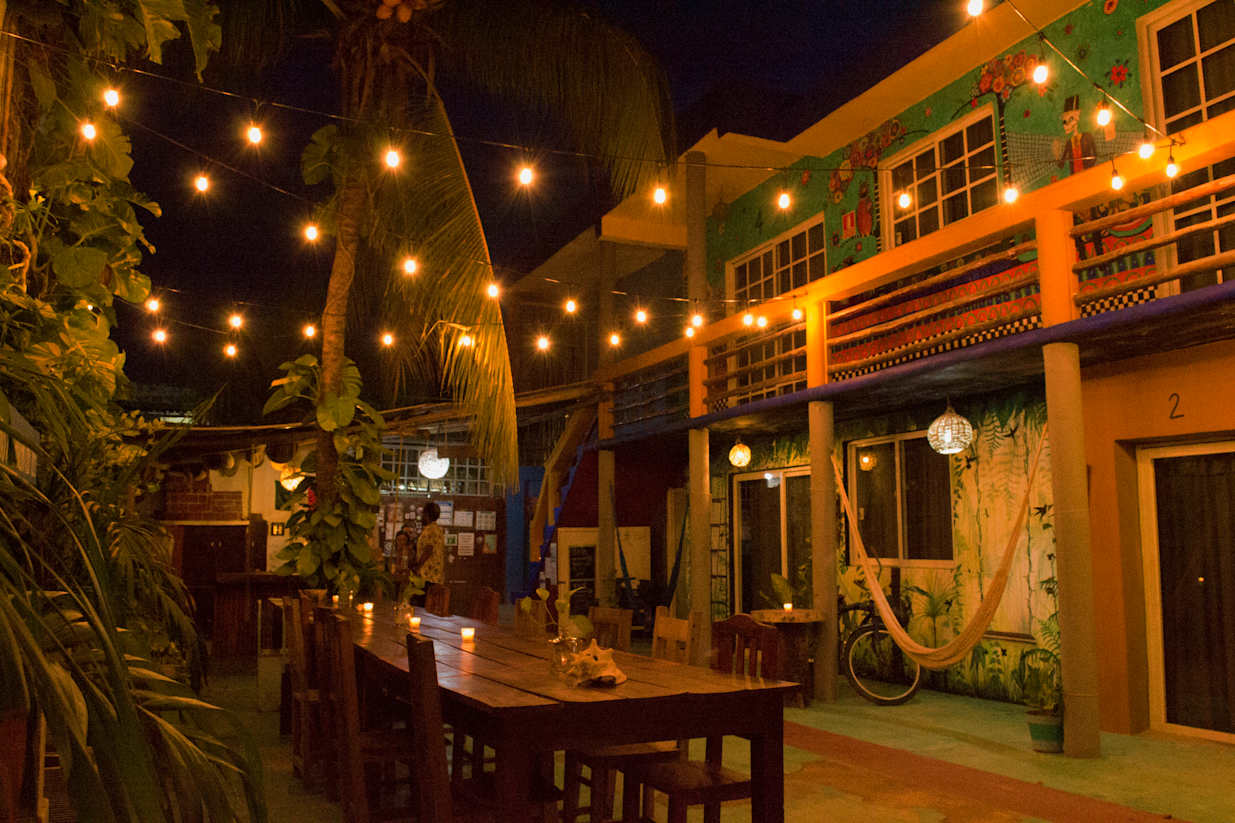 Mamas house hostel Tulum is another well-known and popular hostel among backpackers. It's very central, but just off the main road so it's quieter. When you walk through the doors of Mama's House, the vibe is immediately inviting. The staff are genuine and hospitable, ready to assist you with anything you need. The hostel is clean, comfortable, and offers all the essentials, including some hearty home-cooked meals that are perfect for fueling up before a day of exploring.
They have a large patio area where you can chill out and meet other travelers, all rooms have AC (you will need it), and when you walk in you feel like you are in the jungle, even though you just came in off the street!
The rooms at Mama's House cater to various preferences, providing both private and shared accommodations. While the hostel has a social atmosphere, it's also easy to find your own space when you need some downtime.
Expect to pay around $95 USD for a private and under $15 USD for a dorm bed.
For travelers seeking a down-to-earth, friendly place to stay in Tulum, Mama's House ticks all the boxes.
This is a very small hostel located in Tulum town. It is pretty impressive to see what the owners did in such a small piece of land.
Oostel Smart Hostel is a fresh take on the Tulum hostel scene, marrying the social vibe of traditional hostelling with a sleek, modern approach that caters to the digitally-minded traveler. Positioned in Tulum Pueblo, away from the hustle and bustle of the beach zone, it offers a more authentic slice of local life while keeping you connected to the best of Tulum.
Upon entering Oostel, you'll be struck by its contemporary design and tech-savvy setup. It's equipped with everything the modern traveler needs, from high-speed Wi-Fi to secure lockers with electronic keys. The hostel takes the concept of smart travel seriously, providing a streamlined experience from check-in to check-out, all with a focus on comfort and convenience.
The bar is absolutely beautiful and the dorms are very comfortable and well equipped. All the rooms have AC which is pretty important here, but you can also dive into the two small pools in the hostel to refresh yourself.
The accommodations at Oostel are versatile, offering both private and shared rooms that don't skimp on quality. The beds are comfortable, ensuring a good night's sleep after a day of exploration. The staff are knowledgeable and always ready to share tips on the latest hotspots or hidden gems in and around Tulum.
For those who seek a modern, efficient, and friendly place to stay, Oostel Smart Hostel stands out as a top choice in Tulum Pueblo. It delivers a comfortable, connected stay that feels right in step with the needs of today's travelers.
A word of warning though, it is a beautiful place but if you are looking to do some yoga while you stay there, you may want to choose your spot wisely because there are not many places where you can unroll your yoga mat and get on with your flow.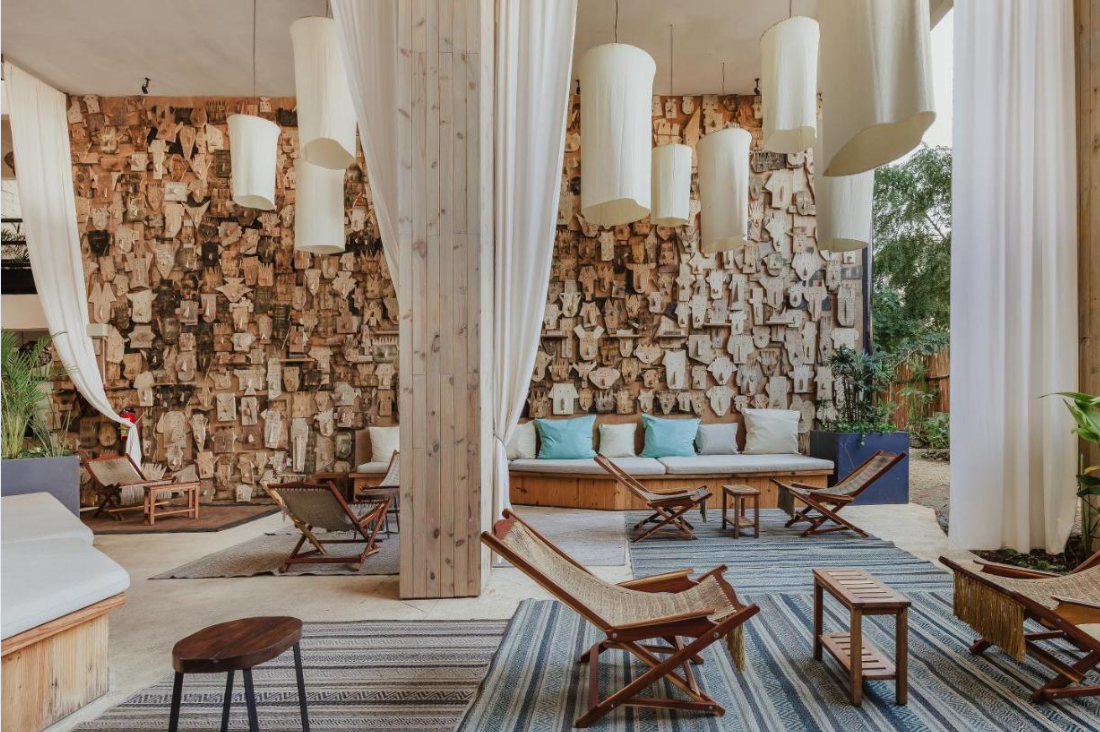 Mayan Monkey Hostel Tulum is one of my personal favorite Tulum hostels for one reason… the rooftop! Seriously, the rooftop at this hostel is amazing and features a good-sized swimming pool. I told you there was no slumming in Tulum hostels, didn't I! The rooftop is the ideal place to watch the sun setting with a cocktail in hand.
Mayan Monkey Hostel in Tulum is an experience-driven hostel that mixes the social atmosphere of communal living with the vibrant culture of Tulum. The hostel boasts a design that is both stylish and functional, echoing the aesthetic of Tulum with a youthful twist.
What really sets Mayan Monkey apart is its location and local partnerships, allowing guests to easily venture into the heart of Tulum's nightlife, explore the ancient ruins, or relax on the stunning beaches. The staff are super helpful and always ready to help guests navigate the local sights and sounds.
Dorm beds are pretty cheap here and you can get one from $20 USD but a private room is from $130
QUICK TIP: Book your tours, rental cars, and transfers through my local contacts

I've been working with Living Dreams Mexico for years and they are who I send all my family and friends to when they visit the Riviera Maya. I really can recommend them enough for private tours and experiences. They have solid 5* reviews on Trip Advisor and Google from almost 4000 reviewers! You can view all their tours here.

If you're looking for private airport transfers and rental cars then Vanessa and Oliver from Turismo Channel are personal friends of mine and I can 100% recommend them to make an inquiry click here and complete the form. Someone will be in touch within 24 hours.
Pacha Tulum is a cozy and inviting boutique hostel that presents a tranquil alternative to the usual backpacker buzz, perfect for travelers who value a more intimate and personalized lodging experience. Nestled in Tulum, it combines the accessibility of a central location with the serene atmosphere of a secluded retreat.
It is a bit more expensive than other Tulum hostels, but it is worth it. It is very close to archeological sites and you can bike or walk to the beach. If you do this, remember to take your water bottle with you because it will be HOT!
There is a decent-sized pool where you can swim and the rooms are quite spacey and beautiful to relax and enjoy. The hostel is small enough to ensure that guests receive attentive service, yet it offers all the crucial amenities for a comfortable stay. The rooms and common areas are clean, well-maintained, and adorned with local art, reflecting the cultural spirit of the area.
Accommodation options vary from private rooms to smaller dorms, all designed with a touch of local flair and simplicity to ensure a restful night. The hostel also prides itself on offering a peaceful garden area where guests can unwind in hammocks, escape the midday heat or enjoy a quiet evening.
For those who seek a quieter, more personal base for their Tulum explorations, Pacha Tulum stands out for its homely charm and warm, accommodating atmosphere.
Quick Tip: Book accommodation, tours, and transport ahead of time online to save money and stress.
Best Mexico Tours: Click here to check out the top Mexico tours
Best Mexico Accommodation: Click here to check out the best accommodation in Mexico
Best Mexico Transport: Click here to book a bus, ferry, or train in Mexico
Tulum Hostels on the beach
That's right there are some hostels on the beach! And they are nice and not too expensive. Of course, you will pay more money if you want to stay on the beach than you will in town. But when you look at the prices the hotels are charging (most Tulum beach hotels are $500 USD a night) you will see that you are getting an excellent deal!
The location of Selina Hotel Tulum is right in the heart of the beach road with plenty to explore on foot or by bike. This is the only hostel that is actually on the beach and it has both beach access and a swimming pool. Plus if you are a digital nomad then you can also access the coworking space here for an additional fee.
Selina Tulum is a part of the renowned Selina hostel chain, known for their unique blend of lodging, co-working, and local culture, designed to cater to digital nomads, adventurers, and wellness enthusiasts alike. This outpost in Tulum taps into the bohemian spirit of the region, offering a stylish and social base from which to explore the natural and historical riches of the area.
The decor is effortlessly chic, with an emphasis on rustic charm and comfort. The spaces are thoughtfully designed to encourage guests to interact, share stories, and collaborate creatively.
Selina Tulum offers a variety of accommodation options to fit every budget and preference, from luxurious private rooms to community-focused shared dormitories. Beyond just lodging, the hostel provides a comprehensive experience with its on-site amenities such as a co-working space, a wellness center offering yoga classes, and a vibrant bar and restaurant scene that showcases local flavors and global cuisine.
What truly sets Selina Tulum apart is their calendar of events and activities, encouraging guests to connect with the environment and each other. Think impromptu jam sessions, workshops, and tours that dive deep into the Yucatán's ecological and archaeological wonders.
A bed in a dorm room will cost around $65 USD while a private room will set you back around $212 USD a night upwards!
Recommended Mexican Tour Companies

These are companies I 100% recommend booking activities within Mexico.

Where Sidewalks End – One of my favorite Mexican based. companies offering boutique travel experiences you won't find anywhere else.

Turismo Channel – If you are traveling to Playa del Carmen then I recommend booking through my friend Vanessa at Turismo Channel. You can check out their tours by clicking here and us code claire10off for 10% off group toursYou can also send her a WhatsApp message quoting the code to receive the discount.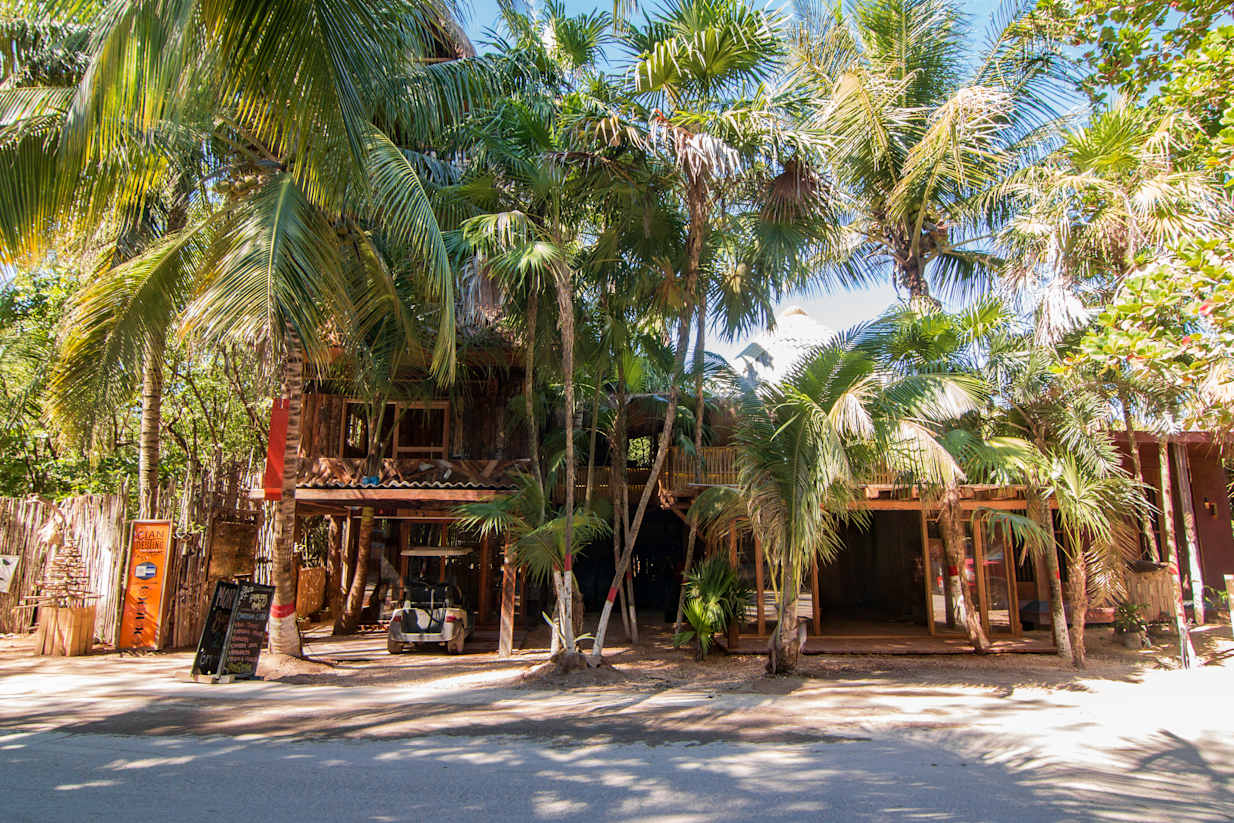 My final on this list of the best Tulum hostels is the Bambu. It can be a little tricky to find (Google maps doesn't always work. But the location is great. It's a bit further down the road than Selina but it's very close to La Zebra which has a great bar and restaurant on the beach.
Bambu Gran Palas Hostel in Tulum offers travelers a unique and affordable way to experience the magic of this tropical destination. It's a haven for those who seek the social aspect of hostelling combined with a touch of the area's natural beauty and a commitment to sustainability.
This hostel distinguishes itself with its eco-friendly approach, utilizing bamboo and other natural materials in much of its construction, giving guests a closer connection to the natural environment of Tulum. The ambiance is rustic yet comfortable, providing an authentic jungle vibe that's rare to find so close to Tulum's bustling town center and stunning beaches.
Accommodations at Bambu Gran Palas range from dormitory-style rooms to private cabins, catering to the needs of solo backpackers, groups, and even couples looking for a bit more privacy. Despite the variety, each option maintains a balance of simplicity and function, ensuring a comfortable stay amidst the lush surroundings.
The communal spaces at Bambu Gran Palas are lively and inviting, designed to foster interaction and community among guests. From communal kitchens for self-catering to chill-out areas perfect for relaxing or getting to know fellow travelers, there's a space for every mood.
Staff at Bambu Gran Palas are not only hospitable but are also knowledgeable about Tulum and its surroundings, ready to offer tips on the best local eateries, the most serene cenote swims, or how to navigate the Sian Ka'an Biosphere Reserve nearby.
Bambu Gran Palas Hostel is ideal for those who want a genuine Tulum experience that's eco-conscious, wallet-friendly, and socially engaging. It's a hostel that captures the essence of what it means to stay in one of Mexico's most enchanting locations.
Be warned though, the hostel is made of bamboo, so if you can't cope with creepy crawlies (mostly in the bathroom) then maybe staying in a bamboo hostel in the Tulum jungle isn't for you. The dooms themselves are nice and cool and you have a big lockable box at the end of each bed which was very handy.
Oh, and there is also a beautiful cenote there!
A dorm bed here can be as cheap as $28 USD a night! A private starts at $156 USD.
Quick Tip: View my full Mexico packing guide here including a downloadable checklist. And check out my Mexico Essentials shopping list here.
Mexico Travel Guide Planning
🧳 Any recommendations on what I should pack for Mexico?
Yes! I have created a whole packing guide to Mexico which you can read here and you can also check out my packing list for Mexico on Amazon here.
🚗 Where can I book bus or private transportation while I'm in Mexico?
I strongly recommend using GottoGo. You can book almost all transport in the major Mexican tourist destinations through them online. They don't just cover buses they also cover shuttles, ferries, and private drivers.
🎫 Where can I buy tickets for museums, attractions, and tours in Mexico?
First and foremost check out all of the amazing Mexico tours Where Sidewalks End has. They are a small local company and they have some really special experiences.
For everything else I recommend either Viator or GetYour Guide.
If you are traveling to Cancun you can use GoCity and save up to 55% of the initial cost of entrance tickets to various museums, tours, and attractions!
If you are traveling to Playa del Carmen then I recommend booking through my friend Vanessa at Turismo Channel. You can check out their tours by clicking here and using the following discount codes for the best prices clairecaroff (car rental), claire10off (for 10% off group tours), claireprivate (for a discount on private tours). You can also send her a WhatsApp message quoting the above codes to receive the discount.
👩‍⚕️ What is the best insurance to have while traveling?
I recommend using Heymondo for a great value policy. The app also offers you 24/7 Dr Chat. For Digital Nomads check out SafetyWing digital nomad insurance.
I have also written a blog post covering all my recommended travel insurance here
✈️ Any flight recommendations?
WayAWay offers you cheap flights with cashback. You can use this code CLAIRE22 to get 10% off. Otherwise Skyscanner or Expedia are my go-to flight searching platforms.
📱What do you use for internet connection while traveling?
I'm a big fan of personal WiFi devices and they have saved my ass so many times when traveling. I wrote a full review of the top travel WiFi devices you can read here. I personally use GlocalMe as I can either pop in a physical sim card or use their local carrier.
With regards to my phone connection, I use e-sims while traveling, so rather than having to swap out my regular sim card I can download the app and buy a virtual sim card. I recommend using eitherAirhub or Alosim. Both have great coverage of multiple countries and are very easy to use.
🛏️ What is the best platform to use for booking accommodation?
The 3 best platforms that I normally use are Booking.com, Hotels.com, and Expedia They offer great deals and multiple options. I always check all three to be sure of the best deals.
🛅 Do you have any luggage recommendations for traveling?
I do have a complete list of the best packing and luggage products that I recommend, you can check the list here. I'm currently traveling with this suitcase and this backpack.
Final Thoughts
As our journey through the hostels in Tulum comes to a close, it's clear that this vibrant town is a haven for travelers seeking both the solace of the sea and the spirit of community.
The hostels Tulum are more than just a place to rest your head; they are a crossroads of cultures, a hotspot for connection, and a reflection of the town's eclectic charm. Whether you choose a tranquil retreat nestled in the jungle or a lively abode by the beach, hostels in Tulum offer something that hotels often can't—a sense of belonging and an instant community of like-minded souls.
From the bohemian vibes and the mural-adorned walls to the communal kitchens where stories and recipes are shared, hostels in Tulum are an experience in themselves.
Tulum's magic doesn't just lie in its crystal-clear waters or its mystical ruins; it's in the places that allow you to pause, reflect, and connect.
Need some more options for Tulum Accommodation?
I wrote a whole post to help you decide the best area in Tulum to stay with my recommendations depending on your budget. I also wrote a guide to the top boutique hotels in Tulum and Where to stay in Tulum
Traveling in the Riviera Maya? Click to read my guides to accommodation in Playa del Carmen, and Cancun
Pin For Later!