Thinking of traveling to Guatemala in 2021 during COVID? If you are then you are probably wondering, "can I travel to Guatemala right now?", the short answer is yes. Guatemala is open for tourists right now. But of course, traveling to Guatemala in 2021 isn't as it was pre-COVID 19.
As so many of you find my blog to help you plan your Guatemala vacation I wanted to make sure that you have all of the most up-to-date information about traveling in Guatemala during COVID in 2021.
As you may know already, Guatemala was one of the first countries I traveled to when I began my journey as a female solo traveler. Regardless of what you hear in the news, Guatemala has some great sights and very friendly people. It is definitely worth visiting if you are looking for a slow-paced lifestyle. I have a whole host of blog posts on Guatemala so when you are ready to visit you can find them all here.
In this post, I'm going to answer your top questions.
Is Guatemala open for travel?
Are US Citizens allowed to travel to Guatemala right now?
Is it safe to travel to Guatemala right now?
Where to take a COVID test in Guatemala?
What are the entry requirements for Guatemala?
Can I travel to Guatemala right now?
Should I travel to Guatemala in 2021?
Is Guatemala Open For Tourists? And Can I travel To Guatemala Right Now?
Yes, Guatemala is open for tourists. With some restrictions. So in answer to the question, Can I travel to Guatemala right now? The answer is YES!
That being said, Guatemala does not permit the entry of travelers who have been in the United Kingdom or South Africa 14 days prior to their arrival. On 16 April, Guatemala included Brazil in this provision. These measures do not apply to Guatemalan nationals, diplomats, or foreign nationals legally resident in the country who must instead self-isolate for 10 days at their place of residence upon return. So as long as you aren't in the UK or SA you're good!
Guatemala was one of the first countries in Latin America to close its borders in 2020. The country had a ban on all commercial flights until September 2020. The airport in Guatemala is currently open and flights are possible, although as you can imagine there are not as many flights operating as there were pre-COVID. It is also possible to cross over the land borders into Guatemala when they are open with the exception of the land border with Belize, which still remains closed.
If you are thinking of entering by land through the Mexican border, although it is open, there is no certainty if the border will be opened at all times due to the migrant caravans from Honduras heading to the United States. Keep this in mind and it's best to transit across the land borders with a reputable tour company, or have a backup place to stay close to the border just in case it's closed.
Did You Get Your Travel Insurance Yet?
If you are planning a trip right now then you NEED to thing seriously about insurance. If 2020 taught us anything, it's that you need to be prepared for anything!

Travel insurance has always been high on the list of things to get before you travel but now more than ever it should be at the top of your list! I'm pretty sure we have all had travel plans messed up because of COVID and not all insurers covered this. So you need to find an insurer that covers travel disruption due to COVID-19, World Nomads and Safety Wing are the ones to go for. World Nomads is great for incidents that happen prior to your trip, so if you get sick or are unable to travel due to travel restrictions some of their policies will cover that as cancellation cover. Safety Wing goes the extra mile and covers quarantine outside your home for up to 10 days, they also have a really handy map on their website showing requirements and restrictions for each country.

If you are doing shorter trips or a onger backpacking trip then WorldNomads is the best option. If you are a digital nomad or planning travel of at least 6 months then go for SafetyWing. Alternativly Travel Insurance Master is a great site to do a more general serch for vacation insurance. Just make sure whichever insurance plan you go with will cover you for COVID.
Can US Citizens Travel to Guatemala?
I'm adding this in because after speaking with a friend who works in tourism in Guatemala she told me that when the CDC announced that all residents of the USA needed a negative antigen test before returning to the USA after traveling abroad all of their bookings were canceled!
If you are from the USA you are allowed to travel to Guatemala. You just need to take a test before you travel and then again before you return. Getting an antigen test in Guatemala that you will need to take your flight back to the USA is relatively easy and I go into detail about testing later in this post.
You can view the full and current guidelines from the CDC about travel here.
Do You Need A Visa For Guatemala?
If you are from the United States and are thinking about flying to Guatemala right now, and you are asking yourself, do US citizens need a visa for Guatemala? the answer is no. You need a valid passport for at least six months past the length of your journey, and a ticket as proof of you entering and leaving the country. With this, you will be granted 90 days to stay without having a visa. For more details, if a Guatemala visa is needed, visit natvisa.com
If you are from any other country, you need a valid passport for at least three months past the length of your journey, and a ticket as proof of you entering and leaving the country. With this, you will be granted 30 days of stay without having a visa that can be extended at the migration office in Guatemala City.
Is it Safe to Visit Guatemala in 2021?
It is not for me to judge whether you should travel to certain places or not.
But I can help you to build your own judgment to decide if Guatemala is safe to visit. If we are talking about safety from crime, that's a different matter and you can read my thoughts on safety for solo female travelers in Guatemala here.
If we are talking about safety from COVID, only you can make that call. Any travel right now during a worldwide pandemic is risky.
Guatemala COVID Safety Facts – Things I do know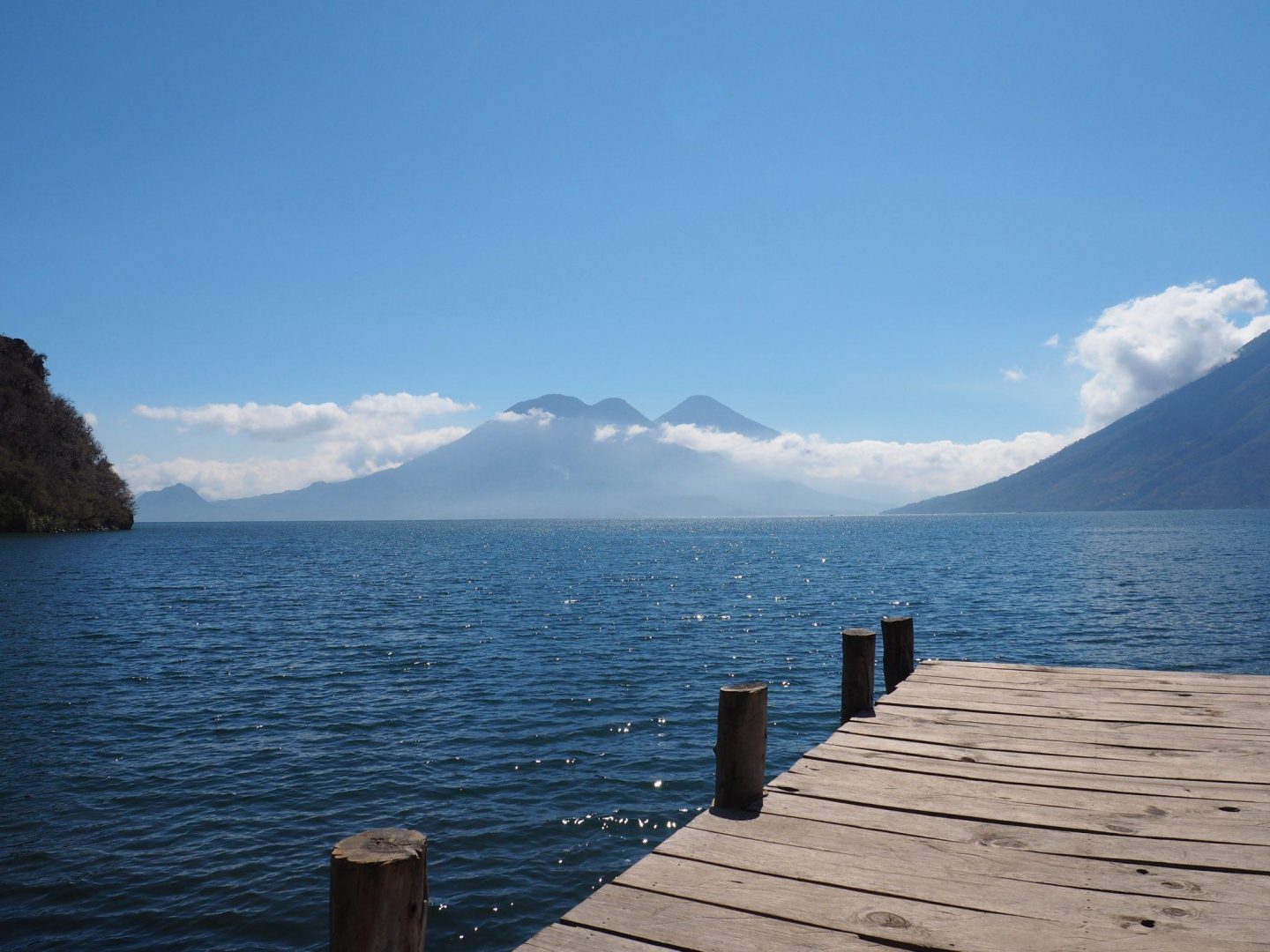 EDITOR'S NOTE: I will do my best to keep this article up to date regularly, and I will cite and reference original information sources so you can check yourself. However, things can change very quickly. If you do notice anything out of date or incorrect, please contact me and I will make the amendment.
Is there a curfew in Guatemala?
There is no curfew anymore, but safety measures like social distancing are still mandatory.
Are shops and markets open in Guatemala?
Local markets, malls, and shops are open. Each of them has their sanitary protocols like letting the entrance of only a given number of people in the facilities depending on the area, applying gel alcohol, and measuring the temperature of each person.
September update: there is a ban of no alcohol consumption from 21:00 to 6:00 of the next day.
Is Public Transport in Guatemala Running?
Public transportation has re-open as well, but even when they have restricted capacity for each vehicle and have worked on safety measures, there are still things to improve. If you need transportation, I would suggest hiring private transportation or calling an Uber or a taxi and the usual tourist shuttles are on a skeleton service and are often canceled due to low numbers.
Do I Need To Quarantine in Guatemala?
No, there is no mandatory quarantine when you travel to Guatemala.
Do I Need to Wear a Mask in Guatemala?
Yes, wearing a mask in public places at all times is mandatory. No exceptions. Please be aware you have a duty of care to the more vulnerable local communities in Guatemala to keep them safe.
Plus, since we are talking about Guatemala, we can talk about beautiful handmade textiles? You can get yourself a facemask as a souvenir and take some home for friends and family. Just make sure that they are properly made for your protection, of course.
What is the Guatemalan Government Doing to Keep Tourists Safe?
The Guatemalan Institute of Tourism (INGUAT) has also worked on a certification for tourist biosecurity for all touristic establishments e.g. accommodation, transportation, tourist guides, Spanish schools, etc.
The intention is to avoid another shutdown of all touristic activity in Guatemala. Even though this is a new initiative, there are already some establishments getting the certification and providing the necessary training to their workers.
Do I need a COVID test for Guatemala in 2021?
YES! Here are the official entry requirements for Guatemala
You must provide a negative COVID-19 PCR or antigen test, dated no more than three days before the date of your arrival in Guatemala. The three days commence from the date and time the test is conducted the moment you check-in with the airline
If you have been diagnosed with COVID-19 in the past three months, you must present a medical certificate from the health clinic where you were treated, that states the date you were diagnosed with COVID-19 (including the copy of the test) and confirmation of your recovery
If you have received the COVID-19 vaccine, you must present evidence that you have received two doses. The last dose must have been administered no less than two weeks before the date of travel
d. If for exceptional circumstances you fail to provide the required negative COVID-19 test, you may be allowed to board the flight and will be required to take the test upon arrival at the airport at a cost of US $25 or Q200 (Quetzales, local currency). This option may change depending on the airline you are traveling with
24 hours before your arrival, you are required to register via the Guatemalan Health Pass website. Once you have submitted your details, you must print the form and bring it with you. Access the official form here.
Word of warning about the test, you need to make sure the test result clearly states which test you had as they will NOT accept all tests, just the PCR or antigen. I've lost count of the number of travelers I saw posted in travel groups who did not have this and were not able to board their flights or cross over the border. Check-in with your airline to double-check exactly what is required.
What is the cost of a COVID test in Guatemala?
The cost of a COVID test in Guatemala may vary depending on where you take it. I will divide the options into three groups.
Governmental tests: if you can catch the mobile stations created by the Guatemalan Government that travel around the country taking tests or at a Centro de Salud (Governmental clinic), you can get it for free. Even though this is an appealing option since it is free you are subjected to the Governmental working hours, test availability, and location in the case of the mobile stations. This option is ONLY for people who believe they have COVID 19 and are symptomatic. You will not be able to get a COVID test for onward travel for free from the hospital.
Private laboratories: the cost may go from Q375 (US$ 49.00) to even Q5000 (US$ 645.00). The price ranges depending on how fast the results are ready, PCR or antigen tests, or simply how fancy the place is. Here you can find a list of the authorized hospitals and laboratories if you need a COVID test in Guatemala.
At the airport: this is available only in special circumstances for Q200.00 or US$25.00. Please do not turn up at the airport thinking you can just get a test, it really is just for special circumstances.
Where can I take an Antigen Test In Guatemala?
If you need to take a COVID test in Guatemala so you can return to the USA or for onward travel to any countries requiring a test the best place to do that is with Blue Medical. You can make an appointment through their website here at one of their clinics in Guatemala. Probably the easiest one to test in is Guatemala City.
UPDATE: If you are in Antigua Blue Medical is also working in Antigua now, you can get in touch with Hotel Camino Real. The Blue Medical lab is within their building.
My advice is to travel to Guatemala city the day before your flight and spend the night there (here is a list of places to stay in Guatemala City). Take the test in the morning and you can have the results back in as little as 6 hours. You can book the appointment on their site here so you can use google translate (no having to speak to anyone on the phone) and they are open 24 hours.
Appointments are from 7 am until 4 pm, although those hours are extended from 7 am until 11 pm in both Majadas and Condado Concepción. In these locations, they offer a "self-service" option where you can test in your car (if you have one) or at your chosen location for an additional fee of $110 Q.
The cost of getting a COVID test in Guatemala with Blue Medical is as follows:
Covid-19 PCR: Molecular biology test that detects the presence or absence of COVID-19 costs Q645.00 and it has 99% sensitivity, the results are delivered in 6 hours
SARS ANTIGEN with a sensitivity of 84% detects the COVID-19 virus in the patient costs Q295.00
They also have special discounts for travelers, but you need to tell them this at the time of booking for it to be applied.
Are there things to do in Guatemala during COVID?
As I mentioned earlier, things shut down hard in Guatemala in 2020. But as Guatemala is a country with many outdoor adventures to have it is a great place to travel to where you can enjoy the outdoors in a safe and socially distanced way. Think hiking Acatenango, Pacaya, or Indian Nose. Visiting Tikal, spending an afternoon kayaking on Lake Atitlan, surfing in El Paradon, or swimming in Semuc Champe, oh and let's not forget chill out days on the Rio Dulce.
Right now, as people have adapted better to the sanitary restrictions to avoid catching COVID-19, and the country is opened once again, hotels, restaurants, tourist guides, and transportation operators are beginning to get back in business.
Almost all activities are back in business but, you should check with the providers their sanitary restrictions and prices. All providers have been forced to change the minimum and maximum of people in their groups to avoid crowds, therefore, they have also adjusted their prices to reflect this.
If you are planning a trip to Guatemala and went to do some touristy things then I strongly urge you to contact Heart of Travel. They are good friends of mine and have been hit hard (like many) in the past year. They can provide you with a private tour guide for anything you want to do which will include your transportation t and from the place you want to see. Yes, of course, this will be more expensive than the old do-it-yourself backpacker way, but right now it's the only way to go if you haven't got days to be hanging around waiting for the next bus to leave. Plus everything Heart of Travel do is done in a way that supports and adds to the wider community in Guatemala.
The biggest issue is traveling around Guatemala…
How Can I travel Within Guatemala In 2021
Guatemala was a pretty easy country to travel around pre-2020. They have a cheap tourist transport system of minibusses to ferry around backpackers. I've written a ton of posts about traveling within Guatemala to prove it. But because the number of travelers visiting Guatemala is so low right now the services are much less frequent and the timetable is often canceled due to the low numbers.
For example, to get to Panajachel from Antigua there is now just one shuttle per day at 8 am returning to Antigua at 4 pm. This shuttle will only run with a minimum of 2 people. So it can be tricky if you are a solo traveler, or on a tight schedule.
The alternatives are to take the Chicken bus or hire a private driver. My advice is to contact GuateGo and ask them for up-to-date advice about the shuttles currently running.
It's also worth mentioning that the cost of all travel has now increased a fair amount and non of the shuttles are using AC! This is due to the increase in gas prices, and the fact that they are now only transporting 2-3 people per trip as appose to 10-14 pre COVID.
It's all pretty sad really just how hard hit they have been.
Should I visit Guatemala during COVID?
Who am I to tell if you should travel or not, or if it is safe to travel to Guatemala or not.
My intention in this post is to help give you the best information about traveling to Guatemala in 2021 so you can be as informed as possible. It is my hope that in reading this post you are able to make more informed (and safe) choices about your travels.
Many countries such as Guatemala depend on tourism to sustain families and communities, which is why we should be mindful of respecting them on our way through their country.
My best recommendations are to stick to the tourist trail (check out this Guatemala itinerary), for now, get tested, stay home if you are sick, and always, always, wear a mask.
Big thank you to all my friends in Guatemala who helped me put this blog post together xx